Whether you holiday or live in your motorhome or caravan, being able to watch tv is probably a necessity. You may not watch much, but when it's raining or you fancy a duvet day, being able to curl up with a top travel show for inspiration or watch a great film on your motorhome tv is one of life's pleasures.  Our guide has all the information you need on how to set-up and get tv in a motorhome or caravan (or even a boat!)
This post contains affiliate links.  When you click on a link and make a purchase, at no cost to you, we earn a small commission.
If you are holidaying in your motorhome or caravan, you may not want the expense of a satellite dish and the subsequent ongoing costs of maintaining a subscription tv service.  If you are overwintering, heading off on a long motorhome tour of Europe or living in your motorhome, and happy to have some one-off and ongoing costs, then there are a number options for getting and watching tv in your motorhome or caravan.
Specially designed and manufactured motorhome and caravan tv's are powered by 12v from your leisure battery and most likely will be will be made by Avtex motorhome tv, Cello and Vision Plus; generally considered the best 12v tv's for motorhomes in the uk.
These motorhome, caravan (and boat) 12v tv's are built to work without needing EHU and are robust enough to ensure the constant movement of your motorhome does not cause any damage, although you will need to store your remote control when on the move (Fiamma have great storage pockets which are perfect for remotes!). There has recently been a 12v tv from Aldi on the market; we don't know whether this is a quality product but worth investigating if cost is a factor.
You will find an array of screen sizes, types and options including flip-down, wide-screen, ability to record, one button tuning, ultra slim, with built- in DVD and so on.  The ideal type and size is probably around a 19 or 22 inch HDR (HD ready) tv. Any larger and it will crowd your small living space.  Any smaller and you'll be squinting to see!
The sound quality can vary between makes and models and some manufacturers also make sound bars.  If you want more oomph without the price, you could connect to a bluetooth speaker like this Which? choice Sony water resistant portable bluetooth speaker (and its tiny!).
Motorhome and caravan tv's have been designed with motorhome and caravan layouts in mind. Consider where and how you will install your tv for the best wide viewing angles, sound and wiring for power.  You may need a specialised locking bracket like this one.  Some people dismount their tv's for travelling.
We have decided not to recommend the best smart tv for motorhomes here but focus on how to actually get tv in your motorhome. 
Subscribe now to get regular tips & info about exciting new motorhome & campervan gadgets & accessories direct to your inbox
Smart tv's have built in digital receivers, such as free-to-air Freesat and various apps which allow you to stream directly to your tv. 
If you want to specifically watch Freeview on a smart tv you can only do this via an arial and only in the UK, or by using a separate digital Freeview box, but these are now being phased out.
You will need to connect your smart tv to a wifi network so will require a wifi set-up in your motorhome, you can find out more about this here.
You do not need a 12v tv if you are fitting one retrospectively, but you won't be able to watch it without EHU unless you have an inverter fitted, which converts the power from 12v to 230v.
TV via a Roof Mounted Satellite Dish
Many new motorhomes and caravans will have the option to come fitted with a roof-mounted satellite dish. Satellite dish options vary in make, size and type. Some will operate from your 12v system with a quick press of a button inside your motorhome to lift the dish up and down, and some will require hand-cranking. Some will self-seek the correct satellite signal according to your selection. The larger ones will give you a better range, with 85cm getting you tv well into southern Spain.
You need a digital receiver to enable you to watch satellite tv; some are integral to your tv and some are mounted in your van. Most separate receivers will need some sort of a card, usually linked to a subscription service, although do research this as technology moves at a fast pace.
A good alternative is to take your Sky box from home. We decided to maintain our Sky subscription and had our box mounted in the van and connected to the satellite set-up; you need to maintain a UK address to be able to do this (Sky do not need to know you are taking your box in a motorhome overseas though!).
The receiver you choose will depend on the type of tv you want to watch. It is advisable to have any satellite tv equipment fitted by an expert, they will be able to advise you on the options available.
For an 85cm all-singing, all-dancing dish (the largest available) and external digital receiver bought and fitted in the UK expect to pay around £2500. Search motorhome forums to find out about having a dish fitted abroad, it may be a cheaper option.
TV via a Portable Satellite Dish
You could also consider a portable satellite dish which you set-up on arrival. You do need a clear line of sight for this equipment (so not suitable fo use in awnings) space to carry it and guy ropes for when it's windy. A set-up like this 
Maxview
 dish will cost around £370 and enable you to get UK programmes as far south as Lyon in France. If you're heading further south consider an 85cm dish. Remember that you still need a receiver or smart tv with Freesat to use a portable satellite dish.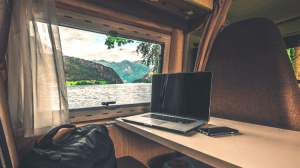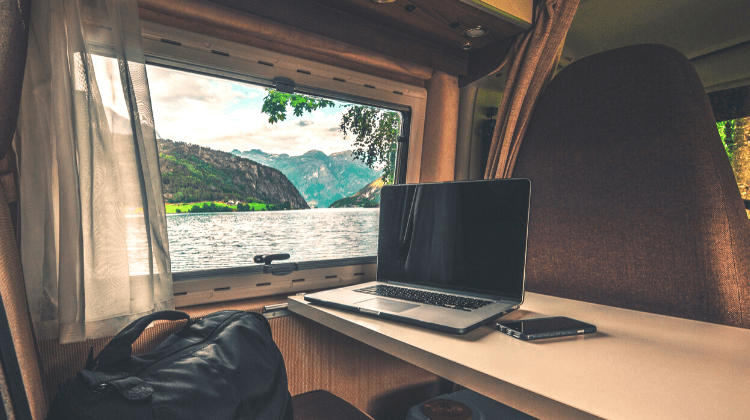 Wifi and internet access in life has become essential. Living in a motorhome is no different – researching, blogging, social media, keeping in touch and even smart motorhome connectivity means wifi and internet is critical. If you're wondering how to get internet in a motorhome, this easy and definitive guide to getting internet and wifi in your motorhome is for you.
Read More
Stream TV via a Smartphone or Tablet
You could of course watch tv in a motorhome on your smartphone, pad or laptop. However, if you spend all your time squinting trying to see this, then you may prefer to stream to your motorhome tv. 
It is not possible just to plug your smartphone or memory stick into your tv (I tried!). You need a device that de-codes the format of the programme in the correct way.  
There are a number of smart phone accessories. I use an 
Apple Digital AV Adaptor
 that connects my smartphone to the tv via an HDMI cable which is compatible with all the main streaming apps such as Netflix, Amazon Prime, BBC iPlayer, Channel 4 All4 etc. This device mirrors what is on your screen. You can also buy a 
three way version
 which is compatible with a USB-C port and will allow you to watch Sky Go from your laptop on your tv.  Only buy the genuine Apple product as may of the cheaper versions do not work with all the apps available, or just don't work at all!
There is also a version for use with Android smartphones  which typically use a mini-USB connection.  Before you buy, make sure the device is compatible with all the apps you want to use…not all devices are made equal!
You could also consider Chromecast. This is a Google device which does a similar job as the Apple Digital AV Adaptor. It 'casts' what is on your laptop, phone or tablet to your tv. It is compatible with various streaming apps but, like the Apple device, has some restrictions and limitations.
All providers give you the opportunity to download or stream to your tv.  However, not all providers are equal in how you can download and the number of programmes you can download and save for later. 
Not all providers allow you to download and then watch on tv.   A good example of this is that BBC iPlayer will only let you download using wifi and All4 will not let you mirror playback at all.
Amazon Prime allow you to stream a good number of episodes, at least a full box set, and watch on your tv later using mirroring.  This is a great option for taking advantage of free wifi where you can and their service is the most consistent of all the providers.  
There are many other providers out there, who we don't use. Please feel free to send us info so we can keep this section updated and as complete as possible.
TV via a Media Box or Stick
A media box or stick will effectively turn your motorhome 12v tv into a smart tv, with access to apps for Netflix, Amazon Prime, BBC iPlayer and so on. Which box or stick you choose will determine which apps you can access, not all makes have all apps and there are many, many boxes and sticks to choose from. Read the reviews carefully to ensure you are getting the right device for your needs.
The media box or stick is connected to your tv by an HDMI cable and needs to be linked wirelessly to your mi-fi device or teathered to your phone.
We recommend the Amazon Fire Stick which is easy to use and supports Prime Video, BBC iplayer, Netflix, ITV and All4.  We think its by far the best option for UK tv.
Watching UK Terrestrial TV Abroad
(Updated December 2019) If you want to stream or download UK terrestrial tv (BBC, ITV and Channels 4) from an app, you may need a VPN (virtual private network which disguises your location). Take the following steps to determine whether your provider's server is based in the UK;
Type into Google 'IP address' (Internet protocol) and you will be provided with a unique four part number which relates to your ISP (Internet Service Provider) and mobile or wifi connection.  
Copy this four part number and then type into Google 'IP location' and paste your four part number you just copied.  This will tell you where the server providing your connection is based; if it's in the UK then you will be able to access UK terrestrial tv without a VPN.
Whether your server is based in the UK will depend on your provider.  If it's a UK SIM this may well be the case,  but check using the steps above. Using a SIM purchased overseas or the campsites wifi network will almost certainly require a VPN.
We have used and recommend Express VPN  which has six servers in the UK, you can hop around if you need to; occasionally BBC and All 4 have a purge and one of the server locations will not work, just move to another.  This service costs £79 per year for up to six devices.  We have been using it for 9 months and have only once not been able to watch UK tv.
You can watch Amazon Prime, Netflix and Sky Go abroad on tv in your motorhome without using a VPN.
Sign up for our six day beginners email series where we share all of our top tips to get you started!
Streaming and watching tv eats your data. All the providers will share on their websites how much an hour of streaming uses and this ranges from around 600mb to 1gb per hour of SD streaming. It is much higher if you stream HD.  Take this into consideration when planning how much data you need overall.  Our post on getting 
wifi and internet in a motorhome
 has more detailed info about data usage. If you've found this post helpful, head on over to our 
Motorhome Advice
 blog page where you'll find loads more practical tips and advice about motorhomes and equipment.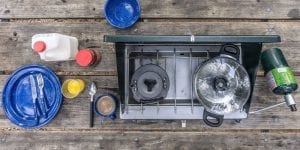 Deciding what to take on your motorhome road trip is hard; it can make or break a holiday. This essential motorhome packing list has all of the top things you need for a motorhome along with a packing list for you to print. Go on, get packing!  
Read More
LOOKING FOR MORE MOTORHOME TIPS? CHECK OUT THESE TOP POSTS