This post may contain affiliate links, from which we earn an income.
We all love a motorhome sticker to pimp up our van, even if it's only to announce ourselves to the world! Van stickers come in all shapes and sizes and can be bought off the shelf or customised with your name and colours, just for you.
Motorhome and campervan stickers can help strike up conversation, tell the world who you are or where you've been. Some motorhomers have their own stickers made up and we love to see these collected together – it lets people know you're part of the awesome motorhoming/overlanding/vanlife community.
We've pulled together all our favourite van graphics and stickers that we've seen on our travels, which you can add to your motorhome and stand out from the crowd!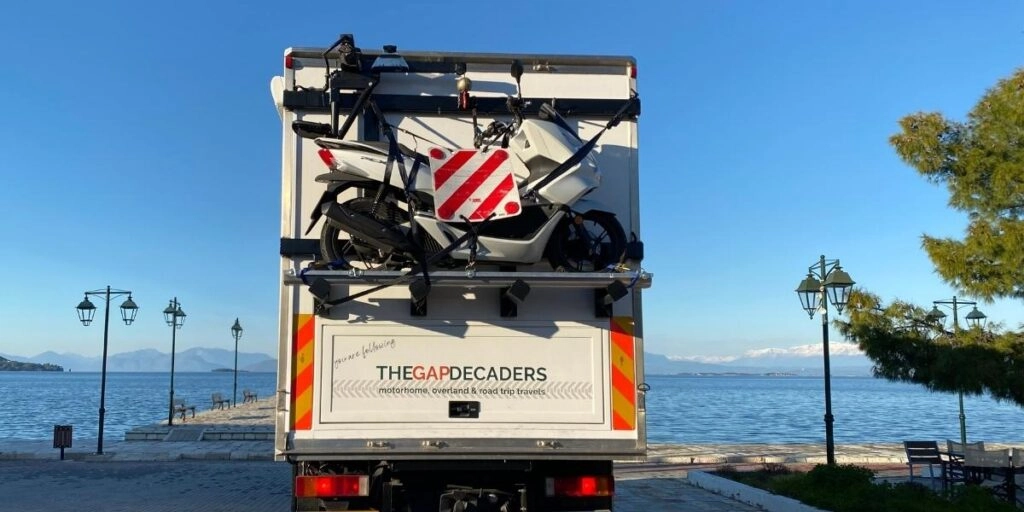 Tips for Buying & Applying Campervan Graphics & Stickers
Choose stickers that are high quality, waterproof and fade resistant vinyl, which will stay looking good for years.
Make sure you have a steady hand when applying your stickers to your pride and joy!
Use a felt edge squeegee to help apply the sticker to your motorhome without any air bubbles.
Clean and dry the area where the sticker is going, using a mix of 50/50 water and alcohol solution (this can literally be gin or vodka!).
Wait for a warm, but not hot, day and work in the shade.
Use masking tape to hold smaller stickers in place, before peeling off the backing.
For larger motorhome vinyl graphics, wet the area lightly with a 95% water and 5% soap solution from a spray bottle and apply the sticker whilst the area is still wet. This gives you time to re-position and straighten your sticker, and remove any bubbles with your squeegee.
Don't wash your camper van for at leat 48 hours after application of your motorhome graphics stickers.
Vinyl stickers are sometimes called motorhome decals – this generally refers to the shapes and graphics that are factory applied to your motor home at manufacture. If you're after replacement motorhome decals for your van, you'll need to contact the manufacturer or main dealer and have these vinyl decals fitted professionally.
All these stickers are available from Amazon and Etsy, with 24 hour delivery. Many are available in different colours and sizes, so click through to see what is available and get the best price. We do make a commission, at no cost to you, if you buy a product using a link on this page.
Motorhome Stickers That Make Us Laugh
Personalised Motorhome Stickers
Motorhome Gift Ideas
Our specially chosen and unique motorhome gift ideas are perfect for motorhome lovers to make them smile on their birthday, at Christmas or whenever you just feel like showing the love!
If you love motorhoming then you'll know that having the right kit makes all the difference. Check out our pick of the best and most useful motorhome and campervan gadgets and essential accessories, tried and tested by us over three years of full time motorhome life.
When it comes to learning about life on the road, there's no better resource than hearing from other motorhomers and vanlifers. We've picked the best ten for you here!
Classic Motorhome Stickers – Our Favourites
Motorhome Security Stickers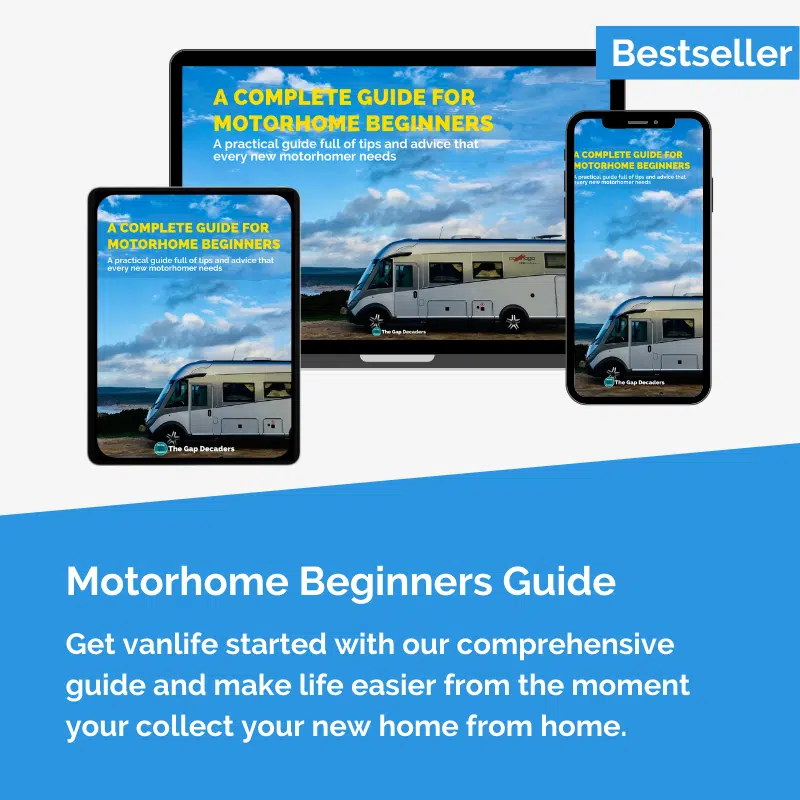 The Complete Guide for Motorhome Beginners Ebook
If you want all our beginner resources (and a few extras just for you) in one place, take a look at our ebook. With over 100 pages of tips, advice and practical information, this book brings all our learning into one easy to read, downloadable volume which you can take with your wherever you go.
Are you looking for more motorhome tips & tricks? Check out these top posts…
New Zealand is an absolute dream for campervan enthusiasts. The breathtaking landscapes, diverse wildlife, and incredibly friendly locals make it the perfect destination for your next campervan adventure. We'll will provide you with all the tips, tricks and insider knowledge to make your vanlife experience in New Zealand truly unforgettable. So, buckle up and get ready for an adventure of a lifetime!
Love it? Pin it!