This post may contain affiliate links, from which we earn an income.
How to Wild Camp in Scotland in a Motorhome or Campervan
Scotland is a hugely popular motorhome destination offering stunning landscapes, huge skies and fantastic roads and routes. If you prefer to wild camp in your motorhome, we've got all the information you need to do so safely and within the rules.
Should I motorhome wild camp in Scotland?
Scotland is one of the most amazing places to wild camp in a motorhome in the whole of Great Britain. Scotland has thousands of acres of remote space, is regularly voted the most beautiful landscape in the world and has some of the best motorhome routes anywhere. Oh, and you can see the Northern Lights in Scotland too… what more do you need?
What about recent negative press & motorhomes?​
As we were putting together this post, it occurred to us that we were encouraging a van life activity that has received quite a bit of negative press attention over the past few years, and has led to local resistance to motorhome visitors in many of the popular tourist destinations in the UK, including Scotland.
The numbers of people travelling and using motorhomes in the UK since 2020 has increased exponentially due to EU travel restrictions and increases in motorhome ownership, leading to overcrowding at many popular beauty spots and attractions. It is fair to say that motorhomes have been part of this issue and some of the images in the press have not been good for the reputation of our community.
We think that wild camping is awesome and do it because we love solitude, peace and big landscapes, and the freedom to get away from it all. We will continue to wild camp and as always, in remote spots well away from major tourist attractions and abiding by the law. We will be discreet and respectful at all times and remember that our holiday destination is someone else's home.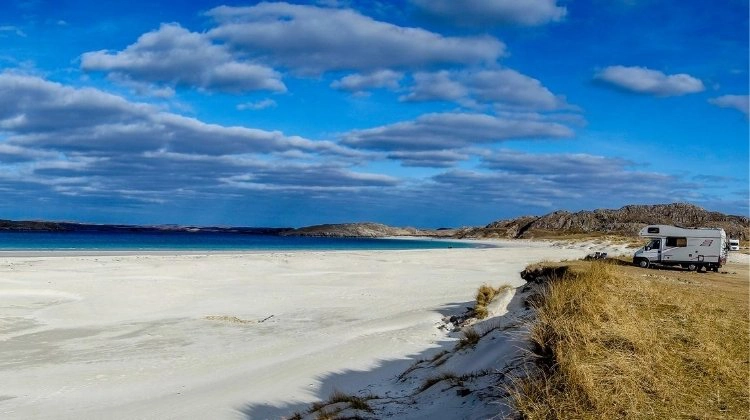 What is the law about motorhome & campervan wild camping in Scotland?
It is illegal to wild camp in the United Kingdom (including Scotland) in a motorhome or campervan without explicit permission from the landowner. In reality, locating and asking the landholder (potentially a national park or government body) would be impossible and you can't just pitch up on private land and hope for the best.
You may have heard of the Scottish Outdoor Access Code and think that this gives rights like Norway's allemannsretten (everyman's right), which allows free roaming and wild camping. The the code states;
In Scotland, you can go on to most land to enjoy the outdoors – as long as you behave responsibly.
Access rights extend to wild camping. This type of camping is lightweight in tents, done in small numbers and only for two or three nights in any one place.
The code is also very clear that those wild camping rights do not apply to motorhomes or campervans and states;
Access rights do not include motor vehicles. If public or private land owners restrict or regulate parking on their land, you must comply with this.
Follow the Highway Code and the guidance in the Scottish Outdoor Access Code, including the specific advice on parking. Respect the interests of others, care for the environment and take responsibility for your own actions.
Plan ahead and book into a managed camp site or other informal camping provision for campervans and motorhomes where possible, especially when travelling popular routes like the North Coast 500.
In fact, the SOAC does not recognise that wild camping can be done in a veichle and only recognises wild camping in a tent. Terms like free parking and off grid parking may be more appropriate when camping in this way in Scotland.
Are you planning a motorhome trip to Scotland?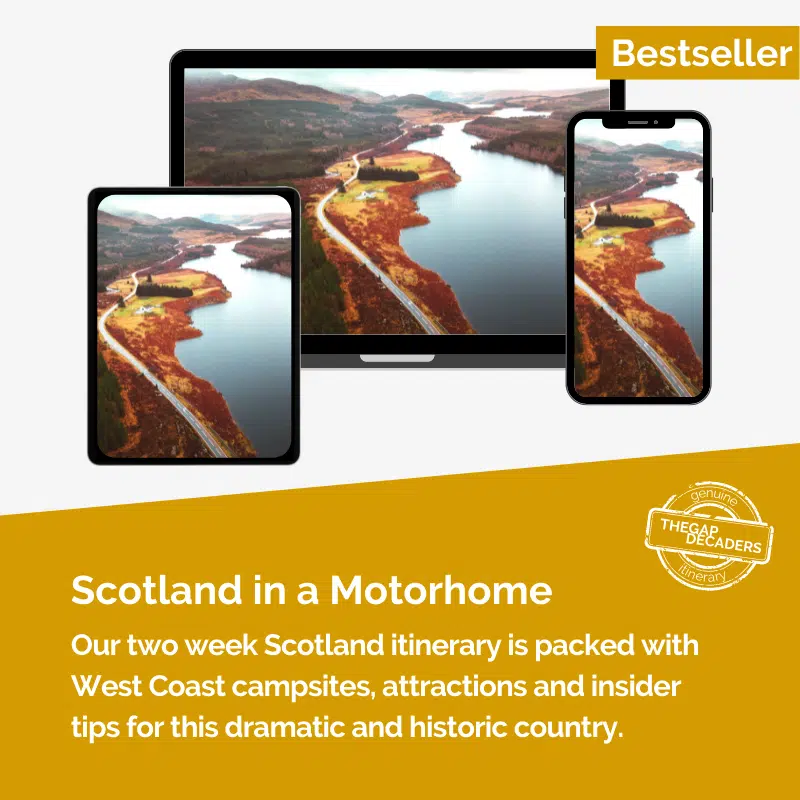 Grab our two week Scotland itinerary, packed with campsites, attractions and insider tips.
Get up every morning knowing your day is planned with driving routes, campsites and attractions marked out for you on your interactive map.
Make the most of your holiday and let us do the planning for you!
---
How can I wild camp in my motorhome in Scotland?
Having read the legal stuff, you may be thinking that it's not possible to wild camp in a motorhome in Scotland. That's understandable!
But if you follow our tried and tested wild camping tips and do's and don'ts advice, you'll find it is possible to wild camp in Scotland legally and safely. In fact, once you've got your first wild camp done and dusted, you'll wonder what all the fuss was about!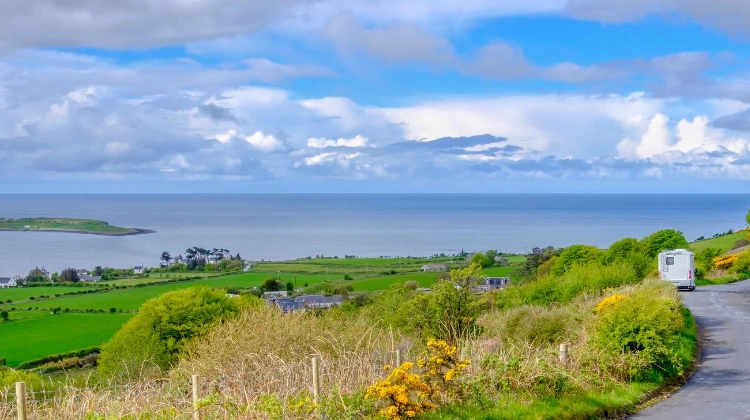 Scotland Wild Camping Know How
12 Things To Do Motorhome Wild Camping in Scotland
Use a motorhome camping app to help with research and find the best legal wild camping spots.
Use your common sense about whether the spot you have chosen is suitable for a vehicle – if you're unsure then it probably isn't the right place.
Think about safety and security when parking up for the night.
Have a second option in mind if your first free wild camping spot is not the right one.
Explore areas away from tourist hot-spots for the best experience.
Care for the environment and leave no trace – this means avoiding areas where the flora and fauna may be sensitive and fragile.
Respect other's privacy and don't park right next to another motorhome in a remote spot.
Avoid large congregations of motorhomes and campervans.
Practice discretion. Loud music, BBQ's, fires, washing lines, levelling devices and awnings are a definate no-no!
Remember to take a fold-up shovel in case your toilet cassette reaches capacity and you don't carry a spare. Go as far away from buildings, watercourses and wildlife as possible, dig a hole and do it the old-fashioned way. Remember not to leave soiled loo paper for others to find or animals to dig up. Use a nappy sack or dog waste bag until you can dispose of it properly.
If using a shovel isn't for you, then try a Kildwick dry composting toilet that separates solids and liquids. You won't need water or chemicals as no flushing is required. It's a completely natural system, which gives you plenty of time to relax out in the wild. One of the portable toilets they offer even folds up when not in use!
Carry enough fresh water for your needs.
8 Things Not To Do Campervan Wild Camping in Scotland
Park where there are signs stating 'no overnight parking'.
Park overnight within sight of people's houses or on private property.
Stay for more than one night.
Block access to tracks and fields.
Dispose of or drain black or grey waste until you are in a designated place to do so.
Drive off with your drain tap open and hope no-one will notice.
Make a mess and leave behind litter, rubbish or unwanted camping items.
Light an open fire in the summer or times of drought. You may be responsible for any fire which gets out of control.
Recommended Reading
Scotland is a wild and beautiful part of the United Kingdom, blessed with stunning coastlines, rugged mountains and crystal clear lochs. Touring Scotland in a motorhome is perfect for adventure seekers and history lovers alike, with activities and attractions to suit all tastes. Find out everything you need to know here.
How can I find free camping spots in Scotland?
The Internet & Apps
Apps like Park4Night and Campercontact have thousands of wild motorhome camping sites, spots and places where you can park and camp for free.
Some of these spots are more remote motorhome wild camping places – places with no light pollution and incredible views. Others are free parking spots in perhaps more urban settings, where there may well be other motorhomes. Both serve a purpose and both are free.
The app will usually provide you with a few images of the place and reviews from other motorhomers who have wild camped there, which is helpful when you are considering the appropriateness of the place or if you're in a larger vehicle and want to be sure of access.
We like both these apps because they have some of the largest databases in the sector, but there are lots of other motorhome parking apps which you could try.
Brit Stops
You could also use Brit Stops for free overnight motorhome parking in Scotland. Pubs which belong to the Brit Stops scheme allow motorhomes to stay in their car park at no cost. Some people have a drink or meal but this is not a requirement of the scheme. It's unlikely you will find services at many Brit Stops but you will find a warm welcome.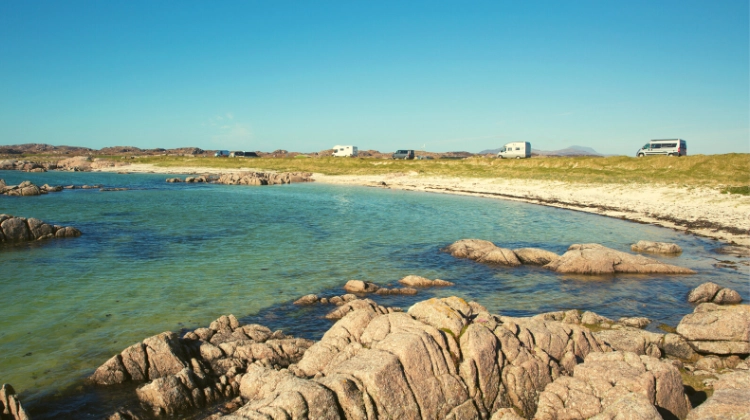 Informal Motorhome Camping in Scotland
Many of the national parks in Scotland have informal (non-commercial) overnight camping sites which cost as little as £3 per night to stay at in a motorhome…not quite campervan wild camping in Scotland but pretty close!
Forestry and Land Scotland have also been trialling a 'Stay the Night' scheme, which ran successfully at participating sites in 2021 and 2022. The scheme is returning for 2023, so it looks like it might well be a permenant fixture.
You have the added benefit of knowing the environment in these areas is being looked after, as well as being able to fill up with fresh water and empty your waste. You can research these online, but to get you started check out the informal sites in the Loch Lomond and Trossachs National park here.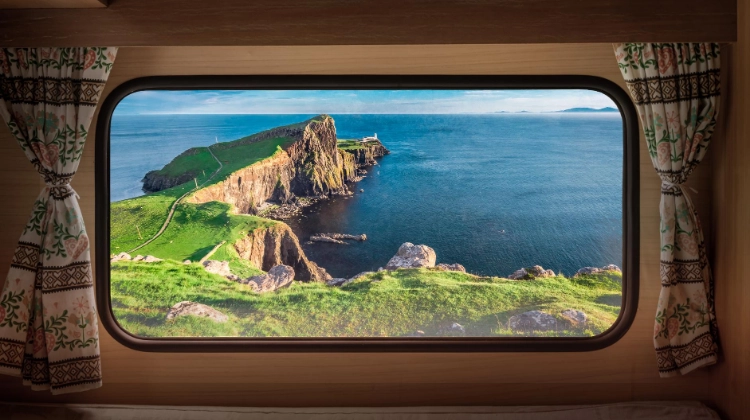 What motorhome essentials do I need for wild camping?
Ensure your motorhome or van is set up for wild camping so you can be self-sufficient. We suggest you need the following five wild camping essentials;
full gas bottles – for heating, hot water and cooking. It gets pretty cold overnight in the Scottish mountains!
enough fresh water for your needs.
Ideally, a spare toilet cassette. Failing that, a folding shovel!
Are you looking for more motorhome tips & tricks? Check out these top posts…
New Zealand is an absolute dream for campervan enthusiasts. The breathtaking landscapes, diverse wildlife, and incredibly friendly locals make it the perfect destination for your next campervan adventure. We'll will provide you with all the tips, tricks and insider knowledge to make your vanlife experience in New Zealand truly unforgettable. So, buckle up and get ready for an adventure of a lifetime!
With one of the best winter climates in Europe and friendly locals, Spain is a perfect country for a motorhome road trip. With the colourful traditions, good food and wine and fabulous architecture, you have all the ingredients for an amazing tour. We share all you need to know about touring Spain in a motorhome or campervan here.
Do you need a motorhome reversing camera? How do they work and how do you choose the right one for your motorhome? We'll answer all those questions in our comprehensive guide and help you find the best motorhome reversing camera for your needs.
Our van life gift guide is full of fun, creative and unique gifts for anyone who loves the van life. Whether you're looking for personlalised campervan gifts, funny campervan gifts or throughtful vanlife gifts for a loved one, you'll find the perfect something here.
We all love a motorhome sticker to pimp up our van, even if it's only to announce ourselves to the world! We've pulled together all our favourite van graphics and stickers that we've seen on our travels, which you can add to your motorhome!
When it comes to learning about life on the road, there's no better resource than hearing from other motorhomers and vanlifers. We've picked the best ten for you here!
Love it? Pin it!