This post may contain affiliate links, from which we earn an income.
Road tripping in Europe is by far the best way to see this diverse and historic continent. You get to travel at your own pace and see incredible landscapes and breathtaking sights that you would miss if travelling by train or plane.
Whether you're planning on taking your own car, or you're flying in and renting a car, driving on the continent may not be quite the same as it is at home. European driving regulations and driving standards can vary greatly across Europe and you should be prepared before you take to the wheel for the first time.
We've been driving through Europe for over 20 years so have a lot of practical real-world advice and travel tips to help you drive safely with confidence. You can find all of our tips for driving in Europe here.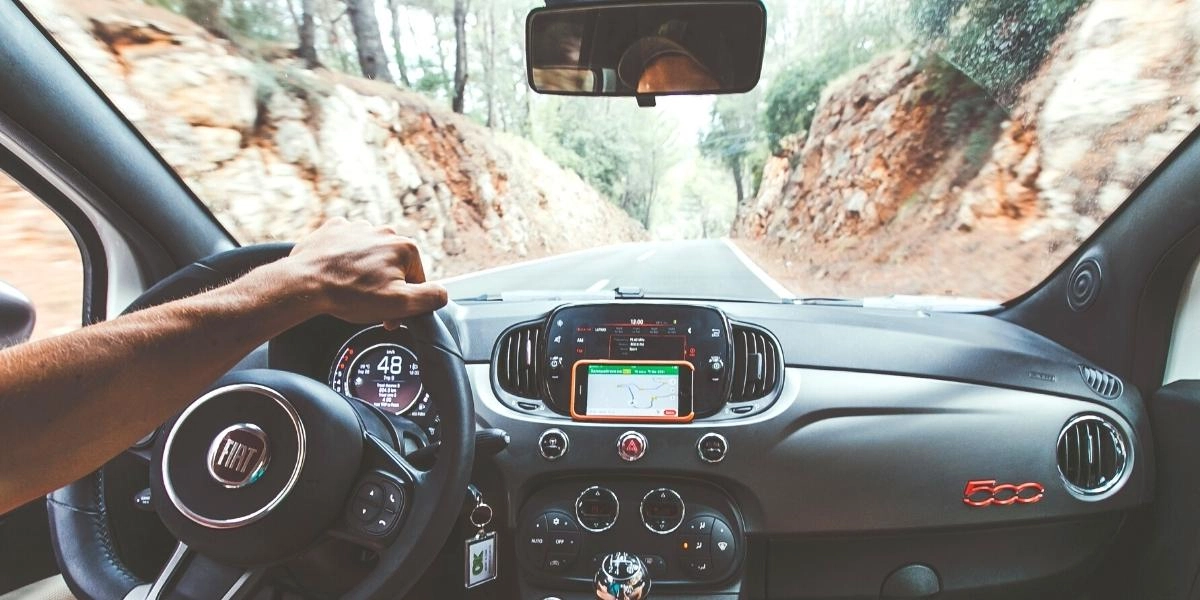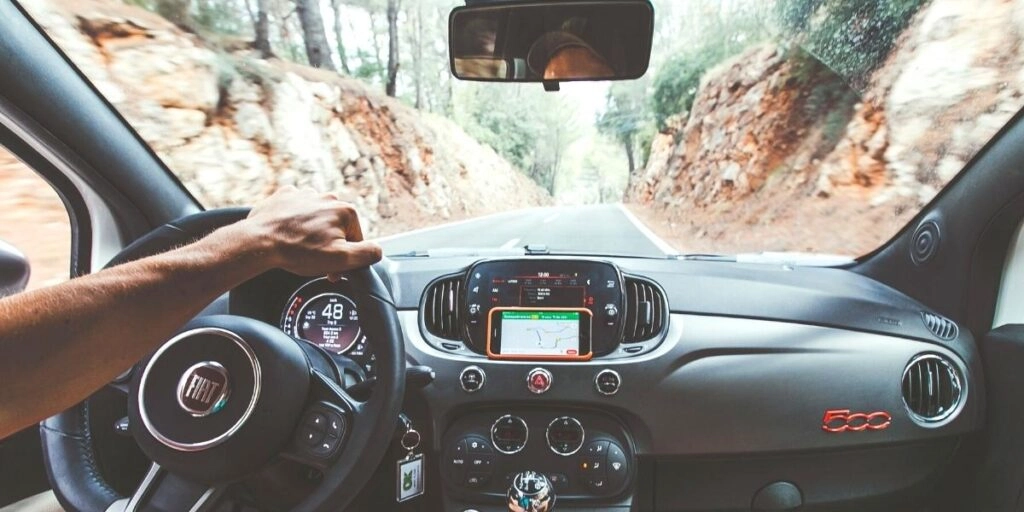 Where is Europe?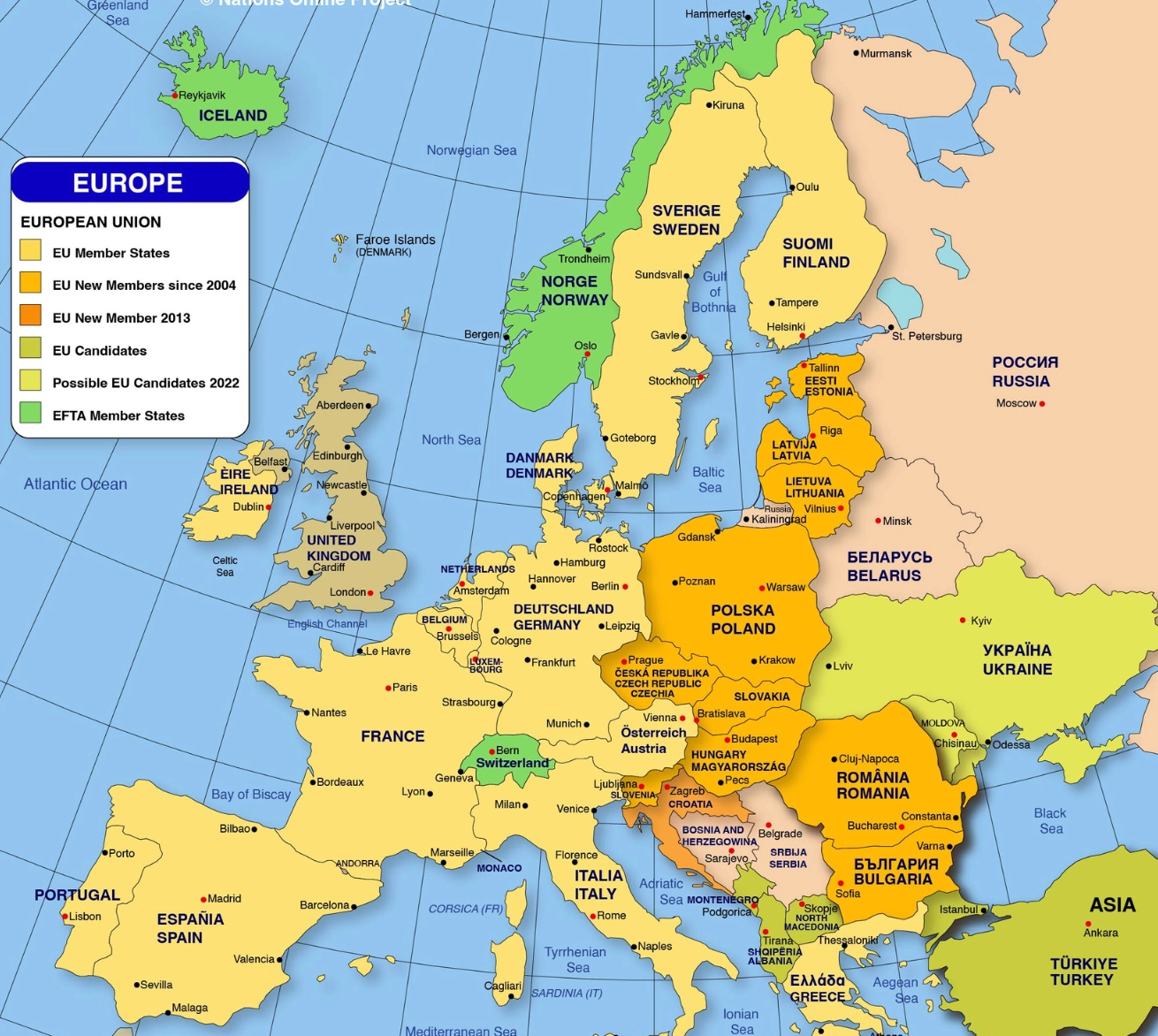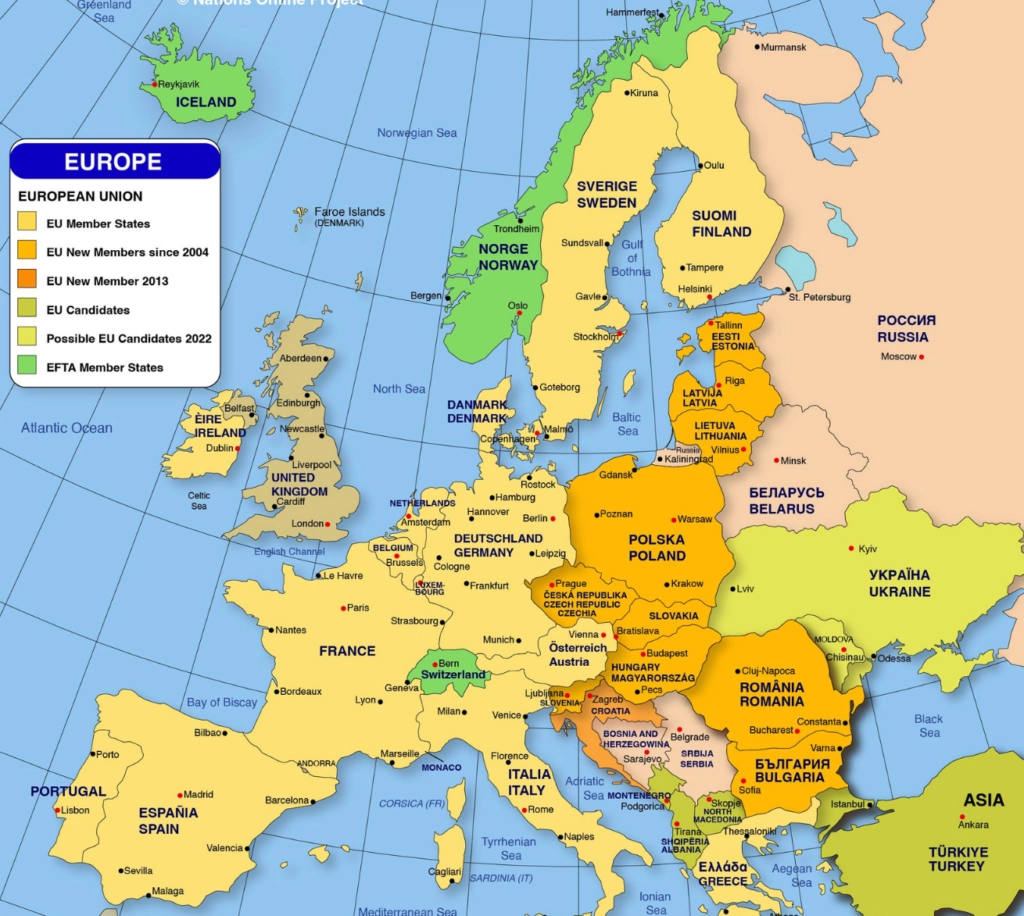 There is the continent of Europe and then there is the European Union, or EU, and the European Free Trade Area or EFTA. Together, the EU and EFTA make up the European Economic Area, or EEA.
Member states of the EU and EFTA, which are govered by the European Commission, share many common laws and rules about driving.
There are also countries which are geographically in the continent of Europe, but not in the EU or EFTA. If you're heading to European countries outside of the EU and EFTA, check the driving rules and regulations before you cross the border.
International Driving Permits
Do I need an international drivers permit? Well, you might…
An International Driving Permit is basically an official translation of your driving licence into a number of other languages, enabling authorities in foreign countries to establish your right to drive. The IDP is a not a replacement for your license or a driving licence exchange, but a supplement to be carried alongside your original driving licence.
If you're a Brit driving abroad on a UK photocard licence, this allows you to drive in all EU countries without an IDP, because an agreement was made between the UK and EU about driving in Europe after Brexit. However, if you only have a paper driving licence or a licence issued in Gibraltar, Guernsey, Jersey or the Isle of Man then you will need an IDP.
If you're planning to visit non-EU European countries when you drive abroad, you can check whether you need an International Driving Permit here.
Driving in Europe as an American, and for those traveling from elsewhere and planning on hiring a vehicle, you are likely to need an IDP throughout Europe and the United Kingdom, and you'll definitely need one if your licence is not in the Latin alphabet.
We've been driving our own vehicles in Europe, Morocco and the Caucuses for twenty years and have never been asked for an International Driving License. However, it would be totally devastating to arrive at your car rental depot and find you can't take the car away without an IDP.
Once you've left your home country, it can be hard to get an official IDP. The American Automobile Association quote five to seven weeks delivery for an overseas IDP, and Brit's can only get one in person from the Post Office! IDP's are not expensive – it's far better to go prepared.
RELATED POST: How to Plan a Road Trip – Your Complete Guide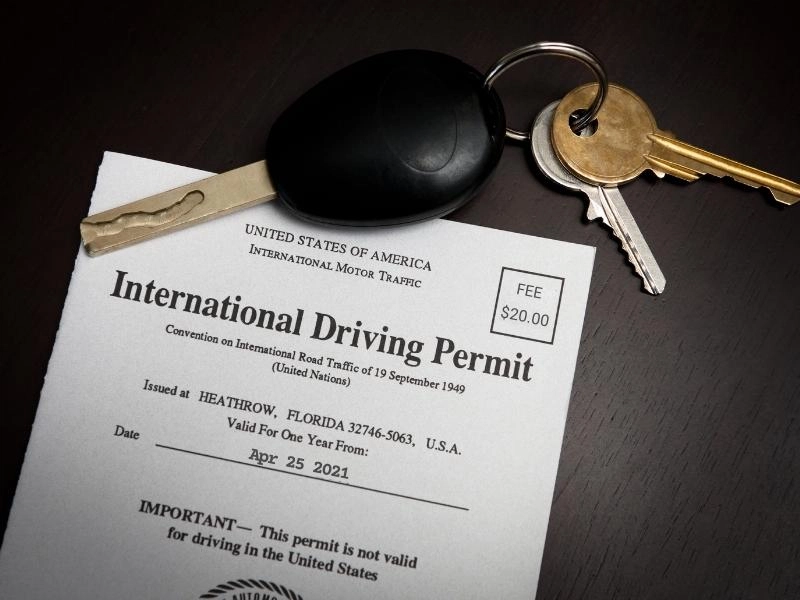 Get a Credit Card
All car rental companies will ask for a credit card (and won't accept debit cards or cash) for the holding deposit for your vehicle when you collect. This money is taken as security to protect the rental supplier in case of any damage to the vehicle, but the money is not actually debited from your account, just blocked so you can't spend it.
If you're a US or Canadian resident, your credit card might provide damage and theft cover for hire cars. If you decide to rely on that cover, you can book a basic or standard package that doesn't include damage and theft cover.
Even if you already have a credit card, make sure your card is accepted abroad and doesn't charge foreign transaction fees. We think Wise is one of the best borderless multi-currency debit cards. Use it in 175 countries with the real exchange rate and no markups or sneaky transaction fees.
RELATED POST: Road Trip on a Budget: 36 Tips to Save Money in Europe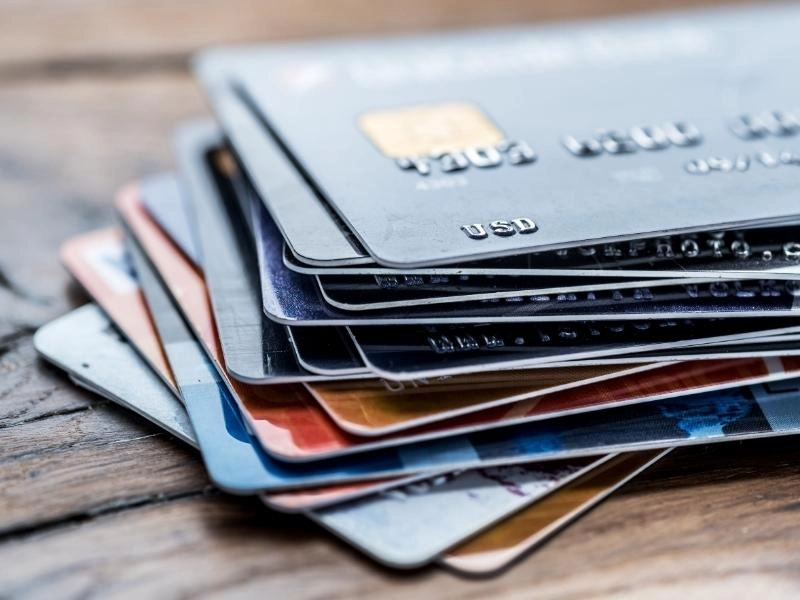 Be Aware of Schengen Rules
The Schengen Area is a zone where 26 European countries, through the Schengen Agreement, abolished their internal borders and allow the free and unrestricted movement of people.
If you're planning a longer road trip, you need to know that most citizens from non-Schengen countries are only able to stay for 90 days in every 180 days in the Schengen Area.
The 90 in 180 day rule works on a rolling basis and it can be difficult to work out whether you are within the rules or not, especially if you have visited the Schengen area on several occasions in the preceding 180 days.
The key is to make your travel plans with flexibility and allow spare days in which you can move from country to country without penalty. Use this calculator to check that you are not going to overstay your welcome.
The UK did not sign up to the Schengen Agreement in 1985, but through its membership of the European Union, UK citizens enjoyed the right to freedom of movement throughout the EU. Sadly, since Brexit this is no more, and Brits must now follow the same restrictions as most citizens from the rest of the world.
From 2024, the EU will introduce the ETIAS (European Travel Information and Authorisation System), which will be an additional entry requirement for visa-exempt travellers and will involve the traveller registering their details online before travelling, mainly for security purposes.
RELATED POST: Motorhoming in Europe After Brexit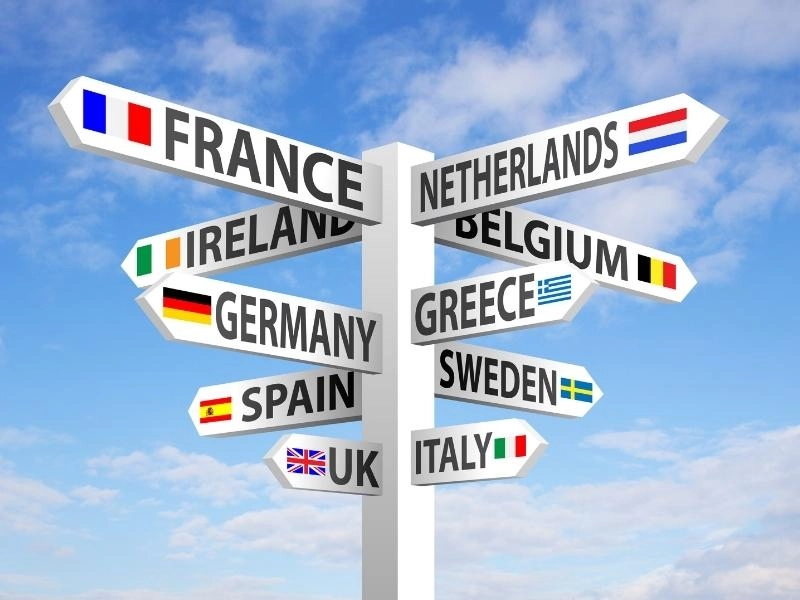 Get to Grips with Car Rentals in Europe
Use a comparison site or car hire aggregator like Rentalcars.com, which has massive purchasing power enabling them to secure the best rental prices in many different countries. Whenever we travel to a country without our own transport, we book with Rentalcars.com because they are always best on price and offer a solid and reliable service.
The minimum age to rent a car in Europe is 18, and renters must have passed a driving test to obtain a full driving licence.
Plan carefully and rent a car for only as long as you need it, to avoid early return penalties. If you're on a budget, avoid hefty one-way drop-off charges and plan a circular itinerary.
Book as far in advance as possible. The earlier you book, the better the deal. Some comapnies will give you the option to pay on collection, avoiding cancellation fees, although you do pay more for this.
Non-EU residents can take out a short-term lease for driving trips longer than 21 days. If you're renting your car in Belgium, France, Germany, Italy, Netherlands, Spain or Portugal then a short term lease with Auto Europe may be more cost effective than regular car rental.
Look to rent a small car. Fuel is super expensive in Europe, city streets and country lanes are narrow, and parking can be limited. The smaller the car, the less fuel you'll need and the easier it will be to get around. Trust me on this!
If you've only ever driven an automatic car, then don't book a stick for your first rental in Europe! An automatic car will be more expensive to rent than a manual car, but it will save you a world of hurt, I promise!
It is possible to rent a hire car in the EU and drive it to non-EU countries, but do let your hire company know this is your plan so they can ensure you have the correct paperwork. Expect there to be an extra charge for this.
Consider renting a campervan for your trip. It's a wonderful way to travel around Europe and you won't need to book a hotel! Our recommended providers are Indie Campers, who have rental depots in sixteen European countries.
RELATED POST: 19 Helpful Long Distance Driving Tips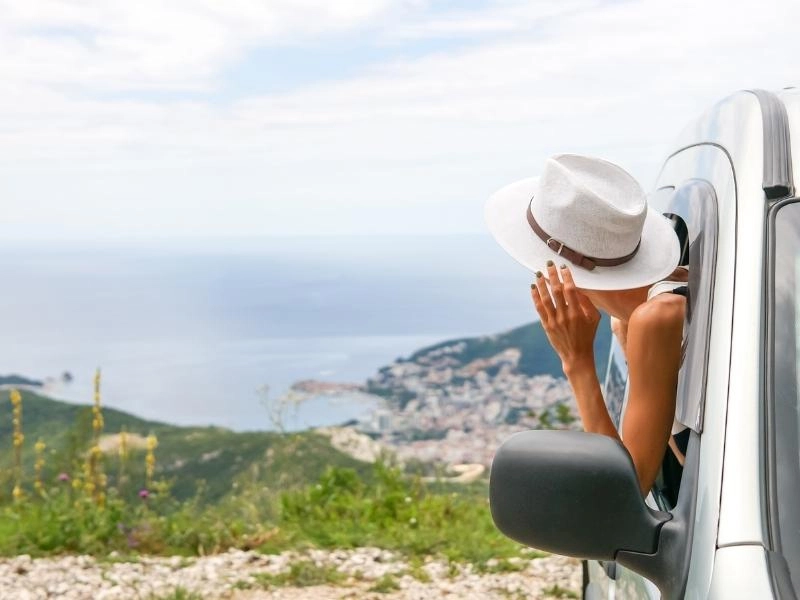 Stick to the Speed Limit
There are general speed limits across Europe, which range from 120 to 130 km/h on motorways, and from 80 to 90 km/h on country roads. You can find a list of the most up to date speed limits here.
If you use a GPS device or sat nav, which you can usually add to your car hire, it will inform you of speed limits, as well as update you with traffic news, and let you know when you've crossed a border.
Speed cameras are common in Europe, and may be fixed or mobile. Both types of speed cameras can be visible or hidden, and it's easy to be caught out, even if you're over the limit by just a few kilometers an hour.
Your sat nav may be programmed to alert you to speed cameras, and smart navigation apps like Waze also do this. However, this is not legal in all European countiries, so check first. Or maybe just stick to the speed limit 🙂
Don't think that because you're from another country you can avoid speeding fines. If your car is registered in the United Kingdom or enywhere in Europe, there is a data sharing protocol in place which means you'll be tracked down in your home country.
If you're from anywhere else in the world and hiring a car, any speeding fines will end up back with the car hire company, who will simply deduct the fine from the credit card they hold on file. There really is no escape!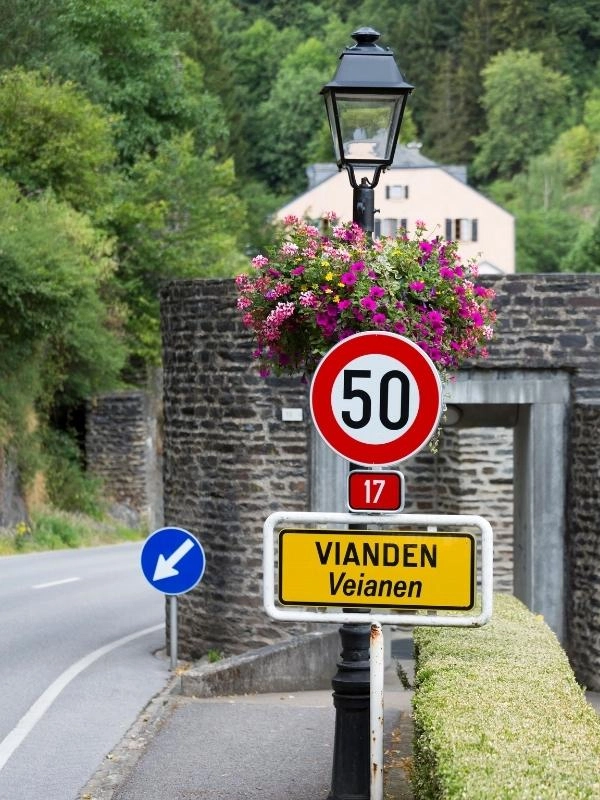 Understand Europe's Toll Roads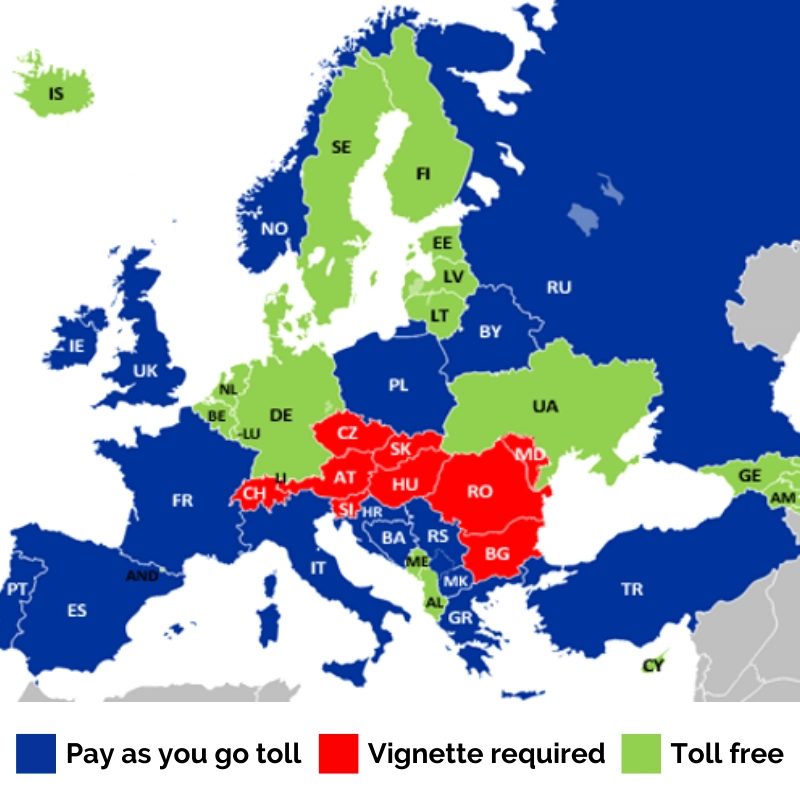 Tolls on motorways are common across Europe, and if you're looking to get somewhere quickly and easily, taking the toll road is often the most cost effective option.
With pay as you go tolls, you can pay with cash or by card at the toll booth, or opt for an electronic tag like an Emovis Tag, which is linked to your credit card.
Where a vignette (physical sticker) is required, you must order this in advance or stop at the first fuel station on the motorway as soon as you enter the country and buy one there. Vignettes are required in Switzerland, Austria, Slovenia, Montenegro, Romania, Czech Republic, Bulgaria, Slovankia, Hungary, Moldova and Belarus.
In our experience, Norway and Portugal have the most complex toll systems, with different toll road operators requiring different processes. Find information on Norwegian tolls here and Portuguese tolls here.
If you have time, setting your sat nav to avoid toll roads often results in incredibly scenic drives, and trips to places you may have passed by otherwise. But, what you save in tolls, you'll probably spend in fuel!
Be Aware of Low Emissions Zones
Low Emission Zones (LEZs) are areas, usually in towns and cities, where the most polluting vehicles are regulated and either cannot enter the area or have to pay to enter the low emission zone. Low Emission Zones are also known as:
Vehicle emissions are classified in Europe by Euro Standards, which determine and categorise a vehicle's emmissions to determine it's pollutant levels. Before you travel into a low emission zone, you first need to find out if your vehicle is affected – this will depend on the vehcile type, age and fuel.
Each county has different regulations. Some require you to pay to enter online, some ask you to buy a physical vignette or sticker, some don't allow you to enter during specific times of the week and some only allow Euro 6 (the least polluting) vehicles to enter. It's complicated!
Check the requirements of the country you're visting here, and if you're renting a car, ask the car rental company about the classification of the vehicle. Better still, base yourself outside LEZ zones and use public transport.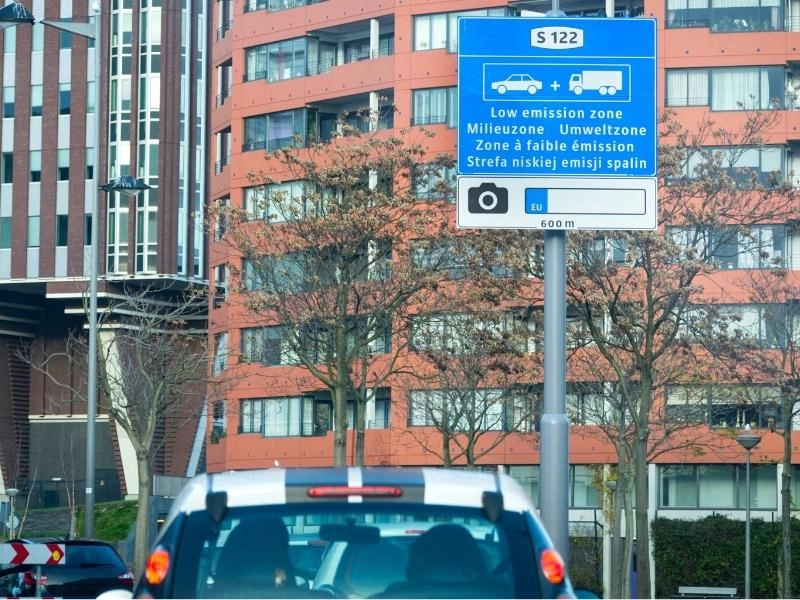 Find out everything you need to know about SIM cards for long-term travel in Europe, including portable WiFi devices, eSIM cards, local SIM cards and monthly contracts which don't have a data cap!
Work Out Urban Access Regulations
Some cities and towns have regulations or restrictions for vehicles going into all or part of their area to improve issues around congestion or how people experience the city, as well as air quality.
These types of access regulations include charging for access to road space, sometimes called urban road tolls, and by key Access Regulation Schemes, also known as key-ARS. These may include the requirement for a permit to drive into an area, access only being allowed at certain times of the day, or increased restrictions for non-electric vehicles.
These are also known as Traffic Restrictions, Limited Traffic Zones, Access Restrictions, Permit Schemes or in Italy ZTLs (Zona a Traffico Limitato). They can be enforced by cameras, physical barriers, police or local authority officers. Find out more here.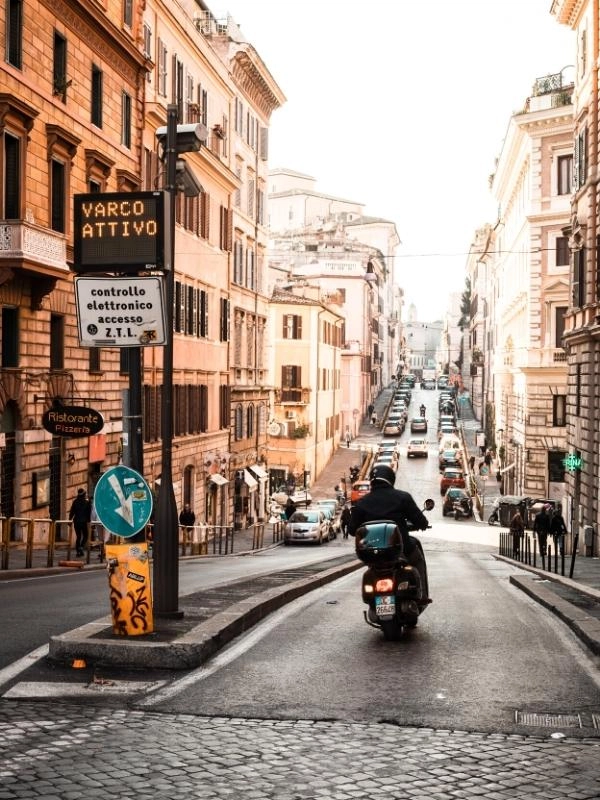 Drive on the Right …Mostly
Almost all of Europe and the EU drive on the right, the same side as the USA, China, Russia and Canada. If you're wondering how to drive on the right in Europe, it's just like it is elsewhere, but visitors from over the pond might find the roads a lot narrower!
If you're visiting the United Kingdom, Republic of Ireland, Malta or Cyprus, then you need to drive on the left! If you hire a car in any of these countries, it will always be right hand drive, meaning the steering wheel is on the right hand side of the car. This makes it easy to navigate and gives good road visibility.
RELATED POST: Podcasts for Road Trips: 26 to Keep You Entertained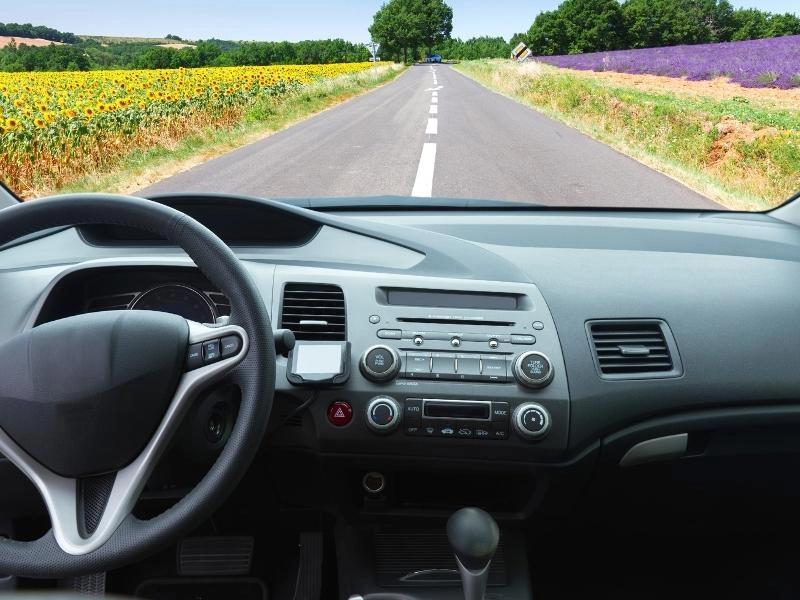 And Talking of Right…
There is no right turn at traffic lights like the is in the United States. While traffic lights have the same colors of green, amber and red, the rules are a little different in Europe, and even if there is no oncoming traffic, you must wait for the light to turn green.
Unless you're in Germany or Greece! In Germany you can turn right on a red if there is a seperate green right arrow. In Greece, it's possible to turn right on a red if there is a seperate flashing orange right turn signal and there is no oncoming traffic.
Some countries also locate their traffic lights at the side of the road, although overhead arrangements are becoming more common. Make sure to stop with enough distance between you and the lights, so you can see them clearly.
RELATED POST: Driving to Italy from UK – Routes & Tips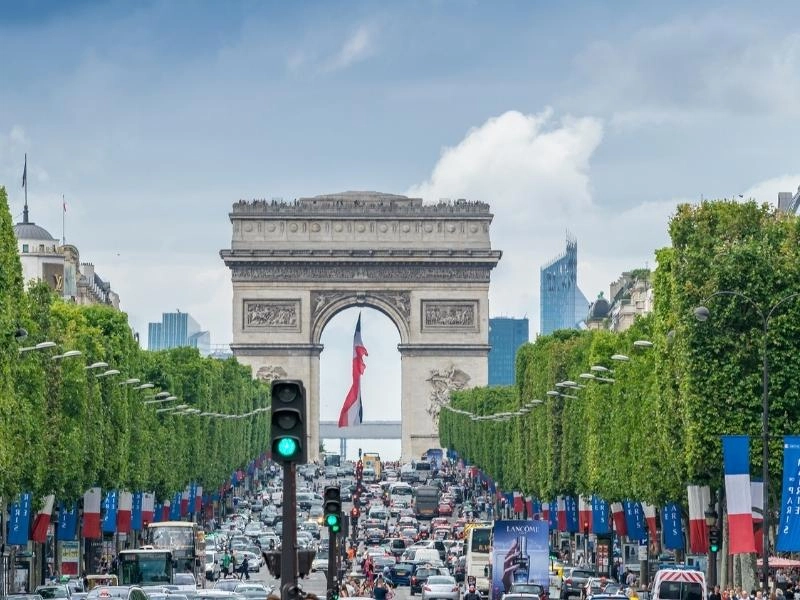 Other European Driving Rules
Under EU law, seat belts must be used in all vehicles. Children over 1.35 m can use an adult seat belt. Those under 1.35m must use equipment appropriate to their size and weight when travelling in a car, like a car seat or booster cushion.
It is illegal to use your phone at the wheel in all EU and European countries and in France and Spain, you may not even use it as a satellite navigation device or with hands-free equipment.
Most EU countries have different alcohol limits set in their drink driving legislation which may be different or lower to your home country. It's best not to drink any alcohol if you're planning on driving anywhere afterwards.
Most European countries, especially those with mountains, have rules about snow tyres and snow chains. Make sure you check these rules if you're taking a road trip of Europe in colder weather.
Member states of the European Union have a standardised set of road signs, but they may differ from your home country. Check what the main EU road signs look like here.
In many European countries, certain discourteous behaviors, such as rude gestures in Germany and honking the horn without cause in residential areas in Spain and Italy are offernces for which you can be fined!
Make sure you're aware of the specific European driving laws for each country that you intend to visit. You can find more information about country specific rules of the road here.
RELATED POST: Driving from UK to Spain – Routes & Tips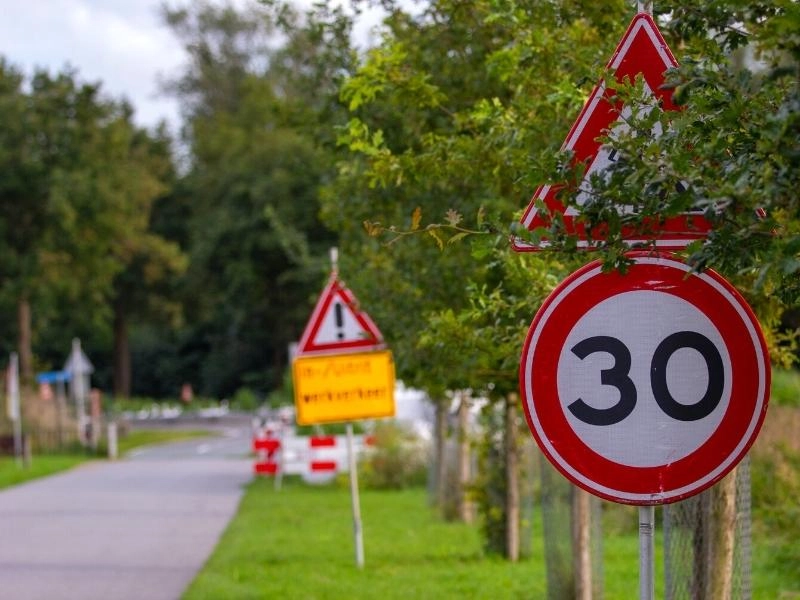 Avoid the Cities
As road trippers, who've accidentally driven an overland truck through a few European cities, we would encourage you not to drive into the centre of any city – it can be stressful, may lead to additional costs and is rarely the best way to get to where you're going. Particular cities to avoid at all costs are Paris, Naples, Rome, Palermo and Athens.
If you want to visit European cities – and why wouldn't you? – head into the centre and get your city fix before collecting your hire car, or arrange to park and stay outside the city and use public transport, thus avoiding any restricted zones.
All our one day city itineraries include hotels outside any LEZ, and information about how to access the city.
RELATED POST: Driving in Italy – Everything You Need to Know
Not All European Roads Are Made Equal
Europe undoubtedly has some of the best driving roads in the world. Long stretches of beautiful tarmac sweeping through dramatic landscapes, and switchback roads topping high mountain passes – think the Grossglockner High Alpine Road in Austria and the Route Napoleon in France, or the infamous Amalfi Coast Road or Vall D'Orcia drive in Italy.
However, some European countries have less money to invest in their roads, and generally the further east you go, the longer the roads have to wait for repair. Large pot holes, badly laid tarmac, lack or road marking, and poor quality of repairs can make driving challenging, even on motorways.
Take it easy until you've got the measure of your surroundings, and leave enough room between your car and the vehicle in front, so you can avoid the worst bits!
RELATED POST: Why We Think These Are The Best Driving Roads in Europe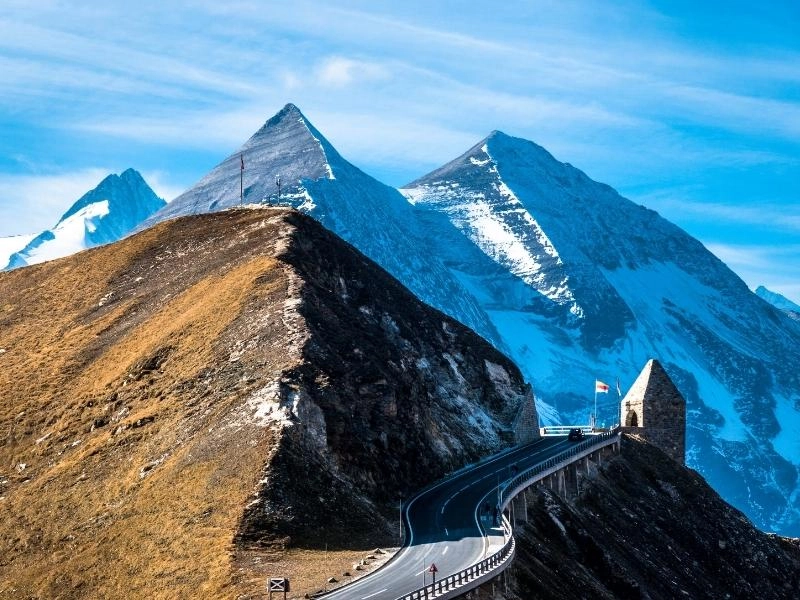 Watch the Locals
One of our top driving in Europe tips! Driving standards across Europe vary, from the considerate and patient Norwegians, to the fast but competent Germans, and the fiesty and loud Italians! Each country has it's own distinct bad habits, so watch the locals and take it slowly until you're comfrotable with what to expect.
In Greece and Italy, overtaking on bends, at the brow of a hill and generally where visibility is poor, is very common. Other drivers tend to slow down to ensure there is room for all the vehicles on the road, but it can be very disconcerting the first few times it happens.
In France, other drivers will sit very close to your bumper waiting for the opportunity to overtake. They will also have their indicator flashing, to let you know they want to get past.
In Italy, the drivers are incredibly impatient and will honk their horns at the drop of a hat. They don't give an inch if you're trying to enter the traffic flow, so you have to do as they do, and just go when even the smallest opportunity presents itself.
Even though speed is not limited on 70% of the German autobahn network, the roads are often so full that a de facto speed limit has been established. But if you do get an empty stretch, observe any signage before you put your foot down!
Regardless of the driving laws in each country, you'll always see locals breaking them. Using phones at the wheel, not wearing helmets on motorbikes and blatently ignoring the speed limits are common. Don't get sucked in to thinking this is OK – police in foreign countries seem to havea lot less less tolerence for tourists breaking the rules!
RELATED POST: Driving in Norway – All You Need to Know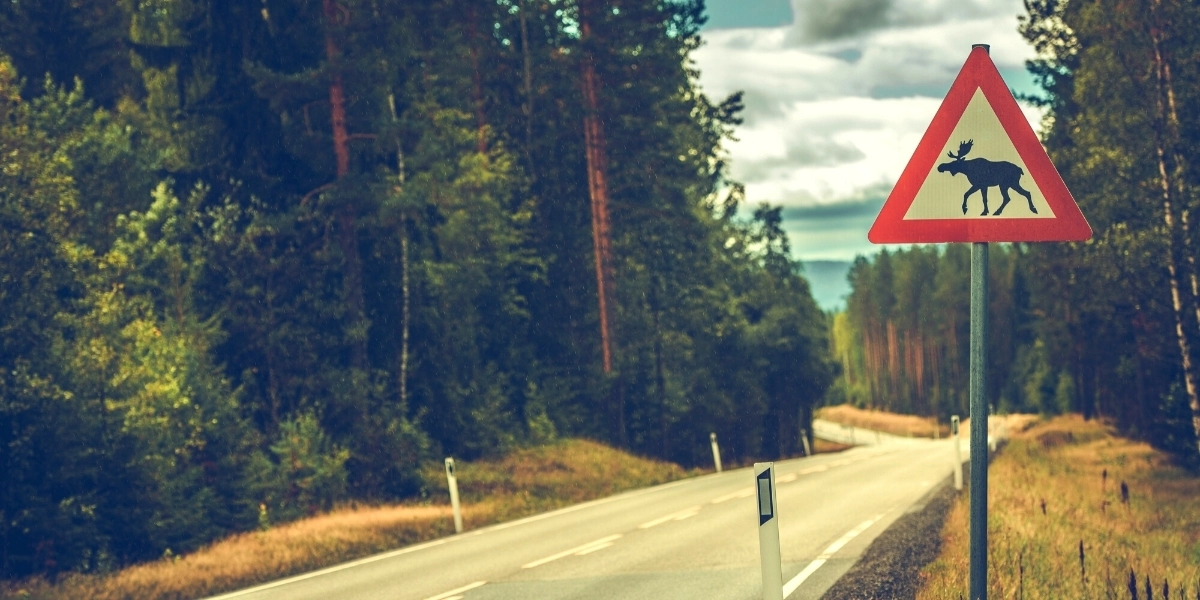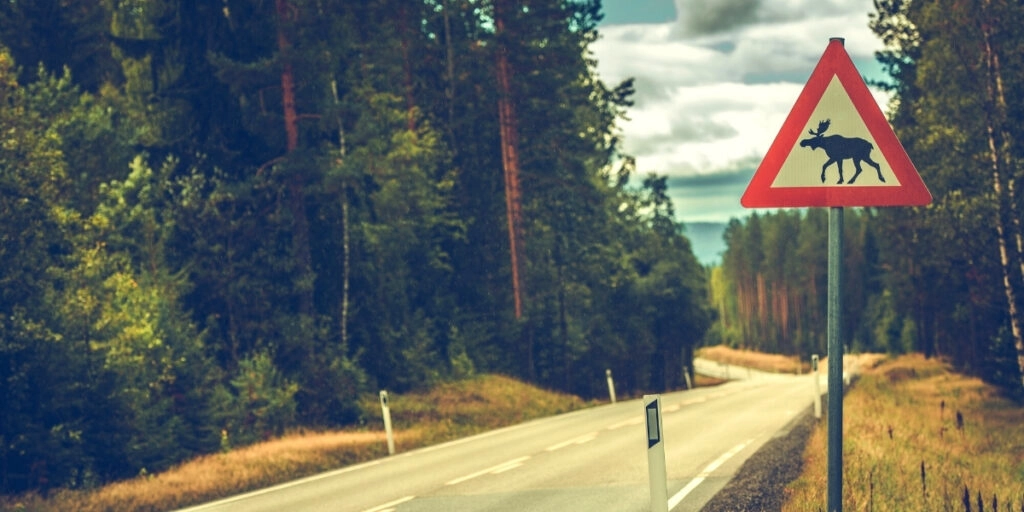 Carry the Right Kit
As a rule you should carry the following driving kit for Europe;
Surprisingly, it is not mandatory to carry these items in all countries – you can find a comprehensive list here. If you're renting a vehicle, it will be equipped with the basics that you need in the event of an accident or emergency.
RELATED POST: The Best Road Trip Gadgets For An Easy Trip
THE ULTIMATE ROAD TRIP CHECKLISTS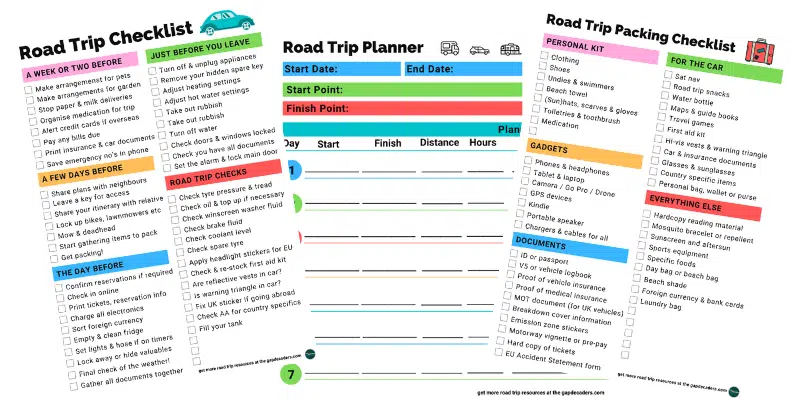 Take the Right Documents
What documents do I need to drive in Europe? The following are mandatory when driving in the EU but if you're travelling to more far-flung parts of Europe like the Balkans, Turkey, and the Caucuses, you made need additional documentation, and should check specific entry requirements with your country's government.
RELATED POST: The Best Printable Driving in Europe Checklists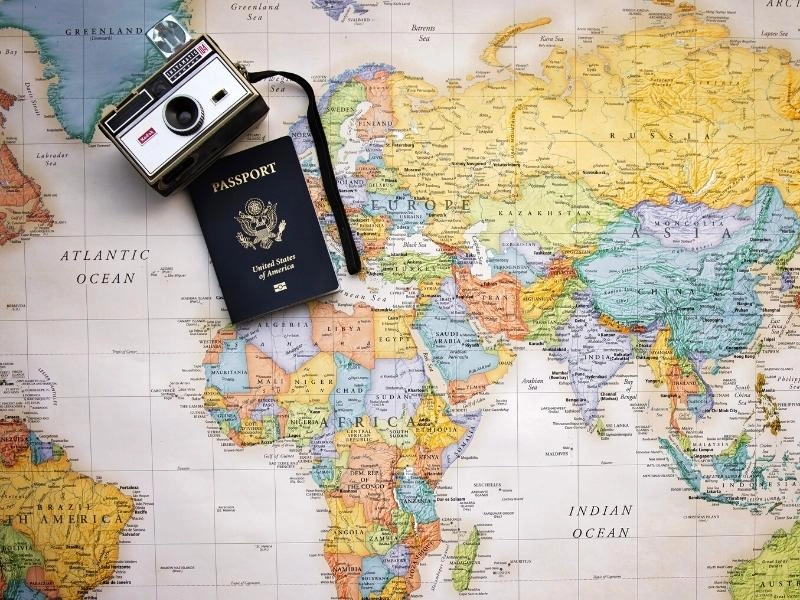 Car Insurance
It is a legal requirement across the EU and Europe to have a minimum of third party insurance for your vehicle. This means that if you are involved in an accident and others are injured or their property damaged, your motor insurance will cover their costs, but not yours.
In some counties on the edges of the continent, such as Morocco, the Balkans, Turkey and the Caucuses, it is difficult to find a provider to cover your own vehicle comprehensively. In this case, you can buy mandatory third party insurance either online from a broker, at the border, or in the country itself, for the period of your visit.
Travelers in UK registered vehicles are automatically covered in Europe on a third party basis, as part of the Brexit deal. If you wish to be covered on a comprehenive basis, you will need to request this from your insurer, usually at extra cost. You no longer need to carry an insurance green card in EU countries as proof of their insurance, but you must carry your regular insurance certificate.
Insurance is automatically included with rental vehciles, but you may wish to specify the levels and add excess cover when you book. Rental cars need three basic types of cover to be on the road – damage cover (collision damage waiver), theft cover (theft protection) and third-party cover (third-party liability). Take a deep breath, this next bit goes on a little….
Collision damage waiver almost always has an excess, which is the part you have to pay towards repairs if the bodywork gets damaged. The excess amount varies depending on where you rent, the rental company you use and the type of car, but it's usually between €600/$620 and €3,500/$3640.
Theft protection protects you if the car is stolen or someone tries to steal it. Theft protection almost always comes with an excess similar to CDW, which is the part of the bill that you'd pay if the car was stolen, or damaged in an attempted theft.
Third-party liability pays out if you hurt anyone or damage anything with your hire car. It doesn't cover the hire car itself, and there's normally a limit to how much this insurance will pay out.
If you're from Europe and most other parts of the world, damage, theft and third-party cover will usually be included in the price when you book the car. You can also choose to buy extra insurance to cover the excess, meaning you won't pay anything towards repairs.
These extra insurances can be added at the time of booking, when you collect the car, or by using a third party to independently insure the excess, such as Insurance4CarHire, which is usually a much cheaper option.
Things are a little different for drivers from the US or Canada, because many drivers have credit cards that include rental car cover automatically, so they may be able to choose either a basic or standrad package which doesn't provide damage or theft protection.
RELATED POST: Driving to France from UK: Absolutely Everything You Need to Know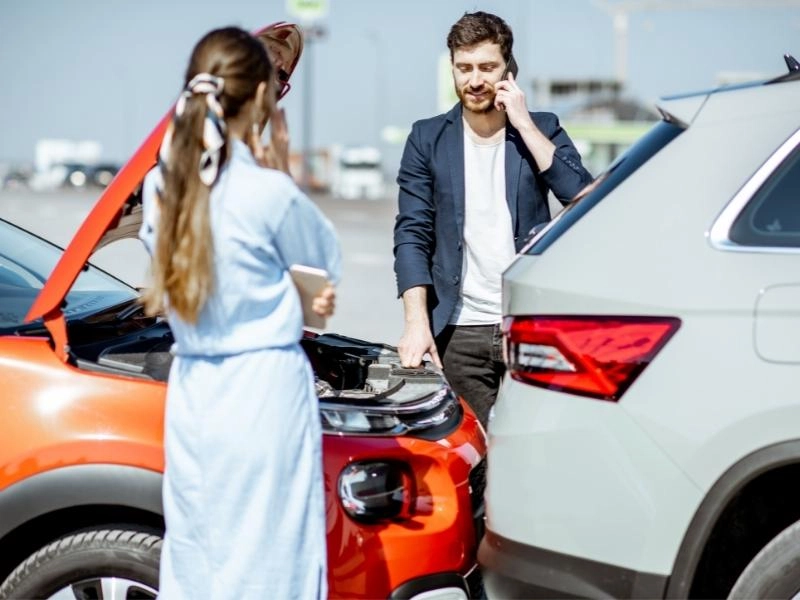 Travel & Medical Insurance
There is no legal requirement to have travel or medical insurance when you're in Europe or the EU.
However, most EU countries do not provide free health cover, even in the event of an accident, and you could well be left with a large bill to cover any treatment. If you need to be medically evacuated back home, this can cost upward of €50,000/$52,000.
UK travelers can apply for a GHIC card, which covers them on a reciprocal basis within the EU and Switzerland, but not the EEA. The GHIC card is not a substitute for travel insurance and may not cover all health costs, and it never covers repatriation costs. You should make sure you have travel insurance as well as your GHIC card.
We highly recommend our favourite insurer, True Traveller, for UK travellers and travelers from America and the rest of the world. Regulated by Britain's Financial Conduct Authority, they offer the best levels of Defaqto rated insurance at the keenest cost, and include lots of activities and gadget cover as standard, which is handy if your home insurance doesn't cover expensive items like cameras and drones.
Both these insurers also cover you against cancellation, curtailment, travel delays, missed departures, lost baggage and personal liability.
RELATED POST: 150+ Road Trip Songs: Your Ultimate Driving Playlist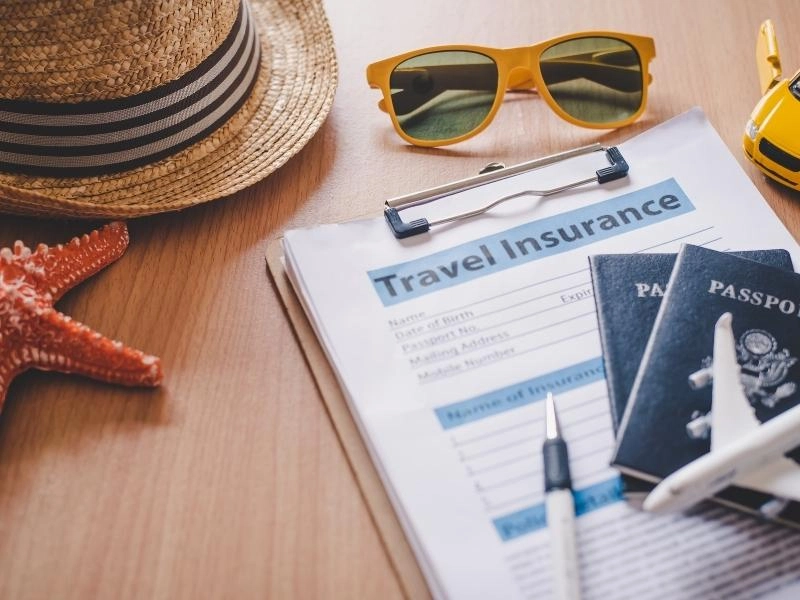 Car Breakdown Cover
Do you need breakdown cover? We all hope that when we hit the road, nothing will go wrong with the car. As veterans of several blowouts, flat tyres and on one memorable occasions, failed brakes, we know that preventative car care and preparation trumps hope every time!
Breaking down in a rental car is unusual, as the cars tend to be quite new and well-maintained. But, if it does happen and you haven't added breakdown insurance to the rental, then you will have the pay the costs of roadside assistance, recovery and repairs, even though the rental company will make all the arrangements.
If you're travelling in your own vehicle, we would strongly encourage you to book European breakdown insurance cover, at least for the duration of your trip, and have your vehicle serviced before setting off.
It's worth knowing that French motorways are privately managed and you're not allowed to request your own assistance company to attend to you if you break down. If you do break down, you should use the orange emergency telephones that are situated every 2km along French motorways to call the official breakdown service operating in that area.
You will be towed to a safe designated area where you can make onward arrangements for your own European breakdown cover provider to assist you, who should also cover the costs of any roadside recovery you have to pay.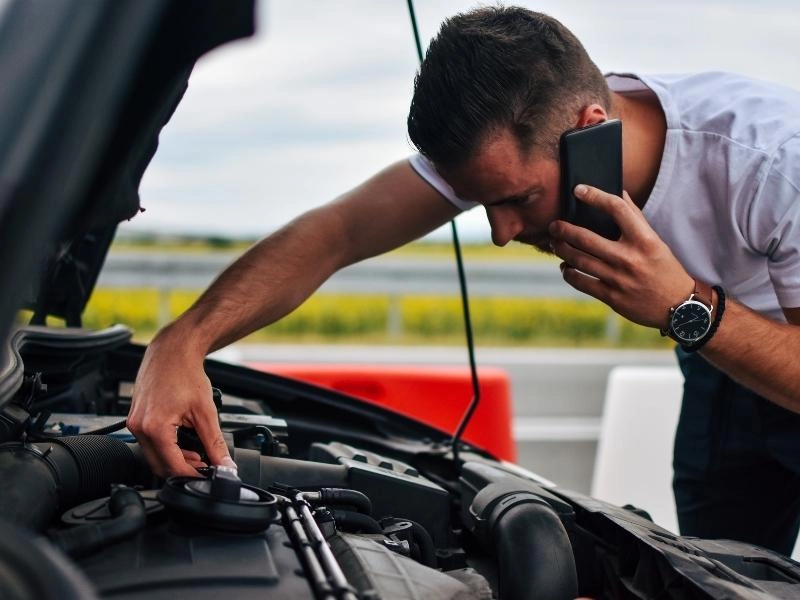 Fuel in Europe
The vast majority of filling stations in Europe are self service, and many are unmanned, meaning you need to use a self pay system on the forecourt.
In some countries, like Italy, there are two prices for fuel – one for self service and one for attendant service and the latter can be up to €0.15 per litre (or 57¢ per gallon) more expensive! Beware Italian garage attendants who usher unsuspecting road trippers to the more expensive pumps…
In Europe, gasoline is generally called benzine or sans plomb and in the UK it's called unleaded petrol – the pump handle is almost always green.
Diesel is usually called diesel or gasoil, and the pump handle is always black. But, these names can change slightly by country, so if you're unsure use a translate app to work it out.
Your hire car will have a label on the inside of the petrol cap advising you of the right fuel type, and in many cars you cannot fit an incorrect pump nozzle into the tank.
If you choose to hire an electric car, you can find a full list of charging points in Europe here.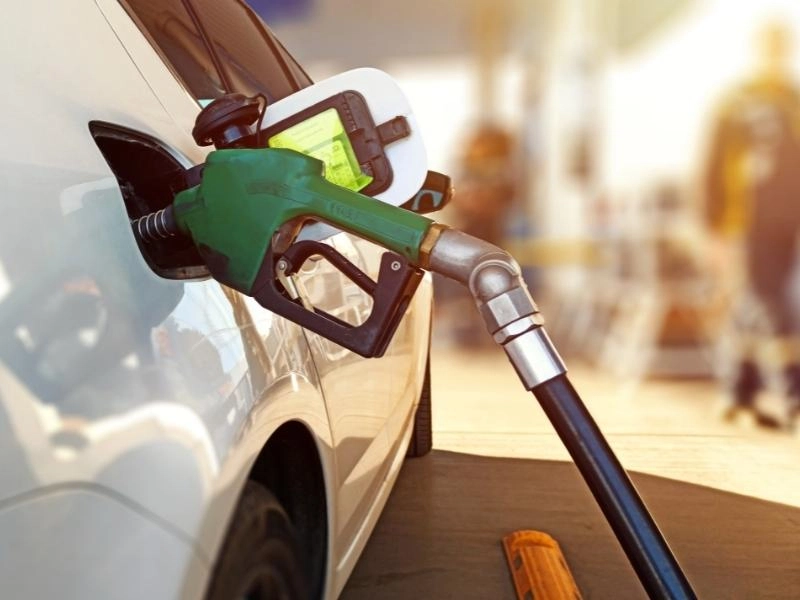 What to Do if an Accident Happens
Firstly, don't panic. Make sure than no-one is hurt and everyone is safe. Ring the emergency services (112 in Europe and 999 in UK) if you need an ambulance or the police.
Exchange information such as car registration numbers, names, addresses and telephone numbers, with the other party using an EU Accident Form which you can download in English here. Make a note of the following;
Take photographs if possible, and never admit liability.
If you're in a rental car, let the rental company know, or your insurance provider if you're driving your own vehicle.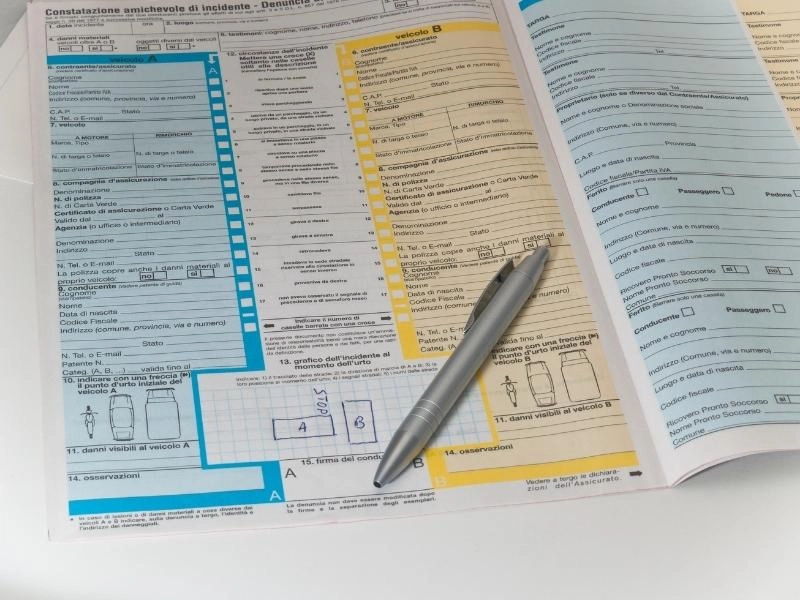 Pick the Right Destination!
Working out where to go when you road trip what is arguably the most amazing continent in the world is tough. If you've only got a couple of weeks, you'll want to pack as much in as possible.
If you're looking for ideas or inspiration, check out our collection of incredible road trips. From Spain to Greece via Norway, and everything in between, we've got the perfect Euro road trip for you.
This round up of our favourite European road trips is a great source for ideas, and will give you a flavour of what to expect in each country. Or check out our UK route planner, with a selection of amazing routes through England, Scotland, Wales and Northern Ireland.
If you love the open road and have wheels, we have the perfect road trip for you!
RELATED POST: 113 Road Trip Quotes to Inspire Your Next Trip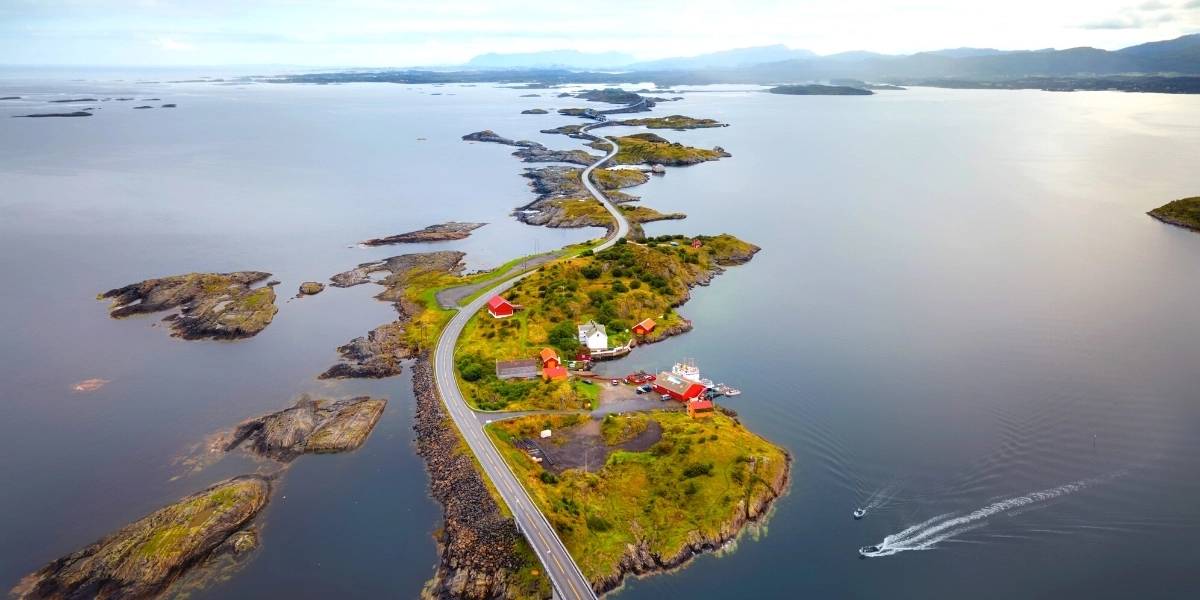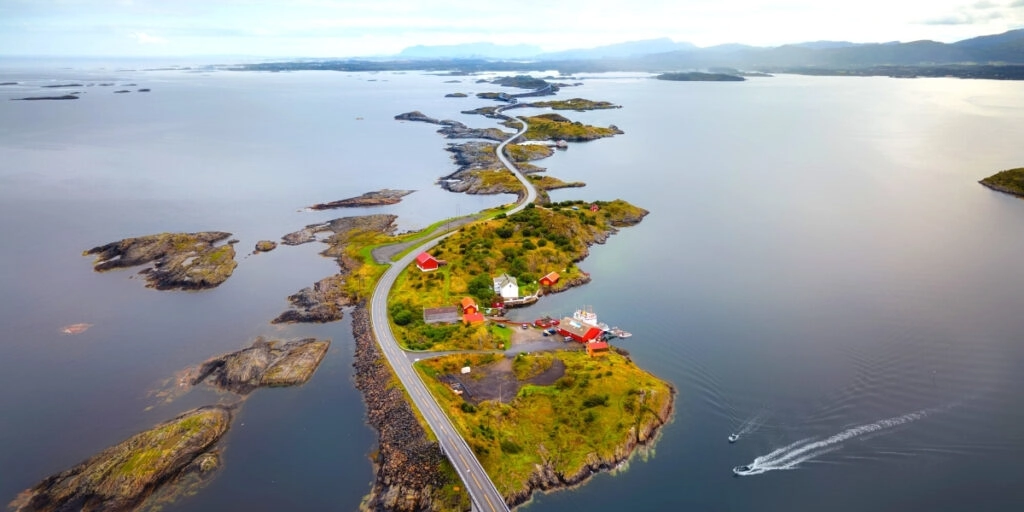 Are you looking for road trip inspiration? Check out these top posts…
The land of fire and ice is a spectacular place for an adventurous road trip. Iceland's volcanic and glacial terrain that has shaped its nature and geography over millennia, as well as heavily influencing the country's culture, is easy to visit as you travel the island's ring road. Come with us as we share the top 26 places to visit on a road trip of Iceland.
Love it? Pin it!