This post may contain affiliate links, from which we earn an income.
Are you dreaming of exploring the stunning landscapes of Sweden on an unforgettable road trip? Look no further! Whether you're seeking adventure, culture or history, Sweden has something for everyone.
From the rugged beauty of Swedish Lapland to the uber-cool capital of Stockholm, this Scandinavian gem offers a wealth of natural wonders, cultural attractions, and culinary delights.
In this Sweden road trip planner, we'll share the best Swedish road trip itinerary, insider tips, must-see destinations, side trips and practical advice to help you plan your own epic adventure. So buckle up and get ready for the drive of a lifetime!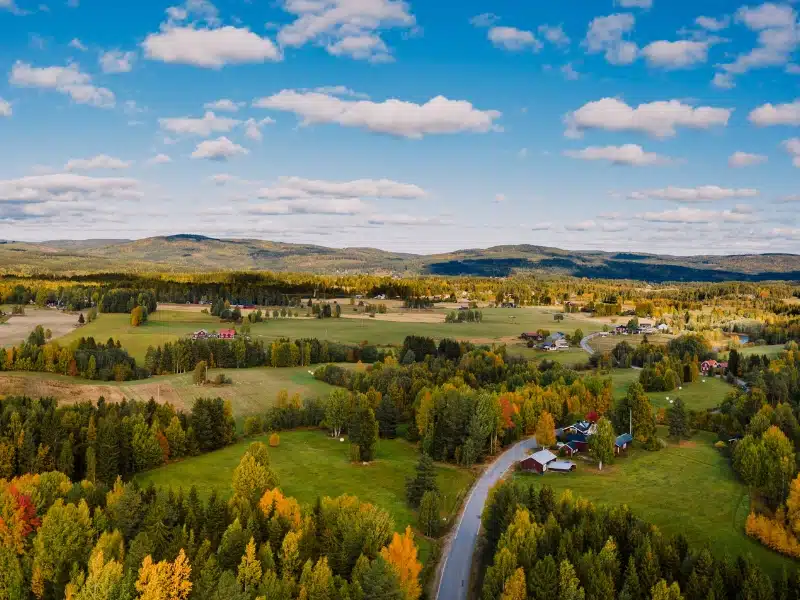 Getting to Sweden
Whether you're traveling to Sweden in a car, motorcycle, or campervan from Europe, or picking up a hire car, self-driving is absolutely the best way to explore this fantastic Scandinavian country.
You can stop whenever you want, try new activities, visit places you see along the route, and have the freedom to change plans at the last minute.
Fly into one of Stockholm's four international airports, Arlanda, Bromma, Skavsta and Vasteras. With direct flights from America, Europe, the Middle East and the UK, we recommend booking through Skyscanner for live deals and the best prices.
Are you planning to rent a car in Sweden? As one of the largest car hire aggregator companies in the world, we recommend Rentalcars.com because they have massive purchasing power which enables them to secure the best rental car prices, which benefits you when you're planning a road trip.
For a real adventure, hire a motorhome or campervan in Sweden. We recommend Motorhome Republic, an aggregate booking site who pull together all the best deals from a number of rental agencies, to offer you a wide choice of options alongside an excellent English speaking expert motorhome Concierge Team. Use the Park4Night app to find overnight spots and campsites along the route.
Best Time for Visiting Sweden
Spring
Whilst it can be quite cool in spring, Sweden is slowly beginning to come back to life after the long dark winter. Attractions, cafés, and restaurants start to open, but you'll still need to bring cold-weather clothing and boots.
Summer
The temperatures are lovely in Sweden in the summer. Not getting too hot, they generally hover around 25ºc / 77ºf, and the days are long, with the sun setting around 11 pm.
Summer is the liveliest time of year, especially at the weekends when locals go sailing, hiking, and visit local nature reserves with their families. You can make the most of the long days and enjoy al fresco dining.
Midsommar, Sweden's biggest holiday, falls around the summer solstice and generally sees the cities empty as families head to their summer cottages for the month of July.
Fall
The color of the trees in autumn brings a different feel to the country. Whilst the days are still long they are getting cooler and day-to-day life starts to move inside, with log fires and candles in restaurants and bars so you can enjoy a cozy evening.
Winter
The winters in Sweden are seriously cold, getting as low as -20ºc / -4ºf in the south of the country, and even colder in the north. There's lots of snow on the ground, and the days are very short. However, if being in a winter wonderland appeals it's still definitely worth a visit, just make sure you have your winter woollies packed and your vehicle well prepared.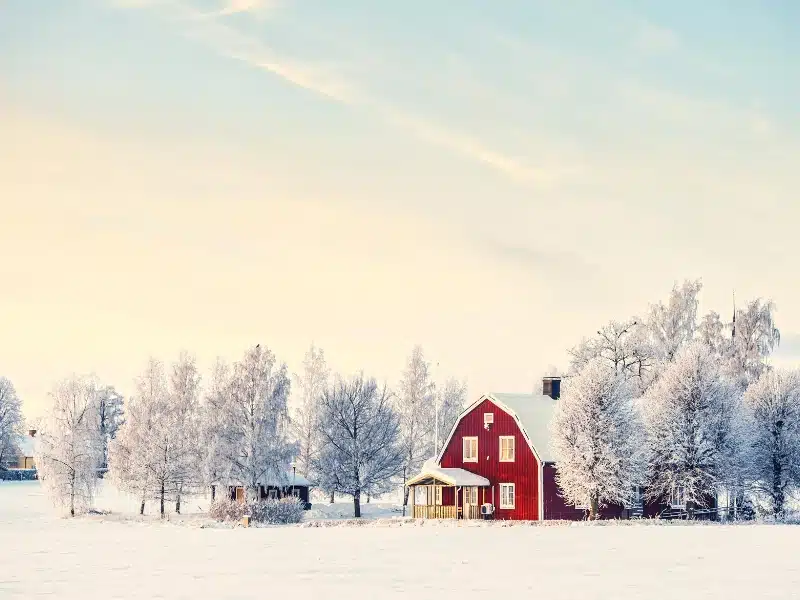 Road Trip Sweden Map & Route
This eleven day road trip from Stockholm hits all the highlights, with charming towns and cities, Viking history, modern art, UNESCO sites, and natural wonders on the itinerary.
This Swedish itinerary will easily stretch to two weeks if you prefer to slow travel and take in more sights as you go. Why not explore our side trip options, spend longer in your favorite places, and check the interactive map for attractions and landmarks nearby?
Stockholm – Uppsala – Gävle – Sundsvall – Åre – Mora – Sunne – Karlstad – Gothenburg – Halmstad – Malmö – Ystad – Karlskrona – Kalmar – Jönköping – Linköping – Stockholm
How to use this map – Use your fingers (or computer mouse) to zoom in and out. Click or touch the icons to get more info about a place, and click the arrow in the box top left to open the index. To add to your own Google Maps account, click the star next to the title of the map.
Sweden Road Trip Itinerary
Day 1: Stockholm
Stockholm
The capital of Sweden, Stockholm is made up of fourteen islands and more than 50 bridges on an extensive Baltic Sea archipelago. The largest city in Scandinavia, Stockholm is the epitome of Scandi-cool, from having one of the best-preserved historic districts in the world to being home to the first-ever open-air museum.
Start your visit to the old town of Gamla stan. Here you can explore Stockholm's narrow cobblestone streets and colorful buildings dating back to the 1200s, and visit the Swedish Royal Palace, Nobel Prize Museum, and the Royal Armoury.
Make sure to look for Järnpojke or Iron Boy sculpture, which is known as 'the little boy who looks at the moon' in English. Sweden's smalled public monument is just 6 inches / 15cm high, and the boy is often dressed in clothes by locals based on the weather!
Don't miss the opportunity to take a Stockholm Archipelago sightseeing cruise. Climb aboard a 1906 classic archipelago cruise ship and experience the best of the archipelago on a round-trip city cruise. With a guide on board, you'll learn about the history of the different sights you pass.
Just south of the center is Södermalm, a hip and trendy neighborhood with many independent shops and bars. It's a great place to explore the Stockholm City Museum and the Fotografiska Museum. The latter is a former customs house that is now a museum dedicated to contemporary photography and hosts exhibitions by both local and international photographers.
Enjoy lunch at the museum's Fotografiska Restaurant for great food and harbor views.
Take a drive, a tram or even hire a bike for the short trip from the historical center to explore Djurgården. The island is home to more of Stockholm's best museums, including the ABBA Museum, Skansen open-air museum, Vasa Museum, and Nordic Museum.
Visit the local indoor market, Östermalmshallen, to see all the splendid Norwegian produce, from fresh seafood to artisanal cheeses. It's a great place to sample Swedish delicacies and purchase souvenirs.
Stockholm has many top-class eateries, including several Michelin-star restaurants that you can visit for dinner.
RELATED POST: Stockholm One Day Itinerary + Map, Tips & Guide
Upmarket: Hotel Frantz – Booking.com | Agoda
Mid-Range: Story Hotel – Booking.com | Agoda
Budget: Comfort Hotel Express – Booking.com | Agoda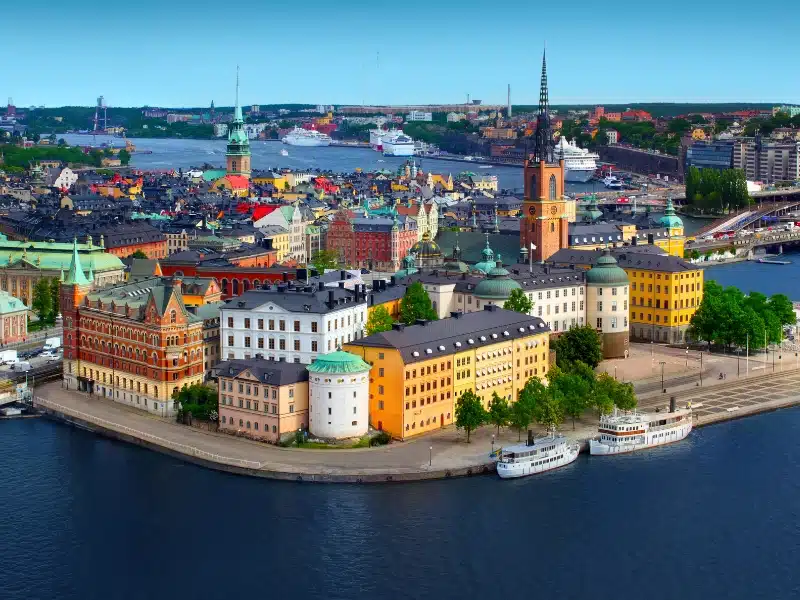 Make sure you have travel insurance you can trust when visiting Sweden. We recommend True Traveller for their 5-star TrustPilot reviews, variety of cover options, best activities cover as standard, great prices, and excellent service.
Day 2: Stockholm to Gävle
Uppsala
Uppsala is a charming university city located less than an hour north of Stockholm. It is a great city to explore on a bike, with several rental shops around town.
Visit the impressive 13th century Uppsala Cathedral. This Gothic cathedral is one of the largest in Scandinavia, dominating the city's skyline.
For more history, explore Uppsala Castle, an impressive structure built in the 1700s that now houses several museums, including the Uppsala Art Museum and the Museum of Gustavianum.
Afterward, head to the beautiful Linnaeus Garden. It's a great place to stroll and admire the many plants and flowers. Another must-see garden about 20 minutes walk away is Uppsala University's Botanical Garden, one of the oldest in Sweden. It is home to over 11,000 plant species from around the world.
Walk along the Fyris River and stop at Güntherska for lunch and a coffee.
Gävle
On your way to Gävle, stop at Gamla Uppsala. This ancient site was once the heart of Sweden's pagan Norse religion and is home to several burial mounds dating back to the Viking Age. There's also a museum where you can learn about the site's history and Sweden's folklore and culture.
Once you arrive in Gävle, visit the stunning 16th century Gävle Castle. Afterward, visit the County Museum of Gävleborg, which boasts an impressive art collection.
If you are traveling through Gävle in December, don't miss the famous Gävle Goat, a traditional giant straw Swedish Yule goat with magnificent horns that is erected yearly for Christmas. It has become the city's symbol and is a popular attraction.
Walk along the Gävle River that runs through the city center. It is a lovely place to take a walk or bike ride, and there are several parks along the river where you can relax. One is Boulognerskogen, a large park just outside the city center.
Go for dinner at Aktern & Foren for superb Italian cuisine or Sarahs for more local dishes.
Upmarket: Engeltofta Sea Lodge – Booking.com | Agoda
Mid-Range: Clarion Hotel Winn – Booking.com | Agoda
Budget: Hotell Alderholmen – Booking.com | Agoda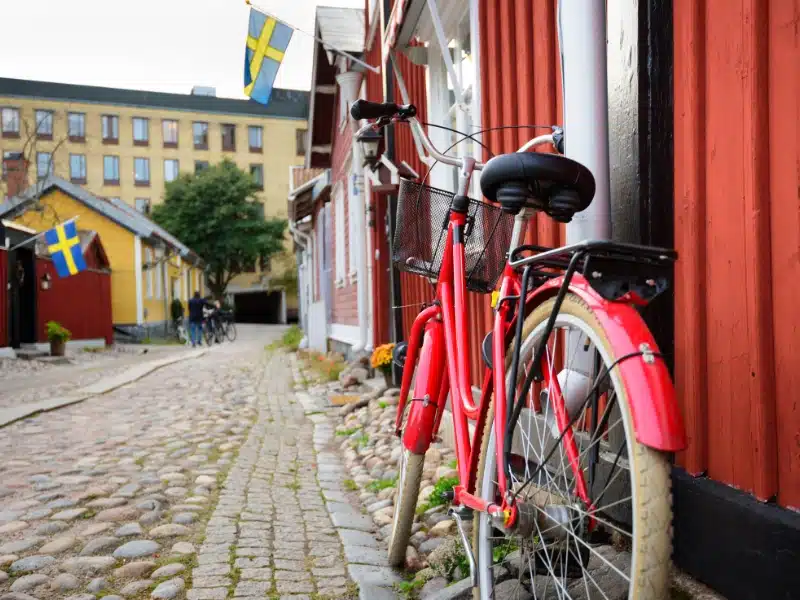 Day 3: Gävle to Åre
Sundsvall
Sundsvall is located on the western shores of the Gulf of Bothnia and is known for its local produce including cheese, craft beer, and gin. It's also known for its surströmming or fermented herring, a traditional Swedish dish originating on these shores. It's a must-try delicacy, but be warned, its powerful stuff and definitely an aquired taste!
Explore Sundsvall's old town, a well-preserved area with several historical buildings and landmarks. While in the center, visit the Sundsvall Museum to learn more about the region's cultural history.
Make the most of Sundsvall's several hiking and skiing trails. Norra Storfjället National Park is a popular destination with several paths for both novice and experienced hikers.
Visit the Kulturmagasinet, a cultural center in an old warehouse in the center of Sundsvall. It contains several museums, including an art museum and a history museum.
Follow this up with lunch at En Liten Krog (open Wednesday to Saturday).
Åre
Åre is about three and a half hours from Sundsvall. To make the drive less strenuous, stop at Östersund for a rest. Have a coffee with great sea views at Badhusparkens Café with great views of the nearby Storsjön Lake or Norra Station Cafe & Rosteri.
You won't have a lot of time to explore Åre today, so we suggest heading to Karolinen Taljstenskrogen Are or Supper Are (slightly more expensive, but worth it), for dinner before heading to bed!
Upmarket: Copperhill Mountain Lodge for saunas, hot tubs, and massage treatments – Agoda
Mid-Range: Hotell Granen – Booking.com | Agoda
Budget: Holiday Club Åre – Booking.com | Agoda
Day 4: Åre
The beautiful mountain resort, Åre, is one of Sweden's top ski resorts and is best visited between October and May when you might catch sight of the Northern Lights. It boasts Sweden's largest downhill ski area with the longest runs at 3.7 miles / 6km!
In summer, the mountain range surrounding Åre provides exceptional hiking trails. Popular hikes include the climb to Åreskutan, the area's highest peak, and the Tännforsen Waterfall trail, to see of of Sweden's greatest waterfalls with a total fall of 125 feet / 38 meters and width of 197 feet / 60 meters.
Make sure to visit the medieval Gamla Åre Kyrka built at the end of the 12th century. The only preserved medieval stone church in the Skanderna mountain chain, the building takes inspiration from churches in Norway because Jämtland, Åre's home province, was Norwegian until the year 1645.
The many rivers and lakes surround Åre are full of fish, including salmon and trout. If you are keen on angling, you can get a fishing permit in town, take a guided fishing trip, or go at it solo.
RELATED POST: Beautiful Places in Sweden: Discover the Best Spots to Visit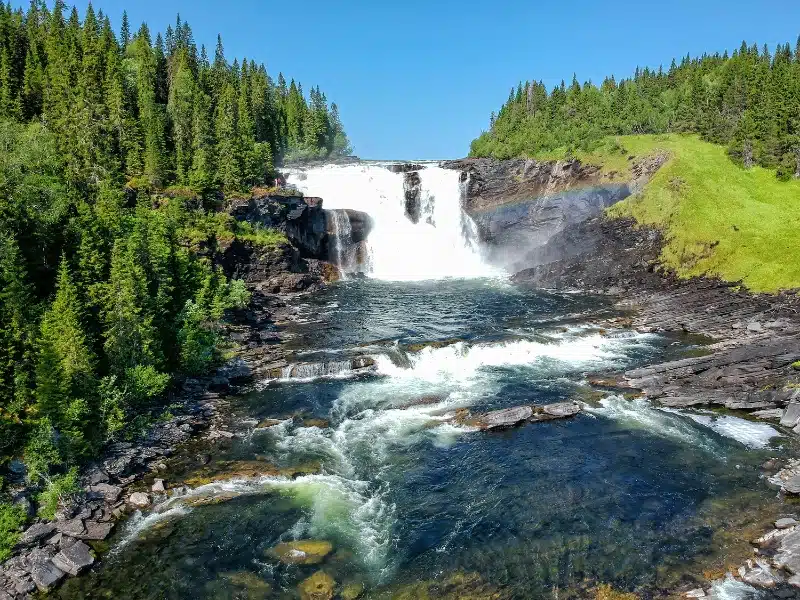 Swedish Lapland Side Trip
As Åre is the further point north on this road trip itinerary, its the perfect location from which to head North, for true wilderness in Laponia, as Swedish Lapland is know known, and very possibly one of the best driving roads in Sweden.
The Wilderness Road Sweden, known as Vildmarksvägen or Stekenjokksleden in Swedish, heads along route Route 342 from Strömsund in Jämtland to Vilhelmina in Lapland, passing through Gäddede, Stekenjokk, Klimpfjäll and Saxnäs befoe arriving in Vilhelmina, from where the E45 takes you swiftly south again.
Sweden's highest paved road is roughly 360 km long and will add about six hours of driving to your itinerary, but only if you don't stop for photos – and you'll find it impossible not to! This is remote Sweden at its very best, with dramatic waterfalls, hidden caves, mountain hikes, sámi dwellings, and lots of bears (more per square kilometer than anywhere else in Sweden) along the route.
The most iconic part of the drive crosses Stekenjokk Plateau, a protected Sámi heritage landscape where you'll see rare birds and reindeer. This particular section of the road is only open from early June to mid-October each year due to snowfall so this is a side trip for the summer only.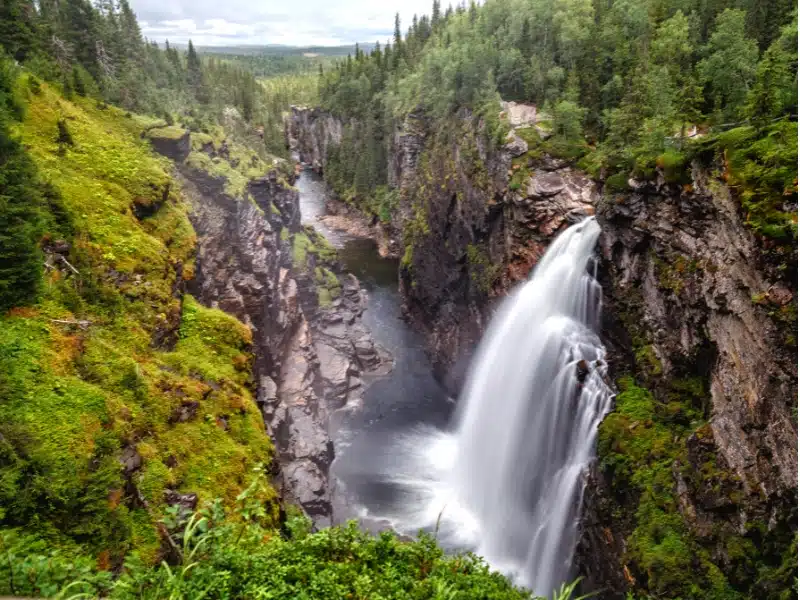 Day 5: Åre to Mora
Mora
Take the E14 and Route 321 to Mora. This route will take you 235 miles south to your destination, passing through Vemdalen and Sveg, where you can take breaks.
Visit the small town of Vemdalen and the charming Vemdalens Kyrka and have a coffee at Vemdalens Bovre & Café.
Make another stop in Sveg to view the giant wooden bear sculpture, the Brown Bear of Sveg. It's an interesting take on a bear and is actually made of planks of wood nailed together. At 43 feet / 13 meters tall and weighing in at 80 tonnes, it's definitely imposing, although to me, not terribly bear like!
After admiring the bear, stroll through the small town and have an early lunch at Cafe Cineast. Their sweet pastries are a must-try!
Once you arrive in Mora, visit the Zorn Museum and the Vasaloppet Museum. The former is a museum dedicated to the famous Swedish painter and sculptor Anders Zorn. The Vasaloppet Museum tells the story of the world's biggest cross-country ski race that starts in Sälen and finishes in Mora.
Finally, explore the 13th century Mora Church, one of the town's most prominent landmarks.
For dinner, go to Kak & Plock or Heim.
Upmarket: Mora Hotell & Spa – Booking.com | Agoda
Mid-Range: First Camp Moraparken Hotel – Booking.com | Agoda
Budget: Prinsgården B&B Rum Stugor – Booking.com | Agoda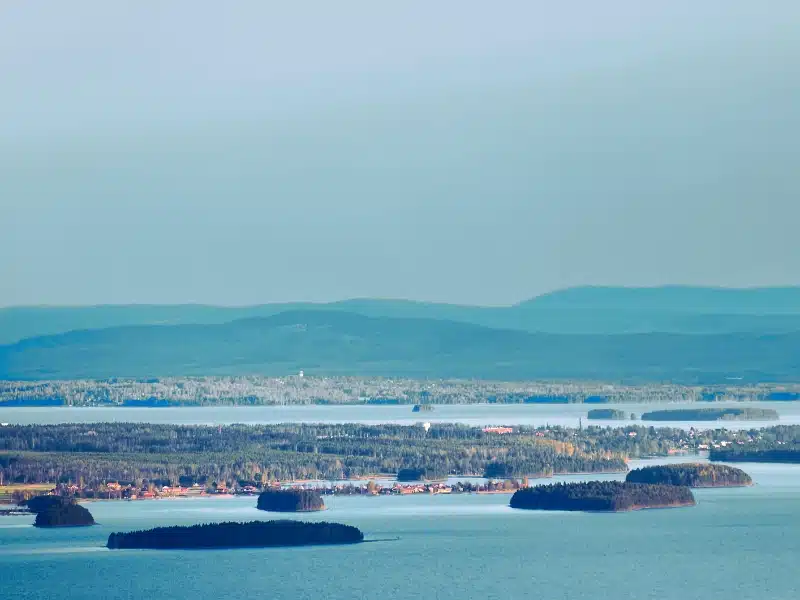 Day 6: Mora to Karlstad
Sunne
Sunne is a beautiful town 118 miles south of Mora. It will do you well to stop and stretch your legs at either Backa or Torsby. Both small towns offer a few stores and a café where you can get refreshments.
Once in Sunne, visit Mårbacka, the childhood home of Swedish author Selma Lagerlöf. She was the first female Nobel Prize winner for literature in 1909. Mårbacka has since been turned into a fascinating museum showcasing her life and work.
Explore the beautiful sculpture park, Rottneros Park. Then visit Sunne Art Gallery, which showcases contemporary art from Swedish and international artists. If you are traveling through Sunne in the summer, see if you can catch a show at the open-air Västanå Teater.
Enjoy an American-style diner lunch at Diner 45 Sunne.
Karlstad
Karlstad is a delightful city located less than an hour from Sunne on the shores of Lake Vänern.
Start your exploration with a visit to the Varmland Museum, one of the largest regional museums in Sweden. The museum reveals the history, culture, and art of the Varmland region, which stretches across central-west Sweden, spanning rolling hills and deep forest, and boasting some 10,000 lakes.
Another notable place to see is the Sandgrund Lars Lerin. This riverfront art gallery celebrates the works of the Swedish artist Lars Lerin. Walk along the Klaralven River or around the Mariebergsskogen public park for more scenic views of the surroundings.
Treat yourself to dinner at Blackstone Steakhouse or Baron.
Upmarket: Elite Stadshotellet Karlstad – Booking.com | Agoda
Mid-Range: Scandic Winn – Booking.com | Agoda
Budget: Solsta Hotell – Booking.com | Agoda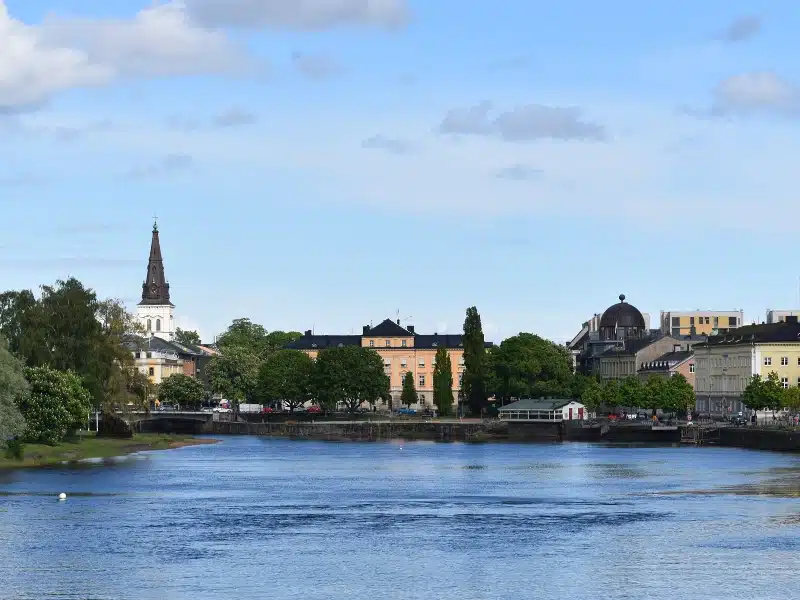 Kosterhavet National Park Side Trip
As you head south to Gothenburg, make a short detour to Strömstad and pick up a Västtrafik ferry to South Koster for the Kosterhavet National Park, Sweden's first marine national park.
One of the most popular of Sweden's 30 national parks, the Atlantic Ocean conservation reserve borders the Ytre Hvaler National Park in Norway and the Väderö Islands. A haven for an incredibly diverse array of over 6,000 types of sea life including cold-water coral, the park is a serene and natural environment.
The best way to see the sea life is by kayaking in the fall when seals are often spotted swimming or basking in the sun on one of the remote islands in the park. In summer, the sea is warm enough for snorkeling and scuba diving, which opens up the underwater world. If getting into the water is not for you, there are boat trips to the wider park and ocean.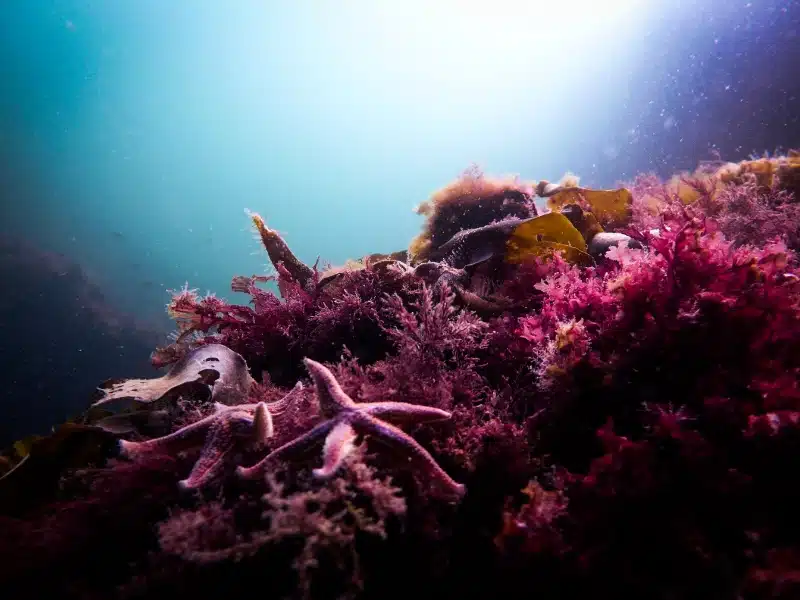 Day 7: Karlstad to Gothenburg
Gothenburg
Gothenburg is Sweden's second largest city, located about 155 miles from Karlstad. Stop in Trollhättan to visit the SAAB Car Museum or the Trollhättan Waterfalls.
If traveling as a family, or you're just a big kid, visit the Liseberg amusement park in Gothenburg. It is one of the largest entertainment parks in Scandinavia. It has a variety of roller coasters, rides, and attractions, as well as live shows and concerts.
Stroll around the Haga district and have lunch at En Deli Haga or Café Husaren and make sure to try the giant cinnamon buns.
Next, explore the Gothenburg Archipelago. You can catch a ferry from the city center to this island group that offers stunning beaches, hiking trails, and wildlife.
Whilst on the water, discover the Göta Canal, a 240 miles / 390km inland waterway that links a number of lakes and rivers to provide a route from Gothenburg on the west coast to Söderköping on the Baltic Sea. The canal is one of Sweden's most popular tourist destinations where you can experience 200 years of history, 58 locks, boats, stunning landscapes, and Swedish culture.
If you prefer to remain in the city, visit the Gothenburg Museum of Art. It has an extensive collection of Nordic and international art on exhibit, including works by Rembrandt, Picasso, and Monet.
A museum that will delight car enthusiasts is the Volvo Museum. Here you can see vintage cars and prototypes and learn about the brand's development.
Afterward, stroll through the magnificent botanical garden to experience over 5,000 plant species.
Enjoy dinner at the modern Bord 27 or Beerista for a great beer selection and good ribs.
Upmarket: Upper House – Booking.com | Agoda
Mid-Range: Story Hotel – Booking.com | Agoda
Budget: Lisebergsbyns B&B – Booking.com | Agoda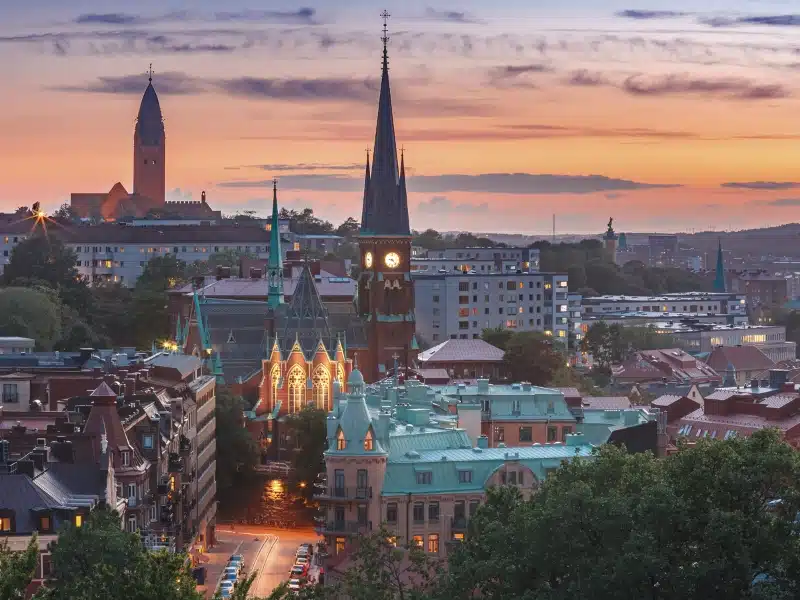 Day 8: Gothenburg to Malmö
Halmstad
Once in Halmstad, visit the medieval Halmstad Castle, which dates back to the 1600s. You can explore the castle's history, beautiful gardens, and parks.
Follow it up with a visit to the Hallands Kulturhistoriska Museum, which showcases the history of the Halland region, which today boasts a rich foodie culture, outdoor activities and adventures galore, sandy beaches and lush forests.
The museum covers the area's Viking history and its modern-day culture. Another notable museum is The Halmstad Art Museum which includes works by Picasso and Dali.
Relax at Tylösand Beach or walk along the Nissan River that runs through Halmstad. You can also rent a kayak and explore the river from the water. Then go to lunch at Restaurang Yoss or Hygge.
Malmö
Malmö is approximately 84 miles from Halmstad.
Visit the tallest building in Sweden, the Turning Torso. You can take a guided tour of this modern skyscraper and enjoy the panoramic views of the city from the top.
Then explore the 16th century Malmöhus Castle, in total contrast to your previous stop. Afterward, head to St. Peter's Church to admire its beautiful architecture and stained-glass windows.
Walk around Kungsparken and end your day in Lilla Torg, a vibrant square in the heart of Malmö. Dine at Restaurang Que for delicious Vietnamese food or Vastergatan for a Michelin-star experience.
Upmarket: MJ's – Booking.com | Agoda
Mid-Range: UNITY Malmö – Booking.com | Agoda
Budget: Hotel N Hostel Malmö City – Booking.com | Agoda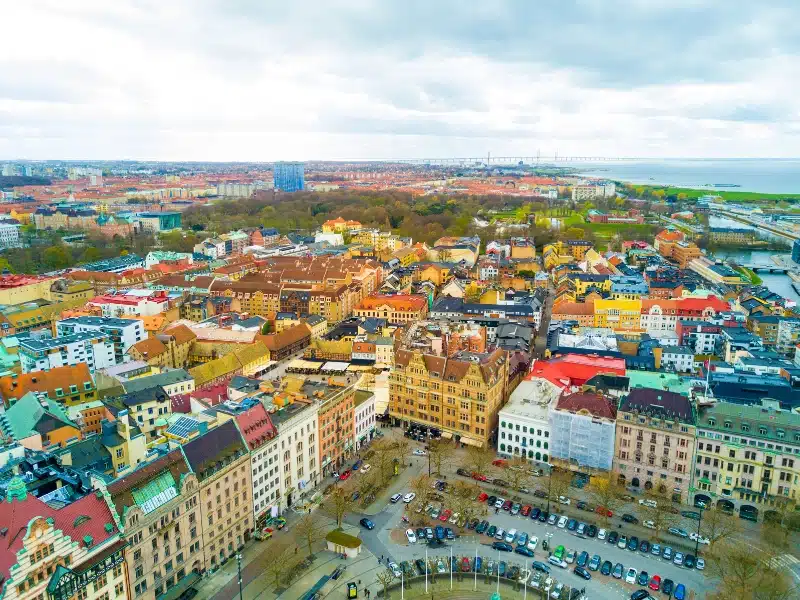 Other Nearby Road Trips
Day 9: Malmö to Karlskrona
Ystad
Ystad is a small and charming town less than an hour east of Malmö. It has several beautiful parks and walking trails, including the North Promenade and Charlotte Berlin's Garden.
Visit the Ystad Abbey, a former Cistercian monastery and now a ruin. It's in the town center and famous for history and architecture lovers.
Take a guided tour or walk around the town center, exploring its cobbled streets, half-timbered houses, and colorful flowers. Visit the Ystad Art Museum. It has an extensive Nordic and international art collection, including works by Picasso and Matisse.
Go to lunch at Maltes Mackor or Grandens mat.
Karlskrona
Karlskrona is a city and UNESCO World Heritage Site located about 113 miles from Ystad, with several beautiful buildings and landmarks.
Start your visit with the Naval Museum, one of the main attractions in Karlskrona. It showcases the history of the Swedish Navy and its role in shaping the city.
Explore the Karlskrona Archipelago, a collection of over 1,600 islands and islets off Karlskrona's coast. You can take a boat tour, go island hopping, or explore the islands independently using the many ferries and public transports between them.
If you want to remain in town, visit the impressive Karlskrona Cathedral. It's known for its Baroque-style architecture and stunning interior. One final place to see before dinner is the Blekinge Museum, a city center cultural history museum.
Dine at Vinberga Vinkiosk or Restaurant Pizzeria Montmartre.
Upmarket: Clarion Collection Hotel Carlscrona – Booking.com | Agoda
Mid-Range: Scandic Karlskrona – Booking.com | Agoda
Budget: Arkipelag Hotel & Brewery – Booking.com | Agoda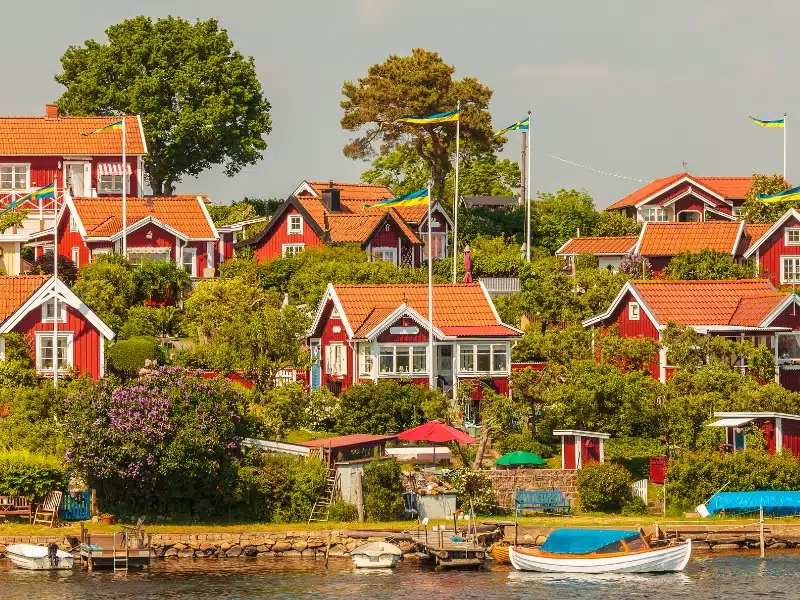 Day 10: Karlskrona to Jönköping
Kalmar
Kalmar is a charming city located about an hour away from Karlskrona.
The most famous attraction in the city is Kalmar Castle. It's a well-preserved Renaissance castle and is home to several exhibitions showcasing the castle's history and the city's culture.
Stroll through Stadsparken. It has walking paths, picnic areas, and beautiful gardens. Follow it up with a visit to Kalmar County Museum. This museum has several exhibitions showcasing the history and culture of the region.
Another notable museum is the Kalmar Art Museum. It has an impressive Nordic and international art collection, including works by Matisse and Picasso. Afterward, enjoy lunch at Slipkajen or Kallskanken.
Jönköping
En route to Jönköping, stop in Vetlanda to rest or swim at the beautiful and tranquil Östanå Badplats.
Visit the Husqvarna Museum in Jönköping. The museum showcases the history of Husqvarna, a Swedish manufacturer of outdoor power products and motorbikes. Founded as a firearms manufacturer in 1689, it is one of the oldest continuously running companies in the world.
A short walk from the museum is Rosenlundsbadet. This water park is excellent for relaxing, swimming, and enjoying the water slides and other attractions.
Explore the Vättern Lake, Sweden's second-largest lake. It offers stunning views and plenty of outdoor activities, like swimming, fishing, and boating.
Dine at Harrys Jonkoping or Aqua Dinner & Drinks. Check the Kulturhuset Spira website before you visit the city to see if there is a show of interest.
Upmarket: Clarion Collection Hotel Victoria – Booking.com | Agoda
Mid-Range: Quality Hotel Match – Booking.com | Agoda
Budget: HOOM Home & Hotel – Booking.com | Agoda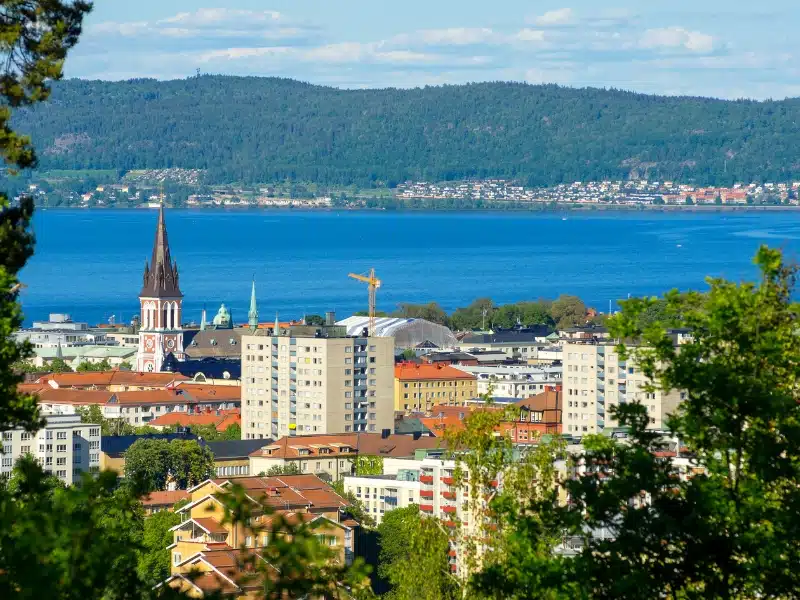 Day 11: Jonköping to Linköping
Linköping
Drive the 80 miles from Jonköping to Linköping.
Start your exploration of Linköping by visiting the Gamla Linköping Open Air Museum. This unique museum showcases the history and culture of the city. You can also explore the Flygvapenmuseum, an impressive air museum dedicated to aviation and the history of the Swedish Air Force.
Next, see the beautiful Linköping Cathedral. It was built in the 1100s and is one of the tallest churches in Sweden.
Walk along the Kinda Canal to enjoy scenic views and visit Tinnerö Eklandskap, the largest preserved oak forest in Northern Europe. Full of biking and hiking trails, the forest is peaceful and full of historic nature.
Afterward, enjoy lunch at Ammos Creperi & Drinks or Stangs Magasin.
Stockholm is about 123 miles northeast of Linköping, giving you time today to get back to the capital city and it's airports.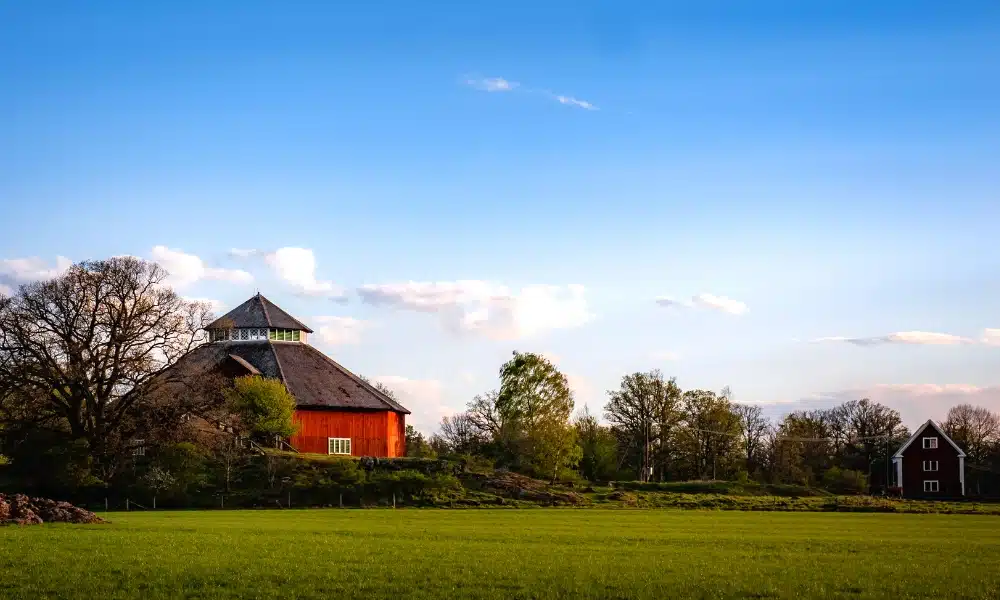 Sweden Road Trip Essentials
Here are the websites and services we personally use and recommend for traveling in Sweden.
Traveling & Driving in Sweden
Road trips in Sweden are usually pleasurable, thanks to the extensive and well-maintained road network, generally good local roads and courteous drivers.
Whether you're traveling in your own car, touring Sweden in a motorhome, or flying in and renting a car for a driving tour, you need to follow these rules when you're driving in Sweden.
Documents
You must have at least three months remaining on your passport (issued in the past ten years) at your intended date of departure from Sweden.
You must have at least 3rd party insurance for your vehicle.
Citizens of non-EU third countries may require an International Driving Permit for driving in Europe. You can check whether you need an IDP here.
Rules of the Road
Sweden drives on the right and overtakes and passes on the left.
You must carry a warning triangle by law. We also recommend that you carry at least one reflective jacket within the passenger compartment of your vehicle, a fire extinguisher, and a first aid kit.
It is compulsory for all motor vehicles to use dipped headlights during the daytime, all year round, and on all roads.
Priority
Vehicles driving on roads designated and signposted as primary roads always have priority.
On all other roads, vehicles must give way to the right.
Priority is given to vehicles that are already on the roundabout i.e. vehicles coming from the left.
Winter Driving
From 1 December to 31 March all vehicles must use winter tires marked M+S when there are winter road conditions i.e. when the road is covered with ice or snow, or the road is wet and the temperature is around or below 0ºC.
It is permitted to fit and use snow chains in Sweden if the weather or road conditions so require it.
It is compulsory for drivers to have some antifreeze in the vehicle windscreen fluid and a shovel to clear the snow. We also recommend carrying a tow rope and jump leads in the winter.
Tolls in Sweden
All vehicles driving in Sweden need to pay road toll charges. Your road tolls will be registered automatically then an invoice will be sent to the registered address of your vehicle. To make this process easier, you can automatically pay your road toll charges by registering for an Epass24 account.
When renting a vehicle in Sweden, the toll tax is usually included or paid together with the final rental bill. Please ask your car rental company to check the policy before leaving the rental depot.
Low Emission Zones in Sweden
There eight LEZ in Sweden, in Göteborg (Gothenburg), Helsingborg, Lund, Malmö, Mölndal, Stockholm, Umea and Uppsala. You can find out more about charges and what you need to do to ensure compliance here.
RELATED POST: Driving in Europe – Everything You Need to Know
Are you looking for more incredible road trips? Check out these top posts…
One of the best ways to explore the beautiful country of Croatia is by taking a road trip, where you can drive along winding coastal roads, visit charming towns and villages, and discover off-the-beaten-path hidden gems. In this Croatia road trip guide, we'll share some of our favorite road trip routes and destinations in Croatia, along with tips for planning your own adventure on the open road. Get ready for an unforgettable journey through one…
Love it? Pin it!