This post may contain affiliate links, from which we earn an income.
The Very Best of Sweden's Beautiful Places
With its dancing Northern Lights, vibrant cultural attractions, and captivating natural wonders, Sweden enchants visitors from the first glimpse.
Lush forests dotted with glittering lakes, soaring mountains, and windswept sandy beaches are just a taste of the stunning landscapes to discover in this Nordic country. Thundering waterfalls tumble through the ancient valleys, while offshore, thousands of archipelagos beckon for island-hopping adventures.
Prepare to find the most beautiful places in Sweden to travel as you journey across sweeping landscapes steeped in legends, roam medieval city streets, cruise between tiny coastal islets, and sleep beneath the magical glow of the aurora – Sweden promises epic adventures and primal beauty in spades.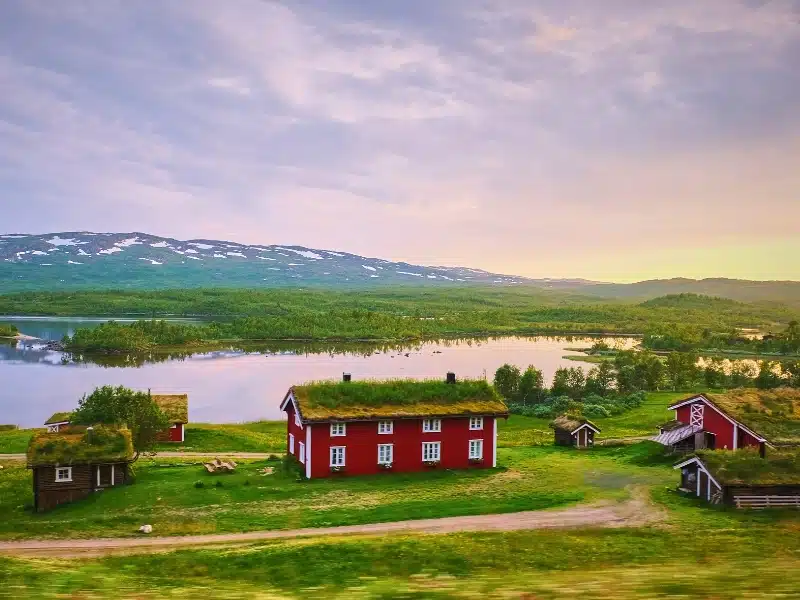 Sweden Travel Resources
Here are the services we use and recommend for traveling in the Sweden;
Bohuslän Coast
The stunning Bohuslän Coast, dotted with thousands of islands, is one of Sweden's natural treasures. Located north of Gothenburg on the country's west coast, this picturesque region is perfect for island-hopping, sailing, and sampling fresh seafood straight from the Baltic Sea.
Make sure to visit the island of Marstrand, a former wealthy trading port, where you can wander along cobblestone streets and soak in the harbor views from its imposing 17th century fortress, Carlstens Fästning.
For an easy escape, head to the car-free island of Styrsö, where you can swim and sunbathe on quiet beaches and spot wildflowers in the spring.
No trip to Bohuslän would be complete without viewing the unique island formation of Lysekil, where you can walk between the close-knit uninhabited rocky islets at low tide. Nearby Fiskebäckskil is often considered one of the most beautiful fishing villages in Sweden.
Tip: Many of the islands are car-free so bikes or boats are the best way to explore. The 30 minute ferry ride from Göteborg to Styrsö makes a perfect day trip escape.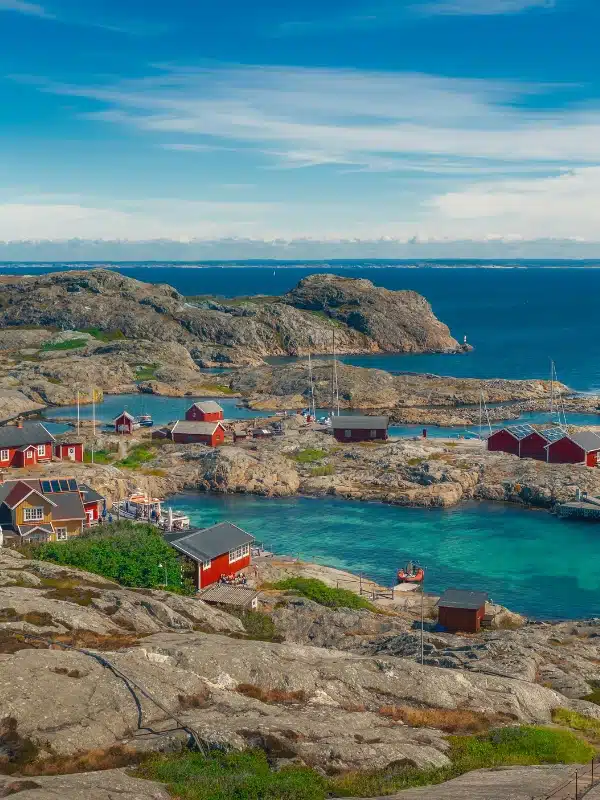 Make sure you have travel insurance you can trust when visiting Sweden. We recommend True Traveller for their 5-star TrustPilot reviews, variety of cover options, best activities cover as standard, great prices, and excellent service.
Abisko National Park
Abisko National Park, located 155 miles north of the Arctic Circle, boasts some of Sweden's most spectacular wilderness scenery and is one of the most beautiful places in Sweden in winter.
Tucked into the dramatic Abisko Valley, this is one of the country's best places to experience the Aurora Borealis or Northern Lights.
Beyond the potential light show, the national park offers epic hiking beneath mountain peaks and encounters with wildlife like reindeer, arctic foxes, and golden eagles.
Some of Abisko's top sights include the vertigo-inducing Kungsleden hiking trail, the towering Lapporten rock formation, and the turquoise waters of Lake Torneträsk.
The red Abisko Turiststation provides an ideal base for adventures with cross-country skiing in winter and chairlift access to hiking trails in warmer months. Don't miss the blue night train here to immerse yourself in the park's mystical scenery.
RELATED POST: Europe Winter Destinations: 22 Amazing Wintry Places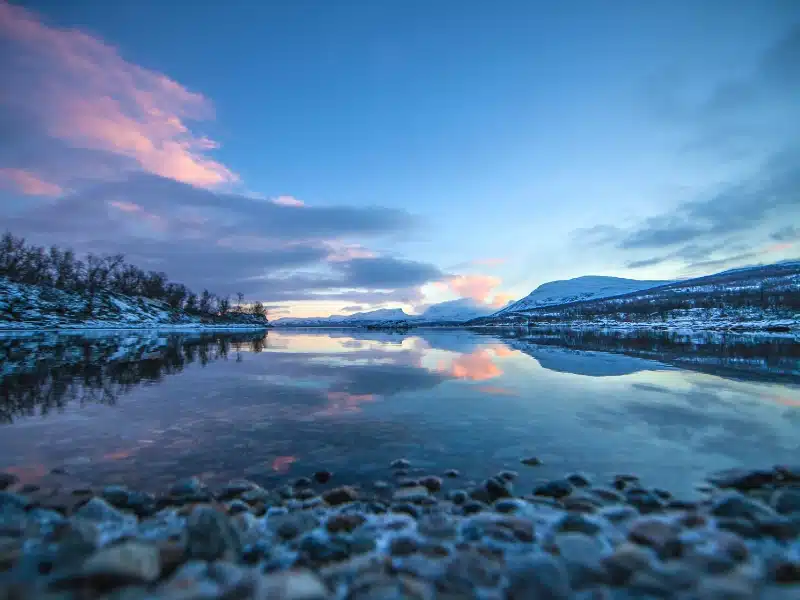 Stockholm
The capital of Sweden, Stockholm is the epitome of Scandi-cool, and has one of the best-preserved historic districts in the world.
Start your visit to the old town of Gamla Stan. Here you can explore Stockholm's narrow cobblestone streets and colorful buildings dating back to the 1200s, and visit the Swedish Royal Palace, Nobel Prize Museum, and the Royal Armoury.
Make sure to look for Järnpojke or Iron Boy sculpture, which is known as 'the little boy who looks at the moon' in English. Sweden's smallest public monument is just 6 inches / 15cm high, and the boy is often dressed in clothes by locals, based on the weather!
Just south of the center is Södermalm, a hip and trendy neighborhood with many independent shops and bars. It's a great place to explore the Stockholm City Museum and the Fotografiska Museum. The latter is a former customs house that is now a museum dedicated to contemporary photography and hosts exhibitions by both local and international photographers.
Take a tram or hire a bike for the short trip from the historical center to explore Djurgården. The island is home to more of Stockholm's best museums, including the ABBA Museum, Skansen Open-Air Museum, Vasa Museum, and Nordic Museum.
RELATED POST: Stockholm One Day Itinerary + Map, Tips & Guide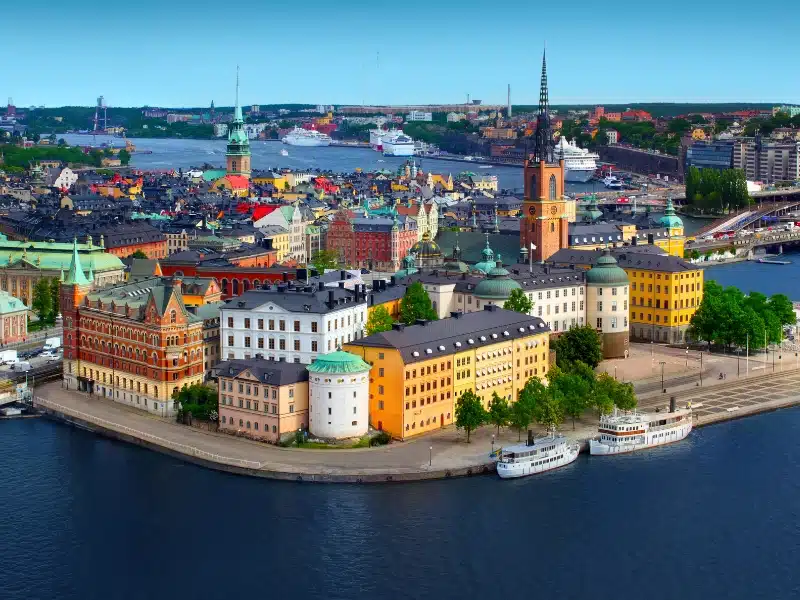 Stockholm Archipelago
Stockholm is built upon fourteen islands, so venturing into the Stockholm Archipelago is an easy way to combine Sweden's vibrant capital with idyllic island life.
Stretching 80 kilometers east into the Baltic Sea, the archipelago comprises over 30,000 islands and islets – the perfect playground for outdoor adventurers.
Catch a ferry from Stockholm through this island labyrinth, making stops at places like Vaxholm, known for its well-preserved fortress, and Grinda, where you can lounge on the beach or hike through forests and meadows.
Further out in the archipelago, car-free islands like Möja offer a more remote experience with winding paths for walking or biking past farms, beaches, and rocky cliffs.
Tip: Ferries run frequently to the islands but can book up quickly during summer weekends. Consider camping on more remote islands to find solitude amidst nature.
RELATED POST: Stockholm One Day Itinerary + Map, Tips & Guide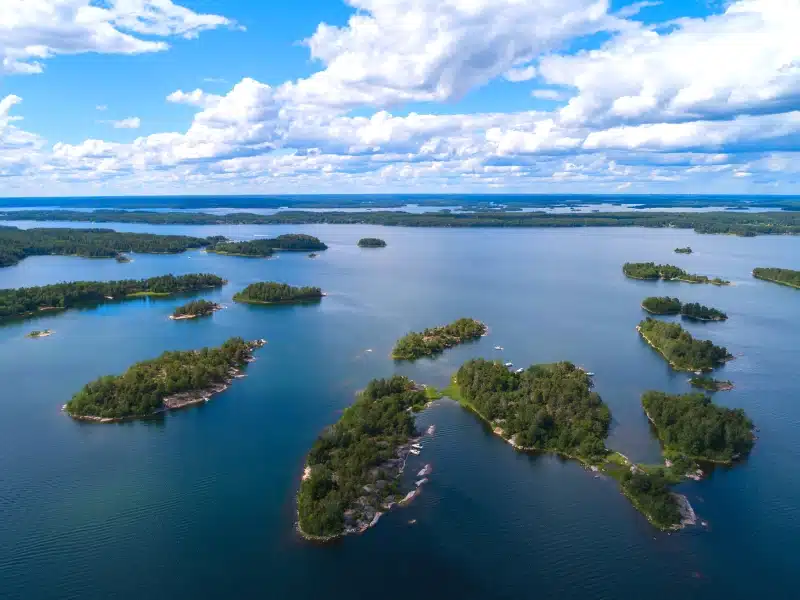 Göta Canal
Stretching 190 kilometers from Stockholm to Gothenburg, the Göta Canal is one of Sweden's most famous waterways.
Opened in 1832, the canal includes 58 locks and offers cruising through idyllic pastoral landscapes filled with rolling green hills, farms, and storybook villages.
Whether you opt for a full multi-day journey or a shorter segment, cruising the Göta Canal onboard a historic canal boat gives you a unique vantage point from which to soak up the charm of rural Sweden.
Here's some interesting Sweden facts: the Göta Canal is known as Sweden's Blue Ribbon, and remains the country's greatest feat of engineering.
Must-see stops include the art nouveau town of Västerås, the lock staircase at Borenshult, the canal port museum in Sjötorp and Gothenburg, Sweden's second largest city. You'll also pass through natural areas like Lake Vänern, Sweden's largest lake.
RELATED POST: Sweden Road Trip: Incredible 11 Day Itinerary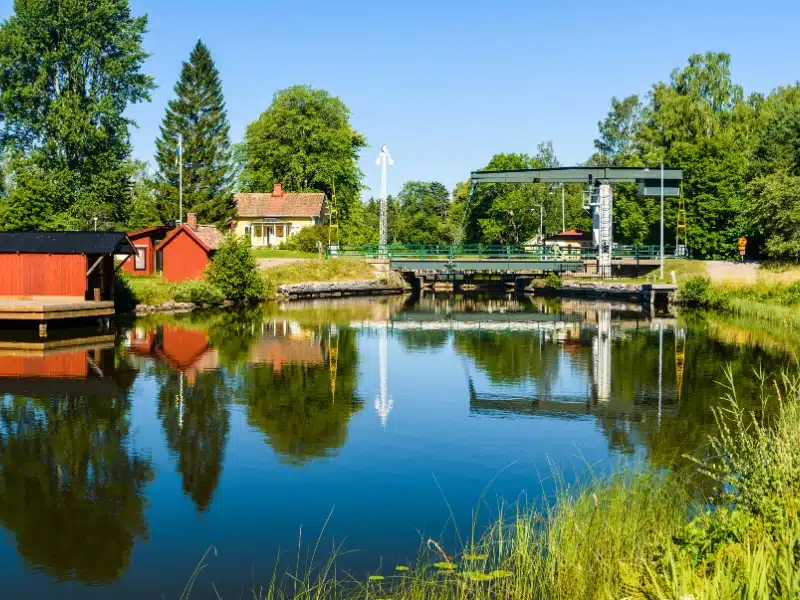 Lund Cathedral
While the interior of Lund Cathedral in southern Sweden is impressive enough to rival Uppsala Cathedral, it's the surrounding town squares that make Lund worthy of a visit.
Built in the 12th century above ancient pagan burial grounds, the imposing Romanesque cathedral lies at the heart of historic Lund.
After exploring the cathedral's astronomical clock and climbing to the top of its towers for panoramic views, lose yourself along the cobblestone streets that spread out from the cathedral-like a spiderweb.
Atmospheric cafés, bookstores, parks, and museums surround the cathedral, inviting you to linger in this quintessential university town.
Don't miss Stortorget, one of Sweden's oldest and most photogenic squares, where you can pick up some handcrafted items at the daily produce market. Nearby Kulturen is an open-air museum with numerous historic buildings to explore.
If you have time, take a short train ride to nearby Malmo for more great things to do like touring its castle, grabbing a bite in the atmospheric old town, and people watching along the waterfront promenade.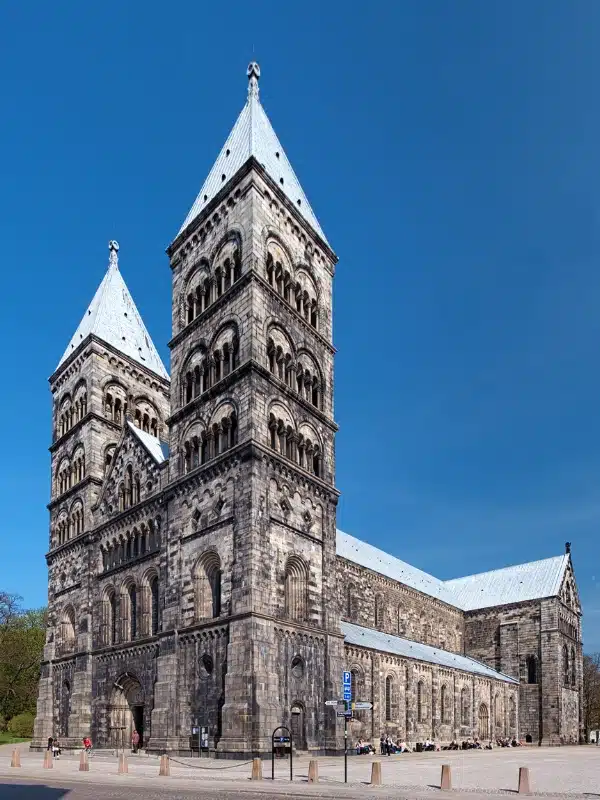 Laponia
Swedish Lapland, the land of the midnight sun and the Sami indigenous culture, delivers wilderness that seems almost otherworldly and for many, is the most beautiful place in Sweden.
Laponia, a UNESCO World Heritage site situated north of the Arctic Circle contains four national parks – Muttos, Sarek, Stuor Muorkke and Badjelánnd – and has a total surface area of 9,400 square kilometres.
Laponia is the largest protected natural area in Europe, as big as Cyprus and is home to nature reserves that protect dramatic glaciers, pine forests, vast wetlands, and roaming wildlife.
Base yourself in Jokkmokk or Gallivare to explore this pristine landscape dotted with traditional Sami settlements.
Highlights include outdoor activities like dog sledding, snow shoeing and hiking through the marshes and forests of Sarek National Park, or taking a guided tour of the Kungsleden Trail, or King's Trail, from Nikkaluokta.
Don't miss visiting the historic church town of Jokkmokk during the annual Sami Winter Market held the first Thursday through Saturday each February.
Tip: Self-guided hiking is not recommended in remote areas – go with an experienced guide. The best views are from atop a reindeer sled!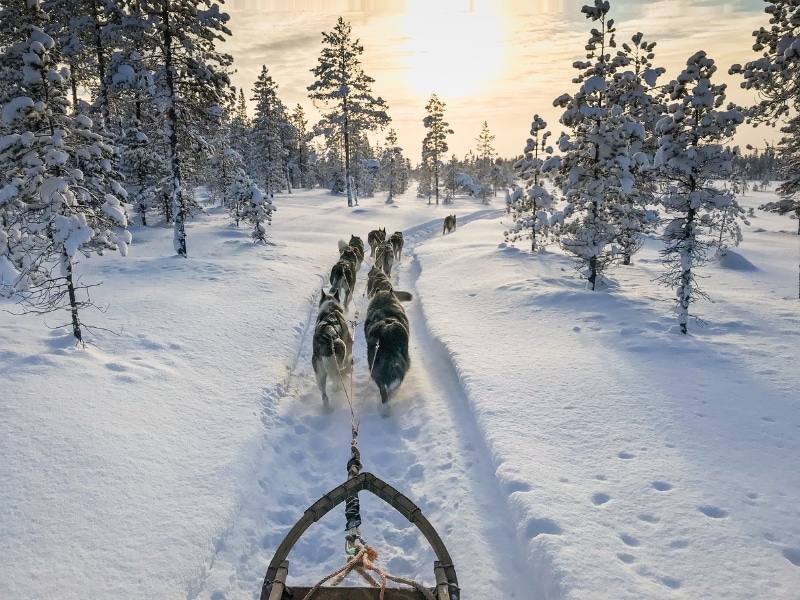 Drottningholm Palace
Situated just outside Stockholm, Drottningholm Palace offers an easy escape to regal elegance on its own private island. Dating back to the 1600s, this UNESCO World Heritage site is the permanent home of the Swedish royal family.
Explore the ornate Baroque palace before wandering through the surrounding Drottningholm Palace park, which contains stunning formal gardens and tree-lined pathways.
For an unforgettable experience, attend the annual summer opera festival held within the palace's court theater. Or opt for a more low-key visit strolling through the lush gardens and watching the boats cruise by on Lake Mälaren from a hilltop viewpoint.
The 18th century Chinese Pavilion, erected by King Adolf Fredrik as a birthday gift for Queen Lovisa Ulrika, adds an unexpected oriental flair with its exotic architecture.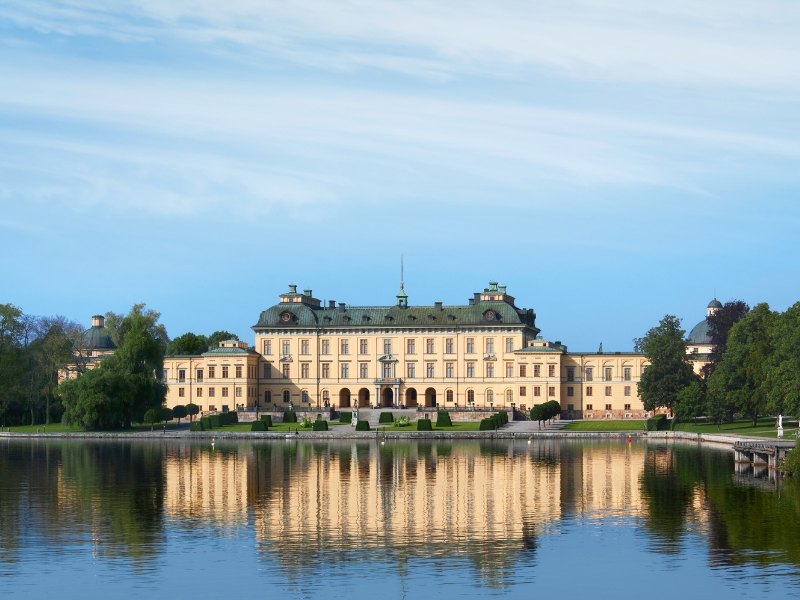 Jukkasjärvi Icehotel
Tick an item off your bucket list and sleep on ice at Sweden's famous ice hotel, located 150 miles north of the Arctic Circle in the tiny village of Jukkasjärvi.
Every year, ice blocks from the nearby Torne River are used to construct a magical hotel composed entirely of snow and ice.
Even if you don't opt to spend the night next to ice sculptures on an ice bed, you can still tour the Icehotel during the day to see the dazzling frozen galleries and suites created by artists from around the world.
In the evening, pull up a chair at the Icebar and sip a drink chilled in an ice glass while admiring the wintery atmosphere.
Besides touring the Icehotel itself, fun activities in Jukkasjärvi include meeting reindeer at a Sami camp, going dog sledding with huskies, and searching for the northern lights across the starry skies.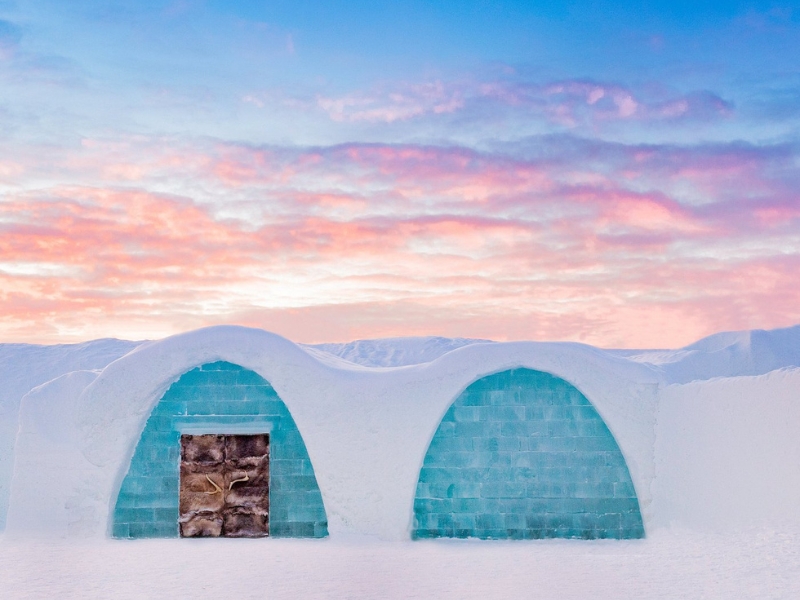 Visingsö Island
Lying serenely on Lake Vättern in southern Sweden, car-free Visingsö Island feels deliciously stuck in time with its peaceful forests and stunning beaches.
Cycling and horseback riding are the preferred methods of transportation on this tranquil island where the population numbers around 400.
Wander through flower-filled meadows to reach secluded swimming spots like Ekudden Beach tucked within a pine grove. At the south end of the island, hike out to majestic oak trees that are hundreds of years old.
On a rainy day, duck into the island's 17th century church and the small local history museum in the town of Visingsö.
With limited paved roads and a relaxing, secluded atmosphere, Visingsö is the perfect place to experience the nostalgic Sweden of the past. A bike ferry provides easy access from mainland Gränna or you can arrive by passenger boat from Stockholm.
Tip: Bring a bike or be ready to walk to experience this car-free island. Summer is ideal with long days and sunny weather.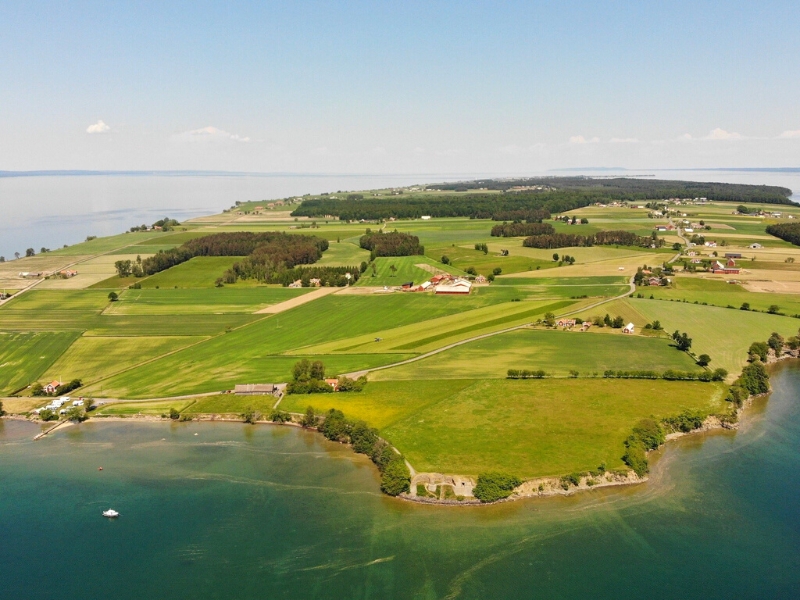 Gamla Linköping
Travel back in time to 19th century Sweden with a visit to Gamla Linköping, an open-air city museum that recreates Linköping's past. Wander quiet cobblestone streets past old churches, schoolhouses, farms, and urban townhouses from the 1800s.
Chat with traditionally costumed craftspeople giving demonstrations from the era like glassblowing, bookbinding, and weaving.
Make sure to pop into the bakery selling freshly baked bread and delightfully retro candy stores. Before leaving, stop for a meal or coffee in one of the adorable cafés and restaurants on site.
Gamla Linköping provides a glimpse into historic small-town life, making you feel as if you've time-traveled to the world of Pippi Longstocking!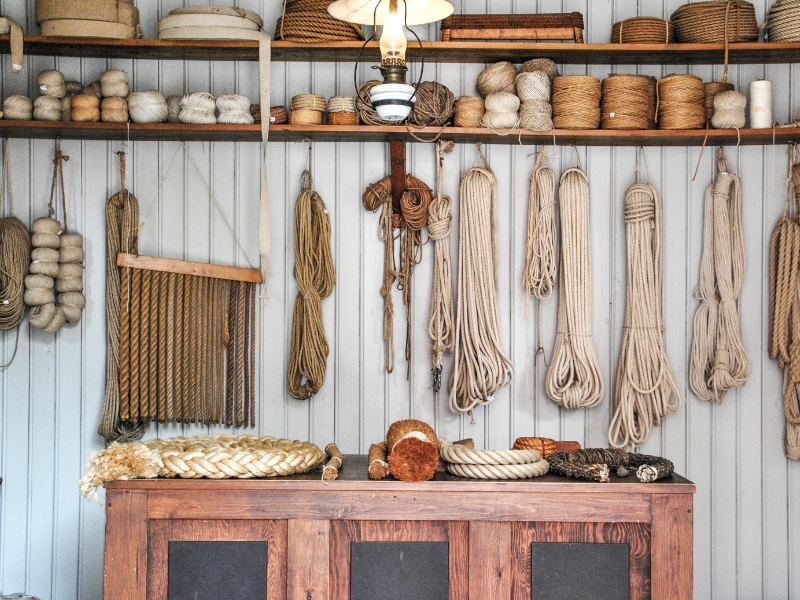 Kosterhavet National Park
One of the most unique places in Sweden, the Kosterhavet National Park in the beautiful Koster Islands is the country's first marine national park, and can be reached by ferry from Västtrafik ferry from Strömstad.
One of the most popular of Sweden's 30 national parks, the Atlantic Ocean conservation reserve borders the Ytre Hvaler National Park in Norway and the Väderö Islands. A haven for an incredibly diverse array of over 6,000 types of sea life including cold-water coral, the park is a serene and natural environment.
The best way to see the sea life is by kayaking in the fall when seals are often spotted swimming or basking in the sun on one of the remote islands in the park. In summer, the sea is warm enough for snorkeling and scuba diving, which opens up the underwater world.
If getting into the water is not for you, there are boat trips to the wider park and ocean.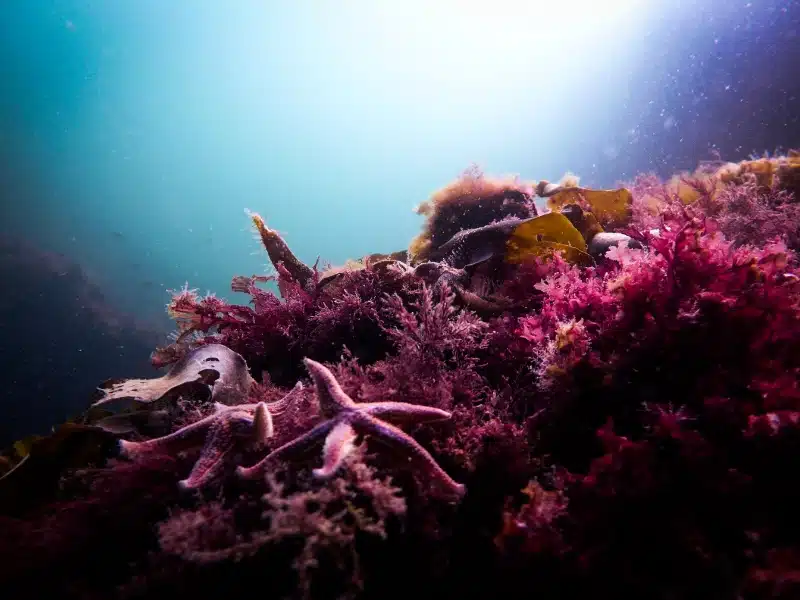 Travel Tips for Visiting Sweden:
Pack layers. Sweden's weather can be unpredictable – chilly and wet in spring and fall, and cold in the winter. Dress in layers so you can comfortably adjust to the temperatures. A good jacket, hat, scarf, and gloves are essentials.
Get out of the cities. While Stockholm, Gothenburg, and Malmö have great attractions, some of Sweden's best scenery and charm lies outside the major metropolitan areas. Rent a car or take a train to explore smaller towns, villages, and national parks.
Try the Swedish fika tradition. Fika is taking time out of your day to share coffee/tea and baked goods with friends or colleagues. Cafés are integral to the fika experience. Sit back, soak up the cozy atmosphere, and enjoy your cinnamon bun, known in Sweden as a kanelbulle.
Book ferries and trains in advance. Popular routes like the ferry to Gotland or the Stockholm-Abisko train often sell out, especially in summer. Reserve your tickets online well before your trip.
Make the most of long summer days. Due to Sweden's far northern location, the summer days are very long, with up to 19 hours of sunlight. Take advantage by staying up late and exploring well into the evening.
Embrace the outdoors. Hiking, boating, cycling, fishing – Sweden is ideal for enjoying nature. Bring proper footwear for hiking and rent a boat or bike to immerse yourself in the spectacular landscapes.
Try Swedish delicacies. From meatballs and pickled herring to lingonberry jam and saffron buns, Sweden has distinctive flavors. Check out food halls, markets, and high-end restaurants to sample authentic cuisine.
Learn a few key Swedish phrases. English fluency is high, but mastering "hello" (hej), "thank you" (tack), "yes" (ja), and "no" (nej) in Swedish is appreciated.
Seek out hidden gems. Lesser-known towns like Visby on Gotland have amazing history, architecture, and charm waiting to be discovered.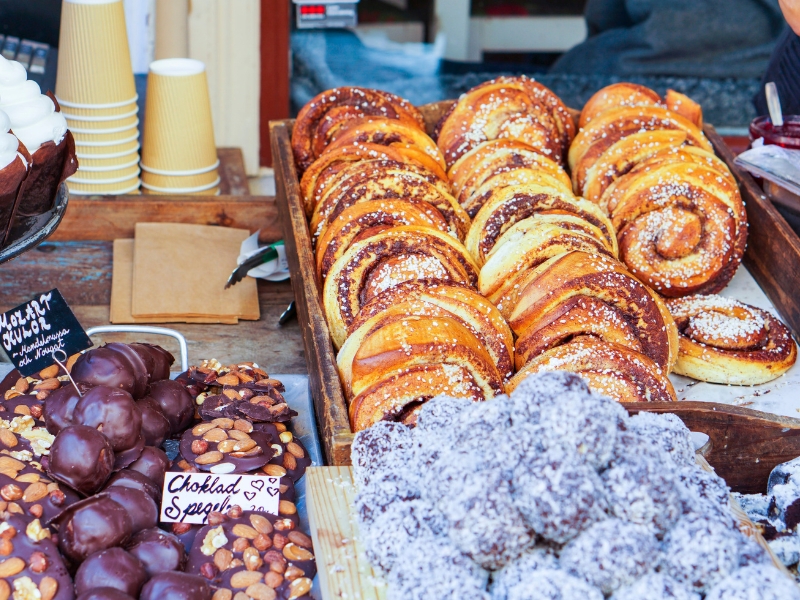 Conclusion
With captivating coastlines, opulent palaces, storybook villages, and vast swathes of untamed wilderness, Sweden truly offers an abundance of natural and cultural beauty.
Exploring pastel-hued fishing towns, hiking through pine forests peppered with lakes, and cruising the labyrinthine Stockholm Archipelago allows you to experience the best of this Scandinavian country.
Whether you seek outdoor adventures or prefer wandering through well-preserved historic streets, Sweden will enchant you with its diverse landscapes and enduring traditions.
Sweden FAQs
What are the most beautiful places to visit in Sweden?
Some of Sweden's top scenic destinations include the Bohuslän Coast with its thousands of islands, the Stockholm Archipelago, Abisko National Park for wildlife and Northern Lights, and Laponia's pristine wilderness above the Arctic Circle.
Where is the most beautiful village in Sweden?
Picturesque fishing villages like Fjällbacka on the Bohuslän Coast and Åre in the Jämtland mountains are considered among Sweden's prettiest. Gammelstad near Luleå has a well-preserved 15th century stone church village.
Where should I go in Sweden for nature?
Top natural places to visit include Swedish Lapland, Sarek, and Abisko National Parks, the Stockholm and Bohuslän archipelagos, the Göta Canal, and inland lakes. Hiking, boating, and wildlife viewing are popular activities.
What is Sweden's famous food?
Classic Swedish foods include meatballs, pickled herring, salmon, lingonberry jam, cheeses, rye bread, and sweets like cinnamon rolls, semlor pastries which are traditional Swedish Fat Tuesday Buns, and princess cake, a type pf layer cake covered by marzipan.
Where are the best places in Sweden to see Northern Lights?
Northern Sweden above the Arctic Circle near Abisko and Kiruna offers some of the world's best places to witness the Aurora Borealis light show, especially from September through March.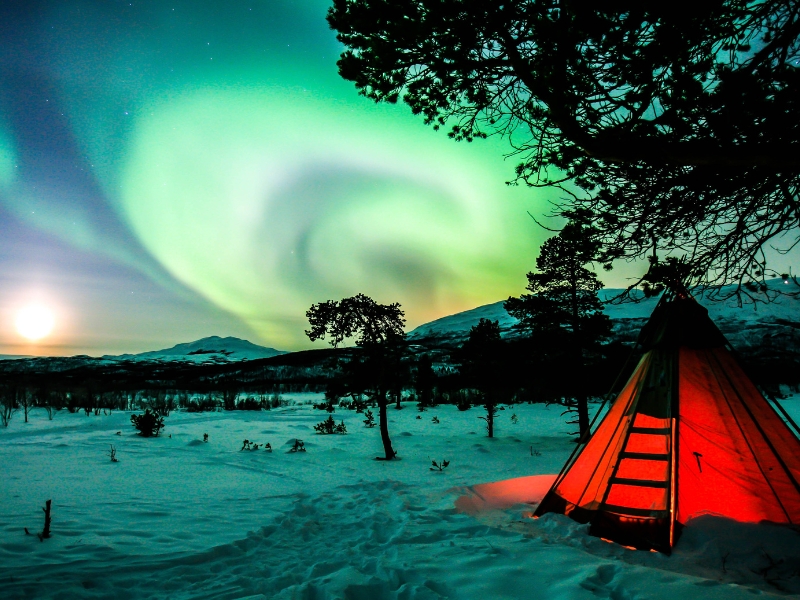 Looking for more travel inspiration? Check out these top posts…
Croatia is home to a variety of beautiful landscapes, including rugged mountain peaks, stunning islands, enchanting waterfalls, incredible beaches, vibrant cities, and charming historic towns. There are so many beautiful places to visit, it can be difficult to decide where to go. We've pulled together all our favorite most beautiful places in Croatia to visit to inspire you and help plan your next trip.
Love it? Pin it!