This post may contain affiliate links, from which we earn an income.
Top 17 Beautiful Cities in Austria
A treasure trove of cultural and natural beauty, the best cities in Austria offer a wealth of experiences whether you're a history buff, a foodie, or an outdoor enthusiast.
From Vienna's imperial grandeur and the medieval charm of Salzburg to the vineyards of the Wachau Valley and the luxurious thermal baths of Bad Gasteinthe, Austria's cities are known for their rich history, Baroque architecture, and breathtaking Alpine landscapes.
In this guide, we'll share the best Austrian cities, towns, and charming fairytale villages. Whether you're curious about where to find the best ski slopes or the ideal place for a romantic holiday, here are some of the best cities in Austria to visit.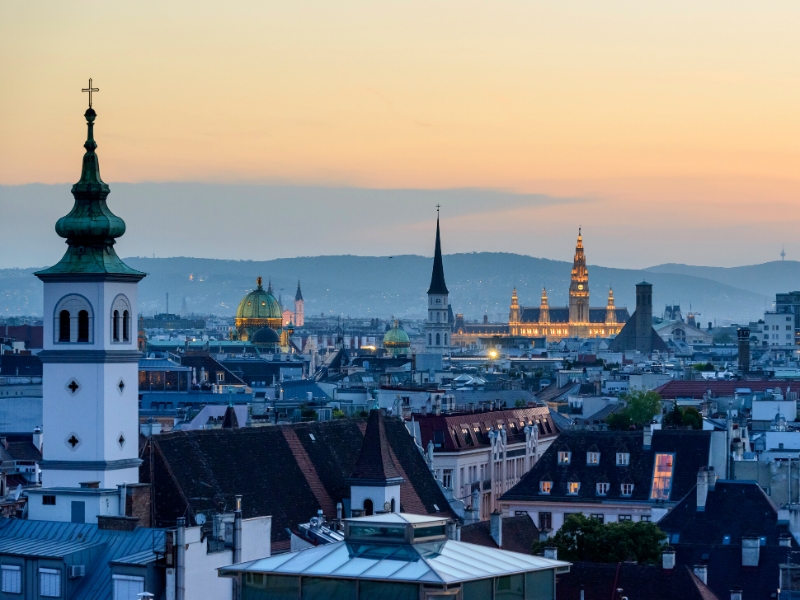 Austria Trip Resources
Here are the services we use and recommend for traveling in Austria;
1. Vienna
Vienna, Austria's capital, is a city that seamlessly marries the grandeur of the past with the vibrancy of the present. Its rich historical tapestry is evident in the imposing Schönbrunn Palace, the former imperial summer residence, and the majestic St. Stephen's Cathedral.
The most visited city in Austria, Vienna has a plethora of world-renowned museums such as the Kunsthistorisches Museum and the Belvedere Palace. The city's vibrant arts scene is another major draw, with the Vienna State Opera offering some of the finest in music and performance in Europe.
Not to forget, Vienna's delightful coffee culture and the cuisine that ranges from wiener schnitzel to sacher-torte, which is a must try during your visit, offering visitors a true taste of Austria.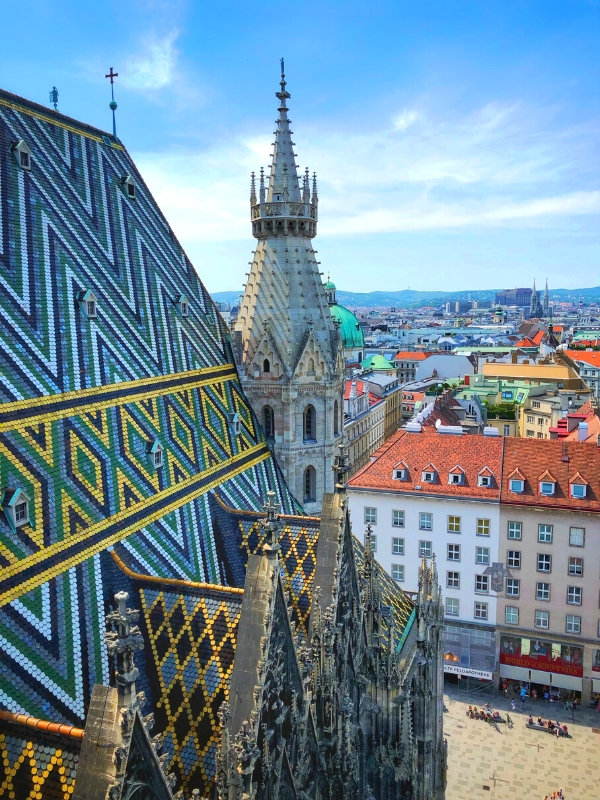 Is this your first time visiting Austria? Get all the information you need in our Austria Travel Guide, including what to pack, the best time of year to go, getting there, and practical tips to help you have the best trip!
2. Salzburg
Considered by many as the cultural heart of Austria, Salzburg offers numerous tourist attractions and things to do, making it the best city to visit in Austria. 
The Old Town is an architectural marvel, with buildings and monuments displaying a unique Baroque style. It also has some incredible museums such as Mozart's Geburtshaus (Mozart's Birthplace) and the iconic art gallery known as Residenzgalerie, which showcases the works of famous artists including Rembrandt.
The Salzach River that runs through the city is guarded over by the 11th century Fortress Hohensalzburg and flanked by a number of picturesque parks and gardens with Aigner Park being especially scenic, making it an ideal spot for a leisurely stroll.
The Salzburg Festival, one of Europe's top opera festivals, provides another opportunity to experience the city's vibrant cultural scene, and the atmospheric Christmas markets here are some of the best in Austria.
Apart from the attractions in the city, Salzburg also serves as an excellent base for further exploration of Austria's natural beauty. The UNESCO World Heritage Site of Hallstatt and the untouched alpine lake region of Berchtesgaden are both within a few hours' drive from the city and are well worth a day trip!
RELATED POST: Austria Road Trip: The Best Itinerary, Map & Tips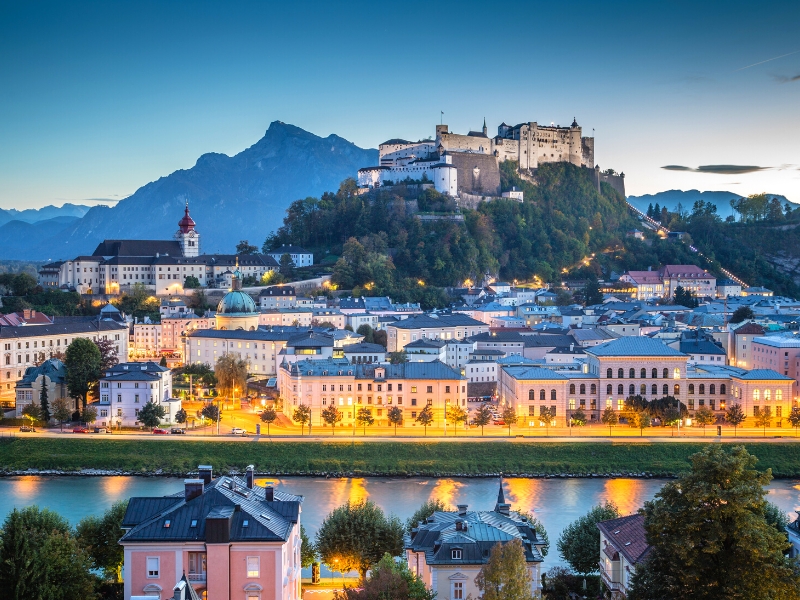 Make sure you have travel insurance you can trust when visiting Austria. We recommend True Traveller for their 5-star TrustPilot reviews, variety of cover options, best activities cover as standard, great prices, and excellent service.
3. Graz
The second largest city in Austria, Graz is an ideal destination for those looking for a quieter, more laid-back experience. Located in the southeast of the country, it is known for its distinctive architectural style, with the primary draw of the town being its Jewish Quarter and the iconic Schloss Eggenberg castle.
Graz also provides easy access to some incredible natural sights such as the Mur River Valley and Schöckl Mountain which is accessible by cable car making it an ideal activity for those traveling with kids.
Owing to Graz's location deep in the Styria province of southeast Austria, the journey to this beautiful city is a treat in itself! Visitors will come across endless farmlands and stunning wine vineyards along their travels, particularly for those who opt to take the train or drive.
4. Villach
The charming small city of Villach is located at the foot of the majestic Karawanken Mountains, making it an ideal spot for those seeking a more active holiday. The area around Villach offers some excellent hiking and skiing opportunities in Dobratsch Nature Park, along with picturesque lakes including Lake Ossiach which is a wonderful spot for swimming.
Apart from its natural attractions, the Villach Alpine Road is renowned for its incredible view of the surrounding mountains, making it a must-visit spot for anyone in the area.
For those looking for a bit of culture, the city boasts some excellent museums such as the Museum of the City of Villach and the Villacher Fahrzeugmuseum. The annual Villacher Kirchtag Festival, Austria's largest, celebrates local culture and tradition and brings in nearly half a million people during Kirchtag Week!
Easily among the most beautiful cities in Austria for its alpine scenery and unique location on the Drava River, Villach is a place to include on your Austrian bucket list. 
RELATED POST: Driving in the Alps: Top Tips & Best Routes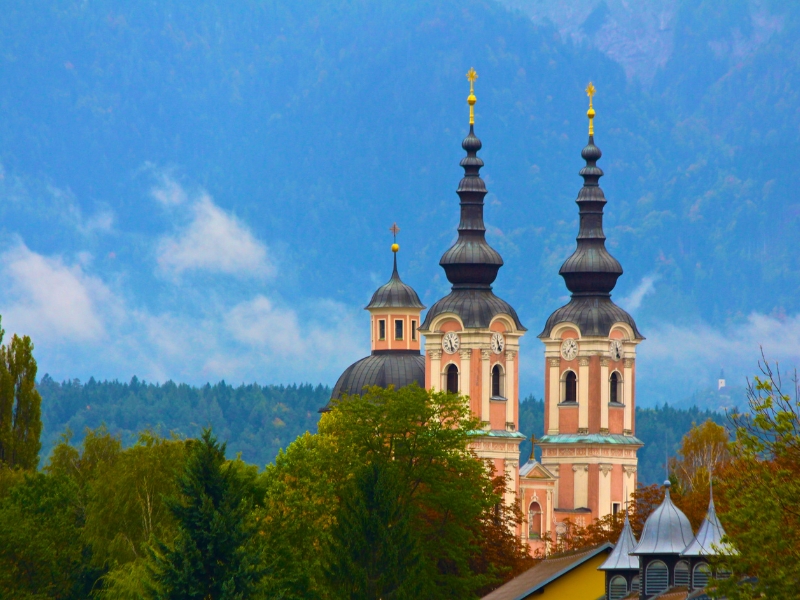 5. Innsbruck
The capital of the western Tyrol region, Innsbruck is the perfect spot for both city breaks and outdoor adventures. With its stunning views of the surrounding Austrian Alps, it is no surprise that this winter sports paradise has hosted two Winter Olympics, but it's also one of the best cities to visit in Austria in summer, especially if you're into hiking and extreme sports!
The city center itself is a feast for the eyes, with its Baroque churches including the St. James' Cathedral and the Imperial Palace providing an insight into the city's historic past.
As well as being a popular ski destination apparent by its nine ski resorts, Innsbruck also has some excellent museums such as the Tyrolean State Museum and the Alpine Club Museum that will appeal to both culture vultures and outdoor enthusiasts.
Innsbruck is also renowned for its lively nightlife, with an array of traditional cafés, bars, and pubs. Easily one of the most beautiful cities in Austria, Innsbruck should be at the top of your Austrian itinerary!
RELATED POST: How to Visit Innsbruck in Summer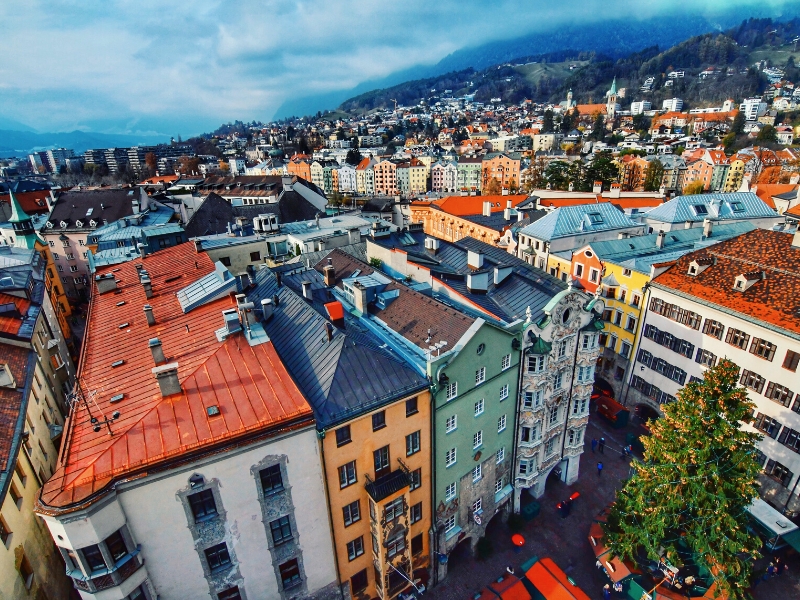 6. Zell am See
Nestled in the heart of Austria, Zell am See is a tourist's paradise that offers a blend of natural beauty, historical charm, and adventure activities. This picturesque city is situated on the shores of the crystal-clear Lake Zell, surrounded by the Austrian Alps which offer breathtaking views and are home to some of the finest ski slopes in Austria with Kitzsteinhorn being #1.
The city itself is steeped in history with its St. Hippolyte's Church dating back to the 11th century and the stunning Vogtturm Museum adorned with the iconic clock tower.
Zell am See's highlight is the Top of Salzburg viewing platform which stands at the summit of Kitzsteinhorn Mountain and provides breathtaking 360-degree panoramas of the Hohe Tauern National Park.
Arguably among the top five most beautiful cities in Austria, Zell am See is a must-visit destination.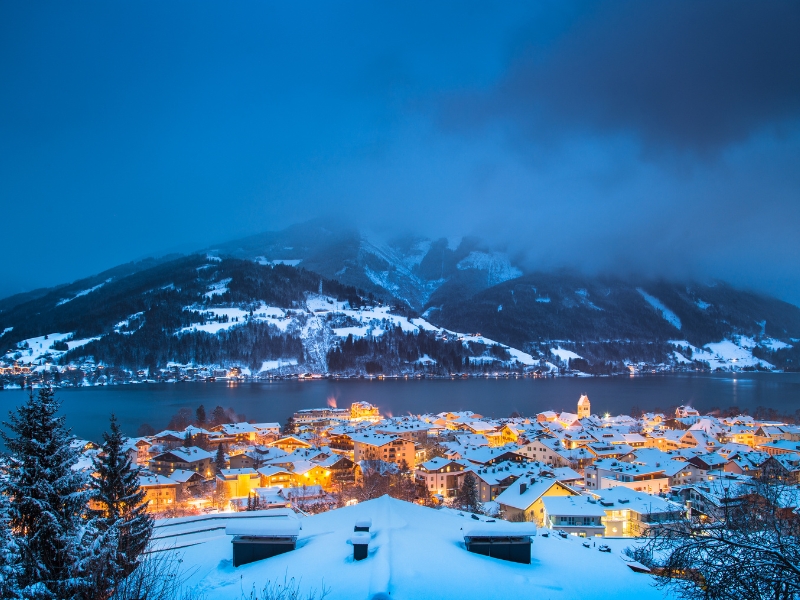 7. Alpbach
Austria has long been known for its quintessential villages dotted with wooden chalets set against snow-capped mountain peaks, with Alpbach epitomizing this idyllic imagery. This picturesque Tyrolean town was once described by Emperor Franz Joseph I as 'Austria's most beautiful village', so naturally, we had to include it on this list!
You can hit the slopes at the breathtaking Ski Juwel Alpbachtal Wildschönau in winter, go for a toboggan ride on the Alpbachtaler Lauser-Sause in summer, or even enjoy a cable car ride up the Alpbacher – Talstation Wiedersbergerhornbahn any time of the year, weather permitting, of course.
There's also the captivating Bergbauernmuseum and the stunning Tratzberg Castle which add to the allure of this town. Thanks to its ideal location amongst endless countryside views, Alpbach defines what it means to be a quaint Austrian town.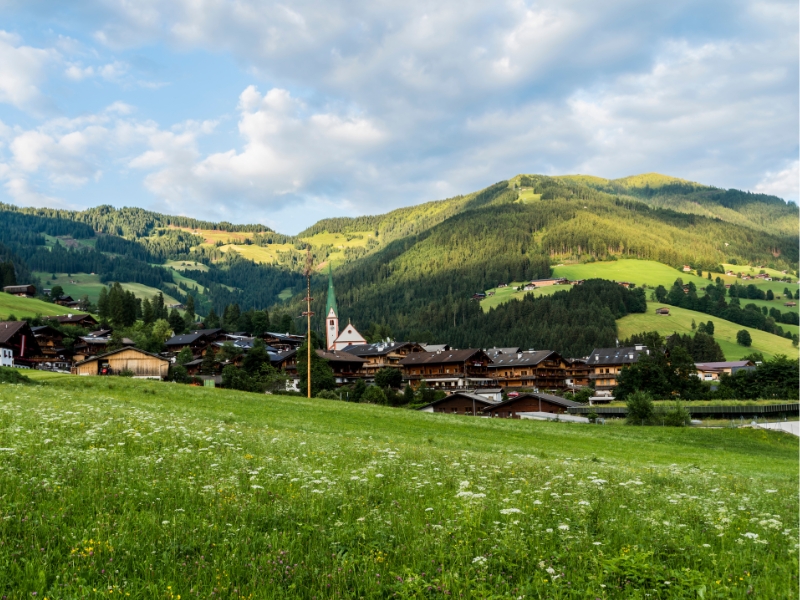 8. Admont
Another charming alpine village located in the Styrian region of Austria, Admont is known for its stunning views surrounding the Gesäuse National Park, one of the most gorgeous national parks in Europe! 
Situated on the banks of the Enns River, Admont boasts some beautiful monasteries such as Admont Abbey which houses an impressive library with over 70,000 displayed books. Even if you aren't much of a reader, this collection will amaze you nevertheless.
From its very streets, the views are overflowing with numerous mountain peaks including Admonter Reichenstein, Sparafeld, Lahngangkogel, and Kreuzkogel just to name a few. Ideal for hiking, bird watching, and taking in the ambiance of the Austrian Alps, Admont is a perfect destination for those seeking a quiet escape into central Austria.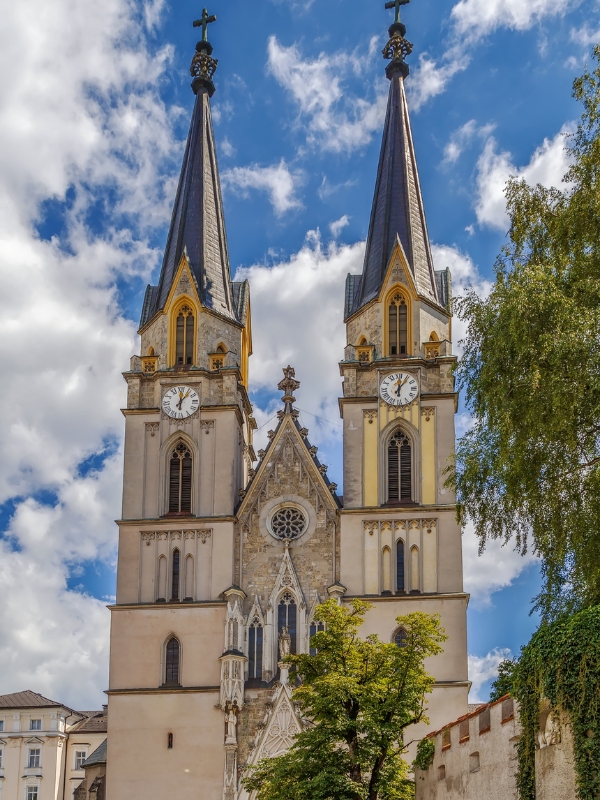 9. Wachau
Situated just over an hour northwest of the capital of Vienna, the stunning Wachau Valley is renowned as one of Austria's most beautiful regions, with its spectacular landscape of rolling hills and vineyards providing a perfect backdrop for exploring the area.
The Danube River runs through the heart of the valley, providing plenty of opportunities for boat trips that take you past some incredible sights including the Aggstein Castle, Burgruine Dürnstein, and Melk Abbey.
The area's quaint villages are known for their traditional wines, offering some of the best wineries in Austria- the Weingut Hermenegild Mang is particularly amazing – that can be toured and sampled.
The Wachau Valley is also home to some excellent hiking routes, with the Wachau World Heritage Trail being one of the most popular despite it covering over 180 kilometers of terrain.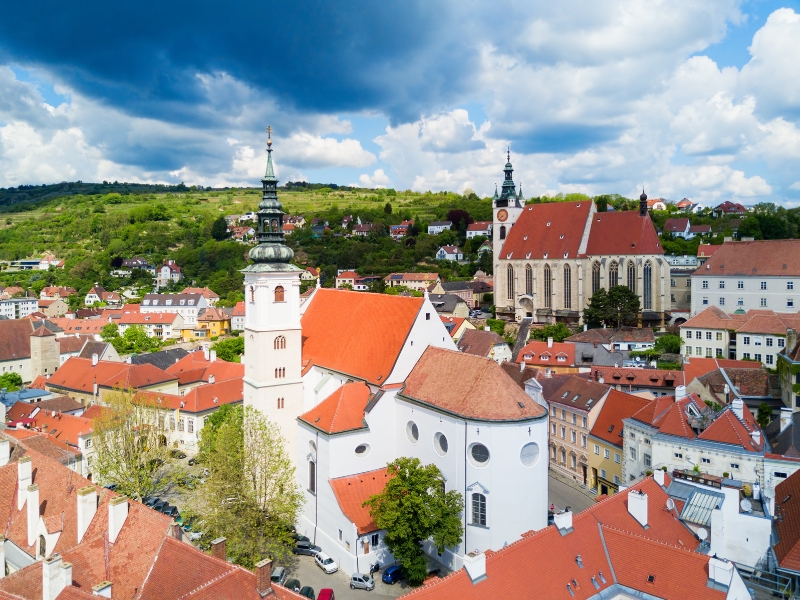 10. Feldkirch
Sharing a northern border with the country of Liechtenstein, the beautiful city of Feldkirch in western Austria has got it all! Prepare to be awestruck by the breathtaking Gothic architecture showcased in the radiant Schattenburg Castle and the Katzenturm of Feldkirch.
The city also has a vibrant cultural scene, with several museums and galleries to explore including the Buddhist Monastery and the Galerie Sechzig. Though personally, I'd recommend packing a picnic lunch and heading over to the Baggerlöcher where you can sit on the stunning no-name lake with a mountain backdrop.
After your hike, head to Market Street for some amazing local delicacies and traditional dishes like the famous Kässpätzle or to pick up some great Austrian souvenirs!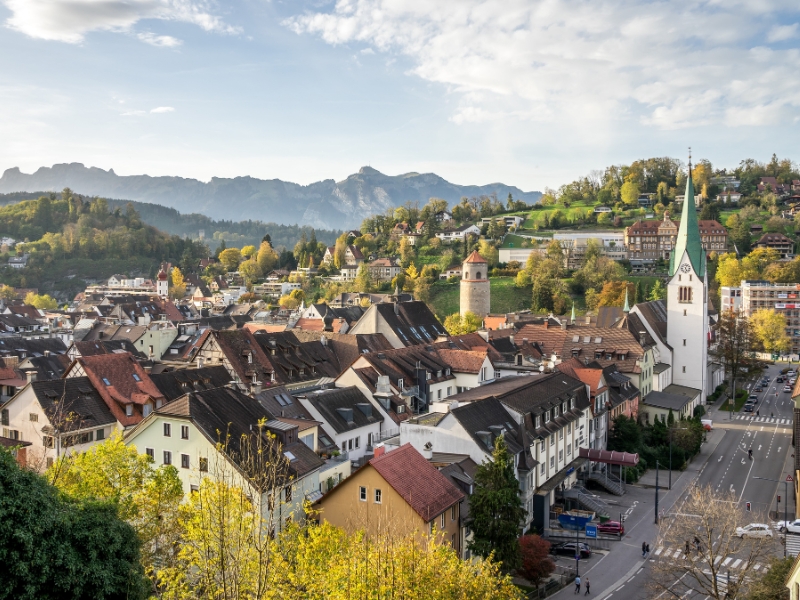 11. Schladming
The town of Schladming is situated in the Styrian region of Austria and is renowned for its world-class skiing with the nearby Planai Ski Area being home to some of the best slopes in Austria.
The area surrounding Schladming also offers plenty of opportunities for outdoor activities such as hiking and mountain biking in the Upper Styrian Alps or taking a cable car ride to Planai Summit for some breathtaking views.
After a full day on the slopes, don't forget to enjoy a glass of wine or two at one of the nearby lakes (Duisitzkarsee and Giglachseen are equally gorgeous) before heading to the Nickelmuseum Hopfriesen.
Often overlooked by tourists (which isn't a bad thing for those seeking fewer tourists on their vacations), Schladming is definitely among the most beautiful cities in Austria.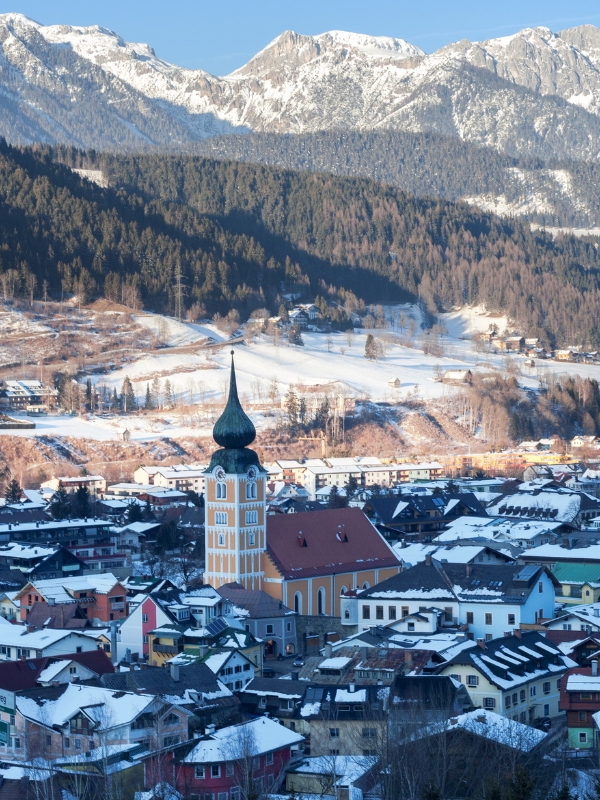 12. Hallstatt
If you've ever seen pictures of a breathtaking Austrian town, whether it be in a magazine or a travel blog like this one, chances are it was Hallstatt. A tiny village located in the foothills of the Salzkammergut Mountains, it's known for its picturesque lakeside setting and its beautifully preserved medieval buildings, making it one of the most beautiful places in Austria.
The surrounding alpine region offers some excellent hiking opportunities, with plenty of well-marked trails around with Rudolf's Tower being a popular choice. Its dramatic scenery, complete with waterfalls and lush valleys, makes it an ideal spot for newbie and advanced photographers alike.
Plus, for those who don't suffer from claustrophobia or dark spaces, Hallstatt is home to the Salzwelten Hallstatt, the oldest salt mine in the world!
Apart from its stunning natural beauty, Hallstatt also has some great cultural attractions such as the Beinhaus Ossuary and the World Heritage Museum (locally called the Welterbemuseum Hallstatt). This charming town is a must-visit destination in Austria for those looking to experience a more peaceful side of the country.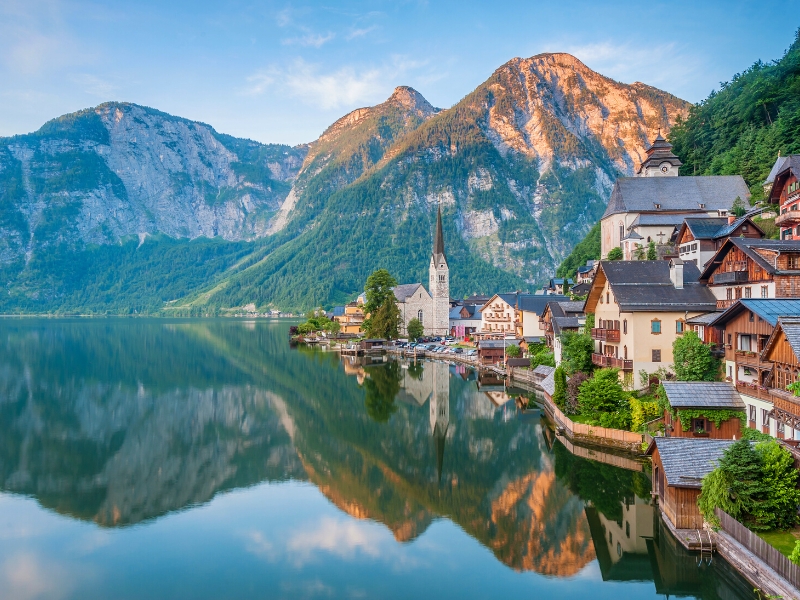 13. Mittelberg
Not to be confused with Mittelberg, Germany, Mittelberg, Austria is nestled in the heart of the Kleinwalsertal Valley and effortlessly depicts itself as a dreamy town that captures the fairytale-like charm of Austria in its truest essence.
The town's picture-perfect landscape is adorned with traditional wooden houses, and quaint churches, and is surrounded by the magnificent peaks of the Alps putting it at the top of this list of the most beautiful cities in Austria!
Winter in Mittelberg brings forth a world-class skiing experience with its well-groomed ski slopes of the Kanzelwand-Fellhorn area (Walmendingerhornbahn Ski Resort being the best), while the summer reveals a network of walking trails for those eager to explore the lush green alpine meadows of Haspelwaldmändle.
Standing on the edge of the Breitach River, Mittelberg also offers some of the best hiking trails with the Wege zum Wasser being the ideal family-friendly trail in the area.
With views comparable to those of Switzerland, Mittelberg should not be overlooked.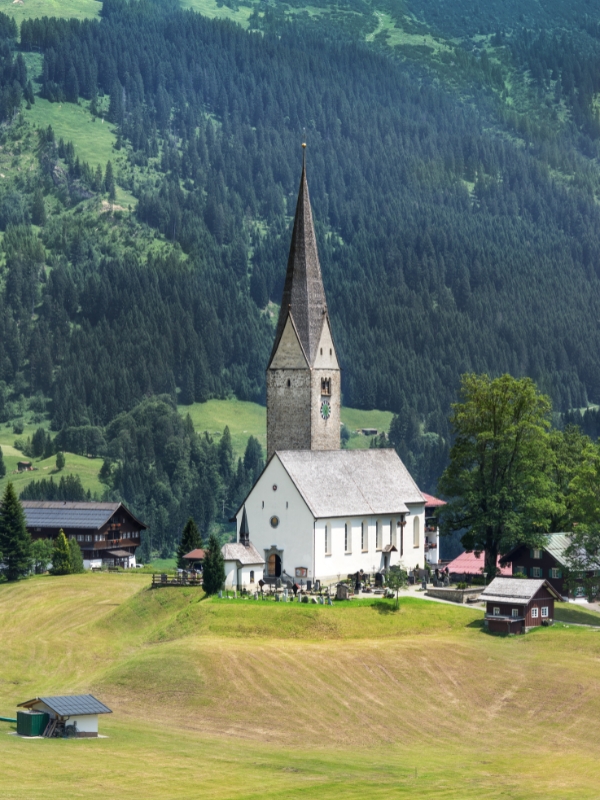 14. Werfen
Cradled by the Salzach Valley and surrounded by the majestic Berchtesgaden Alps and the Tennengebirge mountain range, Werfen is an absolute delight for nature enthusiasts. Frequently recognized for the iconic Hohenwerfen Castle perched upon a rocky hill overlooking the quaint town below, Werfen has some of the best scenery on this list!
For adventure seekers, the Eisriesenwelt Ice Cave, the largest ice cave in the world, provides an amazing exploration opportunity. For those who love The Sound of Music, you can also stroll the 1.4km trail that the cast followed in the movie to the Gschwandtanger Viewing Point.
When it comes to the most beautiful cities in Austria, Werfen is a top contender. There isn't as much 'to do' per se when compared to other cities on this list, however, it's the ultimate destination for those seeking a true escape from city life.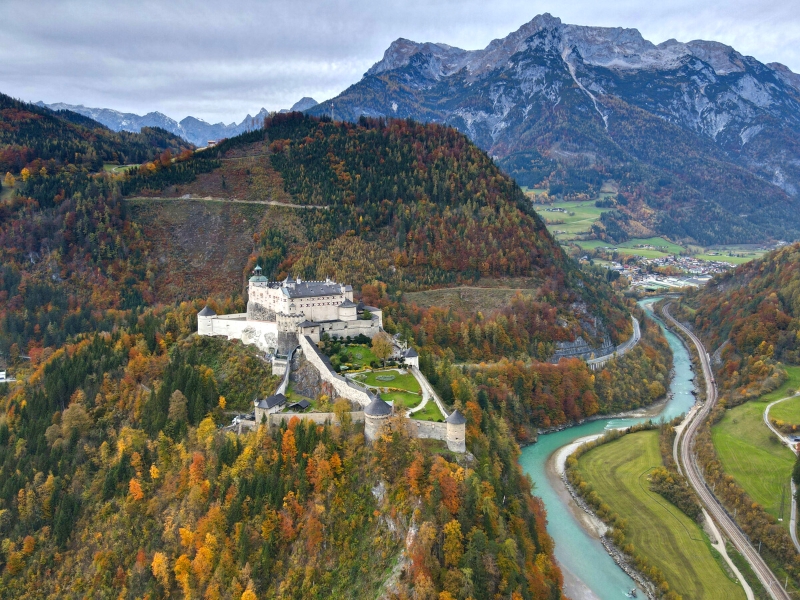 15. Bad Gastein
Bad Gastein is a lovely mountain town located in the central-eastern part of Austria, renowned for its thermal baths and healing waters at Felsentherme Bad Gastein. The town's stunning landscape is made up of lush green meadows and snow-capped peaks that offer some spectacular views.
The Hohe Tauern National Park provides plenty of outdoor activities such as hiking around the many alpine lakes in Gasteiner Höhenweg or summiting endless mountains. Visitors can also enjoy skiing down the mountains at Goldbergbahn in Sportgastein, checking out the view from the observation deck at Stubnerkogel Talblick, or getting the iconic Instagram photo at the Gastein Waterfall.
The town's local attractions include a myriad of cultural sites such as the Gasteiner Museum, the Stubnerkogel Suspension Bridge, and the De l'Europe Gastein which has had numerous royals and inspiring individuals walk its halls.
Owing to its luxurious thermal baths, stunning landscape, and vibrant culture, it is no surprise that Bad Gastein is continuously acknowledged as one of the most beautiful cities in Austria.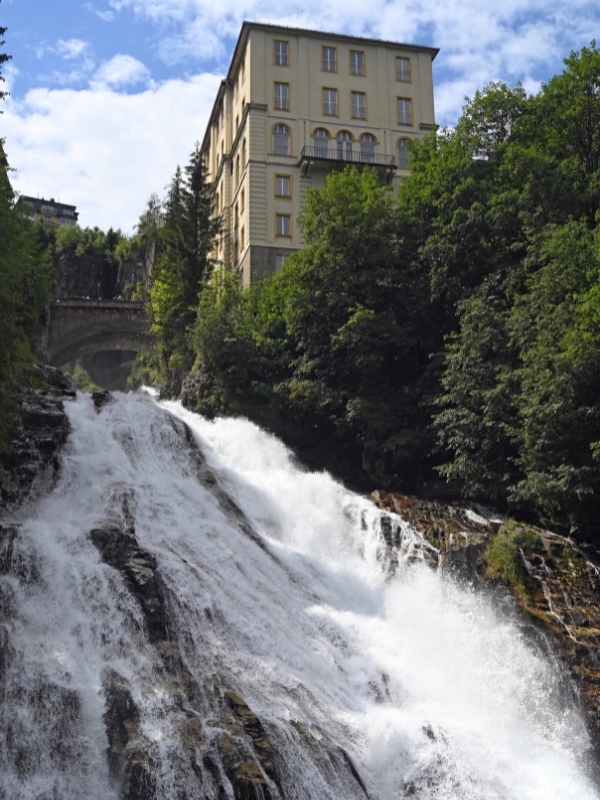 16. St. Gilgen
The scenic town of St. Gilgen is set along the famous Wolfgangsee Lake and offers some stunning views of the neighboring Salzkammergut Mountains. It's also home to a gorgeous small town, multiple churches, and the Badewiese Sonnplatz, a crystal-clear lake ideal for swimming.
The town is also an excellent base for those looking to make some popular day trips to some of Austria's most iconic towns including Bad Ischl and Hallstatt.
Before you run off to other spots, however, it's worth taking a ride on the Zwölferhorn Seilbahn Talstation cable car or even considering a tandem paragliding tour around some of Austria's most scenic mountains including Pitschen Berg and Schmittenstein!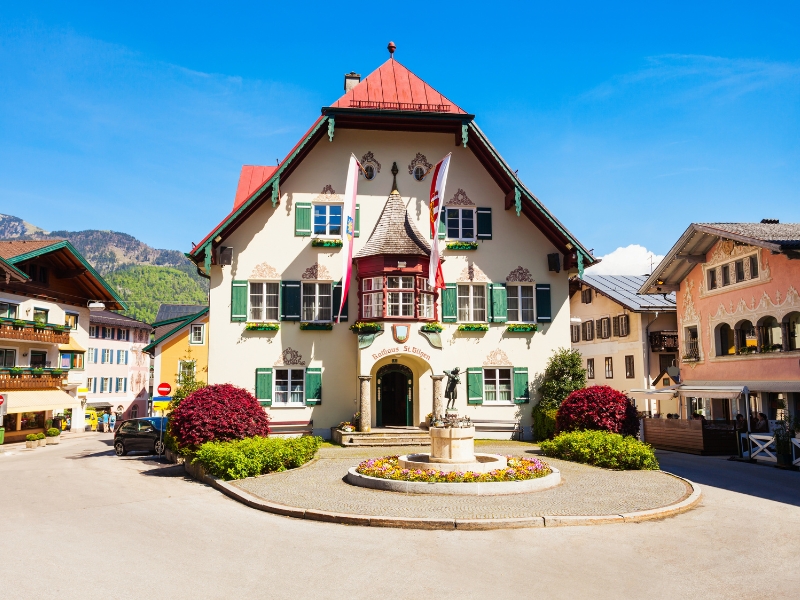 17. Matrei in Osttirol
Matrei in Osttirol is easily one of the most underrated destinations in Austria that often gets overlooked by tourists. Located at the base of Grossglockner alpine range, Matrei is surrounded by well-kept castles including the 19th century Felsenkapelle Gschlößtal chapel and the centuries-old Schloss Weißenstein Castle.
The area around Matrei is popular for its outdoor activities such as hiking and mountain biking, with the nearby Innergschlöss Glacier Trail being one of the most scenic routes offering fabulous views of the surrounding Dolomites.
Apart from exploring nature, visitors to Matrei can also head to the Goldried ski area which has over 30 kilometers of slopes for skiing or snowboarding. The quaint restaurants in the area, Grillolm specifically, also offer some delicious traditional Austrian dishes to complete your experience and make it an unforgettable visit.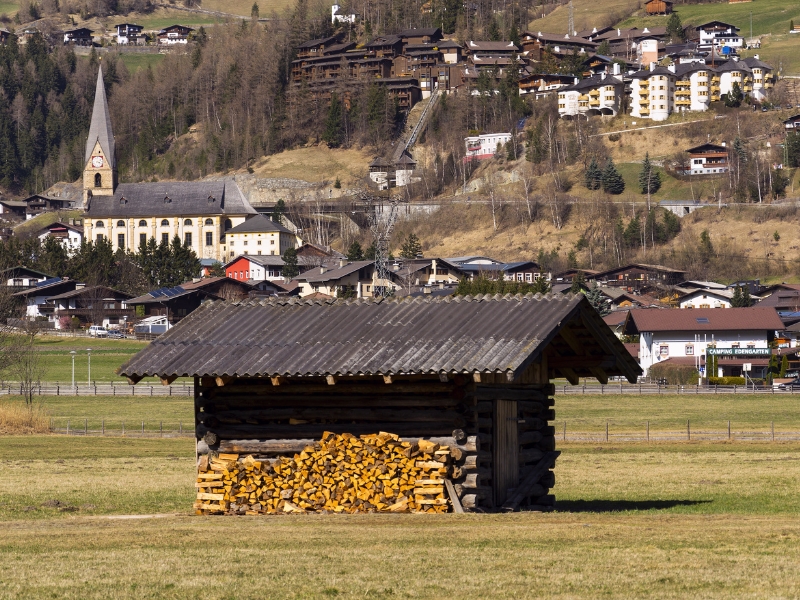 18. Bregenz
Bregenz is also known as 'the City by the Lake' due to its location on the eastern shores of Lake Constance, the Bodensee in German.
The city boasts Austria's most important harbor and hosts the world-famous Bregenz Festival, making it a must-visit destination for history and culture enthusiasts.
The Kunsthaus Bregenz is a remarkable architectural gem located opposite the marina, from where boat trips leave to the island village of Lindau and the flower island of Mainau.
The old town, located in the Upper City, still has well-preserved city walls from the Middle Ages, making it a must-see destination. The centrepiece of the city is the bulbous, Baroque St. Martin's Tower, which is over 2000 years old.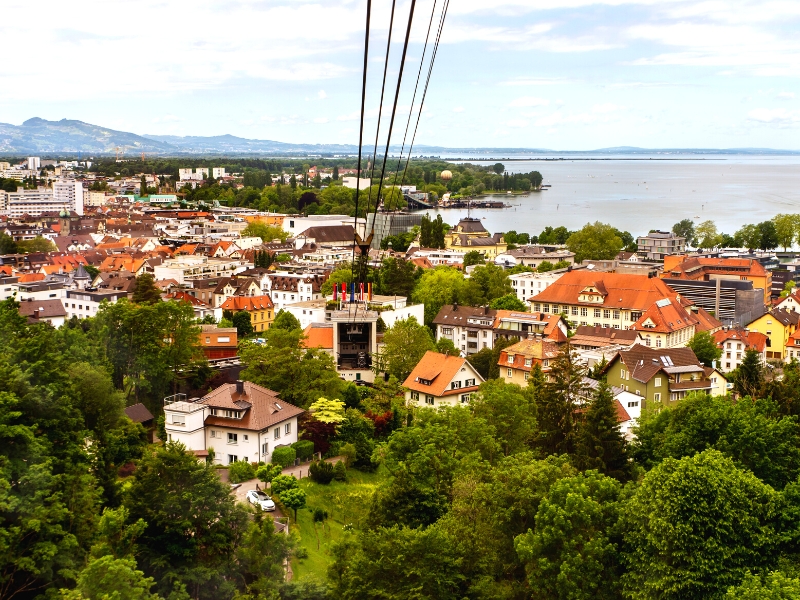 Most Best Cities in Austria FAQs
In this section, we'll be answering some important questions for your trip to Austria!
What's the Prettiest City in Austria?
While beauty is subjective and every city in Austria has its own charm, many travelers often find Salzburg to be the prettiest city.
Known as the birthplace of Mozart, Salzburg seamlessly blends old and new, with its stunning Baroque architecture, the impressive Hohensalzburg Fortress, and the serene Salzach River.
Its historic old town is a UNESCO World Heritage Site and provides a picturesque setting that transports visitors back in time. However, it's not just the history and architecture that win visitors over. The city's location, nestling against the Eastern Alps and bisected by the river adds to its fairytale allure, making it widely regarded as one of the most beautiful cities in Austria.
What is the Most Luxurious City in Austria?
While Vienna is often praised for its extravagant hotels and grand squares, the town of Bad Gastein offers an even more exclusive and refined experience.
Known as one of Austria's most luxurious spa towns, Bad Gastein is famous for its healing thermal waters and stunning mountain backdrop. It is home to some of the country's highest-rated spas, including the Felsentherme Spa which features an outdoor pool with views of the Alps and underground limestone caves.
Apart from its thermal baths, Bad Gastein also offers some luxurious shopping experiences with upscale boutiques and fine dining restaurants to enjoy. Easily among the most luxurious destinations in Austria, the town of Bad Gastein defines extravagance.
What is the Most Photographed Town in Austria?
Hallstatt easily takes the crown as the most photographed town in Austria. With its idyllic lakeside location, charming pastel-colored houses, and dazzling alpine backdrop, it's no wonder photographers and tourists alike are drawn to this postcard-perfect village.
The reflection of the town in the clear blue waters of Lake Hallstatt creates an unforgettable visual spectacle, making Hallstatt an iconic symbol of Austrian beauty. This enchanting town is a must-visit for any avid photographer or traveler looking for picturesque landscapes.
Which is Better: Salzburg or Vienna?
Deciding between Salzburg and Vienna largely depends on what you desire from your Austrian getaway. Each city possesses its own distinct allure and attractions, so you'll want to consider both cities before choosing.
Salzburg, the birthplace of Mozart and the setting for the movie "The Sound of Music," is a picturesque city where you can explore stunning baroque architecture, beautiful gardens, and enchanting old town alleyways. It's the perfect choice for those who appreciate music and history and prefer a smaller, more walkable city with a laid-back atmosphere.
Vienna, on the other hand, is Austria's grand capital, known for its imperial palaces, world-class museums, and vibrant shopping squares. It's larger, more cosmopolitan, and offers a wider range of entertainment and shopping options. If you're into arts, architecture, and bustling urban life, Vienna would be your ideal choice.
Is Austria Worth Visiting?
Austria is absolutely worth visiting! This country brims with rich history, stunning landscapes, and a vibrant culture. Visitors are drawn to its breathtaking Alpine scenery, where they can indulge in various outdoor activities like skiing, hiking, and mountain biking between Kalkalpen National Park and Sigmund Thun Gorge.
Its cities boast unique character and charm, with beautifully preserved architectural wonders such as Vienna's Hofburg Palace and Graz's Mariatrost Basilica. Austria's music scene, deeply rooted in classical traditions, is unparalleled, with world-renowned events like the Salzburg Festival and opera performances in Vienna's Staatsoper.
Moreover, Austria's culinary landscape is a delightful fusion of hearty traditional dishes and modern gastronomy, with Vienna being famous for its coffee house culture and decadent pastries, like the sacher-torte.
Whether you're a history enthusiast, a nature lover, a foodie, or an art aficionado, Austria is full of beautiful small towns and cities ideal for travelers of all types.
Conclusion: Best Cities in Austria
Austria is a country blessed with cities and towns that offer a unique blend of natural beauty, intriguing history, and rich culture.
Whether it's the stunning Baroque architecture of Salzburg, the lavish thermal baths of Bad Gastein, the undeniable photogenic nature of Hallstatt, or the grandeur of Vienna, these beautiful cities in Austria truly embody the country's allure and charm. 
Looking for more travel inspiration? Check out these top posts…
Croatia is home to a variety of beautiful landscapes, including rugged mountain peaks, stunning islands, enchanting waterfalls, incredible beaches, vibrant cities, and charming historic towns. There are so many beautiful places to visit, it can be difficult to decide where to go. We've pulled together all our favorite most beautiful places in Croatia to visit to inspire you and help plan your next trip.
Love it? Pin it!