This post may contain affiliate links, from which we earn an income.
Everything You Need to Know to Visit Innsbruck in Summer
Take a road trip to Innsbruck Austria in summer and you will discover a stunningly beautiful and dramatic city. Capital of Austria's western state of Tyrol, Innsbruck is surrounded by awe-inspiring, enormous mountains, cool green pastures and offers a huge variety of summer sporting activities.
Whether you're looking for culture, visiting Innsbruck on an Austrian road trip, or you're here for the outdoor adventures and extreme sports that this part of Austria is known for, you'll find it in Innsbruck.
In our Innsbruck in summer guide, we share information about getting to Innsbruck, hotel and campsite recommendations and lots of ideas for things to see and do, to help you plan an amazing Innsbruck trip.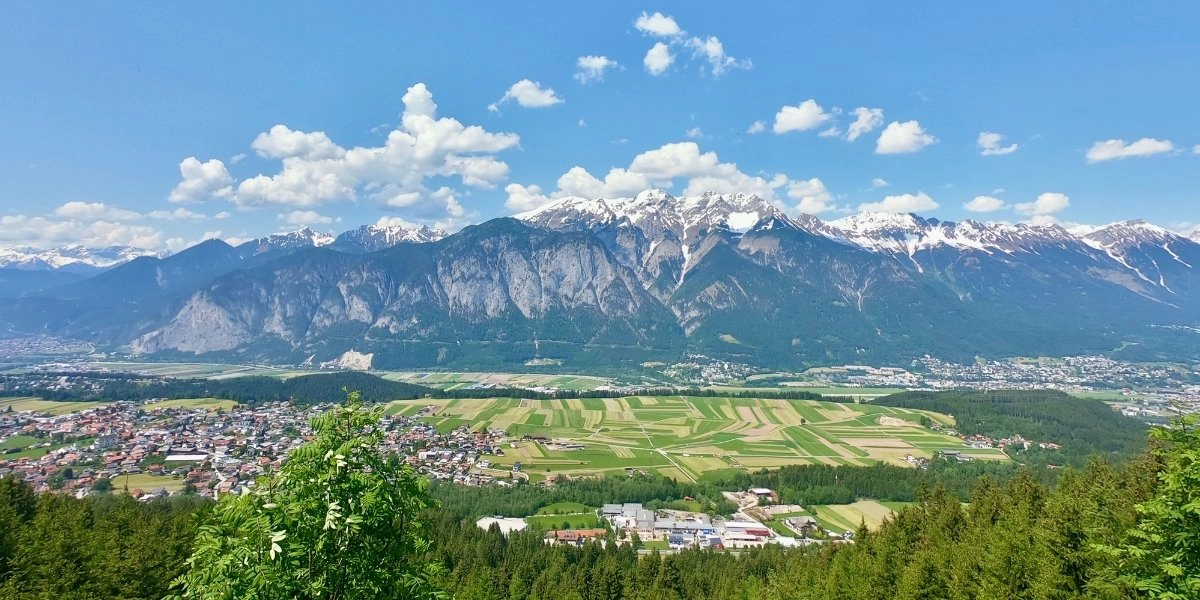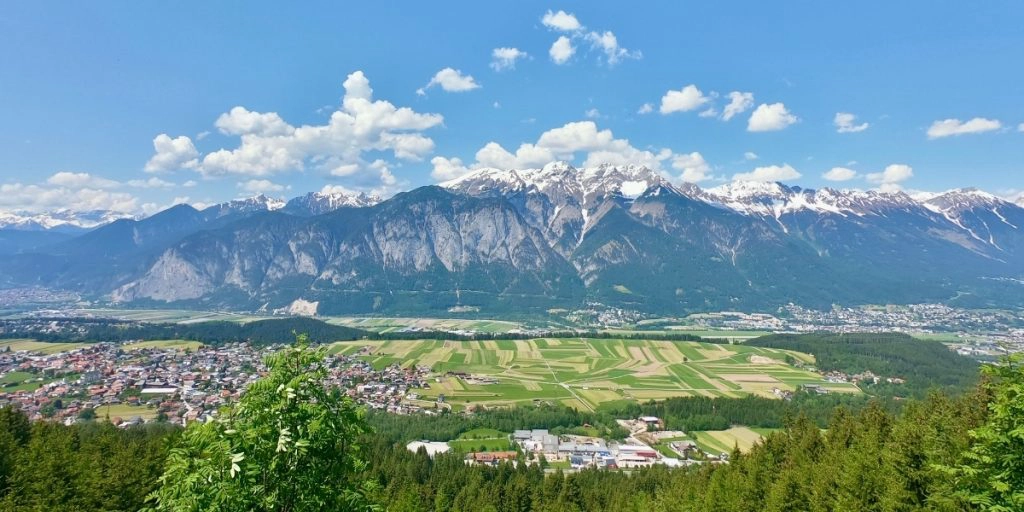 Summer Weather in Innsbruck
The month of May is the beginning of summer in the Alps and a perfect time for road trips and holidays to Innsbruck. The city comes alive with tourists and the snow begins to melt in earnest, giving way to hiking, biking and white water opportunities. It can still get chilly in the evenings, even though the sun doesn't set until 9pm, so make sure you have some warmer clothing.
The beginning of autumn in Innsbruck is marked by brilliant colours. In September, leaves begin to turn to rich coppers, deep yellows and bright reds; it makes for stunning, colourful views. Hiking and many other 'summer' activities are still possible before the snow starts to fall in the later months. It will be very cold at night; make sure to pack in layers.
Is this your first time visiting Austria? Get all the information you need in our Austria Travel Guide, including what to pack, the best time of year to go, getting there and practical tips to help you have the best trip!
Driving Routes to Innsbruck
There are numerous driving routes into Innsbruck depending on your road trip start point; despite being sandwiched in-between a lot of enormous mountains, Innsbruck is surprisingly accessible.
Did you know that Innsbruck is also a region of the beautiful country of Austria, as well as a city? Make sure you're heading to 'Innsbruck Innsbruck' when setting your sat nav rather than the region of Innsbruck.
If you are driving to Innsbruck directly from the UK you will need to cross the channel. The best route is via Calais which brings you into eastern France. From there, the journey to Innsbruck involves about ten hours of driving, with motorway almost all the way; through France, Germany and into Austria on the A26, A4, A8 and A7.
In our opinion this is the best route, around 1060 km long and with the cheapest tolls. There are many other routes of course, you can avoid toll roads altogether if you have time to do so.
From Italy, cross via the Brenner pass which brings you almost directly into Innsbruck; the Brenner can be picked up from as far south as Modena and passes by Verona and Trento. From Modena it will take around 3.5 hours to cover the 359 km to Innsbruck. This is a toll road, you can check out the cost here.
RELATED POST: Austria Road Trip: The Best Itinerary, Map & Tips
Make sure you have travel insurance you can trust when visiting Innsbruck. We recommend True Traveller for their 5-star TrustPilot reviews, variety of cover options, best activities cover as standard, great prices, and excellent service.
Driving in Austria
Austria's road and motorway network is well maintained and its drivers steady and courteous. Some mountain roads may be narrow but most will be suitable for motorhomes of all sizes.
Make sure you check signage before heading off the main road network when driving a campervan or motorhome in Austria, especially if the weight is over 3.5t.
Austrian Tolls
Once in Austria, you require a vignette (or Go Box if you're in a vehicle over 3.5 tonnes) for all Austrian motorways and expressways. Be very cautious about how you set your sat nav, it is so easy to end up on one of these roads (which are monitored by camera) accidentally.
Vignette
All cars, motorbikes, motorhomes and campervans up to 3.5 tons mpw (maximum permissible weight) must properly display a toll sticker or have purchased online a digital vignette when they drive onto a motorway or expressway. Failure to do so will incur a fine of €120.
Read in detail here what you need to do if you're planning on using motorways or expressways in Austria.
Go Box
For vehicles with more than 3.5 tons mpw (which includes all lorries, buses, heavy motorhomes and RV's), a mileage-based toll applies on Austria's motorways and expressways. The rates depend on the number of axles, the number of kilometres driven and the vehicle's EURO emission class.
Obtaining a Go Box is, frankly, a pain in the arse! You cannot get one online and have to stop at one of the outlets before driving onto a motorway or expressway. Find an outlet and ensure you have your V5 and Certificate of Conformity to prove your EURO emissions class (ask your dealer if you don't have one).
The outlet will want to take a copy before providing you with a Go Box. The box will cost €75 which is like a deposit and any tolls levied will be deducted from this. When you return the Go Box at yet another outlet, any difference will be refunded. Read more about this complicated and very un-Austrian system here.
What You Need to Carry in a Vehicle
Warning triangle
First-aid kit – which must be in a strong dirt proof box
Reflective Jacket – you must carry a reflectorised jacket / waistcoat (compliant with European regulation EN471) which has to be used in the case of a breakdown or accident and even when setting up a warning triangle on the road. This regulation does not apply to passengers, mopeds and motorcycles, however it is recommended.
All motorists have the legal obligation to adapt their vehicle to winter weather conditions (yes, I know this post is about summer, but you never know!). Between 1 November and 15 April, vehicles must be fitted with winter tyres (which must be marked M&S [mud & snow] on the side walls and have a minimum tread depth of 4mm) or all-season tyres which must be marked M&S and, if roads have a covering of snow, slush or ice, outside these dates.
RELATED POST: Driving in the Alps: Top Tips & Best Routes
Where to Stay in Innsbruck
Hotels
Upmarket: Altstadthotel Weißes Kreuz – Booking.com | Agoda
Mid-Range: Hotel Grauer Bär – Booking.com | Agoda
Budget: Meininger Hotel Innsbruck Zentrum – Booking.com | Agoda
Camping
There are a limited number of Innsbruck campsites close to the city. By far and away the top site is FerienparadiesNatterer See. This site is 7km to the south-west of Innsbruck, which can be accessed by a courtesy bus run by the site.
As well as camping for tents and motorhomes, the site also provides a number of self-catering huts and pods, from basic to luxury and has the best campsite bathrooms we have ever experienced, like being in a luxury gym! The site will also give you an Innsbruck card, which you can use to get discounts and free cable car trips.
Things to See in Innsbruck
Head to the Aldstadt
The old town of Innsbruck is bursting with character, interesting buildings, wide pedestrianised streets, quaint squares and quirky details.
Stop for coffee and kuchen or strudel (a speciality here), admire the sublime architecture and marvel at the dramatic mountain backdrop which surrounds the city. 
RELATED POST: Best Cities in Austria for an Amazing Visit!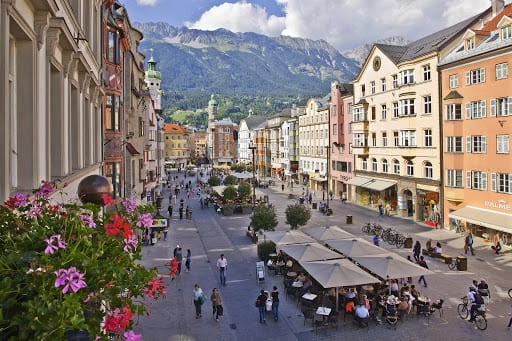 Visit the Imperial Palace
The Imperial Palace, known as the Hofburg by locals, is a former Hapsburg palace started in 1460 by Archduke Sigmund the Rich and extensively added to in the 16th century. It is one of the most important buildings in Austria and now a world class museum.
After extensive restoration work, the Imperial Palace has been returned to its former 18th century splendour. The museum gives a fascinating insight into the lavish lifestyles and extraordinary wealth of past rulers who called the Hofburg home.
You can visit the Imperial Apartments every day, although check the website as they are closed on seemingly random days throughout the year. The cost is €9 for adults, it's free if you're under 19. Sunday is family day with free admission for children, young people and up to two accompanying adults.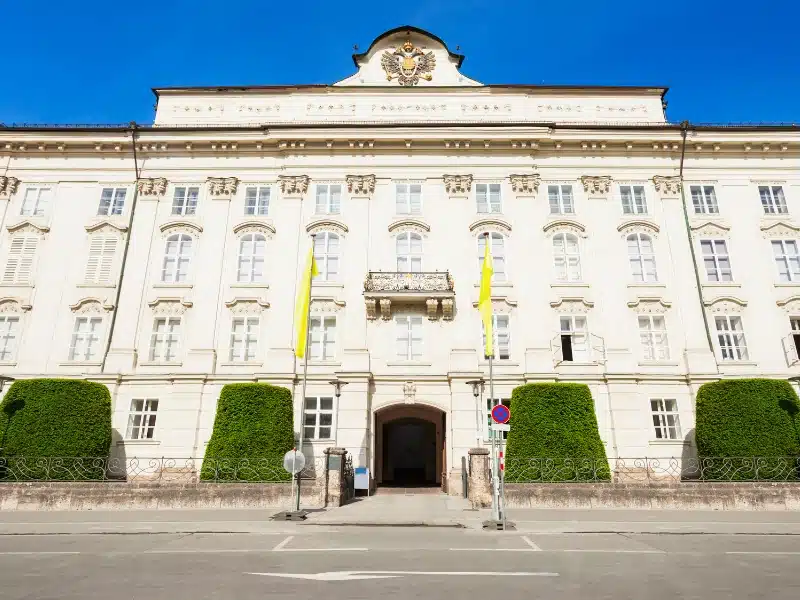 Visit the Court Church
In German, the Hofkirche is a Gothic church built by Emperor Ferdinand I in memory of his grandfather, Maximilian I. Consecrated in 1553, the church is home to the famous Schwarze Mander (Black Men).
These are 28 impressive statues of Habsburg relatives and heroes, considered masterpieces of Renaissance sculpture. The statues guard the black marble sarcophagus of Maximilian I.
Standing in a gilded cage, the marble tomb lies in the centre of the church and remains empty because the Holy Roman Emperor's remains are interred in the Castle of Wiener Neustadt near Vienna
The Court Church, which is on the edge of the historic old town of Innsbruck and diagonally opposite the Imperial Palace, also holds the tomb of Tyrol's national hero, Andreas Hofer (1767 – 1810).
Hofer was an innkeeper and drover and in 1809 became the leader of the Tyrolean Rebellion against the revolutionary Napoleonic invasion during the War of the Fifth Coalition. He was subsequently captured and executed.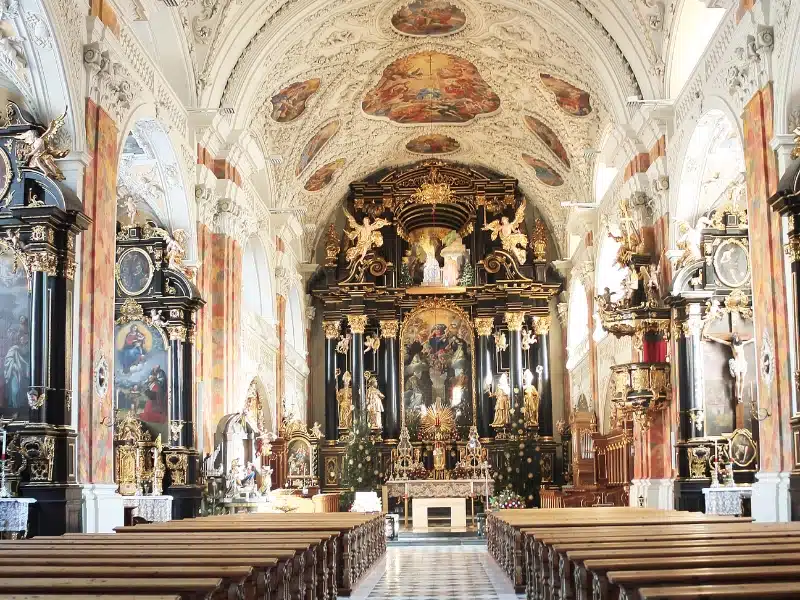 See the Golden Roof
Innsbruck's most famous landmark, the Goldenes Dachl, lights up the heart of the historic Altstadt. The magnificent alcove balcony gets its name from the 2,657 fire-gilded copper tiles that adorn the roof, and has reigned over the neighbouring medieval houses for over 500 years.
The balcony was built by Emperor Maximilian who was amused by the view; he would look down over the colourful hustle and bustle of his city, watch jousting tournaments and be revered by his people from below.
There was a museum next door, but at the time of writing it is closed. We suggest a hot chocolate (well, why not?) in one of the many cafes in the square whilst you admire this very unique building.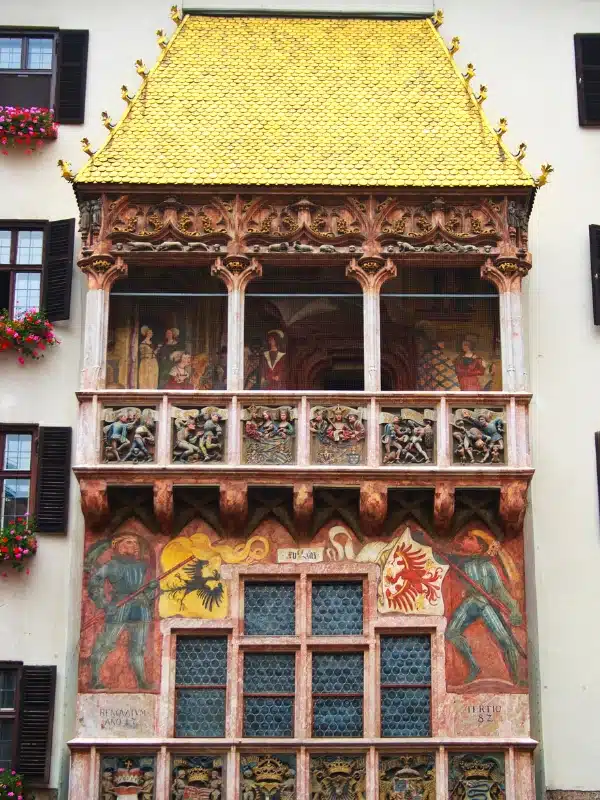 Climb Innsbruck City Tower
The stadtturm is just a stone's throw from the Golden Roof. Standing more than 51m (150ft) tall, this Gothic structure is an important historical landmark in the Altstadt, and once served as part of the old city hall. The tower was built between 1442 and 1450 as an observation point for sentries who kept civic order and maintained a look-out.
There are 148 steps leading to a viewing deck, which provides sweeping views of the city and the breathtaking Nordkette mountain range. Climb the double helix stairs for €4 and be awe-struck once you get to the top!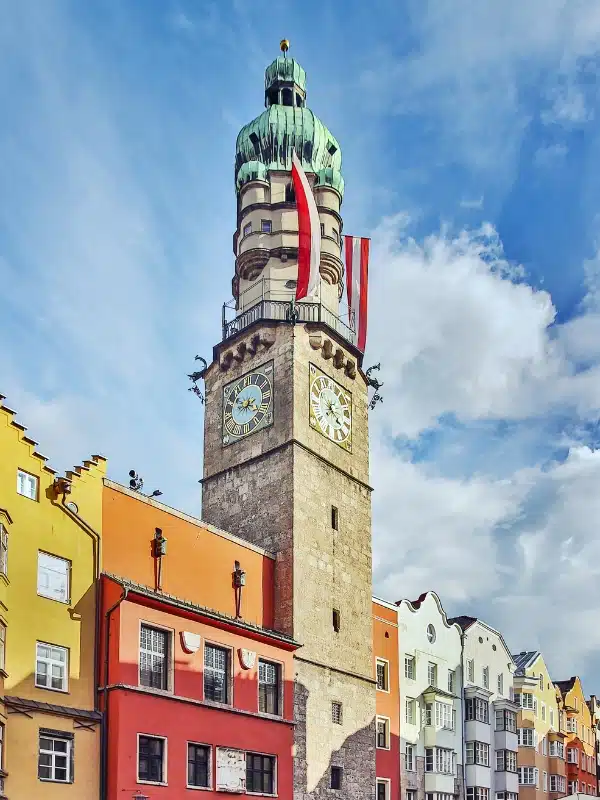 See the Helblinghaus
Just across the square from the Golden Roof, the Helblinghaus was originally built in the fifteenth century, but has evolved significantly with new architectural styles in subsequent centuries.
Originally constructed as townhouses, Helblinghaus was shaped by its early Gothic styles and Baroque façade. The "icing-like" Rococo stucco decorations added in the early eighteenth century; the bows, window frames, oriels, tympana, masks, sculptures, and shells, all contributed to creating this unique building, whose design helps to capture the light. Helblinghaus was completed in 1732 by Anton Gigl. The building was named after Sebastian Helbling, who owned the building from 1800 to 1827.
Sadly, it is not possible to go inside Helblinghaus but you can certainly admire the exterior and enjoy it's quirky and OTT style!
A guided tour is a great way to see the city of Innsbruck, with local guides knowing all the best spots and places. Why not enjoy some typical Tyrolean music, dancing and yodelling whilst enjoying dinner?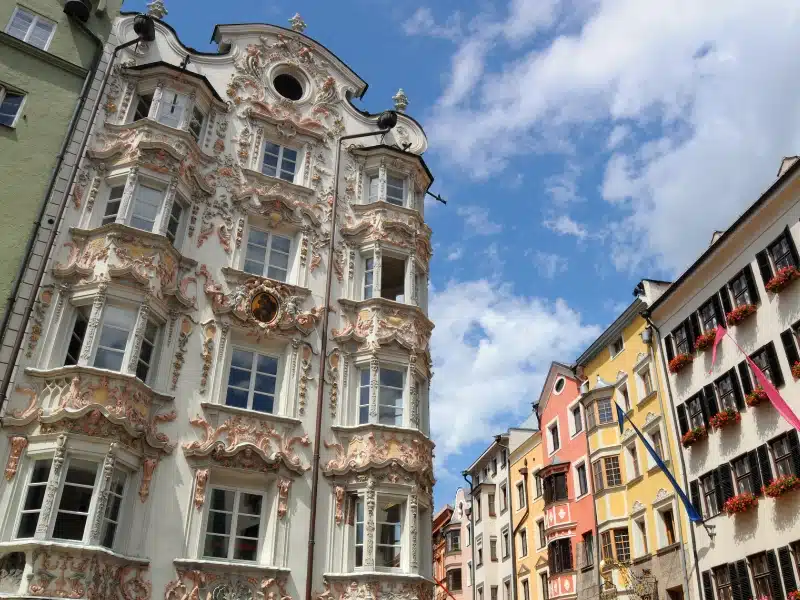 Visit the Bergisel Olympia Ski Jump Arena
This iconic building designed by Zaha Hadid was the home of the ski jump in both the 1964 and 1976 winter Olympics.
Head up the 455 steps to the sightseeing point (or take the lift!) for incredible 360° panoramic views of Innsbruck and the Nordkette mountain range.
The Bergisel ski jump arena is around 10 minutes by taxi from Innsbruck city centre, a 40 minutes walk or around half an hour by public transport, bus or train.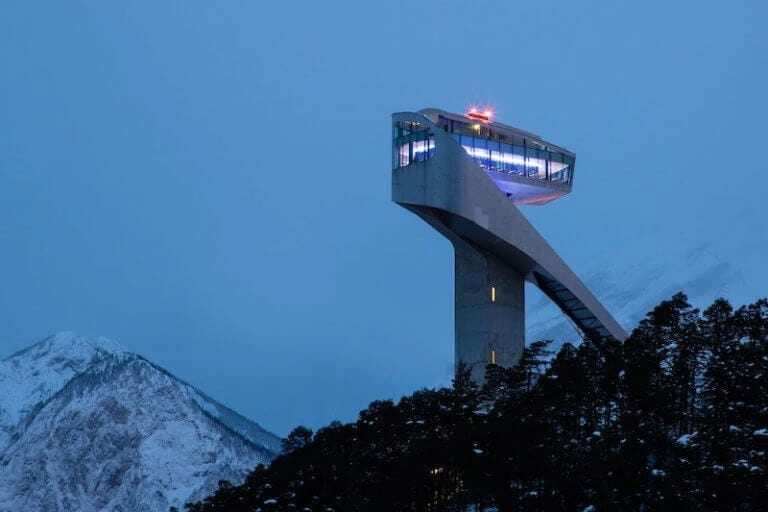 Visit Schloss Ambras
This stunning renaissance schloss sits on the hills high above Innsbruck. Ambras Castle was built in the 16th century and was the family home of Archduke Ferdinand II from 1567 to 1595.
Ferdinand was a knowledgeable lover of art . His world famous collection remains in the Lower Castle (built specifically for the purpose), making Schloss Ambras the oldest museum in the world.
Ambras Castle is around 10 minutes by taxi from Innsbruck city centre, a 45 minute uphill walk or around half an hour by bus. Get your entrance tickets here.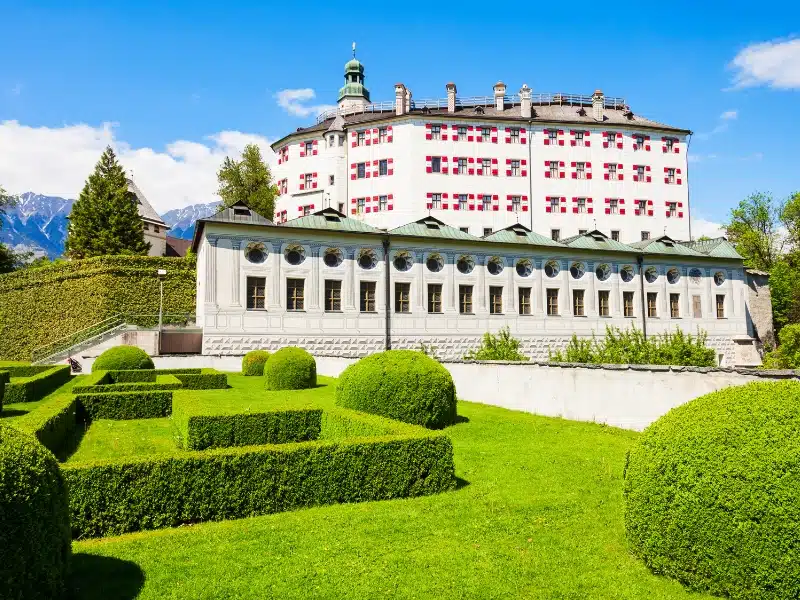 Innsbruck Activities in Summer
Innsbruck has so many things to do in summer for people who love outdoor activities and sport.
Before taking part in any activities, check that you are covered by your travel and medical insurance. Most have clauses about extreme sports, even though some are not that extreme at all!
Go Hiking
There are literally hundreds of hikes around Innsbruck's mountains along 1220 km of trails, from family-friendly walks to full on summit expeditions. We visited Innsbruck in our motorhome in early June, the snow melt was late and there was still thick snow at around 2,000m; if you're visiting Innsbruck to conquer a peak or two, check the weather prior to departure and alter your dates to suit if at all possible.
If you are a seasoned hiker, then apps such as View Ranger or WikiLoc will provide you with all you need to get walking. We were able to take a 30 minute bike ride from our Innsbruck campsite to four locations where we could start a hike. There are also many places to start hiking where parking a motorhome or campervan (as well as a car) is possible; identify your start point and check out parking on Park4Night or Google Earth.
Our routes took us through alpine meadows full of wild-flowers, up and down grass covered pistes and along shaded forest trails; everywhere you look there is a view and although you might be breathing hard, the air is clean and fresh!
If you prefer to hike in a group, then Innsbruck Stadt, via the Welcome Card, provide a free guided hiking programme from late May to late October. You can find out more about if here.
It goes without saying that if you are hiking independently ensure you have the right equipment, a phone, food / water and have checked the weather prior to setting out. Always time your walk so that you are finished before dusk. Just wanting to keep y'all safe now!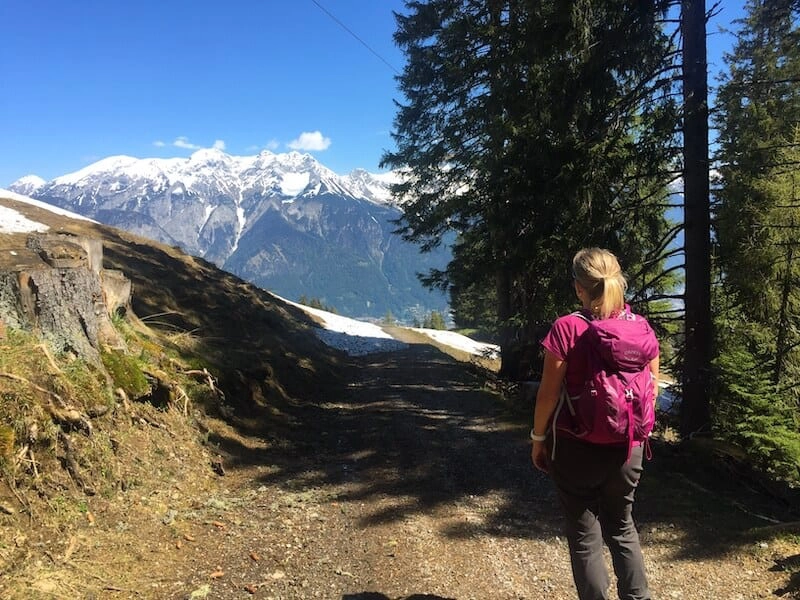 Try an Extreme Sport!
If you're travelling around Europe and Austria then you're already pretty adventurous! Why not take it a step further and try one, or some, of the vast array of extreme sports around Innsbruck? From via ferrata (by rope), rafting and canyoning, the list is endless. You can even bungee jump, if throwing yourself off something high into thin air does it for you.
We loved paragliding here and can highly recommend a tandem paraglide with a fully qualified instructor over the Stubai Valley. This is a once-in- a-lifetime experience and and one of the best things to do in Innsbruck in summer!
Innsbruck is the perfect destination for extreme sports; whatever you choose to do, the views will be amazing, the air clean and the water fast flowing. Adrenalin Hunters pulls together all the options for you, from the best providers in the area.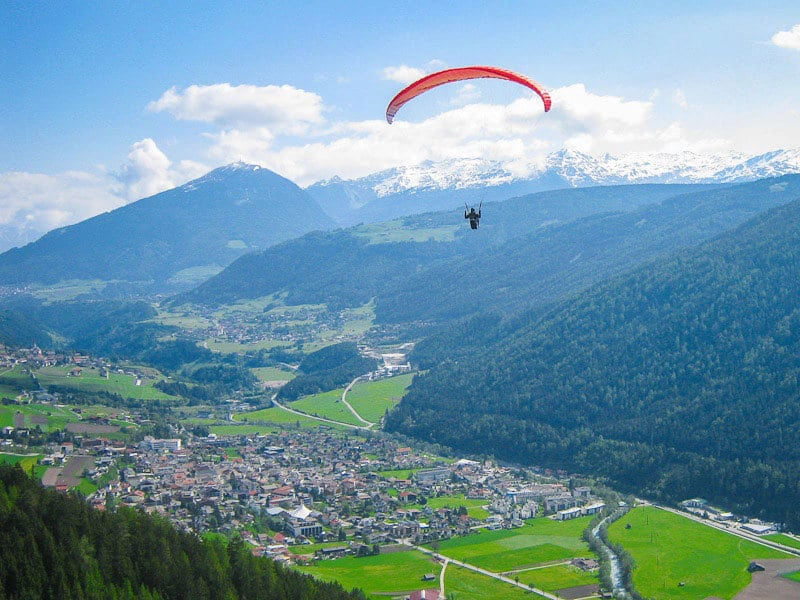 Take The Cable Cars
Nordkettenbahn
Nordkette is Innsbruck's favourite mountain and part of Austria's largest nature park, the Karwendel Nature Park. The breathtaking 360° views, with the capital of the Alps on one side and Tyrol's most extensive conservation area on the other, is a must-see when in Innsbruck.
Click here to take the Nordkettenbahn cable car. The trip involves three different cars and lifts, takes around 1.5 hours and will take you up to just over 2,300m where the view over the top of Innsbruck is spectacular!
Muttereralmbahn
The 'adventure mountain' is a great summer destination with a multitude of different hikes, including the summit of the Nockspitze, and a large alpine playground set between the mountain lift station and Panoramasee lake.
Take the Muttereralmbahn cable car from Nockhofweg 40, 6162 Mutters, where there is parking for motorhome / RV / camper van. The car takes you up to 1600m and cost €17 for the return journey. If you have the Welcome Plus card from Camping Natterer See one return trip per card is free.
There's a real feel-good vibe here, both at the bottom where there is a newly built bike park and at the top where cool bikers hang out and families gather at the restaurant before heading off for a hike. If you don't fancy the cable car back down, try one of the downhill mountain carts which take a dedicated track all the way back to the start.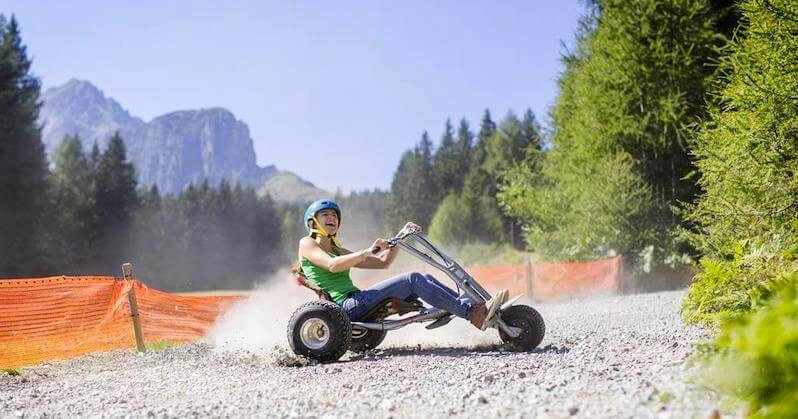 Go Mountain Biking
Innsbruck is a real bike destination. With the new Bike Park Innsbruck, the Crankworx mega-event, trail tours for mountain bikers and many other opportunities for relaxed touring or even racing , Innsbruck is firmly on the MTB map.
From professional riders to family groups, there are trails for everyone. Downhill is a particularly popular discipline (I wonder why!) and the cable car at Mutters is well-set up for bikes taking one-way trips up the mountain. Check out this link for more information.
Is Innsbruck worth visiting? Absolutely! If you love the outdoor life and being active then Innsbruck in summer is for you.
Are you looking for more travel inspiration? Check out these top posts…
If you're wondering about the best things to do in Bruges, you've landed in the right place. Bruges, or Brugge in Dutch, is often dubbed the 'Venice of the North' offering a rich tapestry of experiences, from its medieval architecture to its mouthwatering Belgian cuisine. In our Bruges travel guide we're sharing the best places to stay, must-try foods, and the ultimate things to do in Bruges, and beyond.
Love it? Pin it!