This post may contain affiliate links, from which we earn an income.
How to Spend A Day in Stockholm
The capital of Sweden, Stockholm is made up of fourteen islands and more than 50 bridges on an extensive Baltic Sea archipelago. The largest city in Scandinavia, Stockholm is the epitome of Scandi-cool, from having one of the best preserved historic districts in the world, to being the home of the first-ever open air museum.
In our Stockholm travel guide, you'll find information and tips for visiting all the most important must-see Stockholm tourist attractions, with an interactive map, organised to make the best use of your one day in Stockholm.
We also share recommendations for central places to stay, ideas about where to eat local food, and tips about how to make the most of your 24 hours in Stockholm.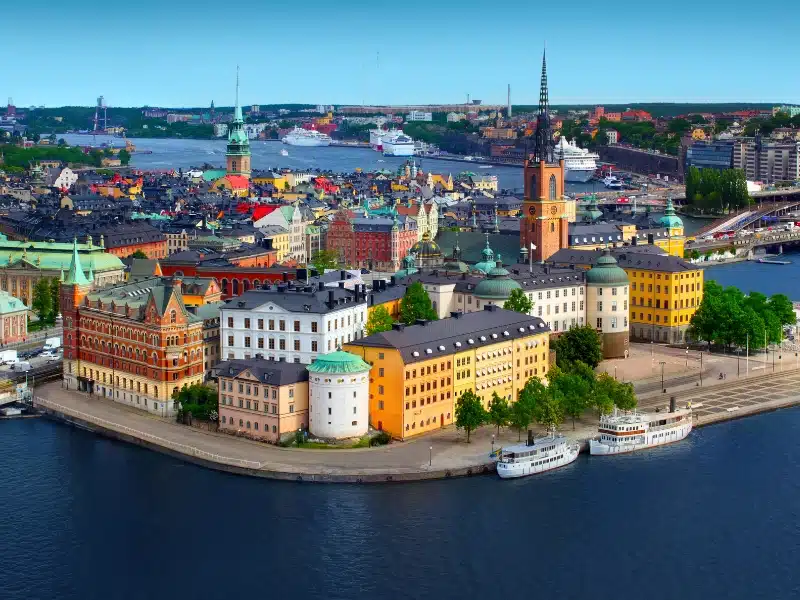 When to Visit Stockholm
Spring
Whilst it can be quite cool in spring, the city is beginning to come back to life after a long dark winter, and local residents are happier for it. The cafés and restaurants start to open their outdoor terraces, although blankets and heaters are still a must.
The outdoor markets open in April and you'll also be able to see the amazing cherry blossoms in Kungsträdgården and enjoy the annual free Music and Arts Festival, which usually falls after Easter.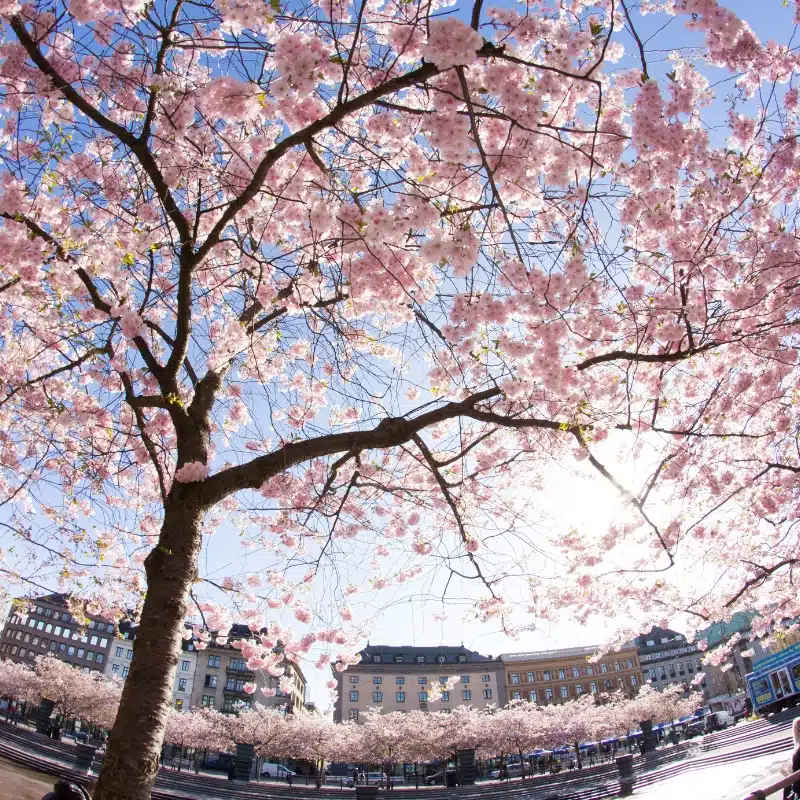 Summer
The temperatures are lovely in Stockholm in the summer. Not getting too hot, they generally hover around 25ºc/77ºf, and the days are long, with the sun setting around 11 pm.
It's the liveliest time of year, especially at the weekends when locals go sailing and hiking on the archipelago, and you can make the most of the long days and enjoy al fresco dining and a drink at one of the many floating bars.
Midsommar, Sweden's biggest holiday, falls around the summer solstice and generally sees Stockholm empty as families head to their summer cottages for the month of July.
August is the busiest month in the city with many outdoor concerts and cinema events to enjoy.
Fall
The colour of the trees in autumn brings a different feel to the city, whilst the days are still long they are getting cooler and the city starts to move inside.
Log fires and candles are lit in the restaurants and bars for you to enjoy a cozy evening inside. The Stockholm Jazz Festival usually takes place in October and the Stockholm Film Festival in November.
Winter
The winters in Stockholm are freezing, getting as low as -20ºc/-4ºf with lots of snow on the ground, and the days are very short. However, if being in a winter wonderland appeals it's still definitely worth a visit, just make sure you have your winter woollies packed!
There is often snow on the ground and it's not unusual to see locals cross-country skiing to get about. All of the museums and other attractions are open, you just might need to make use of the very good public transport system to get about.
Stockholm Trip Resources
Flying
Fly into Arlanda International or Bromma airports
Driving
Drive in from Europe or hire a car in Sweden
Travel Insurance
Cover medical costs, delays and lost luggage
Getting to Stockholm
Flying
If you are flying to Stockholm, you will land at either Stockholm Arlanda International Airport or Bromma Stockholm Airport, which hosts mainly domestic flights but a few are international.
From Arlanda Airport the best way to get to the city center is by train. The Arlanda Express runs every 15 minutes and takes 18 minutes to get to Stockholm Central Station, in Norrmalm. It is recommended to pre-buy tickets as they are more expensive on the train.
You can also go by bus. The Flygbussarna takes about 45-50 minutes to get to Stockholm Central Station with a few stops on the way, and you can purchase tickets online or at the airport ticket machines.
From Bromma Airport the best way to get to the city is by bus. The Flygbussarna runs one to two buses an hour and it takes 20 minutes to get to Stockholm Central Station. You can buy your tickets online or at the airport ticket machines.
You can also book a private transfer from the airport with Klook directly to your accommodation in the city. Klook works with a large range of local operators to bring the the best options and prices for your transfer.
Are you planning a Sweden road trip? Get our 11 day Swedish road trip itinerary with interactive map, driving tips, and places to see and things to do so you don't miss a thing as you travel around Sweden.
Where to Stay in Stockholm
Luxury: Hotel Frantz – Booking.com | Agoda
Mid-Range: Story Hotel – Booking.com | Agoda
Budget: Comfort Hotel Express – Booking.com | Agoda
Hostel: Archipelago Hostel Old Town – Booking.com | Agoda
What to See & Do in Stockholm
Built over fourteen islands, Stockholm is still a pretty small city, and most of the top things to see are located on just a few of the islands and can easily be walked.
Stockholm also has a fantastic public transportation system made up of trains, buses and ferries if you prefer not to walk, but they can be quite expensive. In the summer months, you can hire a bike as a fun way to get around.
Our itinerary has been chosen to highlight some of the best sights in Stockholm and is easily walkable, however, if you are in Stockholm in the colder months you can make the most of the ferries and metro to help you get about.
Stockholm is one of the cleanest and least polluted cities in the world and is also home to the longest art gallery in the world! The Metro system, which is 105km long with 100 stations is a living art museum, with 90 of the stations displaying artwork – a good excuse to use the Metro!
If you prefer to have your day organised for you, check out this popular and highly-rated private tour with a local guide. You'll discover Stockholm's must-see treasures and top attractions on this full day guided tour, and enjoy an all-inclusive sightseeing experience complete with hotel pickup, all entry tickets, lunch, and a professional blue badge Stockholm city guide.
One Day Stockholm Itinerary Interactive Map
How to use this map – Use your fingers (or computer mouse) to zoom in and out. Click or touch the icons to get more info about a place, and click the arrow in the box top left to open the index. To add to your own Google Maps account, click the star next to the title of the map.
Morning
ABBA The Museum
What better way to start your day than with a good old dose of disco at the ABBA Museum? This is a fully interactive museum and as well as checking out some of the iconic costumes they wore in their heyday, you can virtually try them on. You can do a music mixing challenge, become a fifth member of ABBA on the large hologram stage or just sing some fun ABBA karaoke!
The ABBA Museum can get really busy (not surprising, it's one of our faves), so we recommend booking a skip-the-line entry ticket in advance, so you can sing more ABBA songs instead of standing in the queue!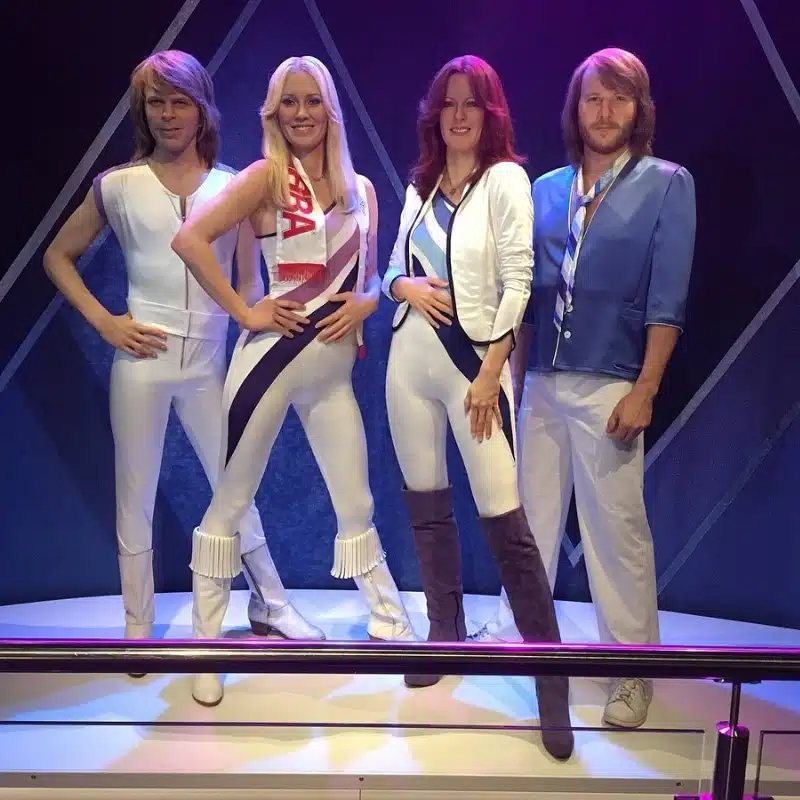 Vasa Museet
Next, head to the Vasa Museum and marvel at the warship Vasa from 1628, an incredibly well preserved ship that is adorned with hundreds of wooden sculptures. The Vasa is the world's only fully (almost) intact 17th century ship that has ever been recovered.
After 333 years at the bottom of Stockholm Bay, the Vasa was discovered and salvaged and the museum covers the history and life of the ship, which sank in Stockholm harbour on its maiden voyage before it ever went to war. There are also exhibits dedicated to the Vasa's salvage and preservation.
Make your visit to the Vasa Museum on the island of Djurgården easier by buying your ticket in advance.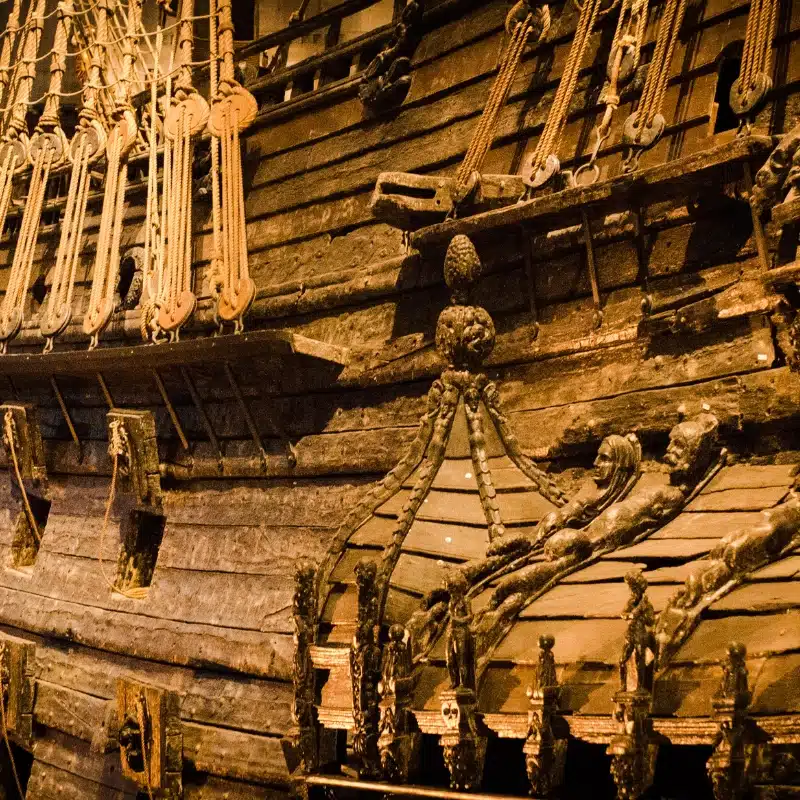 Nordiska Museet
You can't miss the Nordiska Museum, the imposing Renaissance building that is Sweden's largest museum of cultural history.
The museum has over 1.5 million exhibits that reflect the Nordic lifestyle from the 16th century up to today, as well as changing exhibitions, from Scandinavian design to fashion.
Some of the exhibitions require advanced booking, and you can find and book your tickets here.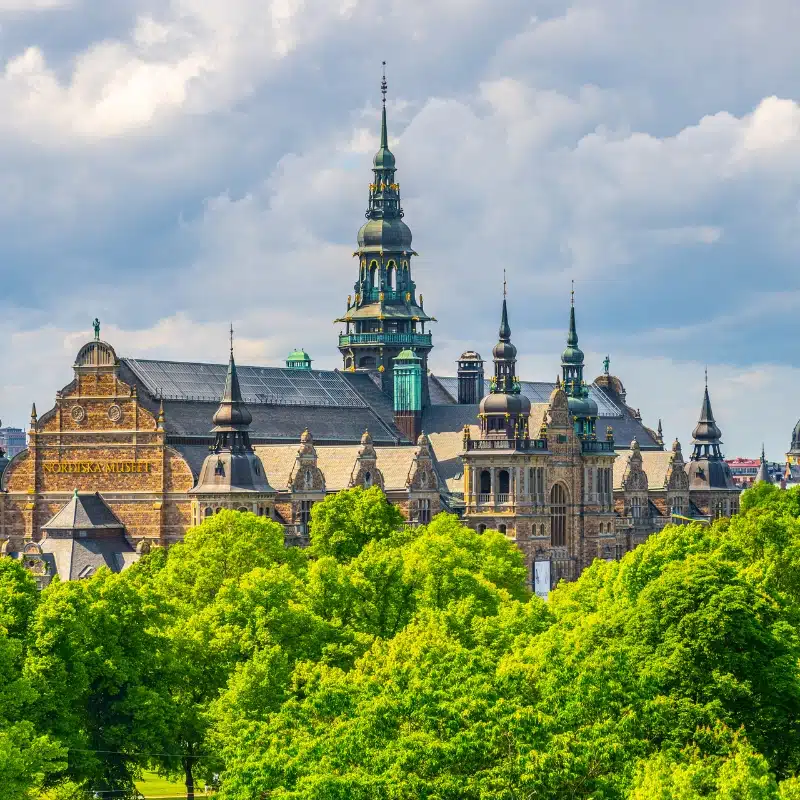 Stockholm City Hall
On your way to Stockholm City Hall take a stroll down the tree-lined esplanade of Strandvagen, and check out the amazing waterfront views and palatial Italian and French Renaissance-style buildings.
Stockholm City Hall is one of the most defining landmarks in the city. It has a 106m tower, with three golden crowns on top, which is the Swedish coat of arms. The City Hall is famous for its grand ceremonial halls and is the venue of the great Nobel prize banquet.
You can only tour the city hall with a guide. It takes about 45 minutes and tickets can be purchased at the ticket office on the day of your visit.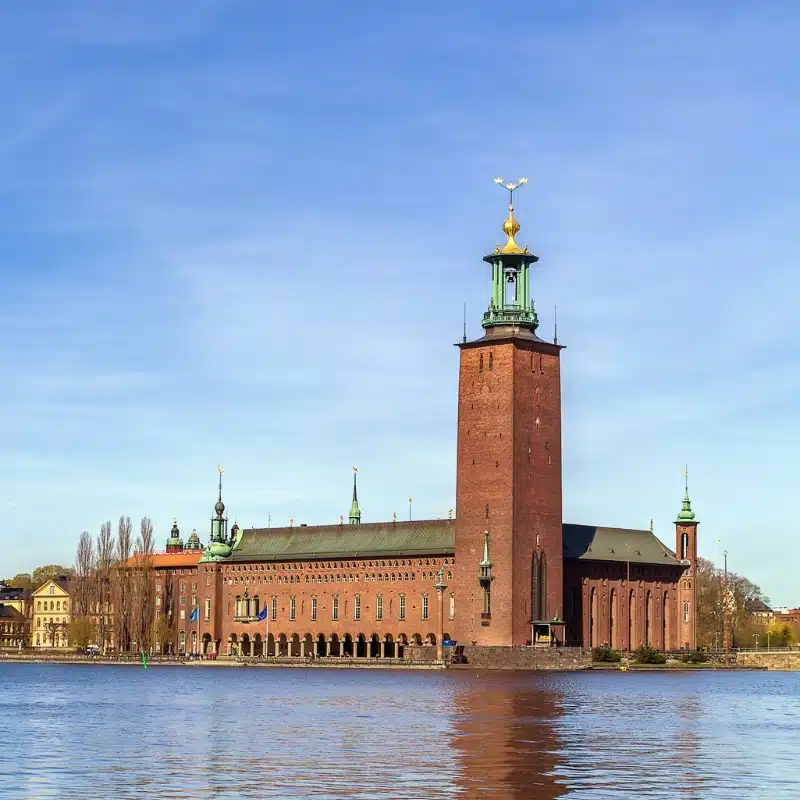 Stockholm Medieval Museum
The Medieval Museum was constructed around old monuments excavated in an extensive archaeological dig in the late 1970s. Part of Stockholm's city wall, dating from the early 16th century, was also found, and it now takes pride of place in the museum.
If you like medieval history then this is the place for you! You'll get a real feel for the experience of being in medieval Stockholm, with its brick houses and booths, workshops, harbour and gallows. The museum covers the history from the 1250s to the 1520s and produces themed exhibitions with a medieval emphasis.
The Royal Palace
Cross the bridge to the island of Gamla Stan, also known as the old town of Stockholm, and you will see the Royal Palace, the official residence of His Majesty the King, open to the public year-round. Although the palace is the official residence of the Swedish royal family, their actual residence is at Drottningholm Palace on the island of Lovon, west of Stockholm.
The palace was built between 1697 and 1754 in the Baroque style by the architect Nicodemus Tessin and has over 600 rooms and eleven floors. As well as the royal apartments the palace has three museums, the Treasury, the Tre Kronor Museum and Gustas III's Museum of Antiquities.
You can visit the staterooms of the castle on your own or join a guided tour. The guided tours are offered for a small surcharge on the regular entrance fee, last about 45 minutes and take place several times a day, alternating between Swedish and English.
RELATED POST: Beautiful Places in Sweden: Discover the Best Spots to Visit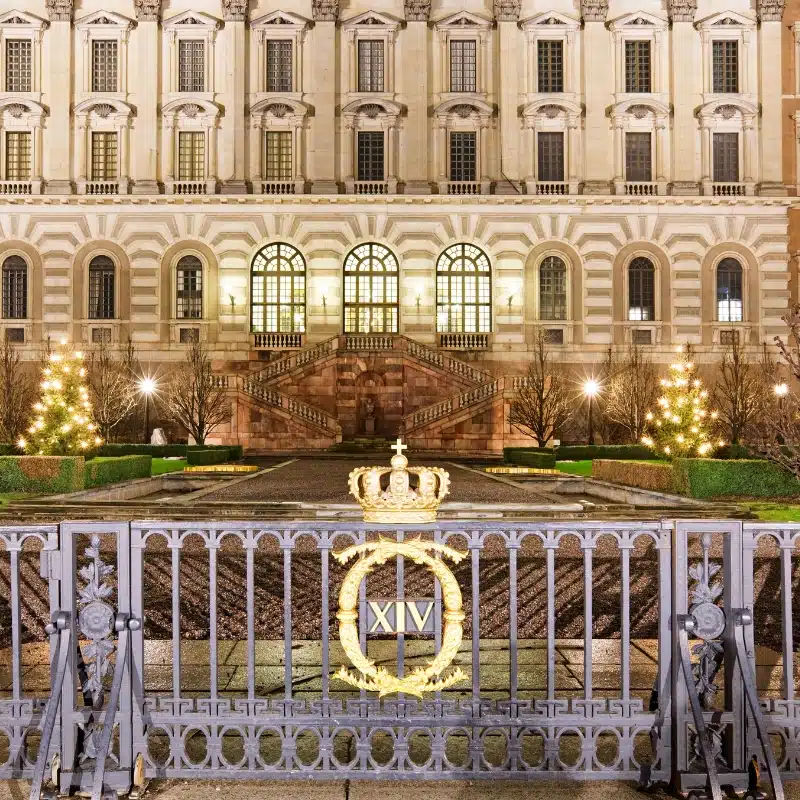 Afternoon
Riddarholmen Church
The Riddarholmen Church is the final resting place of the Swedish kings and queens and is Stockholm's only preserved medieval abbey. All rulers of Sweden are buried here, except for Queen Christina who converted to Roman Catholicism, abdicated, and was buried at St. Peter's Basilica in Rome.
The Riddarholm Church was founded in 1285 when King Magnus made a donation to the Franciscan Order to realise the construction of the Convent church at Riddarholmen. The church was built in the Gothic style and has an amazing cast iron spire.
The Riddarholmen Church is open daily to the public during the summer months. It can also be viewed year-round at concerts, Order of the Seraphim bell ringings or by special arrangement.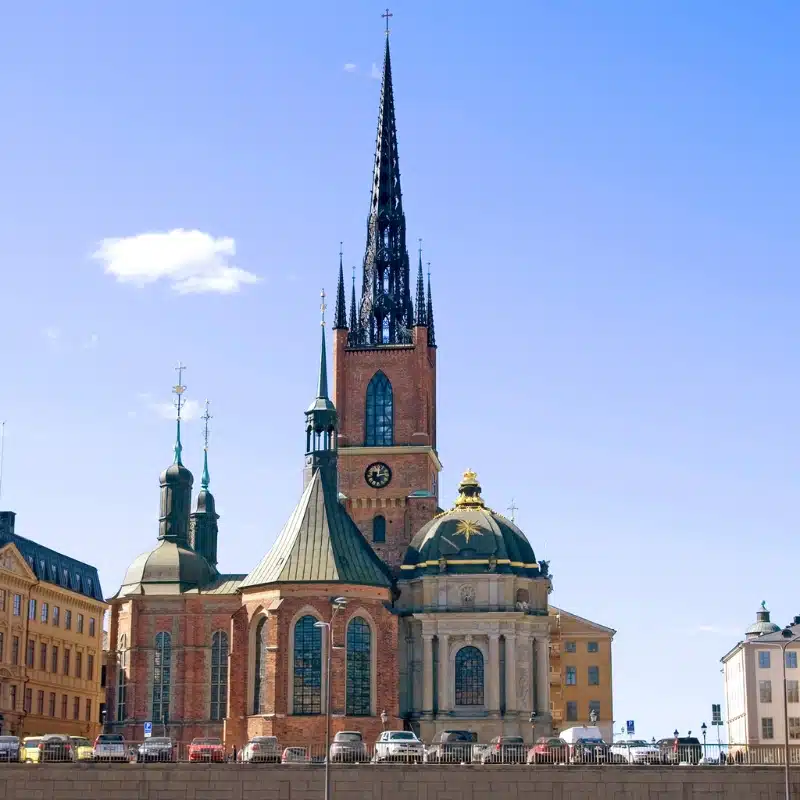 Storkyrkan – Stockholm Cathedral
Stockholm Cathedral was built in 1264 and has been always at the heart of religious and political life in Sweden. It is the oldest church in Stockholm and has been frequently rebuilt and extended, and the current shape and size date back to 1480. The Baroque style was introduced in the 1700s to harmonise the church with the Royal Palace.
Inside the church, you will find the sculpture of Saint George and the Dragon created in 1489 by the artist Bernt Notke. It is carved from oak wood, elaborately painted and partly gilded. The large sculpture group shows Saint George as a knight in golden armour on horseback killing a dragon and saving the Virgin.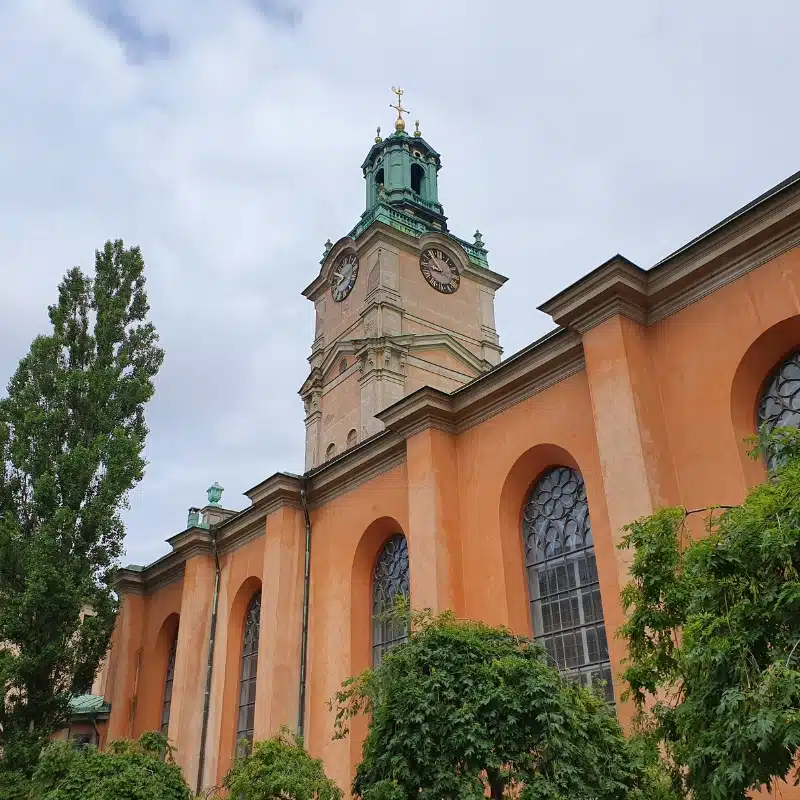 Nobel Prize Museum
Next is the Nobel Prize Museum, located in the former Stock Exchange. The Nobel Prize shows that ideas can change the world and celebrates the unique fields of natural sciences, literature and peace. The museum has exhibitions, school programmes and lectures about all these issues.
Swedish inventor and industrialist Alfred Nobel (1833-1896) had a clear vision about the prize he created. In his will, he wrote that he wanted to reward those who had "conferred the greatest benefit to humankind".
Learn about Nobel Prize laureates while immersing yourself in an extensive collection of videos, artefacts, multimedia, and lectures at the Nobel Prize Museum. With a single entry ticket, you can understand key contributions to the fields of physics, chemistry, medicine, literature, and peace.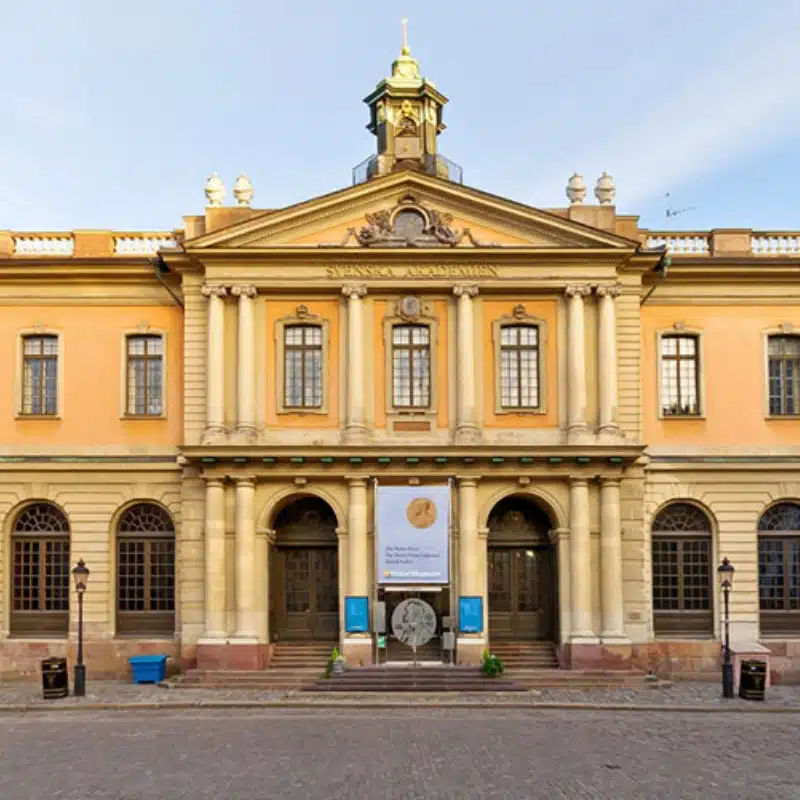 Mårten Trotzigs Gränd
Head to Mårten Trotzigs Gränd via Stortorget, the oldest square in Stockholm. A popular Instagram spot, Mårten Trotzigs Gränd is the narrowest alley in Stockholm, with 37 steps that narrow down to a mere 90cm or 35 inches!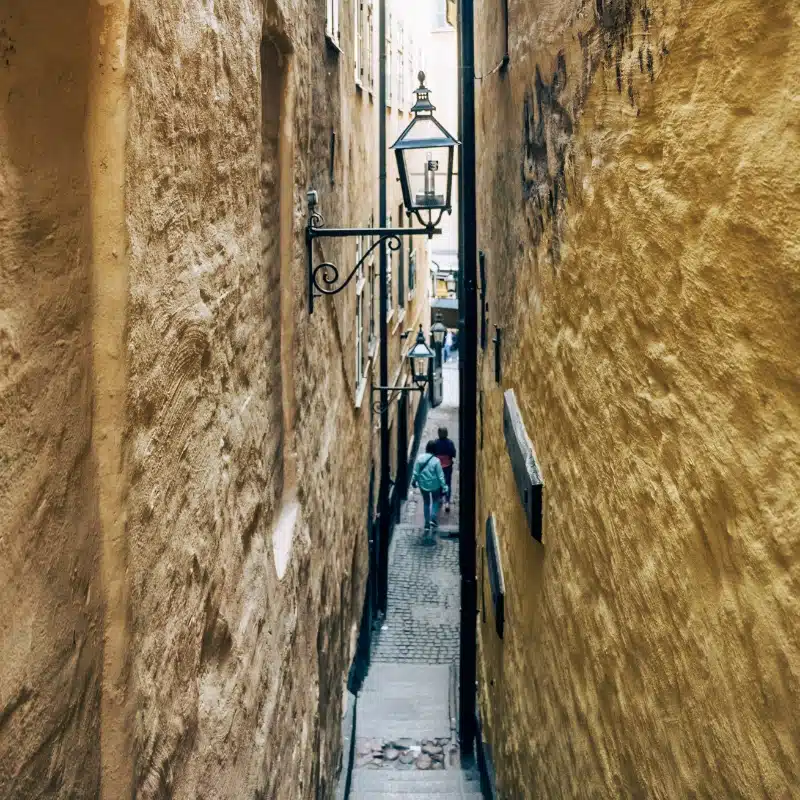 Monteliusvagen
Walk across the bridge from Gamla Stan to the island of Sodermalm, and walk along the Monteliusvagen. This quarter-mile-long walking path offers magnificent views of Lake Mälaren, Stockholm City Hall and Riddarholmen.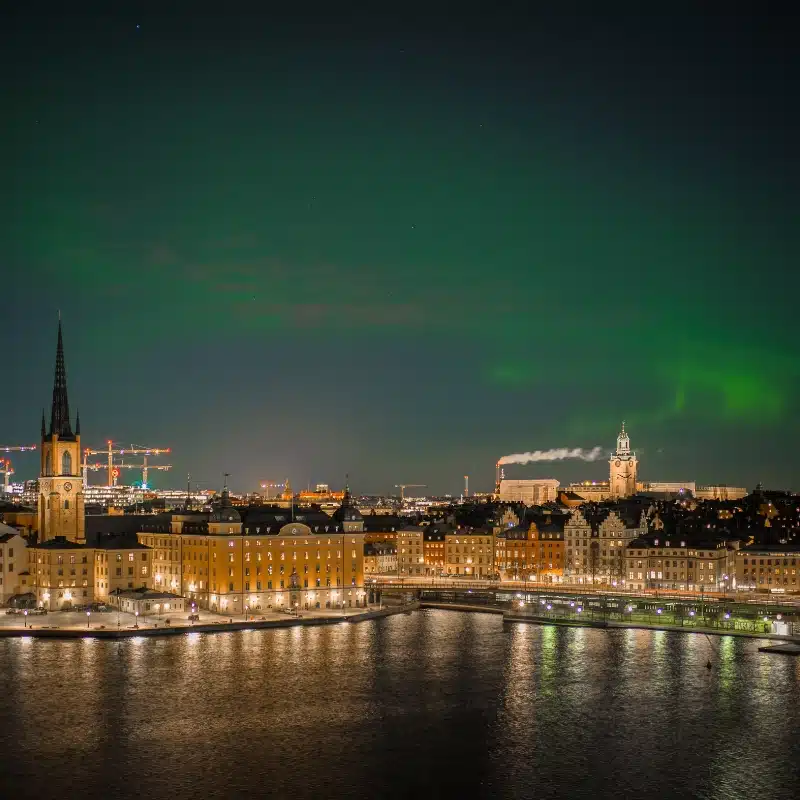 Evening
Fotografiska
Spend your evening at Fotografiska, one of the world's largest photographic museums, which stays open until 11pm daily. Each year they have over 20 small and four large and unique exhibitions showcasing famous and upcoming photographers from around the world.
However, this isn't just a photo museum! There are also four award-winning restaurants and a cafe, making this a great stop for foodies. The restaurant, which serves a mainly plant-based menu, was awarded the Michelin Green Star for its sustainable practices.
The Bistro offers delicious sharing platters and the Chambre Seperee has a tasting menu served with unrivalled views over Stockholm. There is also a traditional Fika buffet with lots of yummy cakes and pastries and an expresso bar.
On Friday and Saturday nights in the summer you can enjoy an evening of wonderful food, drinks and live DJs on the veranda.
Immerse yourself in Stockholm's vibrant contemporary art scene when you book tickets to Fotografiska, an important centre for contemporary photography in the heart of Stockholm.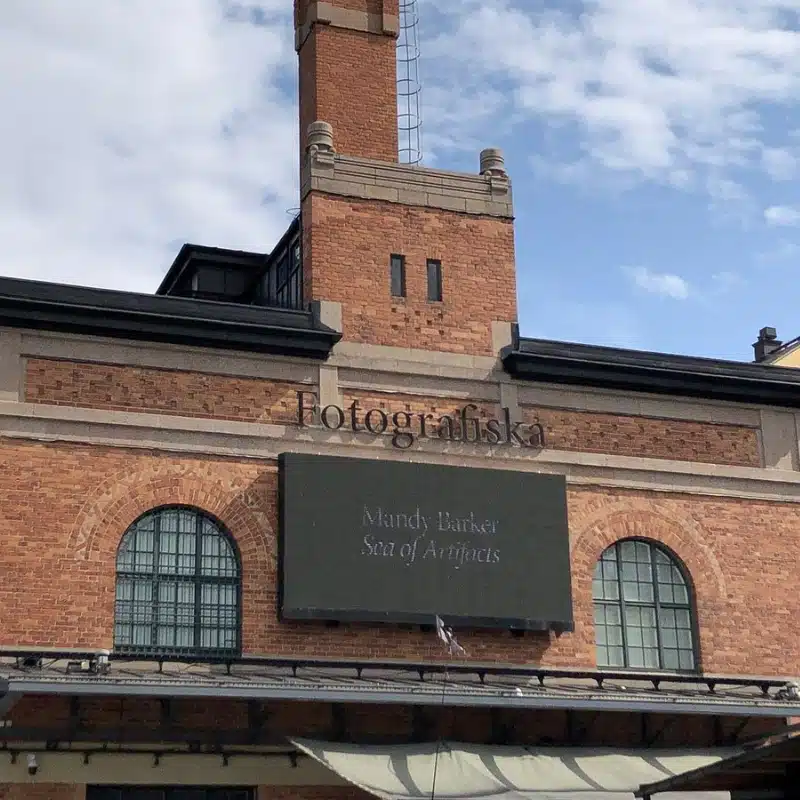 Hang Out in Sodermalm
Södermalm is the hipster district in Stockholm, full of artists and designers. It has great independent and vintage shops, as well as some of the best nightlife in the city. A great place to go for After Work, the Swedish version of happy hour, you can often find reduced prices at this time.
SoFo is the trendiest area of Sodermalm and on the last Thursday of every month, they have SoFo Night, an evening of live music, snacks and late-night shopping.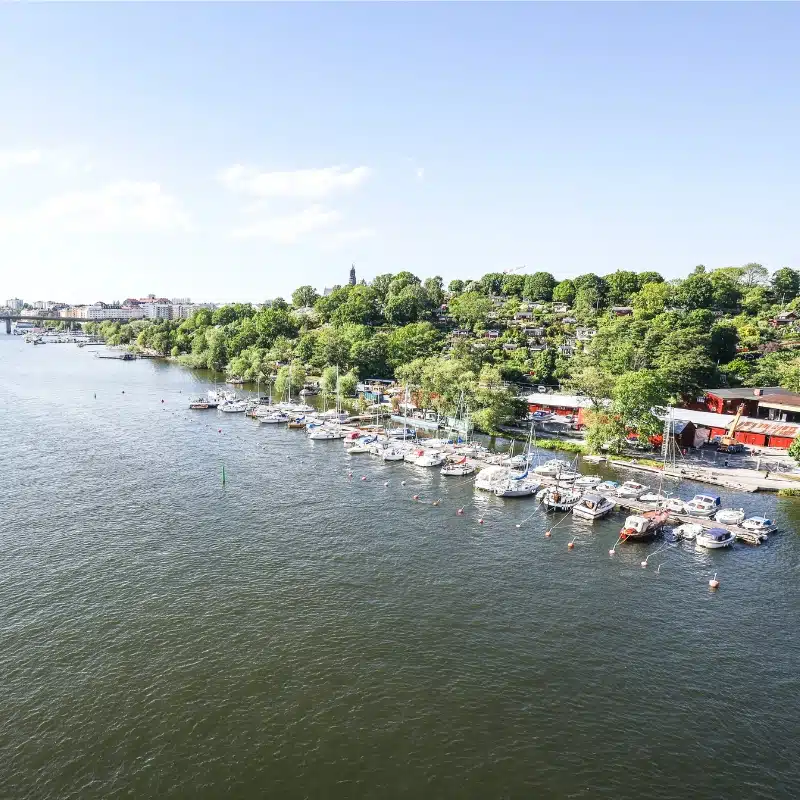 Head to a Boulebar
With five locations in Stockholm, you will be able to find a Boulebar easily. This fantastic concept is all about eating great food, drinking amazing cocktails and of course, playing boule! It's a really fun and relaxing way to spend your evening in Stockholm.
Boulebar is only open in the spring and summer, and if you want to play boule it's best to make a reservation, however, you can always just watch how it's done!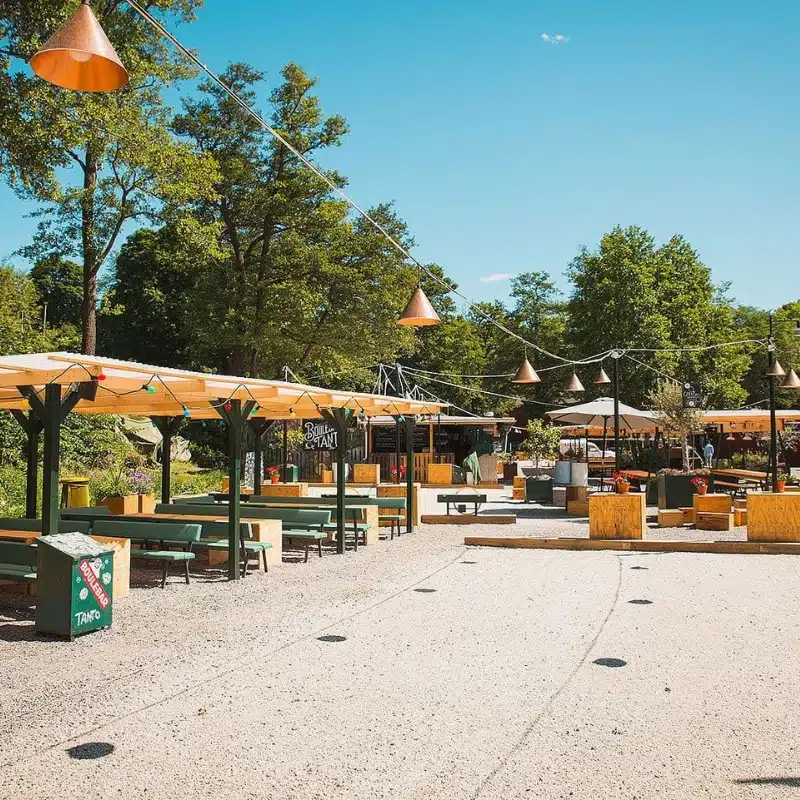 Drink Cocktails at Pharmarium
Pharmarium is a small and cozy cocktail bar in Gamla Stan built on the site of Sweden's first pharmacy, which opened in 1575. The bar has 45 seats, and you can reserve at the bar or a small table. They do have some cute window seats which are held for walk-ins, but your timing needs to be spot-on!
Pharmarium, as the name suggests, takes its inspiration from the pharmacy to create amazing and unique cocktails. There is also a light food menu, with some great salads.
Where to Eat in Stockholm
Meatballs for the People
Meatballs are a mainstay of Swedish food, and Meatballs for The People has meatballs for everyone, from your traditional Swedish meatballs to more exotic flavours such as moose and reindeer, and they also have vegetarian options. There is an extensive drinks list with beers, ciders and great cocktails.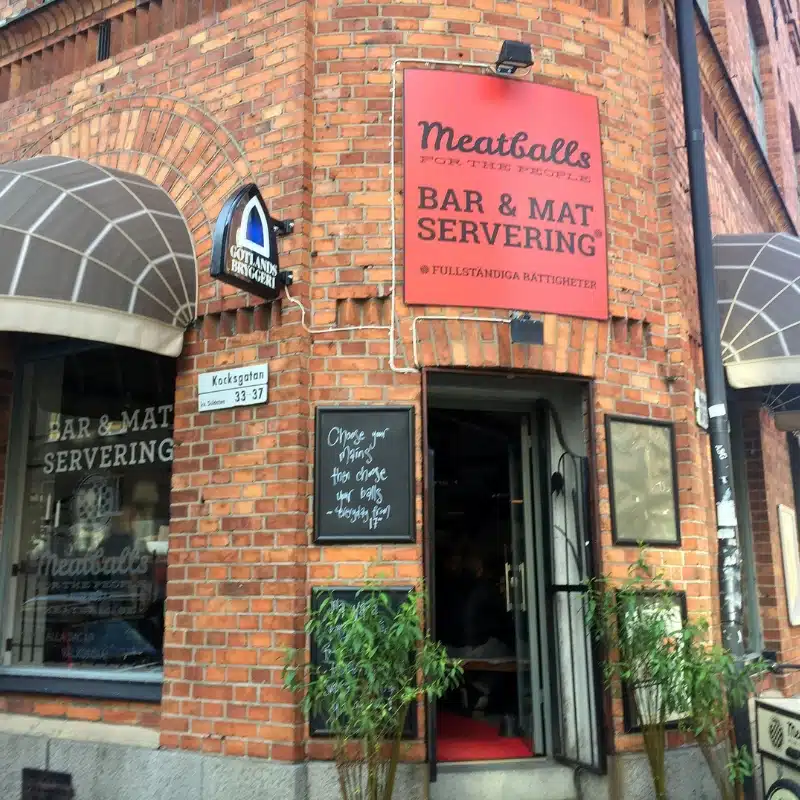 Urban Deli Nytorget
Urban Deli is internationally known for its hybrid of restaurant and store and deli, located at Nytorget in SoFo – just one of their four branches. Here you will find local residents mingling with celebrities, and people who love food and enjoy life.
Head to Urban Deli for breakfast, lunch, afternoon coffee and dinner, and fit in some fantastic shopping in the store and market hall before or after you eat.
The weekends are busy in the dining room and in the bar, but if you're looking for something quieter head to the Post Bar. In the summer, they build a huge outdoor terrace that stretches between the restaurant and Nytorgsparken, where you can enjoy an al fresco drink or meal.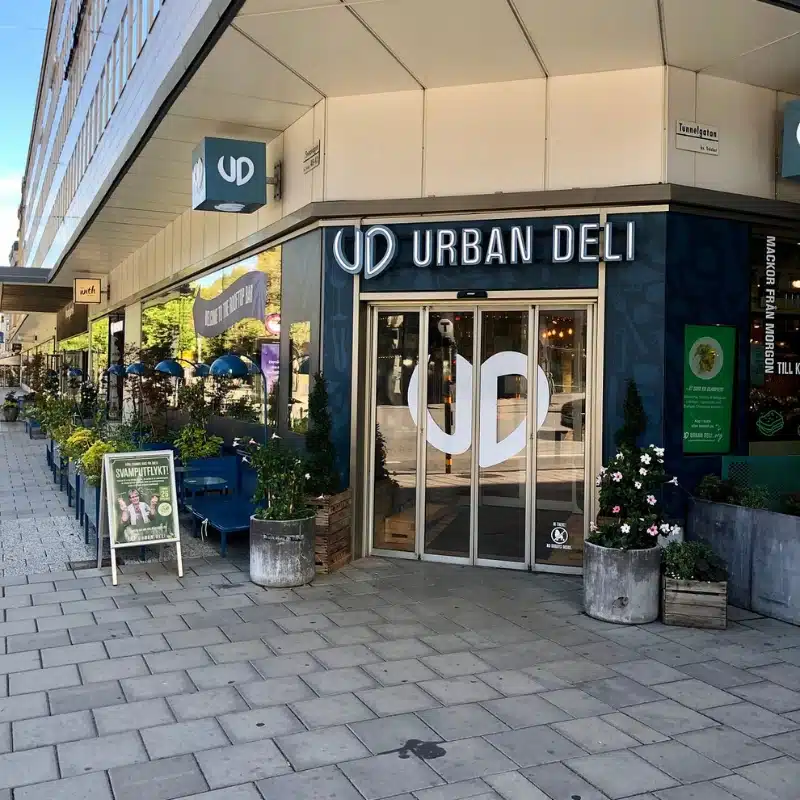 Djuret
Djuret is all about meat, the name literally translates to 'the animal'. They are passionate about using seasonal produce from both the land and sea, as well as vegetables, so the menu is constantly being updated to include the best produce available.
Djuret offers a fixed-price three-course menu, which is all savoury dishes, to which you can add extras such as cheeses and desserts. They also have vegetarian dishes available if you don't want meat.
Go on a Nordic Food Walk
Sweden, in fact, the whole of Scandinavia, is becoming a food powerhouse of Europe. With specialities like the smörgåsbord, gravadlax, pickled fish and delicious meatballs, it's worth getting an expert to show you where to eat Sweden's unique cuisine.
With our recommended Nordic food tour you'll visit some of the many food markets and enjoy samples of traditional Swedish food as you wander the most famous areas of the city with your experienced English-speaking guide. You'll eat enough for a full meal, so taking this tour makes a good option if you can't decide where to eat in Stockholm!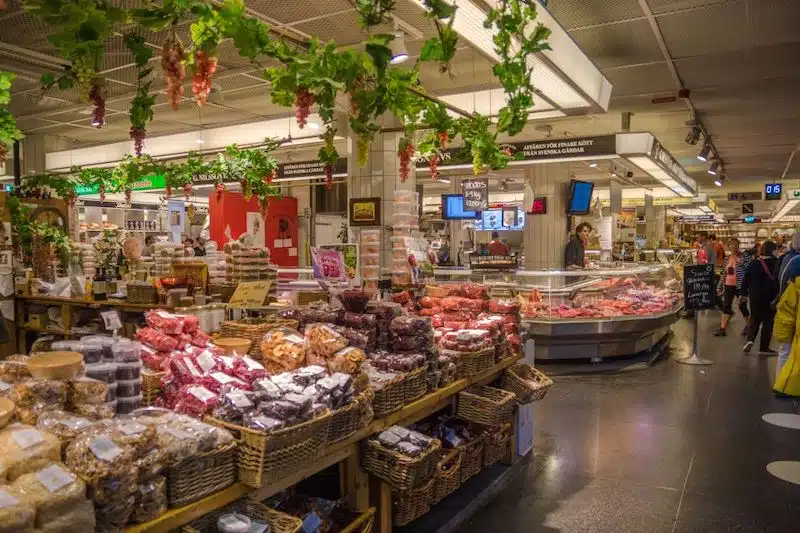 Top Five Stockholm Travel Tips
Stockholm is almost 100% cash-free. Many shops and restaurants will proudly advertise that they are a cash-free zone, so there is no need to exchange currency, just make sure you have your debit and credit cards or Apple Pay or Google Pay at the ready.
Although Sweden is a member of the European Union, they don't use the euro, but the Swedish Krona.
If you want to buy alcohol outside of a bar or restaurant you have to go to a Systembolaget, a government-owned chain of liquor stores, which is the only place outside of bars and restaurants to buy alcohol. The stores close early on a Saturday afternoon and are not open on Sundays or public holidays so you will need to plan ahead.
If you are planning on going to see lots of attractions on your visit then it is worth buying the Stockholm Go City All Inclusive Pass, as it has entry to most of the main museums and a lot of tours and experiences. You can buy the pass online and either have it sent to your home or pick it up on arrival, alternately you can download the app to your phone. The Stockholm Pass lasts anywhere from one to five days and the countdown starts when you use the card for the first time. They are valid for two years from the date of purchase.
Tipping in Stockholm is not mandatory, and if you do want to tip it should be for good service. When tipping you should round up to the next big number.
More Than One Day in Stockholm
Take an Archipelago Sightseeing Cruise
Climb aboard a 1906 classic archipelago cruise ship and take a wonderful tour of this beautiful part of Scandinavia.
Experience the best of the Stockholm archipelago in a short period of time on a round-trip city cruise. With a guide on board, learn about the history of the different sights you pass. Enjoy a journey with beautiful sights and fascinating stories.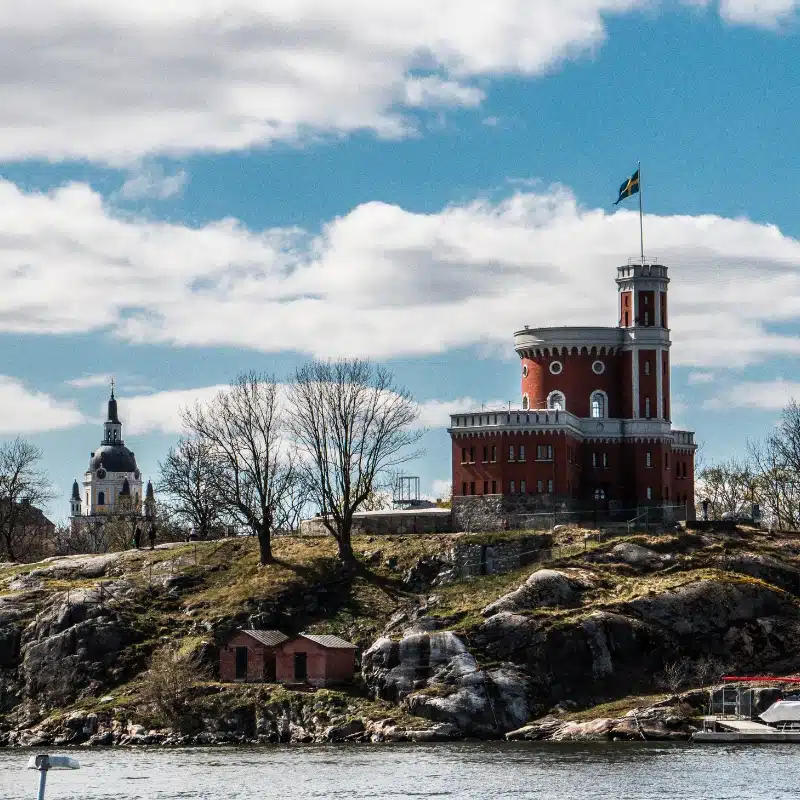 Visit Skansen
Skansen is the world's first open-air museum which opened in 1891 and is home to, amongst other things, a historical Sweden in miniature, a zoo, an aquarium and several gardens and eateries.
Travel back in time at this authentic showcase of pre-industrial Sweden and you can visit houses and homesteads from all over the country and experience traditional rural life and the different social conditions in which people lived between the 16th and the first half of the 20th century. Buy your admission ticket here.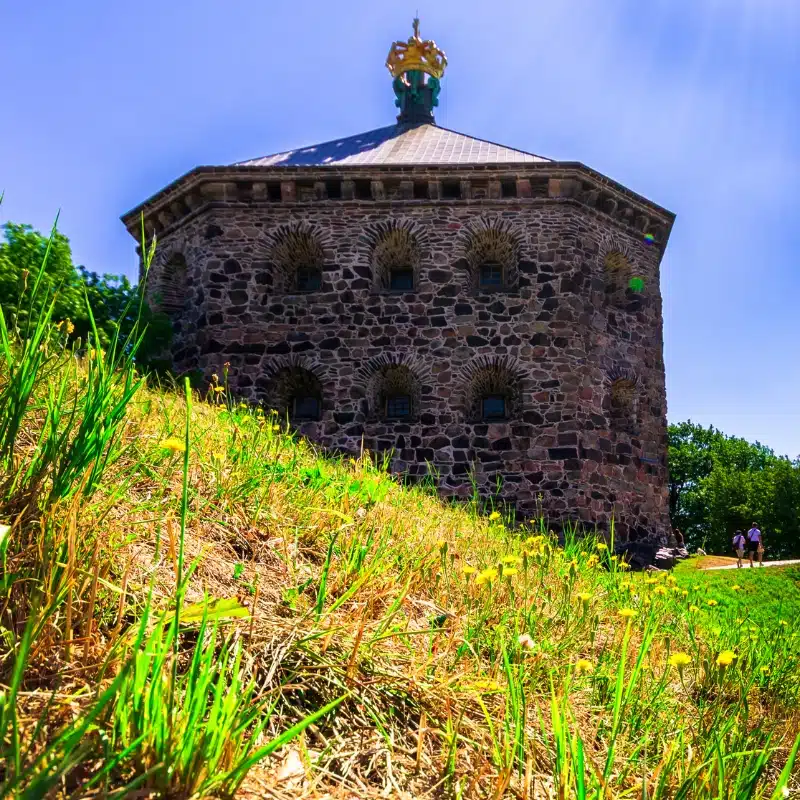 Take a Kayak Tour of the Archipelago
If you want to combine a tour of the beautiful Skärgården archipelago with some adventure and exercise then this is for you. Explore by kayak an environment formed of about 30,000 islands in the Baltic Sea where the surface of the water is overhung by domes made of rocks and trees creating a unique natural maze.
Spend the entire day exploring different islands from the water and stop on one of the deserted islands for a filling lunch cooked on an open fire. You can also paddle around the other islands and get the opportunity to see other fantastic things in the wilder parts of the archipelago, like circling sea eagles searching for prey.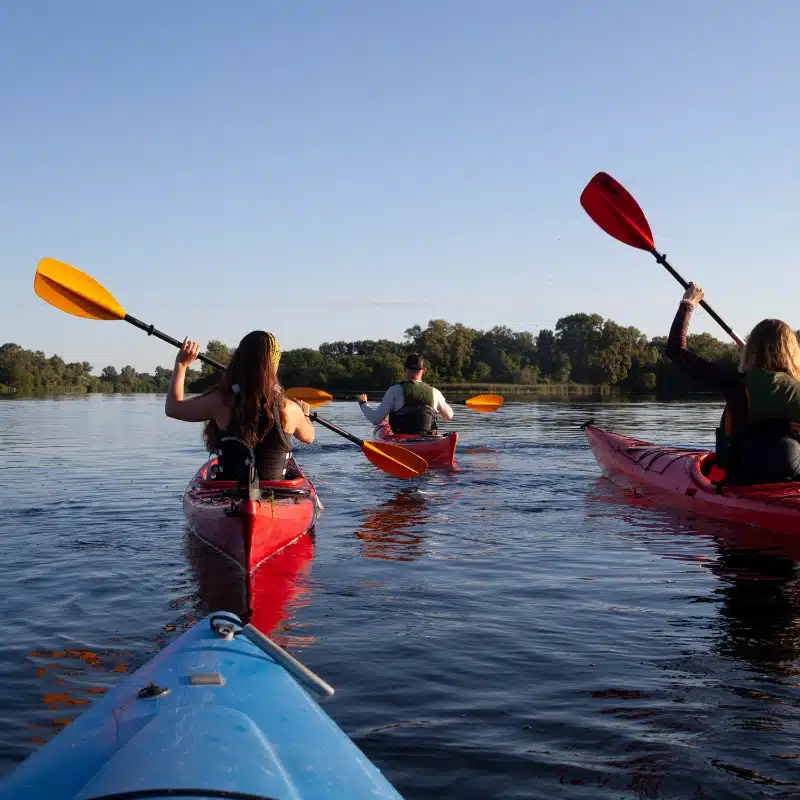 One Day Summer Nature Hike
If you take one day trip from Stockholm, make it this highly recommended and well-organised nature hike.
Escape the city and venture into the vast wilderness of Sweden for a day as you discover the incredible forests which lie outside of Stockholm. See beautiful landscapes, learn about the local fauna and flora, and enjoy lunch prepared on a wooden fire.
Take a hike through the incredible natural scenery, breathe the wonderful fresh air and take in the incredible views as your guide teaches you about the local wildlife and you swim in a local lake and dry off by the open fire.
With a professional guide to offer insights, an organised hiking tour is the perfect opportunity to see more of Sweden in less time!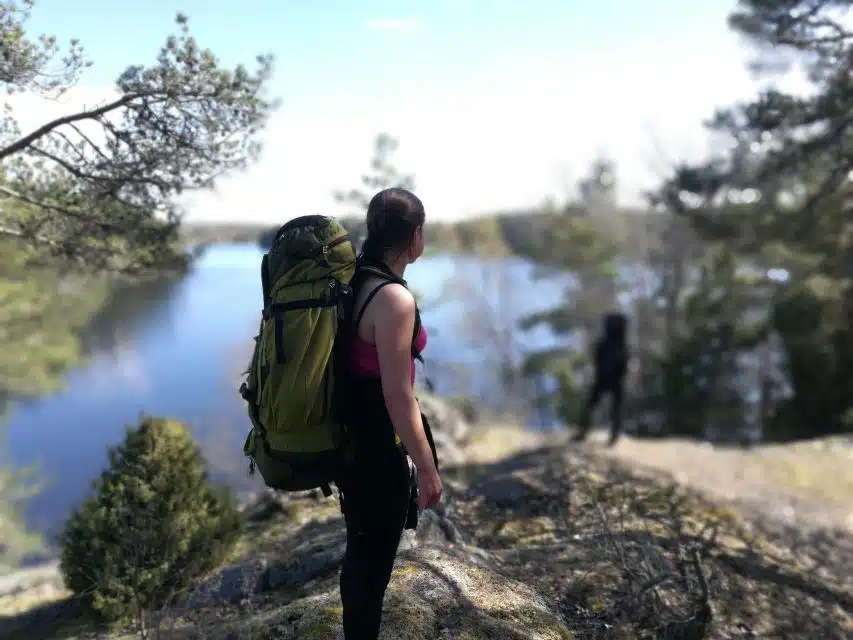 Are you looking for more one day city itineraries? Check out these top posts…
Belfast, the capital city of Northern Ireland, is a vibrant and historic city that has something to offer for everyone. Whether you're a history buff, a foodie, or just looking for a fun day out, Belfast has plenty of activities to keep you entertained. In this one day in Belfast guide, we'll take you through an itinerary of how to spend a day in Belfast, highlighting the top attractions and hidden gems that you won't…
Love it? Pin it!