This post may contain affiliate links, from which we earn an income.
No image can do justice to this mysterious mount and its wild and windswept surroundings. Deep in the Eastern Taurus mountain range and with commanding views over the Euphrates River, the breathtaking Nemrut Dağı is one of Turkey's visitor behemoths and absolutely warrants the journey to get there.
Sitting at 2106m above sea level, the peak of Mount Nemrut is topped by the curious gravel-covered burial cone of King Antiochus I, which in turn is surrounded by astonishing statues of Antiochus and the gods, all perfectly placed to welcome sunrise and sunset.
In our guide, we'll share with you everything you need to know about visiting the UNESCO World Heritage Site and exploring Mount Nemrut, from the practicalities of getting there and where to stay, to the best way to enjoy this remarkable soul-stirring place.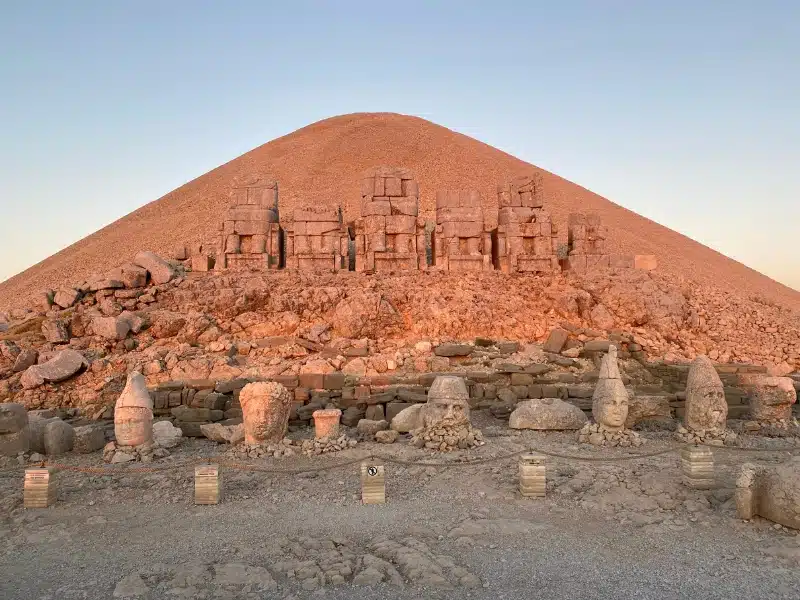 In a hurry and just want a few questions answered?
Location of Mount Nemrut
The unmissable Mount Nemrut is located deep in Turkey's Southeast Anatolia, known for its semi-arid climate and ancient cities nestled amongst the beautiful valleys and plateaus. With a special atmosphere, uniquely different from other parts of Türkiye, eastern Anatolia is a fascinating region to visit and climbing Nemrut Dagi is one of Turkey's top activities.
Is this your first time visiting Turkey? Get all the information you need in our Turkey Travel Guide, including what to pack, the best time of year to go, getting there and practical tips to help you have the best trip!
Map of Mount Nemrut
Don't mistake this Mount Nemrut with the Mount Nemrut volcano close to Lake Van, over 400km to the east.
Our Mount Nemrut (sometimes called Mount Nemrud) is in Kayadibi / Kâhta / Adıyaman and the co-ordinates for the main Mount Nemrut visitor welcome centre are 37.9699239385793, 38.72835750990755. If you're searching online, look up Nemrut Dagi – dagi means mountain in Turkish – for the most accurate results.
There is another smaller visitor centre to the north, next to the Güneş Motel, which is marked on the interactive map. From here you can drive closer to the mount, meaning a shorter walk, but the road is not in great condition and has multiple switchbacks and steep sections. This route is definitely not recommended if you're driving up or down in the dark, or you're in a larger vehicle.
How to use this map – Use your fingers (or computer mouse) to zoom in and out. Click or touch the icons to get more info about a place, and click the arrow in the box top left to open the index. To add to your own Google Maps account, click the star next to the title of the map.
Mount Nemrut How to Get There
Organised Tours
As one of Turkey's top tourist attractions, there are a number of organised Mount Nemrut tours, either as stand-alone excursions or as part of a wider eastern Turkey tour. If you want to visit the fascinating Mesopotamian 1001 nights cities of Gaziantep, Mardin and Şanlıurfa, then this is a great option.
Independent Travel
Driving to Mount Nemrut
Mount Nemrut is easily reached by car, with a road trip from the must-visit Cappadocia taking around 6-7 hours. The roads are in generally good condition, and you could find some other Turkish road trip attractions on the way to make the trip worthwhile.
There is also bus from Nevsehir in the Cappadocia region to Malatya daily. From Malatya it's then a two hour taxi ride to Adiyaman, where you can pick up a hire car, grab a tour or ask your accommodation about a shuttle service.
From Ankara, you can follow the route of Kahramanmaras which will take about 10-11 hours of driving time and allow you to stop off at Adana and Gaziantep along the way. Alternatively, the new road between Kayseri and Malatya will shave off a few hours of drive time, along a much easier driving road.
Mount Nemrut from Istanbul is a punishing 15 hour drive, so travelling by car is best incorporated into a longer Turkish road trip.
If you're road tripping Turkey in a campervan or overland vehicle, it is possible to sleep in the car park at the welcome centre overnight, where there is a café and toilets. You can find details of the Mount Nemrut stopover on Park4Night.
Flying to Mount Nemrut
Adiyaman Airport, 60km away, has two direct flights a day from Istanbul with Turkish Airlines. If you choose this option, you would need to stay for a night either in or around Adiyaman or in Karadut, 13km from Mount Nemrut and the closest village to the summit. Once in Adiyaman you can pick up a hire car, grab a tour or ask your accommodation about a shuttle service.
Getting Around Mount Nemrut
Once in Adiyaman, it's easy to hire a car for the final one hour drive to Karadut and then Mount Nemrut. The road to Karadut is in good condition and the landscape is stunning.
Alternatively, you can haggle over the price of a taxi from Adiyaman, ask your hotel to arrange a driver or help you find a dolmus (shared minibus taxi) or arrange for a private transfer from the airport, although the latter may take a bit of legwork to organise.
The easiest way to see Mount Nemrut is to stay in a guesthouse or hotel in or around Karadut, and ask the host to take you to the welcome centre for the hike to the summit. Expect to pay around US$20/£17 for this service on top of your accommodation costs.
It is normal for your driver or taxi to wait for you in the Mount Nemrut car park whilst you explore the ruins. Check with them how long they're happy to wait – it's not the sort of place you want to be abandoned!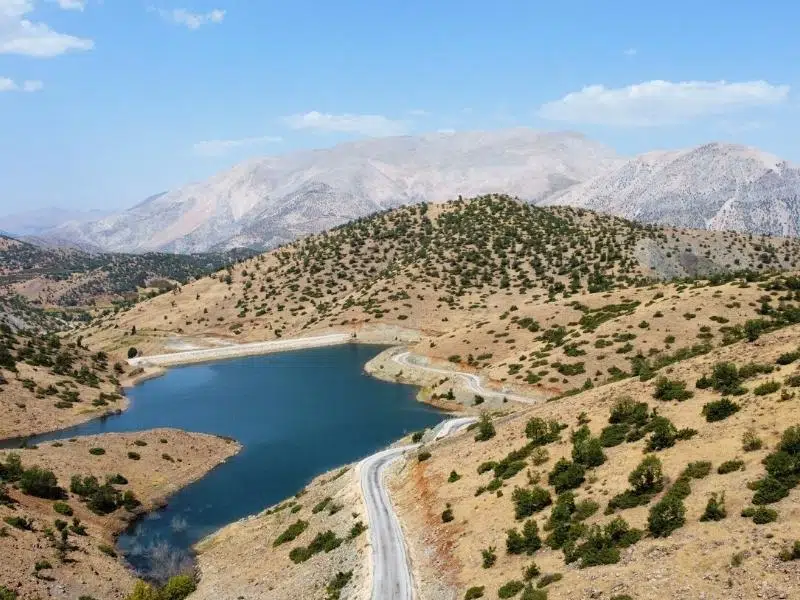 Where to Stay for Mount Nemrut
Mount Nemrut History (in brief!)
Nemrut Dağı (Mount Nemrut in Turkish) is the mausoleum of Antiochus I (69–34 BCE), who reigned over the Commagene kingdom, formerly a region of the Seleucid empire, north of Syria and the Euphrates. Constructed in the 1st century after the breakup of Alexander the Great's empire, the burial mound and surrounding landscape are one of the most greatest achievements of the Hellenistic period.
The 50 meter high man-made burial chamber of stone chips is surrounded on three sides by terraces, facing east, west and north. Two separate antique processional routes radiate from the east and west terraces, and a stepped altar platform is located on the east side of the east terrace.
The north terrace shows no evidence that it was ever finished and was probably little used. Today, it's a jumble of stones adorned with a modern scultpure of Appollo, replete with spiky hair and graffiti!
On the east terrace are huge statues of eight to nine meters high (26–30 ft) of Antiochus I, two lions, two eagles, and various composite Greek and Iranian gods. The imposing statues were once seated, with the names of each god inscribed upon them. At some point, the heads of the statues were removed, or fell, from their bodies and have been placed in front of their seat, which remains above.
On the west terrace are preserved limestone slabs, or stelae, with bas-relief figures shaking hands, that are thought to have formed a large frieze depicting Antiochus' Persian and Greek ancestors, alongside more huge heads.
There was also a large slab known as the 'Lion Horoscope' on the western terrace which shows an arrangement of stars and the planets Jupiter, Mercury, and Mars, known to be a chart of the sky on 7 July 62 BCE – sadly this is now in storage after being badly damaged by snow sliding from the funeral mound.
The site was first excavated in 1881 by Karl Sester, a German engineer who was assessing transport routes for the Ottomans. After her first visit in 1947, Theresa Goell dedicated her life to the site, starting extensive archaeological work in 1954.
In 1987, Mount Nemrut became one of Turkey's nineeen UNESCO World Heritage Sites.
The latest round of archaeological and conservation works on Mount Nemrut began in 2006, when the Middle East Technical University and the Commagene Nemrut Conservation Development Program prepared a plan hoping to uncover the secrets of Mount Nemrut. Although the tomb of Antiochus was not discovered, this is still believed to be the site of the Nemrut king's burial.
Today, the east terrace and altar platform, and the west terrace, remain perfectly positioned to capture the sunrise and sunset and give unrivalled views across the high peaks of the Taurus mountains and glimpses of the Euphrates far below.
It is not known whether the burial chamber and statues were positioned for this purpose, but when you are present for these defining moments each day, it's hard to believe the landscaping in this sacred place was random.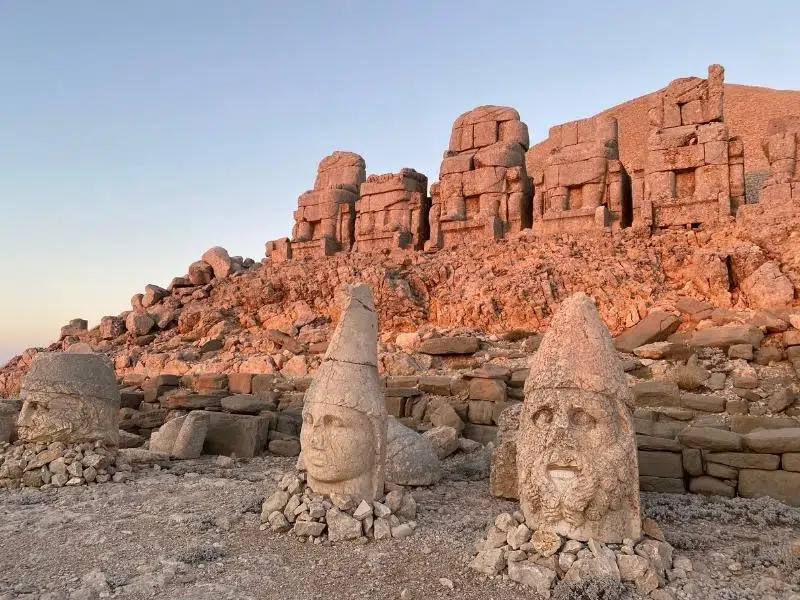 When to Visit Mount Nemrut
The ancient Nemrut Dagi can be visited year-round. It will be cold and possibly covered in snow in winter, which gives the whole place a beautiful ethereal feel.
The best times to visit are spring and fall when the weather will be kind. In spring, wildflowers surround the site and in autumn, the residual summer heat and lower sun create wonderful light and atmosphere.
Avoid July and August if you can, it will be blisteringly hot and there is little shade. If you do visit in the height of summer, wear a hat, carry plenty of water and don't forget the sun cream.
We would also advise against traveling to Mount Nemrut during the holy month of Ramadan. It's unlikely you'll find any restaurants open nearby, and many hotels will also be closed.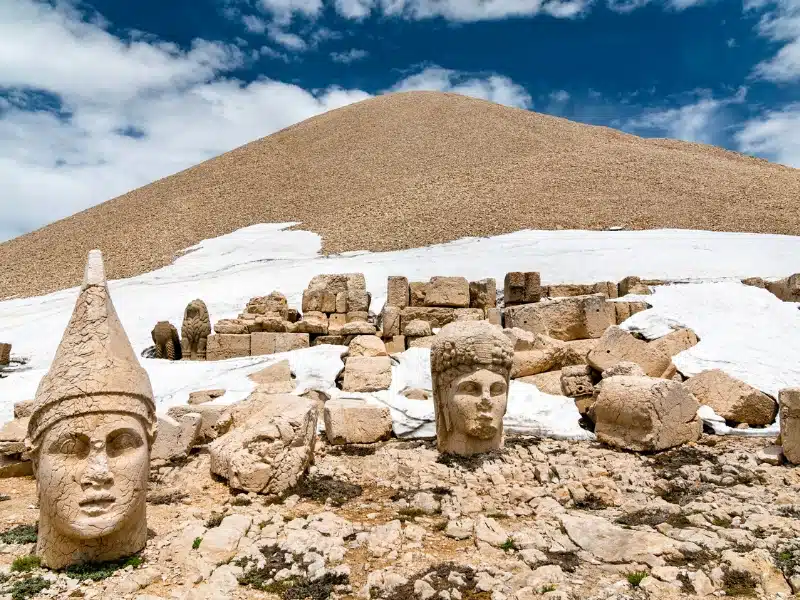 Is it Safe to Visit Mount Nemrut
From a political perspective, Mount Nemrut and the surrounding area are totally safe. It is far enough removed from Turkey's borders not to need military patrols, and does not have a high police presence like some cities and border towns do.
However, the Mount Nemrut National Park is located within a first degree earthquake zone and is very close to the East Anatolian Fault, which is seismically active. This means the tumulus, statues and slabs are vulnerable to earthquakes, as are any visitors.
Just five months after we visited a major earthquake struck central Turkey and northwest Syria on the 6th February. Over 2,300 lives were lost and thousands more injured, and multiple cultural heritage sites were damaged, during the 7.8 magnitude earthquake. Luckily Nemrut Dagi and the Mount Nemrut heads were not affected, but when you see a sign like the one below, make sure you're prepared to act quickly in case the unthinkable does happen.
Make sure you have travel insurance you can trust when visiting Turkey. We recommend True Traveller for their 5 star TrustPilot reviews, variety of cover options, great prices and excellent service.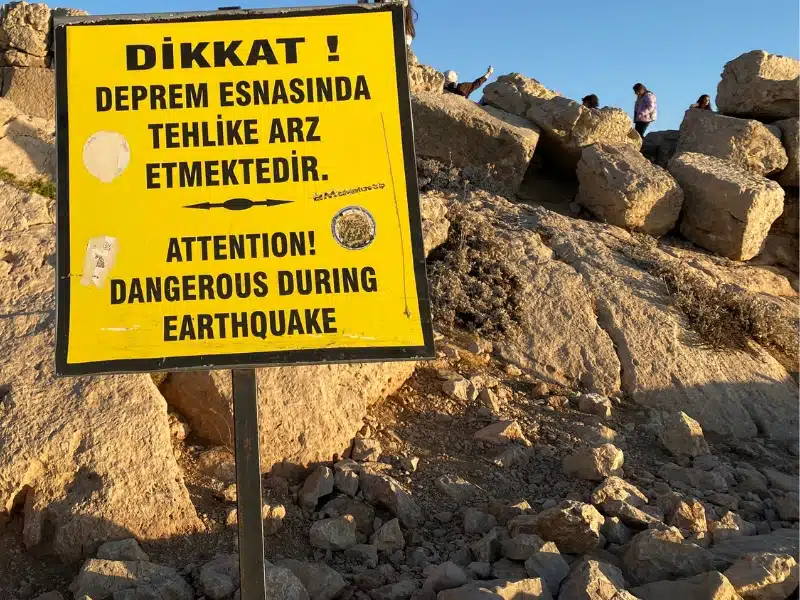 What Time of Day is Best to Visit Nemrut Dagi?
Sunrise
Often considered the best time to visit Nemrut Dagi, visiting to see sunrise means heading up the mountain in the dark. For us, this felt like the most atmospheric time, but it can get quite busy in summer, and taking photos or reflecting in peace can be difficult!
Even in the height of summer dawn can be cool, so make sure to dress in layers, as once the sun is up the temperatures rise pretty quickly.
Sunset
A very different experience to watching the sunrise, a sunset visit offers breathtaking colours across the mountains. You will have to hike up during the hottest part of the day though, so wear a hat and suncream and take lots of water.
Anytime!
You can visit Mount Nemrut at any time of the day, but there is something special about the ritual of sunrise and sunset, which were clearly important to the people that worshipped and were buried here.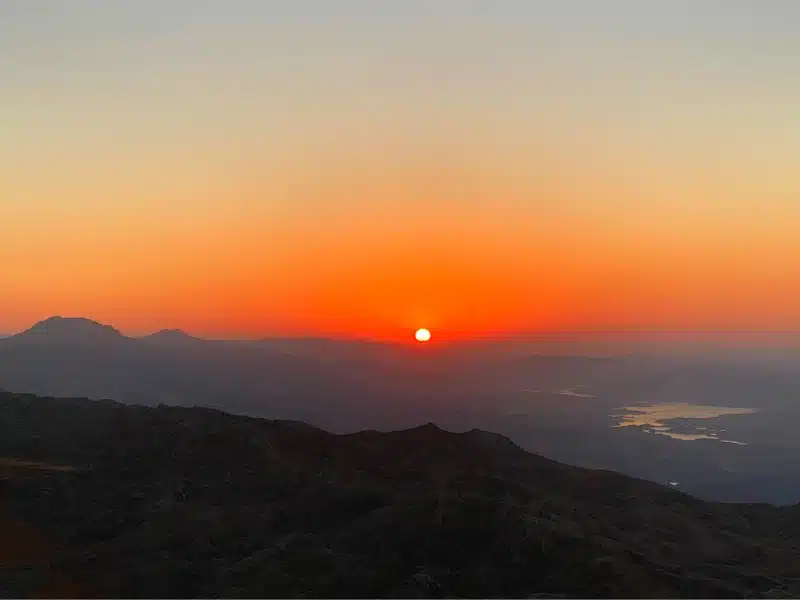 How Long Do I Need to Visit Nemrut Dagi?
The hike to Mount Nemrut will take around 30-40 minutes. If you're heading up for sunset it may take a little longer because you'll want to go carefully on the path, which is constructed from large and sometimes uneven blocks.
Ideally, you'll want to arrive 20-30 minutes prior to sunrise or sunset, to get a good spot and enjoy the changing colours on the horizon – this is prime Instagram time!
Once there, we would suggest an hour to explore the various terraces and statues is long enough, with the same hike back, which may take longer after sunset.
You might have to queue for tickets too, depending on the time of year. All in, we think you need at least three hours from getting to the visitor centre and back again.
What about staying connected in Turkey? In our detailed guide to SIM cards in Turkey, we share how to get a tourist SIM, the best eSIMs for Turkey and how to get a Turkey SIM card before you even get there!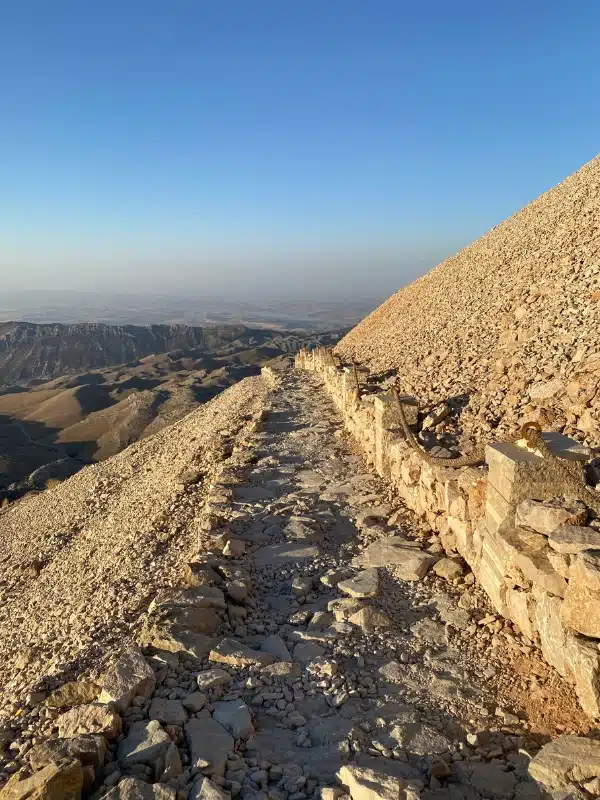 How to Visit Mount Nemrut
Once you arrive at the visitor centre, park up and head inside for your tickets, which cost 50 Turkish Lira or UD$2.70/£2.25 (2022). If you have arrived by transfer or taxi, your driver will wait for you in the car park.
From here, it's a further ten minutes of driving up a steep road to the upper car park. Once here, you need to park up and follow the trail up the mountain. It's not very well lit – actually, it's not lit at all – so a torch will come in handy for going up at dawn and coming down at dusk.
Once you near the summit, you'll see signs for the terraces – head to the east terrace for sunrise and the west terrace for sunset.
Just below the east terrace is a huge stone altar block, which has steps all around. These make great places to perch to watch the sun come up. There are also various large blocks and stones in this area, perfect for setting up a time-lapse camera or for sitting on to get a better view.
To the south of the west terrace is a rocky outcrop which can be climbed for a fabulous view west across the Euphrates to the setting sun. Other than that, it's standing room only here.
Once the sun events have happened, you can wander between terraces reading the various information boards and taking pictures of the incredible statues and carvings, before heading back down the mountain.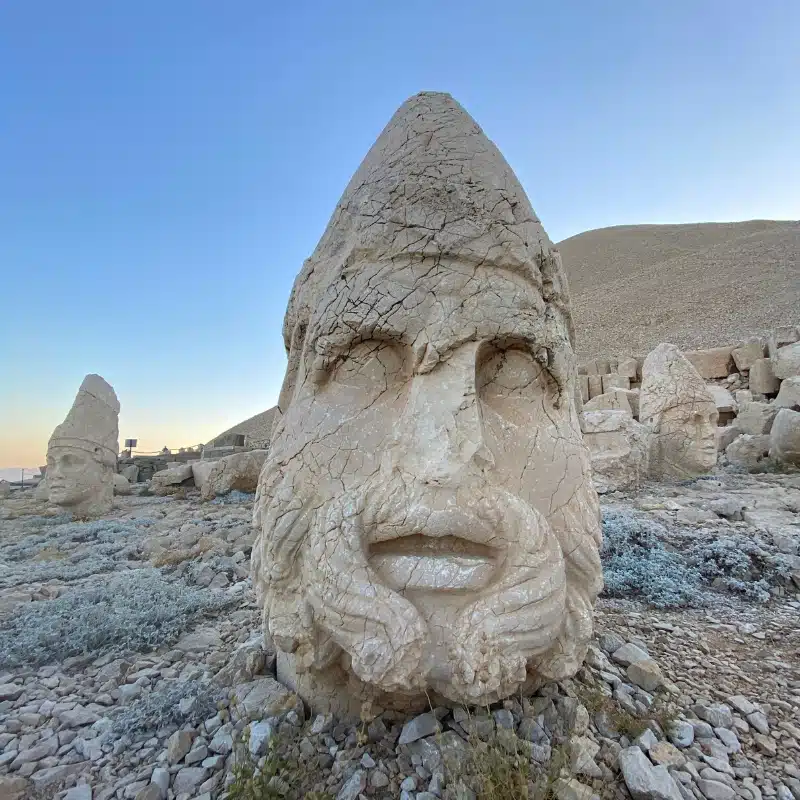 Things to Do Near Mount Nemrut
Cendere Bridge, sometimes called Severan Bridge, is about 20km from Mount Nemrut. The Roman bridge was built with one arch on two rocks and crosses the narrowest point of the River Cendere. According to the epitaph written on the bridge's columns, the Commagene cities built it in honour of Roman Emperor Septimus Severus and his wife and sons.
The old Kahta village, about an hour from Mount Nemrut is home to Arsameia, the capital city of Commagene, and Yenikale, a castle that was built on very steep rocks, and has water depots, baths, a mosque, and a hidden water road that leads to the River Kahta.
Within striking distance, especially if you're driving a hire car, are the ancient Persian cities of Gaziantep, Mardin and Şanlıurfa. All very different, and with their own specific cultures, this trio of cities are well worth visiting, and also puts you close to the two ancient archaeological sites of Göbekli Tepe and Karahan Tepe.
Are you planning a road trip in Turkey? Get the best Turkish road trip destinations and places to see/things to do en route + maps and nearby attractions so you don't miss a thing!
Are you looking for more Turkish travel inspiration? Check out these top posts…
Ani is an unforgettable and hauntingly evocative place in off-the-beaten-path Turkey, whose arid and dusty slopes were once the Armenian capital and a thriving stop on the Silk Road. In this guide to Ani, you'll find everything you need to know about visiting the UNESCO World Heritage List archaeological site of Ani, and how to make the most of your trip there.
Love it? Pin it!