This post may contain affiliate links, from which we earn an income.
Turkey Driving & Road Trip Travel Tips
The landscapes of Turkey are perfect for a road trip, with all four corners of this diverse and historic country offering exciting driving experiences, surrounded by the glorious backdrop of mountains, exotic cities and beautiful coasts.
But driving in Turkey is not like driving back home, and at times being on the road in Turkey can be challenging. Road works, police checks, weather and reckless drivers create hazards aplenty, meaning you need to be clued up and switched on behind the wheel.
We spent three months road-tripping in Turkey in 2022 and learned the hard way, so you don't have to! In this Turkey travel and driving guide we'll share lots of practical driving tips and tricks, information about road conditions, and highlight what to expect when you're behind the wheel so you can enjoy a safe and stress-free road trip in Turkey.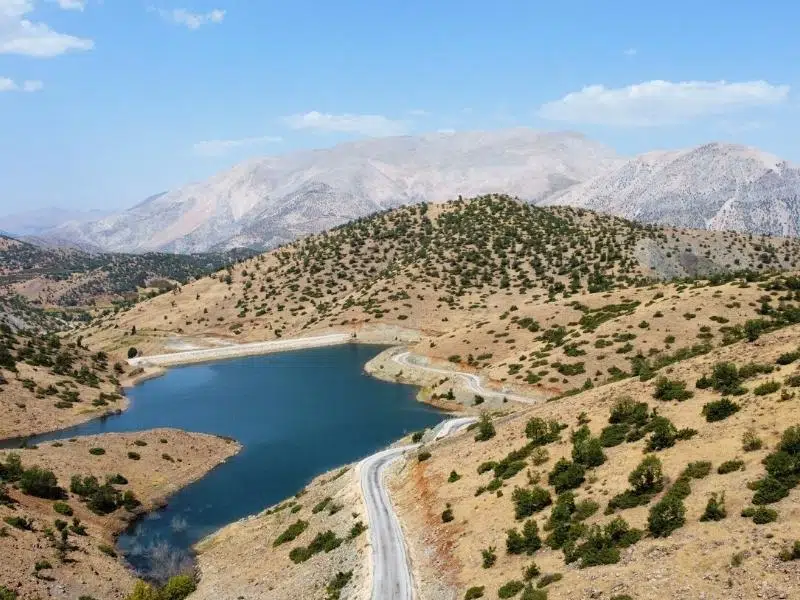 Is Driving in Turkey Easy?
Lots of readers tell us they are nervous about driving in a foreign country and ask whether it's safe to drive in Turkey. According to the World Health Organisation Turkey has 12.3 fatal accidents per 100,000 inhabitants per year, which is slightly less than North America's 12.4, but more than Europe's 9.3.
The risks and dangers in Turkey are likely to be different to those in your home country, meaning it is safe to drive in Turkey as long as you pay attention, drive carefully and expect the unexpected, especially in cities and off-the-beaten-track rural roads.
Are you planning a road trip in Turkey? Get the best Turkish road trip destinations and place to see/things to do en route + maps and nearby attractions so you don't miss a thing!
Why Drive Yourself in Turkey?
Turkey is a huge country, with a well-developed public transport system which includes dolmus (shared) minibuses, shared taxis and trains, as well as domestic air services for longer hops. You may wonder why you would want to self-drive when all this exists.
If you want to get under the skin of this beautiful country and experience the true Turkey, you need to get off the beaten path a little. Sure, go and see all the big hitting tourist attractions, but even if you go it alone for just a few days, you'll experience so much more of authentic Turkey, now known in the country itself as Türkiye.
Managing your own itinerary and not being beholden to a driver or other passengers gives you the freedom to explore at your own pace. Enjoying a lie-in, getting up and going at the crack of dawn, or just moseying around looking at interesting stuff as you find it makes driving in Turkey a smart choice.
You may also feel safer driving yourself and setting your own pace. Some of the taxi and dolmus drivers are on tight schedules and in our opinion, drive way too fast and take unnecessary risks for the road conditions.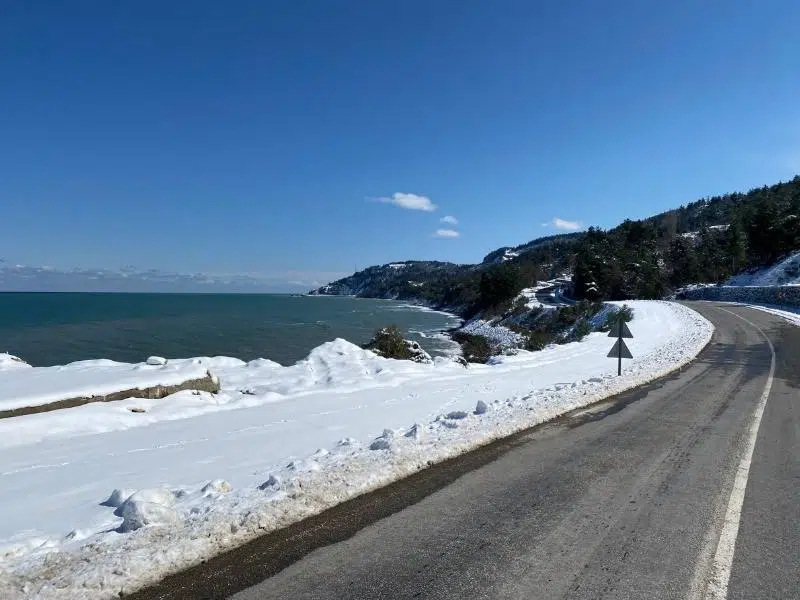 Turkey Car Rentals
Even if you hire a car for your Georgia road trip from a reputable and highly recommended national or international chain, there may be language barriers and opaque practices when you get to the car rental company depot, especially if you're away from the big tourist airports and cities. These are some common issues;
Not all marks and scratches (inside and out) have been noted.
You are not given the opportunity to inspect the vehicle or asked to do this in the dark.
Fuel marked as full on paperwork but gauge showing empty.
The car is not what you ordered; manual not automatic, no air conditioning, not 4×4, a smaller model, or some other discrepancy.
Sometimes you have to accept the local ways – only you can decide what you're comfortable with and how much you're willing to concede at this point in your trip. Take dated photos and/or video of any damage to the car which has not been noted and share with the car hire company as soon as possible.
We would strongly advise you to cover the excess you'll have to pay if there is an accident. This car hire excess insurance can usually be added at the time of booking, when you collect the car, or by using a third party to independently insure the excess, such as Insurance4CarHire, which is always a much cheaper option.
It's unlikely that you'll be able to drive your rental car outside of Turkey. If visiting other countries is an integral part of your trip, check with your hire car company first. But Turkey's so big, and has so many amazing places to explore, that you probably won't want to leave anyway!
We recommend hiring your car with Localrent.com, an aggregator of local car rental companies. They work with small car rental companies that only operate in their location and closely monitor the quality of their service. This means you get the best service for the lowest price.
Whenever we travel to a country without our own transport that is covered by Localrent.com we book with them because they are always best on price and offer a solid and reliable service.
Renting a Campervan in Turkey
If you fancy a self-drive campervan trip, Campervan Turkey offer fully equipped camper vans and motorhomes from their depots in Marmaris and Antalya.
If you're up for a campervan adventure, this is definately the best way to see the country. The guys at Campervan Turkey offer fantastic service and are more than happy to help you plan your trip. Book well in advance though, this is becoming a really popular way to travel in Turkey.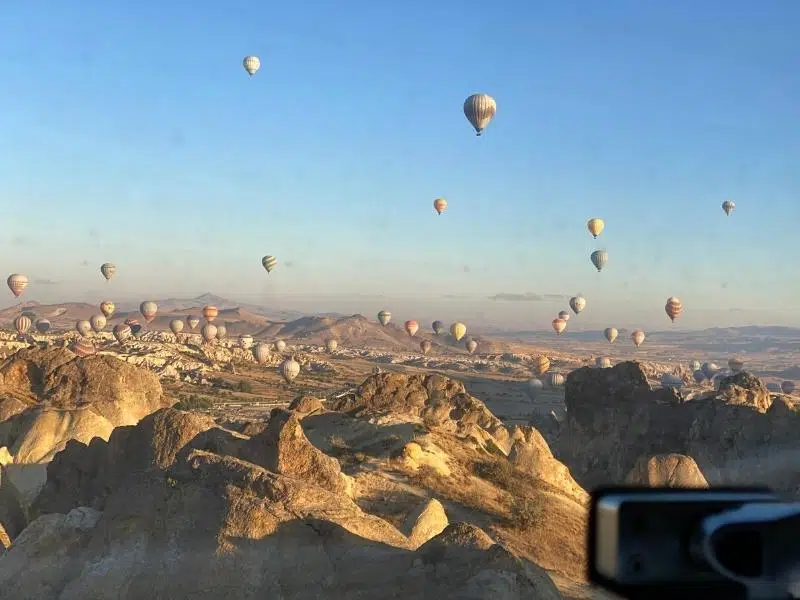 Taking Your Own Vehicle to Turkey
Driving to Turkey from the UK or Europe is pretty straightforward, and it means you can easily explore the amazing countries of the Balkans or Greece on the way.
You must be 18 years old to drive a car in Turkey, and 16 to ride a motorbike or scooter.
You'll require your driving license. International Driving Permits are recognised in Turkey but not required unless you're staying for more than three months. If you stay for more than six months, you'll need to convert to a Turkish driving license.
You need your original motor vehicle registration document, and the vehicle must be registered in the name on your passport, which should match your driving licence. You must take the original document as you are required to temporarily import your vehicle into the country.
You are required to have a minimum of third-party insurance and will require a green card as proof of this. It is possible to buy third party car insurance at the border as you enter Turkey, if your usual insurance company will not insure you.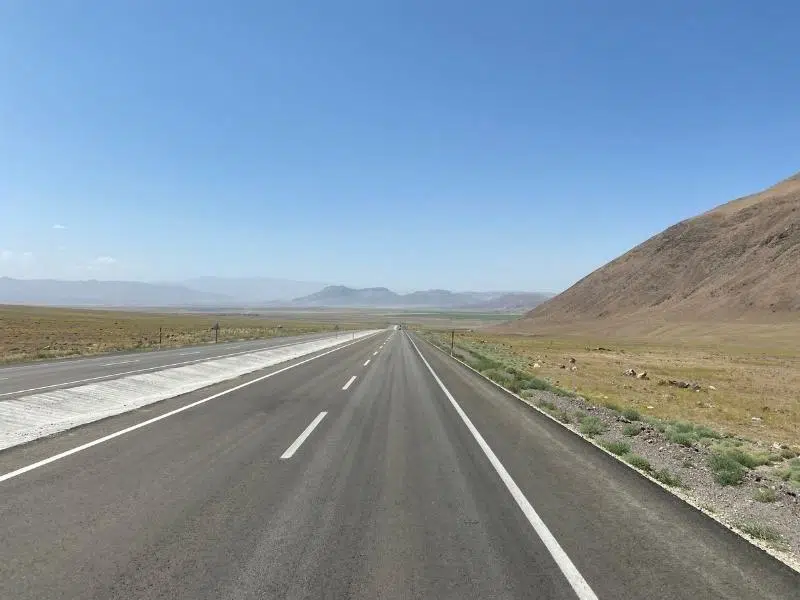 Is this your first time visiting Turkey? Get all the information you need in our Turkey Travel Guide, including what to pack, the best time of year to go, getting there and practical tips to help you have the best trip!
Turkey Driving Laws
Turkey drives on the right side of the road and overtakes on the left.
Vehicles coming from the right, vehicles travelling on a main road and vehicles already on a roundabout have priority.
The international three-colour traffic light system is used in Turkey.
The law requires that you and your all your passengers must wear seat belts.
It's illegal to carry or use any radar detection equipment when driving through Turkey.
Using a mobile phone while driving is prohibited by law, unless you use a hands-free kit.
The maximum legal limit of alcohol in the blood is 0.05%. Best not to drink at all if you're driving though.
The speed limits are 120km/h on motorways, 90km/h on national roads and 50km/h in built up areas. Keep your eyes peeled for signs as it's not always clear whether you're in a built up area or not.
We have seen every single one of these traffic rules flouted when driving in Turkey, but that doesn't mean as a foreigner you should not follow them.
Planning a trip to Turkey? Find out all you need to know about SIM cards in Turkey so you can research, navigate and book hotels on the go.
Turkey Road Etiquette
The Turkish people are kind, generous and patient, but not on the roads!
In cities and built up areas, you will need to take the initiative when coming out of junctions and navigating roundabouts. In rural areas things are a bit more relaxed, but don't expect the local farmer with his ancient donkey and cart to pull in so you can get past! Being bullish when driving may not come naturally, but you may need to adopt this tactic, expecially when driving in Turkish cities.
If you're waiting at traffic lights, the cars behind will start sounding their horns the minute, in fact, the second, the light turns green. Take a few moments to get into gear and let off the handbarke, and the honking will become a cacophony as every car in the line joins in!
Turkish drivers are not rude, they're just not very accommodating. Often parking is thoughless – it seems the driver stops where it's most convenient, ignoring the needs of other drivers and occasionally causing hold-ups as other road users have to manouvre around the vehicle.
Road Signs in Turkey
Road signs in Turkey feel familiar and follow the international model, with standard symbols and pictograms. A translation app comes in handy for words though!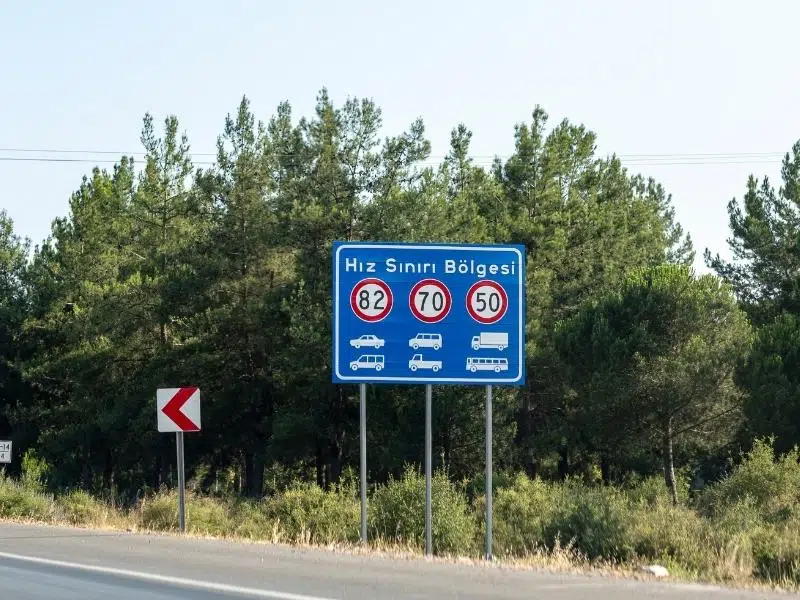 Road Quality in Turkey
The quality of the roads in Turkey is pretty good, although it does vary by region and the type of road on which you're driving. The further west you are, and closer to big cities, the better the roads are. In the east, the main roads are good, but as soon as you leave the big highways, the road surfaces start to deteriorate.
In some places, roads can be affected by winter weather and summer sun, so if you're driving in the mountains after snow or in the south, the road surfaces may have been damaged and awaiting repairs. The damage often takes the form of potholes, cracking and the edges of the roads starting to fall away.
Motorways – otoyol – and national roads are generally of a high standard, offering a smooth driving experience.
Thinking about driving further afield? Find out all you need to know about driving in Georgia in our complete guide.
Turkish Weather
Turkey is a country of weather extremes and this is a dominating factor where the roads are concerned. Many of the seven different climate zones see huge temperature differentials between winter and summer, and freezing weather, scorching heat and heavy snow can play havoc with the road system.
Although Turkey's road systems are well used to snow and ice and gritting is common, if you're planning on driving in mountainous areas or regions where it get's really cold, like Cappadocia, it's wise to ensure you have good mountain tyres (with the snowflake symbol) and carry snow chains.
Expect heavy rainfall across the country in April and May, and with it the risk of flooding on the roads. Aquaplaning is a real risk on Turkish roads at this time of year, especially on motorways when people tend to drive at speed.
Extreme heat also affects road surfaces, and tarmac can crack, bubble and melt. It's not uncommon for hills to have a washboard effect, as the tarmac has previously melted down the incline! Extreme heat and low tire pressure can increase the risk of blowouts, so make sure you check your tire pressures are correct during the summer months.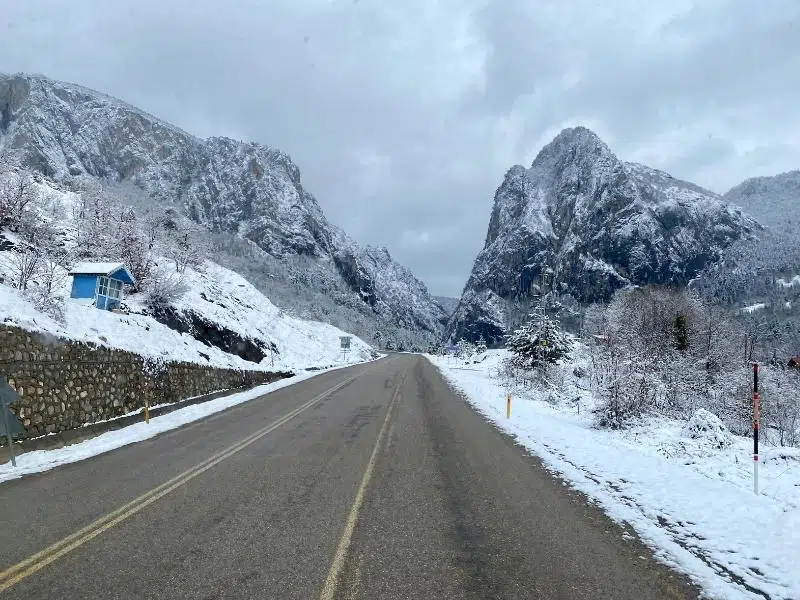 Road Works in Turkey
Turkey is heavily investing in their freight transit infrastructure which means that many of the major cross-country roads are being upgraded on an enormous scale, with huge tunnels and bridges under construction around the country. In fact, the current 2,200km motorways will be extended to approximately 9,680km by 2035.
Roadworks are generally well managed with systems for two-way traffic to pass, and traffic management to control the flow. Sometimes traffic is diverted onto a gravel track for several kilometres, where the new road can be seen but is not yet opened.
Make sure you have travel insurance you can trust when driving in Turkey. We recommend True Traveller for their 5 star TrustPilot reviews, variety of cover options, great prices and excellent service.
Road Hazards in Turkey
You will undoubtedly come across road hazards when driving in Turkey and awareness cannot compensate for the unexpected, so drive cautiously in unfamiliar surroundings.
It's common for pedestrians and street dogs to wander into the road, often without looking, especially in rural areas.
Overladen vehicles, expecially when harvest takes place, are common. Loads can be very tall and extremely wide, so give them plenty of room when overtaking.
Be aware that dolmus can stop suddenly and without pulling in on busy roads to pick people up from non-designated stops. Try not to get behind them!
Be mindful of poor overtaking practices. Large and slow vehicles tend to drive half on the road and half on the shoulder to allow faster cars to overtake. Don't become complacent and assume you can just whizz past – others will be doing the same thing, and it's not uncommon to be overtaken whilst you're overtaking.
Probably the biggest hazard is other drivers, who often drive way too fast without care for other road users, fail to indicate, overtake in dangerous places and cut in perilously close to your front bumper, before slamming on the brakes to avoid the car in front.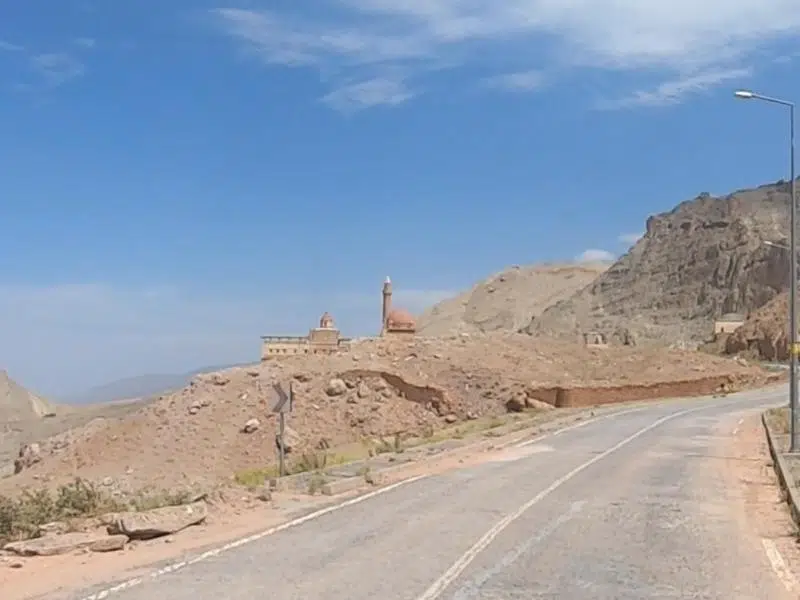 Police Checkpoints in Turkey
There are fairly regular police and army checkpoints along roads into and out of towns and cities, especially close to the borders with Armenia, Iran and Syria.
The road is diverted by traffic cones into a roofed structure, where your passport and vehicle documents may be checked by the Jandarma, Turkey's armed police service. This is a routine part of life in Turkey and nothing to be worried about.
Driving at Night in Turkey
Driving in Turkey at night is particularly hazardous. Leave enough time to get to your destination in daylight – it will always take longer than you think.
In rural places, Turkish cars and scooters may not always put on their headlights, and the road may also not be lit. If you cannot avoid driving after dusk, be very cautious and ready to brake at all times.
Best Navigation Apps for Turkey
There are a number of options to help you navigate in Turkey. Maps.me was our go-to sat nav app. Download the app and free Turkey map before your trip for offline access and navigation where there is no signal.
Whether you use Maps.me, Google Maps or any other sat nav or app, the journey time frame is likely to be inaccurate unless you're using the motorway. As a rule of thumb add another third onto the predicted arrival time, and you'll be about right.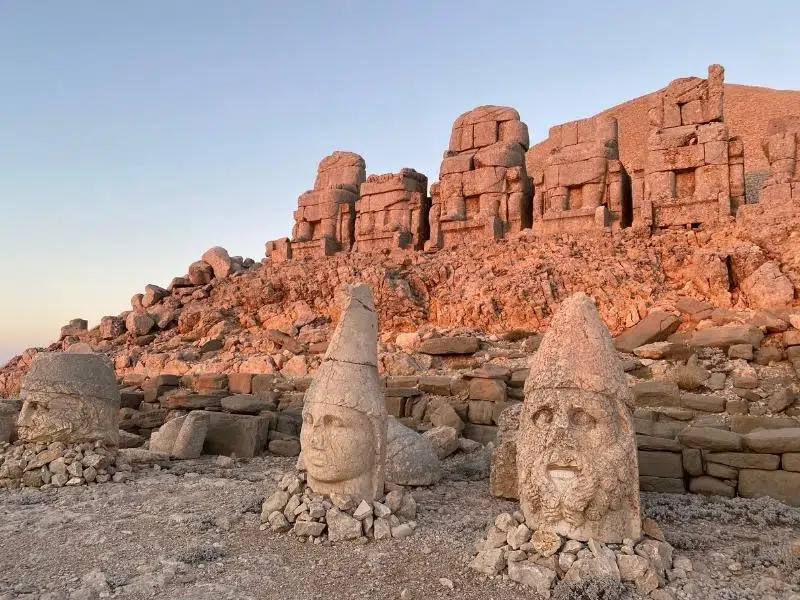 Driving in Turkey's Cities
For some inexplicable reason, the standard of driving in the cities of Turkey deteriorates, especially in Istanbul and Antalya. If possible, consider avoiding driving in Istanbul – spend time in the city at the start or end of your visit, and collect your hire car from the airport, or find a hotel which is out of the centre.
Many big cities have multi-lane highways running throughout the city, but the other roads tend to be a maze of narrow, one-way streets which are difficult to navigate. We got stuck on the old part of Trabzon, with our sat nav taking us ever deeper into the winding maze, until we had to find a polis to help us escape!
If you do drive into a city, check your route on your sat nav or mapping app carefully – we found that having two different apps running was helpful, so if we got stuck we could quickly confer and find the best way forward.
Toll Roads in Turkey
You don't have to use toll roads in Turkey, but around Istanbul and the coasts, they make life an awful lot easier.
There are currently two types of toll systems in Turkey, but the older OGS system is being phased out and on many roads the booths and gates have been removed, meaning there is no way to pay cash for your road use. The newer HGS speed toll system is an electronic chip that allows you to pay your toll automatically via a windscreen vignette, meaning traffic moves freely along the motorways.
If you're driving in your own vehicle head to the nearest PTT (Post Office) to register for the toll system within 14 days of entering Turkey. You'll need your passport and registation document. You can still use toll roads in the meantime – where there is no payment option, your journey will be logged against your registration number and it will all be tallied up when you register at the PTT.
The PTT will register your vehicle and provide you with an HGS sticker for your windscreen, which costs 90TRY. Once done, ask them to load your HGS account with lira – 1000TRY will likely be enough.
When you do pass through a motorway toll gate, it should display your balance. We believe that you need to be resident to top up using the app or ATM, meaning a PTT trip is necessary if you use up your initial load.
When you leave Turkey, the police will check whether you have outstanding toll fees to pay against the registration of the vehicle you brought into the country. If you do, they will collect the fee plus a hefty fine for not paying it in the first place.
If you're in a hire car how you pay for tolls will depend on the car rental company. Some rental agencies charge a fee for use of the HGS toll sticker and some will deduct it from the credit card you used to pay for the hire car, letting you know the cost when you return the vehicle. Make sure to check first so you know you're covered.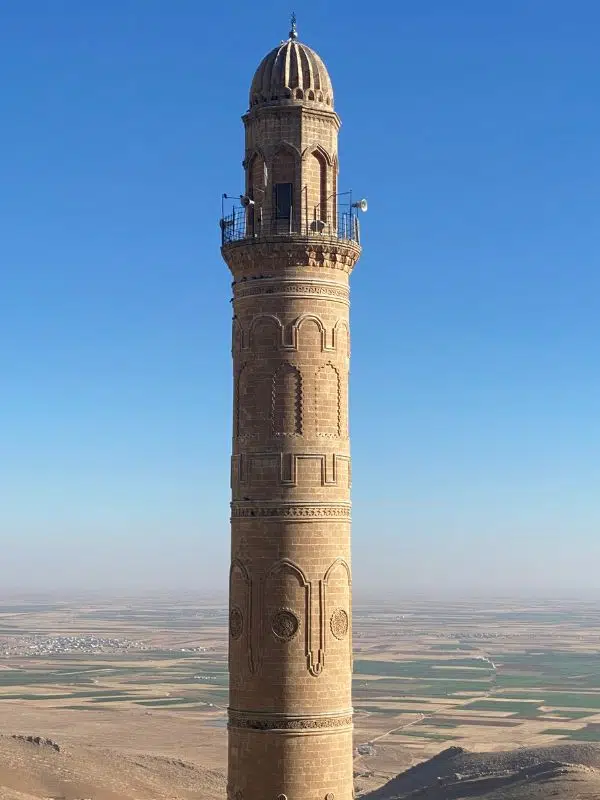 Parking in Turkey
As well as following any restrictions signposted locally, drivers in Turkey should also note that parking is prohibited in the following places;
On pedestrian crossings
In front of public or private entrances, garages and service stations
On the left-hand side of the road
Where it would obstruct vehicles travelling in the opposite direction
On and near intersections and bends
In places where visibility is limited
On bridges and in underpasses and tunnels
Within 25 metres of danger signs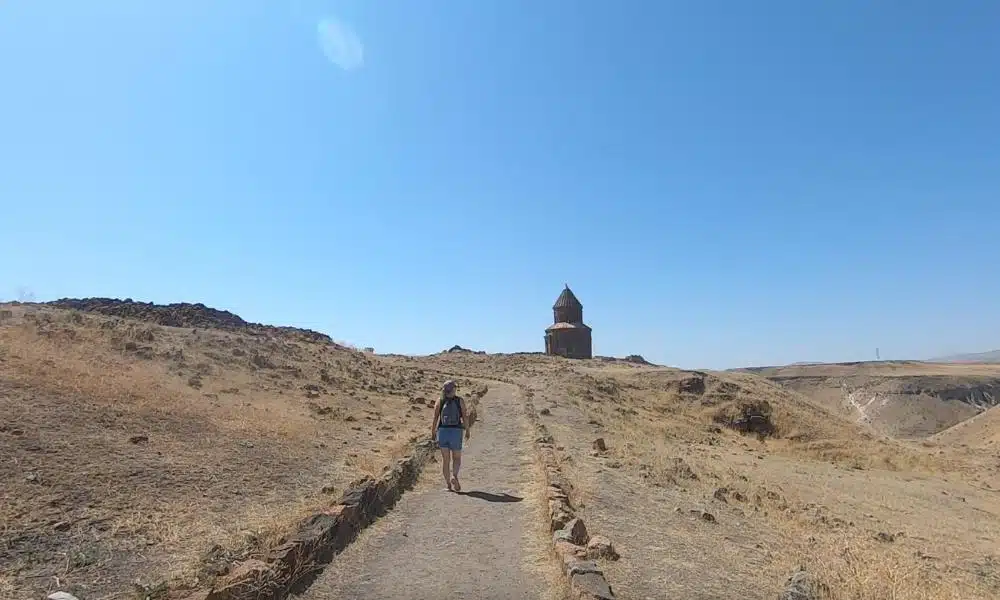 Fuel in Turkey
In Turkey, diesel is called motorin and unleaded is kurşunsuz benzin. Unleaded is usually sold with a choice of two octane grades. There are also two classes of diesel in Turkey, regular and Euro. If you have a Euro 6 engine you must use the latter. AdBlue is widely available.
Fuel stations in busy areas feel similar to those in Europe and are self-service, although there are always forecourt staff on hand to assist. Most now require to you pay in advance with a card.
In rural areas, your tank will be filled for you and payment is usually in cash, unless you're happy to pay a 2-3% surcharge to use a card.
Electric vehicles are becoming more common in Turkey and subsequently there are more EV chargers being installed around the country, mainly along the major highways. You can find a map here.
It can take a long time to get between cities and attractions in Turkey. Make sure you're prepared for driving long distance driving with our guide, which will help you stay awake and safe on the road.
Breaking Down in Turkey
None of the major UK or European breakdown insurance companies include the Asian side of Turkey in their cover. Once you cross the Bosphorus, you're on your own.
But, if you do breakdown, then Turkey is the place to do it! Resourceful, helpful and knowledgeable, the highly skilled mechanics of Turkey have a fix for everything and don't require you to make an appointment and return in six weeks!
If your vehicle is driveable, make for the nearest sanaye sitesi, or industry site. All towns and cities have these areas, full of workshops, tire places and motor factors. Google workshop or tire shop and you'll see a cluster together – that's where you're heading.
If you need to be recovered, locals will be able to help with phone calls. We've needed several repairs in Turkey and work that we would have paid hundreds for in Europe has cost 20% of what we would have typically paid.
Plan Your Turkey Road Trip Route
Turkey is a large country, with so many fantastic places to discover. It can take a long time to get to places that look close together on the map, but in reality are hours of driving apart.
Map out and plan your road trip route in advance and book your accommodation, particularly where the choices are limited. Leave plenty of time for breaks and stops to take pictures en route, as well as for any unexpected road damage or roadworks.
Plan to arrive in the light where at all possible – it will be easier to find your accommodation and you'll arrive stress free.
If you're planning your own road trip in Turkey, get practical tips and find out how to work out your route, budget for your trip and book a hire car in our complete guide to planning a road trip.
Be Prepared When Driving in Turkey
If you're still heading to Turkey for a road trip after reading this, make sure you're prepared with all the important stuff before you hit the road.
Alongside your documents, at the top of your car packing list should be loo paper (most restaurant and public loos don't provide this), lots of water and huge amounts of snacks. We love eating so much, we even wrote about the best road trip snacks!
There is no legal requirement to carry any safety gear in your car in Turkey, but we strongly recommend having high-visibility vests, a warning triangle, fire extinguisher and a first aid kit.
Our road trip checklists can help you get organised with packing and pre-trip planning. Easy to download and print, our checklists make sure you stay on top of your planning.
Should I Take a Road Trip in Turkey?
Despite the challenges of driving in Turkey, we loved the country for its dramatic landscapes and vibrant cities, incredibly friendly and kind people, amazing food and yes, even the roads!
Much of the above is worst case scenario stuff and chances are you won't encounter a landslide, kamikaze drivers or unpassable roads. We felt perfectly safe in Turkey for the three months we spent there and enjoyed testing ourselves in a new driving environment.
Getting stuck in and doing it for ourselves was so much more rewarding than taking a guided tour or bus trip. Instead of looking on through a coach window, we were immersed in the noise, smells and culture of this amazing country. We were able to stop where and when we wanted to explore, change our plans at the last minute and revel in the freedom of travelling at our own pace.
Are you looking for road trip inspiration? Check out these top posts…
Georgia is undoubtedly one of the best road trip countries in Europe, with all four corners of this tiny nation offering diverse experiences, surrounded by the glorious backdrop of dramatic mountains, beautiful coasts and rolling steppe. We spent three months road tripping around Georgia in 2022, and in this Georgia country road trip guide we'll share the best Georgia road trip ideas, with suggestions about what to see and do on the way, and travel…
Love it? Pin it!