This post may contain affiliate links, from which we earn an income.
Can you actually drive to France from UK? Yes! It's possible to drive from the United Kingdom to France with ease. But before you pack your bags and hit the road, there are a few things you need to know about how to drive to France.
In this comprehensive guide, we'll cover everything you need to know about driving to France from the UK, including the best routes, the legalities of driving in France, what to take, lots of France travel tips and destination ideas to help you plan the perfect trip.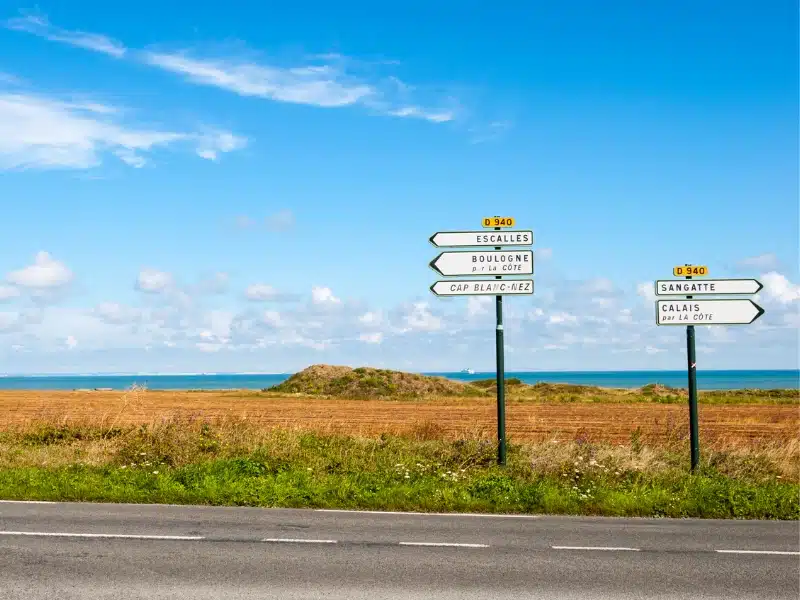 Is this your first time visiting France? Get all the information you need in our France Travel Guide, including what to pack, the best time of year to go, getting there and practical tips to help you have the best trip!
Crossing the English Channel to France
EuroTunnel Le Shuttle – The Quickest Crossing
Can you drive through the tunnel from England to France? No, it is not possible to drive through the chunnel. You have to drive your car onto a train which travels through the tunnel.
However, the channel tunnel from Folkestone to Calais is still the fastest route to France, and many might argue that it is a driving route to France from UK, as you don't need to leave your car.
The tunnel crossing under the channel takes 35 minutes and with up to four departures per hour, a fast check-in and quick loading process, driving from UK to France can take less than an hour.
EuroTunnel does not accept any vehicles powered by LPG or equivalent flammable gas as well as dual-powered vehicles (vehicles fitted with an LPG or equivalent flammable gas tank as an alternative fuel) even if the LPG or equivalent flammable gas tank is empty.
Dover to Calais – The Fastest Ferry
The quickest way to drive from England to France is by taking the ferry from Dover to Calais. P&O, DFDS and Irish Ferries operate up to 40 crossings between them in peak season.
The crossing takes just an hour and a half and you'll have time on board for a meal or drink and perhaps a quick snooze.
Getting on and off can take a while though, as they have to piece all the cars, motorhomes and lorries together like a jigsaw puzzle as they load the vehicle decks of the ferry.
Taking the ferry is not as quick as the shuttle, but is usually a bit cheaper, especially if you can be flexible with crossing times.
Head for North-West France
There are longer crossings from Portsmouth and Poole to Caen and Cherbourg, or from Plymouth to Roscoff, ideal for the Vendee and Loire Valley, or southwest France, with options for overnight and fast catamaran sailings, and many of these ferries have pet-friendly cabins.
Taking an overnight crossing on this route is ideal if you're planning a long drive once you reach France, but the ferries are considerably more expensive and the fast crossings book up quickly.
For those in Ireland or Northern Ireland, the best routes are from Rosslare or Cork to Roscoff or Cherbourg.
Eastern England to the Netherlands
More expensive and quite a bit longer than the Dover-Calais route, the crossings from Harwich, Hull and Newcastle to the Netherlands may prove to be cost-effective, but only if you don't live in the southeast of England.
It will then take around 3-4 hours of motorway driving (but no tolls!) to arrive in Lille on the France-Belgium border.
The Stena Line Harwich-Hook of Holland route operates daily at 9am, with the crossing taking around seven hours. You'll need to find a hotel on the other side as you won't get through customs until well after 6pm, unless you can share the drive to your destination, or its nearby.
If you cross from Hull to Rotterdam with P&O, their daily crossing departs at 20.30pm and takes around eleven hours, meaning you arrive refreshed and ready for a full day's drive.
The DFDS Newcastle to Amsterdam crossing is also overnight but takes nearly 16 hours and is a bit more expensive, although ideal for those starting their French road trip in the north of the UK.
Other Popular England to France Ferries
There are a handful of other routes out of Newhaven and Folkestone in England to the ports of northern France like Dieppe or Le Havre, which are also worth exploring.
The key here is to be flexible with dates and times to get the best deals, this is where you may just find a bargain.
Make for Northern Spain
Heading to Bilbao or Santander in northern Spain, from Portsmouth or Plymouth, works well for the south or southwest of France and the Pyrenees.
You may find that the added ferry costs are covered by the savings in fuel, tolls and less driving time on your trip, making this a suprisingly cost-effective option.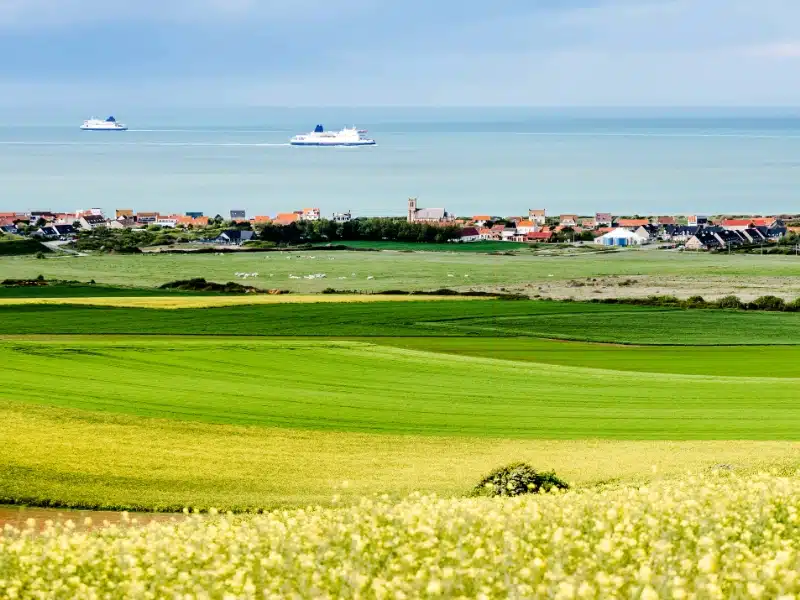 Legal Requirements for France Travel
Documentation
You must take the following documentation when driving in France from UK;
Your passport must be issued less than 10 years before the date you enter the country (check the 'date of issue') and valid for at least 3 months after the day you plan to leave (check the 'expiry date').
You must have at least 3rd party insurance cover for your vehicle. A green card is not required for UK-registered vehicles in France.
To drive in France you must be 18 years old and have a full and valid driving licence. If you have a UK issued paper driving licence, a UK licence issued in Gibraltar, Guernsey, Jersey or the Isle of Man or you are a citizen of a non-EU third country, you may need an additional International Driving Permit. You can check whether you need an IDP here.
You must carry the V5C certificate or registration document.
Citizens of the Unitek Kingdom should have an EHIC or GHIC card and all travellers should take out travel insurance. Neither is a legal requirement, but your GHIC card will not cover you for repatriation and medical treatment in France is not free to visitors.
European breakdown cover policy number and documents – again not compulsory but sensible!
If you're driving a company car or lease vehicle, you may need to get permission from the owner to take the car outside the UK.
Make sure you have travel insurance you can trust when visiting France. We recommend True Traveller for their 5-star TrustPilot reviews, variety of cover options, best activities cover as standard, great prices, and excellent service.
Equipment for Your Vehicle
You must carry at least one reflective jacket within the passenger compartment of your vehicle and must put it on before you get out in an emergency or breakdown situation.
You must also carry a warning triangle.
It is compulsory to carry a first aid kit.
A country identifier sticker – for UK-registered vehicles this must be a UK sticker and not a GB sticker.
Headlamp beam deflectors unless you can adjust your headlights.
You do not need to carry a breathalyzer, the law requiring that you do has been repealed.
This handy Europe travel kit contains all the vehicle safety equipment you need to be legal when driving in France, plus a handy bulb kit.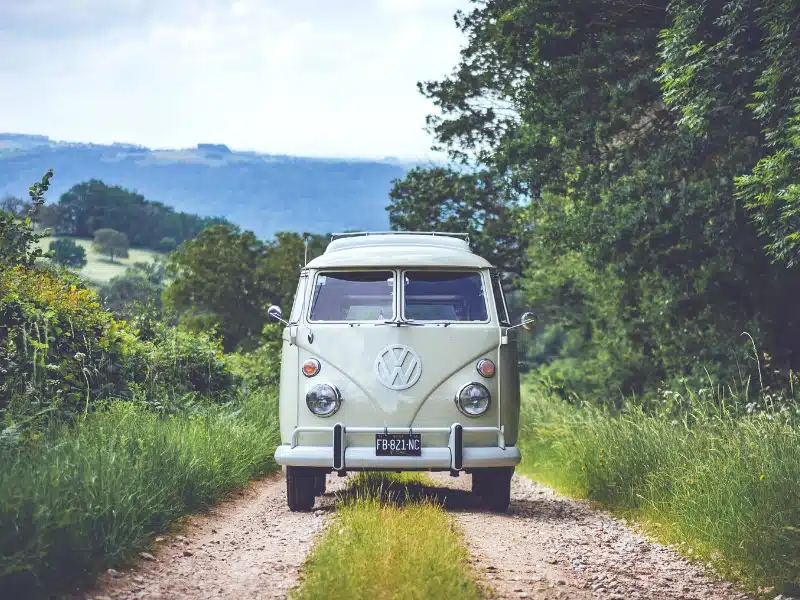 Travelling to France & Brexit
Although the UK left the EU at the beginning of 2020, because the pandemic came swiftly on its heels, many of us are still realising the repercussions and getting used to how it affects travelling in Europe. Here are a few frequently asked questions and answers about travelling in France after Brexit;
Do I need a visa for Europe?
Nothing changes with your passport but from 2024 the EU will introduce the ETIAS (European Travel Information and Authorisation System), which will be an additional entry requirement for visa-exempt travellers and will involve the traveller registering their details online before travelling, mainly for security purposes.
How long can I stay in Europe?
UK citizens can only stay in the Schengen Area (a zone in Europe where countries have no internal borders and allow the free and unrestricted movement of people) for 90 days in every 180 days.
The 90 in 180 day rule works on a rolling basis and it can be difficult to work out whether you are within the rules or not, especially if you have visited the Schengen area on several occasions in the preceding 180 days.
Use a Schengen calculator to work out your allowance, especially if you travel in Europe regularly.
What food can I take to France?
The European Commission says the following;
Travellers are not allowed to bring in meat, milk or their products.
There is an exemption for powdered infant milk, infant food, and special foods or special pet feed required for medical reasons if weighing less than 2kg and provided that:

such products do not require refrigeration before opening.
that they are packaged proprietary brand products for direct sale to the final consumer, and
the packaging is unbroken unless in current use.
For fishery products (including fish and certain shellfish such as prawns, lobsters, dead mussels and dead oysters), travellers are allowed to bring in up to 20kg or the weight of one fish if this is higher.
For other animal products, such as honey, live oysters, live mussels and snails, travellers are allowed to bring in up to 2kg.
Can I use my mobile data in France?
It very much depends on who your mobile phone contract is with and when you started the contract. All UK providers now limit data usage in the EU in some way or another, and it's best to check with your provider to make sure you don't run up a big bill.
You can find lots of information in our guide to the best SIM cards in Europe, especially if you're planning to be away for more than a few weeks.
Can I take a pet to France?
Yes, you can take dogs, cats and ferrets to France. You'll need to book a pet-friendly cabin or kennels on the ferry or travel via the tunnel. Your pet will need a microchip, a valid rabies vaccination and an animal health certificate (AHC).
It can take some time to get all the documents together and the vaccines organised for pet travel so make sure you start the process well in advance. You can find out more about travelling with pets on the Gov.UK website.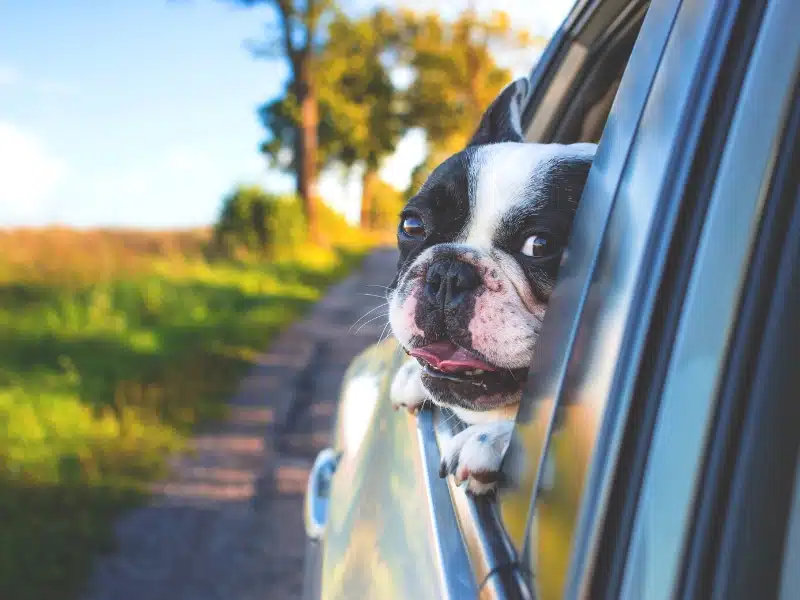 Driving in France
Road trips in France are usually pleasurable, thanks to the extensive and well-maintained autoroute network, and generally good local roads. French drivers can be impatient and are dreadful tailgaters and really, really dislike being overtaken, but, c'est la vie, this is France!
Motorway Tolls in France
Driving in France can be hideously expensive if you only use toll roads, but they do allow you to travel through the country to your destination quickly. Try using this European route planner with tolls to get an idea of toll costs for your route.
You may want to consider carrying an electronic toll tag, like EMovis (which also covers you in Spain and Portugal) that deducts the fees from a credit card automatically, meaning you don't have to stop at a booth or barrier.
Why not try setting your sat nav to avoid motorways and get off the beaten track across France?
Low Emission Zones in France
France has introduced clean air windscreen stickers as a legal requirement in many of its cities and their peripheries, to identify a vehicle's emissions levels and to restrict access in order to improve air quality.
This six-category clean air sticker system is designed to identify what emissions vehicles produce, and are categorised based on your vehicle's Euro emissions standard. These are known as Crit'Air stickers and you may need one for your vehicle, depending on where you are visiting. Even electric cars need a Crit'Air sticker.
If you intend to travel close to a city or use its ring road, it's worth getting the sticker, which costs less then €5. Find out more and purchase Crit'Air stickers from the official certificat-air.gouv.fr website.
Mountain Law II
On 1 November 2021 the Loi Montage II or 'mountain law II' came into force in 48 French mountainous departments within the Alpes, Massif Central, Jura, Pyrenees, and Vosges regions.
Anyone travelling in a vehicle through one of these areas between 1 November and 31 March will be obliged to fit four approved winter tyres or carry at least two snow chains or socks in the vehicle.
Motorway Breakdowns in France
French motorways are privately managed and you're not allowed to request your own assistance company to attend to you if you break down.
If you do break down use the orange emergency telephones that are situated every 2km along French motorways to call the police or the official breakdown service operating in that area or dial the emergency services on 112.
You will be towed to a safe designated area where you can make onward arrangements for your own breakdown insurer to assist you if you have it. Otherwise, the towing company will be able to provide support or signpost you.
Rules of the Road in France
France drives on the right.
You may have heard of priorité à droite or 'rule of the right'. This means that because the French drive on the right-hand side of the road, at a junction or roundabout, the traffic approaching from the right has priority over the one coming from the left unless other signage is in place. Priorité a droite mainly applies in rural areas as cities and major roads tend to have their own road signs and markings regarding who should give way.
The national speed limits in France are as follows, unless otherwise indicated.

Motorways: 130 kph (80 mph)
Dual Carriageways: 110 kph (68 mph)
Main Roads Outside Built-up Areas: 80 kph (49 mph)
Main Roads Within Built-up Areas: 50 kph (31 mph)
Speed cameras are common on main roads in France, and due to the information sharing agreement between France and the UK, they can trace you back to your home address to send you a speeding fine. Not the best way to end your holiday!
French law prohibits drivers from using speed camera detectors and warning drivers of their location. You could have to pay a massive fine of €1,500 if caught.
France has very strict drink driving laws compared to the UK. The UK maximum is 0.8 mg/ml and the French maximum is 0.5 mg/ml of alcohol per litre in your blood. If you are tested and found to be over the limit, you may face up to a €4,500 fine and have to appear in court.
On motorways, French drivers will sit on your outside bumper, almost as if they are intending to nudge between you and the central reservation. Do not be intimidated by this, change lanes only when it's safe to do so. Make sure you leave a large gap between yourself and the driver in front so that if you do have to stop quickly, you cannot be considered at fault.
If you have an accident you'll need to complete the EU Accident Statement, which you can find to download in English in our free resource library if your car insurance company hasn't provided one. Stop safely and use your hazard lights and warning triangle to alert other drivers. Exchange details (a translate app comes in handy here) and take lots of photos to add to your form when you submit it to the insurers. If the other party won't give details or there has been an injury, you should call the police on 112.
RELATED POST: Driving in Europe – Everything You Need to Know
Top French Destinations
Auvergne-Rhone-Alpes
A vast region, the Auvergne-Rhone-Alpes stretches from the high hills and plateau of the Massif Central in the west to the highest point of the French Alps, Mont Blanc, in the east.
Home to France's second city of Lyon and an abundance of alpine pastures, orchards and vineyards, Auvergne-Rhône-Alpes is great for eating and drinking.
Bourgogne-France-Comte
This beautiful region of France is famous for its rich history and abundance of vineyards and is the old historic region of Burgundy, once the heartland of France.
With a mix of low agricultural lands and the fabulous mountains and lakes of the Jura, BFC is sparsely populated and sees little tourist footfall.
Brittany
This rugged peninsula and wild coastline of western France is an ideal place for a road trip. With Rennes, the capital of the region, being just an hour's drive from St Malo, it is literally a hop over the channel.
Two to three hours from Cherbourg and five to six from Calais, this region makes for fantastic French holidays, with a lot less driving and no ruinous toll fees.
Centre-Val de Loire
Landlocked Centre-Val de Loire is located to the south west of the French capital Paris and is all about the magnificent river Loire and its beautiful chateaux.
Just four to five hours from Calais to Orleans, and an hour less from Caen, this region is a popular holiday destination and would be ideal for a slow road trip along the river.
Grand Est
Grand Est is a region of multicultural influences which come from its borders with Germany, Belgium, Luxembourg and a small part of Switzerland.
It's one of the most accessible regions in France from Calais – a four hour drive will take you to the heart of the region, famous for champagne.
Hautes-de-France
The most northerly region of France and home to the port city of Calais, Hautes-de-France is literally on your doorstep.
The area is known for the battlefields of World War One and the incredible beaches, pretty fishing villages and elegant resort towns of the beautiful Opal Coast.
Ile-de-France
Ile-de-France is the small region surrounding the capital city of Paris and a four hour drive from Calais.
The region is home to the UNESCO World Heritage fortified city of Provins, the huge forested estates surrounding Fontainebleau and Versailles, and the site of the gilt-laden palace of the same name.
Normandy
Bordering the English Channel and easily accessible from all the ports, Normandy is a wonderful destination in northern France.
Le Havre is in the region itself and a perfect arrival port which is close to the attractions of Honfleur, Étretat, Bayeux, Mont Saint-Michel and the D-Day beaches.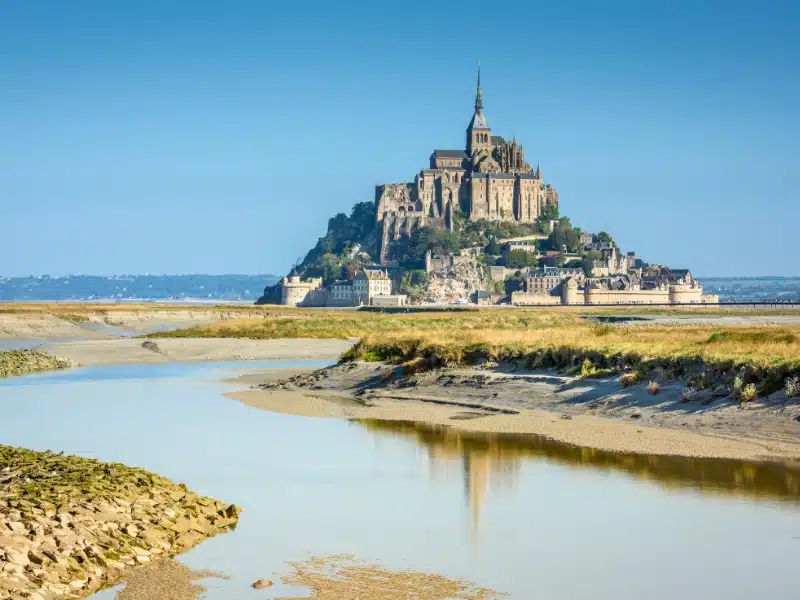 Nouvelle-Aquitaine
One of our personal favourites for family holidays, Nouvelle-Aquitaine is the largest region of France and offers a long sandy coast, the Pyrenees mountains and the gently meandering Dordogne.
From the ports of Caen or Cherbourg, the capital Bordeaux is a good seven to eight hour drive, making this an ideal destination for a two or three week holiday.
Occitanie
Occitanie (previously Languedoc) is one-half of the south of France and is a region of huge diversity, from the sun-drenched Herault and the Mediterranean coast to the wild beauty of the Cevennes and the majesty of the Pyrenees.
A good ten to eleven hour drive from Caen, Occitanie is a great destination for touring if you have three or four weeks to travel, or plan on staying put when you arrive. We think it's worth the drive time for the atmosphere, history and beauty you will find in this region.
Pays de la Loire
The Pays de la Loire is a region of north-western France which adjoins the region of Centre-Val de Loire. Both regions share many characteristics but the big difference is the Pays de la Loire's long Atlantic coastline known as the Vendee, enjoyed for its gentle waves, sandy beaches and quintessential seaside resorts.
Around three to four hours from Caen gets you to the heart of the region, with the Loire Valley to the east and the beaches of the Vendee to the west.
Provence-Alpes-Cote d'Azur
A favourite of many, this region covers a large and diverse area from the sparkling Mediterranean Sea to the French Alps, and from the river Rhone to the Italian border.
PACA is the furthest region from the UK, taking a punishing twelve to thirteen hours from Calais to Marseille… but, for the glamorous and fashionable resorts of the French Riviera, the lavender fields and whitewashed towns of Provence, and the wilderness of the Camargue, those driving hours are so worth it.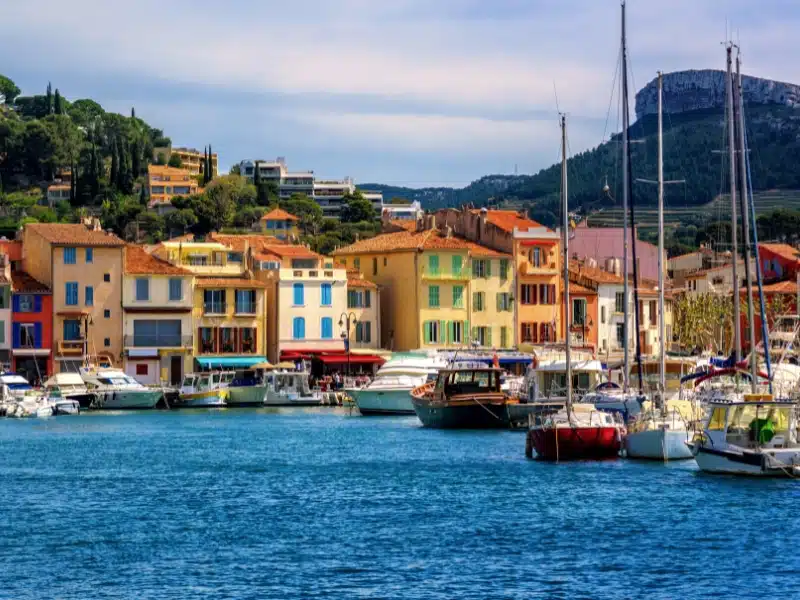 Can't decide? Check out these top France road trip posts…
Ahhh, France. A country so eclectic and beguiling, it is the most visited nation on the planet. A French road trip is the best way to explore the wonderful diversity and beautiful landscapes of this country. Use our detailed guide and travel tips to find French road trip ideas in every region, and to plan your ultimate France road trip.
Love it? Pin it!