This post may contain affiliate links, from which we earn an income.
If you're looking for a scenic road trip that will take your breath away, look no further than the Atlantic Highway. The A39 winds its way through the stunning coastal landscapes of Devon and Cornwall, offering some of the most breathtaking views in the UK.
From rugged cliffs, mythical castles and long sandy beaches to pretty fishing villages and bustling seaside towns, this Atlantic road has something for everyone.
In our five day Atlantic Highway road trip guide we share travel tips, a fantastic route that hits all the top spots, things to do and see along the way and hotel recommendations to help you plan your perfect road trip in Devon and Cornwall.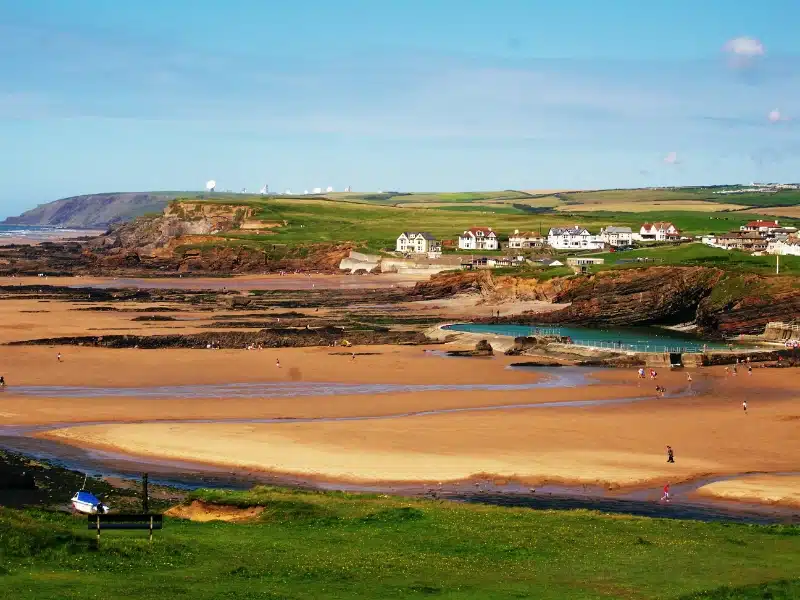 What is the Atlantic Highway in England?
Just to make sure you're in the right place, the Atlantic Highway can refer to the following:
Part of the A39 road in England – great, you've landed on the right post!
Atlantic Ocean Road in Norway – oops, not here but our Atlantic Road Norway guide has all the info you need.
Atlantic Highway in the United States – that's not here and we haven't made it there yet, but we will!
The Atlantic Highway in England is the A39 road that starts in Bath in Somerset, and from Bridgewater follows the north coast of Somerset, Devon and Cornwall south to Newquay. In Devon and Cornwall, the 70-mile strip of road which follows the coast is known as the Atlantic Highway.
While many view the A39 as a mere convenience and a site of frequent accidents, it holds a deeper significance and provides a vital link between North Cornwall and Devon, two remote and disconnected regions.
This has two notable effects. Firstly, it helps preserve the natural beauty of North Cornwall and despite the influx of summer tourists, there are still many quiet coves and cafés filled with locals. Even in low season, popular spots can be found empty.
Secondly, the area's remoteness means that none of Cornwall's top ten most popular attractions are located here, except for Tintagel Castle, the legendary birthplace of King Arthur. As a result, visitors can experience a more authentic and less commercialized side of Cornwall.
Is this your first time visiting the United Kingdom? Get all the information you need in our UK Travel Guide, including what to pack, the best time of year to go, getting there, and practical tips to help you have the best trip!
Getting to the Atlantic Highway
Whether you're taking an Atlantic Highway road trip in a car, motorcycle, campervan, or motorhome, self-driving is absolutely the best way to explore one of the UK's most scenic drives.
You can stop whenever you want, try new activities, visit places you see along the route, and have the freedom to change plans at the last minute.
One of our top tips that will make a huge difference to your Atlantic Highway road trip is not to drive to the southwest of England on a Friday, Saturday, or Bank Holiday!
This is because lots of holiday lets, caravans and campsites have 'changeover' day on a Saturday, so the M5 and A303 into Devon both backup and are often gridlocked. Not the best start to any road trip.
If you're coming to England by plane, fly into Bristol Airport or Exeter Airport to start your roadtrip, with direct flights from London Gatwick, Manchester, Doncaster, Liverpool, Glasgow and Aberdeen.
If you're coming from further afield, head to London Gatwick Airport and connect from there, or pick up a hire car and take a road trip to Devon through the counties of Surrey, Hampshire, Wiltshire, Dorset and Somerset, a journey of around 3-4 hours. We recommend booking flights with Skyscanner for live deals and the best prices.
Are you planning to rent a car in Cornwall? As one of the largest car hire aggregator companies in the world, we recommend Rentalcars.com because they have massive purchasing power which enables them to secure the best car rental prices, which benefits you when you're planning a roadtrip in England.
For a real adventure, hire a motorhome or campervan in the UK. We recommend Motorhome Republic, an aggregate booking site who pull together all the best deals from a number of rental agencies, to offer you a wide choice of options alongside an excellent English speaking expert motorhome Concierge Team.
Driving a motorhome in Devon and Cornwall can be a challenge, with narrow lanes and small villages – unless you're an experienced motorhomer, a campervan is probably a better idea 🙂
Best Time for an Atlantic Highway Road Trip
March to May
Early spring can be wet and cold on the southwest coast but from late April and May onwards the weather is generally warm and sunny, although you may still get chilly rainy days, so take layers and keep your eye on the weather forecast – a real British occupation!
June to August
Tourist traffic peaks in late July and August, and it's also when the region experiences the warmest and driest weather, making it an attractive place to spend the school summer holidays. But, you'll need to book your accommodation well in advance, as popular spots book up early.
If you're not travelling with kids, June is the best month to visit – the weather is mild and sunny, attractions are open and beach days are a real possibility, but there are a lot fewer people around.
September to November
Early autumn, between September and early October, is a lovely time to visit, with warmth still in the air but a sense of peace as the season comes to a close.
Towards the end of September, the weather starts to turn and becomes unpredictable. Some days can be sunny and dry, but the chances of rain and windy Atlantic storms increase by the day.
December to February
You're unlikely to see snow, but it most definitely will be cold, wet, and pretty miserable. You may well be the only tourist in the entire southwest of England, but it wouldn't be our choice to road trip Devon and Cornwall in winter!
RELATED POST: 14 Stunning Places for Autumn Breaks in the UK
Make sure you have travel insurance you can trust when visiting England. We recommend True Traveller for their 5-star TrustPilot reviews, variety of cover options, best activities cover as standard, great prices and excellent service.
Atlantic Highway Road Trip Map & Route
This route can be explored in a couple of days, but you will only touch the surface. Instead, take five days to appreciate the Atlantic Highway's breathtaking coastal views, historic landmarks, myths and legends, and traditional cuisine.
The starting point for our five day Atlantic Highway itinerary is Barnstaple on Devon's north coast, an hour's drive from Exeter Airport or a two hour drive from Bristol. If you choose the latter, you could extend the trip to visit Burnham on Sea, Minehead, Ilfracombe and Woolacombe on the way to Barnstaple.
You probably won't be able to do and see all the things we suggest in this itinerary, which we've visited over many family holidays in Devon and Cornwall. But we wanted to include as much detail as possible, so you can pick the things you enjoy most and maybe spot others along the route.
Barnstaple – Bideford – Hartland – Stratton – Bude – Boscastle – Tintagel – Camelford – Port Isaac – Carnewas – Padstow – Wadebridge – Newquay
How to use this map – Use your fingers (or computer mouse) to zoom in and out. Click or touch the icons to get more info about a place, and click the arrow in the box top left to open the index. To add to your own Google Maps account, click the star next to the title of the map.
Atlantic Coast Road Itinerary
Day 1: Barnstaple to Hartland
Start your Atlantic Highway trip in Barnstaple on the River Thaw in North Devon, known for its rich maritime history, heritage, and beautiful surroundings.
Besides hiking trails, day trips, and a good choice of restaurants and cafés, you can also explore the following in Barnstaple:
Museum of Barnstaple and North Devon – Discover the fascinating stories of the people and landscapes of North Devon.
St Anne's Chapel – Historic Grade I listed building and last surviving Chantry Chapel in Barnstaple.
Castle Hill – Fantastic day out with 50-acre gardens, woodlands and a tea room.
Barnstaple Pannier Market and Butchers' Row – Traditional market in an interesting historic building where you can buy local arts and crafts and fresh produce.
Arlington Court and the National Trust Carriage Museum – An intriguing Regency house and impressive collection of horse-drawn vehicles, set in a picturesque garden.
Bideford
Bideford is a charming town in North Devon, about 10 miles from Barnstaple.
Walk to the Bideford waterfront to see Tarka, the Otter's statue. The bronze monument, designed by sculptor Rowan Fawdon, commemorates Tarka, a character from English writer Henry Williamson's children's novel, Tarka the Otter. Many believe it will bring you luck if you rub Tarka the Otter's head.
Visit The Burton at Bideford Art Gallery and Museum, which houses an impressive collection of art, historical artifacts, and exhibitions from English artists.
Explore the beautiful St Mary's Parish Church before you head to the Bideford Pannier Market. This indoor market offers local delicacies, arts, and crafts. Or make your crafts by going for a stained-glass window workshop at the Westside Warehouse at Torridge Hill.
Hartland
Hartland is a small town located west of Bideford. Despite its small size, there are plenty of things to do and see in and around Hartland and the Devon Heritage Coast.
Start by visiting the 12th century Hartland Abbey, the historic house and gardens. Owned by the same family for over 400 years, it is open to the public and often hosts events and exhibitions.
The best way to explore the Hartland Devon Heritage Coast is by walking some of the South West Coast Path, which offers spectacular coastline views. Highlights along the coast include Clovelly, a charming and privately owned harbour village, Blackchurch Rock, Hartland Point Lighthouse, Speke's Mill Mouth Waterfall and Welcombe Mouth Beach.
Hartland Quay has spectacular cliffs and scenic views, with a small museum, a pub, and a beach and is a great spot to have a meal while watching the sunset on the horizon.
If you pass through Hartland during the summer months of July or August, you'll be able to enjoy the annual Hartland Carnival. It features a parade, live music, food stalls, and more.
Treat yourself to dinner at The Kings Arms, where they serve really good burgers or Pattard Restaurant, which serves British and French classical cuisine.
Upmarket: Red Lion Hotel Clovelly – Booking.com | Agoda
Mid-Range: The Anchor Inn – Booking.com | Agoda
Budget: Southdown B&B Clovelly – Booking.com | Agoda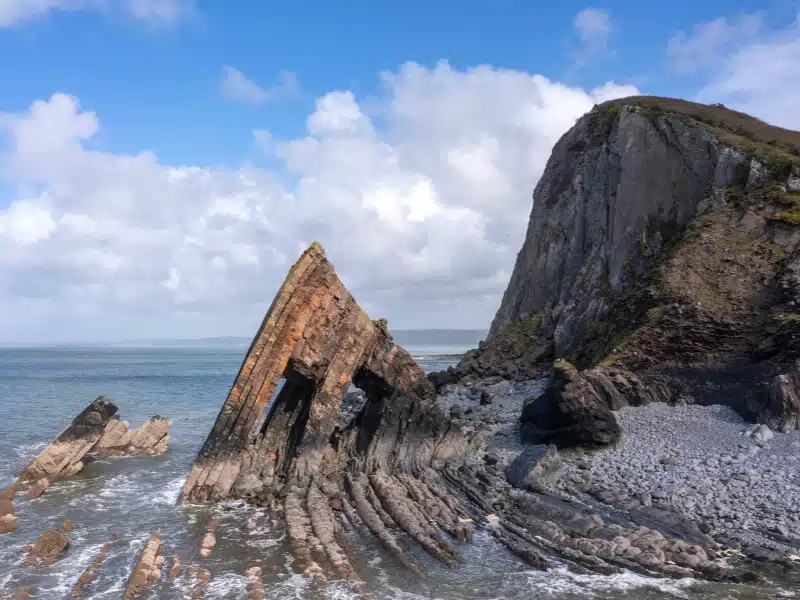 Day 2: Hartland Quay to Bude
Stratton
En route to Stratton, make a detour back to the coast and Sandymouth Bay Beach, an unspoilt beach of pebbles and sand backed by incredible 300 million-year-old twisted cliffs, before heading to the Little Pig Farm Shop for a hearty English breakfast made using ingredients sources from local producers.
Once in the small Dorset town of Stratton, visit the beautiful St Andrew's Church (Diocese of Truro) and Mary's Church in the city centre. Mary's Church dates back to the 1300s and features stunning stained-glass windows and detailed carvings.
The Stratton Nature Reserve is a lovely spot for a walk, offering scenic views of the natural surroundings. The countryside is easily explored through several hiking trails or by cycling.
Afterwards, visit the Stratton House Museum to learn more about the town and the surrounding region's history.
Bude
Just two miles down the road from Stratton is the pretty coastal town of Bude, just west of the A39 highway. If you travel to Bude during August or September, plan your trip around the annual Bude Jazz Festival for live music shows in town.
There are several beaches in Bude, including Summerleaze Beach and Crooklets Beach. Try booking a surf lesson before your trip to learn the skill. There is also a Bude Sea Pool where you can relax for a few hours, swim, and sunbathe.
Explore Bude Castle, now serving as a museum, and learn about the town's history and see exhibits on local industries like fishing and mining. There is also the Bude Canal, which was once used to transport goods between Bude and Launceston. Now, it is a peaceful place for a walk or bike ride.
Now you're in Cornwall, make sure to try some of the local specialities, like a Cornish pasty or Cornish cream tea. Did you know that in Cornwall, you're expected to add jam first to your scone and then clotted cream on top? In Devon, it's the other way around!
Sea Fever for fine bisto dining or the Bank at Bude Tapas and Grill are both good picks for dinner.
Upmarket: The Beach – Booking.com | Agoda
Mid-Range: The Falcon Hotel – Booking.com | Agoda
Budget: Sea Jade Guest House – Booking.com | Agoda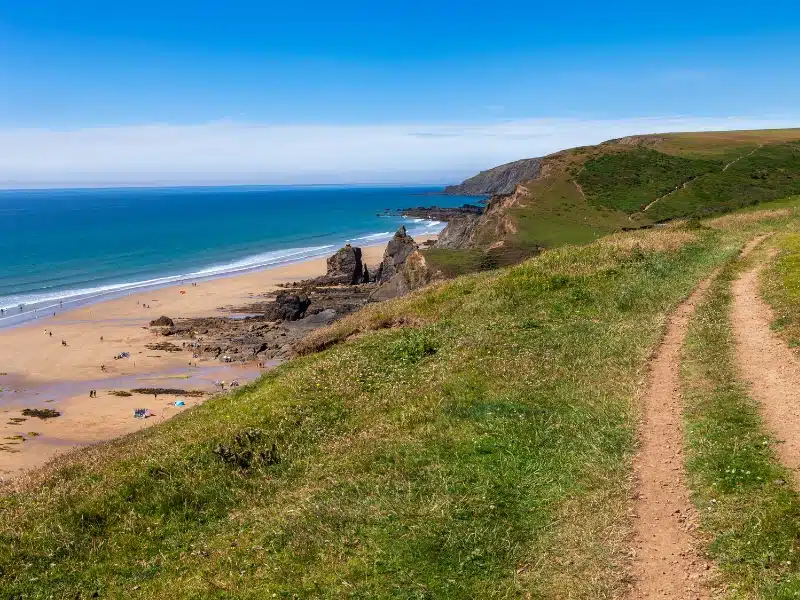 Day 3: Bude to Tintagel
Boscastle
Drive south until you reach Collamoor Head then turn west towards Boscastle. It is a picturesque village on the north coast of Cornwall in an Area of Outstanding Natural Beauty.
The Museum of Witchcraft and Magic boasts an extensive collection of artefacts, books, and other items related to witchcraft and magic, and it's no surprise to find such a museum in Boscastle, home to one of the most haunted hotels in the United Kingdom.
The Wellington Hotel overlooks the harbour and is well known for its ghostly encounters. Both staff and guests have reported three different ghosts – a coachman walking through the halls of the hotel, the ghost of a little girl and an old lady who has reportedly been seen walking through walls and closed doors.
Take a walk along the Boscastle harbour to watch the colourful boats coming and going, or sit and enjoy the view. Then visit the gorgeous St. Juliot Church, which inspired Thomas Hardy's novel A Pair of Blue Eyes. It has beautiful stained glass windows and a calm and peaceful atmosphere for those needing a moment's silence.
Avid hikers will delight in the area's many hiking trails, including the Rock Valley and the South West Coast Path that passes through Boscastle. The routes offer stunning views of the coastline and countryside.
Enjoy lunch at Boscastle Farm Shop or The Rocket Store before you continue to Tintagel.
Tintagel
En route to Tintagel, stop at St Nectan's Waterfall, also known as St Nectan's Kieve, a spectacular sixty-foot waterfall which flows through a hole in the rocks. Many believe the glen to be one of England's most spiritual sites, and tie or place ribbons, crystals, and photographs near the waterfall.
Tintagel is a small coastal village about four miles southwest of Boscastle. It is a town known for its dramatic natural scenery and connections to the legend of King Arthur.
Legend has it that the medieval Tintagel Castle on a clifftop overlooking the ocean was the birthplace of King Arthur, who was possibly a warrior that led British armies against Saxon invaders in the 6th century, although historians cannot confirm King Arthur's existence.
You will also see Gallos, the King Arthur statue, an 8-foot-tall bronze sculpture by Rubin Eynon of a ghostly figure with a crown holding a sword, and Merlin's Cave, beneath Tintagel Castle. This cave is said to be where the wizard Merlin once lived.
Visit the 14th century Post Office, which now serves as a museum, and St Materiana's Church. The small chapel sits on a hill overlooking Tintagel, offering visitors panoramic views of the village and the rugged coastline.
Take a stroll around the village as Tintagel has a charming mix of shops, cafés, and galleries, as well as some interesting historical buildings.
End your day at The Olde Malthouse Inn which does a great Sunday roast or Tintagel Brewery Bar and Bistro for dinner.
Mid-Range: St Tudy Inn Bodmin – Booking.com | Agoda
Mid-Range: King Arthurs Arms – Booking.com | Agoda
Budget: Dolphins Backpackers Hostel – Booking.com | Agoda
More UK Travel Ideas
Day 4: Tintagel to Port Isaac
Camelford
Head back towards the A39 road to the small town of Camelford.
The area has various walking trails that suit novice and experienced hikers, including the Camelford Way and the Camel Trail. You can also hike to Rough Tor or Roughtor on Bodmin Moor, the second-highest point in Cornwall, which offers stunning views of the surrounding countryside.
For a family-friendly activity, visit the Vale of Avalon and Arthurian Centre. They honour the myths and legends of King Arthur by offering interactive exhibits, practical tasks like building dens, a 3D film, and a reconstruction of an Arthurian Round Table. The centre also has a gift shop and a tearoom serving homemade cakes with tea to enjoy.
Before lunch, explore Camelford's historic town centre, including the Market House and the Parish Church of St. Thomas Becket.
Try a classic English staple at Peckish Fish and Chips or Mason's Arms before driving to Port Isaac.
Port Isaac
Port Isaac is a quaint fishing village on the north coast of Cornwall, known for being the setting of the fictional village, Portwenn, in the ITV comedy-drama series Doc Martin.
You can even go on a Doc Martin tour, which includes visiting the Doc Martin house at the top of Roscarrock Hill, easily recognizable from the show. Or you can take yourself to the town alone instead to walk around and admire the white-washed cottages, flower gardens, and historical buildings.
Visit the working Port Isaac fishing harbour, the heart of the village. Watch the boats on the slipway from the old-school harbour wall and enjoy the stunning views of the ocean and the charming Cornish cottages scattered around the bay. You can take a boat trip to explore the coastline or even hire a rod and go fishing to try your hand at angling.
On land, you can explore Doyden Castle, a National Trust property and the unique and beautiful handmade ceramics at the Port Isaac Pottery Studio. Afterwards, visit the Old Schoolhouse Gallery, which exhibits work from local artists and artisans, including paintings, pottery, and jewellery.
For a Michelin-star dinner, treat yourself to Outlaw's New Road or Outlaw's Fish Kitchen.
Upmarket: Port Gaverne Hotel – Booking.com | Agoda
Mid-Range: Cornish Arms Inn Pendoggett – Booking.com | Agoda
Budget: Paths End B&B St Teath – Booking.com | Agoda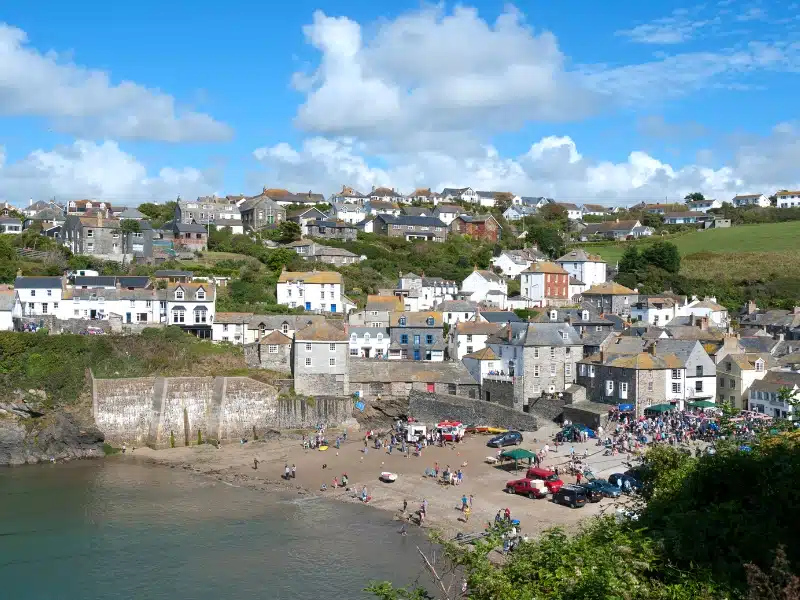 Day 5: Port Isaac to Newquay
Wadebridge
Wadebridge, just inland from Padstow, is worth a stop to admire medieval St James the Great Parish Church at St Kew or enjoy a few laps at St Eval circuit, Cornwall's most extensive karting circuit.
Padstow
Padstow is a charming working fishing port. Once in Padstow, walk a bit of the Camel Trail, a scenic route alongside the River Camel, or stretch your legs and stroll around the colourful harbour full of fishing boats.
For an activity that is slightly less strenuous, visit the Padstow Museum. This small museum showcases the history of the town. It has a collection of artefacts and exhibits that tell the story of Padstow and its people.
If you are travelling through Padstow between April and September, make sure to visit Prideaux Place, a stunning historic house built in the 1500s. It is open to the public and boasts gorgeous gardens and a collection of antique furniture and artwork.
Another must-see in Padstow is the beautiful interior of the 13th century St. Petroc's Church, which stands where a church has stood since 518 CE.
If you have time, catch the summer ferry from Padstow to Rock, on the opposite side of the Camel Estuary. Known as 'Chelsea-on-Sea', Rock is reputed to be the home of more millionaires than anywhere else in Cornwall.
But we're more interested in the fabulous Rock Beach, a long sandy stretch that fronts the village and is popular with swimmers, sun seekers, and windsurfers.
Newquay
Before you get to Newquay, make a stop at Carnewas to see the Bedruthan Steps. This steep staircase features 149 steps that have been carved into the cliff face and serve as the only means to access the Bedruthan Beach beneath the cliffs, as well as giving magnificent views of the nearby rock stacks.
Newquay is a seaside town boasting some of Britain's best beaches, the most iconic being Fistral Beach, popular with surfers. Closer to town, Newquay Beach and Towan Beach with its sea-filled pool are popular with families, as is Great Western Beach with many caves and rockpools to explore at low tide.
Lusty Glaze – I just love that name – is like a theme park beach, with lots going on including junior Baywatch, high ropes courses, kite surfing, a daily BBQ, and even a crèche! And finally, if you want the opposite, with just sand, sea, and peace, head for Whipsiderry Beach, beautifully sheltered by the surrounding cliffs.
A Newquay family favourite is Trenance Gardens and Leisure Park. The park features beautiful gardens, a lake, and a mini-golf course. If you have time to spare before lunch, have a quick exploration of the Cornwall Aviation Heritage Centre, dedicated to the aviation history of Cornwall and featuring a collection of aircraft, engines, and other aviation artefacts.
For some of the best Cornish pasties, go to Morris Pasties. They ranked eighth in the list of Tripadvisor's best Cornish pasties according to reviews. Otherwise, have dinner at Toast Tapas & Bar or Butcher's Bistro.
From here, you can fly out of Newquay Airport to London, Manchester, Dublin and Edinburgh, or head back up the A30 to Exeter Airport in two hours, or to London in 4-5 hours. Or, head south into Cornwall with our Cornwall road trip itinerary.
Upmarket: Harbour Hotel – Booking.com | Agoda
Mid-Range: Lazy Waves Boutique B&B – Booking.com | Agoda
Budget: Aquarius B&B – Booking.com | Agoda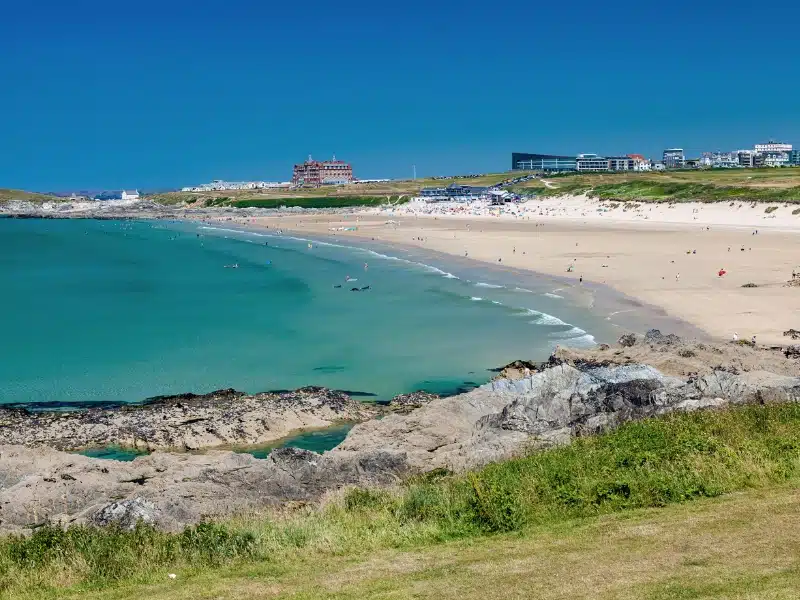 England Road Trip Resources
Here are the websites and services we personally use and recommend for traveling in England.
Information About Driving in England
Whether you're driving Cornwall in a car or camper or riding a motorbike, ensure you've got all your documents handy and your spare tire is in good condition. If your Cornwall road trip itinerary is longer than a few weeks, you may want to consider a vehicle service before you go, and breakdown cover is probably a good idea.
Drivers from non-EU countries may require an International Driving Permit. The general rule is that an IDP will be required if your license is not in Latin script. Check with your car hire company or embassy if you're in doubt.
You must have at least 3rd party insurance for your vehicle.
Your car must be considered roadworthy in the country in which it is registered.
Your headlights must be adapted for driving on the left if your vehicle is registered outside the UK.
Unlike France, the UK does not have laws that require you to carry certain equipment in your car, but that doesn't mean that you shouldn't. Being prepared in the event of an accident or a breakdown is invaluable. Ideally, you should carry a reflective jacket, a warning triangle, a first-aid kit, and a fire extinguisher.
Understand insurance options, mileage limits, and fuel policies before booking a rental car.
Check the car for damage on collection and make sure anything you spot is noted, and the same again when you drop it off.
Remember to drive on the left during your trip to England!
RELATED POST: Driving in Europe – Everything You Need to Know
Are you looking for more road trip itineraries? Check out these top posts…
One of the best ways to explore the beautiful country of Croatia is by taking a road trip, where you can drive along winding coastal roads, visit charming towns and villages, and discover off-the-beaten-path hidden gems. In this Croatia road trip guide, we'll share some of our favorite road trip routes and destinations in Croatia, along with tips for planning your own adventure on the open road. Get ready for an unforgettable journey through one…
Love it? Pin it!