This post may contain affiliate links, from which we earn an income.
Outdoor Activities in the New Forest
In Hampshire you'll find the gorgeous New Forest, perfect for outdoor adventures. This national park is home to ponies, rare breed cows and pigs (yes, pigs!) roaming wild, and is a playground for hikers, cyclists and water sport enthusiasts. Head here for a New Forest activity holiday and you will find so much to see and do. Our guide will provide all the information you need to visit the New Forest and we'll share a few local secrets too!
Having lived and worked in the New Forest national park for nearly a decade, we know it well and can promise you and your family a friendly welcome whether you're road tripping in the forest, visiting for a day trip, weekend break or annual holiday. We are sharing with you our favourite places, things to do and activities around the New Forest area and also a few suggestions of places to take some chill time after all your activity!
If you are heading to the New Forest in Hampshire and want to hire a motorhome or campervan, there are a number of providers in and around the area. Just Google 'new forest motorhome hire' or 'new forest campervan hire' to find the best deals.
If you prefer to pitch a tent for a spot of New Forest camping, the head to Camping in the Forest for a great selection of sites with open access to the forest. Remember that wild camping in a motorhome is prohibited overnight, anywhere in the New Forest.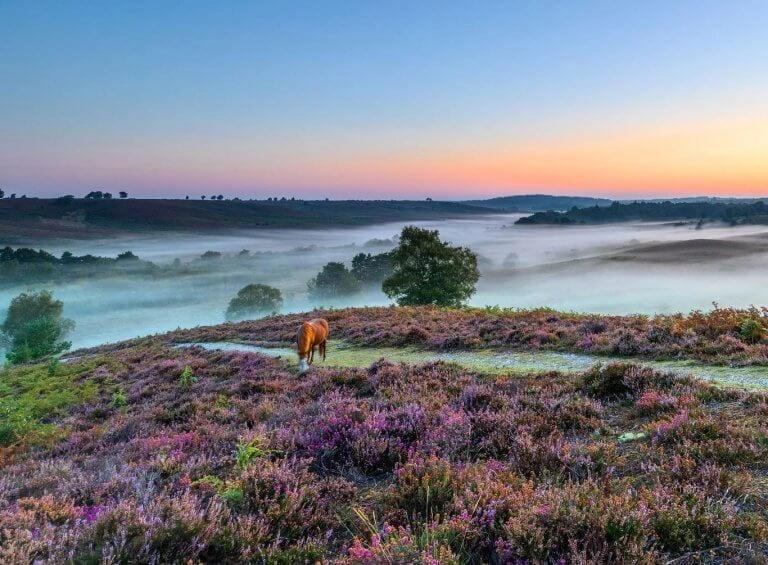 Map of Things to Do in the New Forest
Top 16 New Forest Activities
Walking Around Fritham
Up in the north eastern edges of the forest is Fritham, a tiny village with a fabulous dog friendly pub, The Royal Oak.
Fritham is the starting point for some great hiking. Known by locals as the bluebell woods, this part of the forest is literally carpeted in spring; visit the New Forest in October and you may be lucky enough to spot fallow buck deer clashing antlers on several of the ancient rutting grounds in the area.
There is a purpose built car-park in Fritham where you can park, get there early on the weekend as it gets busy.
Follow this guide for our favourite hike through the woods and across Fritham Plain where scenes from 'Robin Hood; Prince of Thieves' were filmed. The walk is around 4.5 miles and will take you 2-3 hours.
From the main car park, walk back towards the road and then take a sharp left past the Forestry Commission barrier onto the track.
The track will fork after about 1/2 mile, keep to the left fork; you are now in Islands Thorns Inclosure.
You will cross a small stream on a wooden bridge. Continue to bear left on the main track.
Not long after this, you'll come to the start of a small hill. Half way up the hill is a cycle route sign on the right hand side. Opposite this sign, turn left and go through the gate; you are entering Amberwood Inclosure.
Keep on this track ignoring any junctions; it is a narrower track but gravelled which makes for easy walking.
You will go down a long hill and the track bears to the left. Just after this on your right you will see a wooden Memorial bench dedicated to New Forest film maker and conservationist Eric Ashby …stop and take a breather!
Keep on this track and you will cross a small stream before going through two five-bar gates. Fallow Deer are often seen in this area…eyes peeled!
Follow this track around a few bends and up a hill. At the top you'll go through another five-bar gate and out onto the heath.
Follow the track round to the left and keep going until you get back to the car park.
Go through the main car park and across the common to The Royal Oak, order a cold beer and a pasty (the menu is small but perfectly formed), relax and enjoy!
Fritham is one of the best places to visit in the New Forest; you will come back to time and time again.

Woodland Adventure Day
Practice your bushcraft, archery and rope skills during this full-on multi-activity day just outside Beaulieu. Learn how to light a fire and build a woodland shelter then test your archery skills. After lunch, you'll explore a low ropes course before taking to the trees for a high ropes adventure.
Walking at Lepe Country Park
Right at the most southern coast of the New Forest is Lepe, a stunning stretch of coastline with views across the Solent to the Isle of Wight and Portsmouth. This walk takes you off the beaten track a bit but you could make a sneaky visit to the stunning new visitor centre and cafe for lemon drizzle cake!
At the junction of Lepe Road and Inchmery Lane (50°47'12.1″N / 1°22'16.0″W) are a few places where you can park. From here, head south on the very obvious track which starts right at the junction. Around 120m later you will see the sea, follow the track down to the beach. Head left along the shore, enjoying the amazing views of the Isle of Wight; this is a great place for a quiet picnic with lots of beach all to yourselves!
A little way on you will pass Lepe Watch House, which perches above the sea and makes for fantastic photos. Continue on until you see the visitor centre in the distance and then take the first sharp left off the beach onto Lepe Road. Walk up the short hill, past the old fisherman's cottages and keep going along the lane until you get back to your car.
Alternatively, and for a longer walk, head through the car park, past the visitor centre and into the country park. This route leads to the beaches between Lepe and Calshot where you can explore New Forest history and see remnants of World War Two history from D-Day.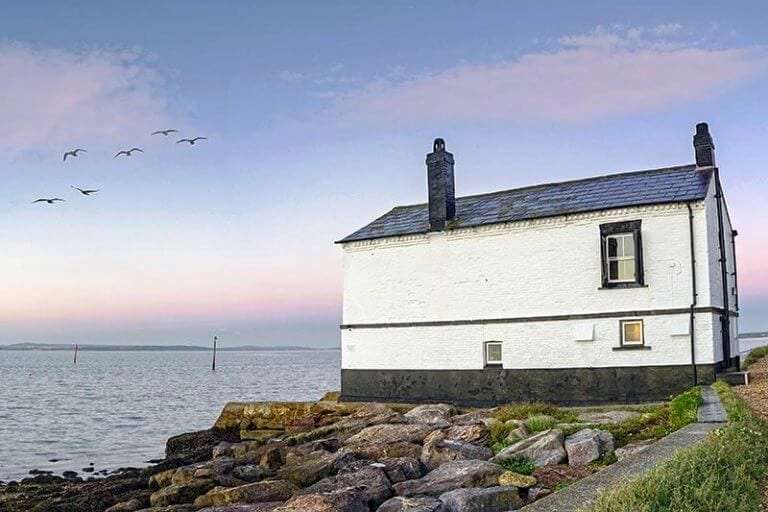 Water Sports at Calshot
If you're more interested in the water and wind on your New Forest visit, then head east to Calshot, the great spit of land at the opening of the Solent. This is the perfect spot for kite surfing, windsurfing, many New Forest paddle sports and sailing. Check out 24-7 board sports for more details on sessions, kit hire and general information. If you prefer a gentler experience, find out the best places to paddle board in Hampshire here.
Calshot Indoor Activities Centre
If land based activities are more your thing, the indoor activities centre at Calshot offers 1200m2 of climbing with over 125 routes which is suitable for both beginners and experienced climbers.
There's also a dry ski slope where you can hire equipment and practice your moves. Add to all that the only indoor banked velodrome in the UK and you've got a lot of options for land-based activities.
Head for Hurst Castle
Head to Mr Pinks in Milford on Sea for freshly caught and fried fish and chips. Jump in your car with the bootie and make your way down through Keyhaven and along Saltgrass Lane until you get to the beach. Park and walk up onto the incredible pebbled spit, find a suitable rock, unwrap and eat! What better way to enjoy the national food of England than on a beach with amazing views of the Isle of Wight Needles and Hurst Castle.
If you want to walk off your fish and chips, head along the spit to Hurst Castle, which is well worth a visit. Part fort, built by Henry VIII and part WWII artillery base, you can wander the ramparts and see what life was like for those that lived there. For more info, go to the English Heritage website.
Make sure to check out the iconic Hurst Point lighthouse as well, another great photogenic building. For a few pounds you can get a boat across Keyhaven lake and back to your car.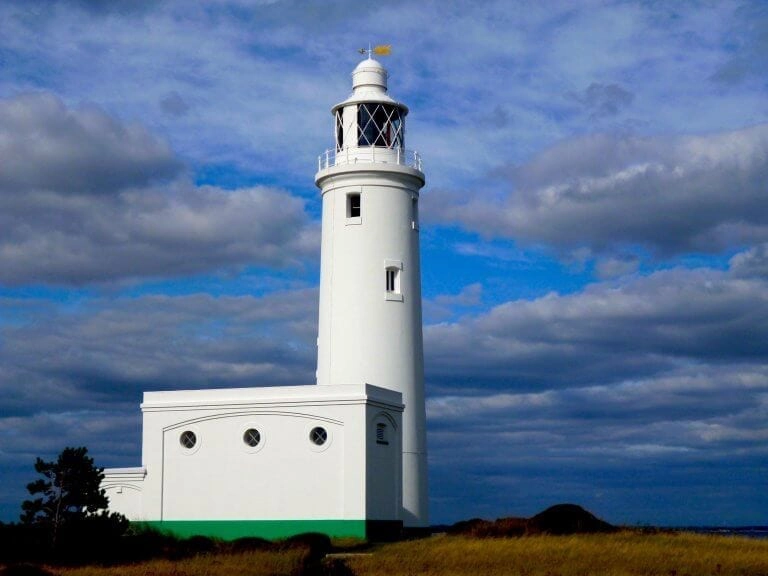 Have a Cuppa at the New Forest Lavender Farm
The New Forest Lavender Farm is a peaceful and pretty place to stop by for an hour or two. When the lavender is at its most abundant and the wild flowers, which are planted annually, are in bloom why not sit and enjoy the constant buzzing of happy bees with a cup of tea?
Their home-made savoury cheese scones are legendary; enormous, packed with flavour and served with slabs of cold local butter, this is a meal in itself. If you go before 11am, you can enjoy your scone with crispy bacon and maple syrup …absolute heaven.
If you enjoy a theme park, Paultons Park and Peppa Pig World are a few miles south on the A36, a great place to visit if you have kids with you, or just enjoy an adrenalin inducing fairground ride!
Take a Sea Kayaking Tour
Book a kayaking course or tour with Liquid Logistics and head out into the Solent with a qualified instructor. These guided tours are a great way to get the heart pumping and enjoy the wide open spaces, pretty harbours and calm bays.
New Forest Cycling from Brockenhurst
The New Forest has over 100 miles of car-free approved cycle trails and Brockenhurst is right in the middle, making it cycling central!
Bring your own bike or head to Cyclexperience for New Forest bike hire right in the village. You can park a motorhome or campervan easily in the British Rail car park at Brockenhurst station. One of our favourite routes is Brockenhurst to Rhinefield, an eleven mile trail along gravel tracks through heathland and woodland inclosures. For a map and detailed instructions click here.
Try the beautiful ride along the Setthorns Loop, which runs along an old railway track. This trail showcases the best of the forest, passing through different landscapes; you will be sure to see wildlife and lots of New Forest ponies on this route. Be warned, they can be feisty and don't like being approached.
Pedall offer excellent services and adapted bikes for people who need support to cycle in the New Forest.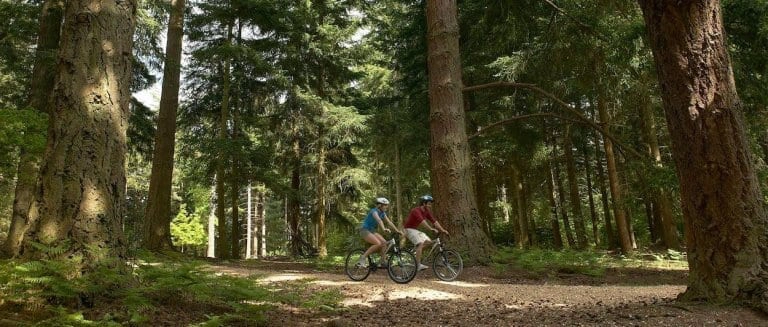 Take a New Forest Paddle
One of the best New Forest activities for families with kids is canoeing or kayaking the New Forest Beaulieu River, a fantastic way to enjoy the the nature reserve and creeks of this tranquil tidal area. You don't need to have any experience to participate when you book through the New Forest Activity Centre at Hazel Copse Farm. You can also buy a New Forest activities gift voucher and surprise someone with a kayak or canoe adventure.
Visit Bucklers Hard
Afterwards head for Buckler's Hard, a hamlet on the banks of the Beaulieu River. With its Georgian cottages running down to the river, Buckler's Hard is a truly beautiful spot. Originally founded as a free port for the trading of sugar, Buckler's Hard actually flourished as a naval shipbuilding site and has become famous for building warships for Nelson's Navy, including three vessels that took part in the Battle of Trafalgar.
Head for a well deserved drink and sandwich at The Master Builder's pub. From the pub you can wander down the street to the Beaulieu River and see where Nelson's ships were built.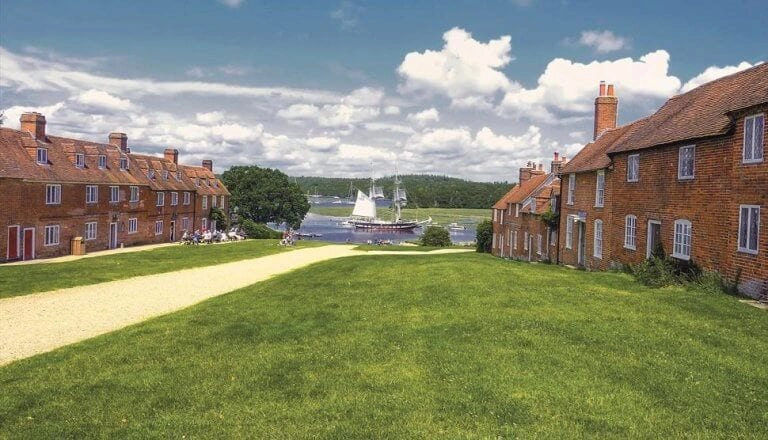 Visit the National Motor Museum
If you've got time after all that, the National Motorhome Museum just down the road has a permanent collection of over 250 vehicles as well as a James Bond exhibition and is well worth a visit.
Have Fun at the New Forest Water Park
Head west towards Fordingbridge to the New Forest Water Park. Here you can cable wake board, stand up paddle boarding (SUP) and have the most fun in a swimming costume on the inflatable aqua park. Believe me, it's a lot harder than it looks! There are enough activities to keep you occupied here for a least a day, they have a campsite if you fancy spending the night!
Visit the Sammy Miller Motorcycle Museum
Sammy Miller is a motorcycling legend, eleven times British Champion, winner of over 1400 events and still winning competitions more than 50 years after his first victory.
The Museum houses one of the finest collections of fully restored motorcycles in the world, including factory racers and exotic prototypes, with the collection constantly evolving as new bikes are acquired. This is a living museum with almost every motorcycle in the museum in full running order. Sammy regularly demonstrates the bikes at race circuits in the UK and Europe and on Museum event days.
As with all good New Forest attractions, there is also a tea room serving delicious cakes and a small petting farm to keep youngsters entertained.
Enjoy a Shoot 'Em Up!
Battlefield LIVE is a digital combat game experience, utilising outdoor environments and the latest in infra-red gaming gun technologies. Choose your weapon, discuss your tactics, aim down the red-dot sight and take out your opponents! Described as a cross between a grown-up laser tag and pain-free paintball, this is a great team building activity. You can also book open sessions for families or throughout the summer.
Take a Horse Riding Tour
Head to the Burley Villa School of Riding and enjoy an afternoon hacking through the peaceful forest. This riding school offers lessons and forest rides in the local area, across heathland and along forest trails.
If you love activity and a bit of adventure, then check out our adventure travel posts where there is something for everyone, no matter the size of your comfort zone! Or head here for ideas and information on great weekend getaways in the UK.
Are you looking for more United Kingdom travel inspiration? Check out these top posts…
If you're looking for a scenic road trip that will take your breath away, look no further than the Atlantic Highway. The A39 winds its way through the stunning coastal landscapes of Devon and Cornwall, offering some of the most breathtaking views in the UK. In this five day Atlantic Highway road trip guide we share travel tips, a fantastic route that hits all the top spots, things to do and see along the way…
Love it? Pin it!