This post may contain affiliate links, from which we earn an income.
What To Do in London in One Day
London, the capital city of England and the United Kingdom, is one of the most popular tourist destinations in the world, and with good reason. A true melting pot, London is famous for historical sites interspersed with modern skyscrapers, Royal traditions, British charm, and elegant green areas hidden amongst vibrant neighbourhoods.
In this London travel guide, you'll find a complete one day itinerary of all the most important must see London attractions, with an interactive map, organised to make the best use of your time.
We also share recommendations for central places to stay, ideas about where to eat local food, and tips about how to make the most of your 24 hours in London.
When to Visit London
London is a beautiful city no matter what time of year you visit. The summers are not too hot, the winters are not too cold. But I would say that rain is inevitable, so it's best to embrace it, and don't leave your hotel without an umbrella!
As a green city, London's many parks spend the spring and summer months in full bloom with seas of colourful flowers and plants. Summer is also one of the only chances you might get to see inside Buckingham Palace, the Queen's official London residence. However, summer is also the busiest time in London, especially mid-July to early September, which is when the school holidays are in the UK.
To avoid the crowds, you might want to look at late March to April, or mid-September through to November. It might be cooler, but to have more of the city to yourself and better deals on flights and hotels, so it's perhaps worth it.
December is a magical time to visit London with many Christmas celebrations, dazzling festive lights and decorations adorning the major streets, outdoor skating rinks and plenty of shopping from busy high street stores to local Christmas markets. Much like summer, December in London can be busy and result in higher prices.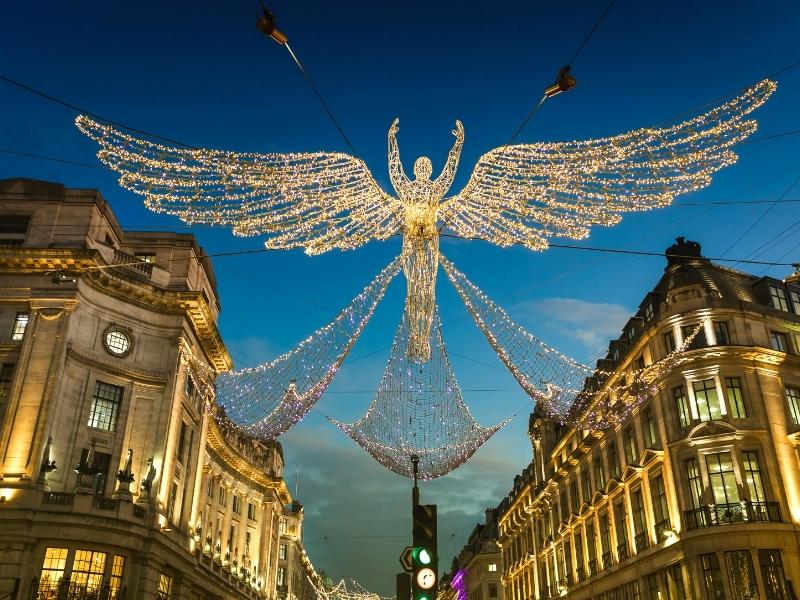 Where to Stay in London
For Road Trippers
Driving into central London is not for the faint hearted. Not only are the roads incredibly busy, there are also the London Congestion Charge, the Ultra-Low Emission Zone (ULEZ) and the Low Emission Zone (LEZ) to contend with. Our hotel recommendations have information about charges, parking and how to get into the city if you choose to stay outside.
If you want to be right in the middle of buzzing London, stay at The Trafalgar St James Hotel. This recently re-opened hotel is tucked into the south west corner of Trafalgar Square itself, giving unrivalled, on the doorstep access to the beating heart of the city.
With friendly staff, luxe bedrooms and a to die-for roof terrace bar, where you can get up close and personal with Lord Nelson atop his column, this is a fantastic spot to lay your head after seeing the best of London in a day.
Alternatively, head for lively and eclectic Covent Garden and the perfectly located Henrietta Hotel on Henrietta Street, just behind the main piazza.
Designed in an eclectic retro style, this intimate hotel offers quirky corners, informal service and a very, very good breakfast, making it an ideal hotel for a night and a day in London.
Park and stay at the Park Plaza Park Royal, which is outside the congestion charge zone. A fairly generic business hotel, the interior is modern and clean. Rooms are comfortable and services efficient. The hotel is easily accessible from the M4, M40 and M3 motorways.
For Motorhomers
What to See & Do in London
The great thing about London is that a lot of the major sights you'll want to see if you're on a flying visit are located a short distance from each other.
Even the outlying activities and attractions are easily reached once you get the hang of the London Underground public transport system, definitely worth doing if youre spending two days in London.
London One Day Itinerary Interactive Map
How to use this map – Use your fingers (or computer mouse) to zoom in and out. Click or touch the icons to get more info about a place, and click the arrow in the box top left to open the index. To add to your own Google Maps account, click the star next to the title of the map.
Morning
London Museums
To try and beat the crowds, and sometimes long lines in busy seasons, start your day at the city's museums, without doubt one of the best free things to do in London. The Natural History Museum, the Science Musuem and the Victoria and Albert Museum are all great options, and are conveniently situated next to each other on Cromwell Road at the South Kensington Tube station.
The Natural History Museum, with its endless rooms of animals, plants and dinosaurs, will keep kids both young and old occupied for hours, and is a favourite London place to visit for families.
Interactive and thought-provoking, the Science Museum is a great place to see, touch and experience science first-hand. From space travel to IMAX, there's something for all the family.
The Victoria and Albert Museum next door focuses on the history of art and designs, whilst bringing it to life for the visitor.
It's a bit less stodgy than the British Museum in Bloomsbury, which has over eight million artefacts and could take you weeks to get around!
St Paul's Cathedral
There has been a place of worship where St Paul's Cathedral stands on Ludgate Hill for over 1400 years. This whole area of London is steeped in rich history, from Roman remains and medieval buildings to the the Great Fire of London in 1666, which devastated much of the area, including the 'old' St Paul's Cathedral.
Designed by Sir Christopher Wren and built between 1675 and 1710, this glorious cathedral is famous for its dome, at 111m high it is one of the highest in the world. St Pauls has been a feature on the London skyline, surrounded by the smaller spires of Wren's city churches, for over 300 years.
Highlights of a visit to St Pauls include the Crypt, where you'll find the tombs of Sir Christoper Wren himself, as well as those of Admiral Lord Nelson and the Duke of Wellington, and the Whispering Gallery, which clings to the base of the dome structure and provides fantastic views both above and below. A visit to St Pauls really is one of the unmissable things to do in London in one day.
TOP TIP: It's probably too far to walk the four miles to St Paul's Cathedral from South Kensington, so hop on the tube. Take the District and Circle line (the green and yellow one) to Cannon Street station, from there it's a four minute walk to St Pauls.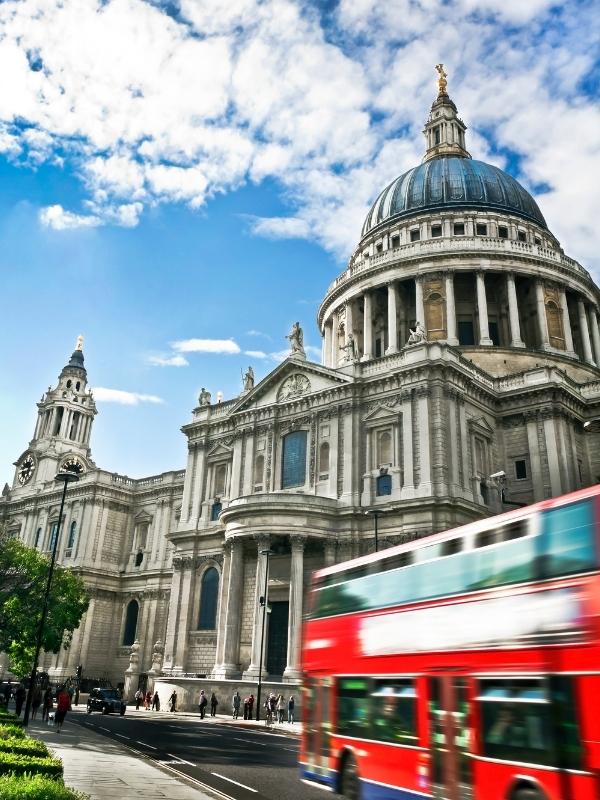 Afternoon
Shakespeare's Globe Theatre
In the afternoon walk off your lunch with a stroll over the Millenium Bridge along Bankside, next to the Thames. Wander past cute local streets and shops while being serenaded by exceptional street musicians, until you arrive at Shakespeare's Globe Theatre, where there will no doubt be a "poet for hire" outside to write you a sonnet for a fee.
Although not the original theatre, which burned down centuries earlier, this one stands close to the original site and is an almost identical replica right down to the thatched roof.
The circular shape helps achieve the best possible sound quality for the performances, there are cheap standing tickets and only certain seats (the more expensive ones) are covered in case it rains.
And it's London, so it very well might! Otherwise the theatre is open to the elements, but well worth a tour, or if you have time and the performances line up, catch a matinee.
TOP TIP: If you have the energy, why not come back and catch a midnight matinee? Starting at 11.59pm, as the city is going to sleep (as much as it ever does), you'll enjoy an atmospheric performance, with the added drama of watching the play under the stars.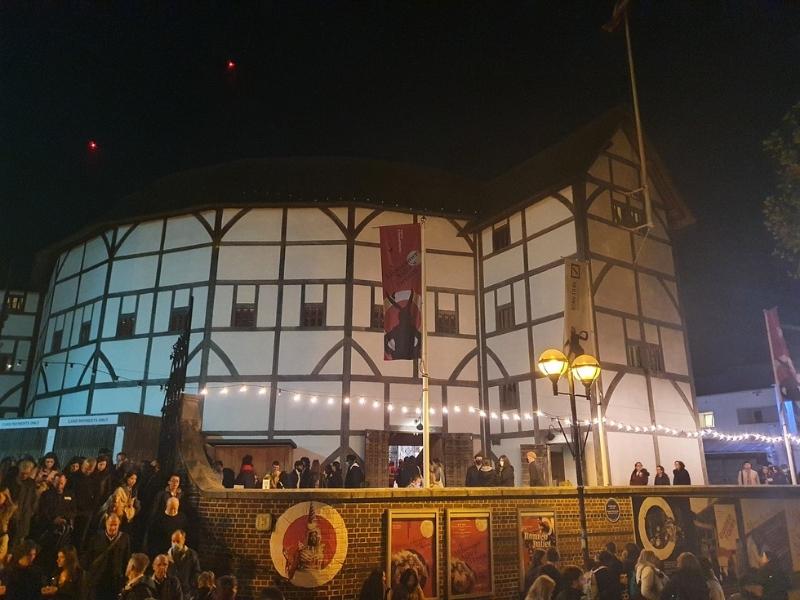 Tate Modern
If you prefer your art to be a little more contemporary, skip the Globe Theatre and make for the Tate Modern, home to the nation's collection of British and international modern art from 1900 to the present day.
The Tate Modern London is housed in the former Bankside Power Station. The building is almost the same size as Westminster Abbey, with the iconic central chimney standing 99 meters tall. The building was converted and opened to the public in 2000.
TOP TIP: The best bit of this building is the top floor of the Switch House, which has a viewing terrace with far-reaching views over the London skyline, and can be accessed free of charge! The view of the dome of St Paul's Cathedral is particularly impressive.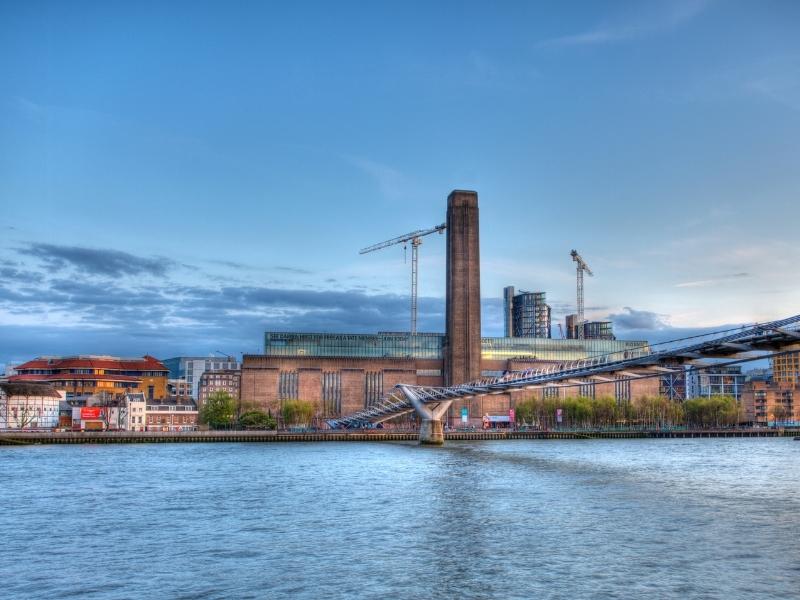 South Bank
With historical buildings at every turn, gorgeous views of this iconic city, and a less frantic feel than being in the centre of London, you're guaranteed to love the walk from Shakespeare's Globe and the Tate Modern, all the way along Bankside and the South Bank.
You'll pass the Royal Festival Hall, and the elegant steel pedestrian Golden Jubilee Bridges on the way, as well as a colourful and eclectic collection of market vendors, food trucks and street performers.
London Eye
The London Eye is a fantastic way to see the city, with panoramic views over all of London's historic and iconic buildings. You'll have plenty of time to take photos and check out the key tourist attractions from the air!
The eye is one of the tallest observation wheels in the world, and London's top attraction, so you need to book well in advance. We recommend choosing the fast track option with your ticket – you'll get on board in half the time.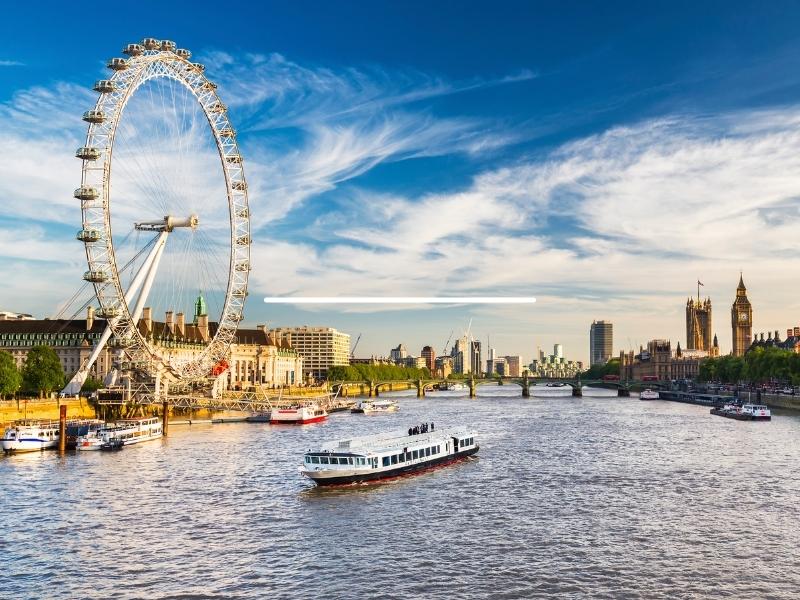 SEA LIFE Centre London Aquarium
Home to over 500 species in fouteen themed zones, SEA LIFE is a popular attraction, especially if you're visiting London with kids.
Explore the frozen extremities of the Antarctic and meet Gentoo penguins, step into an incredible interactive jellyfish experience (if you dare!), stroke a starfish and discover the UK's largest living coral reef.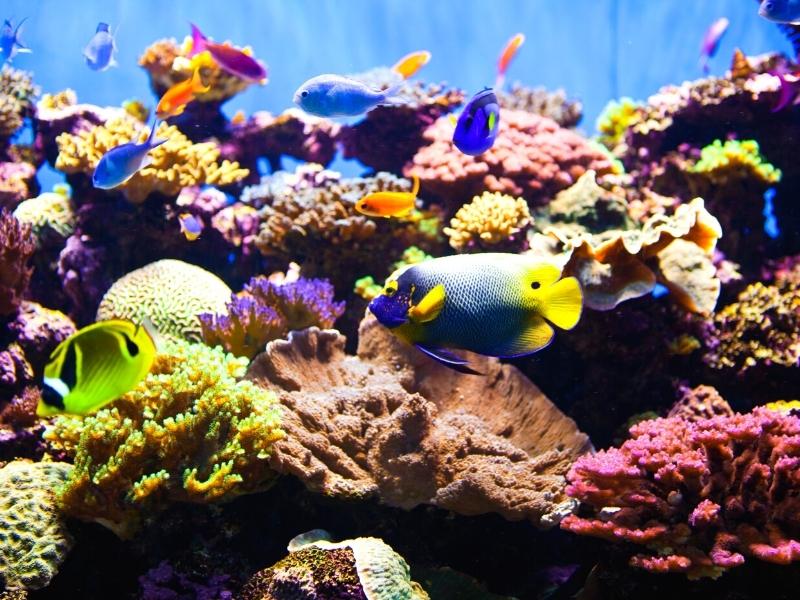 Houses of Parliament
As you reach Westminster Bridge you'll get an impressive view of the Houses of Parliament, also known as the Palace of Westminster, and Big Ben, which just gets more amazing the closer you are, walking across the bridge.
The British government buildings are anything but stuffy and boring. Consider spending longer here and plan a tour of the buildings.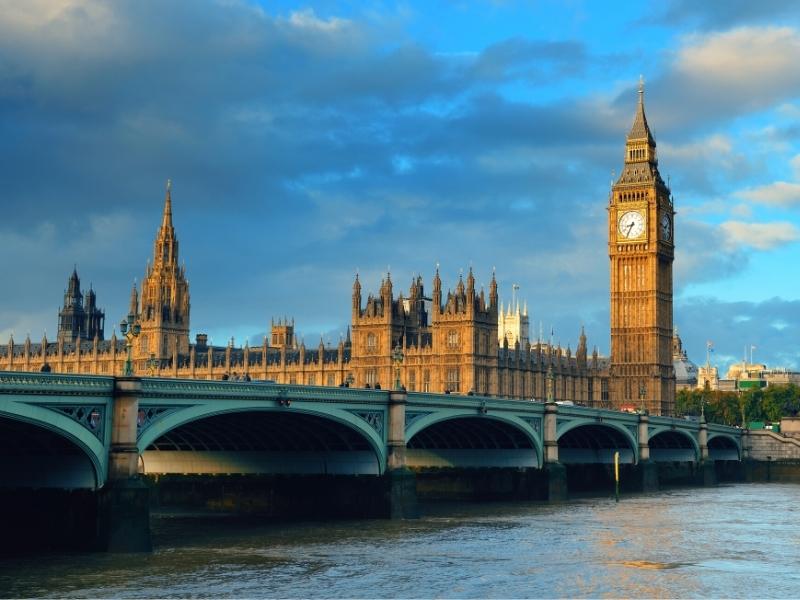 Buckingham Palace
Explore the area around Parliament Square Garden to see Big Ben and Westminster Abbey, before take a right into Parliament Street for a quick view of Downing Street, where the Prime Minister lives.
Parliament Street becomes Whitehall at this point, and if you continue along, you'll see mounted soldiers of one of the Household Cavalry regiments guarding the entrance to Horse Guards Parade. Unless there is an event on, their role is purely ceremonial and you can pass through, whilst admiring their very shiny boots, to the parade ground itself.
You'll notice an ivy clad building on the corner of the parade square, this is the Old Admiralty Building, which is opposite the War Rooms (part of the Imperial War Museums), from where Churchill planned his World War Two victory.
From here, head right through pretty St James's Park to The Mall. Stroll down this famous London street towards Buckingham Palace, known affectionately by Brits as 'Buck House', residence of the Queen and her family.
The Palace, if you're not at a time of year to be able to explore inside, is still one of the top attractions in London. It's easy to see why, with its regal status and the ever-present hope that the Queen might be waving back from one of the windows. She probably won't be, but fans of The Crown can pretend!
TOP TIP: To see the Queens Guard close-up, heading back towards the Admiralty Arch from Buckingham Palace, take a left after the Africa Statue before taking a right into Cleveland Row. Here you'll find the 'back door' to Clarence House and St James's Palace, which is guarded by a soldier in full ceremonial gear, including a bearskin. Have a photo taken, but don't try and engage – you'll just get silence!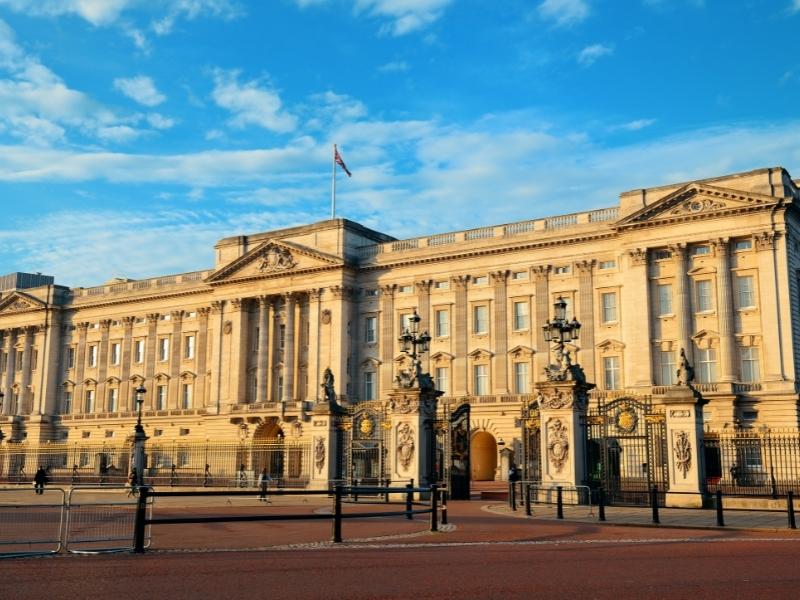 The West End
From Buckingham Palace you can walk back along The Mall or Picadilly until you reach Trafalgar Square. This famous large square is home to Nelson's Column and the four enormous Landseer Lion statues, and the gateway to London's West End theatre district.
It's also home to The National Gallery and adjacent National Portrait Gallery, which houses probably the most well-known painting of Queen Elizabeth I, by an unknown artist.
Before you leave the square, make sure to admire the architectural gem, St Martin-in-the-Fields church. From here, you can loop up to to the ever-busy Piccadilly Circus, before meandering on to Leicester Square and Chinatown.
From there, make your way into the delightful tangle of lanes between Charring Cross Road and lively Covent Garden. Lined with bookshops, independent traders, cool cafes and traditional pubs, these alleys are a lively place in the late afternoon.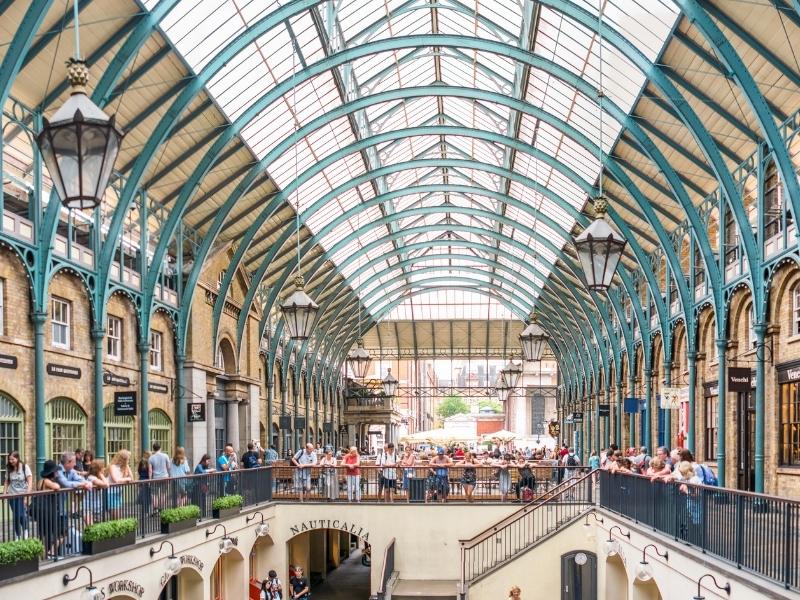 Evening
After a filling dinner at a traditional British pub the best way to top off any night in London is a trip to the theatre. The West End is littered with theatres big and small, showing everything from world-wide hits like Phantom of the Opera and Lion King, to independent plays featuring a celebrity actor or two if you're lucky.
Take the opportunity to get a little dressed up and soak in the majestic splendour of an old West End theatre. If your show finishes early enough, enjoy a night cap in a cool and quirky Soho bar before going back to your hotel.
Other United Kingdom Travel Guides
Where to Eat in London
Borough Market
This mid-19th century market standing under the south end of London Bridge is about at traditionally English as you can get and is the perfect place to find a variety of food for lunch.
On a nice day, grabbing some locally made food here then wandering over to Bankside, just a couple minutes away, to sit on the wall and eat your lunch with a fabulous view of the city, is one of the best things to do when in London.
One side of Borough Market is mostly produce, fresh meats and locally crafted deli items that you can take home. The other side has stalls stocked with crafts, baked goods, delectable sweets and hot food where you can sample many different cuisines.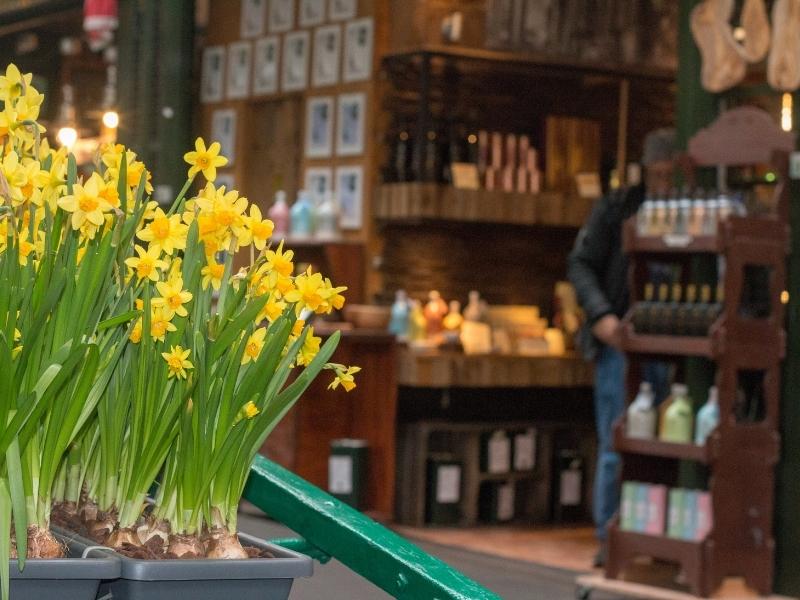 The Old Bank of England
A proper British pub, the Old Bank of England serves traditional English pub food such as fish & chips and steak pie, alongside more modern, but equally delicious dishes. The food is excellent, but the setting is even more so.
The pub is within the building that was the law courts branch of the Bank of England up until the 1970s, it makes the ideal setting for a hearty meal and cold pint of beer when you're visiting London.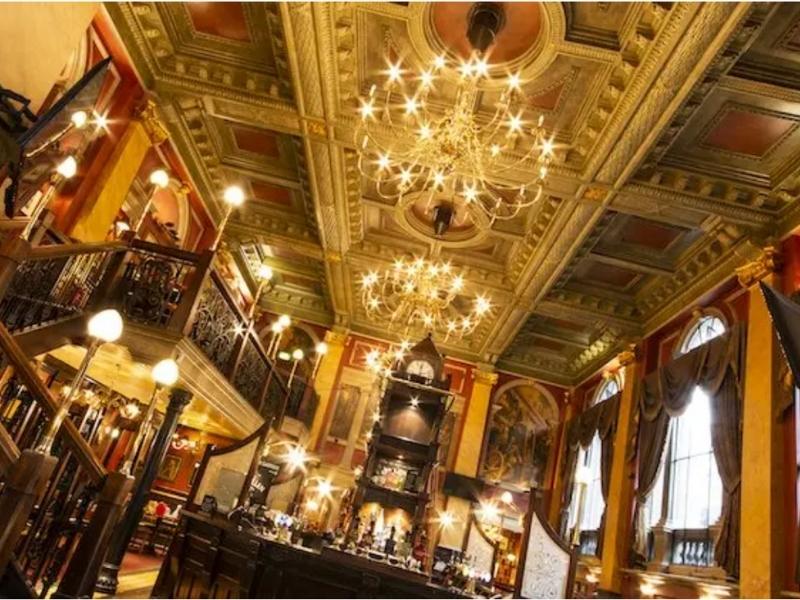 Top Five London Travel Tips
Get an Oyster Card. The Tube is expensive, but it will save you time (and feet). Getting a reloadable Oyster travel card gives you single fares for about half the price of paying cash, so even being in London for one day means you will save on getting around.
Skip the London Pass, buying the pass will actually cost you more than if you follow our itinerary, where many of the suggested attractions are free, thus giving you a relatively cheap day in London.
If you want to time your visit with the Changing of the Guard ceremony at Buckingham Palace, you might need to switch your morning and afternoon activities as it happens daily around 11am (10am on Sundays). But whatever time you go you'll see the guards on duty outside the palace.
Plan indoor activities and be prepared to flip your itinerary depending on the weather. London can be rainy, but having a museum, exhibition or other indoor activity as a backup plan is a great idea.
Head to one of the ticket booths around Piccadilly Circus or Leicester Square for cheap 'day of show' tickets. The best way to see a West End show for less, if you're not fussy what you see.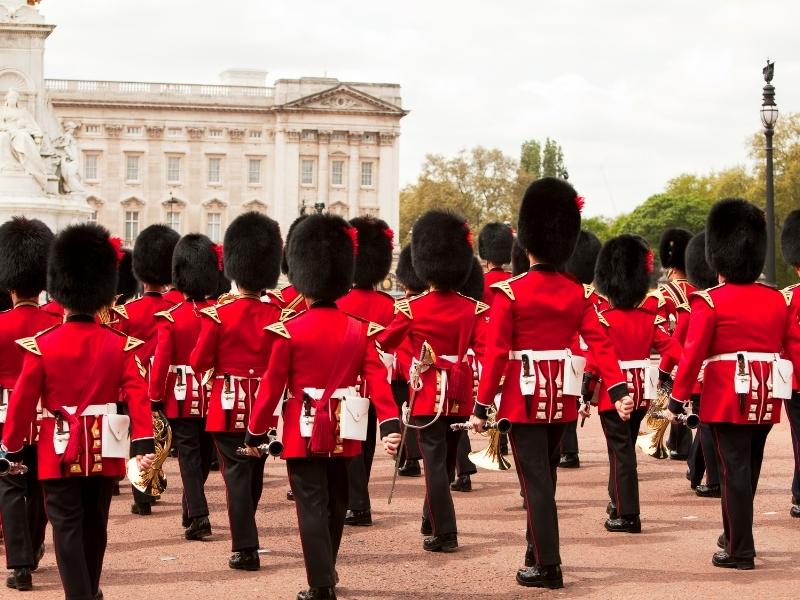 More Than One Day in London
If you have just another half or one day in London, add these things to do in London and day trips to your London itinerary;
Explore the Tower of London
The Tower of London is an almost 1000 year old castle in central London with a long and gory history. Two of Henry VIII's wives were imprisoned here before they were beheaded. Today you can see the Beefeaters and ravens that guard the Tower, learn of the torture devices used on prisoners and see the priceless crown jewels up close. You'll also have great views of the famous Tower Bridge from here.
Discover Stonehenge
The ancient stone circle of Stonehenge is even more incredible in real life than it is in any pictures you've ever seen. This fantastic, highly reviewed, full day trip from London to Stonehenge also covers the Royal Windsor Castle and Roman Bath, giving you three historic British destinations in one!
Harry Potter Studio Tour & Oxford Day Tour
If you take one day trip from London, make it this highly recommended and well organized day trip.
Starting in historic Oxford, home to England's oldest university, you'll enjoy a guided walking tour that takes you past famous college buildings, cloisters, quadrangles, and cobblestone squares. See the famous Bodleian Library, Radcliffe Camera and selected colleges.
Your Warner Bros. Studio Tour begins your magical experience at The Making of Harry Potter. Discover behind-the-scenes secrets and hear about the filmmaking techniques used to make the magic of the Harry Potter films. Visit sets including the Great Hall, Dumbledore's office, the Gryffindor common room, the Ministry of Magic, 4 Privet Drive, the Weasley kitchen and Diagon Alley.
Board the original Hogwarts Express train and see a recreation of Platform 9 3/4. Explore the interior train carriage set that was featured during filming and take a selfie with a luggage trolley as it disappears through the brick wall!
With a professional guide to offer insights, an organized tour is the perfect opportunity to see more of England in less time!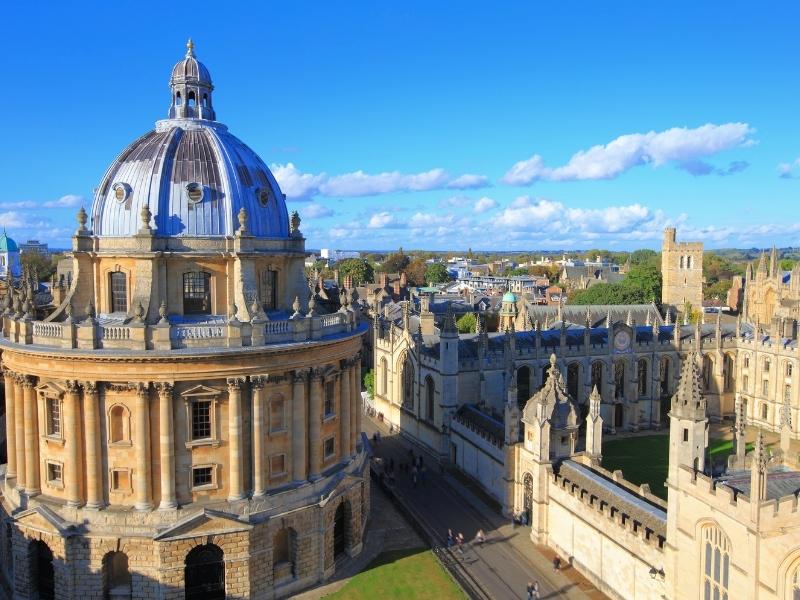 Written for The Gap Decaders by Emma of Forever Lost in Travel.
Are you looking for more United Kingdom travel ideas? Check out these top posts…
Small but perfectly formed, the glorious country of Wales is a road trippers dream. With soaring mountains and valleys, miles of golden sands, craggy headlands and some incredible roads, head to Wales for an adventurous and eclectic road trip.
Love it? Pin it!