This post may contain affiliate links, from which we earn an income.
Road trips have always been a great way to see a country on a budget. But are you getting fed up with the increasing costs of filling your tank? Are you finding that all the associated costs, like hotels and eating out, are going up as well? Yep, us too!
If you want to continue taking road trip vacations without busting the bank, we've put together our top practical, money saving road trip tips and tricks, learned from four years living on the road. Using our travel tips you can plan cheap road trips in Europe, without sacrificing having a great time.
Taking road trips on a budget doesn't need to be a compromise, you can still have the road trip adventure of a lifetime!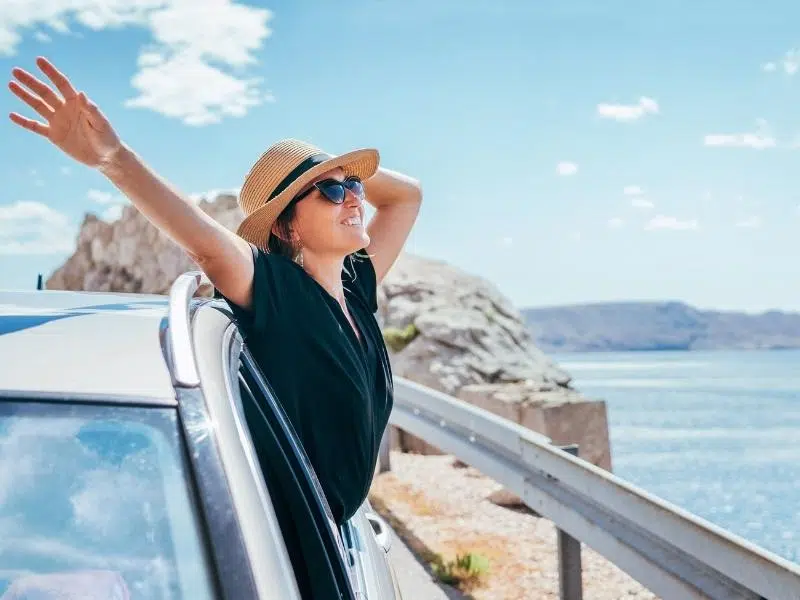 What Does the Average Road Trip Cost?
There are many factors that affect the cost of a road trip, and no trip is truly average! Before you can start budgeting for a road trip, you need to know what type of road tripper you are…
Are you in a car, camper or even on a motorbike? And is your vehicle a gas guzzler? Your fuel consumption will be a huge factor in your costs.
How many are you? Solo road tripping is inevitably going to be cheaper than taking a family road trip.
Where in the world are you going? Even within continents, prices vary greatly. Compare Norway to Spain, and you might find yourself heading south!
What does your itinerary look like? Long days behind the wheel covering huge mileage will having you filling that gas tank much more frequently than if you slow travel over a smaller area.
Where do you like to sleep? Whether you lay your head on a luxury feather pillow, or a roll mat and sleeping bag, will make a big difference in your accommodation costs.
Who's cooking? If you shop for yourself and cook in self-catering accommodation or over a camp fire, or if you choose a restaurant every night, how you eat will also impact your budget.
What's your travel philosophy? Are you in the "I'm on vacation and deserve a treat" school of thought, or do you already see a road trip as a great way to budget travel? We've been in both camps, but now settle firmly into the top end of the budget category.
How much does it cost us? We're a couple traveling in an overland truck, so perhaps use a little more fuel than a car, and don't pay for accommodation, other than the odd campsite. Over a year travelling in France, Spain, Portugal and Norway, we recorded all our costs and we spent $57/€57/£50 a day.
How to Road Trip on a Budget in Europe
1. Set Your Road Trip Budget
Now you know what it might cost per day on a road trip, you can start by putting together your own budget. This is an essential money-saving step in your road trip planning – if you don't have a budget it's easy to let costs run away, and before you know it, you've spent your whole budget in a couple of days! Yep, been there and done that!
There are a couple of good apps like TravelSpend, a travel budget app that helps you set a budget and then track your spend as you're traveling. Or, you could use a good old fashioned spreadsheet to work it all out, or even a pen, paper and calculator.
Either way, you still need to know what to input in the first place! Consider the following;
Fuel – Find out the miles per gallon your car or van does and then look at your route. Work out your gas costs based on your planned mileage and add this to your overall budget.
Accommodation – Plan how many nights stopovers you need and look at the costs of the type of accommodation you prefer in the area where your road tripping.
Food – Allocate an amount per day depending on whether you're eating out, or cooking your own meals.
Travel – Add any ferry, flight and toll costs. Use the free Via Michelin website to work out toll costs of your proposed route.
Activities – Add the costs of tours, activities and tickets to your overall budget.
Contingency – Factor in maybe 10% for extras and prices increasing.
Add it all up so you've got a total spend for the whole trip and then divide this by the number of days you're on the road. That's your daily budget!
Top Tip: Make sure to have an emergency fund should something unexpected happen. It doesn't need to be cash (although some countries like Morocco often won't accept cards) but a credit card with available credit is a good thing to have with you.
Wondering where the heck to go? Get inspiration and ideas for epic road trips across Europe, with detailed road trip itineraries, routes and interactive maps for the best road trips on the continent!
2. Keep Track of Your Spending
If you're serious about saving money as you road trip across Europe, it's a smart travel tip to use one of the apps to work out what you spend each day.
The TravelSpend app is great as it automatically works out your road trip expenses against your budget and lets you know whether you can enjoy a treat, or need a day off spending! You can also see by category your biggest area of spending, which helps you to adjust plans if needed on your trip.
Top Tip: You might spend more one day or have a splurge on something special, but it's easy to make it up by being more frugal the following day.
3. Pick the Right Time to Travel
Everything, and I mean everything, is more expensive during school holidays and national vacations. Not only will accommodation, parking and activities cost more, the roads will be rammed and it will take you twice as long to get anywhere.
School vacations and public holidays are not a fun time to road trip and it's always going to be more expensive. Go in the shoulder seasons for a more budget friendly road trip, and avoid the holidays altogether if you can.
4. Plan Your Road Trip Route
Use a road trip planner tool like Via Michelin or Google Maps to plan your route. We like the former because it also works out toll costs and if you add the details of your car, it calculates fuel costs too.
Using a tool like this will help you compare the costs of using toll and toll free roads. It may feel obvious that it will be cheaper to use non-toll roads, but depending on your start and finish point, the local roads might well take you over mountains, or on a very circuitous route, which costs waaaay more in fuel.
Calculate your route in Via Michelin by selecting your start and finish points and inputting your vehicle details to get an accurate miles per gallon range. The mapping will calculate the fastest route automatically, take a note of this cost. Then calcuate again but this time select 'avoid tolls' and see what it costs – you may be surprised!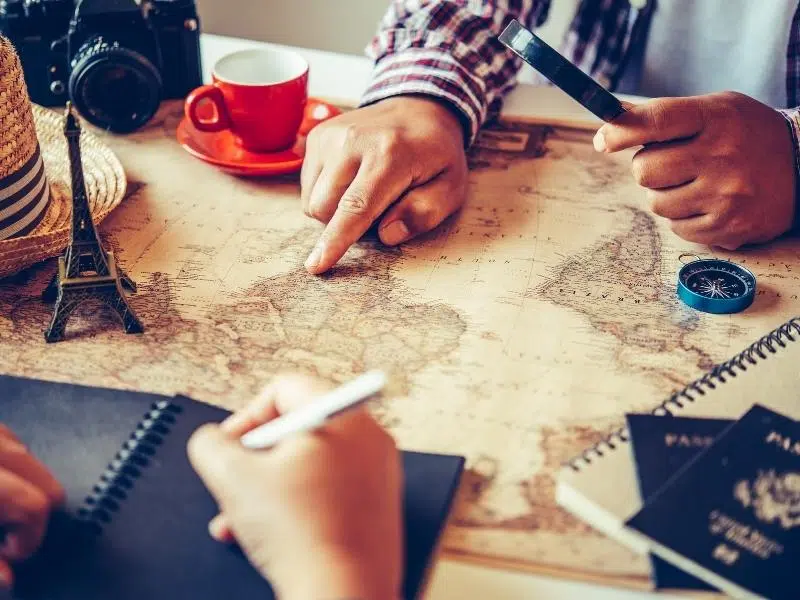 5. Stay Local
One of the things we've learned on our travels, especially during recent years, is that everywhere has something interesting going on. It might be a national park you've never explored, a coastline you don't know anything about, or even your next-door town or city.
A road trip doesn't have to span hundreds of miles – we've spent a week covering a three hour drive before, and it was one of the most interesting and cheapest road trips we've ever taken.
Staying close to home is the cheapest way to road trip, so check out what's around, save money on fuel and love the fact that you don't have to take extra time of work to get there!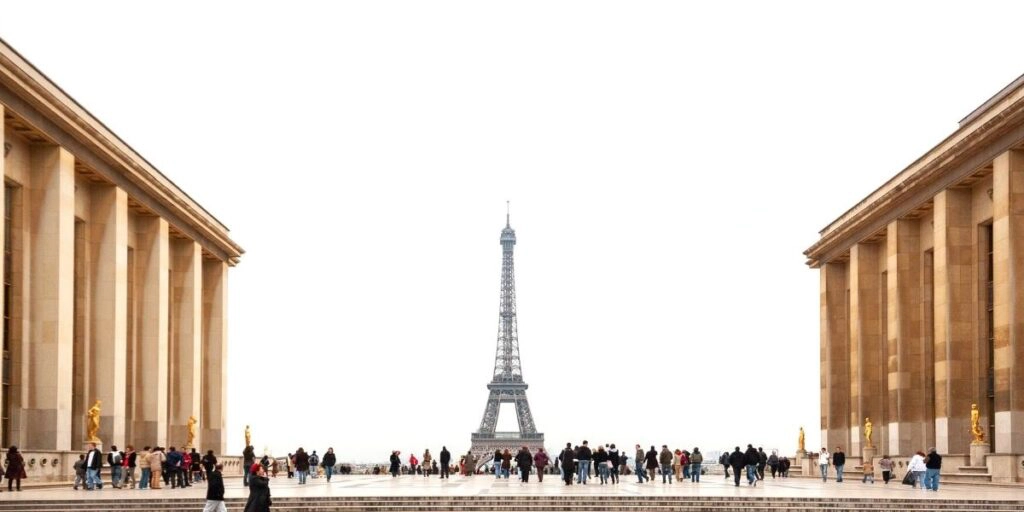 6. Find Free Activities & Events
Research online where you're planning to visit on your road trip. Use Google and search for 'best free things to do in X' and you'll find blogs with exactly this information. Facebook groups about the place are also great sources of information.
Lots of cities have days when museums are free to enter, or have free times towards the end of the day. You can also find free walking tours in most major European cities – you might want to leave a tip at the end, but the tour itself is free.
Countries like Spain and Italy have festivals in many towns and villages throughout spring and summer, which are free to attend, and give you a real taste of local life.
National parks across the UK and Europe are free to enter (unlike in the United States when you need a National Park Pass) and taking an incredible hike, swimming in the lakes and rivers, and following amazing cycle paths are all free activities.
We love a good mooch around a city and wandering is free, but what do you want to see as you discover a new place? Check out our free city itineraries and find out exactly which streets to explore, which bridges to cross for the best views and where to catch the most glorious sunset from – all for free!
Top Tip: Don't leave this research until you're there. Plan ahead as you may need to tailor your itinerary to be in a certain place on a certain day.
7. Travel Light
Do you really need 17 pairs of shoes and a wedding outfit, just in case?
Packing light saves on fuel – the more your vehicle weighs, the more often you'll have to fill the tank. Get our handy printable road trip packing list to help you work out what you need, and what you don't.
If you're in a van, fill up with fresh water and food when you get to where you're going. A full water tank and fridge can add an extra couple hundred pounds (around 90kgs), so it's worth holding off until you've arrived.
If you're a camper with a tent and all your camping equipment in the trunk, check your gear and swap it out for lightweight kit where you can.
THE ULTIMATE ROAD TRIP CHECKLISTS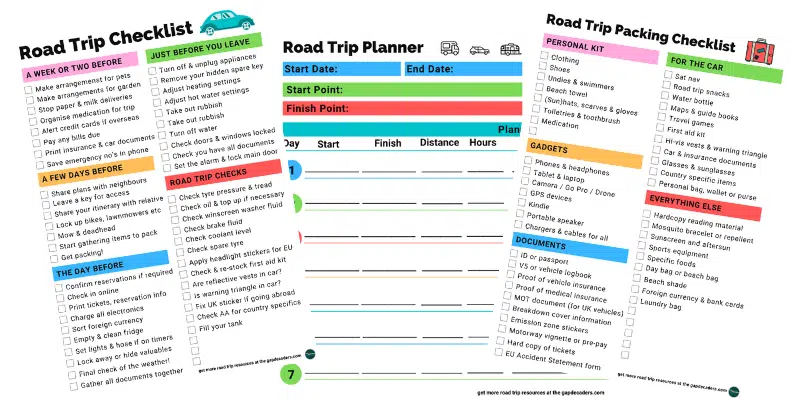 8. Book Cheap Car Hire
If you're flying to another country for your road trip, or don't own a car, then you'll need to book a rental car. Try and avoid one-way drop off when hiring a car as it can literally double the car rental price. If you plan well, you won't miss out by doing a circular route.
Use an aggregator company to get the best deals on car and campervan hire. An aggregator company negotiates on behalf of its customers (that's you) with many different companies to get the best deals.
As one of the largest car hire aggregator companies in the world, we recommend Rentalcars.com because they have massive purchasing power which enables them to secure the best rental prices, which benefits you when you're planning a cheap road trip.
Planning on hiring a car in Europe? Don't do anything until you've read about driving in Europe and European car rental, where we share European travel tips and explain everything you need to know about insurance and how to save money on car hire.
9. Go Camping
If you're wondering how to sleep cheap on a road trip, by far the best way is to use campsites instead of hotels or even Airbnb's, and you don't even have to own a tent!
If you don't want to splash out on a full set of camping gear – and remember, it's not just the tent, but sleeping bags, airbeds or rollmats, cooking equipment and some basic furniture to sit on and eat from – most campsites have self-catering accommodation like huts, pods and cottages to rent.
You might need to take your own bedding and towels, but you'll have everything else you need provided for you. If your hut doesn't have cooking facilities, chances are there will be a communal cooking and dining area on the site. Cooking and eating like this is an easy way to save money on a road trip, and also a great opportunity to meet like minded people on the road.
Top Tip: We always use Eurocampings who have over 9,400 sites listed across 30 countries in Europe, where you can find pitches for tents, campervans and motorhomes, and self-catering accommodation.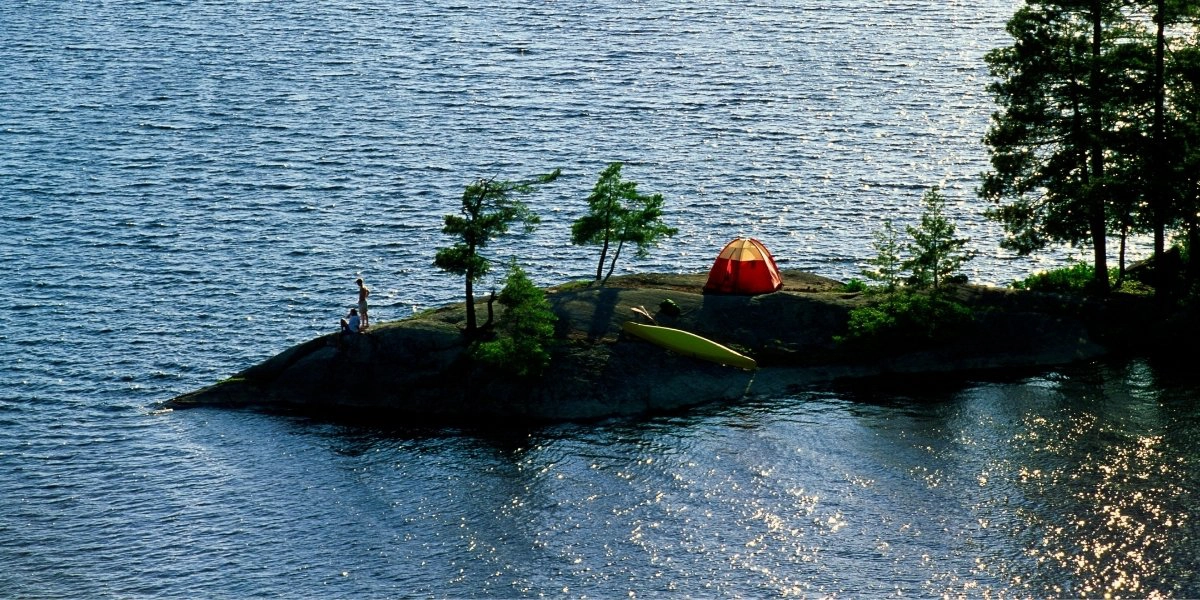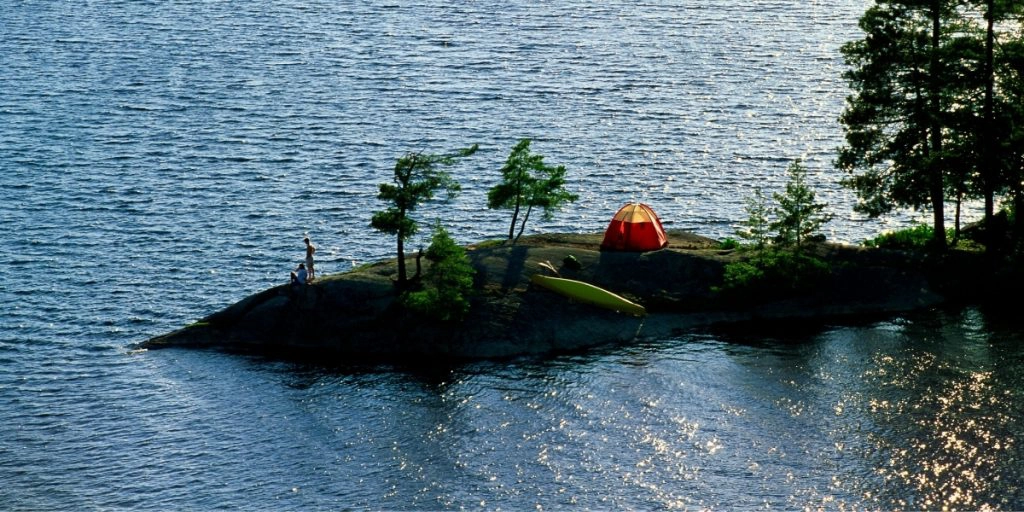 10. Try Out Van Life
If you're not a camper at heart, why not give vanlife a try? A campervan road trip is a great way to tick off all those bucket list experiences you've been dreaming of!
It's a great way to road trip on a budget – you can camp for free and cook your own meals as you enjoy the freedom of the open road.
Top Tip: If you're looking to rent a campervan or motorhome in UK check out Spaceship Rentals who have pick up depots in London and Scotland. For Europe, Motorhome Republic are our go-to rental company.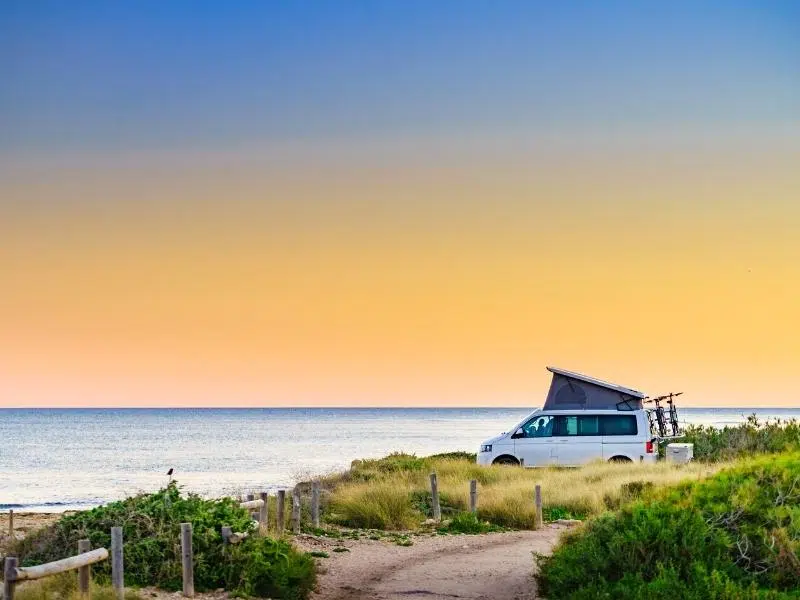 11. Find Discounted and Free Camping
Use Camping Card ACSI to get up to 60% off usual campsite prices in low season. This scheme works however you like to camp – find out more about the various ACSI schemes, and which one is right for you.
There are opportunities to free camp across Europe, but each country is different depending on their own laws and rules. You can't always just turn up and park to sleep or pitch a tent. This country by country guide from Caravnistan has some great suggestions for which apps to use to find free tent camping.
If you're in a van, motorhome or have a rooftop tent, use the Park4Night or iOverlander app to find free camping places which are rated and reviewed by community members, meaning you always get up to date information from campers who have actually used the spot.
Top Tip: Always research a couple of free camping spots, so if your first choice doesn't work out you have a back-up plan.
Want to find out more camping off grid in a van or car? We share the top parking and free camping apps across Europe, so wherever you travel in your van, you can find a place to stay overnight for free.
12. Use a Rooftop Tent
If you don't want the hassle of owning or renting a campervan, what about a roof-top tent?
One up from car camping, a roof tent or rooftop tent is fitted to the roof of a car and allows the users to sleep in relative safety and comfort above the vehicle, leaving the internal load-space free. They come in all shapes and sizes and you can even get one for a Mini!
Rooftop tents have actually been around since the 1930's but are now a common sight around Europe. They make for a super cheap road trip as you're kitted out to camp anywhere, especially if you're worried about pitching and sleeping in a tent in the wilds.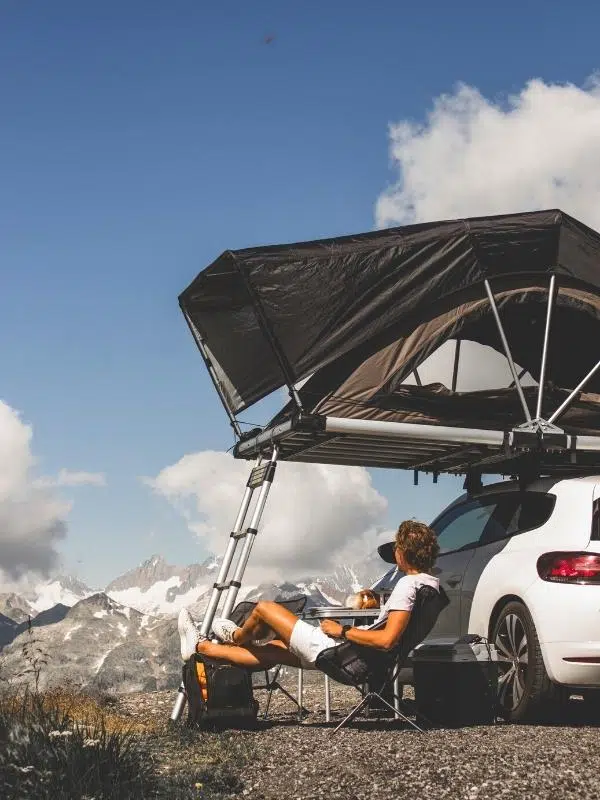 13. Do Your Hotel Homework
Check a couple of sites or use an aggregator like Tripadvisor or Trivago to find the best deals in hotels. Then cross-check this against Airbnb's and self-catering accommodation in the same area to see which offers the best deals.
Hotels often have free parking, which can save a lot, especially in cities. You may also get breakfast included in the price. We find a good breakfast means we can snack for lunch and not need to stop on the road to eat, so hotels may be more cost effective than Airbnbs in this respect.
On the other hand, staying in Airbnb's and self catering accommodation means you can pop to the local store and cook your own dinner and breakfast. They also often provide laundry fcailities, and if you're road tripping for more than a few weeks, you're gonna want to do a clothes wash!
Top Tip: There are pros and cons to all types of accommodation. Do the research, compare and then decide which fits best with your personal travel style.
Want to find out more about planning a road trip? In our detailed guide to road trip planning, we cover every aspect of planning your perfect road trip, from dream to destination, and everything in between!
14. Use Booking.com
We always use Booking.com for hotels and Airbnb style accommodation because they usually have the best rates and their Genius loyalty programme gives us discounts on bookings, free breakfasts and upgrades and priority support.
Other hotel booking engines are available, like Agoda and Hotels.com, but we like Booking.com because they've never let us down.
15. Wing It & Book Along the Way!
If you prefer to be unfettered by plans and don't like booking in advance, use Hoteltonight.com, a specialist site and app which sells rooms at the very last minute at knock-down rates.
You do need to accept that this won't work every night of your budget road trip, but even if you get a great deal every other night, you'll be saving over booking in advance. Phil loves to travel like this, I'm a bit more of a planner, so we have to compromise!
16. Get the Best Deals on Travel Insurance
Widely recognised in the traveling community as offering first class products and services, World Nomads are the go to choice for many American travellers.
Our favorite road trip insurer and best for UK and European travellers is True Traveller, who offer the best packages as standard for activities cover and gadgets. If you're planning on squeezing in some extreme sports on your holiday, they'll cover that too.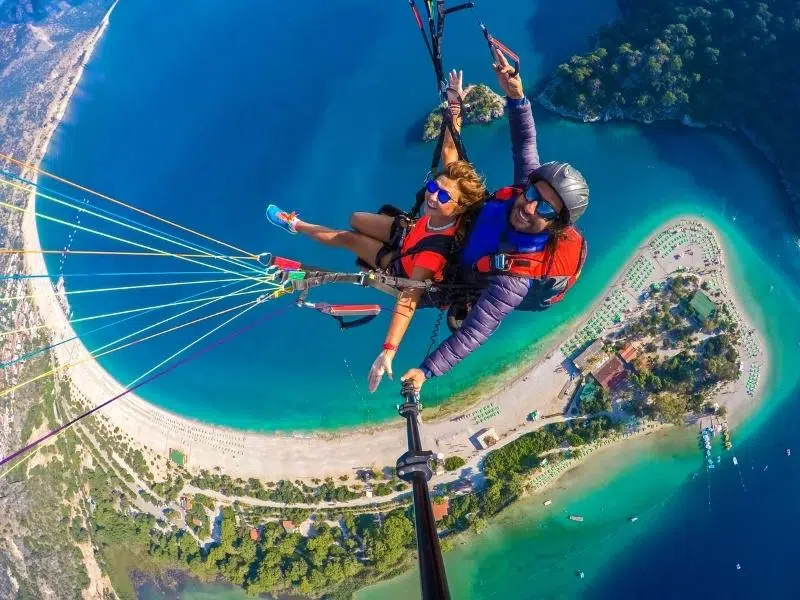 17. Get Breakdown Cover
It may seem counter-intuitive to spend on roadside assitance cover when you're trying to road trip on a budget, but breaking down could well break the bank!
Sure, it may not happen, but it could and if you have breakdown insurance you'll be able to get the problem sorted, often at no extra cost. But if you have to be towed off a motorway or recovered from a remote spot, you'll be paying for that on top of any repairs that need doing.
18. Get a Travel Friendly Credit Card
Check the terms on your current credit and debit cards to see what you're charged for spending and cash withdrawals overseas. Chances are there will be a surcharge for both, and the exchange rate will be hiked in the credit card company's favour.
There are a handful of travel credit cards around where there are no caps on how much cash you can withdraw cash from an ATM and where there are no charges for purchases at all.
Top Tip: We think Wise is one of the best borderless multi-currency debit cards. Use it in 175 countries with the real exchange rate and no markups or sneaky transaction fees.
19. Don't Buy Food on the Road
Have you noticed how much more expensive a simple sandwich is when you stop at a motorway services? It's easy to pull in, run out and pick up your favourite chicken salad sarnie and a bag of crisps – but get to the till and you'll be horrified at the price.
Make a pack up before you set off, or stop at a supermarket close to where you're staying to get your supplies for the road.
If you're road tripping with kids it can be fun to stop along the route and have a picnic for lunch, and the kids can let off a bit of steam after the boredom of a morning of road trip games!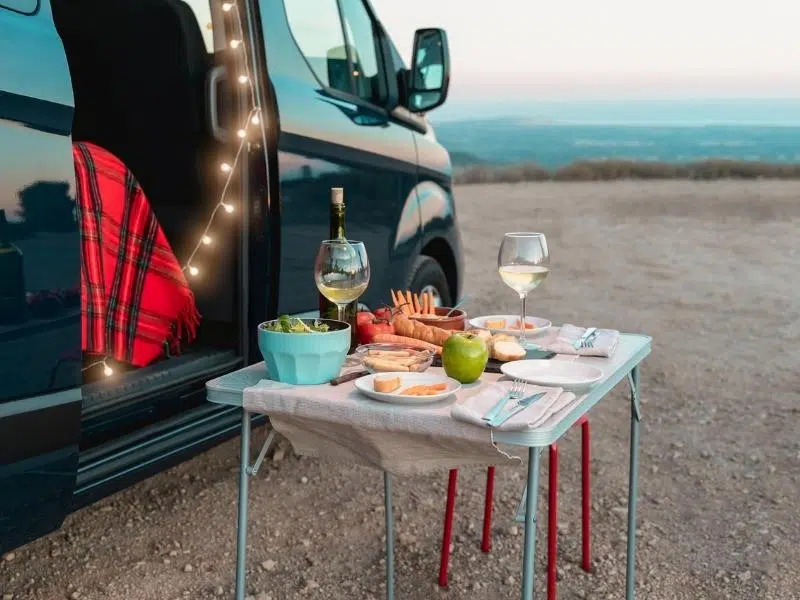 20. Use Discount Grocery Stores
If you do need to do a shop en route or on arrival, check out Lidl, which have stores across Europe. They're a discount retailer which offers exceptional value, and they also stock locally grown fruit and veg, which we found out when road tripping Portugal.
We were staying at a quinta and wanted to try some of the pears we could see were being harvested locally. Our host suggested Lidl, and sure enough, when we researched we found that Lidl purchase many fruits and vegetables from local and regional growers. They're now our go-to grocery store in Europe.
And as a bonus, many Lidl car parks have designated spaces for campervans and motorhomes!
21. Even Better, Make Your Own Road Trip Food
If you're travelling in a camper you'll already have a kitchen and can rustle up a meal in no time. We love cooking in the van and find one pot meals work really well – it's also much healthier and cheaper than stopping for fast food or eating out every night.
If you're in a car, you can get a simple gas burner and a small folding table which you can set up as your camp kitchen. You can even use a disposable BBQ to cook up a quick lunch or dinner, as long as you dispose of it properly afterwards.
Top Tip: If you're looking for simple recipes for cooking on the road, check out our Camper Cookbook, full of all our favourite dishes to cook on the road.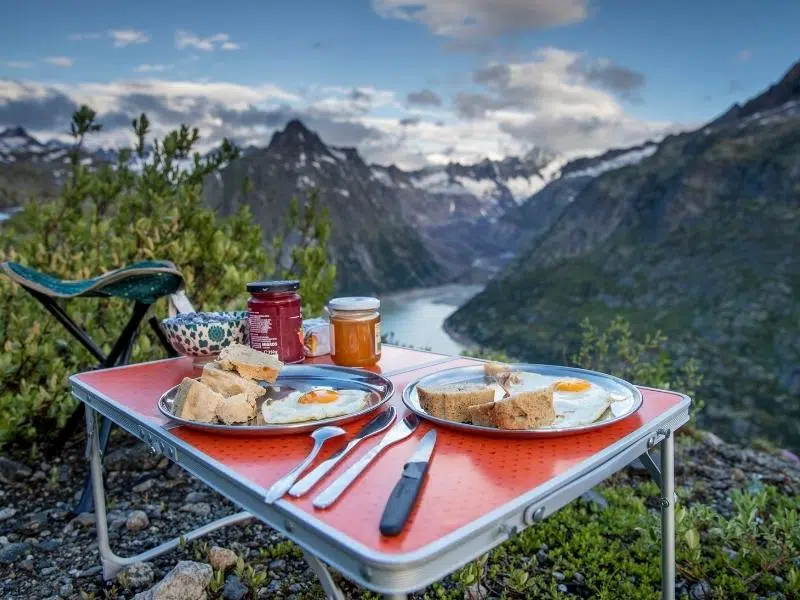 22. Don't Let Food Go To Waste
Invest in a 12v cool box or insulated chiller, both great road trip gadgets, which you can run from your car's cigarette lighter socket. You can store food and keep your drinks chilled, meaning nothing goes to waste.
23. Keep a Stock of Ready Meals
Sometimes we don't arrive where we intended, or when we thought we'd get there! Things happen on the road and we always make sure to carry a few back-up meals, just in case.
It's easy to arrive late and head out for a bite to eat, but usually when we've done that, our food choices are poor and we go to the nearest restaurant with the brightest lights – always a bad (and costly) idea!
Self heating ration packs and camping meal pouches are a good option, but expenisve to replenish. Pasta and a stir in sauce takes just a few minutes, and these tinned ready meals don't require a microwave.
24. Get Your Snacks in Advance
Top up your water bottles and get your snacks sorted before you set off. It's fatal to stop at a garage and buy up all the rubbish stuff that will instantly satisfy your craving, but leave you feeling wiped out. That sugar high is never good, especially on a long drive.
Love snacking? Me too! Get the low down on all the best road trip snacks to satisfy your cravings and give you energy for the drive ahead.
25. Plan Your City Visits
City centre hotels are expensive. Like really expensive. You're paying for the convenience of being central, in the thick of the action and just a stones throw from top attractions.
Driving into a city is stressful, chances are you'll have to pay extra for parking, and then you have to contend with low emissions zones, which are popping up in most major European and UK cities.
Save money (and your health) by booking a hotel outside the LEZ or congestion zone and take cheap public transport into the city. If you stay on the outskirts, it's more likely the hotel will include parking in the price too. For a few euros you can hop on a bus, metro or tram to explore, and have a much more authentic city experience.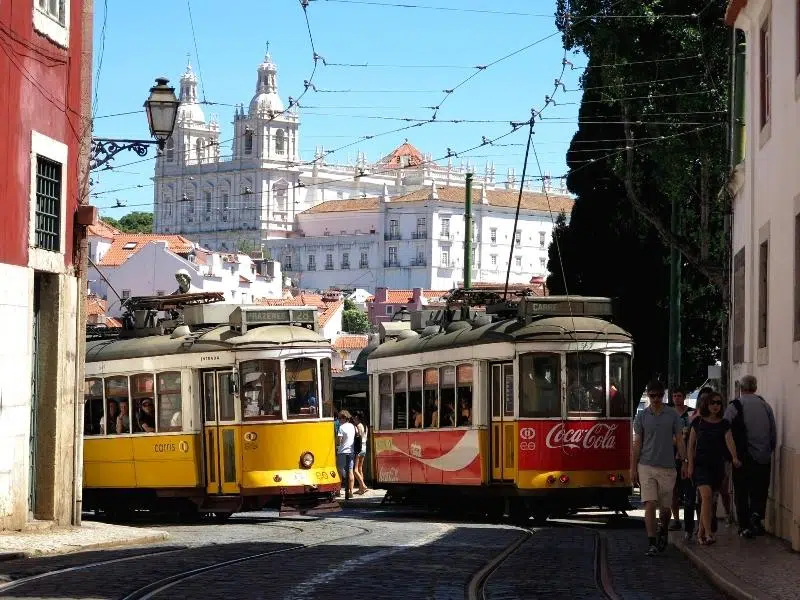 26. Find Cheap Fuel
Never, ever fill up at gas stations on motorways, freeways or in city centres – you'll pay a premium for fuel if you do this.
Instead, use an app like Petrol to find the cheapest fuel wherever you are and fill up whenever you see bargain gas prices.
Some European countries have service and self-serve pumps. Avoid the serviced pumps as these can add and extra $0.15/€0.15/£0.12 onto the cost of a litre of fuel.
Top Tip: In some places (Italy is a prime example) the gas station attendants wave you to the serviced pumps, and if you're new to a country, tired, or just not concentrating, it can be easy to be scammed into paying a whole lot more than you need to fill your tank.
27. Get Your Car in Order
Help your budget out and make sure your car is fuel efficient. Under or over inflated tyres can play havoc with fuel economy, so check that they're at the right pressure. Have a new air filter fitted and the oil changed before you set off for a smoother ride.
28. Take the Slow Road
Keep your pedal to the metal as you drive and you'll use a lot more fuel than if you take it slow!
Driving at a reduced speed is an easy way to keep your road trip costs as low as possible. Most vehicles get the best fuel economy at around 55 mph/89 kmh, so try sticking to this speed for the best fuel economy, and enjoy the scenery on your cross country road trip!
Get inspiration for your next road trip with our collection of 110+ road trip quotes. Wherever you're heading you'll find something here to make you wanna get on the road!
29. Eat Authentically
Once you stop driving for the day and you're exploring your destination, it's easy to get sucked into eating at all those gorgeous restaurants lining the local squares. But inevitably, these are tourist traps and, as they don't rely on repeat custom, their offer is usually mediocre at best.
Sure they have a place but we have found that without fail, the food is usually a poor representation of the local cuisine, and the experience not an authentic one.
You may also be tempted by fast food, and we love a Burger King once in a while. But eating that way every day is expensive and really not good for your health.
If you can't (or don't want to) cook for yourself, use Tripadvisor or even better, local blogs, to find the best places to eat near you which are staffed by locals and use local ingredients in their cooking.
Chances are you'll get delicious regional and value for money food, and you'll be supporting the local economy too.
30. Have Lunch, not Dinner
Most 'good' restaurants offer lunch and dinner service, and lunch is very often cheaper. Go for the set menu where there are a few choices of starter, main course and dessert, and a glass of wine and water included, and you'll find it less than a third of the price of dinner.
In France this is called le menu du jour, in Spain it's menu del dia, tagesmenu in Germany and menu del giorno in Italy.
31. Make Dinner a Treat
If you do want to go out for dinner, which for us is an important part of being on vacation, make sure to research your options.
There is nothing worse than going out and splurging your hard earned cash on a meal that's disappointing. It's happened to us frequently, and it's so frustrating. We can't afford to go out often, so when we do treat ourselves we want it to be a good experience.
Top Tip: Tripadvisor and local blogs are usually a good measure of a restaurant, and tend to be our go to when researching places to eat. We find asking locals gets you an invite to the restaurant of an obscure relative, and we've had a couple of occasions where this tactic has been disastrous, so we stopped asking!
32. Make Your Own Coffee
If you're a caffeine addict and need that hit regularly through the day, forget stopping for coffee to go, and make your own.
We like this Wacaco Minipresso which doesn't need any power, but you do need hot or boiling water, making it a great choice if you're in a camper. This Conqueco 12V travel coffee machine comes with a car charger and can make your barista style coffee using Nespresso (or compatible) capsules from cold water.
33. Use Tourist Information Centres
Most cities and large towns have tourist information centres, who have a wealth of knowledge about the local area and what's on when you're visiting.
If you end up somewhere unexpected or your planning doesn't work out, head to the local visitor's centre and check out what's on and what's free in the area. You can find out about local national parks, concerts, hiking and biking trails, farmer's markets, libraries, museums and monuments and festivities taking place, all from a local with real neighbourhood knowledge.
34. Love Happy Hour!
Most bars these days offer some sort of happy hour. This is a great time to go out and get two for one drinks, cheap cocktails, and in many European countries, it's customary to get a few snacks with your drinks.
Top Tip: In Leon in northern Spain, you even get a free tapa with every drink – visit a few bars and dinner is sorted!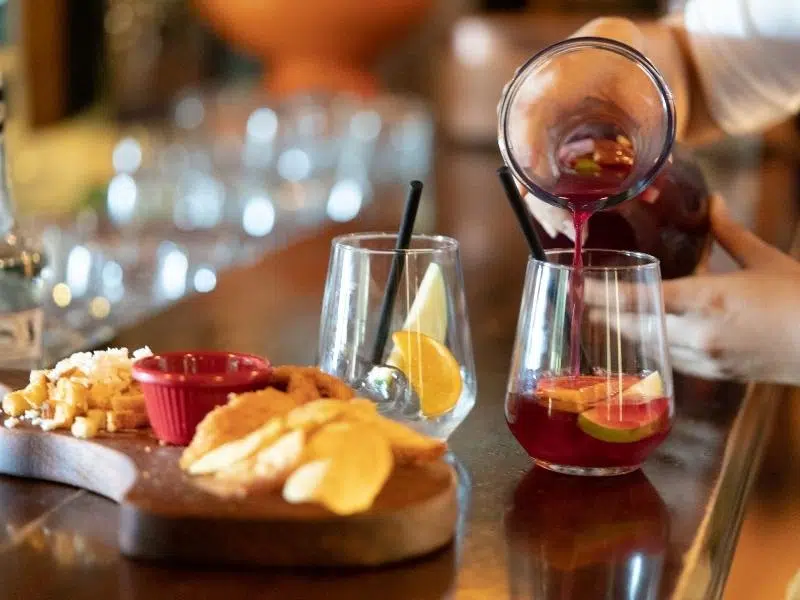 35. Recycle Your Water Bottles
It's amazing how much water you drink when you're road tripping, especially in hot countries. We use these Sistema 600ml flip top bottles because you can open and drink with one hand, which is much safer when driving.
But, we find one water bottle just isn't enough, so we have four one litre regular plastic bottles which we refill at water fountains and road side taps, which are common in Europe, and store in our cool box. We replenish our Sistema bottles from these, so we've always got cold drinking water and aren't littering the environment with single use plastic bottles.
36. Be Aware of Schengen Rules
The Schengen Area is a zone where 26 European countries, through the Schengen Agreement, abolished their internal borders and allow the free and unrestricted movement of people.
If you're planning a longer road trip, you need to know that most citizens from non-Schengen countries are only able to stay for 90 days in every 180 days in the Schengen Area.
Don't get caught out. A three day overstay can cause you to be fined uo to €1200 as you leave the zone, and longer overstays can lead to deportation and even prison. Not a great end to your road trip!
Top Tip: Use this calculator to work out your entry and exit days and previous Schengen travel to check that you're not going to overstay your welcome.
Looking for more road trip tips & tricks? Check out these top posts…
A road trip wouldn't be a road trip without a good old sing along. While on the road, regardless of how you sound, singing at the top of your lungs is just de rigueur – in fact, it's road trip law! Forget about the 100 best road trip songs, we've broken down the top 150+ of the best songs for road trips! Each category has its own amazing road trip playlist, and there is also…
Love it? Pin it!