This post may contain affiliate links, from which we earn an income.
Portugal Road Trip Planner
Portugal is a small country with a lot to offer. From the historic towns of the north to the glowing Algarve, via iconic cities, granite hard mountains, and rolling vineyards, these historic and coastal road trips in Portugal will bring the country alive.
The landscape of Portugal is dotted with wineries, winding rivers, historic towns and cities, religious sites, and of course, incredible beaches, meaning Portugal has something for everyone.
Our Portugal road trip routes and itineraries will help you hit the highlights as you go, making sure to visit all the iconic sights on these two diverse trips, taking in the best that Portugal has to offer.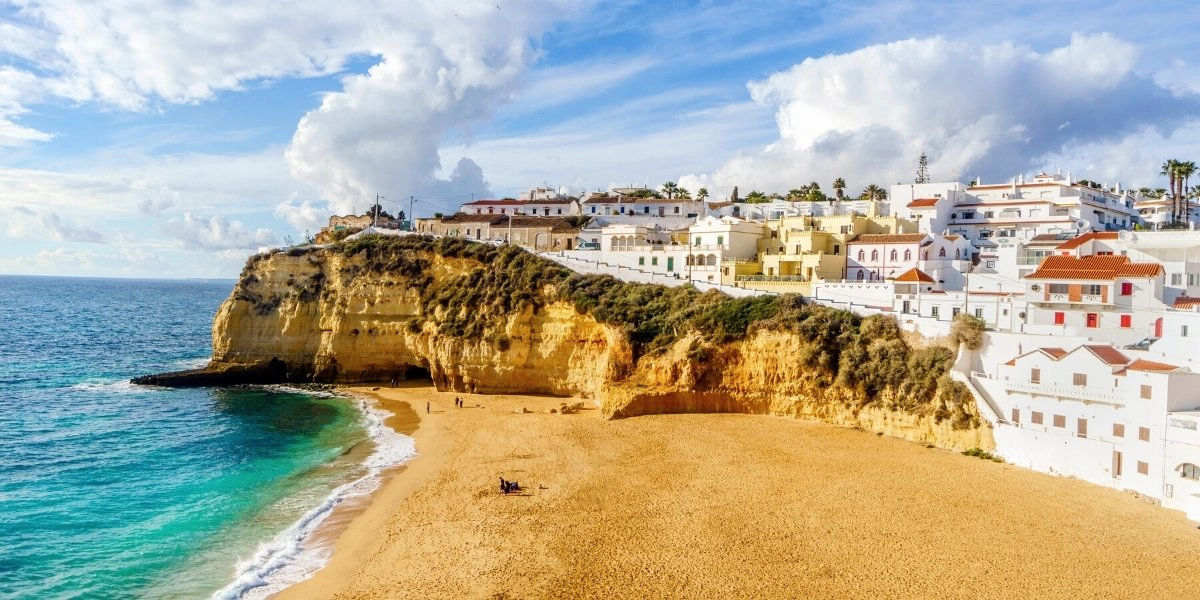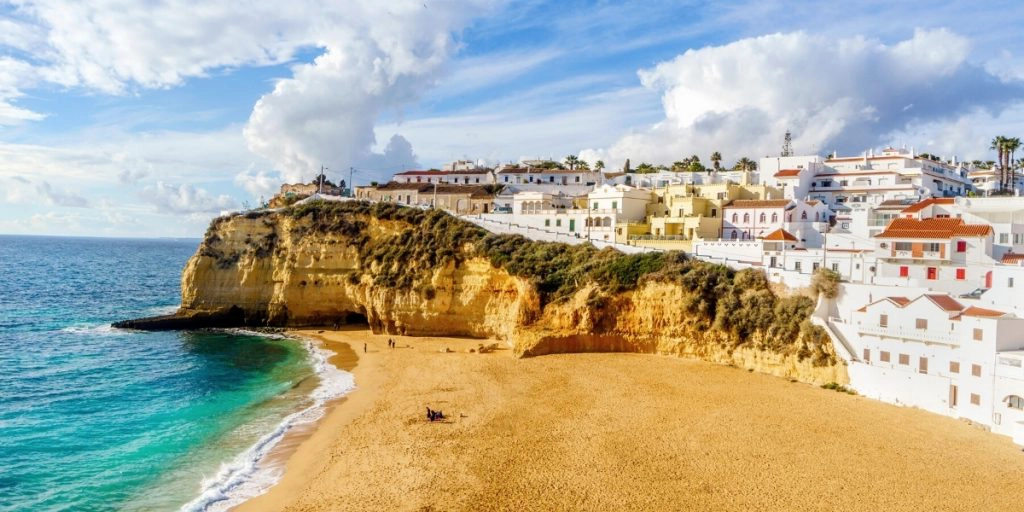 Getting to Portugal
Flying to Portugal
Fly into Porto, Faro or Lisbon International Airports to start your roadtrip in Portugal. With direct flights from America, Europe, and the UK, we recommend booking through Skyscanner for live deals and the best prices.
Sail to Spain from UK
Sailing with Brittany Ferries from Portsmouth or Plymouth to the northern Spain ports of Santander of Bilbao (depending on which day of the week you want to depart) is the only way to avoid France. From here, it's a five to six hour drive into northern Portugal.
It's a long crossing of 24 hours but does give you the chance to have a proper night's sleep if you book a cabin. Cabins are not mandatory but the alternative reclining seats are uncomfortable and noisy.
This is an ideal crossing if time is of the essence, or you're traveling with a dog (some boats have pet-friendly cabins and some have kennels) but cabins and kennel places book up quickly.
This sailing navigates the Bay of Biscay and can be choppy in autumn and winter.
Drive Through France
Get to France and head down the west side of the country, via Tours, Bordeaux, and Bayonne.
This is one of the quickest routes through France and Spain to Portugal, is the cheapest from a toll perspective and lends itself well to ferries that arrive in Caen or Cherbourg.
If you're driving to Portugal from the UK or Europe, get our driving to Portugal guide, packed with info about the best routes and costs, things to see on the way and Portugal driving tips.
Are you planning to rent a car in Portugal? As one of the largest car hire aggregator companies in the world, we recommend Rentalcars.com because they have massive purchasing power which enables them to secure the best car rental prices, which benefits you when you're planning a roadtrip in Portugal.
For a real adventure, hire a motorhome or campervan in Portugal. We recommend Motorhome Republic, an aggregate booking site who pull together all the best deals from a number of rental agencies, to offer you a wide choice of options alongside an excellent English speaking expert motorhome Concierge Team. Find out everything you need with our to know with our campervanning in Portugal guide.
If you're intending to pop across the border to check out Spanish road trips in your hired vehicle, make sure to let your hire company know.
Best Time to Take a Portuguese Road Trip
December to February
The winter months in the Algarve are usually pleasant, with temperatures topping 20°C. The sea is warm and you'll be able to sit outside for meals, although a long-sleeved top may be required in the evening. North of Lisbon, temperatures come down, rain can be frequent and you may see snow north of Porto.
March to May
Spring is a wonderful time for visiting Portugal, with temperatures warming up across the country. Markets increase in size, restaurants start preparing different dishes and the countryside is carpeted with wildflowers and grapevines unfurling their leaves. You'll still find the roads and cities less crowded, and most attractions will be open.
June to August
June and July are busier months, with perfect temperatures for camping and outdoor activities. The interior can be extremely hot in summer, especially between Lisbon and the Algarve. August will be the busiest time on the coasts as schools across Europe finish for summer and families take their annual trip to Portugal.
September to November
Autumn is a fantastic time to explore Portugal. The coasts will be quieter but still warm, the grape harvest takes place and the glorious colors of fall bring vibrancy to the countryside.
Is this your first time visiting Portugal? Get all the information you need in our Portugal Travel Guide, including what to pack, the best time of year to go, getting there, and practical tips to help you have the best trip!
A Historic Portuguese Road Trip Itinerary
Rich in cultural and religious history, this small country has helped shape the world for the last 900 years.
From the Age of Discoveries to the dubious honor of being the last dictatorship in western Europe, this ten day Portugal itinerary covers many of the major historic cities and sites in the country.
Porto – Ponte de Lima – Guimaraes – Lamego – Cavao dos Conchos – Coimbra – Fatima – Obidos – Sintra – Lisbon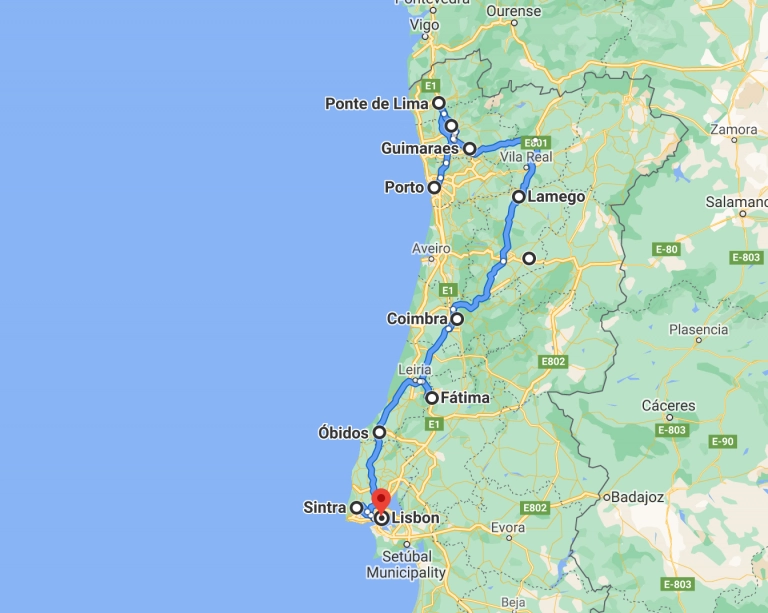 Porto
Porto is everything you want a city to be – engaging, charming, intimate, and packed with interesting stuff to do and hidden cobbled streets just perfect for exploring.
One day in Porto will give you just enough time to see the best bits, and enjoy a glass of Port, the wine for which Porto is famous. Or you could head off along the Douro River from Porto with Portugal small group tours, to see the fabulous landscape of vines which follow this beautiful river.
Upmarket: Maison Albar Hotels Le Monumental Palace – Booking.com | Agoda
Mid-Range: Flores Boutique & Spa – Booking.com | Agoda
Budget: Hotel Jaguar-Oporto – Booking.com | Agoda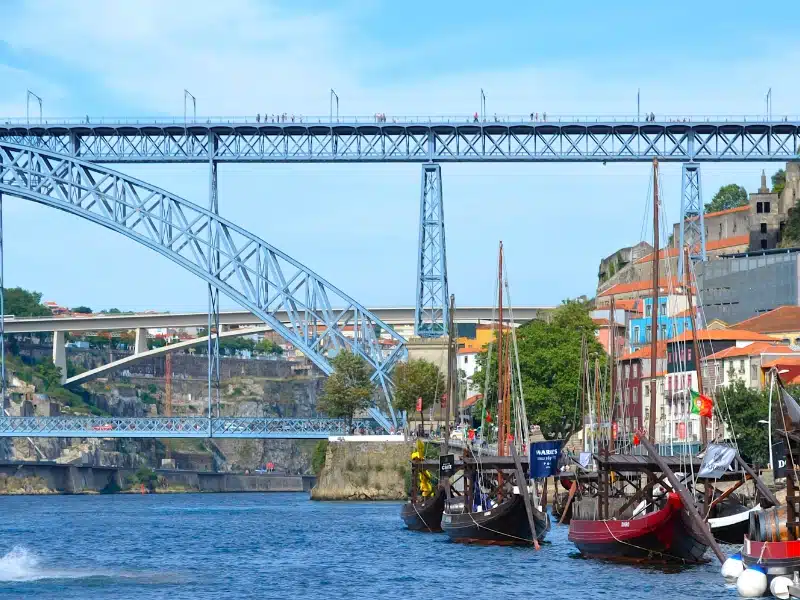 Ponte de Lima
Head north for pretty Ponte de Lima, the oldest vila or chartered town in Portugal and a busy stop on the Portuguese Way, or Camino de Santiago. 
Named after the fine medieval bridge that passes over the Lima river, this northern Portuguese town will delight you with ancient houses, cobbled squares, and chunky religious buildings.
Visit the tranquil and colorful International Garden Festival and the huge market, typical of this part of Portugal, which is held every Monday on the riverbank. Expect chickens, rabbits, and other livestock in cages, as well as delicious seasonal local produce straight from the farm.
No visit to Portugal is complete without a little wine tasting! Ponte de Lima and the surrounding area is also known for their wonderful Vinho Verde, a crisp and sharp 'green wine' which is a young wine from the DOC wine region of the Minho province to the north of the country.
Try Casa de Terra opposite the river, for a great Portuguese wine list and delicious local snacks to complement your wine.
Upmarket: Carmo's Boutique Hotel – Booking.com | Agoda
Mid-Range: RB Santiago – Booking.com | Agoda
Budget: Hotel Império do Norte – Booking.com | Agoda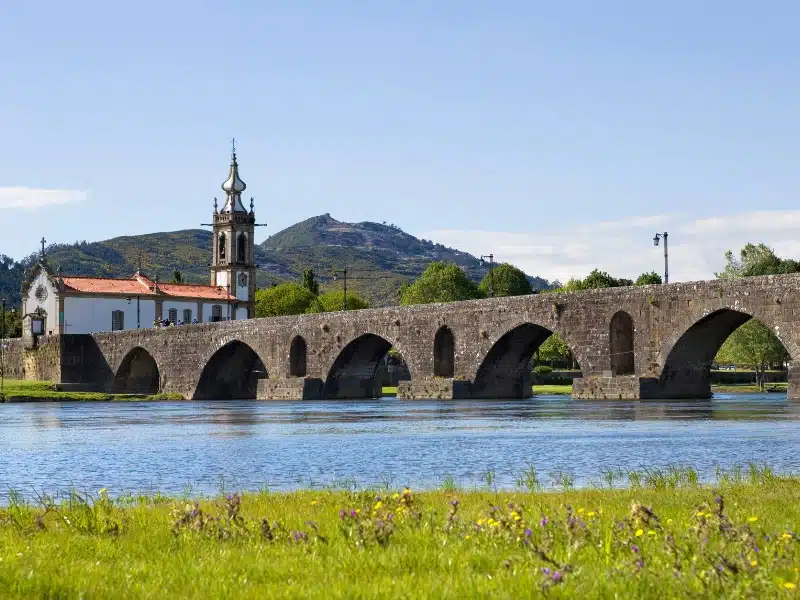 Make sure you have travel insurance you can trust when visiting France. We recommend True Traveller for their 5-star TrustPilot reviews, variety of cover options, best activities cover as standard, great prices, and excellent service.
Guimaraes
Often referred to as the 'cradle of Portuguese nationality', Guimaraes is an exceptionally well-preserved and authentic example of a medieval town, with its rich architecture showcasing Portuguese development from the 15th century.
The historic town, founded in the 4th century before becoming the 12th century capital of Portugal, is now a Portuguese UNESCO World Heritage Site. Don't miss the two anchors around which Guimaraes first grew, Castelo de Guimaraes and the monastic complex in the south.
All around the historic town are fine medieval houses, cobbled squares, and small streets, and there's also a cable car to Penha Hill, with stunning views of the city and surrounding countryside.
Upmarket: Hotel da Oliveira – Booking.com | Agoda
Mid-Range: Encosta do Paraíso – Booking.com | Agoda
Budget: Hotel Quinta da Tulha – Booking.com | Agoda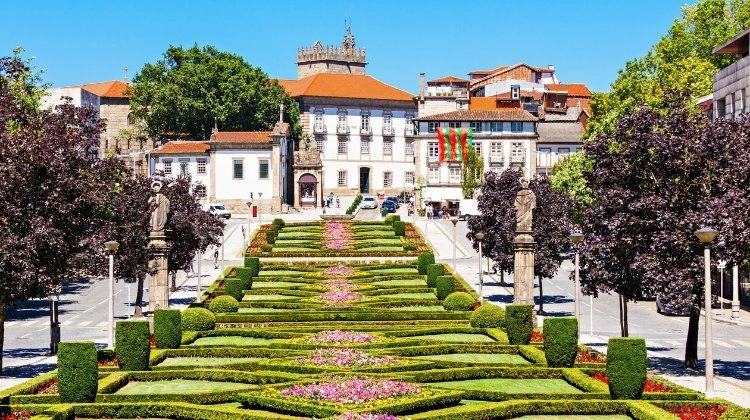 Lamego
Cross the breathtaking Douro Valley (and maybe stop for a vineyard visit to find out about how Port is made) before heading to Lamego, home to the pilgrimage site of Nossa Senhora dos Remedios.
The ornate church and shrine are fronted by an immense double flight of nearly 700 steps, lined with blue and white tiles, which were recently judged worthy of UNESCO World Heritage Site status.
Upmarket: The Wine House Hotel – Quinta da Pacheca – Booking.com | Agoda
Mid-Range: Lamego Hotel & Life – Booking.com | Agoda
Budget: Camping Lamego Douro Valley – Booking.com | Agoda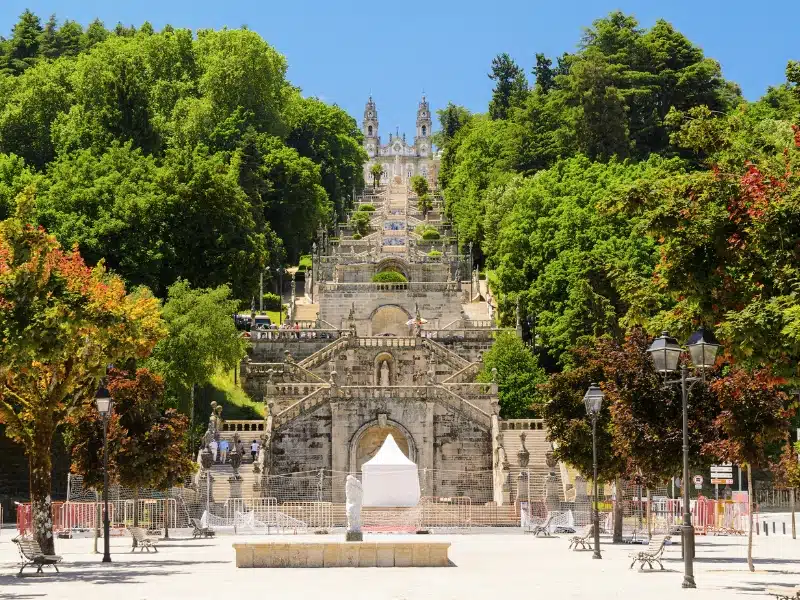 Cavao dos Conchos
If you have a spare day or so in your Portugal road trip itinerary, then take the slight detour to Seia, and the fascinating Cavao dos Conchos. Not only is the so-called 'eye' breathtaking, but it is also situated in the stunning Serra da Estrela, the highest range in continental Portugal and home to the tallest mountain in Portugal at 1993m.
It's a wild and unspoiled place, perfect for a great Portuguese hike, with amazing views across the craggy granite mountains and the Dao Valley, one of Portugal's up-and-coming wine production areas, famous for its white Encruzado wine.
The whole area around Cavao dos Conchos is a designated GeoPark, formed millions of years ago by glaciers, which have left fantastic irregular boulder fields, huge exposed slabs of rock, and deep ravines to explore.
And of course, the beautiful Lagoa Comprida heralds the start of the hike and is perfect for a dip afterward on a hot day.
The detour will add around one and a half hours to your total driving time, and the route from the mountains to Coimbra is pretty spectacular too, across some of the best roads in Portugal.
Upmarket: Casa de São Lourenço – Booking.com | Agoda
Mid-Range: Casa das Muralhas – Booking.com | Agoda
Budget: Quinta Do Crestelo Aparthotel – Booking.com | Agoda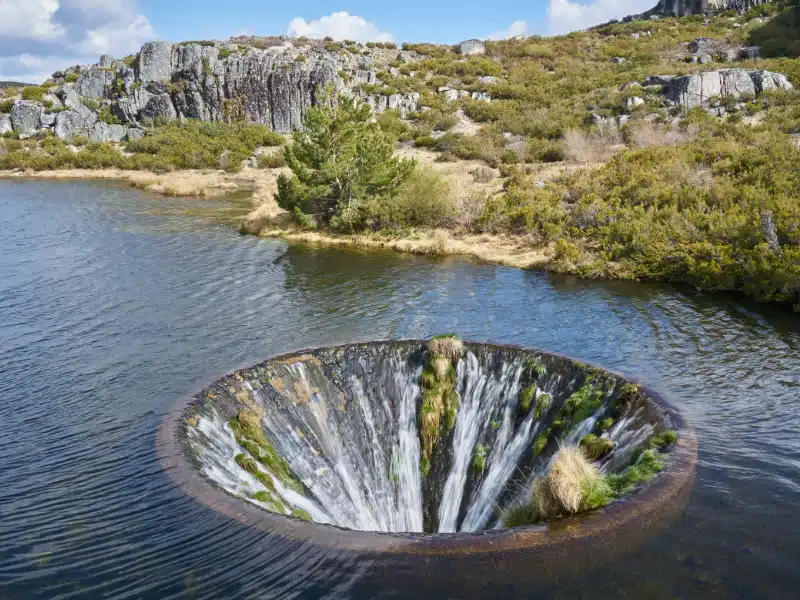 Coimbra
Portugal's medieval capital city is a revelation. Rising above the low and wide Rio Mondego, Coimbra celebrates a rich history and is home to the country's oldest university and a handful of really good museums.
The Moorish historic center is stacked above the river bank and has a majestic cathedral with lots of atmospheric alleys and squares to explore. Coimbra is known for live music, including the haunting Fado and guitarra, the Portuguese guitar, which you can hear in many of the bars and restaurants in the old town.
You can easily spend a day wandering, soaking up the lively nature of this university town, in stark contrast to its historic heart.
Don't miss the baroque Biblioteca Joanina and the Botanic Gardens, and if you enjoy being active, you'll find lots of great outdoor adventures, including kayaking on the epic river.
Upmarket: Sapientia Boutique Hotel – Booking.com | Agoda
Mid-Range: Zero Box Lodge Coimbra – Booking.com | Agoda
Budget: NH Coimbra Dona Ines – Booking.com | Agoda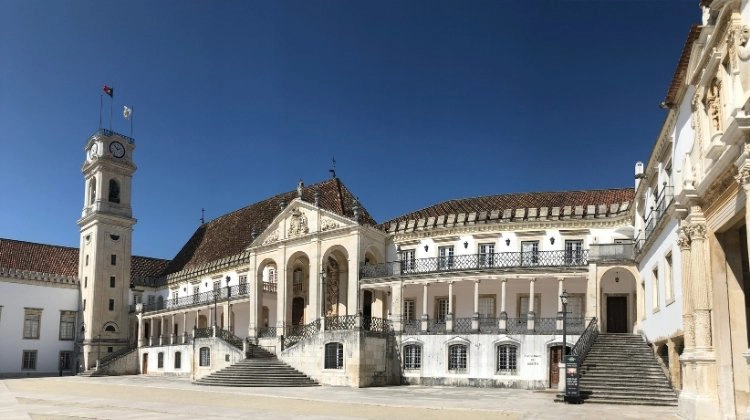 Fatima
The epicenter of Portuguese religious devotion, Fatima is one of the most important pilgrimage sites in the Roman Catholic world.
Founded on six supposed apparitions of the Virgin Mary in 1917, when three local children saw a flash of lightning followed by "a lady brighter than the sun" lounging in a nearby tree, Fatima has grown from a small village to a religious behemoth, home to a vast basilica that can hold over one million pilgrims.
To the Portuguese people, many of whom will make a pilgrimage here in their lifetimes, Fatima holds extraordinary significance. For everyone else, it can feel a little tacky and incredibly overcrowded as tour coaches and tourists on day trips flock here from Lisbon.
For the true atmosphere of this place, visit during one of the annual pilgrimages that take place every year on May and October 12th and 13th, but book your accommodation early!
On your way to the next stop at Obidos, stop at the huge Cistercian Monastery at Alcobaca, which oozes opulence and power. Once the home to 999 monks, the monastery has been empty since the dissolution in 1834, but remains one of the most impressive monuments in Portugal, along with the Belem Tower in Lisbon and Batalha Monastery in Leiria.
Upmarket: Luz Charming Houses – Booking.com | Agoda
Mid-Range: Hotel Santa Maria – Booking.com | Agoda
Budget: Hotel Estrela De Fatima – Booking.com | Agoda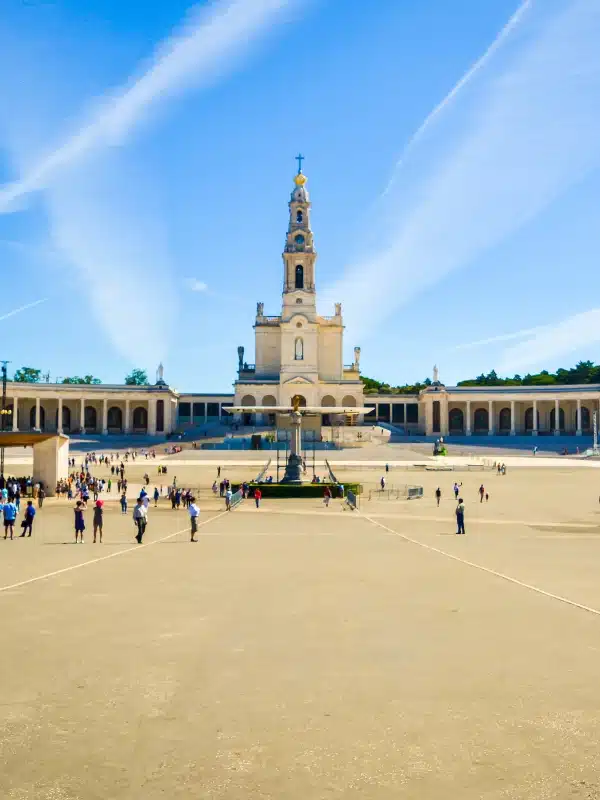 Obidos
Known as "the wedding city", Obidos was the traditional bridal gift from the kings of Portugal to their queens. A cuter-than-cute walled town, much of Obidos had to be rebuilt after the catastrophic earthquake in 1755.
The town has a medieval feel, with narrow cobbled streets, crooked buildings, and high ramparts, which can be climbed for amazing views.
To avoid the inevitable tourist crowds, get off the beaten path to the side streets and stairs that connect this town, for whitewashed houses, colorful bougainvillea climbing the walls, and splashes of bright blue and yellow painted buildings.
Even better, sit out the day tour coaches and spend the night, for a true insight into the "real" Obidos.
The Obidos DOC wine region is also an area of exceptional wine quality, and you'll find many Quintas in the lush green countryside of the area.
Upmarket: Casa Senhoras Rainhas – Booking.com | Agoda
Mid-Range: Casa Picva – Booking.com | Agoda
Budget: Hotel Vila D'Óbidos – Booking.com | Agoda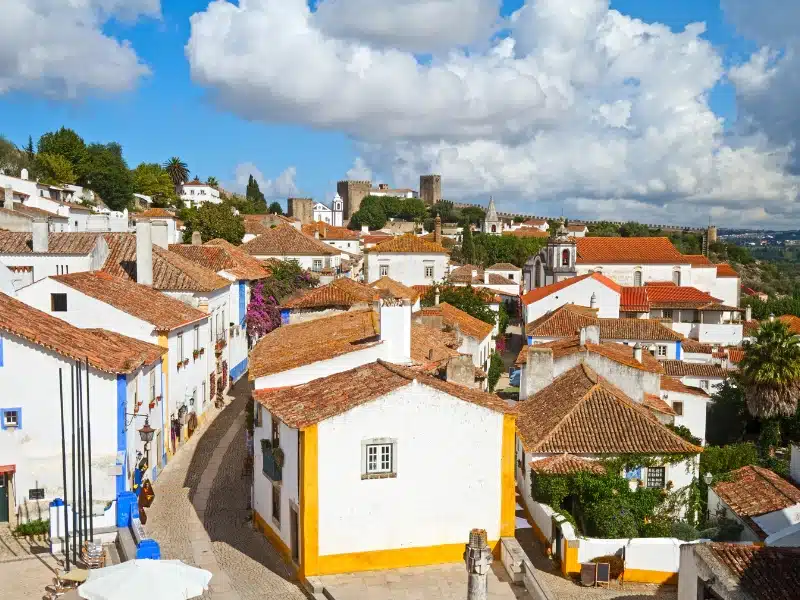 Sintra
This larger-than-life national park is home to colorful fairytale castles, whimsical villas, and mysterious forests. The long-time mountain playground of Portuguese royalty, Sintra is now one of the most popular tourist attractions in the country and is conveniently close to the last stop on your Portuguese road trip, Lisbon.
There's a lot to see in Sintra, so make sure to plan a full day for your visit. You'll need to take a Sintra day trip from Lisbon or park in the town itself (or stay in a hotel nearby) before getting a tuk-tuk or other authorized means of transport to take you to all the interesting places around 'the hill'.
Make sure to include the colorful Pena Palace and the quirky Quinta da Regaleira, where you'll find the much-photographed and mysterious Masonic initiation well.
Upmarket: Sintra Marmoris Palace – Booking.com | Agoda
Mid-Range: Sintra Boutique Hotel – Booking.com | Agoda
Budget: Casa Mathilde Sintra – Booking.com | Agoda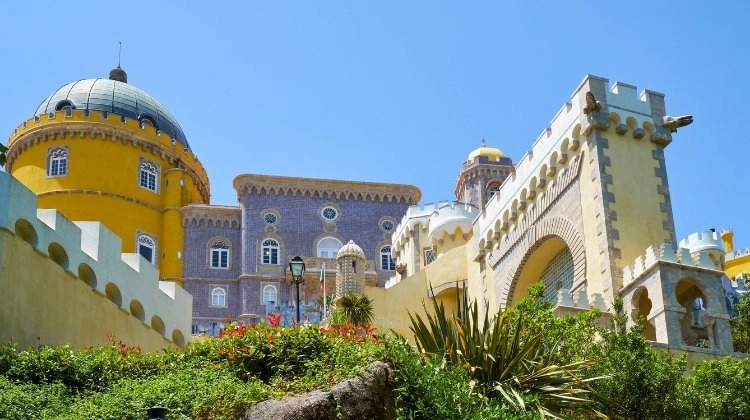 Lisbon
End your Portugal trip in Lisbon, the country's vibrant and lively capital city. Central Lisbon is full of 18th century delights, elegant and open to the sea. Much of the Baixa, the lower town, was rebuilt after the earthquake of 1755, caused by fires started by Mass candles, to rage through the city before the whole was engulfed by a massive tidal wave.
Today, Lisbon is a joy to visit, with a city center full of open plazas, wide streets, and fascinating architecture.
The cobbled streets are steep, connected by stairs, lifts, trams, and funiculars (some of which are public transport!), making this an exciting city to navigate, a bit like an urban funfair!
Upmarket: Blue Liberdade Hotel – Booking.com | Agoda
Mid-Range: Zurin Charm Hotel – Booking.com | Agoda
Budget: Empire Marquês Hotel – Booking.com | Agoda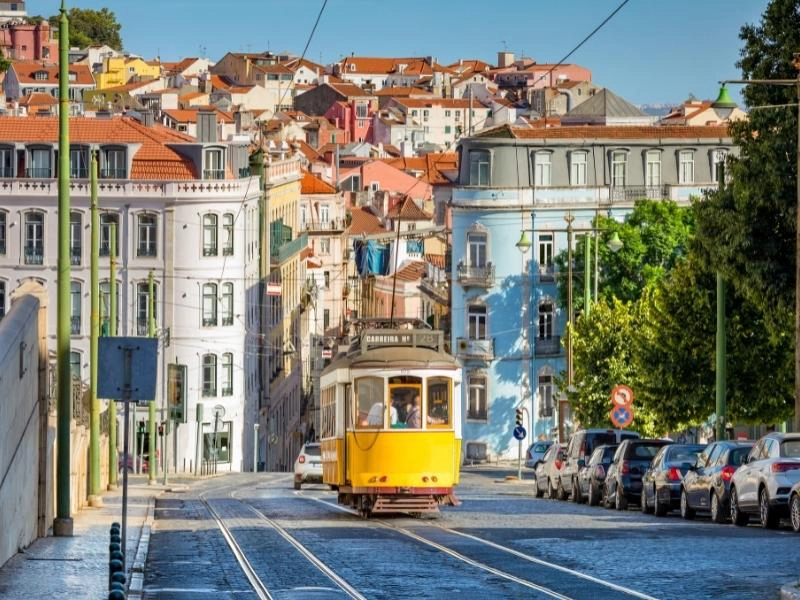 ---
Portugal Road Trip Essentials
---
A Portugal Coast Road Trip Itinerary
Portugal is a country dominated by the sea. From the great Portuguese discoveries of the late 15th and 16th centuries, such as the opening up of the sea route to India, the ocean has played a pivotal part in the development of the country.
From Vigo in the north, via Porto to the Algarve, that heritage is reflected in fabulous seafood cuisine, pretty fishing villages that hug the long coastline, and the spectacular Atlantic and Algarve beaches, beloved of kids and their families, surfers, and wind sports enthusiasts.
Porto – Aveiro – Nazare – Foz do Arelho – Cascais – Vila Nova de Milfontes – Zambujeira do Mar – Carrapateira – Algarve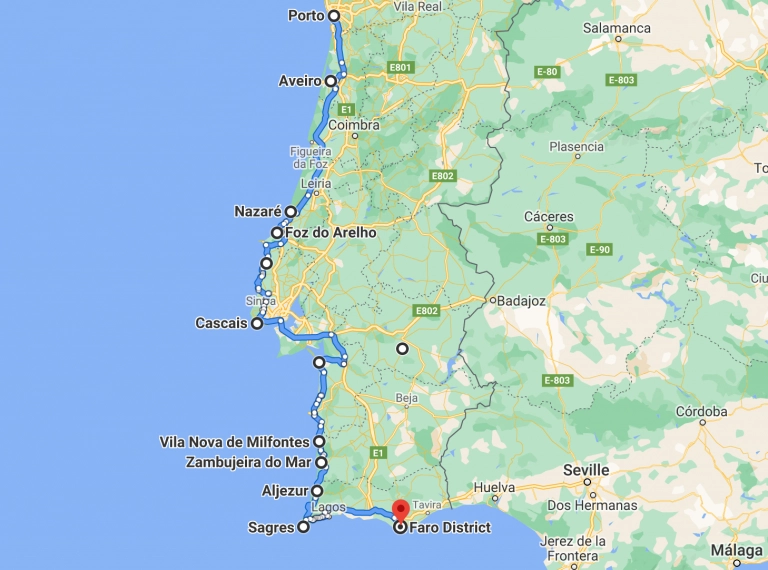 Porto
Start your road trip itinerary in Porto, where port wine was traditionally held in vast bodegas before being shipped across oceans to reach the furthest corners of the world.
On the mouth of the mighty Douro river, Porto has some excellent beaches and lots of interest to see and do.
If you want the best view of the city and coast to the west, start your Porto day with a tour-led ascent of the landmark Arrabida Bridge, where you can take once-in-a-lifetime photos from the top of the iconic structure.
Don't miss the antique tram which will take you to Foz do Douro, where you can enjoy the crashing waves as the river meets the sea.
Upmarket: Maison Albar Hotels Le Monumental Palace – Booking.com | Agoda
Mid-Range: Flores Boutique & Spa – Booking.com | Agoda
Budget: Hotel Jaguar-Oporto – Booking.com | Agoda
Aveiro
Hit the Atlantic road which follows the Silver Coast between Porto and Lisbon, and head for Aveiro, your first stop. On the edge of a huge coastal lagoon, Aveiro is a handsome and energetic town.
Sometimes called the Venice of Portugal, it is home to a small network of picturesque canals, which you can explore by colorful moliceiros, Portugal's answer to the gondola.
Grab a free BUGA bike and take in the Art Nouveau buildings on the main street, then get off the beaten track for hidden architectural treasures. The specialty seafood here is eel, served in a casserole or marinated. You'll also see big barrels of ovos moles (soft eggs), a type of sweet made of eggs and sugar, that are emblematic of the city.
Take the short drive east to the coast proper and Praia Costa Nova, famous for its quirky and colorful striped houses, squashed onto a tiny strip of land between the beach and the lagoon.
Upmarket: Melia Ria Hotel & Spa – Booking.com | Agoda
Mid-Range: Hotel Aveiro Palace – Booking.com | Agoda
Budget: Galeria Suite Hotel – Booking.com | Agoda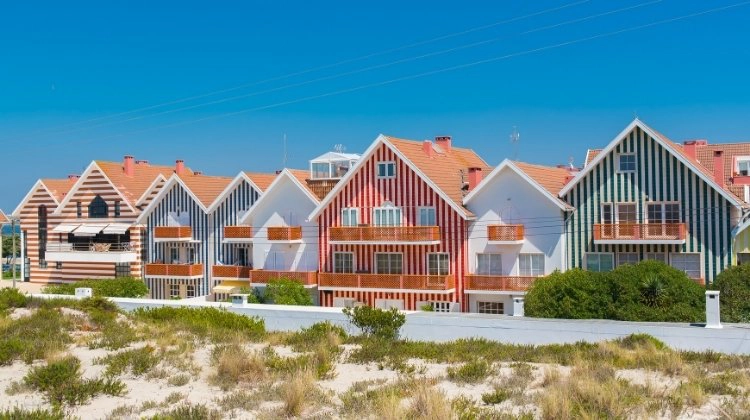 Nazare
Home to some of the largest waves in the world, thanks to the underwater Nazare Canyon, just offshore. Come in autumn to see the spectacle of world-famous surfers riding the huge rollers as they crash past the lighthouse onto Praia do Norte.
Nazare is a town of two halves – the old historic Nazare is perched on the cliff between Praia da Nazare and Praia do Norte. At the tip of the cliff is the Fortress Sao Miguel Arcanjo, a perfect spot for wave-watching.
The new town of Nazare backs the beach at sea level and is more modern, with a promenade filled with ice-cream parlous, seafood restaurants, and cool surf shops.
Although this is the 'new' town, you'll still see traditional fishing vessels and fishermen working, and in summer, late on Saturday afternoons, the fascinating "Arte Xavega" (Drag Nets) spectacle takes place. Nets laden with fish arrive from the sea and the women scream out their wares for sale.
Mid-Range: Hotel Mar Bravo – Booking.com | Agoda
Budget: Apartamentos Turisticos da Nazare – Booking.com | Agoda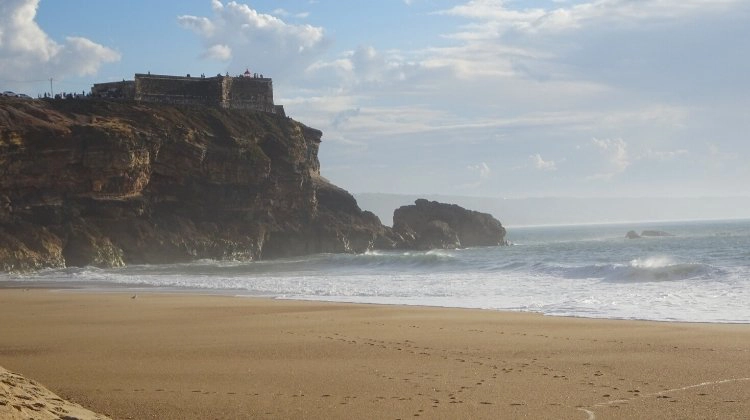 Foz do Arelho
Continue south, stopping at Sao Martinho do Porto to admire the perfect semi-circular bay and beautiful beach, with its tiny entrance to the sea.
There are a handful of good hotels and some nice eateries on the northern shore of the lagoon, which makes it an ideal place to spend a few days.
From here, you can easily explore the walled town of Obidos and the local vineyards, and the incredible rock formations and stacks of Peniche, the peninsula which was once an island.
Mid-Range: Quinta da Foz – Booking.com | Agoda
Budget: Mãe Home Foz – Booking.com | Agoda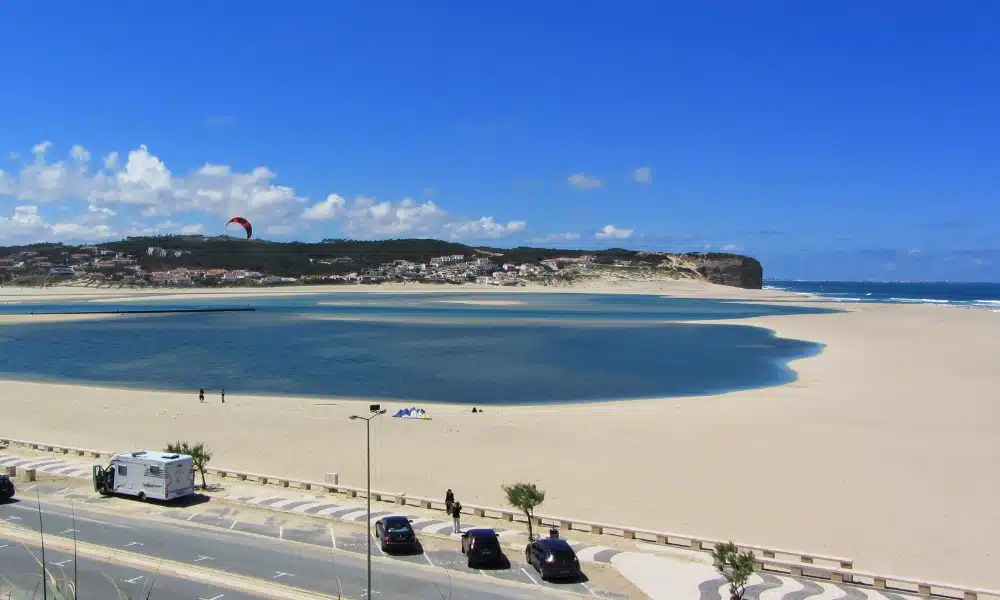 Cascais
Once a sleepy fishing village on the Estoril coast, Cascais is now one of Portugal's premier resort towns. The trio of golden bays, a charming old town, and a shiny modern marina attract holidaymakers from all over Europe.
The old town is pedestrianized and crossed with winding lanes lined with independent boutiques, lush gardens, and al fresco fish restaurants.
There's also great surfing at Praia do Guincho, 9km northwest, reached via a cycle path that hugs the shoreline and passes the Boca do Inferno, or Hells Mouth, a deep chasm under the low cliffs.
From Cascais, make sure to visit Cabo de Roca, the most westerly point of mainland Europe.
The Cape itself is not much to write home about, but head north on foot for cliff paths that lead to fantastic rock formations and secret coves, perfect for sun-worshippers.
Upmarket: Grande Real Villa Itália Hotel & Spa – Booking.com | Agoda
Mid-Range: Cascais City & Beach Hotel – Booking.com | Agoda
Budget: Estalagem Muchaxo Hotel – Booking.com | Agoda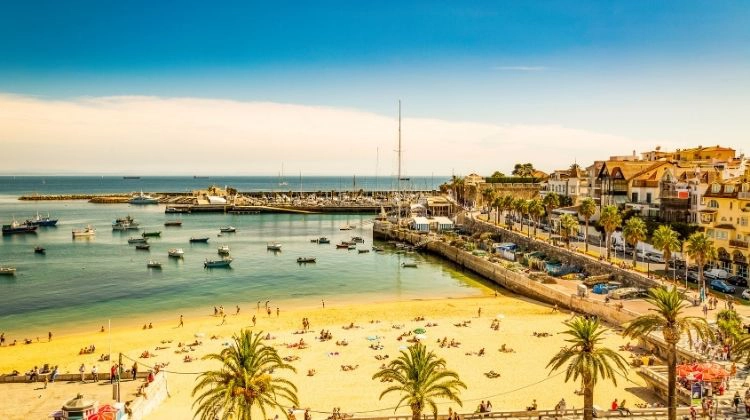 Vila Nova de Milfontes
Cross the Tagus south of Lisbon on the stunning Ponte Vasco da Gama for amazing views of the city and estuary.
The Lisbon to Algarve drive is one of our favorites in Portugal, with gorgeous stops and incredible beaches all the way south.
After you leave Lisbon, stop at Porto Covo, a beautiful archetypal traditional Portuguese fishing village – the name actually means port of the fishing net!
Then head for the charming town of Vila Nova de Milfontes, the most popular seaside resort on the Costa Vicentina.
With wonderful beaches on each shore of the Mira river where it meets the sea and access to the Rota Vicentina coastal path, it's no surprise that Vila Nova gets busy in the summer.
The whole of this coast, from Porto Covo to Burgau on the Algarve, forms the Southwest Alentejo and Vicentine Coast Natural Park.
Over 100km long, the park is home to beautiful natural habitats and helps to protect the cultural heritage of this spectacular coastline.
Mid-Range: Herdade Do Freixial – Turismo Rural – Booking.com | Agoda
Budget: Hotel HS Milfontes Beach – Booking.com | Agoda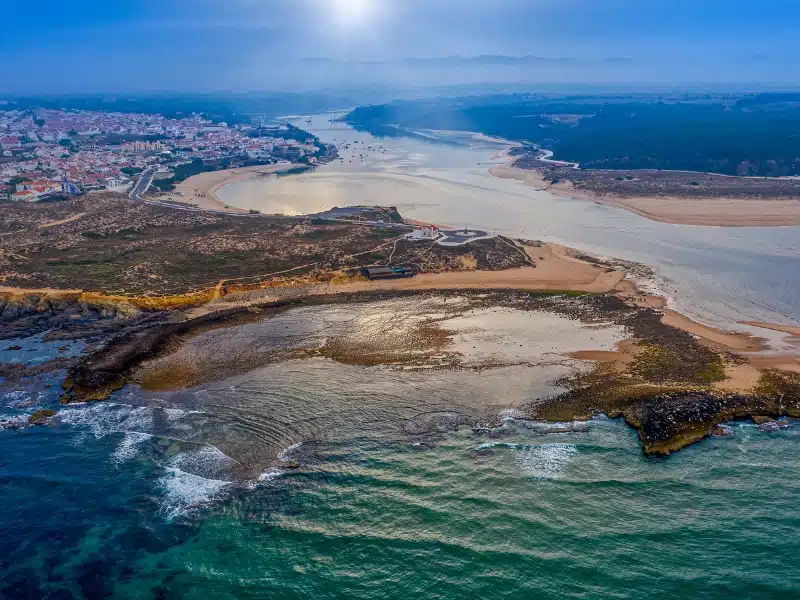 Zambujeira do Mar
Popular with Portuguese holidaymakers, Zambujeira do Mar is a sleepy coastal village towards the southern end of the Alentejo coast.
A huddle of whitewashed buildings with terracotta roofs and a very pretty chapel overlook the fantastic beach from the cliff top.
This is a large sandy beach with a Blue Flag award and a seasonal lifeguard service. Zambujeira is also a popular surf spot and attracts surfers traveling Portugal, who stop off en route to Vila Nova de Milfontes up the coast.
There are a handful of family-owned fish restaurants in the village, including our favorite, i Cervejaria, where the catch is fresh that day and on your plate within a few hours.
Mid-Range: Monte Soalheiro – Booking.com | Agoda
Budget: Hostel Nature – Booking.com | Agoda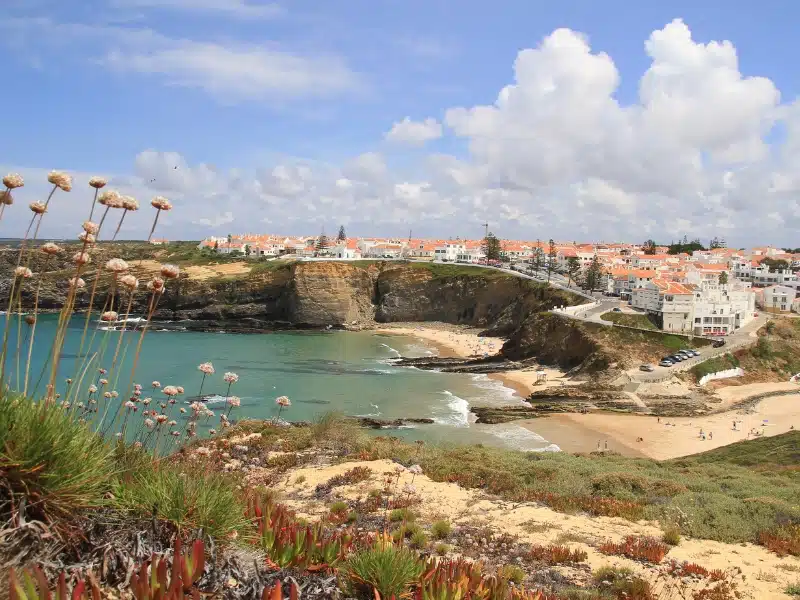 Carrapateira
Pass through the small, but unremarkable, town of Aljezur and continue south. Set your sat nav for Praia da Bordeira and follow the road up from the beach to the headland.
From here, you can access probably the most spectacular part of the Rota Vicentina, the long Fisherman's Path which snakes up the whole coast.
With wooden boardwalks and look-out points to protect the eroding coastline, you can watch the waves of the mighty Atlantic meet the land with brutal force.
Walk south as far as Prainha beach for a good 6km hike, which will take around two hours (there and back). You'll find excellent chiringuitos (beach restaurants) on both beaches to slake your thirst on a hot day, or enjoy a long lazy shellfish lunch.
Upmarket: Monte Da Vilarinha – Booking.com | Agoda
Mid-Range: Casa Fajara – Booking.com | Agoda
Budget: Carrapateiramar Guest House – Booking.com | Agoda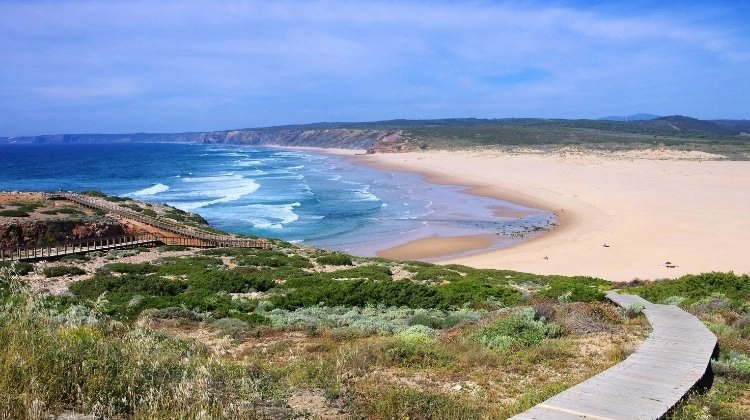 The Algarve
The road south takes you to Sagres, with the whole of the incredible Algarve to road trip to the east. Gentler than the western coast, and known for its winter sun, lively resorts, beautiful beaches, and golf courses, the Algarve has so many things to do with kids, it's a perfect family destination.
Albufeira is a perfect place to start a shorter one week Portugal trip. Stand-out spots in the region are the resort town of Lagos, with its atmospheric narrow streets, Loule for its entertaining Saturday morning market, and the wonderful old town of Faro.
Don't miss the fabulous Benagil Cave and beach and the gorgeous Praia da Marinha for its incredible turquoise waters.
Portugal Road Trip Resources
Here are the websites and services we personally use and recommend for traveling in Portugal.
Information About Driving in Portugal
Portuguese roads around cities and major towns are generally well maintained although this is not always the case in rural areas.
Drivers in Portugal have a bad reputation, not always fairly so, although the proper use of roundabouts and indicators seems to elude most! Our Portugal driving and travel tips will help you stay safe on your road trip.
You must have at least three months remaining on your passport (issued in the past ten years) at your intended date of departure from France.
You must have at least 3rd party insurance for your vehicle.
Citizens of non-EU third countries may require an International Driving Permit for driving in Europe. You can check whether you need an IDP here.
You must carry photographic proof of ID and a reflective jacket (for the driver and all passengers) when traveling Portugal by road.
It is recommended that you carry a warning triangle.
It is forbidden to use a dash cam or radar detector in Portugal.
You will see Portuguese drivers using mobile phones at the wheel frequently but this is actually illegal, despite appearances to the contrary.
If you are driving in a large town or city, then 'helpers' will wave you to spaces or car parks in the hopes of getting a tip but you do not have to tip them unless you feel it's deserved. When you are hot and stressed and trying to park, having someone waving at you and 'helping' is not always that helpful!
Portugal has one low emission zone (LEZ) in Lisbon, which was introduced in the inner city center in 2011. In 2012, a large area was added to the LEZ, which now comprises two sub-zones and currently covers 33% of the whole city. Click here for more information.
Toll Roads in Portugal
Toll roads in Portugal are complicated! There are a number of different companies requiring different systems, with options to pay electronically or pre-pay. It is often not possible to pay as you go. This site provides a good explanation of them all.
Having spent quite a bit of time touring in Portugal, we think the temporary Via Verde device is the best option. This is an electronic device you can order online in advance. It's valid throughout all the Portuguese highways network, highways with electronic-only tolls and designated lanes on traditional tolls.
Where possible though, avoid the tolls and take the scenic route when driving around Portugal, you'll have a much better experience!
RELATED POST: Driving in Europe – Everything You Need to Know
Are you looking for more European road trip ideas? Check out these top posts…
Ahhh, France. A country so eclectic and beguiling, it is the most visited nation on the planet. A French road trip is the best way to explore the wonderful diversity and beautiful landscapes of this country. Use our detailed guide and travel tips to find French road trip ideas in every region, and to plan your ultimate France road trip.
Love it? Pin it!