This post may contain affiliate links, from which we earn an income.
What To Do in Lisbon in One Day
Lisbon is one of the most picturesque cities in all of Europe. With stunning architecture from numerous time periods, lively cobbled streets, and a setting right on the Rio Tejo, Lisbon is a dream destination and the star of Portugal.
There are numerous things to see and do in this charming city and you'll be able to cover many of the main highlights with our one day in Lisbon itinerary.
In this Lisbon travel guide, you'll find a complete one day itinerary of all the most important must see Lisbon attractions, with an interactive map, organised to make the best use of your time.
We also share recommendations for central places to stay, ideas about where to eat local food, and tips about how to make the most of your 24 hours in Lisbon.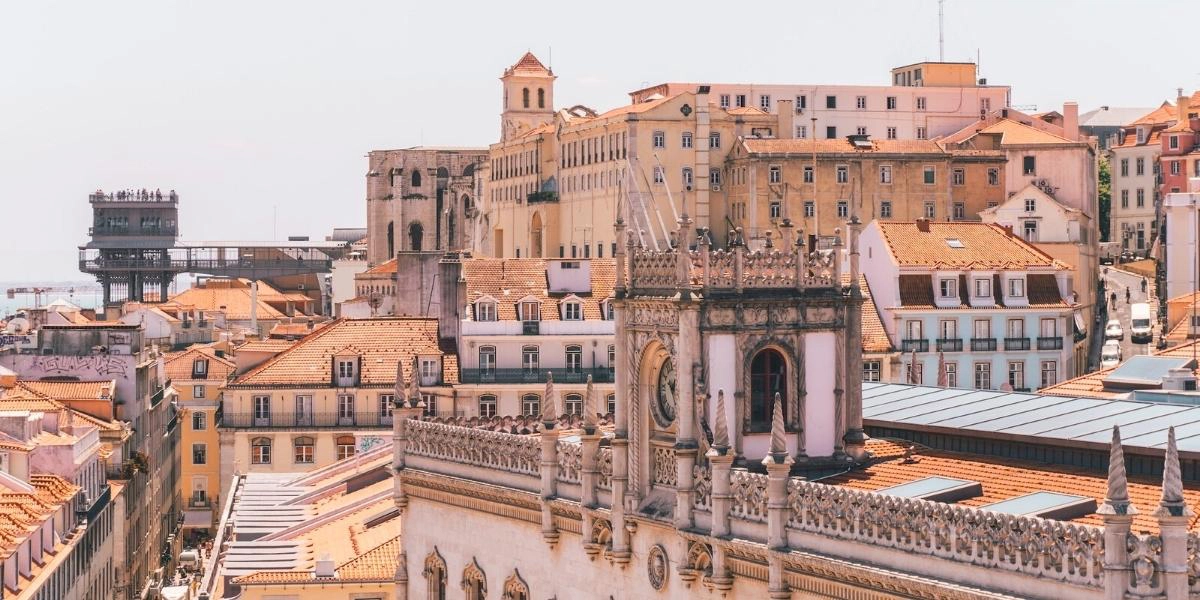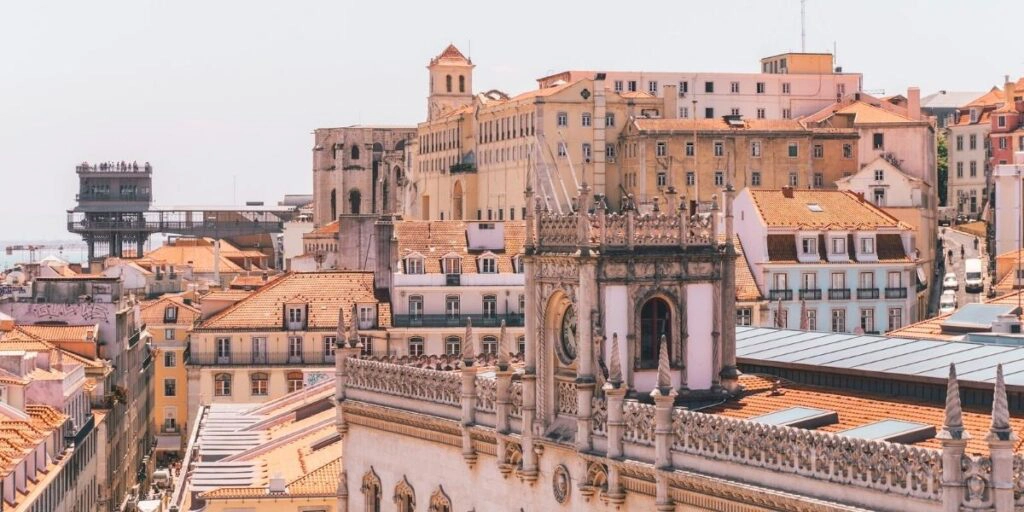 When to Visit Lisbon
Lisbon is a city that can be visited year-round, however, some months are better than others.
Winter – November to February
Unlike other northern hemisphere destinations, Lisbon doesn't see freezing cold temperatures in the winter. While it may be sunny (but chilly) for your day out in Lisbon, there are equal amounts of cloudy, wet days as well. In the winter, you can expect the weather to be damp and cool, which makes it the least desirable time to visit Lisbon.
Pros: discounted prices and fewer tourists. Cons: damp, cool weather, and a quiet atmosphere.
Spring – March to May
This is one of two ideal times to visit Lisbon. During the spring, the weather is warm but not unbearably hot. The tourist season hasn't fully picked up during the spring, and there are many festivals and events taking place.
Pros: good weather and fewer tourists than the high season. Cons: weather can still be unpredictable during these months with downpours possible.
Summer – June to August
The summer is the peak Lisbon tourism season. The weather is great, there's a buzz in the air, and dining outside is enjoyable.
Pros: lots of events and things going on, great weather and you can visit the nearby beaches or lounge by your hotel pool. Cons: lots of tourists, higher prices, and you'll need to book ahead of time or accommodation options won't be available.
Fall – September to October
Another great time to be in Lisbon is during these two autumn months. The sky is blue, the weather is great and the tourists have thinned out by this point.
Pros: fewer people at popular sites and prices start to reduce. Cons: not as warm as the summer.
Is this your first time visiting Portugal? Get all the information you need in our Portugal Travel Guide, including what to pack, the best time of year to go, getting there and practical tips to help you have the best trip!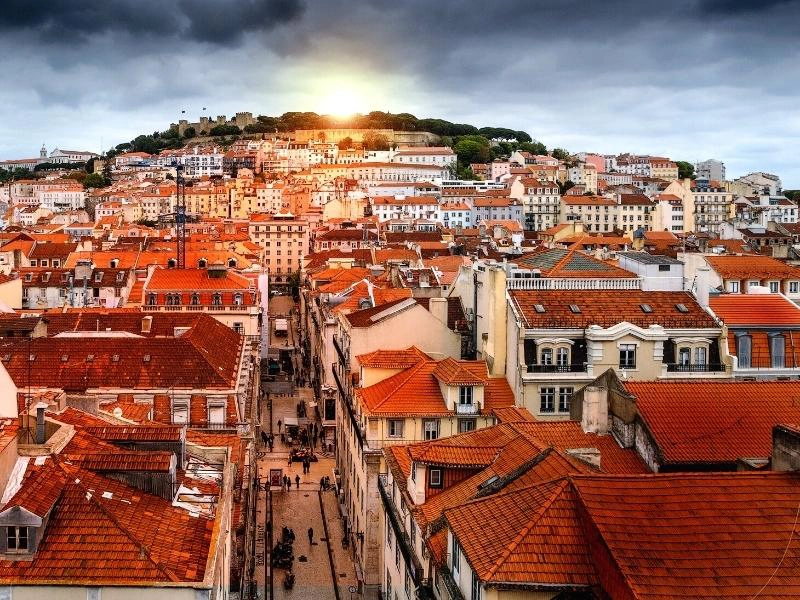 Lisbon Trip Resources
Flying
Fly into Humberto Delgado Airport
Driving
Drive in from Europe or hire a car in Portugal
Travel Insurance
Medical costs, delays and lost luggage
Getting to Lisbon
Flying
When flying to Florence you will land at Humberto Delgado Airport, only 20 minutes from the city centre. The quickest and most cost effective way to get into Lisbon is on the metro, the trains run every 7-10 minutess to Sao Sebastio, and from there you can take an onward train to your preferred destination.
You can pre-purchase a Lisbon Card, which as well as providing free transportation also offers free admission to many of the cities attractions. You can get cards for 24, 48 or 72 hours and they are easy to pick up at the airport when you arrive.
You can take a bus from the airport directly to the centre of Lisbon, however, there are luggage size restrictions to be aware of, the maximum size allowed is 509x40x20cm. The buses take about 45 mins and cost €1.80 when paid on board the bus. You can check on timetables for the buses here.
You can also book a private transfer from the airport with Klook directly to your accommodation in the city. Klook works with a large range of local operators to bring the the best options and prices for your transfer.
Where to Stay in Lisbon
Luxury: The One Palacio da Anunciada – Booking.com | Agoda
Mid-Range: Altis Avenida Hotel – Booking.com | Agoda
Budget: Browns Boutique Hotel – Booking.com | Agoda
Hostel: The Central House Lisbon Baixa – Booking.com | Agoda
Things to See & Do in Lisbon
Seeing the best of Lisbon in a day is very achievable on foot, thanks to the walkable nature of the city, and its' well-placed lifts, elevators and trams to help with longer distances and hills. Our Lisbon itinerary will take you on an easy stroll through this wonderful city, and show you what to do in Lisbon for a day.
Interactive Map of Your Lisbon Itinerary
How to use this map – Use your fingers (or computer mouse) to zoom in and out. Click or touch the icons to get more info about a place, and click the arrow in the box top left to open the index. To add to your own Google Maps account, click the star next to the title of the map.
Morning
Grab a Coffe at Praça Dom Pedro IV
The popular plaza of Praça Dom Pedro IV makes a grea place for people watching with an espresso. Also known as the Rossio, it's a hive of activity and considered the heart of Lisbon.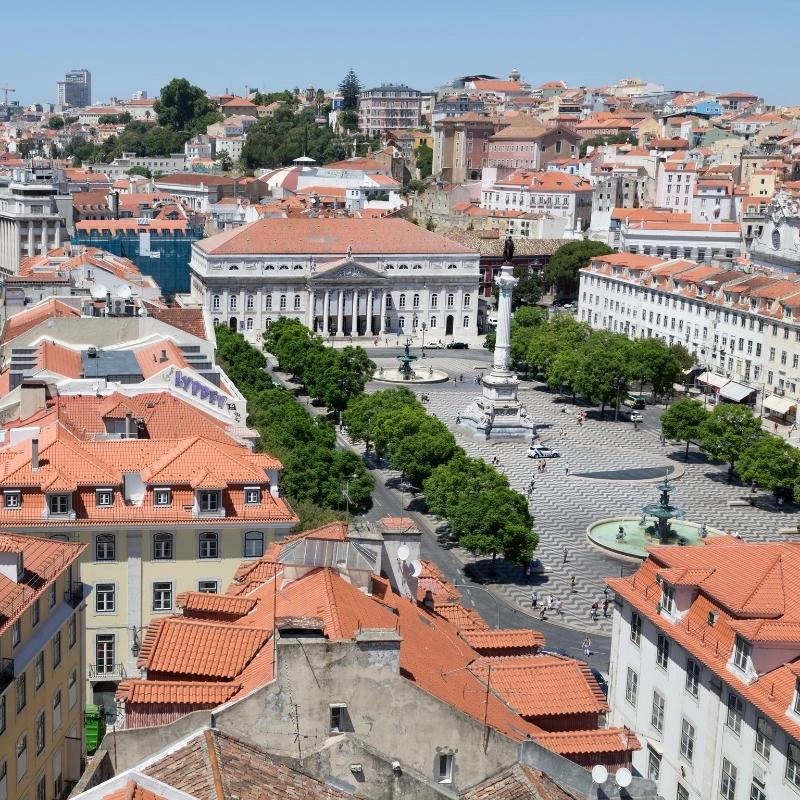 Ride the Elevador de Santa Justa
The Santa Justa lift, a 19th century wrought-iron elevator, was once a practical mode of transportation, but these days it's more of a tourist attraction and one of the top things to do in Lisbon in one day.
The views from the viewing platform at the top are gorgeous, making it one of the best photo spots in Lisbon. In order to avoid the inevitable queues, make sure to visit before 10am or after 3pm.
Take a one way trip on the elevator, and follow the 25 meter walkway for an easy journey to your next destination!
TOP TIP: If you have a 24 hour public transport pass, this ride will be included in that.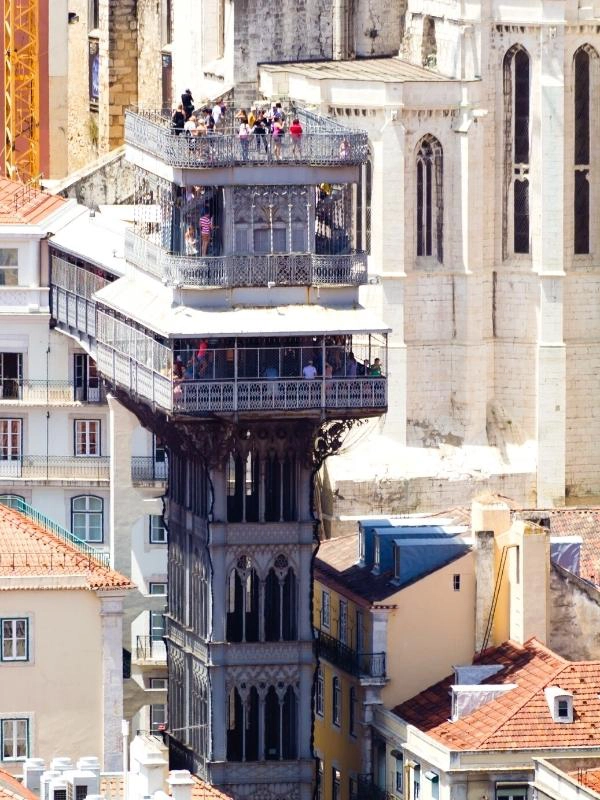 Admire the Convento do Carmo
The medieval Carmo Convent and Gothic church ruins are an atmospheric spot, and a reminder of the devastation left by the 1755 earthquake, which affected so much of Lisbon.
The earthquake caused significant damage to the convent and completely destroyed the library. In 1864 the site was donated to the Association of Portuguese Archaeologists, which turned the ruined building into a museum. In February 1969, another earthquake caused damage to the church nave, leaving it open to the skies as you see it today.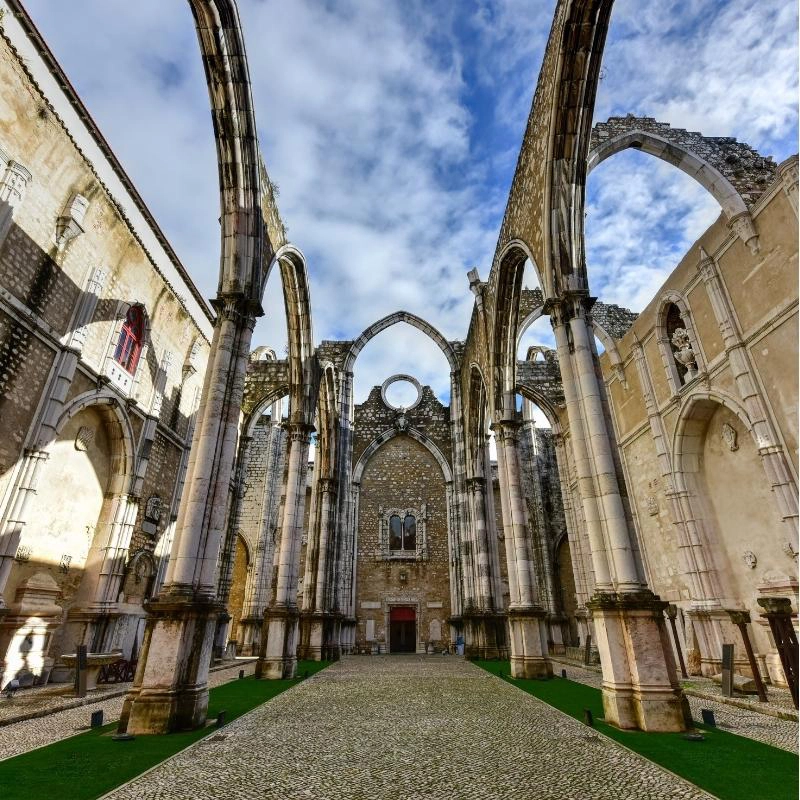 Pop to Livraria Bertrand
In the Chiado neighbourhood, you'll find Livraria Bertrand Chiado – which is the oldest bookshop in the world. The bookshop opened its doors in 1732 and is still running today.
Not only is Livraria Bertrand old, it is also deceptively large, with rooms named after authors. There is a long corridor through the bookstore, up to writer Fernando Pessoa's room, where you'll also find the Livraria Bertrand Cafe. Spend some time browsing the books, or reading in one of the little nooks.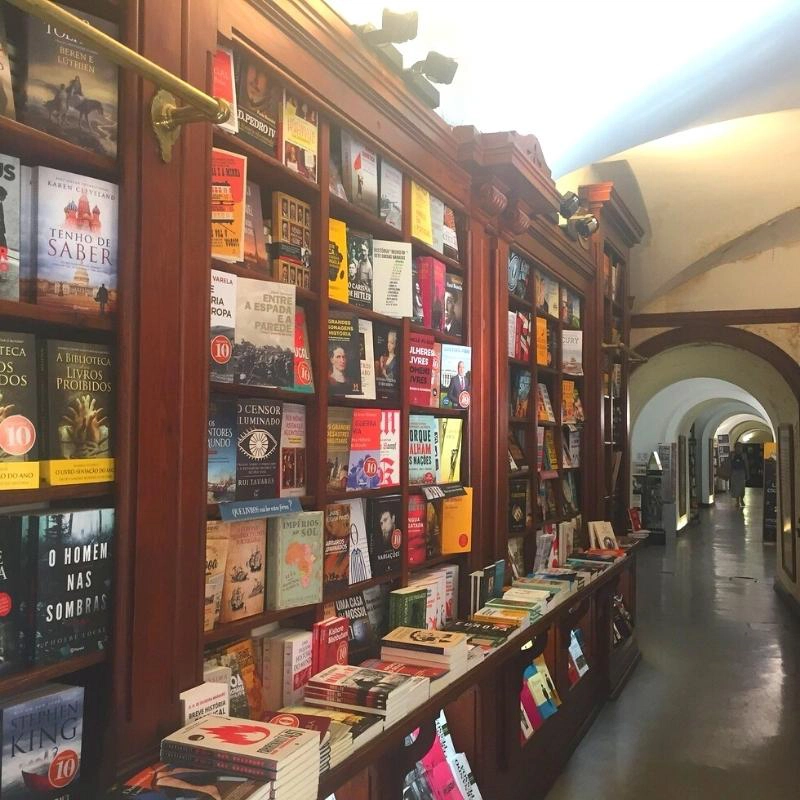 Enter Through the Rua Agusta Arch
Wander down Rua Augusta and enter the enormous Praca do Comercio plaza through the Rua Agusta Arch, which was built in 1875 to commemorate the reconstruction of Lisbon after the devastating earthquake in 1755.
The arch has six columns and is quite ornate. If you have time, head up to the top of the arch for an awesome viewpoint.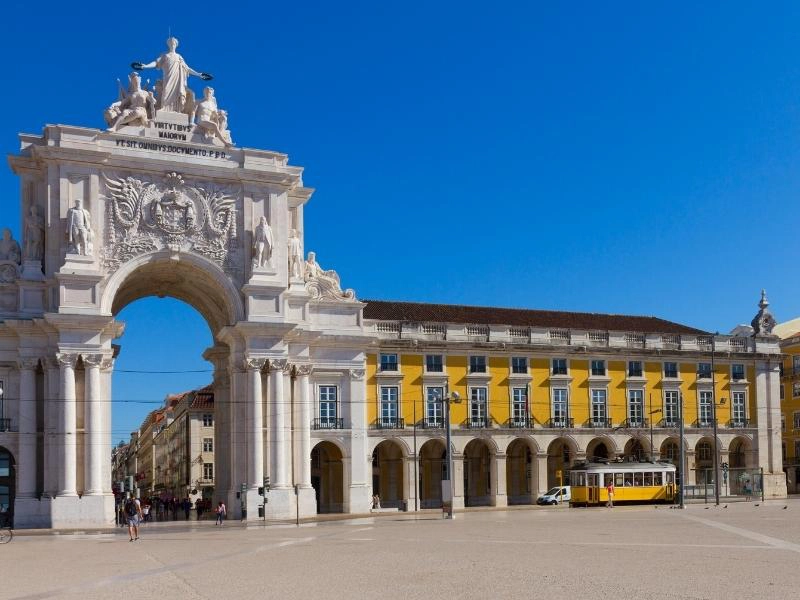 Visit The Praça do Comércio
Continuing along the gorgeous calcada portuguesa (Portuguese pavement) with its pretty mosaics, once you pass through the arch, you enter into the Praca do Comercio. Wander around the plaza while taking in the amazing architecture and the statue of King Joseph I.
TOP TIP: If you prefer to be organised, or like to get a feel for a new city, learn some history, and get a lay of the land, then join a walking tour which takes in all of the sights mentioned above and more. Our pick is this top rated private tour with an English speaking local guide.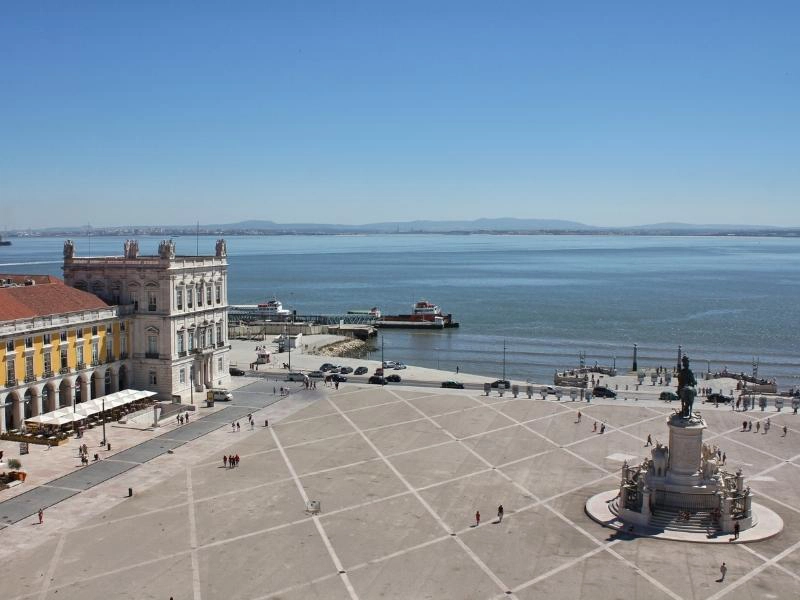 Afternoon
Ride the Elevador Castelo
From the grand Praca do Comercio, make your way to the Elevador Castelo, which is a somewhat hidden elevator that helps you avoid walking up the steep hills of Lisbon!
These are actually two vertical lifts that together make the Elevador Castelo. The first lift departs from a fairly inconspicuous building at 170-178 Rua dos Fanqueiros, and drops people off in Rua da Madalena. Just 100 metres further there is another lift, that transports passengers to Costa do Castelo.
The first building itself is an blue and white tiled attraction, and the views from the elevators are great as well.
Explore the São Jorge Castle
Once you get off the elevator, you can take a second one which brings you even higher up the hills before arriving at the historic Moorish Castelo de Sao Jorge. This is one of Lisbon's most popular monuments, for good reason.
Some of the remains found here date all the way back to the 6th century BC. These days, the fort has been restored and is a great place to wander around, while taking in the museum and the stunning views of the Tagus River and the city of Lisbon below.
Dominating the city, and at just €10 to enter, this is worth a visit.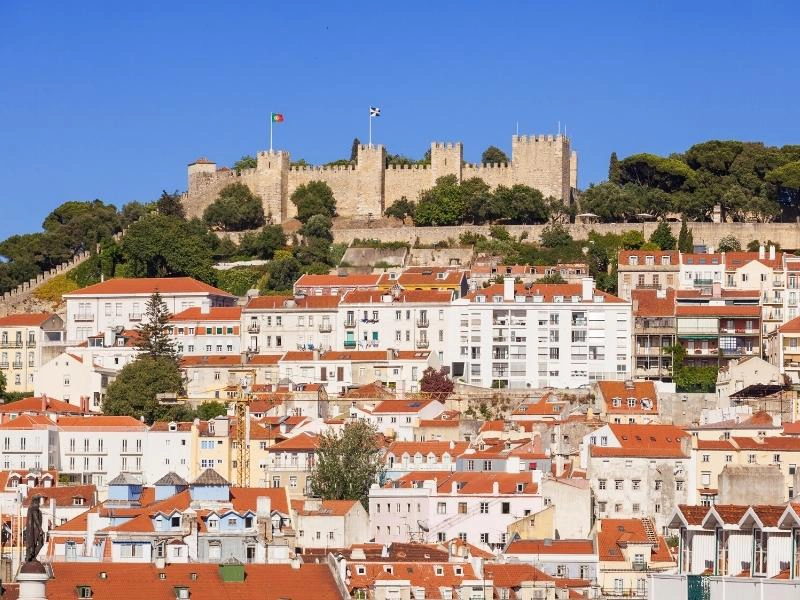 Take in a Sunset View
Because Lisbon is such a hilly city, there are numerous miradors (Miradouros) offering fantastic views. The best time to visit is in the early evening, when the sun is low enough in the sky that it's not too hot!
Many people bring drinks to the viewpoints (grab your favourite bottle of wine!), some speakers for music, or even an acoustic guitar for a jam session. Miradouro de Santa Luzia, Miradouro das Portas do Sol and Miradouro da Graça are all good options – just take your pick and enjoy.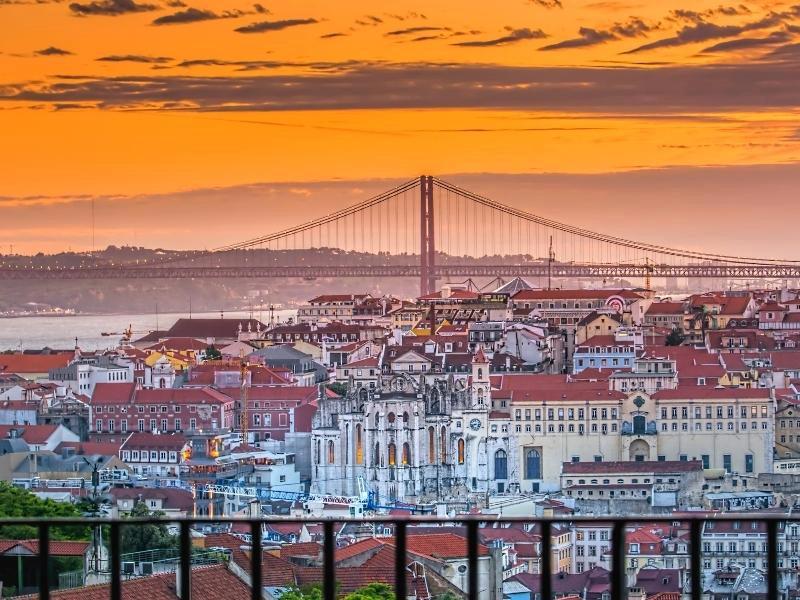 Other Portuguese Travel Ideas
Evening
Ride the Trams
Riding the elevator is one thing, but Lisbon is known for its cute trams that clamber up and down the hilly streets. Tram 28 is the most popular one for tourists and connects Martim Moniz with Campo Ourique, passing through the popular Graca, Baixa, Estrela and Alfama districts.
TOP TIP: If you just want to experience a quick tram journey, have a look at the Bica Tram, otherwise known as the Elevador da Bica (yep, the same word for lifts) which connects Largo do Calharizon, on the southern edge of the Bairro Alto, to Rua de São Paulo, via a few hundred beautifully photogenic metres.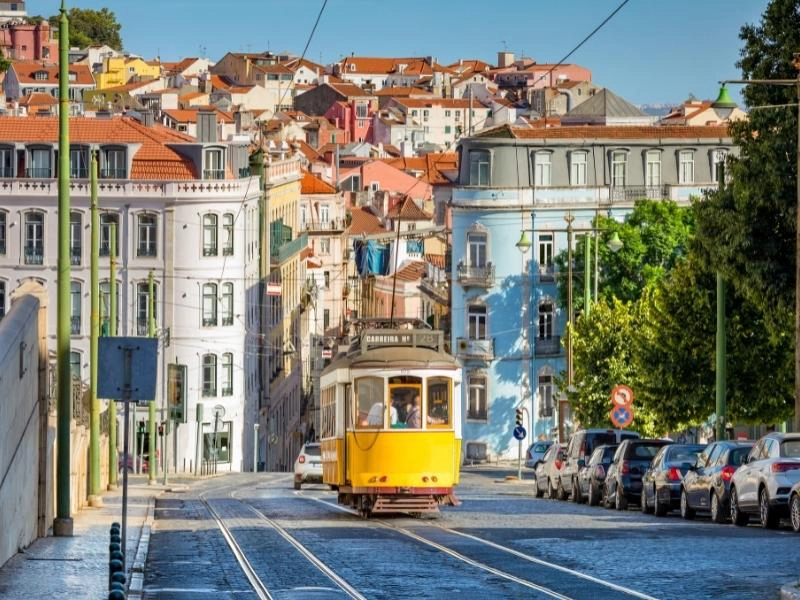 Listen to Fado
The traditional music of Portugal, Fado's roots can be traced back to 1820's Lisbon, when Portugal was in the midst of the Liberal Revolution. The Portuguese word saudade, meaning longing, is used to describe the melancholy and mournful lyrics and tunes.
Fado music has been on the UNESCO Intangible Cultural Heritage List since 2011, and is an experience not to be missed when you have just one evening in Lisbon.
Explore Lisbon's Nightlife
Start your night in Chiado, full of restaurants and bars to tempt your taste buds.
From there, head to the lively streets of Bairro Alto for the bar-lined streets of Rua da Atalaia, Rua do Norte, and Rua do Diário de Notícias. This is also a great place to see some of Lisbon's best street art, including the Calçada da Glória Outdoor Art Gallery, the official street art gallery of Lisbon.
If you've still got energy, end the night on Rua Nova do Carvalho, better known as Pink Street, an old sailors haunt which is now home to a row of cool bars and a street literally painted pink!
Where to Eat in Lisbon
Manteigaria
Inside the Time Out food market, Manteigaria is the best place to try Pastel de Nata in the city of Lisbon, and only a few minutes walk from Livraria Bertrand. Pastel de Nata are the traditional egg custard tarts of Portugal, and are a must-have any time of the day, you have to try one if this is your first day in Lisbon!
But wait! There's a debate if Pastel de Nata is the best custard tart, or if Pastéis de Belém is better. The latter is made to a recipe developed by the monks of Jerónimos Monastery in 1837, the ingredients of which remain a secret today. Why not try both to see if you can tell the difference?
TOP TIP: Pastel de Nata are best eaten warm from the oven, when the pastry is crisp and the custard is heavy with caramelisation. Ask for it warm when you order.
Time Out Market
The Time Out Market is a bit of an institution on the Lisbon map. Basically, this is a huge food hall with numerous restaurants and bars all under one roof. You'll find restaurants by famous chefs as well.
This food hall is a good place to visit for a pre-dinner snack or a full-on meal. Often, you'll even find events being held here.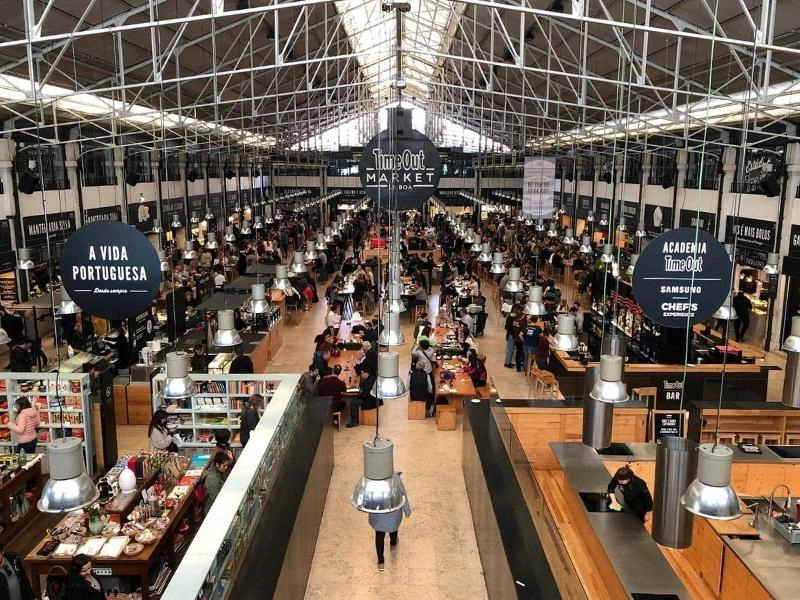 Taberna Portuguesa
This is a small restaurant serving up traditional Portuguese food. With strong ties to the ocean, it's no surprise that fishing in Portugal is quite popular, and with that, dining on fish is popular as well. At Taberna Portuguesa, you can find tasty bacalao (salted and dried cod, a speciality in Portugal) and sardine meals as well as other traditional dishes.
With just a few tables, you'll want to make a reservation here. The staff are excellent at suggesting dishes for you to try, and which food goes best with which wine.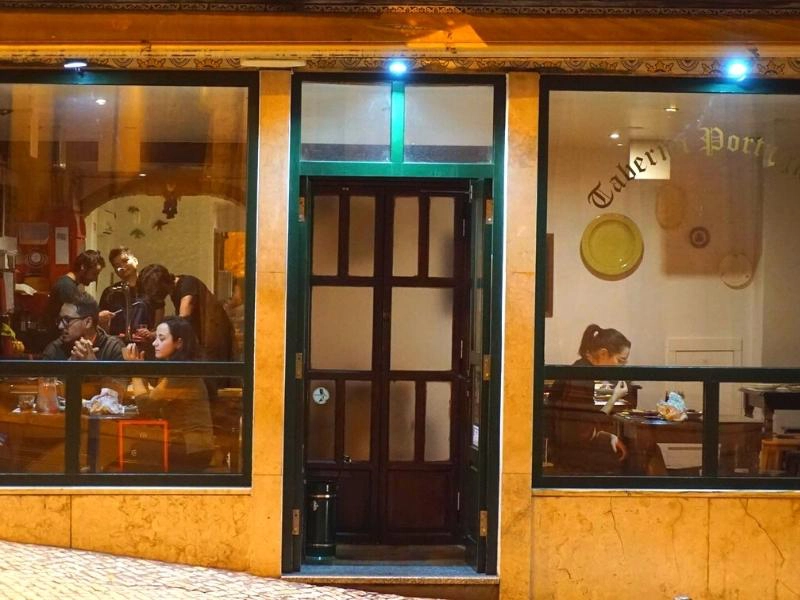 Top Five Lisbon Travel Tips
Skip the Lisboa Card. If you follow our itinerary many of our Lisbon sightseeing suggestions are free. You need to spend at least two days in Lisbon to get value for money from the Lisbon Card.
Don't eat the 'free' food. Many people sit down to enjoy a meal and are impressed to see complimentary bread, cheese, and olives arrive just moments after. These are not free, and if you don't want them, just tell the waiter right away. Otherwise, you'll find charges on your bill at the end of the meal.
Watch your pockets. Lisbon in general is a very safe city. But at the popular tourist sites and on crowded trams, pickpockets have been known to roam.
Dine away from the tourist areas. Food and drinks are much more expensive around the main plaza than other places in Lisbon. Avoid eating in that area to save on food costs.
Wear good shoes. One of the best things about Lisbon is that while it's a trendy, hip place, it's ok to dress casually (unlike other cities in Europe). Wearing sneakers with your dress is common here ladies! Don't try to wear heels on Lisbon's hilly streets.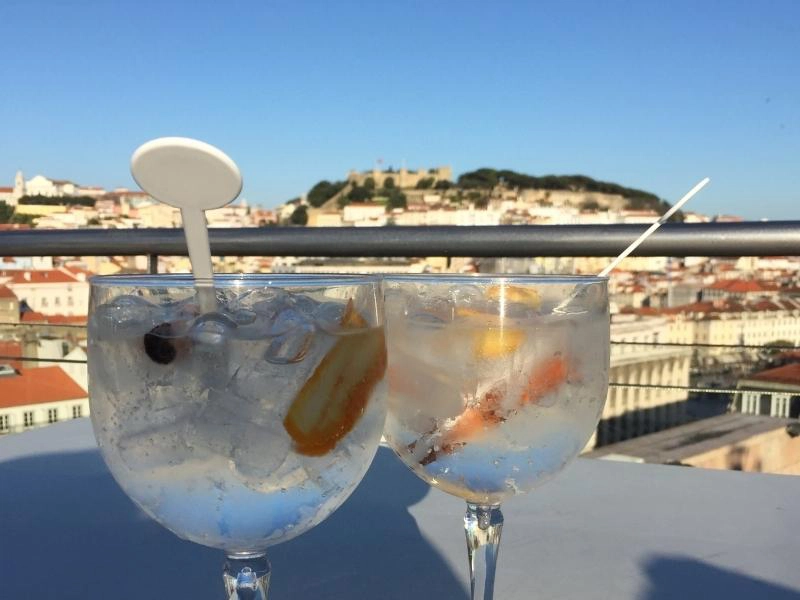 More Than One Day in Lisbon?
Do you have just half a day more in Lisbon, or perhaps you can extend your trip and see Lisbon in one weekend? Add these attractions and day trips from Lisbon to your itinerary;
Visit Belem Tower
Take a stroll west along the river to the Torre de Belem, officially the Tower of Saint Vincent. A 16th century fortification, Portuguese explorers once embarked on their adventures to discover new lands from here. Now a symbol of Portugal's great Age of Discovery, the Belem Tower stands proud in the Targus river.
Climb the Sanctuary of Christ the King
Cross the river on the Ponte 25 de Abril and see the 20th century statue of The Sanctuary of Christ the King, or Cristo Rei, modelled on Christ the Redeemer in Brazil, which stands over the river and provides spectacular views of Lisbon from the top.
Visit the often overlooked Estufa Fria, or Greenhouses, a haven of lush tropical and exotic plants and water features. The plants are housed in three magical greenhouses with slatted bamboo roofs, in the northwestern corner of Parque Eduardo VII.
Be Amazed by Sintra
Take a day trip to one of Portugal's favourite national parks and UNESCO World Heritage Sites, the city of Sintra, once the home of Portuguese royalty. Home to colourful Pena Palace and Quinta Da Regaleira, where the mysterious Initiation Well is a top Instagram draw, Sintra is like nowhere else in Europe.
On our recommended and very well reviewed Sintra day trip you'll also see Capo de Roca, mainland Europe's most westerly point, some of the best beaches in Portugal and the lively town of Cascais, one of Portugal's top coastal resorts.
Visit Porto
Take a high speed train from Lisbon to Porto, which will get you there in around three hours. Trains start around 8am and the last Porto to Lisbon train leaves at around 8pm, so you'll have plenty of time to enjoy the city and visit all the Porto must see attractions.
Tickets cost around €25 each way. Organised day trips from Lisbon to Porto are another great way to see the city, with the added bonus of a guide to show you to all the best things to do in Porto. Check out these private Porto tours for the best option.
Or, hire a car and take the incredible drive from Lisbon to Porto. Stopping at many of Portugal's top destinations along the way, like Fatima, Coimbra and Nazare, this coastal and historic itinerary is a must if you want to see more of Portugal.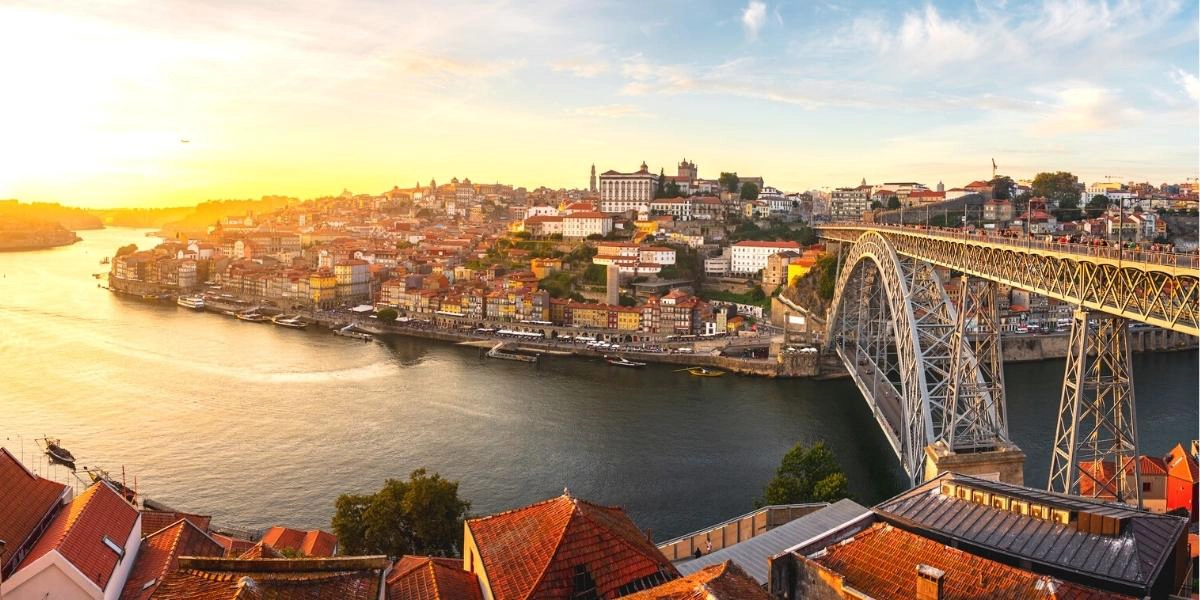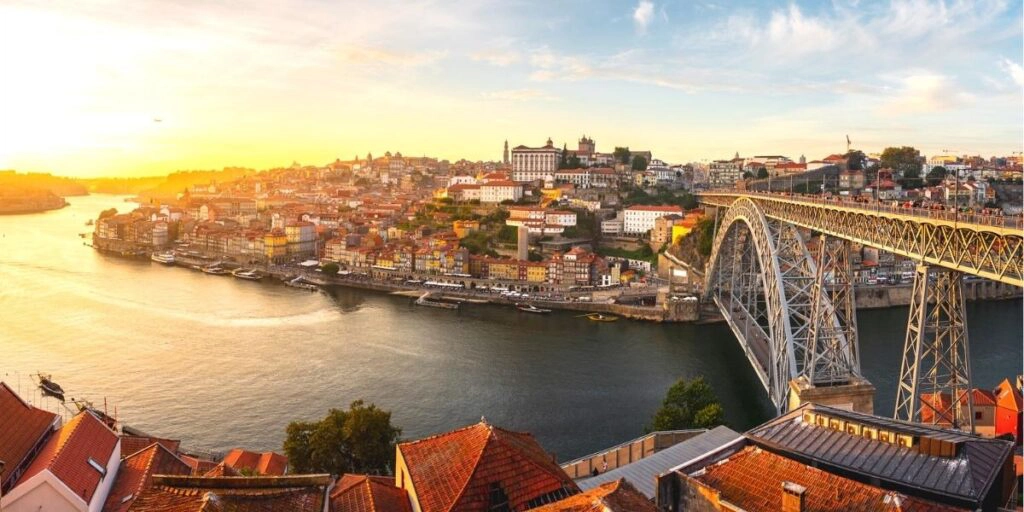 Sintra, Cascais and Cabo da Roca Coast Day Tour
If you take one day trip from Lisbon, take this highly rated and well organized day trip.
Visit the UNESCO city of Sintra, home to colourful Pena Palace and Quinta Da Regaleira, to see the mysterious Initiation Well. You'll also see Capo de Roca, mainland Europe's most westerly point, and the lively town of Cascais, one of Portugal's top coastal resorts.
With a professional guide to offer insights, an organized tour is the perfect opportunity to see more of Portugal in less time!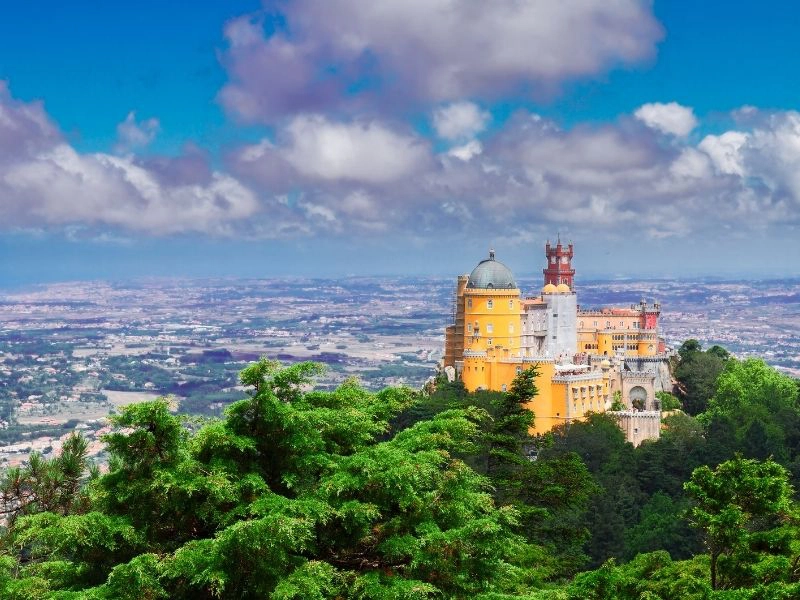 Written for The Gap Decaders by Goats on the Road
Are you looking for more one day city itineraries? Check out these top posts…
Amsterdam is a city packed with eclectic culture and life. There is a little bit of everything, be it architecture, cuisine, history or nature. In our Amsterdam travel guide, we'll share an itinerary for a day in Amsterdam, highlighting the top attractions and hidden gems that you won't want to miss. You'll find information, tips, and recommendations for visiting Amsterdam, with an interactive map, organized to make the best use of your one day in…
Love it? Pin it!