This post may contain affiliate links, from which we earn an income.
The Best Routes to Spain from the United Kingdom
Are you desperate for some Spanish sun but don't want to fly? With great routes across Europe, it's easy to drive to Spain by car, arriving refreshed and unstressed from the comfort of your own vehicle.
With information about routes, maps, costs and comparisons, plus ferries to Europe and tips about driving once you're there, our driving to Spain from UK guide will help you decide which is the best route for your driving trip to Spain, so you can arrive refreshed and ready to go!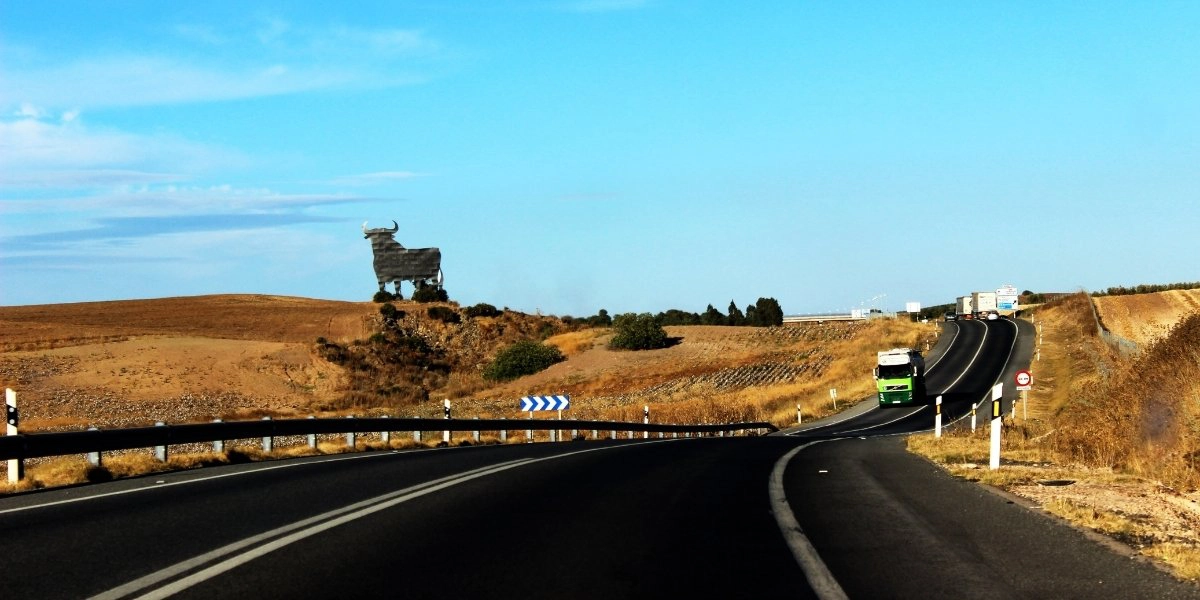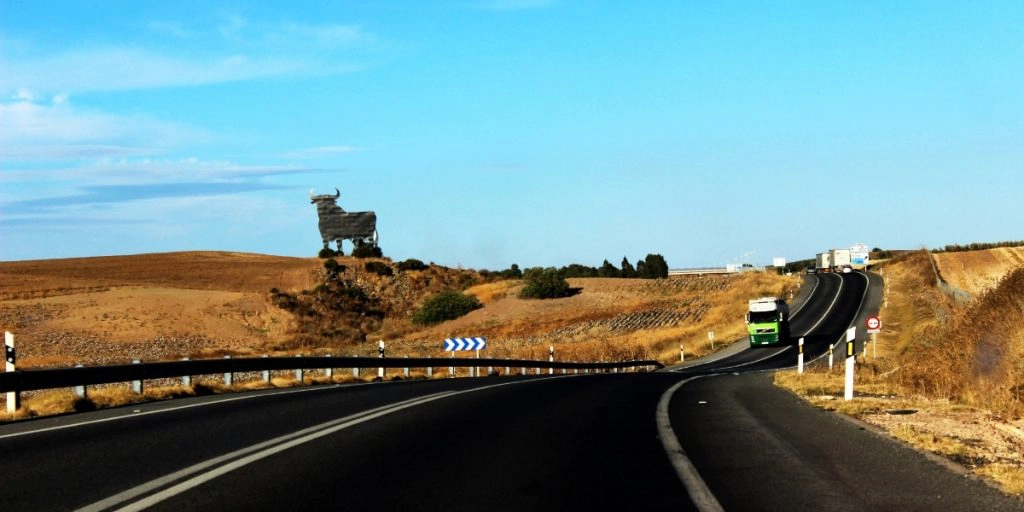 Crossing the Channel
EuroTunnel Le Shuttle
The fastest channel crossing route is using the Eurotunnel Le Shuttle from Folkstone to Calais. The crossing under the channel takes 35 minutes, with a slick check in and loading / unloading process, you can be in France proper in an hour.
This crossing is Ideal if you are driving to Spain from UK with a dog or just want to get to the other side as quickly as possible.
Dover to Calais
Certainly the quickest way by ferry is the Dover-Calais route, on which both P&O and DFDS operate up to 40 crossings between them a day in July and August. Taking just an hour and a half, you'll have time on board for a meal or drink and perhaps a quick snooze.
Getting on and off can take a while though, as they have to piece all the vehicles together like a jigsaw puzzle. Not as quick as the shuttle, but very possibly a bit cheaper, especially if you can be flexible with crossing times.
Portsmouth to Caen / Cherbourg
More expensive and quite a bit longer than the Dover-Calais route, the Brittany Ferries crossings from Portsmouth may prove to be cost effective in fuel and toll costs if you don't live in the south east of England.
The Caen route operates three crossings a day, one of them overnight, meaning you'll arrive in France refreshed (but will have to book a cabin or reclining seat) and ready for a full day's driving.
The Cherbourg route crosses at least 12 times a week and uses a fast catamaran service, taking just three hours port to port.
Other Popular Crossings
There are a handful of other routes out of Newhaven, Folkestone and Poole which are also worth exploring. You could also consider sailing to Le Havre or St Malo from Portsmouth or Dunkirk from Dover.
The key here is to to be flexible with dates and times to get the best deals…this is where you may just find a bargain.
England to Spain
One of the simplest ways of getting to Spain is to miss France altogether and get a ferry crossing to Spain from UK, sailing from Portsmouth or Plymouth to Santander or Bilbao in northern Spain.
The catch is that the UK to Spain ferry crossings take a long 24 hours, books up quickly and can be expensive, even taking into account the costs of tolls and fuel in France. The crossing is also notoriously rough in the winter months, so you may want to find ways of avoiding seasickness if you choose this route!
However, if you don't enjoy driving in Europe, have a pet with you or just want to take things a little more slowly, then taking a boat from UK Spain may well be the best option.
Is this your first time visiting Spain? Get all the information you need in our Spain Travel Guide, including what to pack, the best time of year to go, getting there and practical tips to help you have the best trip!
Driving in France
Driving from UK to France and through the country is easy, with well maintained roads and generally considerate and well-mannered drivers.
On the downside, France is one of the most expensive countries in which to drive and travel in Europe, due to the high fuel costs and expensive tolls, especially if you're travelling in a larger vehicle like a motorhome.
There are also regular disruptions and fuel blockades due to political tensions, so make sure you check the current situation when you leave home.
Follow these tips for a safe and easy transit through France on your road trip to Spain from England.
In recent years there has been a significant increase in speeding fines issued by French authorities to Brit drivers. Many get home from a holiday or road trip to a nasty surprise in the post. Be aware and stick to the speed limit when driving in France.
You must have at least three months remaining on your passport (issued in the past ten years) at your intended date of departure.
You must have at least 3rd party insurance for your vehicle. Update August 2021 – you no longer require a green card to prove you have vehicle insurance cover when travelling in Europe.
From 28th September 2021, you will have to display a UK sticker on the rear of of your vehicle, instead of a GB sticker, unless you have a new style UK numberplate which displays the Union Jack flag.
Your UK licence allows you to drive in all EU countries. If you only have a paper driving licence or a licence issued in Gibraltar, Guernsey, Jersey or the Isle of Man then you will need an International Driving Permit.
You must carry at least one reflective jacket within the passenger compartment of your vehicle and must put it on before you get out in an emergency or breakdown situation You must also carry a warning triangle.
Headlight beam converters (unless you can adjust your's automatically).
You must fit snow chains when driving on snow-covered roads in accordance with local road signs. A maximum speed limit of 31 mph (50km/h) applies.
You may want to consider carrying an Emovis electronic toll pass which deducts the fees from a credit card automatically, meaning you don't have to stop at a booth or barrier.
Don't fill up at motorway service stations – you'll pay at least 10-15c more per litre than finding a garage off the autoroute.
France has very strict drink driving laws compare to UK. The UK maximum is 0.8 mg/ml and the French maximum is 0.5 mg/ml of alcohol per litre in your blood . If you are tested and found to be over the limit, you may face up to 4,500 euros fine and have to appear in court.
From 1st January 2021, all vehicles over 3,500kg are required to display infographic 'angles morts' or blind spot stickers. Stickers must be visible on both sides and at the back of the vehicle and must be placed between 0.90m and 1.50m above the ground. Stickers must be placed in such a way that they don't cover the vehicle's regulatory plates and inscriptions, any of the lights or signals, and don't hinder the driver's field of view. Find out more about motorhome driving in France here.
On 1 November 2021 the Loi Montage II or 'mountain law II' came into force in 48 French mountainous departments within the Alpes, Massif Central, Jura, Pyrenees, and Vosges regions. Anyone travelling in a car or motorhome or through one of these areas between 1 November and 31 March will be obliged to fit four approved winter tyres or carry at least two snow chains or socks in the vehicle.
As of January 2013 the French government announced that the introduction of an €11 fine for not carrying a breathalyser/alcohol test one had been postponed indefinitely. However, law still states that drivers must have an alcotest ready for use in their vehicle even though no penalty will be imposed if they cannot present one during a police road check.
RELATED POST: 19 Helpful Long Distance Driving Tips
Motorway Breakdowns in France
French motorways are privately managed and you're not allowed to request your own assistance company to attend to you if you break down.
If you do break down, you should use the orange emergency telephones that are situated every 2km along French motorways to call the police or the official breakdown service operating in that area. Alternatively, if no orange telephone is available, you should call the emergency services by dialling 112.
You will be towed to a safe designated area where you can make onward arrangements for your own breakdown insurer to assist you, if you have it. Otherwise the towing company will be able to provide support or signpost you.
Charges for assistance on a motorway are fixed by the government and are reviewed and revised each year. Many of the government-appointed towing services allow large insurers to pay them directly, but this is at their discretion and will depend on who your European breakdown cover is with.
If this is not the case, you should pay directly and then seek recompense from your insurer.

Routes Through France
The Quickest Route
Rouen – Le Mans – Tours – Bordeaux – Irun
Assumes travel from Calais in a 2.5l diesel car. Find your costs here.
Whether you cross into Calais, Caen or Cherbourg, the quickest road to Spain is down the western side of the country. You'll miss the major high ground in the middle of France and be able to travel on autoroutes pretty much all the way.
From Calais, head for Rouen, then Le Mans, Tour, Bordeaux and down to the border at Irun. For those arriving in Caen or Cherbourg, head for Le Mans and pick up the remainder of the route there.
You could barrel all the way down to the Spanish border in a day if you were sharing the driving, but we would suggest a stop in Tours if coming from Calais before a second stop in San Sebastian in Spain. If coming from Caen or Cherbourg, Bordeaux makes a perfect stop over.
The Most Scenic Route
Paris – Orleans – Clermont-Ferrand – Millau – Beziers – Perpignan – Barcelona
Assumes travel from Calais in a 2.5l diesel car. Find your costs here.
Driving from UK to Spain by car doesn't have to be boring. This route will take you through some of France's most spectacular scenery and across the Massif Central.
From all the ports, head for the Paris ring-road and follow your sat nav judiciously…you really don't want to end up in inner city Paris! Perhaps stop off, find a good hotel and take in one of the most beautiful cities in the world before heading south.
Next up is Orleans on the banks of the Loire river and home to Joan of Arc. From here, head south Clermond-Ferrand, surrounded by dramatic extinct volcanoes and authentic French countryside villages, perfect for a few days walking before you hit the road again.
Make for Millau and cross the highest road bridge in the world en route, the incredible Millau Viaduct.
Your nest stop is Beziers, home to the Canal Du Midi and its' famous nine locks. This often overlooked city makes a great pit stop.
Finally, you'll reach pretty Perpignan where you can enjoy the last of France before crossing the border for the drive to Barcelona, the perfect city in which to stop for a day.
You will be able to find great hotels in all these destinations, allowing you to enjoy a slower pace and see some off the beaten track France.
Perhaps take the scenic route to Spain and take the fast route for the return journey, when you'll be looking forward to getting home.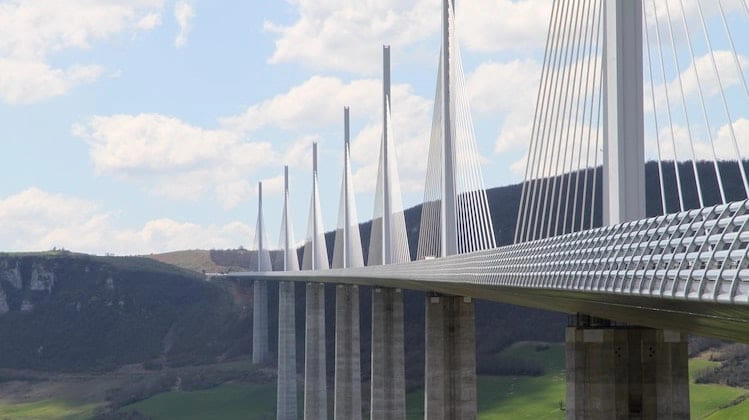 The Cheapest Route
Rouen – Chartres – Poitiers – Bordeaux – Irun
Assumes travel from Calais in a 2.5l diesel car. Find your costs here.
Driving to Spain from UK avoiding tolls is very possible. You will still travel down the western side of the country, with the route relying heavily on the A28 and N10 toll free roads.
Not all stretches are dual carriageway and you risk slow moving vehicles, and traffic jams, especially on the approach to larger cities; it's likely to take longer than the stated 15 hours.
RELATED POST: Road Trip on a Budget: 36 Tips to Save Money in Europe
Onward Travel in Spain
You've arrived! Spanish roads are typically well maintained, the drivers considerate and relaxed.
Some of the best roads in Spain are in the interior, where you will have long stretches of sweeping autopista (motorway) and autovía (dual carriageway) to yourself. The trade-off is the Costas where traffic ramps up and tailbacks are frequent.
Depending on where you are heading, you'll find a good network of autopistas, with the the AP7 from Barcelona enabling driving through Spain from north to south before heading west to Malaga, one of the warmest places in winter in Europe. From this road, you can head inland to Madrid or across to Portugal.
Alternatively, head west from Irun or Santander and explore beautiful green Spain. You find fuel around 20% cheaper than France and the UK and tolls very reasonably priced, if not free of charge.
Spain Travel Inspiration
Driving in Spain
Follow our guide for safe driving in Spain and enjoy your holiday!
You must carry two warning triangles for front and rear. These warning triangles are now being phased out and from 1st July 2021 a new law requires that a V16 flashing emergency light is used, although both means of advising other traffic will be legal until the end of 2024.
You must also carry a reflective jacket (for the driver and all passengers) and a spare wheel and the tools to change a wheel, or a tyre repair kit.
From 28th September 2021, you will have to display a UK sticker on the rear of of your vehicle when travelling in Spain, even if you have a new style UK numberplate which displays the Union Jack flag.
If you wear glasses you must also carry a spare pair!
Headlight beam converters must be fitted (unless you can adjust your's automatically).
The use of winter tyres in Spain is regional. Look out for traffic signs indicating that winter tyres or snow chains are compulsory where you are.
Anything with a screen (television, video, DVD etc.) which could distract you when driving should be positioned where you can't see it. This doesn't apply to a sat nav but you must not touch or program your sat nav unless parked in a safe place.
Using radar detection equipment is prohibited under Spanish law and new regulations from January 2021 mean that it will also be illegal to be in possession of such equipment.
On roads with single carriageways, the speed limit established may not be exceeded by more 20 km/h when overtaking.
Toll roads are pay as you go and are very reasonably priced, with some charges being abolished in early 2020 and more in September 2021. You can pay with cash or credit card. Due to the huge swathes of nothingness in the interior, tolls are definitely worth taking if you are trekking from one side of Spain to the other. The AP7 on the Costa Blanca and Costa del Sol retains some charges, but they are minimal.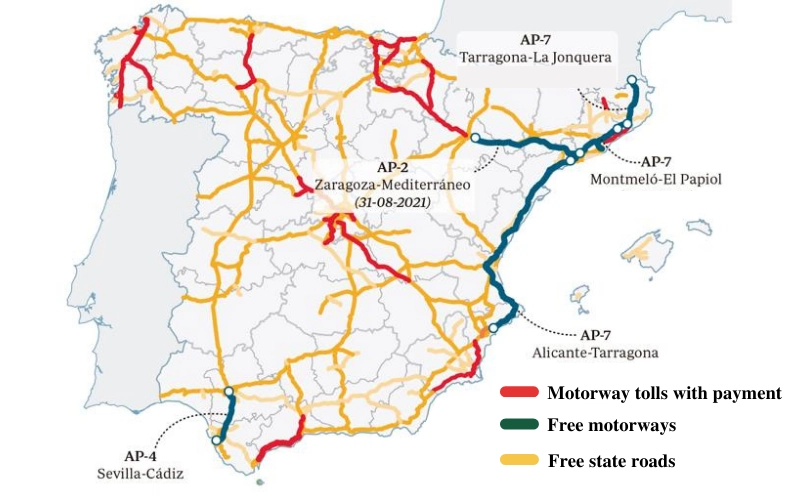 Are you looking for road trip inspiration? Check out these top posts…
One of the best ways to explore the beautiful country of Croatia is by taking a road trip, where you can drive along winding coastal roads, visit charming towns and villages, and discover off-the-beaten-path hidden gems. In this Croatia road trip guide, we'll share some of our favorite road trip routes and destinations in Croatia, along with tips for planning your own adventure on the open road. Get ready for an unforgettable journey through one…
Love it? Pin it!