Are you planning a visit to Barcelona? With an eclectic range of attractions and so much to see and do, our Barcelona one day itinerary will help you organise and plan you trip.
Is there any other city throughout the whole of Europe that offers visitors a more diverse range of things to do than Barcelona? Barcelona city boasts a rich cultural heritage, fabled architectural gems, an incredible eight UNESCO World Heritage Sites, as well as all the attractions of a modern global city alongside charismatic districts such as the Gothic Quarter.
Add to this a 4km long sandy beach and a culinary scene the envy of the world and you have a lot of experiences to choose from and enjoy. How do you prioritise what to do in Barcelona for a day? Here are our tips to make the most of your 1 day in Barcelona.
Barcelona is located in the north east of Spain and the Iberian Peninsula, 120 km south of the Pyrenees and the border with France. 
Barcelona is easily accessible from the main AP7 motorway which passes close by, on it's way south from the France-Spain border towards Alicante and Murcia. If you're planning a road trip in Spain, then Barcelona makes a perfect start point in either your own vehicle or by hiring a car at the airport.
Due to it's Mediterranean location, those visitors planning a day trip to Barcelona are likely to be staying in the popular neighbouring resort regions of the Costa Brava or Costa Dorada. For these visitors train services run frequently to the central stations of Placa de Catalunya and Passeig de Gracia, making a day trip in Barcelona easy.
Our own visit to Barcelona followed a motorhome tour of Italy and 24 hour ferry from Rome. To help with your own Italy tour see our 'Top 10 Motorhome Stops in Italy to get you off the Beaten Track'.
Barcelona is blessed with a mediterranean climate consisting of mild winters and warm to hot summers. With average daily temperatures between 20˚ and 30˚ the most pleasant time of year for a Barcelona one day tour is from the beginning of May to the end of July. Visit earlier in late March or April, or later in September and into winter for better flights, car hire, travel insurance and hotel deals with quieter attractions and fewer queues.
During the traditional holiday season of August, Barcelona sees temperatures in the mid 30˚s and long periods of increased humidity. Such conditions will inevitably make your 24 hours in Barcelona less comfortable, especially with all the other people who throng there in the height of summer!
Where to Stay in Barcelona
Unsurprisingly for a city of the stature of Barcelona, there are numerous accommodation options for all budgets for an overnight stay. The central Las Ramblas, Gothic Quarter and El Born districts are all popular locations to remain in the heart of the action. 
Our pick is the H10 Metropolitan Hotel with it's 10 out of 10 location overlooking the Placa Catalunya in the heart of Barcelona. Add to that a very cool roof terrace complete with bar and pool, efficient staff and a relaxed vibe, and you'll kickstart or end your day in Barcelona in the best possible way.
How to Get Around Barcelona
There are so many places to visit in Barcelona in 1 day that you need to maximise your time and get around as efficiently as possible.
As the city's extensive rail and tram networks predominantly serve travellers in and out of the city, visitors should concentrate on the Metro system. With eight separate lines each designated by colour and number, these serve most of the city and its famous attractions. Single tickets on the metro will cost €2.40 and the T-Casual card valid for 10 separate journeys is also available at stations for the cost of just €11.35.
Hop On - Hop Off Bus Tours
Whilst a hop on-hop off bus is not our preferred method of touring a city when time is not of the essence, it is ideal for those who want to see the main attractions of Barcelona in a few hours. These unmissable bright red buses link all the city's main attractions via a network of lines and allow unlimited journeys over a 24 hour period. 
What to See in Barcelona in One Day
The first attraction to see during a day in Barcelona must be the Sagrada Familia cathedral. This basilica is the yet to be completed architectural masterpiece of Barcelona's own Antoni Gaudí. You do not need to be an architecture buff to appreciate his unique and distinctive style, heavily influenced by nature.
Gaudí's design is so complex that whilst the foundation stone was laid as far back as 1882, Sagrada Familia is not expected to be completed until 2026, some 100 years after his death. Once complete, the imposing building will boast three facades, eighteen spires and, at 172 metres, will be the world's tallest church building. 
Be warned though, with over three million annual visitors, Sagrada Familia is Barcelona's most visited attraction. Queues to enter one of the world's most famous and unmissable landmarks may take anything up to three hours, unless you beat the crowds and book in advance one of these highly rated skip the line walking tours, with either a local guide or a helpful audio guide.
Walking through the charming Gothic Quarter with its labyrinth of narrow cobbled streets and historic buildings, you'll be whisked you away from the modernity of the surrounding city to its medieval period. As well as the site for more stunning architecture such as 14th century Barcelona Cathedral, the Gothic Quarter is home to numerous charming stores and grand squares such as Placa Reial. 
Here you can see more of Gaudí's influence with his fine street lamp design. Unsurprisingly, given its mysterious corners and sometimes eerie atmosphere, the Gothic Quarter plays a central part in Barcelona's cultural heritage. Picasso lived and worked here at the beginning of the 20th century and the area was also home to the sculptor and ceramicist, Joan Miró.  
This top rated walking tour of the Barri Gotic with a local guide will bring this ancient part of the city to life, and the guide will also share insider tips on other attractions and where to enjoy the best tapas.
Gaudí's influence on the city of Barcelona can be seen all around you. Other significant examples and attractions you may want to include within your itinerary are the fascinating Park Guell and Casa Batllo and Casa Mila, both within one hundred metres and a minute walk of each other on Passeig de Gracia. Try taking a guided tour of Gaudi's architecture, including Parc Guell, to find out more information about the structures and architect himself.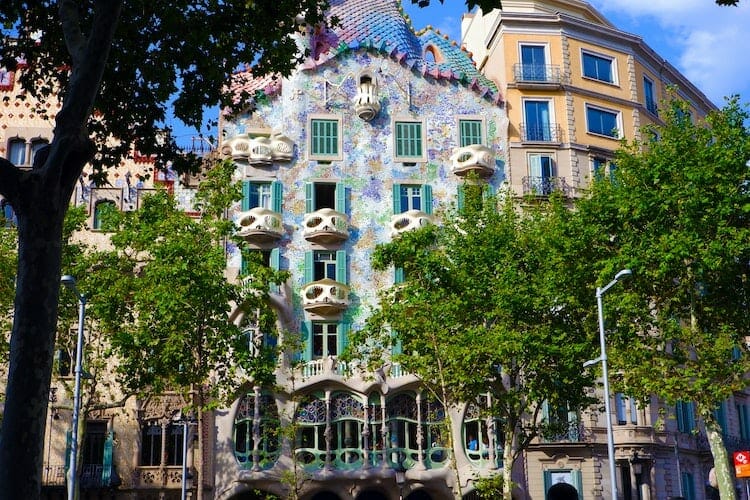 To the west of the Gothic Quarter lies Las Ramblas, the 1.2km pedestrian route through the heart of the city from Plaça de Catalunya to the seafront and Christopher Colombus monument to the south. Joining the throngs ambling along Las Ramblas you will come across countless stalls, street performers, bars and restaurants as well as the splendid Barcelona Opera Theatre, one of the most popular opera houses in Europe.
The Boqueria Market is also on Las Ramblas. This vibrant public market filled with colourful fresh produce is the ideal destination for lunch or a quick pit stop. Regularly voted the best market in the world, La Boqueria is a central part of daily life in Barcelona. 
The grand iron entrance leads to a celebration of fresh quality produce and heaven for any foodie. Here you'll find everything from delicious fruit and vegetables, olives, artisan breads, meats such as dried ham, seafood and amazing cheeses, including the typical Spanish Manchego.
La Boqueria is ideal for a quick snack to re-energise you during your
24 hours in Barcelona, or a longer lunch at one of the many small and friendly stalls. El Pinotxo near the main entrance is the most famous destination, but head toward the rear and you'll find many other stalls of similar quality. Just find a stool and tuck in. Be careful though, as after such an amazing lunch there is a high probability you will want that second glass rather than continue with your tour!
Montjuïc is not just one attraction but a district in the south west of the city offering many possible destinations of interest. Centred around Montjuïc Hill this district also provides visitors with fabulous views over the city below, sprawling port district and the Mediterranean. For the best views, take the Teleferic de Montjuïc (Barcelona Cable Car) from the hill down to the old port at sea level; expect to queue in summer.  Alongside the attractions of Montjuïc Castle, the Joan Miró Museum and the beautiful central fountain with its nightly light and music displays, Montjuïc itself could be a 24 hour destination!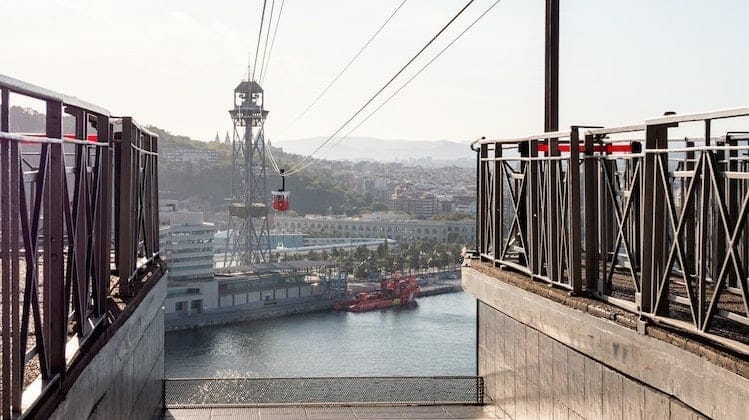 The grounds of Montjuïc Castle are also the location for a suggested way to celebrate the end of your day in Barcelona. During the summer months this is home to a nightly outdoor cinema showcasing some of the best movies of all time. Combined with live concerts and one of Barcelona's foremost picnic spots, you have the perfect recipe for a unique end to your trip.
El Born adjacent the Gothic Quarter in the centre of the city is one of Barcelona's most fashionable districts. For a more lively and culinary end to your 24 hours in Barcelona, head to one or perhaps a few of the area's vibrant bars and charming
restaurants, or take a food tour to learn about tapas and local flavours. Our own particular favourite is El Chigre  a cider and vermouth bar on Carrer dels Sombrerers serving a fine selection of incredible small plates.
No matter the reason you have only a limited time in the fabulous city of Barcelona, you will quickly realise that the best approach to visiting Barcelona in a day is to concentrate on just a couple of its many districts and attractions. Soak up as much as you can of it's culture, food and people and wonder why you haven't visited before. As you find yourself in one of its fabulous restaurants or atmospheric cobbled streets, there will be only one topic of conversation; when are you coming back?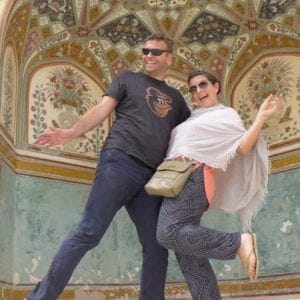 Paul is one half of The Two That Do, a blogging couple from the UK . Paul and Nicki are both active, sports minded and driven by new experiences, adventures and a lust for full-time travel. You can also find Paul and Nicki on Pinterest and Instagram.
NEED MORE SPANISH TRAVEL INSPIRATION? CHECK OUT THESE TOP POSTS