This post may contain affiliate links, from which we earn an income.
How to Cook Up a Feast in Your Van
If you like a full roast or are partial to banana bread, whatever your motorhome cooking style, you'll find all the information you need on motorhome and campervan cooking options here.
Motorhome and campervan travel gives us so many freedoms; where to go, where to stay and what to do when we get there. Gone is the need to eat out every day or head for the depressingly unchanging daily buffet, where you'll inevitably eat too much of the wrong things.
If you spend longer than a few weeks at a time taking a motorhome or campervan trip, you'll be craving simple food or your favourite dish, like cheese on toast or roast chicken. Kit yourself out with the right equipment in your campervan kitchen and anything is possible; your motorhome meals will be five star!
Conventional Motorhome & Campervan Cooking Equipment
Motorhome & Campervan Ovens & Grills
Most new motorhomes and some campervans come with a fitted oven. Motorhome and campervan cookers are almost always powered by gas. Some ovens also have a grill, which may be gas or electric.
If you are buying a new motorhome, you should consider whether you need both and check the configuration and power type with the dealer.
Ovens often sit on top of fridge/freezers and can be quite high, making them a potential hazard for shorties. Don't forget also about the weight allowance of your motorhome before you choose an oven for your van.
If you're buying a used motorhome, you will have less choice about what you get unless this is a defining feature and a must have, in which case it may take you longer to find your dream machine
Motorhome Microwaves
Unless you're cooking in an RV with acres of space, the chances are you won't be able to have both fitted oven and microwave. If you do need both, then it is possible to carry a small, low wattage microwave with you, but only for use when you have EHU.
We looked at this several months ago, you can read our motorhome microwave buyers guide here or click on the link below.
The hazards of positioning with microwaves is increased, where you are more likely to have very hot liquids in containers, potentially above head height. Take this into consideration if you decide to retro-fit a microwave into a previous oven space above a fridge/freezer or buy a van with a microwave already in this position.
You might prefer to carry the microwave in your garage and use it in the awning or kitchen when needed.
Motorhome & Campervan Gas Hobs
All campervans and motorhome come with a gas hob, two or three rings depending on the size of your van. Cooking in your motorhome with just a gas hob is very possible with a bit of imagination, some chilli flakes, an onion and a clove of garlic! There are lots of great 2 ring cooking recipes for cooking in a camper on line and in our campervan cookbook picks below
Some people worry about cooking in a campervan safety due to the small space, and an outdoor cooking option may be preferable. We have found that making sure your workspace is clear and the van is well ventilated helps.
Motorhome & Campervan Cooking Alternatives
Many van lifers prefer not to fry or cook meat or fish in their vans because of mess and smell, and choose instead additional options like these below, to make easy campervan meals without the hassle.
Some of the best camper van meals we've ever eaten have been simple, cooked in the open air in front of an amazing view…and a cold beer, of course!
Portable Gas Grills
Portable gas grills are actually much more than just a BBQ. The most common design is a metal bowl with a fixed gas burner in the centre, the heat from the burner is diffused through a plate or pan set above the ring. The plate could be a traditional ridged BBQ plate, a flat griddle plate, a large cooking or frying pan or a pizza stone. This is topped off with a lid, which enables high heat.
The manufacturers of these systems claim you can make a roast chicken with the lid on, a loaf of bread on the pizza stone and everything in between, and they are fair claims as both of these campervan meals are possible. The domed lid traps air and the water in the base of the pan creates steam, working just like a conventional oven.
All manufacturers make a number of sizes, some with legs and some without. They can be an awkward shape to store and once you add all the plates, the whole lot will be quite heavy, so make sure you have enough in your weight allowance and measure carefully where you will keep it when travelling.
All these devices will hook up to either a gas canister, bottle or an external gas point on your motorhome, making cooking outside easy and pleasurable. You can buy similar styles that use charcoal but as many campsites won't allow charcoal BBQ's we've focussed on those that rely on gas instead.
Cadac
Cadac is probably the most popular of these brands with motorhomers and campervanners. Tried and tested and with a great range of accessories, the Cadac comes in a number of sizes and configurations.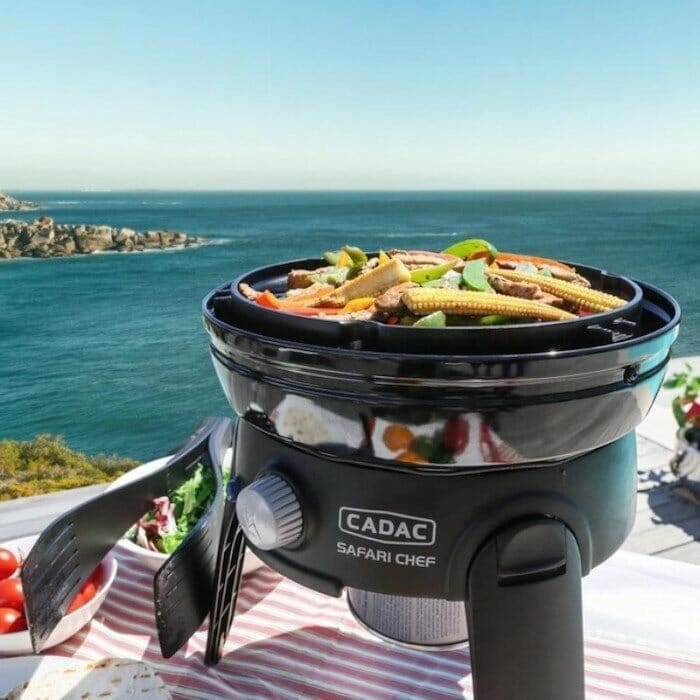 Cadac Safari Chef
Perfect for two people and smaller camper cooking
32cm wide and weighs 3.76kg
Folding mini legs
Easy to store
Push button ignition
Storage and carry bag included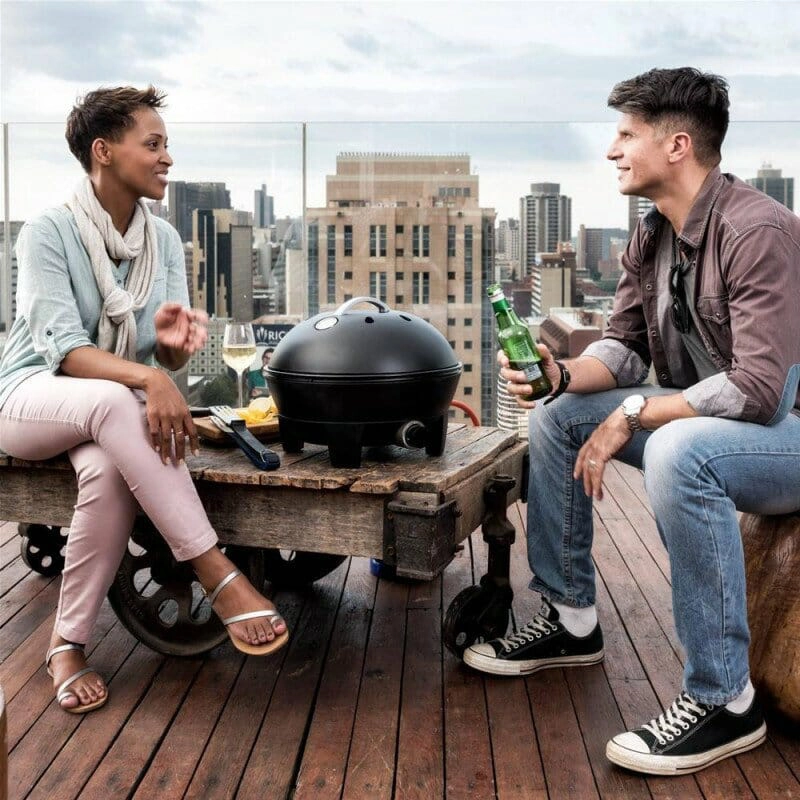 Cadac Citi Chef
Perfect for two to four people
42cm wide and weights 9.75kg
No legs
Compact and easy to store
Variety of colours
Push button ignition
Carry bag included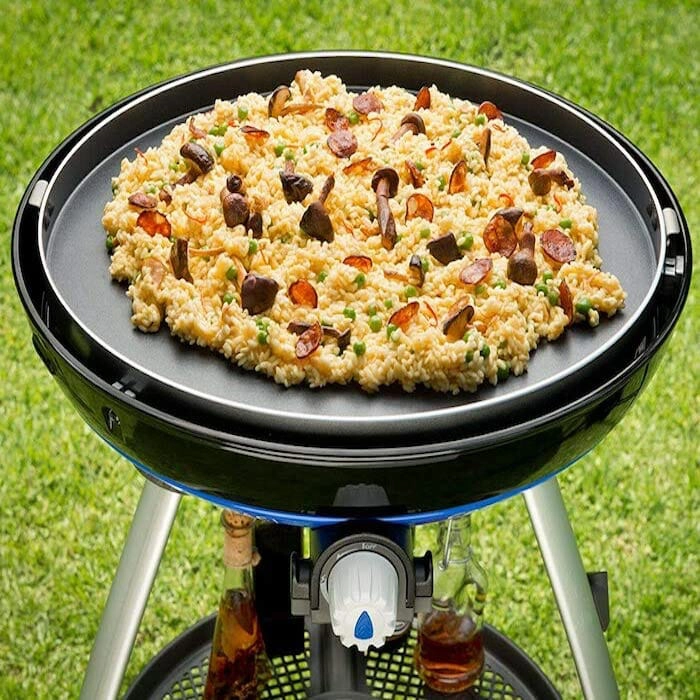 Cadac Grillo Chef – Our Choice
Perfect for four people
65cm wide and weighs 8kg
Removable legs
Removable fat pan
Push button ignition
Carry bag included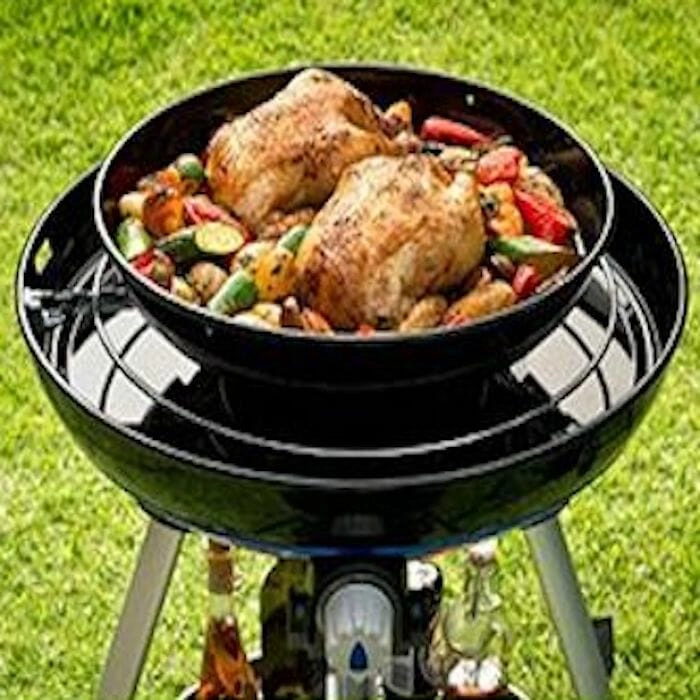 Cadac Carri Chef 2
Ideal size for four to six people
70cm wide and weighs 14kg
Roasts a chicken in 60 minutes, ready to serve – perfect for a motorhome Christmas lunch!
Removable legs
Awkward to store due to size
Push button ignition
Carry bag included
Cobb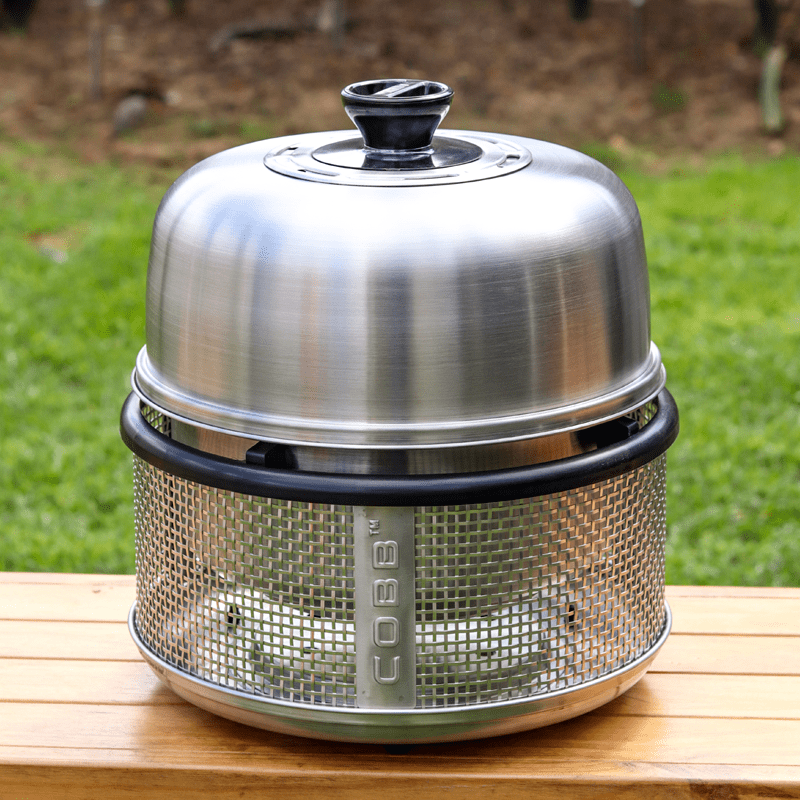 Cobb Premier Air Charcoal Barbecue Grill
Perfect for two people
33cm wide and weighs 3.6kg
With a use-anywhere stay-cool base
Workd with barbecuq briquettes
Carry bag included

Campingaz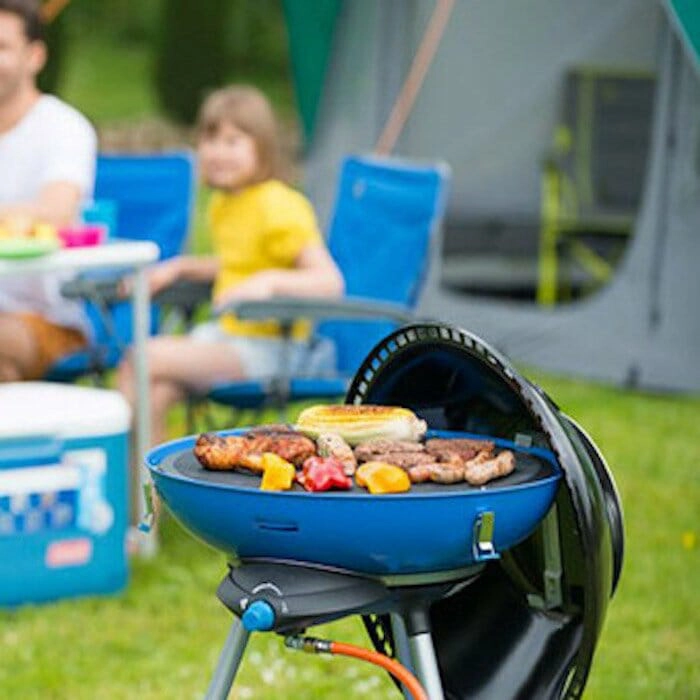 Party Grill 400 Stove
Perfect for two to four people
36cm wide and weighs 10.7kg
Runs on any LPG
Very compact
Push button ignition
Carry bag included
Excellent value for money
Multi-Purpose Pots & Pans
Multi-purpose pans are great for campervans and motorhomes as they are space saving and do more than one job. Some of these pans will need a heat source, which could be a gas hob, camping stove or electric hob and some plug in, so be mindful of wattage when choosing your model. Anything over 500w is likely to cause issues at busy times of the day and will not work with less than 10amps of electricity.
Ridge Monkey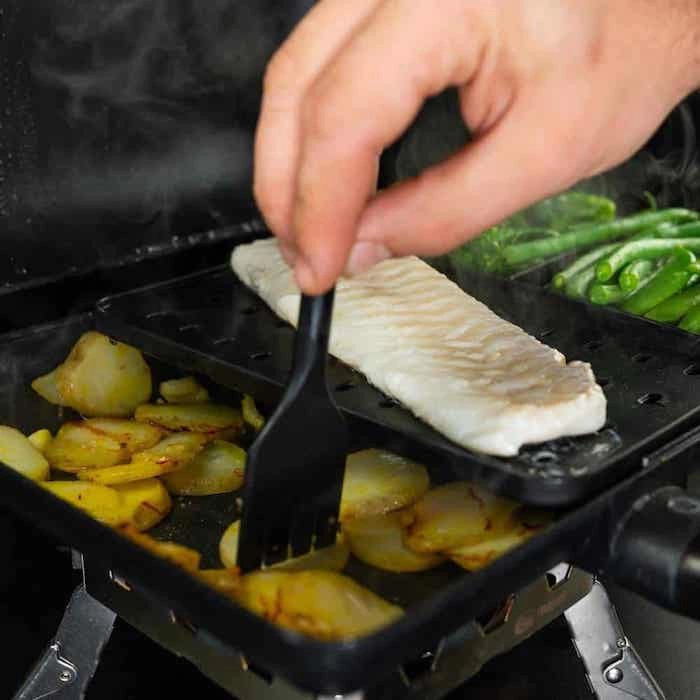 Connect Combi & Steamer Set
Incorporates a flat bottom frying pan, a four section multi-purpose pan and a steamer tray
Lightweight aluminium
Can be used on any gas ring
Non-stick coating
Detachable handles
Easy and compact to store, weighs 2kg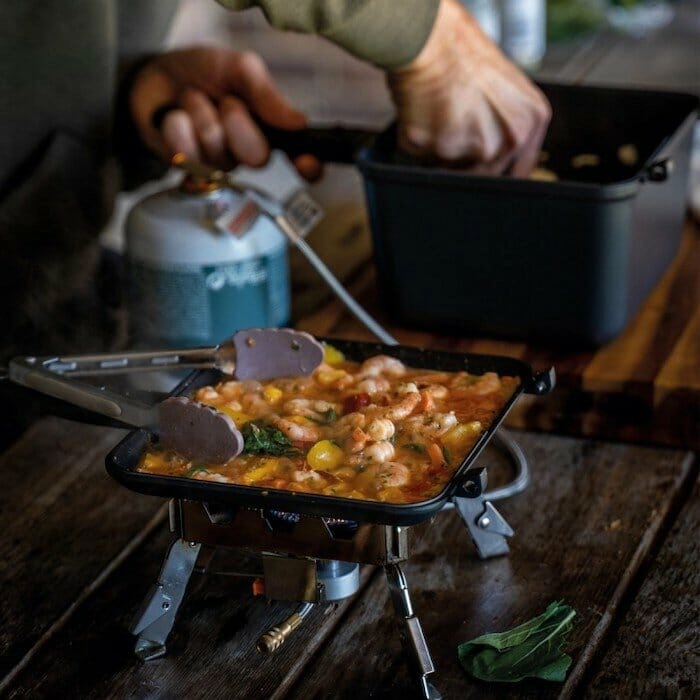 Connect Multi-Purpose Pan & Griddle Set
Incorporates a large pan and griddle as lid or ridged frying pan
Lightweight aluminium
Can be used on any gas ring
Non-stick coating
Detachable handles and hinges
Easy and compact to store, weighs 1.4kg
Remoska
Electric Cooker – Our Choice
One pot easy camper meals cooked by roasting, steaming or baking – just chuck the ingredients in and turn it on!
Two litres and 400w
Requires EHU
No graded heat control
Compact to store, weighs 3.2kg
Detachable handle
Lakeland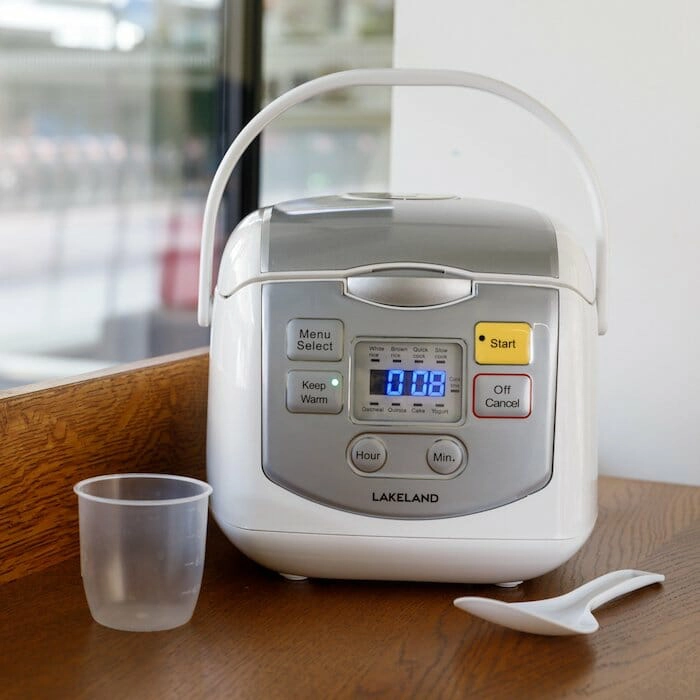 Mini Multi Cooker
One pot meals such as curry, soup, rice and stews
Ideal for two people
1.4 litres and 400w
Eight digitised programmes
Requires EHU
Easy to use with a non-stick pot
Compact to store, weighs 3.3kg
Omnia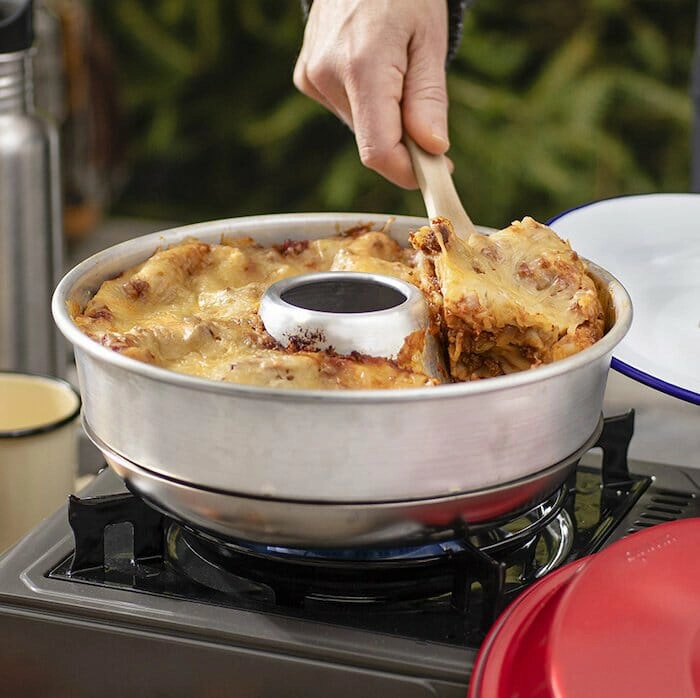 Omnia Oven
Does everything a conventional oven does
Ideal for two people
2 litres and weighs 800g
Can be used on any gas ring
Can also buy accessories
Great for baking
Although there are lots of variations on this type of motorhome cooking equipment on the market, we think our picks offer the best value for money combined with the best functionality and quality available. All have been tried and tested by motorhomers and campervanners across the UK and Europe, many of whom use this campervan cooking equipment day in, day out over months and years.
Campervan & Motorhome Kitchen Accessories
Now you've got the major motorhome cooking equipment sorted, you'll need all the bits and pieces to chop the veg, stir the pot and serve your meal in your campervan kitchen. From whistling kettles to unbreakable stainless steel wine glasses and multi-purpose gadgets, you'll find everything you need to kit out your motorhome kitchen in these posts, along with lots of other must-have motorhome accessories and motorhome housewares.
When you're preparing and cooking meals in a small motorhome or campervan kitchen, you need to make the most of the limited storage and work space – everything you use needs to be lightweight, multi-purpose, space saving and easy to store. Our top motorhome kitchen accessories deliver all that and more.
Deciding what to take on your motorhome or campervan road trip is hard; it can make or break a holiday. This essential motorhome accessories list has all of the campervan and motorhome must haves, along with a handy motorhome packing list for you to print and lots of travel tips for life on the road. Go on, get packing!
Van Life Cookbooks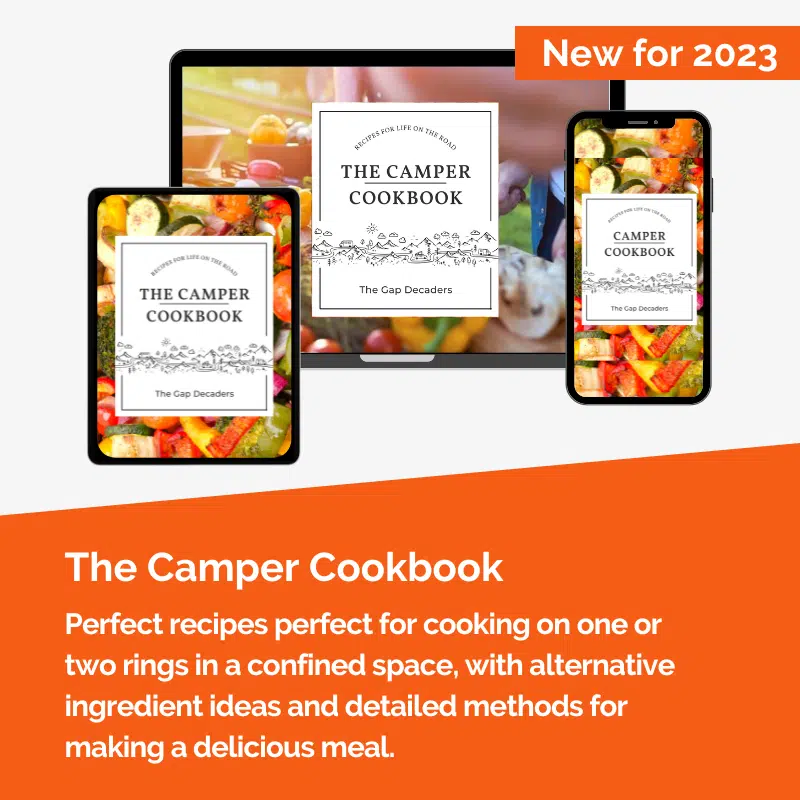 You'll find great cooking top tips and campervan cooking recipes in our Camper Cookbook, which can be adapted to suit your equipment, ingredients and whichever season or country you're in – whether you're in your own motorhome in the UK or even a campervan hire in New Zealand!
Are you looking for more motorhome tips & tricks? Check out these top posts…
Our van life gift guide is full of fun, creative and unique gifts for anyone who loves the van life. Whether you're looking for personlalised campervan gifts, funny campervan gifts or throughtful vanlife gifts for a loved one, you'll find the perfect something here.
Love it? Pin it!