This post may contain affiliate links, from which we earn an income.
The Best 230v and 12v Microwaves for Motorhomes
Microwave ovens are essential bits of kitchen equipment for most of us and it's no different when we travel in our home from home. If you're looking to retro-fit or carry a microwave in your motorhome or campervan, we've got all the information you need to make the right buying choice.
Do I Need a Microwave in My Motorhome?
Microwaves are convenient and quick. They heat up food like baked beans and soup in moments, boil water, defrost whatever you've forgotten to take out of the freezer and make awesome scrambled eggs!
Many convenience foods are now designed to be cooked in pouches in microwaves and when you're on holiday, you probably won't want to 'cook' every night. A microwave will give you options and make life on the road just that little bit easier.
A good alternative to a microwave is a convection microwave oven, which gives you all the functionality of a regular oven but because of an additional heating element and fan to circulate heat throughout the cavity, you can cook like its a regular oven too.
You still need to consider wattage, but if you don't have an oven then a combination microwave oven and grill would be an great choice. We would recommend this 800w Techomey model for its value for money and excellent reviews.
Using Microwaves on a Campsite
An average domestic 230v microwave uses around 1200 watts of output power, similar to a hairdryer, kettle or toaster, which would require you to have input power of 16amps. Bear in mind that European campsites often only an offer electric hook up of 6 amps, so you would need a much lower wattage of microwave to use at campsites on the continent.
Microwaves are not soft start appliances and will draw a huge amount of power (usually double, or slightly more than double the amount of stated output power) in the first few milliseconds after being switched on, which is often enough to trip the campsite's hook up.
Using a Microwave Off-Grid
A camper microwave is not the best option if you're a wild camper at heart and spend limited amounts of time on campsites. But, if you really want a microwave, the best option here is to buy a low watt microwave and fit an inverter to your motorhome.
If you want to use your microwave off-grid, a 700w model will work if you have an hard wired inverter with a power rating of at least 1400w. This is to ensure that your inverter can cope with that initial power output to get the microwave going. A modified sine wave inverter will do the job, but pure sine wave is always better for the appliance.
Along with the power inverter, you will also need at least 220ah of leisure battery power to ensure your microwave does not drain your batteries below their lowest depth of discharge.
Repeated use of a campervan microwave without any way to recharge your batteries through EHU or solar power will drain your batteries to the point where they may be irrepairably damaged.
Can I Use a 12v Microwave Oven?
There aren't any 'normal' domestic 12v microwaves on the market in the UK right now, but there are some good alternatives.
The best known 12 volt microwave is probably the The Wavebox Portable Microwave Oven which is actaully an ultra compact and portable 12v / 230v suitcase microwave, built to withstand daily use and movement.
There is also a new generation of so-called 12v portable microwave ovens, which in reality are electric heating lunchboxes. These have become popular recently with car and truck drivers as they can be plugged into a cigarette lighter socket.
A portable food warmer is also a good optionfor motorhomers and campervanners as this type of appliance can be used with a motorhome 12v socket and a hella adaptor if your motorhome was manufactured outside the UK.
The 12v electric heating lunchbox is designed to re-heat or heat food from cold, like soup, beans and leftovers – basically, anything that it's safe to reheat or heat from scratch. You can't actually cook food in one of them, but if, like us, you use your microwave for heating only, then they are a great option.
Using minimal power and much more compact in size than a conventional microwave, these small kitchen appliances usually come with a 230v three pin plug and a 12v plug. The best ones use food-grade stainless steel containers and energy saving components. Check out these top electric heating lunch boxes.
So, What Are the Options?
Forget about power hungry motorhome microwave convection ovens, choose a compact and low power microwave that uses between 500 and 700 watts. This means you are likely to be able to use it with most campsites with electricity of 10 watts or more without tripping the RCD. If you're abroad, some sites will let you pay extra for additional amps.
The downside of a low power microwave oven is that the cooking power will take longer to heat your food and the food may be heated patchily, so make sure you stir regularly through the microwaving process or buy a microwave with in-built technology to assist with this.
Recommended Reading
If you like a full roast or are partial to banana bread, whatever your motorhome cooking style you'll find all the information you need on motorhome and campervan cooking options here.
Are you confused about motorhome electrics? How do motorhomes work? What is the difference between mains electricity and batteries? What does a solar panel and inverter do and do I need a generator? And how do I get power without EHU? Don't be confused, this easy guide to your motorhome electrical systems explains it all.
What About Dimensions & Weight?
Small microwaves come in a variety of sizes, but to achieve the low wattage criteria you will need to buy a compact and lightweight microwave, happily the size you'll be thinking about anyway!
Don't forget about weight either, make sure you have the payload to carry an extra 10kg or so.
Should I Buy a Digital or Manual Control Microwave?
Digital microwaves are more accurate in terms of timing and often have pre-set minute timer options, but they don't really offer any other must-haves for motorhomers. In fact, you'll have to re-set the clock every time you unplug the microwave, unless you are planning on a fitted installation.
What About Variable Power Settings?
A choice of different power levels can be a really helpful feature in a microwave for a campervan, especially if you're constantly tripping the electric. Set the microwave to half power – it will take longer but use half the electricity.
What About Storage?
If you decide to retro-fit your microwave permanently into your motorhome, you'll probably need some sort of cradle to help protect it from vibration and shocks. You will also need to ensure it has ventilation on all sides and at the back.
If you're removing a campervan oven and replacing it with a microwave, this should be fairly easy to achieve, as long as it's not sited too high. Otherwise, you may struggle to find the space in an already fitted motorhome kitchen.
A small microwave for a motorhome could be stored under a bench seat or in an under-bed storage area, or even in your garage. Our's fits neatly in the bottom of our wardrobe cupboard. Just make sure to protect it well and remove the glass plate before setting off!
Motorhome Microwave Recommendations
Daewoo 700W Digital Microwave KOR3000DSL
For some time our top choice was the Daewoo QT1R Compact Manual Control 600W Microwave Oven, but Daewoo are no longer manufacturing this product and supply can be very sporadic. Daewood have actually stopped producing manual microwaves in the past year or so, and most old stock is now sold out.
We swapped our old manual model for this Daewoo Digital Control 700w Microwave. The two are very similar in all ways, apart from a small increase in the wattage, a digital control, the size and dimensions.
With a host of features and compact design, this best-selling Daewoo motorhome microwave performs brilliantly. It will take a standard size plate and has technology to improve consistency of cooking, which seems to work well.
This microwave will work with a 10amp hook up and possibly 6amps depending on how many other people on the campsite are accessing power; if you're cooking during the busiest time, just adjust the power setting.
If you're not too concerned about power consumption, this model also comes with a 1000W grill.
700w
20 litre
47.4cm wide x 35cm deep x 28.5cm high
11.8kg
five power levels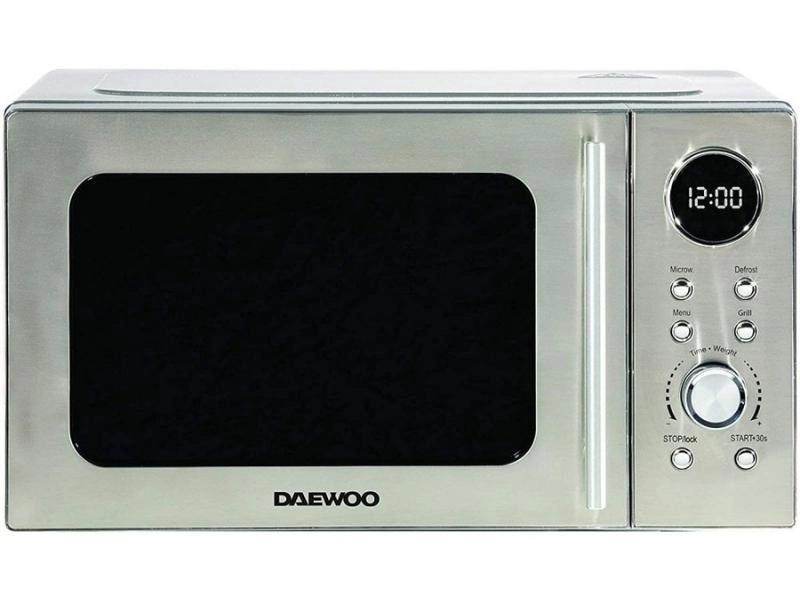 ---
Russell Hobbs RHMD714 700W Scandi Microwave
If looks are important, this funky little Russell Hobbs Scandi Style 700 watt Microwave Oven ticks all the boxes. With a compact and contemporary design that comes in four colourways, each with a wood effect handle and knobs, and concealed viewing window, this microwave won't look out of place even in the coolest of vans.
In terms of features, the microwave offers multi-stage cooking with eight auto cook menus and five power levels, and will take a full sized plate on the glass turntable. This microwave is a top scoring model in customer reviews, getting 4.7 out of 5 in over 2,800 Amazon reviews.
700w
27 litres
45.1cm x 34.2cm x 25.8cm
11.8kg
five power levels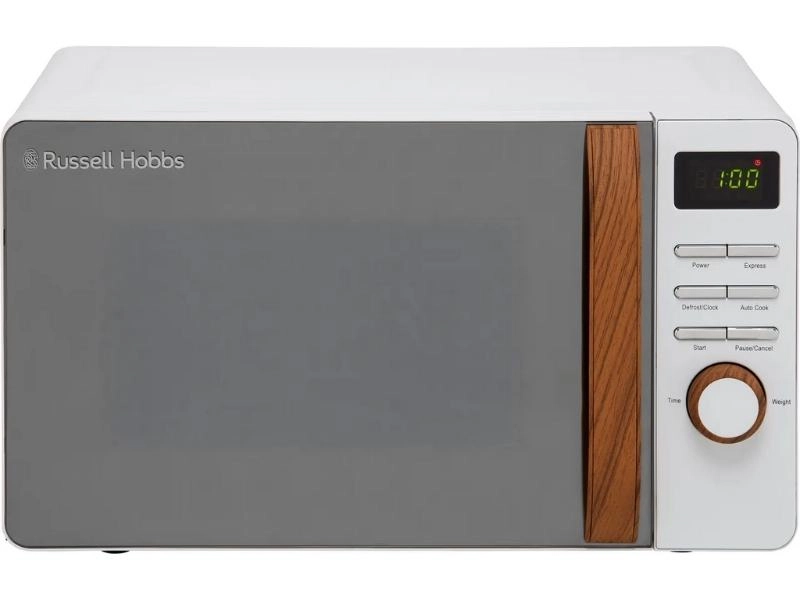 ---
Iginex IG2083 800W Low Power Caravan Microwave
This Iginex 800 Watt Microwave is designed specially for motorhomes, campervans and caravans. Slightly larger than the Daewoo compact models, it packs a real punch in terms of watts to ensure compatibility with a 6amp supply.
800W
20 litres
44cm wide x 33.5 deep x 25.8 cm high
10.5kg
five power levels
---
MSC 320 Watt Low Power Microwave
This MSC 320 Watt Low Power Caravan Microwave Oven is the lowest wattage microwave available in the UK, and are specially converted by Drivemate to reduce the cooking power to 320 watts. This means that the microwave will work from a 5amp power supply, making it ideal for caravans, campervans and motorhomes on hook up, especially when travelling abroad.
Although this ultra low wattage manual microwave has an output of 320 watts, it draws 900 watts. You would need a hard wired inverter with a minimum continuous output of at least 1000 watts.
320W
20 litres
44.7cm wide x 34.5 deep x 25.8 cm high
13kg
five power levels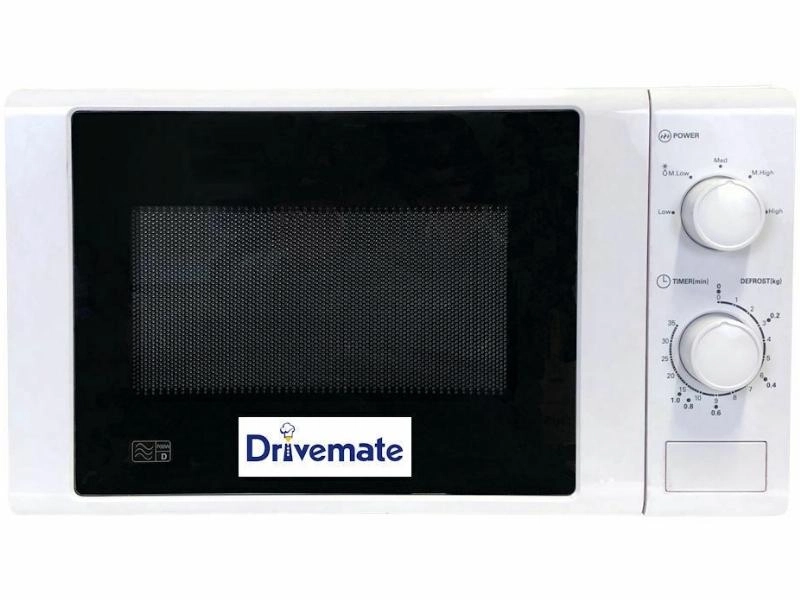 ---
Cello MM720CJ9 700w Mircowave
This Cello MM720CJ9 700w Mircowave comes from a reputable brand most of you will associated with motorhome TVs!
This microwave will work with a 10amp hook up and very possibly 6amps. If you're cooking at a busy time, just adjust the power setting.
20 litres
44cm wide x 34.5cm deep x 25.9cm high
11.7kg
five power levels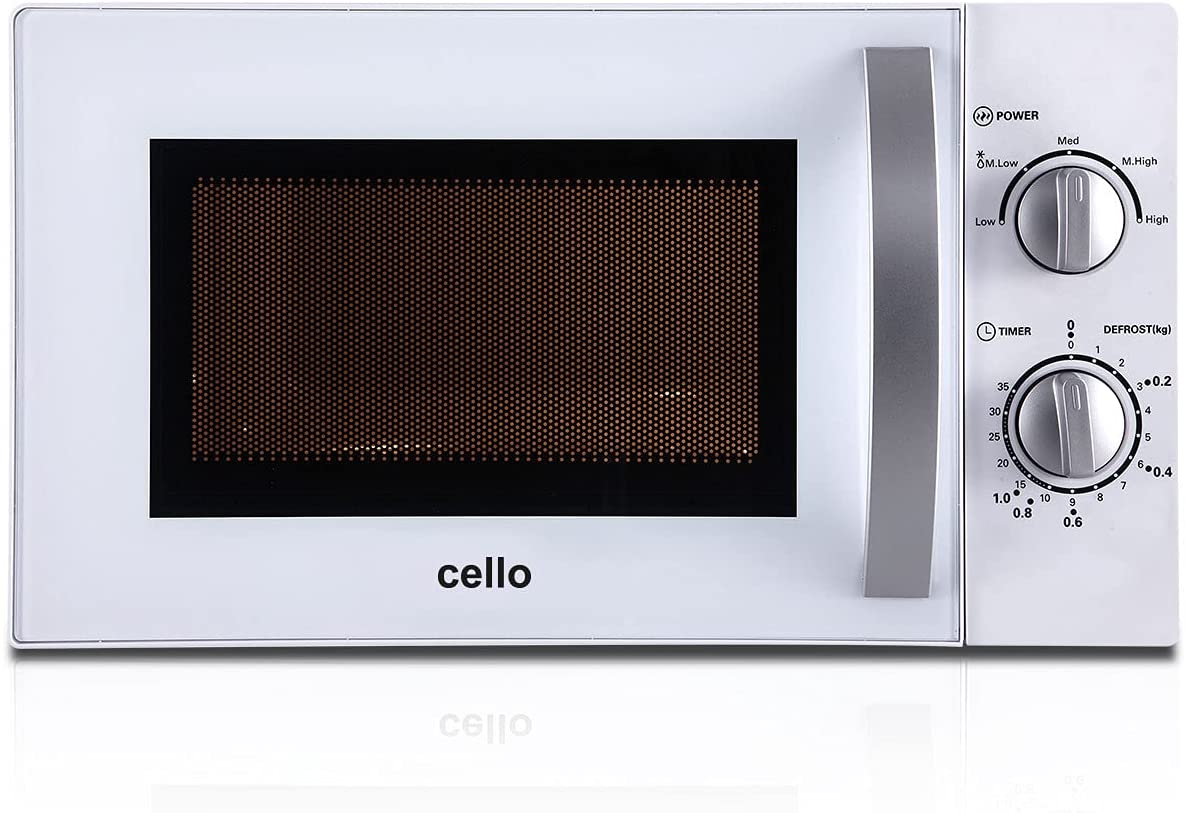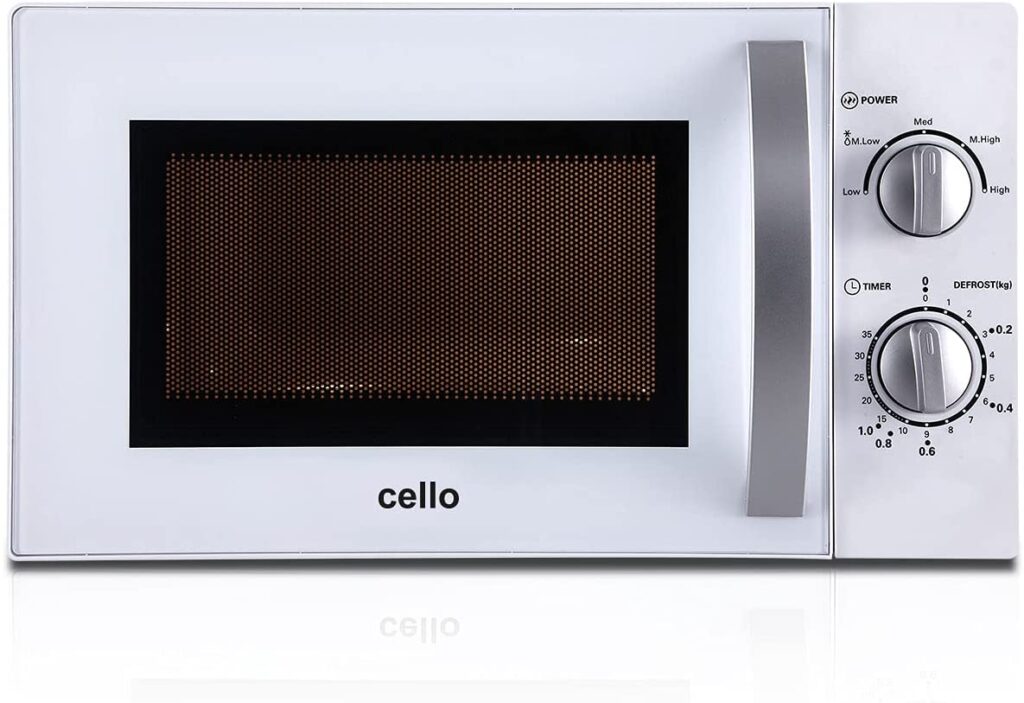 ---
Beko MOC20100S 700W Solo Microwave
This Beko MOC20100S Solo Microwave comes from a reliable brand in a choice of silver or white. With lots of features including a one touch start button and a defrost function, it will do a great job in your motorhome kitchen.
Slightly heavier and a few centimetres larger than the Daewoo, this would suit a larger motorhome. This microwave will work with a 10amp hook up and possibly 6amps depending on how many other people on the campsite are accessing power; if you're cooking during the busiest time, just adjust the power setting.
20 litres
45.2cm wide x 34.5cm deep x 26.2cm high
11.3kg
35 minute dual speed timer
five power levels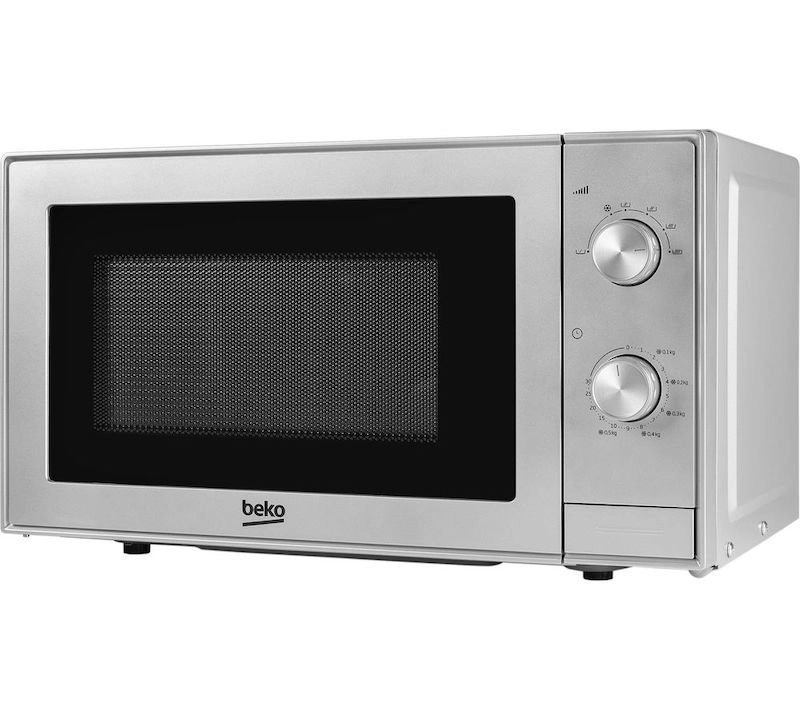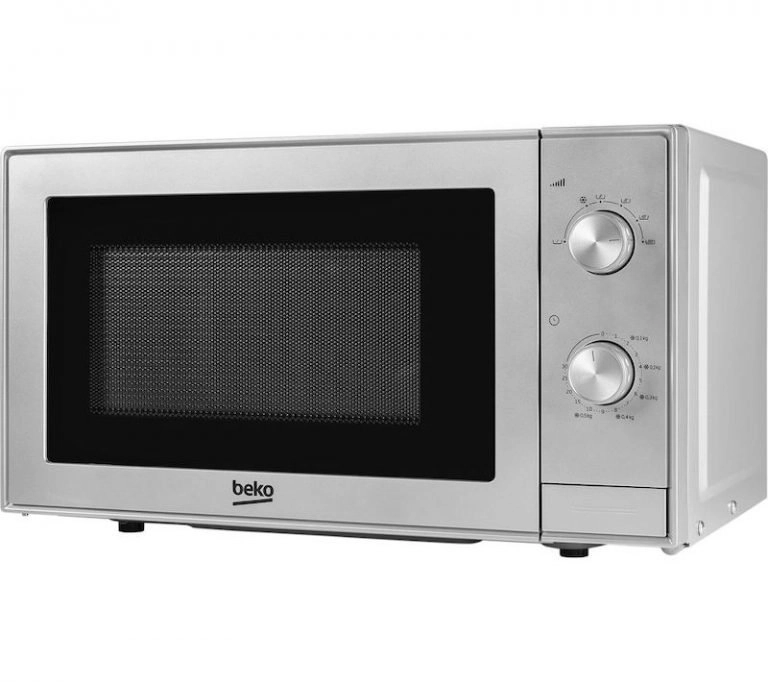 ---
Hotpoint Curve 700W Microwave
This Hotpoint Curve 700W Digital Microwave is a quirky little number, but might work well if you've got an awkward corner or space for the microwave to fit into. It will easily take a standard plate and offers digital controls with pre-set options.
This microwave will work with a 10amp hook up and possibly 6amps depending on how many other people on the campsite are accessing power; if you're cooking during the busiest time, just adjust the power setting.
700W
13 litres
39.2cm wide x 35.3 deep x 36 cm high
13.3kg
five power levels
---
Which Is The Best Motorhome Microwave?
Our pick is the Daewoo Compact Digital Control 700W Microwave Oven for the followowing ten reasons;
Reliability from a recognised brand.
Smallest compact microwave unit on the market meaning easier storage.
Fits a standard plate so no messing with special containers.
Seven power levels giving lots of cooking options.
Reasonable build quality.
Functions exactly as expected so dinner will always be on time.
Value for money in comparison to other models.
Great price point.
Easy to keep clean with a quick wipe down.
Works with 10amps and often 6amp so suitable for many overseas sites.
To summarise, this is the best low wattage microwave because it does exactly what we need and expect it to do, every time it is used and we would buy the same model again.
Looking for more useful motorhome tips & tricks? Check out these top posts…
Going on your first motorhome or campervan trip with your brand new shiny van is a bit of a rite of passage. A shake out is a great idea to make sure things work, get to know your van and understand what kit you need to enjoy the motorhome lifestyle.
Love it? Pin it!