This post may contain affiliate links, from which we earn an income.
Great road trip accessories make life on the road easier and help you travel safely. Let the gear do the heavy lifting so you can focus on the road and enjoy the journey.
We've pulled together all the best must-have road trip gear in this guide, tried and tested by us and other road trippers to help you decide what road trip gadgets you need for your next adventure!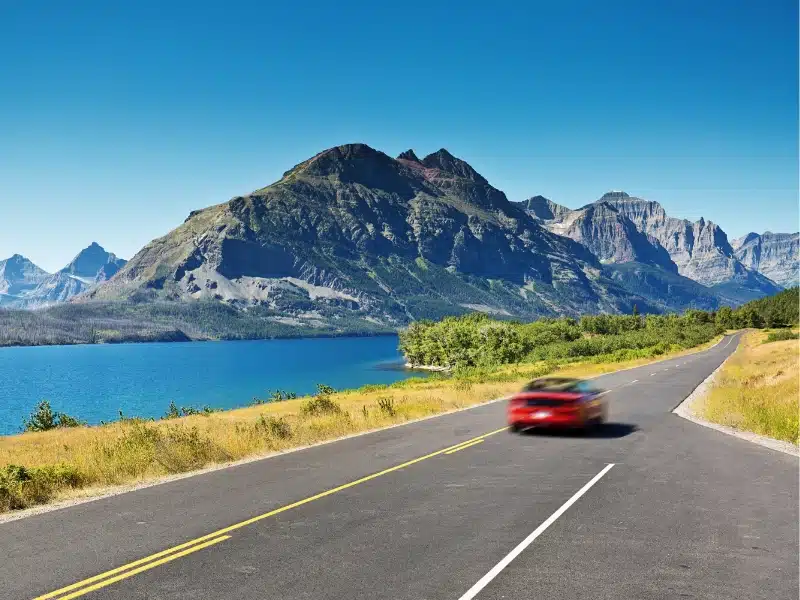 Trunk Organizers
A trunk organizer – or boot organiser if you're in the UK – really helps when it comes to packing and keeping things in their place during a road trip. They come in a variety of sizes to fit the size of your car or SUV and you can find variations of different compartments sizes and configurations to fit your needs. If you are bringing luggage there are smaller trunk organizers that will not take up the entire trunk.
During a three-week road trip around California and the Pacific Northwest, we had a lot of stuff for different activities and climates. The organizer was perfect for keeping things handy like different shoes, clothing layers, car supplies like jumper cables, paper towels, first aid kits, and snacks. Whenever we needed something we could just pop the trunk knowing exactly where we would find the things we needed.
After the road trip was over we continued to use it, especially when shopping and most are collapsable for when you are not using it.
WiFi Hotspot
A WiFi hotspot is the ultimate road trip essential, as it allows you and your passengers to stay connected on the road when you're taking an international road trip like mine in South Iceland, where your usual provider's SIM card may not work.
Although some apps like Google Maps can work once the route is set, you still need data to get started. Many other navigation apps need you to have a connection at all times, and using a WiFi router means you can buy a local SIM card, pop it in the hotspot and you'll have data. Some hotspots even have cloud SIM technology, meaning the SIM card is already in the device.
Another great feature of having a WiFi hotspot is that you can look up unique things to see along the way, find accommodation, or the best places to eat from the car. This makes it possible to take a road trip without having to pre-plan every small detail before your trip. A WiFi hotspot is a must-have essential for any road trip.
Cup Holder Expander
When you're road tripping and spending lots of time in your car, it's important to stay hydrated. Lots of us have large water bottles, insulated or not, but unfortunately, car cup holders are usually too small. When your water bottle doesn't fit, it makes it harder to stay hydrated on the road.
Luckily, you can use a cup holder expander to effectively change the size of your cup holder to accommodate larger bottles.
How it works is that it has a cup holder size portion that fits inside your standard cup holder but attached to the top is an expander that can hold your bottle! There's no complicated installation and no permanent changes to your vehicle. Just pop it in and go!
These are especially handy for longer road trips like a multi-day Blue Ridge Parkway itinerary, driving across Europe, or up the coast of California on the Pacific Coast Highway!
Microfiber Towel
A microfiber towel is one of the best road trip essentials you can bring along. Weighing very little, this ultra-thin, and compact towel takes up minimal space yet is incredibly useful. I've used my microfiber towel on countless beach trips in the Philippines, motorcycle rides through Thailand, and hikes and picnics all over Europe.
Made from microfiber, this towel is surprisingly absorbent yet dries incredibly fast. Its special fabric allows it to dry much quicker than a standard cotton towel. A simple wringing removes around 90% of the water. No more carrying around a damp, heavy towel.
Beyond drying off, on warm days it also doubles as the perfect picnic mat or sun protection from scorching rays. And during chillier evenings, it works great as a small warming pad.
A microfiber towel is a good investment considering how long it lasts. It's one of the most versatile and useful pieces of gear for any road trip or outdoor adventure. Whether at the beach, on a hiking trail, or at a picnic, my microfiber towel has proven invaluable time and time again. It's undoubtedly a must-have for any road trip.
Sick Bags
Before you hit the road for any car trip, it is a good idea to prepare for car sicknesses, especially if you know any of your passengers—particularly those riding in the backseat, where the car motion is the strongest—have difficulty keeping things down.
To protect your vehicle, and provide your riders a sense of ease, supply them with easy-to-access sick bags. Although any plastic bag, such as a Ziploc bag could do in a pinch, try to avoid the see-through ones like these, or grocery store plastic bags prone to developing holes and ripping.
Instead, to increase your likelihood of avoiding an unpleasant cleanup, it is best to go professional grade. Your best option? To purchase a supply of affordable hospital-style emesis (puke) bags likely to comprehensively catch anything that comes up that should have stayed down. Slip a few of these emergency barf bags into the back pockets of your vehicle seats and within easy reach of your road trip pals who might need them most.
Life Straw
"It's not the destination, it's the journey" from Ralph Waldo Emerson is one of my favorite road trip quotes. Sure as hell, to enjoy the journey, it's best to be well prepared! One of the most important things when doing a road trip, whether it's driving your car across the USA or hitchhiking through Kyrgyzstan is to have access to drinking water.
Unless you are driving to the desert, there is no better way to assure yourself of potable water than by taking a life straw with you. A LifeStraw is a portable water filtration device designed to provide clean and safe drinking water in situations where access to clean water is limited.
The LifeStraw works by using a series of hollow fiber membranes to filter out contaminants such as bacteria, parasites, and debris from water sources. When you drink water through a LifeStraw, whether it's from the sea, a pond, a river, or even tap water, the membranes trap these harmful particles, allowing you to drink clean water.
It's an absolute must to take this on your road trip, not only because it's a fun gadget but because it can literally save your life in certain environments!
Electric Car Kettle
One of our most popular camping items for the perfect trip is our electric travel kettle, which you can use in your car or in any type of camper. Especially for long trips and strenuous excursions in RVs, campers, and cars, this little travel essential is a lifesaver.
And we love the fact that we don't have to look for a restaurant or gas station when we're driving somewhere. Last time we took it on our trip to Vicenza in Italy, and again, it was such a useful gadget.
Plugged into the cigarette lighter, it boils water in just 10-16 minutes while you drive. It is perfect if you want to make yourself and your family a cup of tea, a glass of milk, or a hot chocolate on the road. What is also amazing is that you can also do some cooking.
With a good electric travel kettle you can make instant noodles, instant soups, and even boiled eggs. Especially when you need something hot instead of a cold sandwich, this is really a great thing. With this feature, a travel kettle will make traveling, but also camping in the great outdoors a lot easier and more comfortable!
The super cool water kettle from SPARDAR is one of our favorites. The ingenious thing about it is the digital temperature display and the high-quality, scratch-resistant stainless steel that is used as the material for the inner and outer walls.
Bluetooth Car Adapter
The Bluetooth car adapter emerged as an essential road trip gadget during my car rental escapade in Bali. Seamlessly plugging into the vehicle's audio system, it revolutionized our driving experience. Navigating unfamiliar terrain was enjoyable by wirelessly streaming our favorite tunes and GPS directions from our smartphones.
This gadget's indispensability lay in its ability to convert any car into a tech-savvy haven. The absence of an integrated Bluetooth system was no longer an issue as the adapter bridged the gap effortlessly. Its user-friendly setup ensured a hassle-free connection, sparing us the trouble of dealing with tangled wires.
Remarkably, the adapter's hands-free calling feature proved to be a game-changer, complying with local driving regulations and enhancing safety. Its noise-canceling capabilities ensured crystal-clear conversations, even amidst Bali's bustling traffic.
For anyone venturing on a road trip, especially in a foreign land, this car gadget is a must-have, making every moment on the road more convenient and enjoyable.
Swiss Army Knife
One of the most useful items I bought specifically for my road trips is a Swiss Army Knife; its multifunctionality is exceedingly useful, and I've used it more times than I thought I would, making it an essential item to pack for any road trip.
It comes with a knife, scissors, a bottle opener, a screwdriver, a corkscrew wine opener, a saw… you name it, it has lots of functions, as we all know. Great for any outdoorsy activities, and of course, any emergency situations where you might need to cut through fabrics, fishing lines, etc.
A particularly useful (and perhaps unusual) function is the variation of Swiss army knives that come with cutlery. Swiss army knives with a fork or spoon have been a lifesaver for me. On the road, there are many times when grabbing a bite to eat is something quick from a petrol station or local corner shop, and having some cutlery built into your handy pen knife is everything!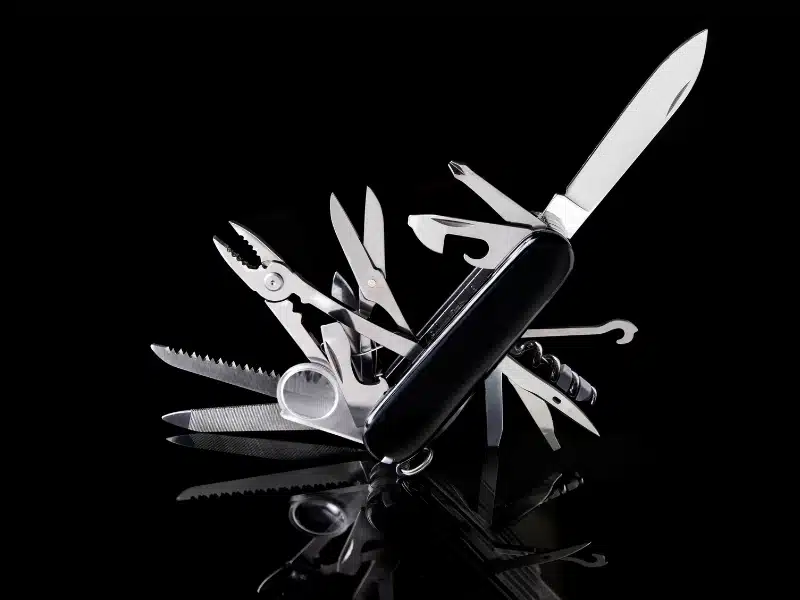 Car Cooler
The ultimate travel companion, the cooler that fits behind the seat proved indispensable on my camping adventure across Australia. This ingenious gadget was designed to fit neatly behind the front seats and kept our drinks and perishables calm throughout our journey. As we traversed the vast Outback and coastline, the cooler's compact size and easy installation allowed us to maximize space in the vehicle, making it perfect for smaller cars or tight packing.
Its exceptional insulation and temperature control made this cooler a must-have. The scorching Australian heat did not match its ability to maintain a refreshingly cool interior. The cooler's rugged construction with durable materials ensured it could handle the road and off-road terrain rigors.
The cooler featured an innovative dual-power system running on car batteries and portable power sources. This feature proved invaluable during camping stops, as it could continue cooling even when the car was off. With convenient compartments and ergonomic handles, accessing and transporting our supplies was a breeze.
In the arid Australian landscape, this behind-seat cooler transformed our road trip, guaranteeing chilled sustenance whenever and wherever we paused, exemplifying why it's an essential addition for any adventure-seeker.
Top Ten Road Trip Itineraries
Money Belt
Whether you're cruising along scenic highways or embarking on an adventure to discover hidden gems, traveling is about making memories and enjoying the journey. And in this journey, a trusty travel companion becomes essential – the money belt or money belt alternatives.
Money belts are not just for globetrotters jetting off to faraway lands. They're a must-have for any traveler and any road tripper. Every traveler should seriously consider having a trusty money belt by their side.
Personally, I make sure to have a travel belt with me on every trip.
With a money belt, my essentials are right there, accessible at a moment's notice. Whether it's cash or cards – everything is within arm's reach.
A money belt is a secure storage on the go and offers a secure way to keep your essentials on you, hidden discreetly beneath your clothes. It's like having a personal safe wherever you go.
Safety is paramount, especially in unfamiliar territories. Whether I'm exploring a hidden trail, chatting with locals at a roadside café, or capturing the beauty of a sunset over the horizon, my essentials remain discreetly tucked away. I can fully focus on the experience, knowing that my valuables are well-protected.
Portable Charger
One gadget that is highly recommended for road trips is a portable charger with jumper cables. This device saved me during my van life adventures, where in the middle of remote BLM land, my battery died somewhere between Las Vegas and touring the Grand Canyon.
This versatile accessory is a must-have because it serves two important purposes. First, it can charge your electronic devices on the go, incredibly useful when you're spending long hours on the road.
Second, it doubles as a jump starter for your vehicle's battery. If your car battery dies unexpectedly, this gadget lets you jump-start your vehicle without needing another car nearby.
And all this while being extremely compact and portable without taking up much space in your trunk.
A high battery capacity model gives you plenty of power and multiple USB ports, so you can charge multiple devices simultaneously, creating a portable power station.
Finally, check for built-in safety features like reverse polarity protection and overload protection to ensure a safe jump-starting experience.
Just don't forget to fully charge the portable charger before hitting the road!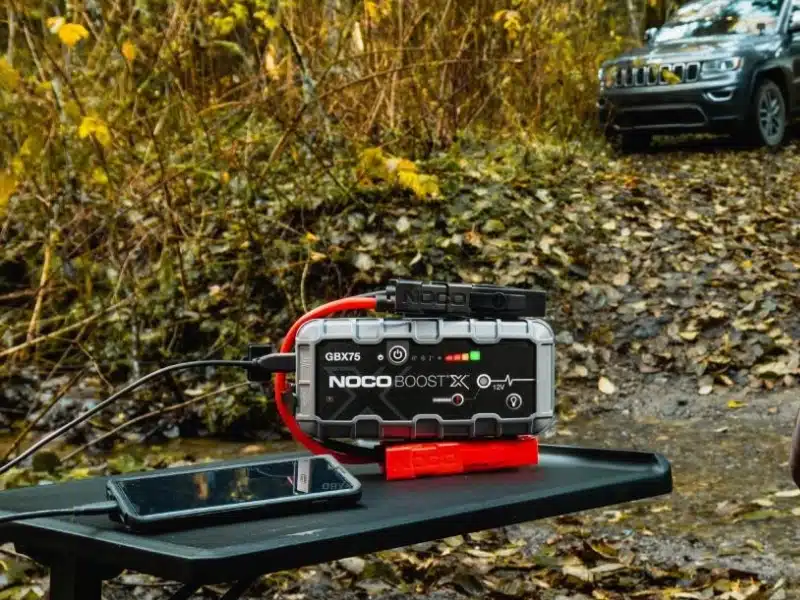 Portable Travel Safe
The great thing about road trips is that you can stop off at attractions and things to do on the way to your accommodation for the night. The bad thing? You probably don't want to tote all your valuables around with you. And leaving them in the car doesn't feel like the best idea.
That's why, for us, a portable travel safe is a road trip essential. We lock all our valuables that we're not taking on outings with us into the portable travel safe and then lock it to the metal d-rings that you get in the trunks of cars. We used it most recently on our Nordic road trip when we rented a car in Sweden, but we've used our portable travel safe in more than 100 countries when driving, camping, diving, and backpacking too.
The best portable travel safes are really portable and are very packable, but have a steel mesh cage inside them. They have a tough fabric cover, surrounding the steel mesh, and then a steel cable that closes and locks the safe, and that you then attach with a padlock to any immoveable (or difficult to move) object, which in a car is usually the metal D-ring in the trunk.
Car Pillow
I have always really struggled to stay awake on long journeys. Anyone whose traveled with me will know that a couple of hours in I'll be drooling as I alternate between head back and mouth open or slumped forward as I try to find a comfortable sleep position.
My lovely hubby Phil bought me a travel pillow as a bit of a joke, but it turned out to be amazing and it's now a permanent fixture in the cab of our truck!
Car Power Inverter
A car power inverter strip is an invaluable tool when on a long road, particularly if you have multiple people and multiple tech devices you'll need to charge (and honestly, between phones, laptops, power banks, iPads, and headphones, who doesn't have a lot to charge?).
This device plugs into the car's auxiliary power outlet (also known as the cigarette lighter), and then functions as a regular car charger, with multiple sockets to plug in and charge your devices quickly – you could even run a small car vacuum cleaner if you really felt the need!
While many cars these days have USB charging ports built into the car, those ports often charge slowly, and of course wouldn't work for devices like laptops (that need a full plug, not just a USB to charge).
We've used our car power strip on just about every road trip we've done, whether we're driving around our home country of the USA, and even taken it internationally to use when renting a car and driving in Slovenia or Iceland, for example.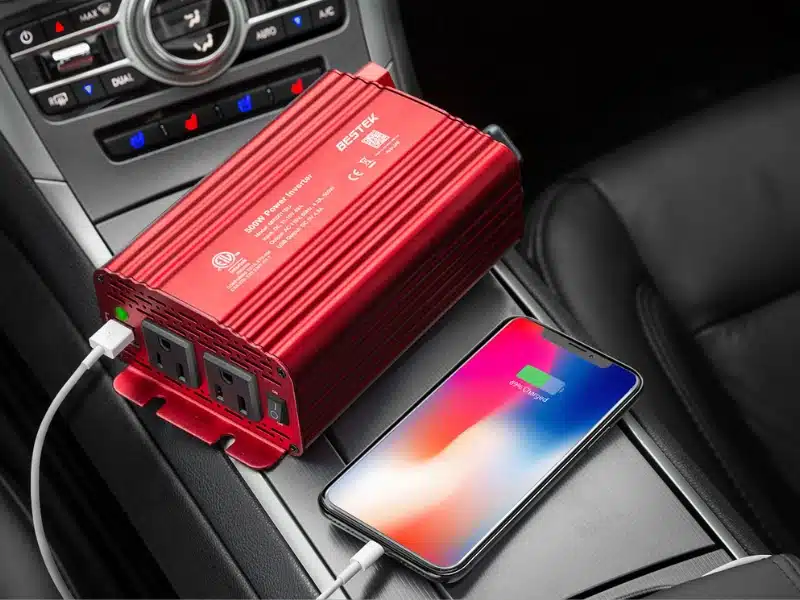 Two Way Satellite Communicator
If you're looking for the best road trip gadgets, then seriously consider a 2-way satellite communicator. This device is perfect for road tripping through areas where there's little or no mobile phone service. It allows you to call for help in an emergency, even if the service is non-existent, with 2-way communication that can help you describe your location or the type of emergency.
Furthermore, with a 2-way satellite communicator, you can actually send texts with your location or other simple messaging to your loved ones. So if you're in an area with no cell phone service, you can still get a message out that you're safe or simple communications like when you expect to arrive at your destination.
You can also use it when hiking, in a national park, or on the best road trips in the USA that are off the beaten path.
To use the device, you'll just need clear access to the sky and an affordable monthly service plan. You can easily turn on and off the communications plan when you're not traveling to avoid excess fees.
The 2-way satellite communicator is really a great gadget for emergencies, but also to continue communication with loved ones when your cell phone simply won't work.
Phone Holder
If you want to stay on the right side of the law when using your phone with navigation apps, a fixed holder is a must. Instead of propping your phone up somewhere, only to have it fall over, or have to look down at it in your lap, a fixed holder will allow you to have the phone unobtrusively within your field of vision.
This makes you much safer as you drive and navigate, as only a glance is necessary and no cumbersome road atlas is needed. It also means you can route your charging cable where it's not going to get in your way.
Dash Cam
We never had a dash cam until about a year ago when some friends of ours had an accident traveling in Croatia. Basically, a driver overtook them at speed and then slammed on the brakes right in front of them. Inevitably, they rear-ended the car in the campervan and the smash was so bad, their van was written off and they had to end their year-long trip six months early.
Luckily, they were able to prove they weren't at fault because of their dash cam, which had recorded and saved the whole incident. The car driver was prosecuted and our friends didn't have to pay any excess on their insurance or recovery.
Whilst not a common occurrence, this type of accident does happen and the small cost of running a dash cam is well worth it to avoid the huge costs if you can't prove you weren't at fault. So anyway, we bought a dash cam and now run it all the time!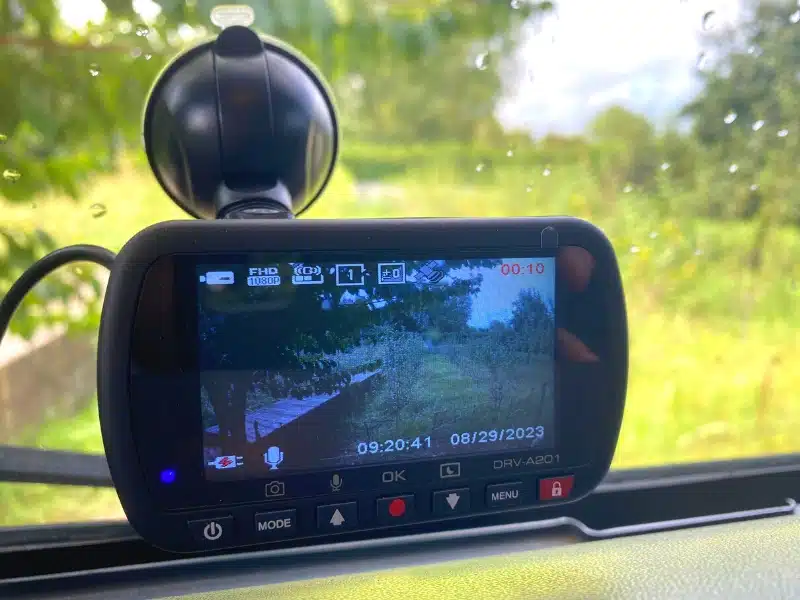 Car Seat Cushion
The passenger seat in our overland truck is a little elderly and has no fancy design or buttons to change position – it's literally just an old-style sprung seat and boy, does it get uncomfortable on long travel days!
My gel memory foam cushion makes it much more bearable and helps to pad out the seat a little as well as supporting me to sit with good posture. When we're not on the road, I can use it with my office chair too.
Car Oven
We are avid travelers and regularly road trip to Florida (24 hour drive from our home in Canada). One gadget that we regularly use when we travel by car is an in-car oven or electric lunch box that plugs into the 12 volt power plug. It looks like a regular lunch box but it's actually a little oven/warmer. It's a popular gadget for truck drivers.
Before we hit the road we put our meal (pasta or thick stews work best) in an aluminum loaf pan (this makes clean up easy) and cover it tightly with foil.
Three hours before we want to eat, we pour a little bit of water into the bottom of the lunchbox to create some steam. Put the aluminum pan inside, close the lunchbox lid and plug it in.
Not only do we save money but it's a great break from driving, while we enjoy a nice little picnic outdoors eating a comforting, hot, homemade meal.
Travel Mug
If you're always on the go and in a hurry, then a travel mug will be one of your must-have car accessories. Insulated and designed to keep your drink hot, or cold, a travel mug allows you to drink safely without risk of spilling.
There are thousands of designs of travel mugs out there, from van life mugs to personalized ones, some even come with a straw!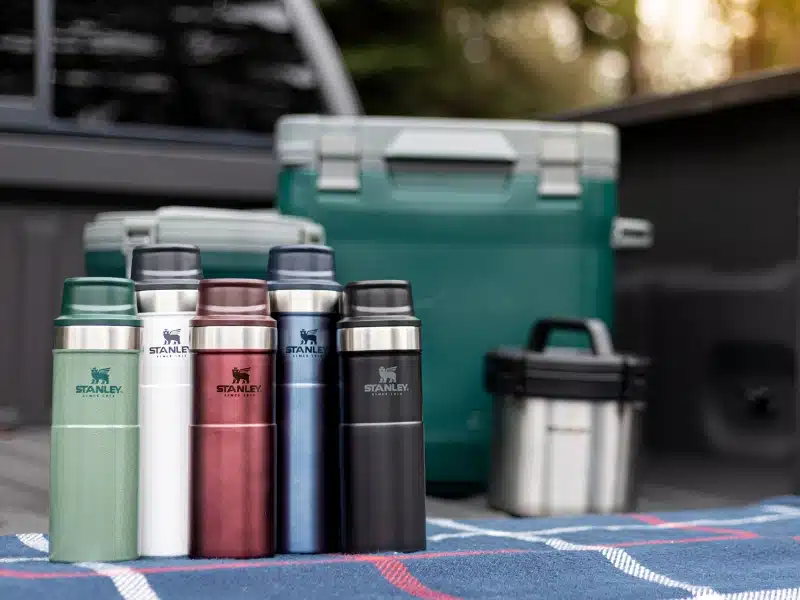 Looking for other gear and gadgets? Check out these top posts…
Love it? Pin it!