This post may contain affiliate links, from which we earn an income.
Are you thinking about buying an Airalo eSim card for your travels or to help you work remotely?
We've been using Airalo eSIMs right across Europe, alongside local SIM cards and Cloud SIM devices, for well over a year. In this Airalo eSIM review and guide, we'll answer all your frequently asked questions and share our Airalo eSIM review.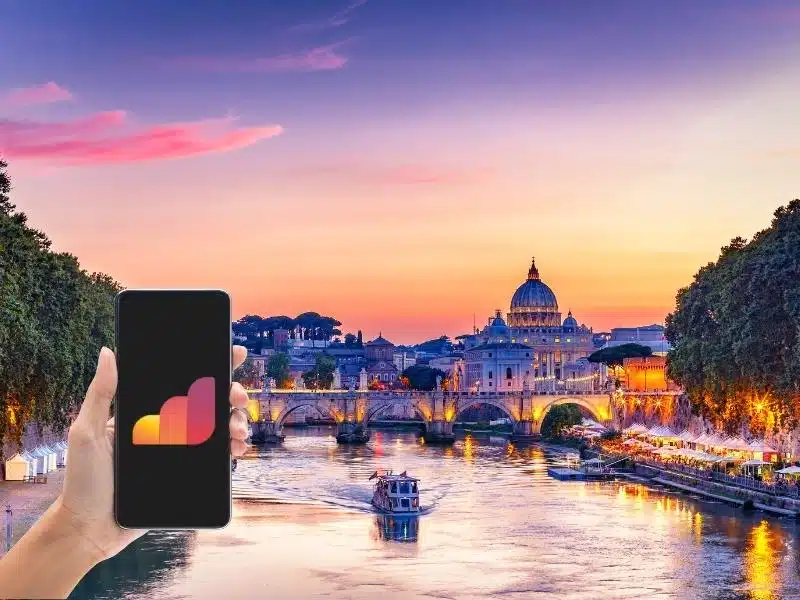 TL;DR? Get the basic Airalo info here…
What is an eSIM?
A regular SIM (Subscriber Identification Module – who knew?) is a physical bit of plastic containing microchips that enable your phone to make and receive calls, send and receive text messages, and access wireless internet. SIM cards can be used in smartphones and watches, mobile hotspots like MiFi devices, dongles, wingles, and some travel routers.
The first credit card-sized SIM was launched in 1991. By 1996 SIM card technology had advanced and the mini-SIM was introduced (now known as a standard SIM), followed by micro SIM cards, and then nano SIM cards.
That is until 2018 when the first eSIM was launched and Apple started adding the technology to their iPhones.
An eSIM is a virtual SIM, which usually provides data only. The 'e' of an eSIM stands for 'embedded', meaning the eSIM is embedded in your phone technology, rather than being placed in your phone physically.
Can anyone use an eSIM?
Because this is fairly new technology, only newer mobile handsets can accept an eSIM. So, your device must be carrier-unlocked and eSIM-compatible.
Most recent Apple iPhones and iPads are compatible, as are newer Samsung and Google Pixel phones. Check this guide to Airalo compatible phones before making a purchase.
Why do I need an eSIM?
Whether you're a holidaymaker, long-term globetrotter, backpacker, business traveler or digital nomad, the chances are you'll want to access the internet when you travel.
Access to mobile data with a travel eSIM makes navigating a new city or negotiating a different language simple. The convenience of being able to check your bank balance, make an online reservation, take a video call, or research your next destination, all make life on the road just that little bit easier.
If you're a digital nomad, having reliable internet is pretty important. We work at least three days a week on the road, uploading videos, conference calling, downloading images, and generally spanking the internet, so for us, access to data is business critical.
If that sounds like you, or you have to be connected for some other reason, then you'll recognize the stress of trying to find free WiFi and get connected when you travel.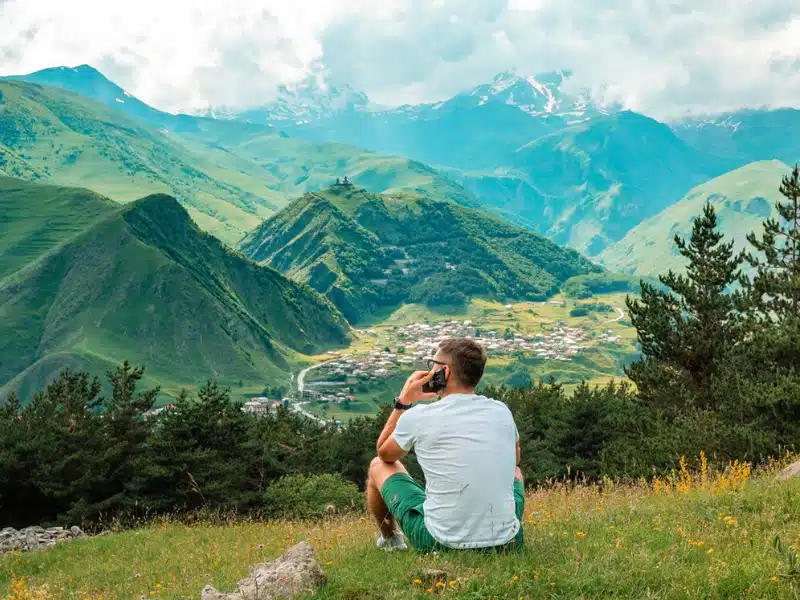 What other options do I have to get internet?
There are other options to get online internationally, but we have tried them all and keep coming back to the eSIM.
Use your existing provider
Virtually all modern smartphones are compatible with the world's mobile infrastructure and every major North American, European, and UK carrier will have international SIM data plans meaning your phone should work once you step foot onto foreign soil. But boy, will you pay for it!
Whichever country you're from, all 'Roam Like at Home' offers have fair usage limitations which cap your monthly data allowance at a usually paltry amount, and can see you being cut off if your provider decides you're a 'permanent traveler'.
Buy a local prepaid SIM card
Buying a local SIM card is a good option, but there are drawbacks. Buying local only really only works if you're staying in one country for a week or more, not if you're country hopping.
Also, it's not always convenient to stop and buy a local SIM, especially if you're overlanding or staying off-the-beaten-track.
And finally, buying prepaid data SIMs can be super-expensive, especially in the developed countries of Western Europe and the US.
Order a SIM card online
If you like to be organized and want to slip that travel SIM card into your phone as soon as you arrive, then ordering a SIM online for delivery to your home or workplace before you travel is a great option – as long as you are organized.
The biggest downside to this type of SIM is that, unless you have a dual SIM phone, you need to replace your usual provider's SIM card.
Get a portable WiFi device
A portable WiFi device or portable hotspot means you can keep your number, and tether or hotspot to the device, wherever you are. A pocket WiFi device like this operates like a router at home, meaning more than one device can be connected simultaneously.
Instead of connecting to your internet service provider, these WiFi devices use cloud SIM technology, meaning you don't need to buy a SIM card because it's already included, but they are amongst the most expensive ways of getting online.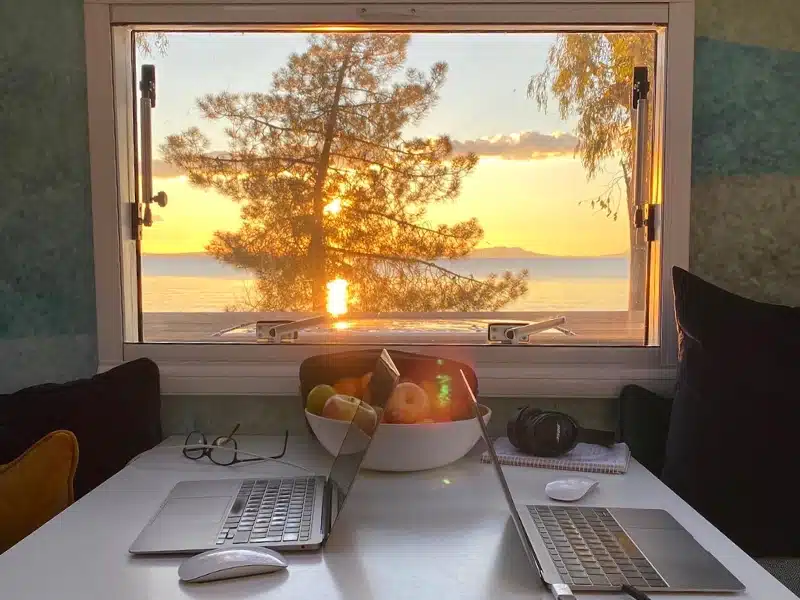 What are the benefits of eSIMs?
Is there a downside to using eSIMs?
If you balance the cost of an Airalo SIM card against a local SIM, an eSIM is always going to be more expensive gigabyte for gigabyte.
However, for us, the convenience of staying connected as we cross borders and move around different countries – over 20 in the last year – far outweighs the difference in price.
Also, almost all eSIMs, Airalo included, provide mobile data only. There is no ability to use the eSIM to receive texts or phone calls. However, internet-based apps like WhatsApp, Skype, Messenger, and Snapchat will work for messages and calls. And this does mean you're not paying for something you don't need, so maybe not a downside after all?
Who are Airalo?
Airalo, launched in 2019, is the world's first eSIM store that solves the pain of high roaming bills by giving you access to eSIMs across 200+ countries and regions of the world.
Airalo says its mission is "to provide global data connectivity for all travelers. We're here to liberate you from the roaming limits and fix what's been broken for years".
How does Airalo work?
Entirely internet-based, Airalo can be accessed on the web or via the Airalo app. Head online (so you need some sort of connection to get started) and select the country or region to which you're traveling.
Airalo offers eSIMs in over 200 countries, plus seven regional eSIMs for Africa, Asia, Europe, the Caribbean, Europe, Latin America, the Middle East and North Africa, and North America, and a global eSIM for the really serious and business travelers out there.
You can choose the amount of eSIM data and the number of days required from the eSIMs available and make your purchase. Most countries have eSIM plans from 1GB to 20GB, valid from 7 days to 30 days. Bigger data packs for regions can go up to 100GB for 180 days – I am using this Eurolink data pack for Europe right now.
Does Airalo work instantly? Your eSIM can be installed from the Airalo app, or from the QR code that comes in an email they send you immediately after purchase.
The second method means you need to be able to scan the QR code, so you do need a second phone or device where you can access the email with the code. The app method is definitely the easiest!
Once installed, check your settings, select the eSIM, give it a name, and boom, you've got internet. If you don't, there are a lot of help documents that talk you through the setup, and if that doesn't help, you can chat with them live via the app.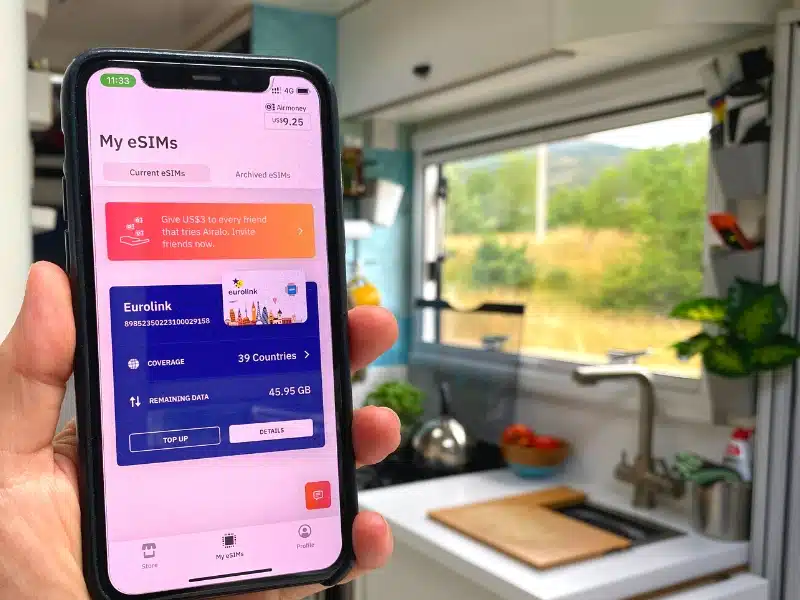 How much does an Airalo eSIM cost?
It can vary a lot depending on the country and the base price of data in said country, the amount of data you need, and the validity period. Bigger data packs over longer validity periods are usually more cost-effective.
We regularly look at other eSIMs and our research tells us that Airalo is competitively priced, especially where you're looking for a regional eSIM to cover a number of countries.
Is Airalo safe?
Can Airalo be trusted? We've been using Airalo eSIMs for over a year now with no issues and have felt comfortable using a credit card to pay for our eSIMs, initially online and now through the Airalo app.
If you are concerned about safety using mobile internet with any provider, download a VPN (Virtual Private Network) to protect your privacy and keep your personal data online safe. We recommend NordVPN for its vast choice of international servers, easy-to-use app, and great pricing.
How good is Airalo coverage?
I've been keeping an eye on this as we've traveled over the past year. Airalo's coverage is generally excellent and we've been able to get connected where our portable hotspot device hasn't been able to get a signal. Airalo will connect to 4G, LTE, and 5G depending on the carrier and for the latter, your phone's capabilities.
Does Airalo have a loyalty program?
They do. The Airalo loyalty program is called Airmoney. Every time you buy an eSIM your account is credited with 5% of the value of the transaction. You can see your Airmoney Wallet in the top right corner of the app.
You can also refer and earn as part of this program. Share your personal referral code with friends and family, and you get US$3 added to your wallet, and they get US$3 off their first purchase.
Our Airalo Experience
I must admit, I was a bit skeptical about eSIMs and half-expected it not to work very well, but I've actually been really impressed by Airalo and think it probably is the best eSIM for international travel.
The web and app interfaces are user-friendly, the guides and help documents easy to understand, and the eSIM itself has been pretty flawless, working across multiple countries without a hitch. I had a blonde moment setting up my eSIM and the customer service was excellent – fast and on point.
I've been using the Europe regional eSIM and bought 100GB of data over 180 days initially, and when that expired I purchased again. In fact, I've been so impressed, that I've bought this data pack four times now.
There are a couple of things I wish I'd known before buying my first Airalo eSIM;
Click the button below to buy and use our referral code and get US$3 off your purchase – just type in IZZY9131 when prompted.
Looking for more travel inspiration? Check out these top posts…
Croatia is home to a variety of beautiful landscapes, including rugged mountain peaks, stunning islands, enchanting waterfalls, incredible beaches, vibrant cities, and charming historic towns. There are so many beautiful places to visit, it can be difficult to decide where to go. We've pulled together all our favorite most beautiful places in Croatia to visit to inspire you and help plan your next trip.
Love it? Pin it!