This post may contain affiliate links, from which we earn an income.
Are you planning a long trip to Europe or do you work on the road? As digital nomads we love it when we find a great unlimited data SIM or deal that covers Europe – it means we can work and play without the stress of running out of those precious gigabytes!
We've spent over five years in Europe blogging and vlogging from our overland truck and covering many thousands of miles through almost all of Europe's countries. In this guide to unlimited data SIMs in Europe, we're sharing the best unlimited European SIM cards and devices for digital nomads, remote workers, and people who use a lot of data.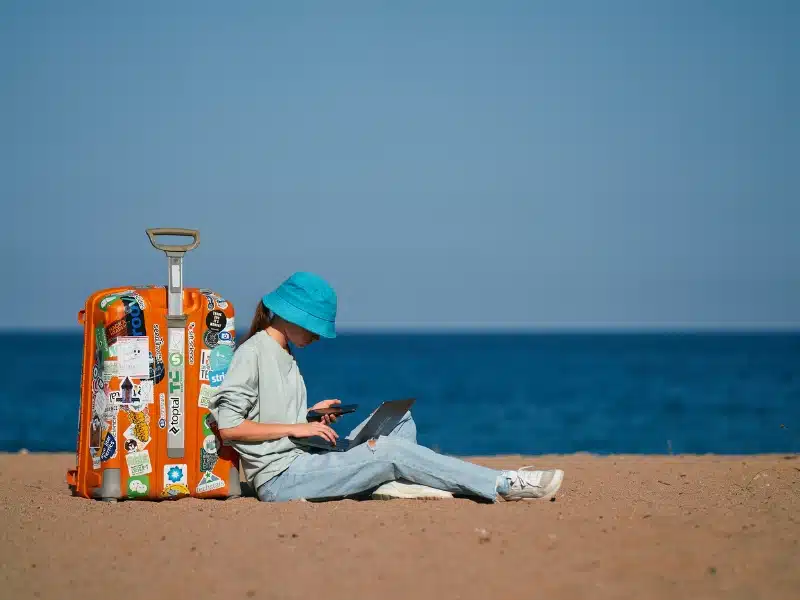 The best sim card for Europe with unlimited data is…
Can you Get Unlimited Data in Europe?
Truly unlimited data is very rare and it's really important to read the small print before you buy an unlimited data SIM card, which is likely going to be expensive.
Lots of brands claim they offer unlimited data, but when you read the fair usage policy or do a bit of digging, you may find all is not as it seems.
Often, the 'unlimited' data is capped at a daily or monthly amount, and if you go over, you'll find yourself with speeds of 1mbps or less, which are pretty much useless for anything other than reading an email.
The worst we've seen is Wraptel, who offer their 30 day premium unlimited European data pack for $60. But in fact, if you use more than 2GB a day your data speeds are reduced to a pathetic 768kbps. 2GB is not enough to stream a film, let alone actually work for a day and it's nowhere near unlimited!
Do You Even Need a Europe Unlimited SIM Card?
Most European hotels, cafés, and restaurants have pretty good WiFi services which, as long as you're on the premises, won't limit you. So you may be wondering why you even need an unlimited SIM card for travel in Europe.
If you're always on the go, driving or using buses and trains to hop between cities and attractions, then an unlimited travel SIM card is invaluable. The convenience of being able to check your bank balance, use your mobile phone to translate or find your way in Google Maps, order a cab, post on social media or book a hostel makes life on the road a little bit easier, especially when you don't have to worry about chewing through your data.
Also, public networks in accommodation, shopping malls, and cafés do not offer secure internet access. If you need to manage banking and emails or do anything other than browsing and streaming, you'll be vulnerable using public WiFi, unless you use a VPN.
If you need to do anything hefty, like uploading a video or downloading images, you'll be spending a lot of time drinking coffee and hanging around your hostel or coffee shop while the magic happens! WiFi services provided by hotels and eateries are rarely fast and it can take hours to get stuff done as you share the slow broadband with everyone else.
Don't need unlimited data but you're working as a digital nomad of traveling long-term? If that's you, check out our post on the best EU SIM card options which allow you to roam with more data for longer.
Planning a road trip adventure in Europe? Get inspired with all the best road trips in Europe including maps, itineraries, and ideas about what to see and do on the way.
Using Your Existing Mobile Data Provider
All modern smartphones are compatible with Europe's mobile infrastructure and every major UK and US carrier offers international roaming by partnering with local carriers, so your phone should work once you step foot onto European soil.
However, an EU data plan from your traditional provider will be expensive and the amount of data you can use will be capped. There will also be a limit on how long you're allowed to roam before you're deemed a permanent traveler and your service cut off. Even if you pay for unlimited data in your home country, it's highly unlikely you'll be able to access all that data in Europe.
Good to Know: If you do choose to use your domestic provider's EU data plan, be very careful about monitoring usage or ask your provider to add a spending cap. Some of the plans can be super complicated and if you don't manage your usage, it's easy to find yourself going over and getting an expensive bill.
US Providers
US providers say that data roaming is not for extended international use and that you must reside in the US and primary usage must occur on the provider's US network.
This means that even if you're using your data allowance in Europe you may not do so for more than one month in a two month period. Additionally, you must pay around $5-10 a day to use your data on an international plan, or $2 per 1GB off-plan.
UK Providers
All UK providers have introduced additional fees after Brexit and now set data caps on EU roaming, even with unlimited data plans. Many also charge a fee, usually £2-3 a day, for using your data in Europe.
In addition, fair usage policies limit how many days in a rolling period you can use your SIM to roam in Europe, to ensure you're not a permanent traveller. This is usually 60 days in a rolling 120 day period.
If you go over your data allowance, you're looking at charges of £3-4 per gigabyte of data, and you'll be cut off if you exceed the fair usage roaming time period.
Some providers have introduced packages that add unlimited data in Europe, or even the world, for a daily fee. Three UK, for example, has a Data Passport, which allows unlimited usage for £5 a day, on top of your existing contract. If you want or need to work every day, that's a whopping £300 a month!
Don't be fooled by the 'Roam Like at Home' terminology used. Read the Fair Usage Policy and Terms and Conditions closely. Our experience is that even the provider's own staff are often confused about RU roaming!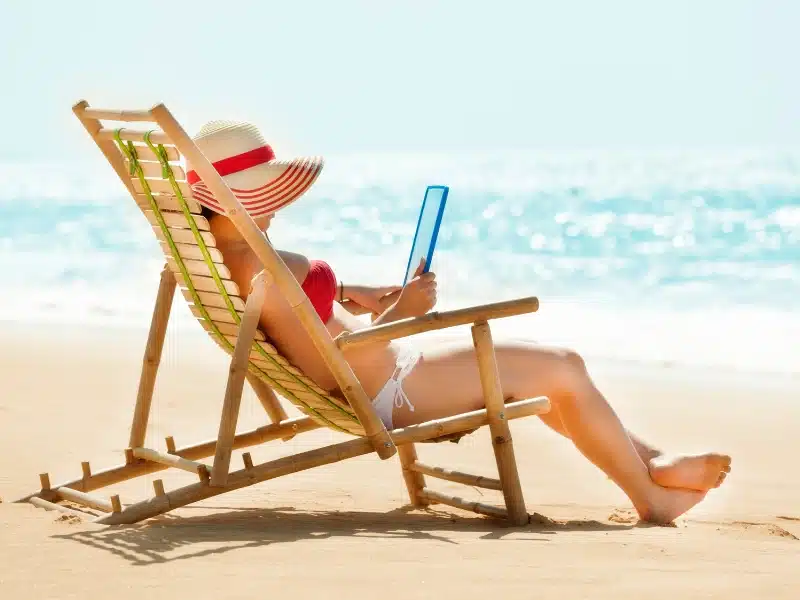 Buying a Local Prepaid Unlimited SIM Card
To avoid potential charges and additional costs, we think one of the best options to get unlimited data in Europe is to buy a local prepaid SIM.
How Does it Work?
This option does require you to remove your physical SIM unless you have a dual SIM phone. Whether you use a phone, tablet, or MiFi device with your local SIM, it must be unlocked. It's easy to use WhatsApp, FaceTime, or Messenger apps to make phone calls home and send messages.
Good to Know: If you regularly use 2FA (two-factor authentication), removing your SIM may be inconvenient – I carry an old smartphone which is home to my regular SIM when I'm using a local SIM card, and turn it on when I need to receive a one-time passcode by SMS.
Which Provider Should I Use?
All European countries have their own popular cell phone providers. You will see familiar international brands such as T-Mobile, Vodafone, and Verizon, and EU brands such as Orange, Movistar, and Telefonica.
Some providers offer unlimited SIM cards, but this is unusual. Often these deals are reserved for residents of the country, but we have got lucky a few times and staff have used their details to get an unlimited SIM.
You may be lucky enough to find an unlimited data SIM offer for visitors. As we traveled in 2023 we had a 1TB SIM card from A1 in Montenegro (who also do a good Balkans roaming package) for €17, unlimited data for 30 days from Vodafone in Greece for €21, and unlimited data from T-Mobile in Czech Republic for 69 Kč, which is around €3.
We try to research the best SIM cards online before going into a new country, but often the offers shown on the provider's website bear no resemblance to what happens in the store!
However, you can find out online about cell coverage and likely signal strength that will help you make a choice of country-specific mobile phone SIM provider.
Roaming with a Local Provider
Most EU providers offer some data roaming outside of their own country under the EU's 'Roam Like at Home' scheme. This means if you are traveling to maybe two or three EU countries over a few months, you will be able to roam with a SIM from one EU country, depending on your data usage.
Make sure to check with the staff how to activate data roaming when you buy the SIM and whether there are any caps or limits.
How to Buy a Local SIM Card
Although you can buy SIM cards and data at airports and land borders, we think it's a good option to go to the provider's store with your phone and passport, and the staff will let you know what deals they can offer, which you're unlikely to get at the airport.
There may be some language barriers, but we manage with a combination of a translation app, gesturing, and bits of common language like English. Expect to pay a few euros for a new SIM card and anywhere between €1-3 for 1GB of data. The further west you are in Europe the more expensive the data.
Most EU providers now have the added bonus of an app that gives easy access to data usage and top-up options for your prepaid SIM card. Check with the provider whether their app is geo-locked, as it can be almost impossible to get around this, and not being able to top-up online might be a deal-breaker for you.
Good to Know: In the EU you'll be able to use a credit card to buy SIM cards or data packages, but some providers in European countries outside of the EU may only accept cash.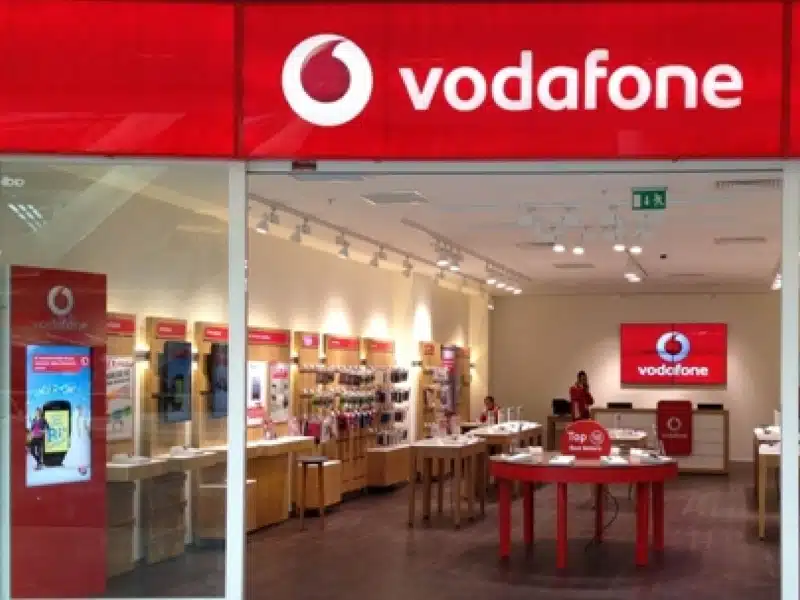 Get our complete guide to planning a road trip, including tips on budgeting, packing, booking, and free downloadable checklists so you never forget anything again!
Using an Unlimited eSIM in Europe
An eSIM is a virtual data SIM and is one of the best options if you're traveling between a lot of different European countries over a long period of time, and don't want the hassle of buying a local SIM for each one. The are lots of other benefits of eSIMs including:
Good to Know: Your device needs to be unlocked. e-SIMs don't work with all mobile devices – you can check whether your phone is compatible here.
You also need to have an internet connection when you purchase or want to start using your eSIM, and you may need a second device or be able to use someone else's phone. This is because some providers send you a QR code via email, which you need to be able to receive and then read on the phone which will use the eSIM.
This is frankly a pain in the butt, but happily, some providers have overcome this technology hiccup and you can now download and activate your eSIM directly in the app, although you still need to be connected to do that!
Holafly
We think Holafly is the best provider of EU unlimited data SIMs. In fact, they are the only provider that offers a truly unlimited eSIM. Although they say that the carrier may introduce a fair usage policy if you exceed 90GB in a month, we spanked a Holafly unlimited data eSIM in Europe for 90 days over the summer, using 220GB in one month, and saw no effect on speed.
The only downside with a Holafly unlimited SIM card is that there is no tethering or hotspotting allowed. It's not such a big issue for us as we travel as a couple, and one-half of us can operate an Airalo eSIM for hot-spotting and tethering purposes, but it might not work for a solo traveler.
Order your Holafly eSIM here and use code THEGAPDECADERS to get 5% off your order.
RELATED POST: Holafly Travel eSIM Review: The Best Unlimited eSIM for Travel?
Airalo
Airalo doesn't offer unlimited data packs in Europe but they do have regional European eSIMs loaded with up to 100GB of data valid for 180 days, which can be used for multiple devices, and with no fair usage policy.
If you need additional data you can purchase in-app before your data pack expires meaning you don't have to download a second eSIM.
We used an Airalo eSIM card for months this summer, and it was pretty faultless. In fact, it became our go-to when we couldn't get a signal on our local SIMs in rural places, like Theth in Albania and Palaiokastritsa on the Greek island of Corfu.
Order your Airalo eSIM here and use code IZZY9131 to get US$3 discount on your order.
Good to Know: Airalo covers European countries like Albania and Serbia, which others don't. If you're visiting a specific European country, make sure to check with your chosen eSIM provider that it's covered.
RELATED POST: Airalo Review: The Best eSIM Card for Travel?
Nomad
Nomad have different options in terms of validity periods and data pack for all European countries, and also offer a European regional data plan as well as a global SIM card.
We have mixed views about Nomad. In some countries their price points are really competitive, you can tether and hotspot, and their eSIM cards got a signal wherever we went.
But we found the choices of provider on their app a bit confusing. Some eSIMs also include a number and local calls as part of the deal, but we didn't want these. We came to the conclusion that they are a bit of a middleman for local telecom companies and found that we were checking coverage maps for each provider in each new country.
We preferred the surety and simplicity of choice from Airalo and Holafly, who piggyback off the best provider for the location.
Order your Nomad eSIM here and use code IZZY47KJ to get US$3 discount on your order.
RELATED POST: Nomad eSIM: The Best eSIM for Europe?
SimCorner
SimCorner offers a competitively priced 200GB Europe and UK data eSIM covering 45 counties for 30 days. You are allowed to hotspot and tether and there is no daily limit. Although it's not unlimited, 200GB a month is a good start for high-data users.
Maya Mobile
A relative newcomer, Maya Mobile offers Europe unlimited eSIM plans on a ten day data pass. Choose from Lite, Standard, or Max to determine at which point your 'unlimited' data is capped and the speed throttled to 1Mbps.
The respective points at which speed is slowed are 2, 3, and 5GB. Standard and Max both allow hot-spotting and tethering but only to one other mobile device.
The 10 day Max plan, which allows 5GB daily before throttling is around 150% more expensive than the comparable ConnectPls plan, so we don't think Maya offers good value for money. We also contacted them about a business plan and they never responded so we're not keen on their customer service either!
Good to Know: The availability of 5G across the European Union depends very much on location, and some providers will charge more for SIM cards with 5G capability, which you may not need or even be able to access. Check out which EU cities have 5G here.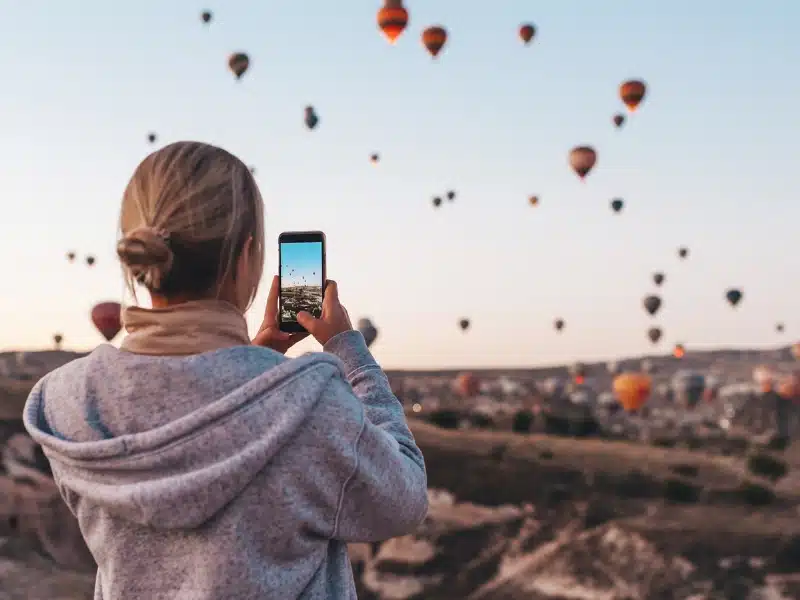 Order a European Unlimited SIM Card Online
If you like to be organized and want to slip that travel SIM card for Europe into place as soon as you arrive, then ordering a European SIM online for delivery to your home or workplace is a great option. Other reasons to buy Europe travel SIM cards online include:
The only downside to this type of SIM is that unless you have a dual SIM phone, you need to replace your usual provider's SIM card.
Some domestic providers allow you to port your number, but if you don't want that inconvenience, you could forward calling or use a service like WhatsApp for calls and messaging.
Good to Know: Remember that your phone must be unlocked to use a replacement SIM like this.
Popit Mobile
Popit Mobile offers 100GB on a rolling 30 day contract, which can be canceled at any time. Roaming is capped at six months before you have to use your SIM in the UK for two weeks.
The SIM card can only be posted to a UK address, but there is no requirement for you to be a UK resident. This could work well if you're visiting the UK as part of a wider trip, or have someone in the UK who could post the SIM to you.
Tiekom
Tiekom is a great option and offers one of the best European SIM cards offering 400 GB of data on a monthly rolling contract in Spain, and allowing 200GB of that to be used in the rest of the EU.
Good to Know: Tiekom is super helpful and will deliver your SIM across Europe to pretty much any address. This is a great option if you're a digital nomad looking for lots of data.
SimCorner
The choice of physical Europe SIM cards from SimCorner has become limited over the past few months and their large Europe data packs show as sold out. However, it's worth keeping an eye on stock levels if you prefer a physical SIM, as their price points offer good value for money.
Good to Know: SimCorner has online stores in the USA, United Kingdom, Canada, Europe, and New Zealand, and will also ship to Hong Kong, Japan, Malaysia, Singapore, Thailand, and South Korea.
Other Providers
It's becoming harder and harder to find a prepaid SIM card that can be sent to your home address before you travel. Popular providers like Orange Holiday Europe, SimOptions, Bouygues Telecom, and Simify have now moved to providing eSIMs instead.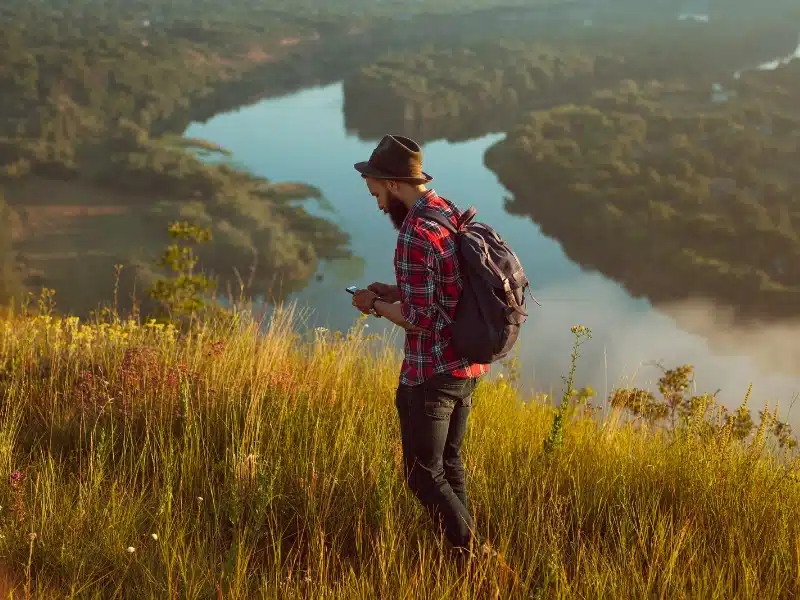 Unlimited Portable WiFi Devices for Europe
A portable WiFi device or portable hotspot means you can keep your number, and tether or hotspot to the device, wherever you are. A pocket WiFi device like this operates like a router at home, meaning more than one device can be connected simultaneously.
Instead of connecting to your internet service provider, these WiFi devices use cloud SIM technology, meaning you don't need to buy a SIM card because it's already included, although you do need to keep the device charged.
ConnectPls
ConnectPls allows you to connect your phone, tablet, and laptop to fast and secure portable WiFi with cloud SIM technology across the EU. In fact, you can connect up to ten devices, so this European internet solution is the best option for couples, families, and people looking to create a WiFi network in a motorhome or van, just like we do.
We have been using and recommend ConnectPls for cloud SIM connectivity in the UK and Europe. You can choose from unlimited data packs to just a single day of unlimited connectivity, depending on your needs. The device is no larger than a slimline smartphone, can be charged easily with a USB, and is delivered within a few days of ordering.
The device is included in the plan price and can be delivered anywhere in the world, and their premium package offers daily unlimited EU data on a rolling monthly basis perfect for heavy users. Speed can be throttled after 5GB of daily use, but if you contact ConnectPls this can be managed and your speed restored.
Use the code 'thegapdecaders' at checkout to get 50% off in the first month!
Hip Pocket WiFi
HipPocketWifi is a French-based company offering a mobile hotspot that you rent for the duration of your time in Europe meaning you can create a private and secure WiFi network wherever you are.
The device comes loaded with data and their long-term data plans cover the EU, UK, Switzerland, Iceland, and Norway.
There isn't a Europe-wide unlimited data pack (they only offer that for France), but they do have a plan for 200GB of data for up to 6 months. The longer the validity period you choose, the cheaper the monthly cost.
Their throttling terms are good too, they say "Your usage needs to remain a personal usage and not excessive. In case of excessive usage, the network operator may temporarily reduce your speed. Excessive usage would be suspected when usage exceeds 300GB per month."
Looking for more travel gear? Check out these top posts…
Are you traveling to Europe and thinking about buying a Yesim eSIM so you can stay connected? In this Yesim eSIM review and guide, we'll answer all your frequently asked questions, look at using a Yesim eSIM in Europe, and share our honest review of the Yesim eSIM based on our own experiences.
Love it? Pin it!