This post may contain affiliate links, from which we earn an income.
Are you traveling to Europe and thinking about buying a Yesim eSIM so you can stay connected?
We've been testing eSIMs, local SIM cards, and Cloud SIM devices across Europe for six months. Yesim is a relatively new eSIM provider who kept popping up in search and socials, so we thought we'd give their regional European eSIM a try.
In this Yesim eSIM review and guide, we'll answer all your frequently asked questions, look at using a Yesim eSIM in Europe, and share our honest review of the Yesim eSIM based on our own experiences.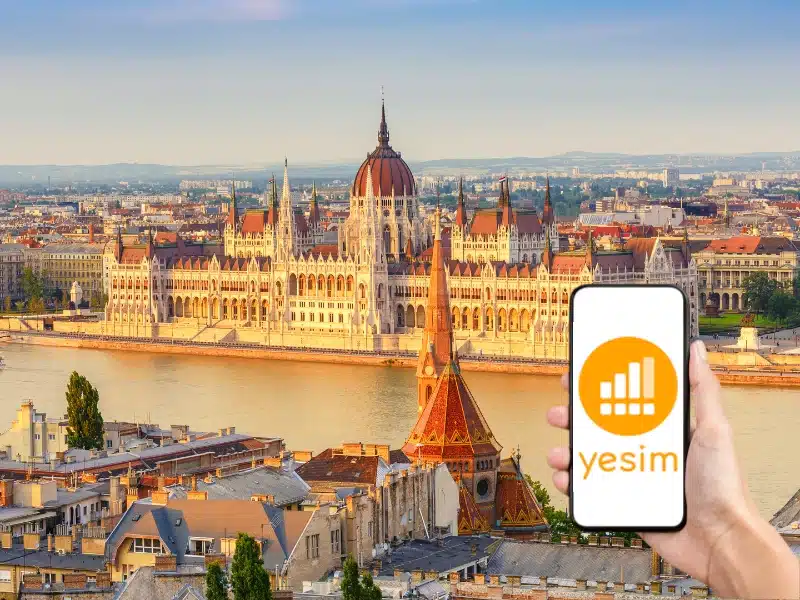 TL;DR? Get the basic Yesim info here…
What is an eSIM?
A physical SIM (Subscriber Identification Module) is an actual piece of plastic that contains microchips enabling your smartphone to make and receive calls and text messages, and access wireless internet.
In 2018, the first eSIM was launched. An eSIM is a virtual SIM, which usually provides data only. The 'e' of an eSIM stands for 'embedded', meaning the eSIM is embedded in your phone technology, rather than being placed in your phone physically.
Can anyone use an eSIM?
Because this is a fairly new technology, only newer mobile handsets can accept an eSIM. So, your device must be carrier-unlocked and eSIM-compatible.
Most recent Apple iPhones and iPads are compatible, as are newer Samsung and Google Pixel phones. Check if your smartphone supports an eSIM with Yesim's guide to compatible devices before buying an eSIM.
Do I need an eSIM?
Whether you're a holidaymaker, backpacker, digital nomad, business traveler, or long-term globetrotter, you're likely going to want access to mobile internet when you travel.
When we began to travel full-time in our overland truck in 2018, we thought we'd stop being tied to our phones. That didn't go so well!
Fast forward over five years and we're still on the road using the internet more than ever – for research, creating YouTube videos and blog posts, posting on social media, streaming, planning and booking stuff, and keeping in touch with friends and family.
For us, access to mobile data with a travel eSIM makes finding our way around a new country or holding a conversation in a different language easy. The convenience of being able to manage our business online, make a hotel reservation, take a video call, or research our next destination, all make life on the road just that little bit easier.
If you're a digital nomad, having reliable internet is really important. We work at least three days a week on the road, so for us, access to data is business-critical.
If that sounds like you, or you have to be connected for some other reason, then you'll recognize the stress of trying to find free WiFi and get connected when you travel.
RELATED POST: SIM Card Europe Unlimited Data: Best Options for High Usage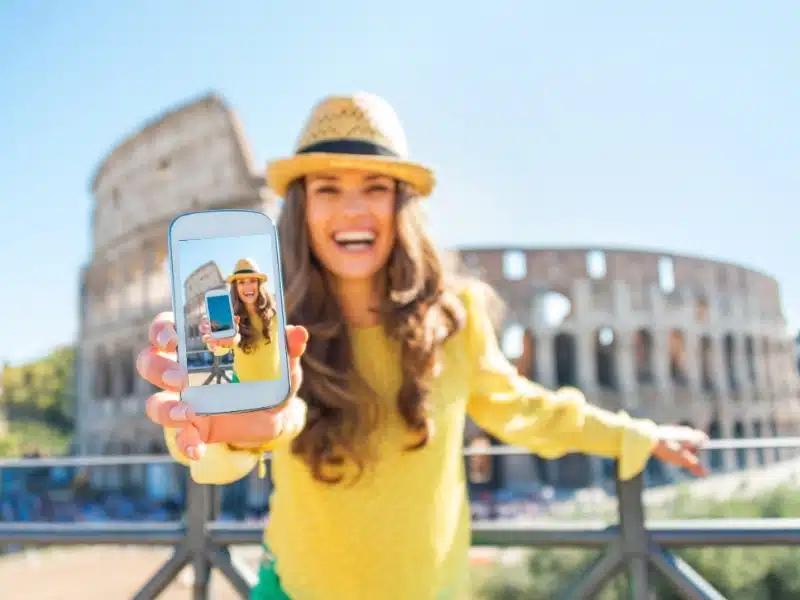 What other options do I have to get internet?
There are other options to get online around the world, but we have tried them all over the last five years and keep coming back to the eSIM.
Use your existing provider
Virtually all modern smartphones are compatible with the world's mobile infrastructure and every major North American, European, and UK carrier will have international SIM data plans so you can continue to use your phone abroad. But these plans are usually super expensive.
Whichever country you're from, all 'Roam Like at Home' offers have fair usage limits which cap your monthly data allowance, and can see you being cut off if your provider deems you a 'permanent traveler'.
Usually, this happens if you use your phone more abroad than you do in your home country over a four month rolling period.
Buy a local prepaid SIM card
Buying a local SIM card is a good option, but there are negatives. Buying local only works if you're staying in one country for a week or more, not if you're country-hopping. It's not always convenient to stop and buy a local SIM, especially if you're overlanding like us or staying off the beaten path.
Also, buying prepaid data SIMs can be super-expensive, especially in the developed countries of Western Europe and the US.
Order a SIM card online
If you like to be organized and want to use your SIM card as soon as you arrive, ordering a SIM online for delivery to your home before you travel is a great option.
The biggest downside to this type of SIM is that, unless you have a dual SIM phone, you need to replace your usual provider's SIM card. This means you won't be able to make calls or send messages using your usual number, and if you use two-factor authentication which often relies on sending a code via SMS, this could be an issue.
Also, it's becoming harder and harder to order physical SIMs online for delivery. Many providers are moving to an eSIM service only model and those that haven't yet seem to be winding down their stocks in readiness.
Get a portable WiFi device
A portable WiFi device or portable hotspot means you can keep your number, and tether or hotspot from the device, wherever you are. A pocket WiFi device like this operates like a router at home, meaning more than one device can be connected simultaneously.
Instead of connecting to your internet service provider, these WiFi devices use cloud SIM technology, meaning you don't need to buy a SIM card because it's already included, but they are amongst the most expensive ways of getting online when you travel.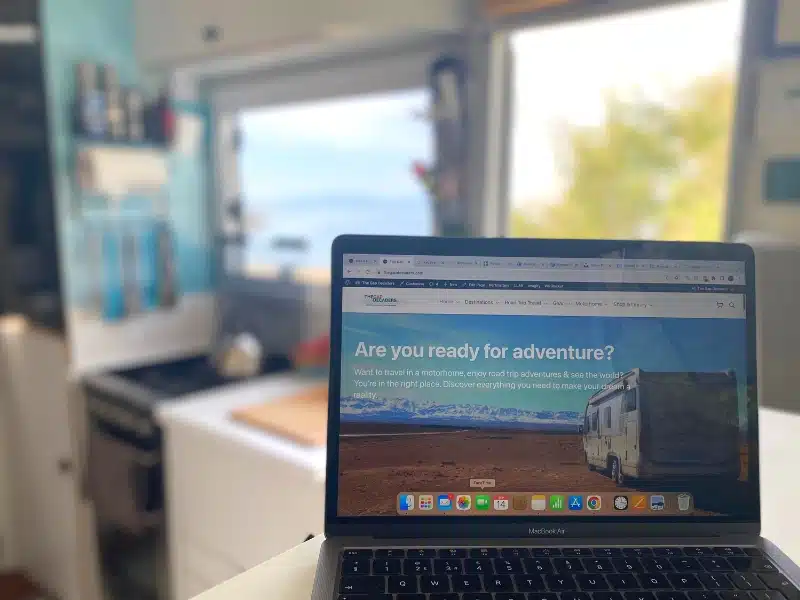 What are the benefits of eSIMs?
Is there a downside to using eSIMs?
If you balance the cost of a Yesim card against a local SIM, eSIM data is always going to be more expensive gigabyte for gigabyte, but Yesim does offer pricing which is pretty close to what you would pay locally.
For us, the convenience of staying connected as we cross borders and move around different countries – over 25 in the last year – far outweighs the difference in price.
Almost all eSIMs provide mobile data only and there is no ability to use the eSIM to receive texts or phone calls. However, internet-based apps like WhatsApp, Skype, Messenger, and Snapchat will work for messages and calls.
Who is Yesim?
Part of the Swiss-based Genesis Group Group, Yesim says they are "a fast-growing and game-changing telecom company, a global provider of revolutionary eSIM solutions" and their vision is "to become the best-in-class market player by delivering breakthrough communication technologies, impeccable broadband services, and unrivaled customer support".
How does Yesim work?
Entirely internet-based, Yesim can be bought and accessed on the web, and via the Yesim app. Head online (you need some sort of connection to get started) and select the country or region to which you're traveling.
Yesim offers international eSIM data packages in over 120 countries, plus three regional plans: Europe, the Caribbean, and the CIS countries of Armenia, Belarus, Georgia, Kazakhstan, Kyrgyzstan, Russia, and Uzbekistan.
Yesim offers international eSIM data packages in over 160 countries plus three regional plans: Europe, the Caribbean, and the CIS countries of Armenia, Belarus, Georgia, Kazakhstan, Kyrgyzstan, Russia, and Uzbekistan. By the end of 2023, there will be nine regional data packages covering Africa, Asia, Europe +, South America, Middle East, Scandinavian, USA and Canada, Southeast Asia + Pacific, and the Caribbean.
Yesim also offers a PAYG global eSIM. The international eSIM plan allows you to pay for only the data traffic you actually use, with no long-term commitment, and works for all of Yesim's 121 countries. You top up your Yesim wallet and activate the data plan whenever you need it.
Yesim offers a range of eSIMs by size and validity time. When you select the country-specific eSIM, you can see the network operators that Yesim partners with, meaning if you're heading to a remote spot you can check a network coverage map for your destination to make sure you'll have a signal. Right now, we're working off a Yesim eSIM on the vodafone.de network in Germany.
Does Yesim work instantly? Your eSIM can be installed directly from the app in a quick and fast installation process. You can also choose to use a QR code or install your eSIM manually.
Once installed, select the eSIM, rename (it helps to keep track!), activate data roaming, and then head back to the app and activate there. If you have other eSIMs you'll need to let your phone know which one you want to use.
Once that's done you'll be connected immediately. If you're not, there are a lot of help documents that talk you through the setup online.
Yesim also provides 24/7 customer support and when we contacted them to test the response time, we were emailed back within 3 minutes
How much do Yesim eSIM cards cost?
Yesim eSIM prices can vary a lot depending on the country and the base cost of data in said country, the amount of data you need, and the validity period. Yesim's larger data packs and longer-term plans are usually more cost-effective and offer excellent value for money.
We regularly look at other data eSIMs and our research tells us that Yesim eSIM pricing is very competitive, often only a few euros more than picking up a regular SIM card locally.
How good is Yesim coverage?
I've been keeping an eye on this as we've traveled over the past six months. Yesim's coverage is generally good and we've been able to get connected across Hungary, Slovakia, Czechia, Poland, and Germany.
Are Yesim eSIMs fast?
Your Yesim eSIM will connect at full speed to 4G, LTE (like 4.5G), and 5G depending on the carrier and for the latter, your phone's capabilities.
You may be limited by your device but we've been able to upload YouTube videos and stream TV from our phones without any buffering, even when hot spotting.
Does Yesim have a loyalty program?
The Yesim loyalty program allows you to refer friends and family to earn Ycoins (100 Ycoins = €1) towards you next eSIM. Get 200 Ycoins for every friend's purchase, and once five friends purchase you'll get 500 Ycoins.
Our Yesim Experience
We have tried both Airalo eSIMs and Holofly eSIMs in Europe this year and were lazy about trying a third provider, but Yesim kept popping up in Google searches and reviews were good, so we decided to give their eSIM a try.
And we're really pleased we did! Yesim is more competitively priced than Airalo and their coverage is just as good.
The web and app interfaces are user-friendly, the guides and help documents easy to understand, and the eSIM itself has been flawless, working across multiple European countries without a hitch.
The only downside is that, as yet, you cannot contact Yesim customer service by phone or live chat. But they do have a very responsive customer support team who respond quickly.
Yesim also has a few points of difference from other providers, offering value-added extras that may well be worth having.
Yesim VPN
Yesim offers an integrated app VPN on IOS devices using the IPsec protocol. When the VPN is turned on, it works regardless of the source of the internet connection, which may be Yesim, WiFi, or another provider's SIM card. We tried the VPN and were able to watch Amazon and Netflix, but not BBC, who seem to be able to stop most VPNs in their tracks!
Global Prepaid eSIM
Unlike other operators, the Yesim pay as you go global eSIM sits on your phone in perpetuity, until you activate it. At that point, you load up your credit and access the internet, paying only for what you use. There is no cut-off date, other than you need to activate the international eSIM every 365 days.
Virtual Numbers
None of the Yesim data packs we looked at included a local number, but they do offer virtual numbers in the United States, Canada, Israel, and the Netherlands. You can use these 2nd line numbers for services like WhatsApp, Telegram, Facebook, Instagram, and TikTok, which may be inaccessible in your location, to protect your confidential data.
Things to Know Before Purchase
Click the button below to buy and use our referral code and get €3 off your purchase – just type in Gap24 when prompted.
Looking for Europe travel inspiration? Check out these top posts…
Are you desperate for some Spanish sun but don't want to fly? With great routes across Europe, it's easy to drive to Spain from UK by car, arriving refreshed and unstressed from the comfort of your own vehicle. We're sharing the best routes with costs and comparisons plus tips about driving once you're there. Our Spain from UK guide will help you decide which is the best route for your driving trip to Spain, so…
Love it? Pin it!