We recently changed our motorhome and wanted to upgrade the ancient disc-driven motorhome nav for a more up to date motorhome gps model.  But what type to choose? 
We did a lot of research on sat nav info and wanted to share our findings and reviews of  caravan and motorhome sat navs with you. Read on to find motorhome and caravan sat navs compared and the top fifteen motorhome sat navs best buys of 2020 in this essential buyers guide.
There are affiliate links in this post.  This means if you click on a link and make a purchase, we will, at no cost to you, earn a fee.
Do You Actually Need a Motorhome or Caravan Sat Nav?
If, like us, you spend most of your driving time in a motorhome (or towing a caravan) then you may want to consider consider looking at specialist sat navs for motorhomes.  This is because sat navs and software designed for cars won't allow you to configure the device to avoid height and weight restrictions, which help you navigate safely.    
Driving with due care and and paying attention to road signs should help you avoid all the common hazards BUT you may not know about the low bridge or weight restriction until you're a mile or so away when a suitable diversion might be too late. Turning a large vehicle or towing caravan is not always easy and can be  stressful for the driver.  Add in the cost of wasted fuel, not to mention wasted time and you have a good case for a motorhome sat nav!
If you're reading this because you're new to motorhoming, there are loads more tips and advice in our guide for motorhome beginners.
What Are the Different Types of Motorhome Sat Navs?
An integrated GPS system fits in your dash and may also be connected to your reversing camera, radio and a bluetooth telephone system.  They are usually added as a £1.5k or thereabouts motorhome sat nav and media package on new vehicles.  
When we did our research, we found this type of system very difficult to buy off the shelf; generally you would have to go to a specialist supplier and installer for one of these.
If you have bought an older motorhome with an integrated system that you want to upgrade, try looking at a multi-media system. They work in a different way but give you the same look and feel as a traditional in-dash system.
Pre-loaded and uses satellite connection so no internet connection required
Can be configured to motorhome size and weight
Recent models have free lifetime updates
Connects to reversing camera, sound system and bluetooth
Fits tidily into the dash
Expensive
Difficult to retro-fit
Updating mapping can be costly and complicated if free upgrades not offered (TomTom mapping can only be updated via a Windows PC for example)
If it goes wrong you lose lots of other functions
Like a traditional car sat nav in dash mounted sat nav but can be configured for your motorhomes size and weight.  This is a usually a sat nav with bluetooth and live traffic updates and can be linked to a reversing camera (read more about this later in the post). Some will have integrated dash cams (find out more about dash cams) and speed camera alerts. They are generally the easiest to use sat nav system but not the most attractive to look at and depending on which make you buy, you may need another screen if you want a reversing camera.
Pre-loaded and uses satellite connection so no internet connection required
Can be configured to motorhome size and weight
Newer models feature pre-loaded stops from popular apps and resources such as ACSI and Park4Night
Recent models have free lifetime updates
Plug and play
Updating mapping can be costly if free upgrades not offered
Unsightly and cable required to charge
May need a second screen for reversing camera and a dash fitted radio for sound system
Depending on your vehicle, a mount will be required
Top Best Dash Mounted GPS Systems
Garmin Camper Sat Nav 770LMT-D -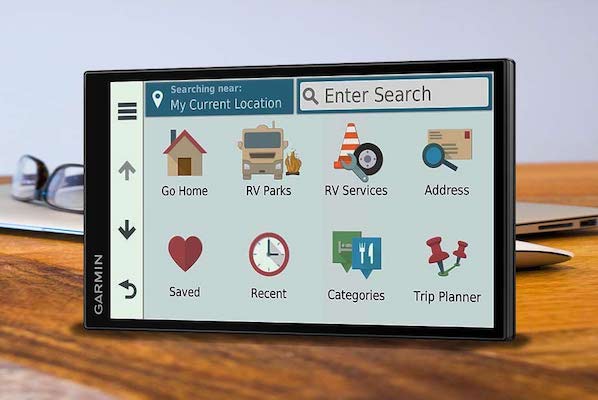 This is a well-regarded motorhome GPS sat nav from a respected manufacturer; towards the top of the price range but it will provide quality and bang-on mapping, in our opinion the best Garmin motorhome sat nav for Europe and the overall best motorhome sat nav of 2020.
Specialised sat navigation designed specifically for caravans and motorhomes with large, easy-to-read 6.95-inch edge-to-edge touchscreen display and Wi-Fi for easy map and software updates
Custom routing and trip planning
Directory of campsites from ACSI, NKC and MHF
Route warnings
Europe lifetime map updates
Digital traffic via DAB
Free live traffic information services
Hands-free calling
Voice-activated navigation
Built-in wi-Fi for easy updates
Compatible with Garmin BC 30 Wireless Back Up Camera
We recommend the Garmin Camper 770 lmt-d sat nav if you're looking for a dash mounted GPS system. Why? Here are eight reasons;
Rated as five star by 67% of buyers and 4 star in 526 ratings on Amazon. 
Plug and play, no fitting required. 
Sleek looks and full screen display for easy viewing.
Includes motorhome and camper speed limits and alerts across EU and UK.
Can be connected to Garmin smartwatches for driver alerts and vehicle location – never lose your motorhome again!
Pinpoint a location on your phone and send to your Garmin for mapping and navigation.
Compatible with the Garmin Wireless Reversing Camera meaning no need for two screens on the dash.
Well priced for a superior brand and product.
If you are looking for a dash mounted sat nav with good functionality and great build quality the Garmin Camper 770lmt is the perfect choice.
A popular choice for motorhomers, this Snooper motorhome sat nav always gets great reviews.  It has one of the biggest campsite and stop over directories of all the best sellers.
Providing advanced satellite navigation dedicated to safe, efficient routing for drivers of caravans & motorhomes
Active magnetic mount
7″ touchscreen
Free lifetime full Europe map updates
Over 31,000 campsites POI's
Maps for Life – free lifetime digital traffic data 
Junction view and lane guidance
Aguri Motorhome Sat Nav RV720
A well built Aguri sat nav using specialist software and providing great value for money.  Aguri is a newish brand that is rapidly establishing itself at the top of the list for owners or large vehicles.
Motorhome and Caravan specialist navigation software
5" Full colour responsive touch screen LCD
Free full Europe lifetime maps updates & speed trap updates
Built-in 1080P HD DVR dash cam with 130 degree wide angle lens
One touch 'Office' and 'Home' routing
Multi-stop travel route generator
Junction view & lane view routing software
Text to speech direction alerts including spoken street name or number
Extensive POI including over 30,000 campsites and motorhome stopovers
Built-in wifi so you can update maps, software and the speed trap database without the need to connect to a PC or Mac.Free full Europe lifetime map updates
If you're looking for cheap sat navs, this model is the budget choice. It provides limited options and a less responsive touch screen but does get great reviews.  
Screen Informative: The ability to show important stops like gas, food and rest stops without having to risk going away from the map and losing a turn, great assistance for trip planning,  7″ inch screen

Alerts System: Aonerex sat nav tells you about upcoming curves, school zones, speed zones and traffic lights, this is better than other maps which don't have any such information at all
Offline Navigation: The built-in GPS chip works without network, so you don't have to rely on your phones and cellular connectivity and the phone is free to use
Europe lifetime maps: Pre-installed the 2019 up-to-date maps of 52 countries in Europe and we provide lifetime map updates for free
This comes from a well-respected name in motorhome 12v TV's and uses Garmin mapping. This is a good combination of manufacturers knowledge of motorhomes and European maps but is at the pricey end of the market. The Avtex One is still available at around £100 less. 
Custom camper routing for the size and weight of your camper or caravans

Voice operable with Bluetooth technology

Road warnings for bridge heights, weight limits, sharp curves, steep grades and more

Shows elevation and possible steep grades along your route

Directory of more than 9000 ACSI camp sites

POI's for The Caravan and Motorhome Club
This TomTom motorhome sat nav is from a respected manufacturer but limits you to pre-defined campervan and motorhome routes. You may prefer the TomTom Go professional 6250 below.  
Camper and caravan routing: get customised routes for your camper or caravan
Life time updates via wifi: get the latest maps and software for your TomTom Go Camper with built-in wifi; no computer needed
Camper and caravan POIs: Find detailed points of interest dedicated for campers and caravans. 
6″ screen with display resolution: 800 x 480
TomTom road trips: discover the world's best routes, personalise them easily so you can relax and be guided on the ride
Tom Tom MyDrive: plan routes, check live traffic data and save favourites from your smartphone, tablet or PC 
Lacks the specific motorhome features of the model above but provides superior mapping and the ability to configure for size and weight, which is reflected in the price.
Customised large vehicle (Truck, Bus, Coach and Motorhome) routing

Dedicated truck, van and coach points of interest
Easy Updates via Wi-Fi
Lifetime large vehicle maps, traffic and speed cams
Compatible with Siri and Google Now
Bluetooth hands-free calling with voice commands and smartphone messages
MyDrive Route Planning

Widescreen 6″ touchscreen

Built-in wifi for the latest map and software updates
In Dash Multimedia System
Relative newcomers to the market, these are fully integrated into your dash and provide touchscreen mapping, music and telephone via Apple Carplay and Android Auto apps on your smartphone.  Some are compatible with reversing cameras also.
You will need data for one of these systems; they will typically use 0.67MB of data every 10 miles and 0.73MB of mobile data for every 20 minutes of driving.  
Fits neatly into a double DIN slot, giving clean feel to dash
Relatively easy to retro-fit
Considerably cheaper than GPS fitted systems
Provides all media needs including reversing camera
Always up to date
Requires smartphone and mobile network so will use data
Relies on apps for mapping; currently the only app mapping system which allows size and weight configuration (Co-Pilot) is not supported by CarPlay or Auto
Requires USB cable for video
Top Five Multimedia Systems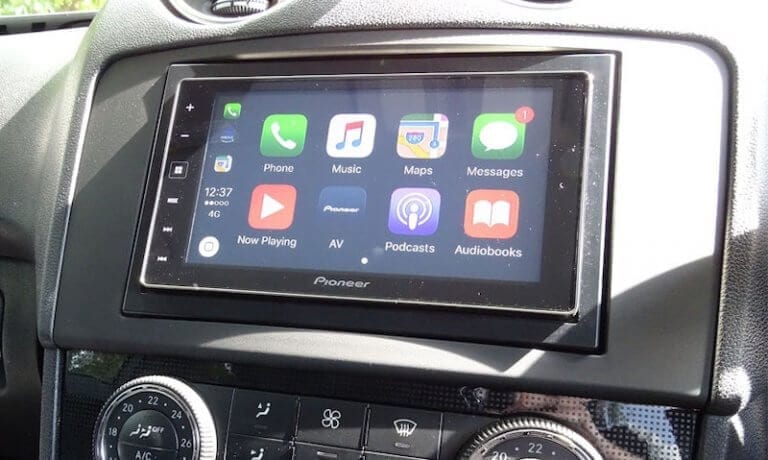 This multimedia system is a level down from the previous Pioneer model shown because it retains the side touch buttons instead of providing the full width of the screen for mapping.  Otherwise it provides all the functionality and features of the more expensive model and looks well in the dash. 
Apple CarPlay compatible 

6.2″ Glass Capacitive touchscreen

DAB+/FM/AM radio tuner with custom button illumination

Rear USB, aux In, 3 pre-outs and steering wheel control

Bluetooth hands-free

Audio streaming
We recommend the Pioneer SPH-DA130DAB if you're looking for a multimedia system. Why? Here are eight reasons;
Faultless operation over 10k miles in both Europe and Morocco.
Works with Google Maps, Apple Maps and Maps.me.
Reversing camera can be connected so multiple screens on the dash are not required.
Works on 12v when parked up to use motorhome apps and stream music through the motorhome speakers via Spotify and Apple Music.
Enabled for bluetooth so we can make and receive calls on the move.
Well priced for the brand and product.
Can be set up for DAB radio in the UK.
Easy to buy from Amazon and have fitted at Halfords, who will also connect your reversing camera if compatible (see notes below).
If you are looking for a retro-fit sat nav system at the right money, with good functionality and don't want lots of separate screens on your dash, the Pioneer SPH-DA130DAB is the perfect choice.
This sleek looking media player provides top quality and functionality as you would expect from Pioneer. This is at the top end of their multimedia systems and gives you a full width display when using mapping, which cheaper models tend not to.   
Double DIN AVH-Z5100DAB 
Full width 7″ touchscreen display
iPhone or Android compatible with single cable
Apple CarPlay and Android compatible
DAB/DAB+ digital radio audio/video
Plays content from cds, dvds 
Bluetooth, allowing you to stream music or call hands-free 
Upgrade your music with High-Grade audio functions: a 13-band graphic EQ, Auto EQ and time alignment allow you to customise the sound settings to your own preferences.
Compatible with most reversing cameras.
A good entry level model but probably more about the radio than sat nav.
6 inch high-resolution touchscreen monitor with BT hands-free function and audio streaming with advanced control and search functions (AVRCP 1.5); two phones can be paired at the same time

Apple CarPlay and Android Auto compatible

AOA 2.0 for connecting Android smartphones (Android 4.1 to 7.X) via USB; iPod/iPhone control; Voice control via current smartphones; Spotify control function; 1.5 A charging function

Digital radio receiver with automatic, uninterrupted switch; RDS high performance tuner for FM/MW/LW; connection for rear view camera; 3 pre-outs (front, rear, sub) with 4 volts

Kenwood Remote App for extensive control of the bt-moniceiver via compatible Android and Apple smartphones; Main menu with individual grouping of the 3 main program sources

CD/DVD drive and rear USB port for storage media with video films in MPEG1/2 and divx format, JPEG files and WAV/AAC/WMA/MP3; variable button illumination
This system is only compatible with Apple CarPlay so if you're an Android fan, this isn't for you. A middle of the range system, this feels a little clunky and has a smaller screen but is priced to reflect that.
Apple CarPlay compatible

6.2″  colour touch screen display

USB port on the front

Voice control with Apple CarPlay; hands off the smartphone – with the XAV-AX1000 everything goes by voice, as used by Google and Siri

New modern and stylish design with illuminated buttons

Impressive audio quality with 4 x 55 W, EXTRA BASS and 10 band equalizer – sound and fun guaranteed
Packed with features but only  supports Android Auto so isn't the right model for iPhone users. This gets great reviews and comes in at a good price point so one to consider.
Builtin GPS Receiver module with external GPS antenna, and Google Maps app is installed as the default gps map, users may need to download offline map data for certain area for offline navigation if preferred. Other map/navigation apps from Google Play Store can also be installed.
Bluetooth enabled
Full HD 7″ 1024*600 5-Touch Capacitive Touchscreen
Radio tuner: Built-in FM/AM Radio Tuner w/ RDS (station name displayed if available);
Phone Mirroring/Casting: Latest Easy-connect app preinstalled, and it supports working with latest iOS 11.3 & Android 8.0 devices. 2 options (USB /WiFi) available for connecting to Android smartphone(Wi-Fi option is only for Android 7.1 or down), and 1 option (Air-play) for iOS device.
Phone or Tablet with Mapping App
Create your own motorhome sat nav using your mobile phone or a small tablet which can be mounted to the dashboard, or used by your passenger to navigate, with a navigation app.
There are lots of motorhome and caravan sat nav apps available and which you pick is a matter of trial and error, how you like your screen to display, which options you require and so on. Head across to The Best Motorhome Sat Nav App 2020 to find out more.
The cheapest option as we all seem to have phones nowadays!
Always up to date
Plug and play
Some mapping apps allow size and weight configuration but do charge an annual fee
Using a phone mounted on  your dash to navigate is illegal in some countries
Requires mobile network and will use data, typically this is 0.5MB per hour of use.
Unsightly and cable required to charge
May need a second screen for reversing camera and a dash fitted radio for sound system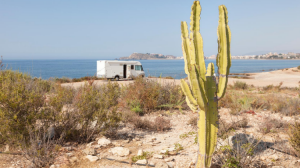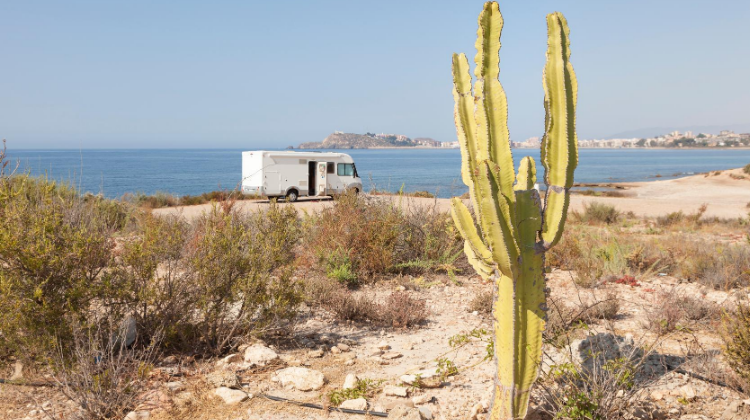 Do you need a motorhome reversing camera? How do they work and how do you choose the right one for your motorhome? We'll answer all those questions in our comprehensive guide and help you find the best motorhome reversing camera for your needs.
Read More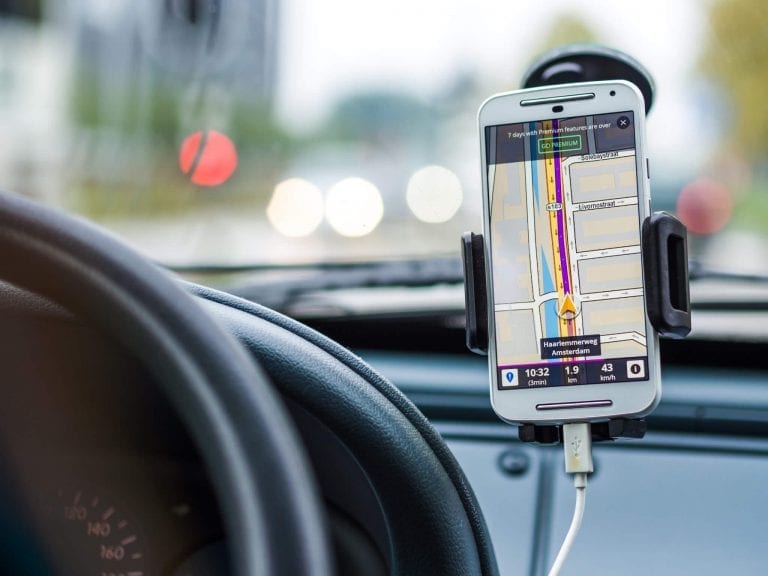 If you've already decided not to have a sat nav in your motorhome and prefer to use a navigation app with a phone tablet or via a media centre, then you're in the right place!  Here we will explore all the best motorhome navigation apps on the market today, look at their pros and cons and highlight what you need to know about motorhome navigation apps.
Read More
Subscribe now to get regular tips & info about exciting new motorhome & campervan gadgets & accessories direct to your inbox
Some Things You Need to Know About Reversing Cameras & Motorhome Sat Navs
Many retrospectively fitted motorhome sat navs and multimedia systems boast that they are compatible with a motorhome reversing camera.  This is a great feature which means you may be able to link to what is already there or have a new toy on your motorhome! There are a few things to be aware of before you spend your hard earned cash on a system expecting to link it to a reversing camera;
If you have an existing reversing camera fitted in the last ten years or so, then the connections (which happen at the dash end) are likely to be compatible.
If your reversing camera was factory fitted or fitted on a EU manufactured vehicle then you may find that a universal jack connection has not been used and you will not be able to link the two.  
If you are planning on buying an off-the-shelf reversing camera and linking it up yourself, the cable supplied is usually 6-7m long.  If you are in a vehicle much longer than 5m, you won't have enough cable to reach from the rear to the dash by the time you account for cable routing.
We suggest having a specialist look at your set-up if you want to link your motorhome sat nav to a reversing camera to ensure that you buy a system which is compatible with your needs and have a look at our post about motorhome reversing cameras here for alternative solutions.
If you've found this post helpful, we have a lot more tips, practical advice and information on out motorhome advice pages.
LOOKING FOR MORE MOTORHOME ACCESSORIES? CHECK OUT THESE TOP POSTS