This post may contain affiliate links, from which we earn an income.
Motorhome v. Overlander Comparison
There is a huge choice of leisure vehicles on the market these days, including overland trucks and motorhomes. Both are classed as motor caravans, so how are they different and which one should you choose?
What is a Motor Caravan?
The term 'motor caravan' is somewhat old-fashioned and really only used by the DVLA these days.
Most motor caravans are now referred to as motorhomes, however the term continues to appear on V5 registration documents to describe vehicles which have a motorised vehicle and living area combined.
If you buy a new motorhome or campervan from a dealer, it will be registered with the DVLA as a motor caravan from new.
What is an Overland Truck?
Although a motorhome and converted truck both fall into the same motor caravan category on the V5, and for tax and insurance purposes, they are both very different vehicles.
An overland truck is simply a converted truck base with a habitation area affixed to the chassis – the same principle as a motorhome but with some key differences.
Truck Conversions
If you convert (or commission a company to do this for you) a truck, lorry, van or any other vehicle for the purpose of living in it, then the vehicle can be re-registered as a motor caravan with the DVLA.
I say "can" as it is not mandatory to do this. The reasons for re-registration are to take advantages of lower tax rates for non-commercial private HGV or light goods, and lower rates of vehicle insurance.
It is this converted bracket that most expedition trucks and overland vehicles fall into, as they are built on a base vehicle that has usually (but not always) been something else in a previous life.
Many expedition vehicles start life in the military, and make for some of the best overland trucks. Ex-military vehicles are robustly build, well maintained and usually have very low miles.
To qualify for conversion, your base vehicle must have been one of the following;
ambulance
box van
goods vehicle (including ex-military)
insulated van
light goods vehicle
light van
livestock carrier
Luton van
minibus
MPV (multi-purpose vehicle)
panel van
specially fitted van
special mobile unit
van with side windows
To be classed as a motor caravan, the vehicle body is also required to display some of the following external features;
two or more windows on at least one side of the main body (this does not include windows on the driver or passenger doors) to provide a reasonable amount of daylight into the living accommodation.
a separate door which provides access to the living accommodation of the vehicle (this excludes the driver and passenger doors). A window on this door counts as a separate window on the main body.
motor caravan-style graphics on both sides of the vehicle.
an awning bar attached to either side of the vehicle.
a high-top roof (this does not include a pop-top elevating roof).
Also, all of these internal features have to be present and must be rigidly fixed (although the table may be designed to be easily removable);
seats and a table
sleeping accommodation which may be converted from the seats
cooking facilities
storage facilities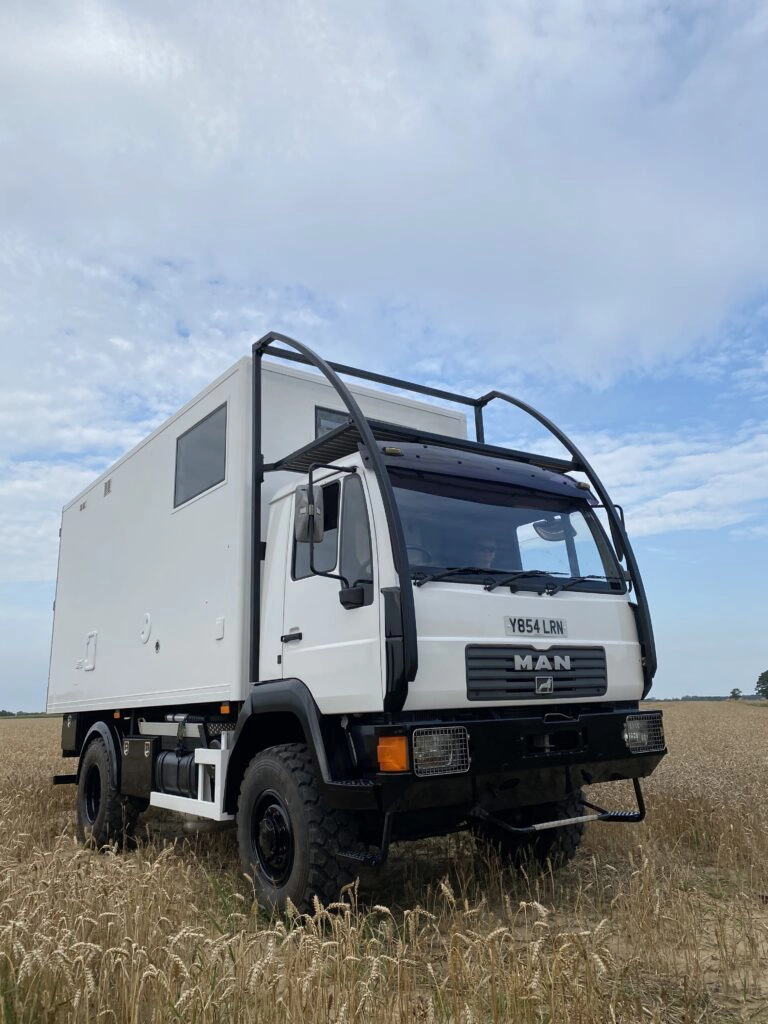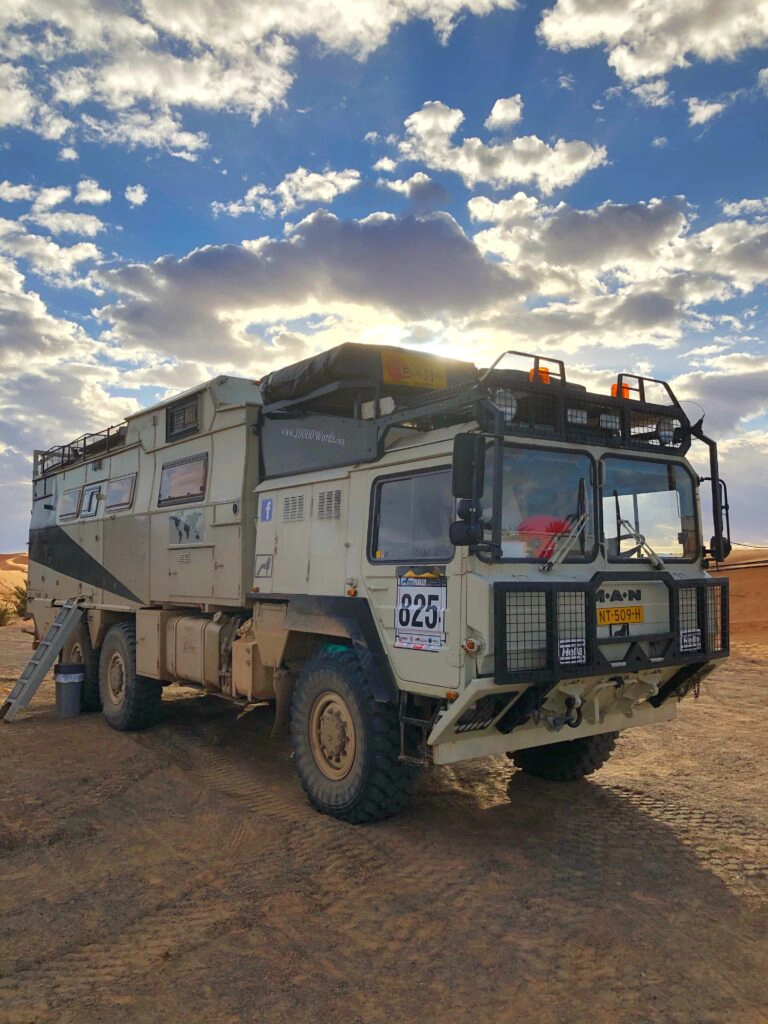 Key Differences Between a Motorhome & Overland Truck
It's important to remember that all converted overland trucks and lorries are unique. This is because the base vehicles are all different, but also because each habitation conversion will be bespoke to the requirements of the owner.
A good example of this is our new truck, which is a MAN LE2000, first registered in 2001 as an RAF snow plough. We know of other MAN LE2000 trucks from 2001 which are completely different to ours, in specification and design.
The only time you might see standardisation of design elements and specification is if your truck is converted by a company like Unicat or Bimobil, where build innovations and design features are copied across each vehicle conversion.
To see a specific comparison between our last motorhome and current truck, head here.
Vehicle Capability
An overland truck will have four wheel drive capability as a minimum, and ideally it will have the capacity to reduce gear ratios and lock differentials.
It may have a body and sub-frame which move independently, allowing rough terrain to be crossed.
The vehicle tends to be much higher off the ground, with large, off-road tyres (which can weigh upwards of 150kg), and storage bins under the body.
Overlanders often carry a motorbike and their spare tyre high on the back of the vehicle, this means a winch needs to be fitted to lower these heavy items.
There might also be a towing winch at the front, ideal when you're stuck and travelling in convoy.
Most of these trucks will have a gross vehicle weight of at least 7.5 tonnes – in fact, 7,500kg is a pretty small overlander!
The truck cab is usually separate from the habitation body, with a crawl through or escape hatch, between the two.
Habitation Capability
Useable square footage tends to be similar to that of a motorhome. A truck can feel smaller inside because the cab is separate, so you loose the ability to make the driver and passenger seats part of the habitation arrangements.
But some trucks have enormous footprints due to the overall vehicle size and maximum allowable mass that comes with heavy goods vehicles.
An overland truck is likely to have a much larger water tank (400 litres is not uncommon) with multiple solar panels and large battery banks (ideally lithium for longevity) offering 800+ amp hours, allowing the truck to exist off-grid for weeks.
Fuel sources for heating and hot water may not be the traditional motorhome gas or EHU (electric hook up), but diesel, which is readily available around the world. Where LPG is in use, it is likely to be in a re-fillable underslung tank.
Some vehicles are all electric, running entirely from solar and 24v engine battery split charging, providing enough power for a compression fridge, induction hob and electric oven, electric boilers and even plumbed-in washing machines and habitation air-conditioning.
Other additions include composting toilets which can be emptied with ease, and water filters which enable you to fill with un-potable water and drink it safely.
Build
Often overlanders will use systems and equipment more akin to house building and the marine industry than motorhome manufacture because they don't have the constraints regarding weights that motorhomes have.
Motorhome suppliers prefer to keep the gross vehicle weight below 3,500kg because the owner does not need a Cat C licence to drive (unless they passed their test before 1st January 1997), and even then, the maximum weight allowed is 7,500kg.
Because of this, many motorhome parts are manufactured using lightweight and plastic components which are not suitable for off road travel.
Design
Functionality tends to be at the forefront of overland design, with heavy-duty cabinetry and fittings manufactured to withstand movement and off-road shocks.
Windows and roof-lights are triple glazed glass and interiors are often minimal in design.
Clever storage features make the most of the space, vital if the vehicle is lived in on a permanent basis, or a long expedition is planned.
Other types of leisure vehicles…
Are you ready to buy a leisure vehicle but not sure whether to go for a caravan or motorhome?  It's a common dilemma, we'll help you puzzle out the answer and buy what's right for you!
Buying a leisure vehicle is a big deal. Motorhomes and campervans cost a lot of money and if you're a first-time buyer, making the right decision can be tough. In this article, we look at the differences between motorhomes and campervans and give you some tips and hints to help you make the right choice.
Cost Comparison
Purchase
In comparison to most motorhomes, an overland truck is going to be more expensive to buy.
If you commission a company to build a bespoke truck for you, the costs are likely to exceed £200k – and that doesn't include the base vehicle.
The cost of buying a used already converted overland truck can vary greatly depending on the age of the base vehicle, age of conversion, whether the truck is left hand or right hand drive, and its specification.
You may be able to buy a used converted truck for the same amount that you could buy a used German motorhome with low mileage – but it's almost impossible to compare because there are so many variables.
What is clear is that overland trucks are sought after and hold their value, just as good quality motorhomes do.
Running Costs
Insurance
Both truck and motorhome are classed as a motor caravan from an insurance perspective. Insurance costs based purely on the value of the vehicle are likely to be higher for an overland truck because it is probably going to fall into the £65K plus value bracket, which pushes insurance costs up exponentially.
Top Tip – when you insure your overland vehicle, let the insurer know it's a converted motor caravan. This places it firmly into the motorhome category for insurance, a more palatable description for the underwriter. Words like "overland" and "expedition" tend to put them off!
Road Tax
If your motor caravan weights more than 3,500kg, it will be classed as a "private HGV". This means the current rate (2021) of taxation is £165 per year.
Motor caravans which weigh under 3,500kg are classed as "private" and pay £170 annual tax for an engine not over 1549cc and £280 for an engine over 1549cc.
Some motor caravans registered after 1st April 2017 (for an overland truck, the first registration date would apply to the base vehicle not the conversion), which cost more than £40k new, are subject to different tax bands. You can find more information here.
Fuel
The comparative costs, like everything else, depend on the variables. We were getting around 22-25mpg with our 3l Fiat Ducato manual when cruising at 60mph.
In our new truck, we're achieving around 15-18mpg when sitting at around 55mph (the tyres are weight limited to 65mph). Pushing up to 65mph gets us around 10-12mpg.
We are looking forward to travelling at a slower pace and spending longer in each place!
Maintenance
Servicing for a truck is generally the same cost as for a motorhome. If you require component parts to be replaced they will be generally more expensive.
Consumables such as tyres, brake pads and discs, windscreen wipers and engine batteries will also be more expensive to replace.
Which is Right For You?
It really depends on how you want to travel.
If you love gliding down the motorway to a single destination for a couple of weeks every year, or you want to spend three months in Spain over the winter, then a motorhome is the perfect option.
Wild camping is very possible with the right solar set up – we know many motorhomers who never stay on a campsite.
If you're looking for something that can take you off-road and overlanding further afield to countries where motorhome facilities are harder to come by, then a 4×4 campervan or overland vehicle might meet your needs.
We pondered for some time before making the leap from motorhome to overlander. Originally we thought we would have a bespoke campervan built on a MAN TGE 4×4 long wheelbase chassis, or maybe splash out on a Hymer Grand Canyon. Then we spent an afternoon in each and decided we just couldn't live in one.
As committed full-timers with a number of big trips planned, we decided a campervan is too small to live in for any length of time.
That's when we had the light-bulb moment and started researching overland trucks – a great option if a motorhome doesn't have the capabilities you want, and a campervan is too small.
Overland Converters and Brokers
Expedition Truck Brokers – based in the Netherlands, these guys speak English and have a wealth of knowledge about expedition trucks. They sell used trucks which are already converted.
Govsales – A UK based converter and seller of base vehicles (mainly ex-military) for DIY truck converters.
Expedition Vehicles for Sale – these guys sell used converted overland vehicles all over the world including Europe and UK.
Motorcraft Adventure Developments – a UK based company who specialise in overland truck builds and are now starting to embrace the self-build market too.
Atkinson Voss – another UK based converter, who specialise in Unimog overland trucks, all-wheel drive medium trucks produced by Daimler AG and sold under the Mercedes-Benz brand.
EarthRoamer – an American luxury expedition vehicle converter who use Ford Super Duty trucks as their base vehicle. Their cheapest overland truck camper is currently $620,000 with the top product costing $1.7m!
Ebay – one of the best market places to pick up a bargain, or maybe something half built or which needs a bit of work to finish it.
Are you looking for more life on the road inspiration? Check out these top posts…
Do you want to wild camp in your motorhome? Are you feeling a bit nervous about wild camping for the first time? Then read on for all our top tips and practical advice about how to wild camp in a motorhome and get off the beaten track like an expert!
Love it? Pin it!