This post may contain affiliate links, from which we earn an income.
Motorhome Overwintering in Spain
Should you take your motorhome to Spain this winter? Motorhoming in Spain over winter offers predictable and warm weather, colourful fiestas and cheap living. This makes Spain the number one spot for motorhomes to spend the winter. But there are lots of other warm, beautiful and interesting places to motorhome in winter, read on to find out more…
After the Brexit transition period, from 1st January 2021, all travel to Europe will be restricted to 90 days in every 180 days in the Schengen Area. This is because the UK is leaving the EU, which afforded us freedom of movement rights across Europe. You can find out more about motorhome travel in Europe after Brexit here.
It is still possible to spend part of the winter in Spain, but those of you planning to overwinter for any longer than 90 days on the continent will need an alternative plan. The best option is to break up your Schengen time in Morocco, an amazing place to visit in a motorhome.
Winter Temperatures in Europe
This map (courtesy of mapdeplanet.com) shows the average winter temperatures across Europe in January. If you're wondering whether Portugal, Spain or Italy is the best destination, remember that it's not all about temperatures; it's about predictability, air currents, wind, sunshine hours and sometimes, a bit of luck!
If you like the look of the blue and green areas and fancy a bit of snow instead, head across to this post about winter destinations and find tips and information in this post about motorhoming in winter.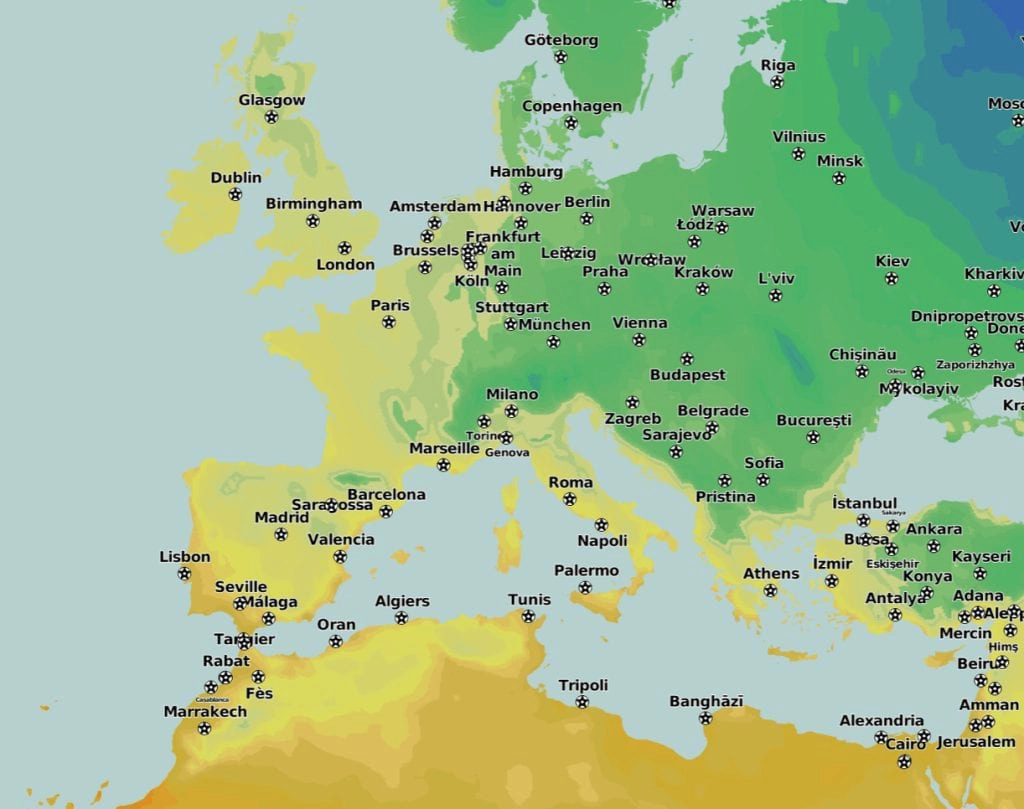 Where to Motorhome in Winter
Southern Spain – Costa del Sol
Southern Spain is the first choice of winter tour for many. Motorhome in Spain in winter here and you will get some of the best winter warmth in Europe.
For the best sun in Spain, head for the Costa del Sol, the stretch of coast between Estepona and lively Malaga. With stunning beaches and vibrant towns and cities, this is a dream motorhome winter sun destination. 
There's lots of things to do in Malaga, with a beautiful Cathedral and old town to explore, plus cosmopolitan restaurants, fabulous beaches and top-class shops. Marbella is another great destination in the Costa del Sol, where you'll find delicious tapas amongst the orange trees of the old town, and more fantastic beaches.
There is a pay-off though; sites are few with small pitches and expensive. Wild camping is difficult as the coast is already over-developed and finding a decent place for more than a few nights in a motorhome can be a challenge. The whole area is busy, busy, busy year round with loads to do if you're a party animal!
We stayed at both Camping Cabopino and Camping La Bella Vista. Both are sites where lots of motorhomes come to Spain to spend the whole winter, so there is limited availability for drop-in pitches.
If your intention is to spend months of winter in Spanish campsites, you will need to book well in advance, especially over the Christmas and New Year periods.
Drive just a few miles inland and you will enjoy the same winter sunshine but much colder temperatures at night as you gain elevation.
However, you will find ample motorhome wild camping opportunities, free motorhome aires, great hiking, cycling and stunning cities, home to some of Spain's best UNESCO World Heritage Sites, such as Granada, Seville and Cordoba, to visit.
You may prefer driving around Spain in a campervan to staying on a single site!
RELATED POST: How to Tour Spain in a Motorhome – A Complete Guide
Eastern Spain – Costa Blanca
Also consider the Costa Blanca south of Denia, another beautiful stretch of coast, but also built up and full of expats and motorhomers enjoying all that Spain has to offer in winter.
It will be a few degrees cooler here and not all sites will be open year round, those that are tend to offer slightly better value for money per night than those on the Costa del Sol.
The cities here are vibrant and busy even in winter, with large ex-pat communities enjoying the winter sun. We love Alicante for it's lovely old town and fantastic beaches along with its laid-back atmosphere. Check out all the best things to do in Alicante if you decide to over-winter here.
Neighbouring Benidorm is a real party city year round, with a lively ex-pat and motorhome scene. There's lots to do in Benidorm and most of the bars and restaurants stay open over the winter.
Lots of people choose this as an over-wintering destination where they can have a bit of fun and meet other people, as well as enjoying the sunshine.
YOU MIGHT ALSO LIKE… Where is Hot in January in Europe? The Top 32 Warmest Places (many of which you can drive to!)
Northern Spain – Costa Brava & Barcelona
Barcelona is perfect if you prefer cooler weather and want somewhere lively, it's one of the best destinations for Christmas in Europe. With average temperatures of around 11°c, you won't be lounging on the beach, but neither will you be bundled up in snow boots.
In Barcelona you'll find fantastic festive light displays, superb Christmas markets, lots of great night-life, gastronimic delights and all the usual Barcelona attractions. Look out for 'El Caganer', a really unique Christmas tradition from Catalonia, the Spanish region that is home to Barcelona.
How about a Costa Brava road trip? Take a slow meander south from Barcelona, along this pretty coastline. Stop and explore the fishing villages, castles and lively cities, like Girona, along the way.
Southern Spain – Cabo de Gata
In between the two lies Almeria and the beautiful Cabo de Gata, one of Spain's most fascinating natural parks with amazing coastal rock locations and fabulous beaches like Playa de los Genoveses.
It rains on average one day a year here and feels very arid all year round.
We found great sites with good size pitches at reasonable rates. Check out Camping Los Escullos, they do a good fish and chip supper once a week!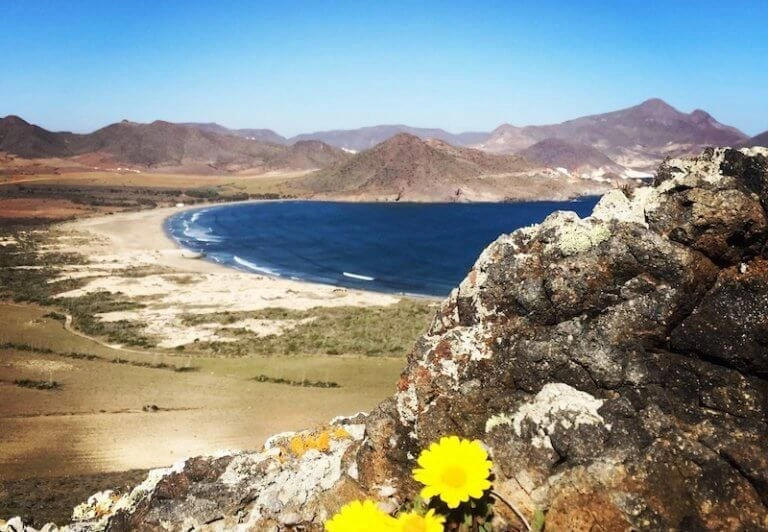 Southern Spain – Tarifa
If you like activity, think about spending some time in Tarifa in your motorhome. It may be windy but you will get lots of sun and if the winds are blowing from the south, it will bring the warm African air.
There is hiking aplenty, with lots of water activities such as kite and wind surfing (you will need a wet suit), climbing and mountain biking.
Tarifa is a slightly hippy, laid-back sort of place; we spent a month here at Camping Valdevaqueros (basic but acceptably basic!) for €10 a night including EHU.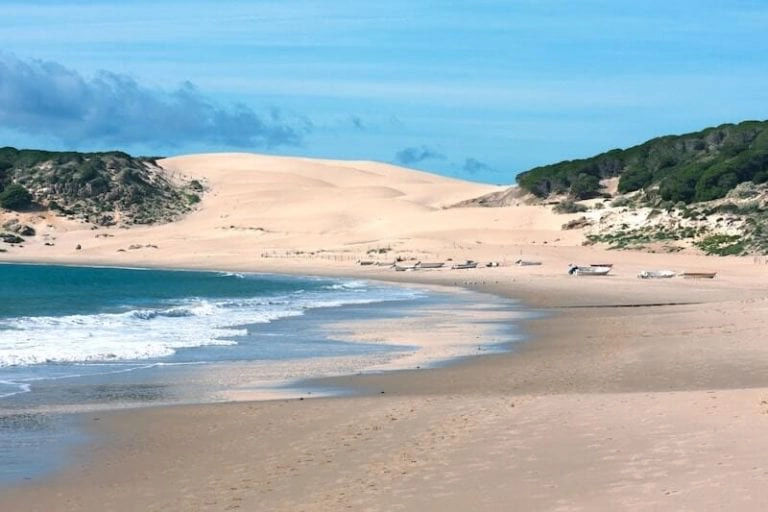 Algarve, Portugal
A hugely popular rival to Spain for motorhome winter sun. In fact, it was too popular for us!
We spent several weeks along the fabulous Atlantic coast of the Algarve, enjoying the climate, great coastal hiking along the Rota Vicentina and awesome beaches with incredible waves.
At Sagres, the most south-westerly point in Portugal, it changed from being remote and unspoilt to a motorhome car park!
Yes, the weather was fabulous in December; shorts and t-shirts all the way. Yes, the beaches are fantastic and arguably more accessible than those along the Spanish Costas. But the sheer number of motorhomes on the road was jaw-dropping.
I read that something like 180,000 motorhomes descend on the small patch of Portugal that is the Algarve every winter! Finding a wild camping spot on the Algarve was impossible, people literally park up and camp for months on end.
We spent three weeks on the Yelloh Campsite outside Lagos, spending over €30 a night as their ACSI pitches were full. The facilities were great and there was a heated pool but to us, it felt soulless.
Yep, the Algarve and Portugal really was not for us! However, if you want to meet other motorhomers, enjoy site life and don't want to move around much then you may well love Portugal more than Spain as a winter motorhome destination.
RELATED POST: Motorhoming & Campervanning in Portugal – All You Need to Know!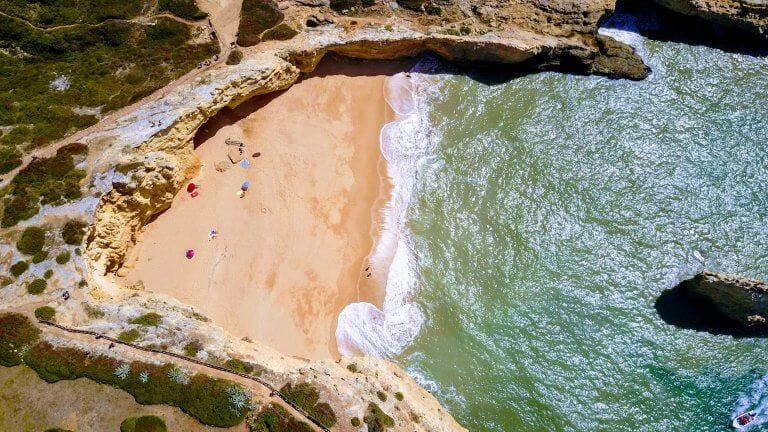 Sicily
Sicily is one of Italy's best winter destinations. Right at the bottom of Italy's boot, this gorgeous island enjoys pretty good weather year round although the average temperature map belies the Sometimes inconsistent winter weather.
It's a small island, close to lots of bigger mainlands (think Italy itself and Africa) and this does have an effect. If the winds are coming from the south with the warm African air, you will enjoy temperatures in the low 20's. Otherwise, you may well encounter rain and storms along the coasts and cold temperatures inland.
However, to compensate for this unpredictability, Sicily offers masses of culture, stunning landscapes, natural wonders and great activities. You can hike and kite-surf here all year round, the Stagnone lagoon at Marsala is one of the best kite-surfing spots in the world.
Whilst there will be others touring Sicily and doing the same as you, wild camping will be accessible and the roads won't be full of motorhomes.
As a motorhome winter sun destination, Sicily offers a lot which makes us question whether taking our motorhome to Spain for winter is the right choice.
RELATED POST: The Complete Guide to Touring Italy by Motorhome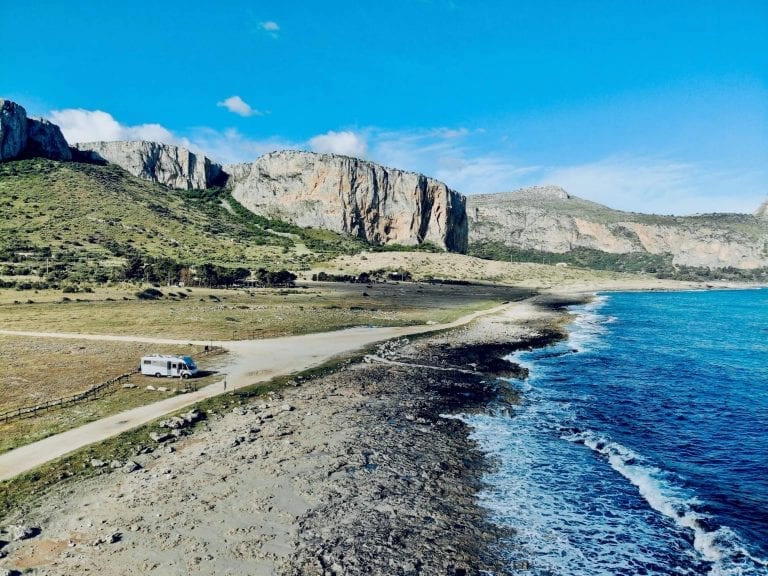 Greece
Greece is a stunning and quiet destination for motorhomes in winter. As a general rule though, the further east you go, the more unpredictable the winter weather.
We know of people who have sun-bathed every day through January and February (bliss!) and others who have actually moved on as the weather has been so bad for weeks on end, and some years it even snows in Athens!
There is so much to fo for a few months or even just a few weeks in Greece. One of the best spots for motorhomes in Greece is the Peloponnese, the furthest south point thats still connected to the Greek mainland that you can go.
You will find charming towns and villages, endless beaches and azure blue seas, too cold for swimming in sadly!
There aren't many blogs about winter in Greece in a motorhome so do some research on Google or Facebook for information about sites and how to get there. Let us know how you get on so we can include the information here!
RELATED POST: Motorhome & Campervan Greece – Complete Guide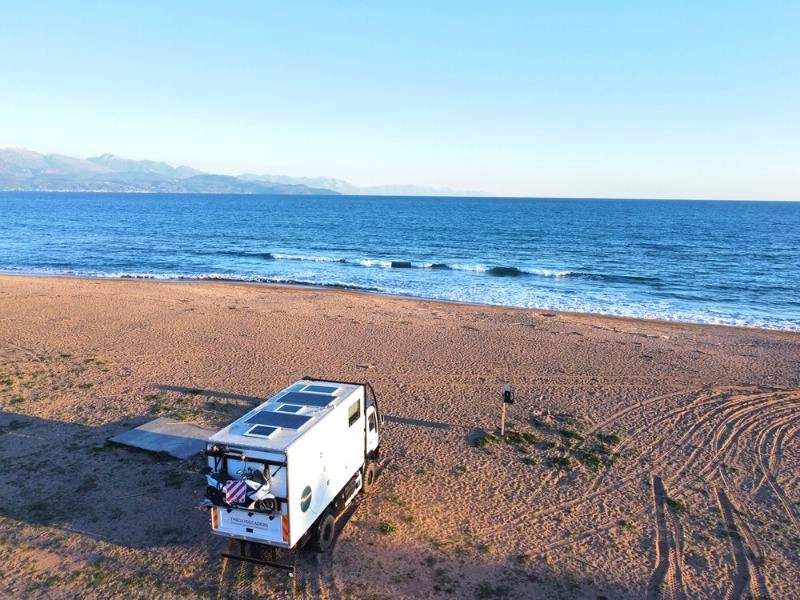 Canary Islands
OK, so they're Spanish! An archipelago off the coast of northwestern Africa, the Canaries are rugged volcanic isles known for their black and white sandy beaches, of which Tenerife is the largest.
We don't know much about the Canary Islands except what we gleaned from a random meeting with a couple of Canary Islanders in a motorhome in France!
So here goes; it's warm enough to swim in the sea all year round; the average January temperature is in the mid 20's and they have less rainfall than Spain and Portugal. Oh and it costs over £800 to get there with a motorhome …one-way!
Unsurprisingly, there's not a lot of info about spending the winter in your motorhome in the Spanish Canary Islands but according to our friends, it is absolute paradise with campsites open year round.
If you go there or know anyone who has, please let us know so we can add the information here.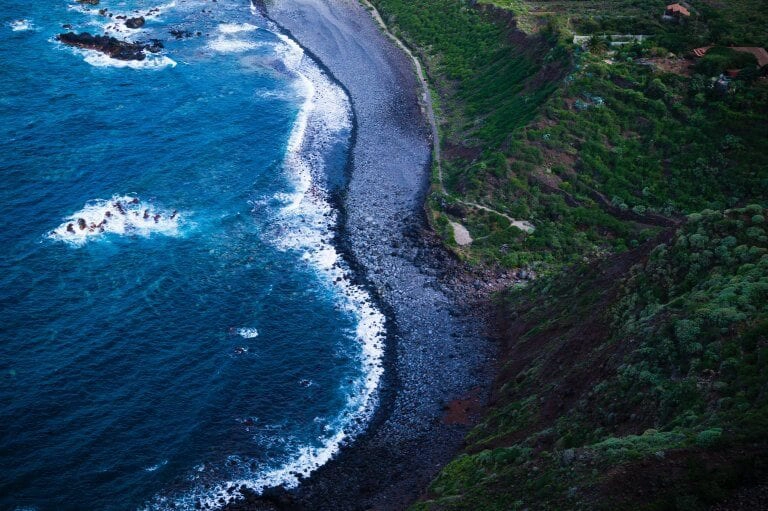 Morocco
Ok, so it's not Europe but it's pretty close! Definitely the warmest and driest motorhome winter sun in Europe (ish!) and becoming more popular with motorhomers every year.
Take your motorhome to Morocco by ferry from Algeciras or Tarifa for around €200 for an open return. There are ferries regularly and no need to book or buy on-line, in fact its probably cheaper to do so at the port.
Morocco is a large country, so although motorhoming is becoming more popular, especially across the winter months, you may well not see another motorhome for days.
Another great answer as to whether you should take your motorhome to Spain in winter. Maybe head to Morocco instead?
RELATED POST: Planning Your Moroccan Motorhome Adventure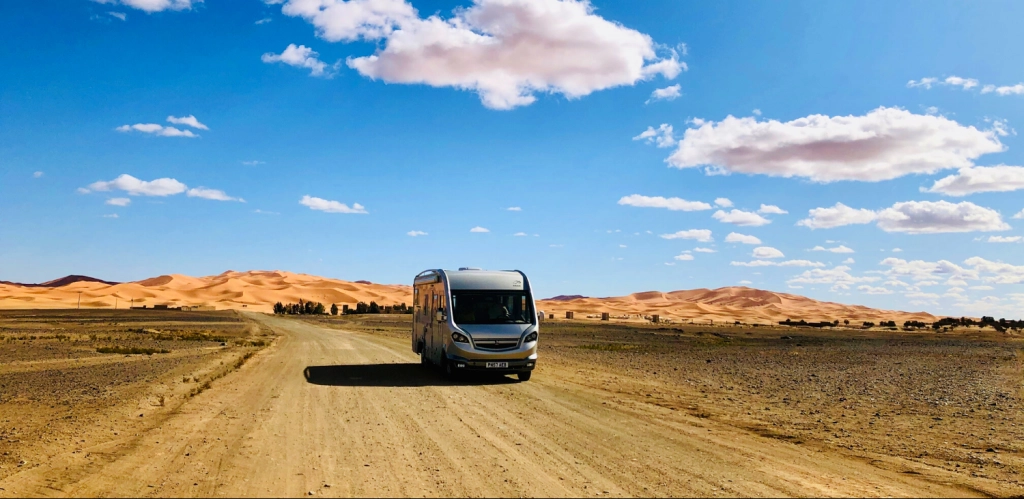 Are you looking for more motorhome touring guides? Check out these top posts…
New Zealand is an absolute dream for campervan enthusiasts. The breathtaking landscapes, diverse wildlife, and incredibly friendly locals make it the perfect destination for your next campervan adventure. We'll will provide you with all the tips, tricks and insider knowledge to make your vanlife experience in New Zealand truly unforgettable. So, buckle up and get ready for an adventure of a lifetime!
Love it? Pin it!