This post may contain affiliate links, from which we earn an income.
If you're on the quest to uncover the most beautiful places in Greece, you've come to the right spot!
From the cliffside monasteries of Meteora to the caldera views of Santorini, Greece is a tapestry of stunning landscapes and rich history. Each locale offers something unique, be it the ancient ruins of Delphi or the vibrant street life in Athens, making Greece a must-visit destination for any traveler.
In this guide, we'll share the most beautiful places in Greece to visit, from the prettiest Greek islands to historic landmarks and the most beautiful beaches in the country.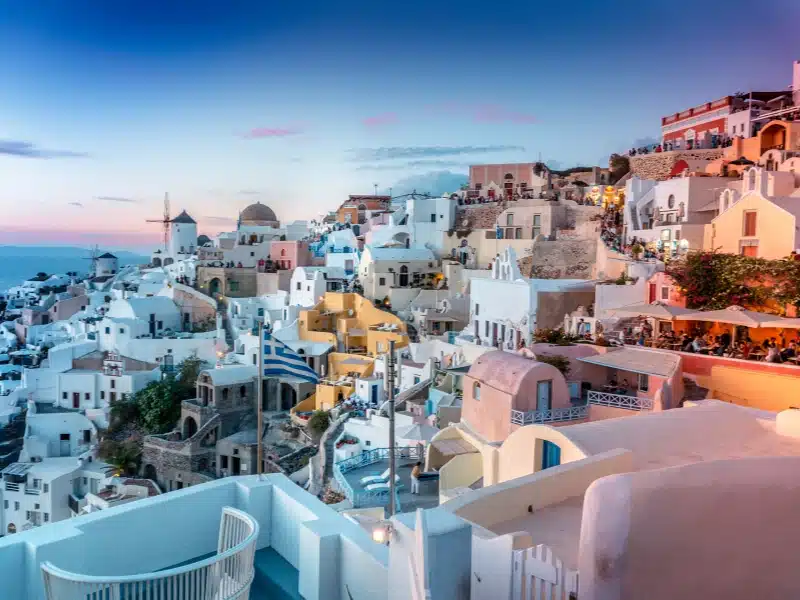 Greece Travel Resources
Here are the services we use and recommend for traveling in the Greece;
Santorini
Undoubtedly on everyone's bucket list, the island of Santorini is one of the most beautiful places to visit in Greece. This moon-shaped hotspot is located at the southern edge of the Cycladic island group in the Aegean Sea and is as romantic as Greece gets.
Charming white-washed villages perch on rugged hillsides with panoramic views of the caldera, an ancient volcanic crater stretching for miles along the island's west coast. Known for epic sunsets and some of the most underrated wines in Europe, Santorini is a destination for honeymooners and solo travelers alike.
The best places to stay on Santorini include the villages of Oia and Imerovigli and the island's capital of Fira, that are all connected for a scenic hike along the egde of the caldera. Book yourself a Santorini hotel with caldera views for something extra special.
While strolling along picturesque cobblestone alleyways is Santorini's main draw, the black sand beaches like Perissa Beach and Kamari Beach, or Mars-like Red Beach make for a unique day spent under the Grecian sun.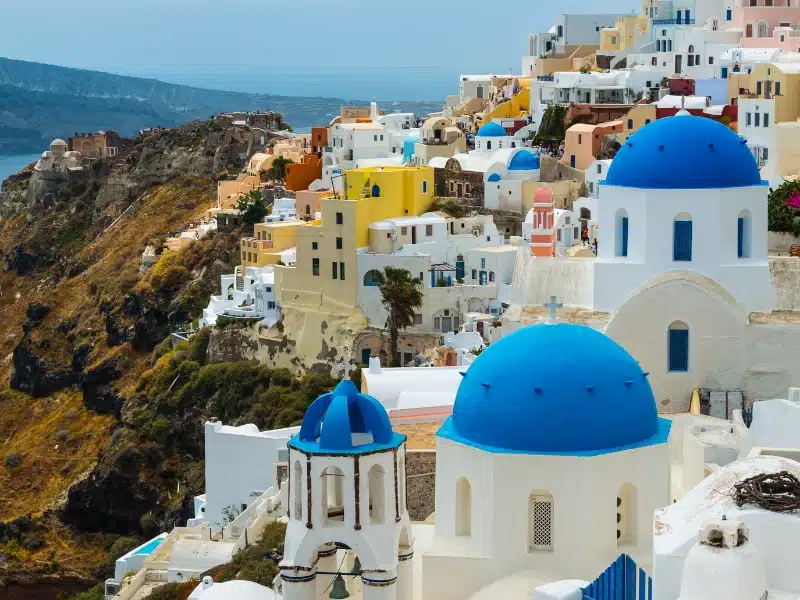 Make sure you have travel insurance you can trust when visiting Greece. We recommend True Traveller for their 5-star TrustPilot reviews, variety of cover options, best activities cover as standard, great prices, and excellent service.
Mykonos
Mykonos is another gem in the Aegean Sea, renowned as much for its vibrant nightlife as for its stunning landscapes. Located in the Cyclades, just like Santorini, Mykonos offers a blend of cosmopolitan flair and traditional Greek charm.
The island's main town, also called Mykonos, is a labyrinth of narrow streets filled with boutiques, cafés, and art galleries. The capital's historic center, Little Venice, is a perfect place to lose yourself for a day. But if you're looking for the best views, head to the iconic windmills overlooking Mykonos Town; they offer a panoramic vista that's especially magical at sunset.
When it comes to the prettiest sandy beaches, Mykonos doesn't disappoint. Psarou Beach is a hotspot for the jet-set crowd, complete with luxury loungers and high-end beach bars. For something more low-key, Agios Sostis offers a quieter atmosphere and crystal clear waters.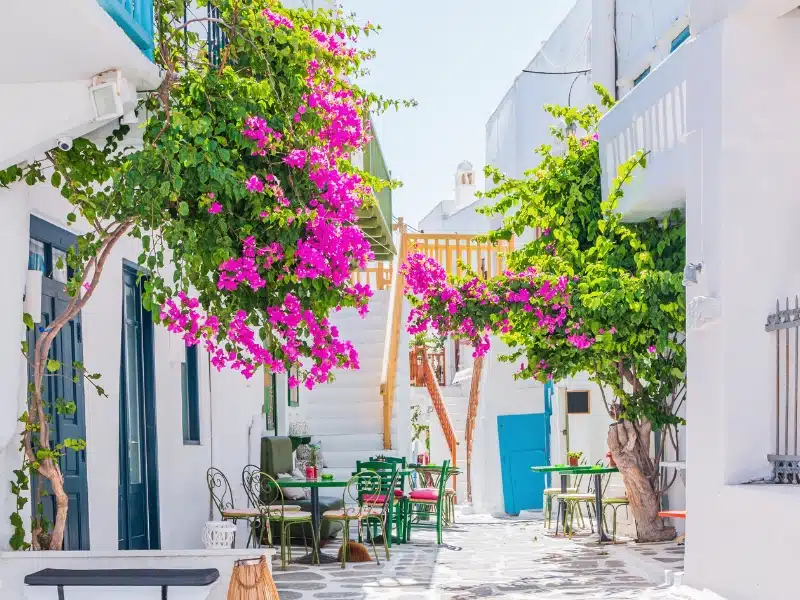 Milos
Situated in the western part of the Cyclades, Milos is a volcanic island offering everything from lunar-like terrains to stunning white cliffs.
One of the most photographed spots is Sarakiniko Beach, where the white volcanic rock formations create a surreal, almost otherworldly, setting. It's like stepping onto a moonscape, with the azure Aegean Sea providing a striking contrast. Some of the best boutique hotels in Milos are nestled into the hillside above this top attraction.
The island's rich mining history is evident in its abandoned sulfur mines, which now serve as a unique hiking destination.
Milos also offers gorgeous beaches like Tsigrado and Firiplaka which help Milos top the list of most beautiful islands in Greece. Tsigrado is enclosed by steep cliffs, making it a secluded paradise, while Firiplaka offers shallow, crystal-clear waters perfect for a leisurely swim.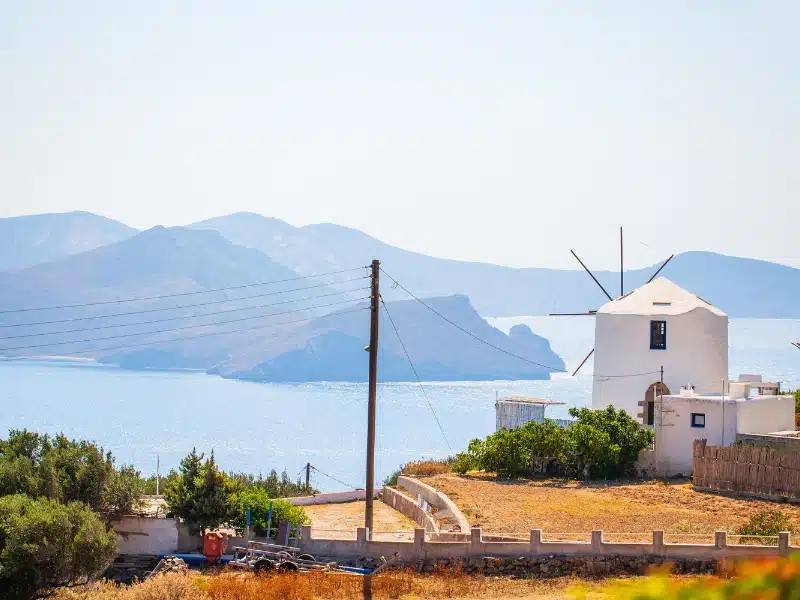 Paros
Located in the central Aegean Sea as part of the Cyclades island group, Paros offers a serene escape that easily ranks among the most beautiful places in Greece. The island's main town, Naoussa, serves as a perfect introduction to this charm.
Imagine a harbor where traditional fishing boats rest against a backdrop of whitewashed buildings, all adorned with vibrant flowers – a scene that captures the essence of Greek island life.
One of my standout experiences on my Greek island hopping itinerary was exploring the labyrinthine streets of Noussa in Paros, where white-washed architecture and bougainvillea-filled balconies caught my eye at every turn.
Naoussa is also the gateway to unique historical landmarks that add to Paros' allure. The Church of 100 Doors, or Panagia Ekatontapiliani, is a Byzantine relic dating back to the 4th century, making it one of the oldest Christian structures in Greece.
For adventure seekers, Golden Beach isn't just another pretty shoreline; it's a windsurfing hub that attracts enthusiasts from around the world.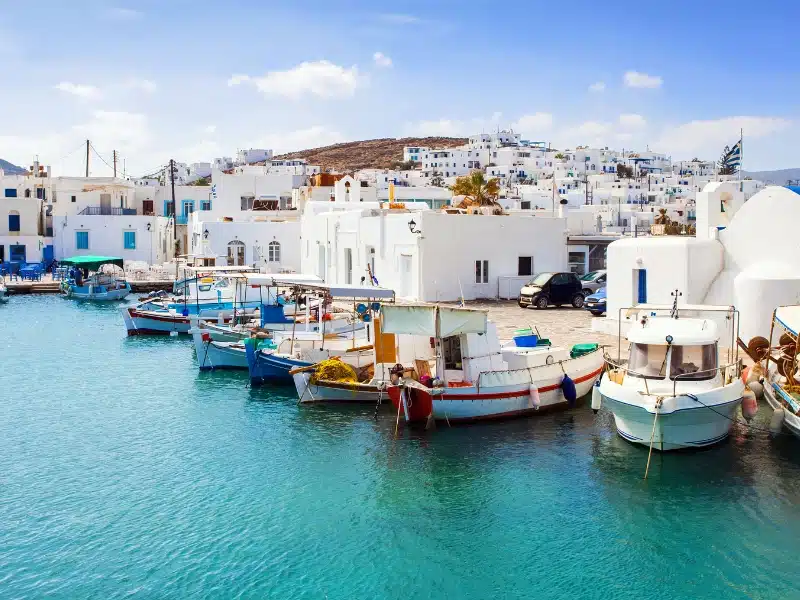 Naxos
Naxos, the largest of the Cyclades islands, offers lush landscapes, mountain villages, and ancient ruins, providing a well-rounded Greek island experience, and is one of the most beautiful places to visit in Greece.
Start your exploration in Chora, the island's capital. The Old Market area is a maze of narrow alleys filled with shops selling local crafts and eateries offering traditional Greek fare.
Don't miss the Portara, a marble doorway that's all that remains of an unfinished temple dedicated to Apollo. It's a popular spot for sunset views.
For beachgoers, Agios Prokopios and Plaka Beach offer long stretches of golden sand and crystal-clear waters. But if you're looking for something more adventurous, the island's interior offers hiking trails that lead to traditional villages like Apeiranthos, known for its marble streets and Venetian architecture.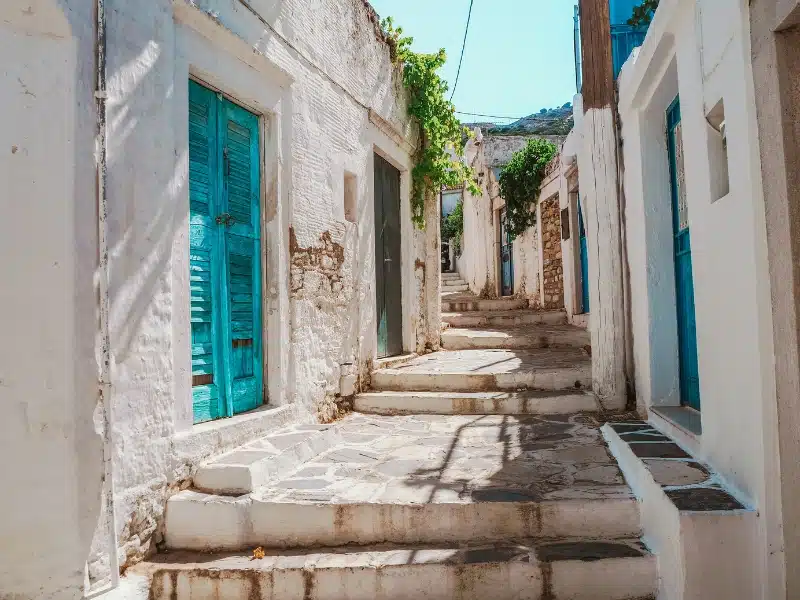 Athens Acropolis
The Acropolis in Athens isn't just an ancient ruin; it's a symbol of Western civilization and a key reason why Athens ranks among the most beautiful places in Greece.
Perched on a rocky outcrop above the city, the Acropolis is a complex of ancient buildings, the most famous of which is the Parthenon. This temple dedicated to Athena, the city's patron goddess, is an architectural marvel with its Doric columns and intricate friezes.
While the Parthenon steals the show, don't overlook the other structures. The Erechtheion, known for its Caryatid statues, and the Temple of Olympian Zeus are equally captivating. For the best experience, visit early in the morning to avoid the crowds and the heat.
For a modern contrast, take a stroll through Plaka, located at the foot of the Acropolis. This neighborhood is a labyrinth of narrow streets, filled with cafés and shops, and has been unofficially deemed as the prettiest area in Athens to explore.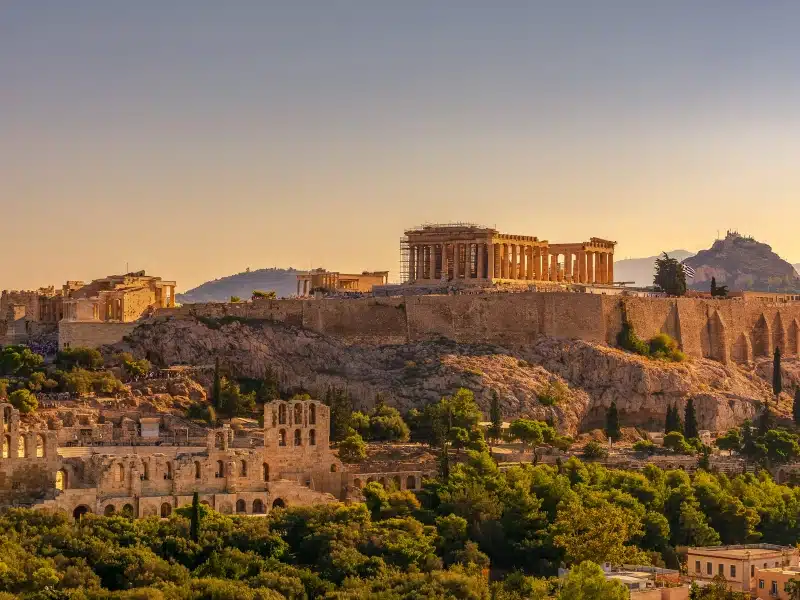 Meteora
You can't write a list of the most beautiful places in Greece without mentioning Meteora.
Located centrally on Greece's mainland, this UNESCO World Heritage site is famous for its monasteries perched atop towering rock formations. These sandstone megaliths were formed over 60 million years ago and have been a sanctuary for Christian monks since the 14th century.
The beautiful Greek monasteries themselves are marvels of construction, built into the cliffs with materials hauled up by hand or by rudimentary pulley systems. The most famous among them is the Great Meteoron, known for its extensive library and captivating frescoes.
For those looking to explore Meteora beyond the monasteries, the region offers hiking trails that wind through the rock formations, providing stunning views of the landscape and the monasteries from different vantage points.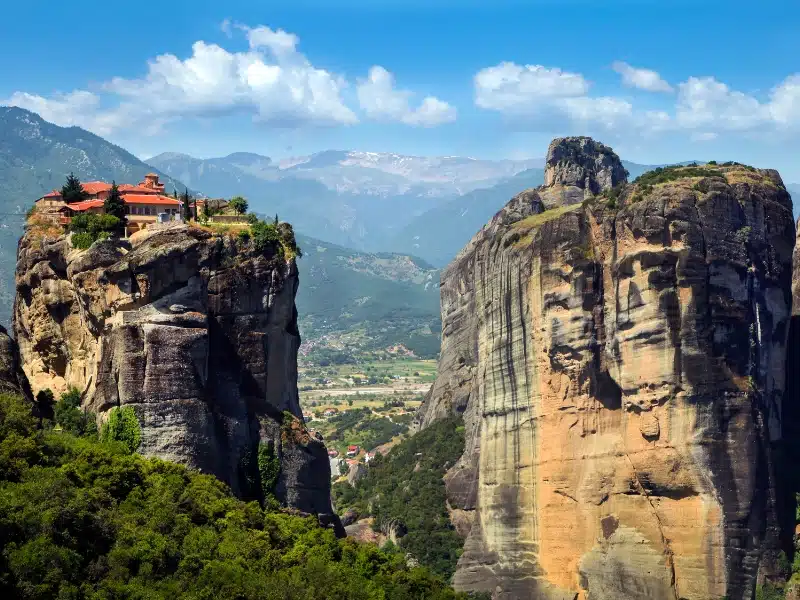 Other Greek Travel Ideas
Delphi
Nestled on the slopes of Mount Parnassus, Delphi was once considered the center of the world in ancient Greek mythology. This UNESCO World Heritage site is not just a feast for history buffs but also ranks as one of Greece's most beautiful places, thanks to its stunning mountainous backdrop.
An easy day trip from Athens, the main attraction here is the Sanctuary of Apollo, where the Oracle of Delphi once dispensed her prophecies. The Temple of Apollo is the centerpiece, but the entire complex, including a theater and a stadium, is worth exploring.
For those interested in the site's history, the nearby Delphi Archaeological Museum provides context, housing artifacts like the famous Charioteer of Delphi statue.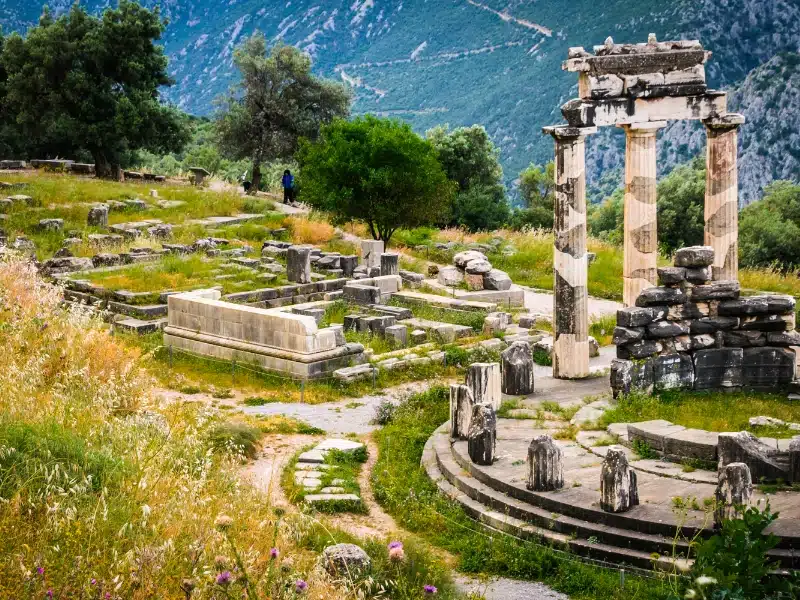 Zakynthos
Known for its turquoise waters and stunning beaches, Zakynthos is a paradise for nature lovers.
The island's most famous spot is Navagio Beach, also known as Shipwreck Beach, and is one of the prettiest beaches in Greece. Accessible only by boat, this secluded cove is framed by towering limestone cliffs and features a rusting shipwreck, making it a photographer's dream.
But Zakynthos offers more than just beaches. The Blue Caves are a series of geological formations where the reflection of light creates an ethereal blue glow in the water. For a unique experience, visit during the early morning when the light is just right.
This amazing place is also home to Loggerhead turtles, especially around Laganas Bay. Conservation efforts are in place to protect these endangered creatures, so be mindful if you choose to visit their nesting grounds.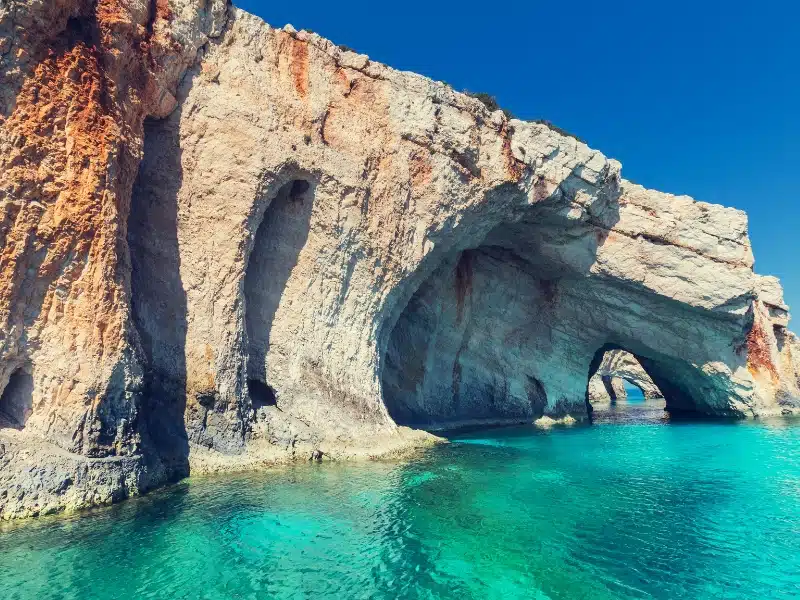 Nafplio
Once the first capital of modern Greece, Nafplio is a charming town that offers a blend of Venetian, Ottoman, and Greek architecture. Nowadays, it is considered the most romantic town in Greece.
The town's old district is a maze of narrow streets, filled with neoclassical mansions, churches, and squares. The Palamidi Fortress looms over the town, offering panoramic views of the Argolic Gulf. A climb up its 999 steps is a rite of passage for any visitor.
The town's beaches, like Arvanitia and Karathona, provide a relaxing break from sightseeing. These beaches feature clear, shallow waters, making them ideal for families or a leisurely swim.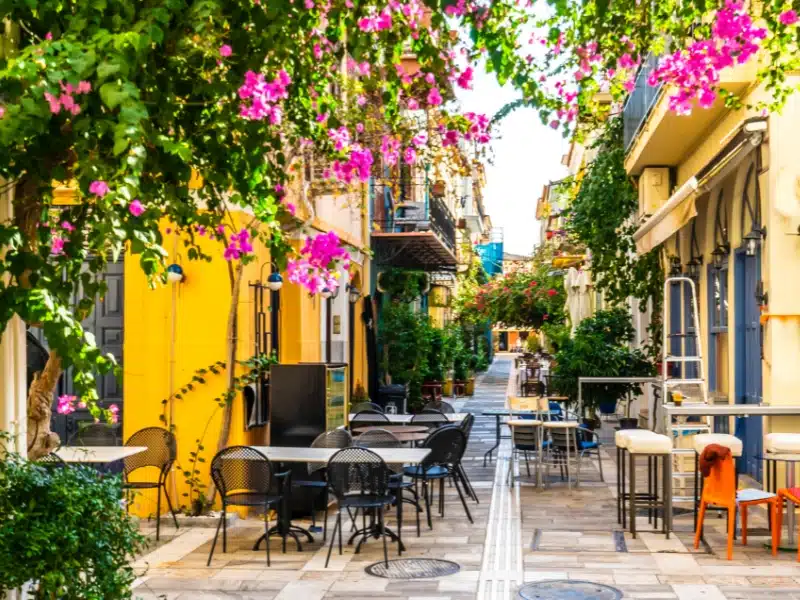 Kefalonia
Kefalonia is the largest of the Ionian Islands and a haven for outdoor enthusiasts. The island is best known for Myrtos Beach, a stunning stretch of white pebbles set against the backdrop of steep cliffs. The turquoise waters here are so clear they seem almost unreal.
You can also find the geological wonder of the Melissani Cave, a lake cave where sunlight filters through an opening in the roof, illuminating the water in shades of blue and green. Boat tours are available, offering a close-up view of this natural spectacle.
For those interested in history, the ruins of the ancient city of Sami provide a glimpse into Kefalonia's past. The site includes a Roman theater, ancient walls, and early Christian basilicas.
If you're a fan of hiking, Mount Ainos National Park offers trails that lead through a unique fir forest, culminating in panoramic views of the Ionian Sea.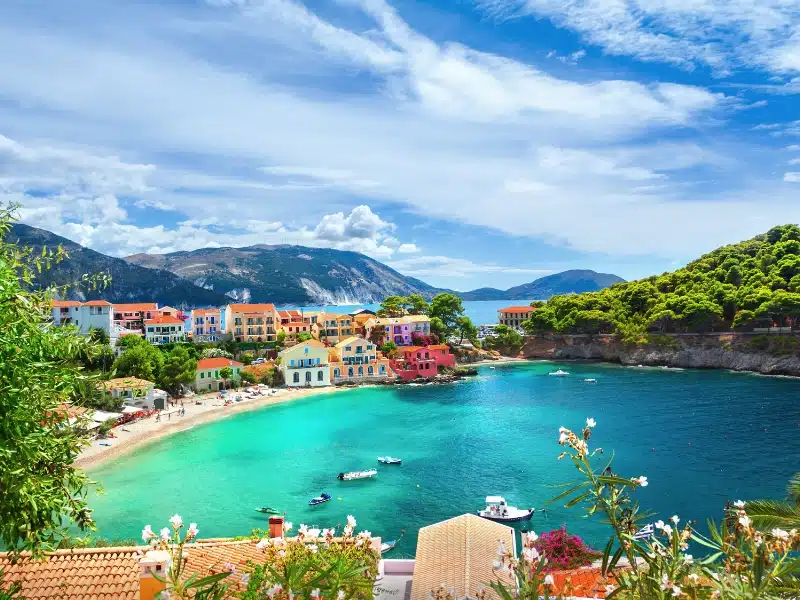 Corfu
Corfu stands apart from other Greek islands with its blend of British, French, and Venetian influences, evident in everything from its architecture to its cuisine. The Old Town is a UNESCO World Heritage site, featuring narrow alleys, Venetian fortresses, and the iconic Liston promenade, inspired by the Rue de Rivoli in Paris.
For beach aficionados, Paleokastritsa is a must-visit. This area offers six individual bays framed by olive-clad cliffs, and the waters are a stunning shade of turquoise. Boat trips to explore nearby caves are also available.
Achilleion Palace adds a touch of historical grandeur to the island. Built for Empress Elisabeth of Austria, the palace is adorned with statues and paintings dedicated to the Greek hero Achilles.
Don't miss the Corfu Trail, a 220-km long footpath that traverses the island, passing through olive groves, mountainous terrain, and idyllic beaches.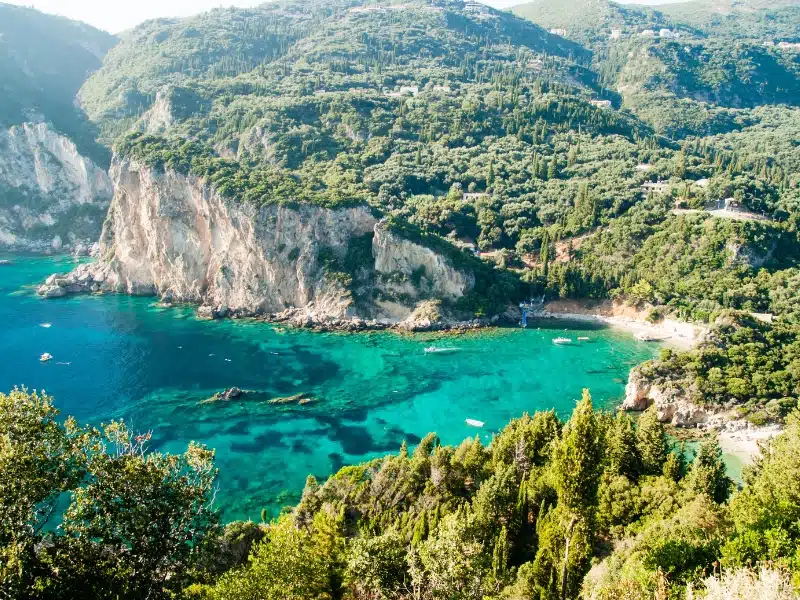 Lefkada
Connected to mainland Greece by a floating bridge, Lefkada has easy access to some of the most beautiful beaches in Greece. Porto Katsiki and Egremni are the stars, featuring vertical cliffs that drop into turquoise waters.
These beaches are often listed among the best in Europe, and the prettiest beaches in Greece, and it's easy to see why once you experience their crystal-clear waters and fine, white sand.
For those interested in water sports, Vassiliki Bay is a windsurfing hotspot, thanks to its consistent afternoon winds. The bay also offers conditions suitable for sailing and kite surfing.
Inland, the island surprises with its lush landscapes. The Dimosari Waterfalls, located near the village of Nidri, provide a cool escape from the summer heat.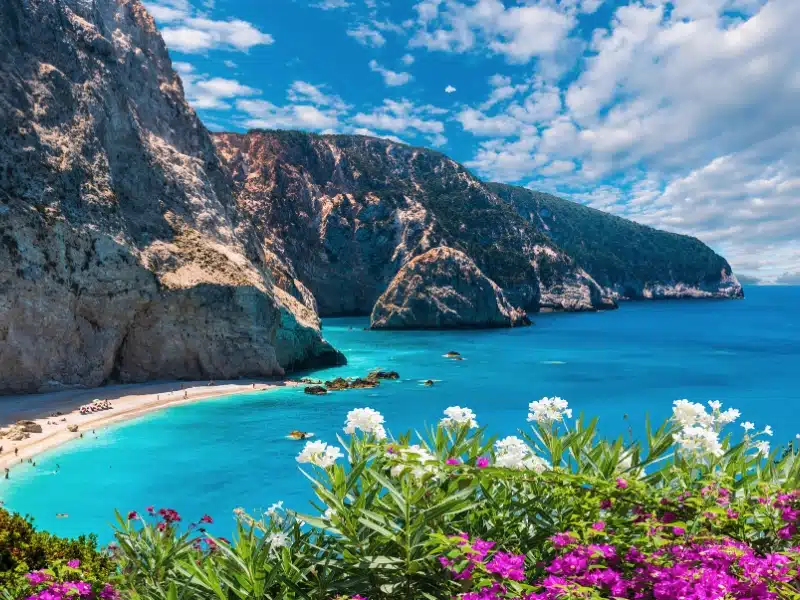 Rhodes
Rhodes is an island that offers a mix of history, natural beauty, and modern amenities. The Old Town of Rhodes is a UNESCO World Heritage site, enclosed by medieval walls. Inside, the Street of the Knights and the Palace of the Grand Master are must-visits, transporting you back to the era of the Knights Hospitaller.
The island is also home to some beautiful beaches, like Tsambika Beach, known for its golden sand and shallow waters, making it ideal for families. For a more secluded experience, head to St. Paul's Bay in Lindos, a stunning cove surrounded by rocky cliffs.
The Valley of the Butterflies offers a unique natural attraction. From June to September, the valley is filled with Jersey Tiger Moths, creating a magical atmosphere.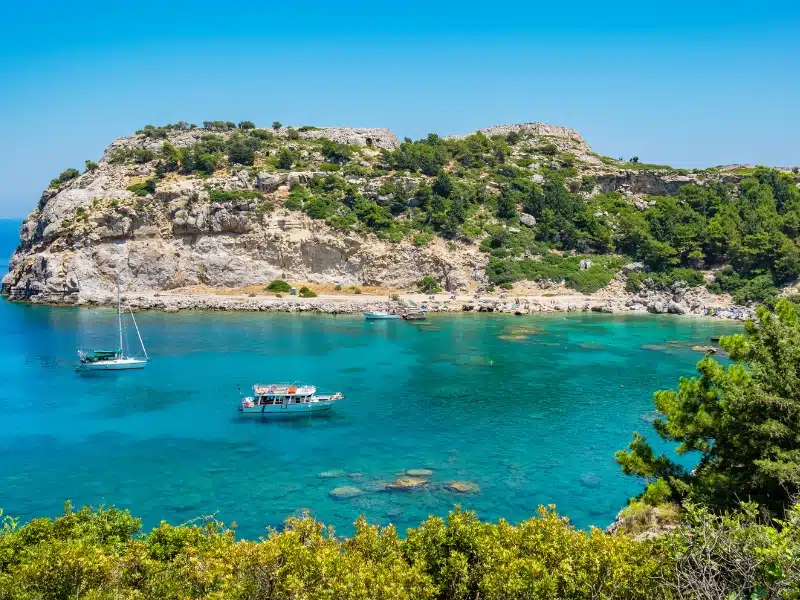 Samaria Gorge
One of Europe's longest gorges, Samaria Gorge is a natural wonder located on the island of Crete. A hike through this 16km long gorge is a rite of passage for nature enthusiasts visiting Greece.
The trail starts at an altitude of 1,250 meters and descends through forests of ancient cypresses and pines before reaching the shores of the Libyan Sea.
Iron Gates, the narrowest part of the gorge, is only 4 meters wide but soars up to almost 300 meters high. It's a breathtaking spot that makes for incredible photos.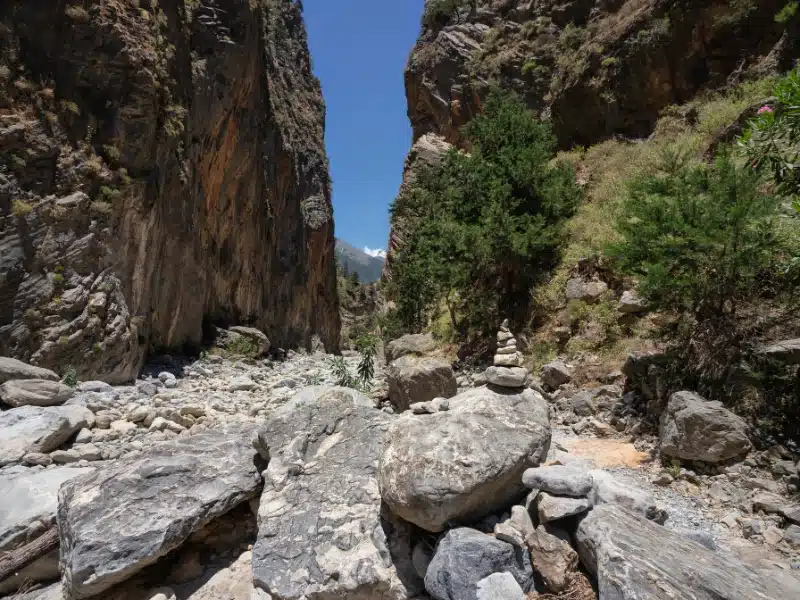 Skiathos
Skiathos may be small, but it packs a punch when it comes to natural beauty. The island is renowned for its beaches, and Koukounaries is the most famous of the lot. Framed by a dense pine forest, the beach offers golden sand and crystal-clear waters, making it a popular choice for sunbathers and swimmers alike.
The Evangelistria Monastery is another highlight, not just for its historical significance but also for its location, offering stunning views from its hilltop perch.
For a different perspective, consider a boat tour around the island. These tours often include stops at hidden beaches and coves, giving you a chance to explore Skiathos' lesser-known but equally beautiful spots.
Halkidiki
Halkidiki is a three-pronged peninsula in Northern Greece. Each of its 'legs' – Kassandra, Sithonia, and Athos – has its own unique charm. Kassandra is known for its vibrant nightlife and luxury resorts, while Sithonia offers more secluded beaches and natural landscapes.
One of the most beautiful places in Greece for those who love the great outdoors, Halkidiki is a paradise for water sports enthusiasts. From snorkeling in the crystal-clear waters of Kavourotrypes Beach to sailing around the secluded coves of Sithonia.
Mount Athos, the third 'leg', is an autonomous monastic state where time seems to have stood still. Note that entry is restricted, and only men are allowed, but the monasteries can be viewed from a boat tour that circles the peninsula.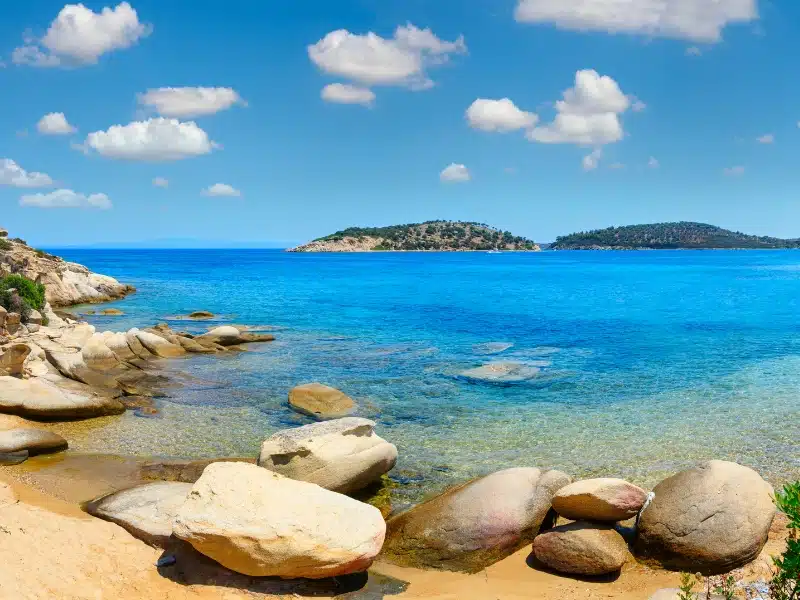 Ancient Olympia
Known worldwide as the birthplace of the Olympic Games, Olympia holds a special place in both history and the hearts of sports enthusiasts. Located in the western Peloponnese, this archaeological site is a sprawling complex that includes the ancient stadium, where the first Olympic Games were held in 776 BC.
The site is set against the backdrop of the lush Alfios Valley, making it one of the most beautiful places in Greece for those who appreciate the blend of history and nature.
The Temple of Zeus, once home to one of the Seven Wonders of the Ancient World, is a must-see. Although the gold and ivory statue of Zeus is long gone, the temple's ruins are still awe-inspiring.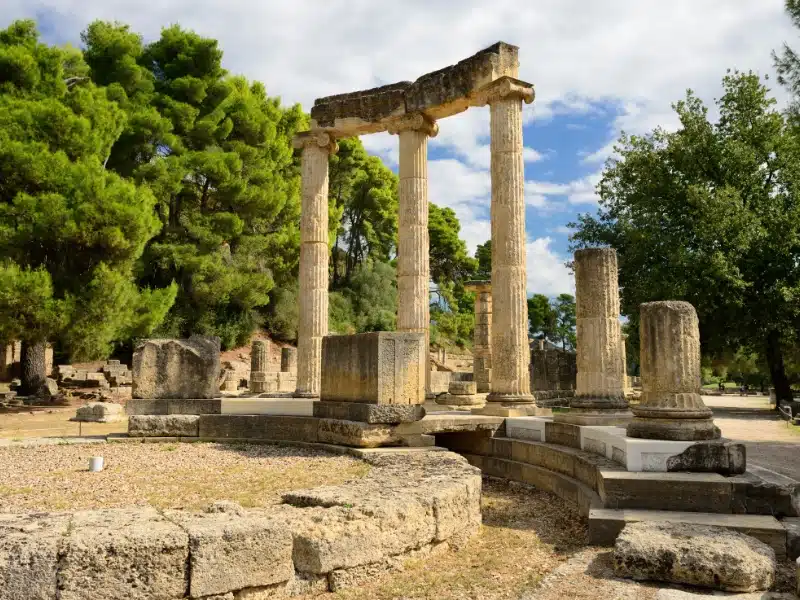 Thessaloniki
Greece's second-largest city, Thessaloniki, is a cosmopolitan hub. The city's waterfront is a bustling area filled with cafés, bars, and public art installations, making it a popular spot for both locals and tourists.
But Thessaloniki is also steeped in history. The Rotunda is a 4th century monument originally built as a mausoleum, later transformed into a church and then a mosque. Its mosaics are some of the finest examples of early Christian art.
Another must-visit is the White Tower, the city's iconic landmark. It offers panoramic views of the city and the Thermaic Gulf, providing a beautiful contrast between the urban landscape and the natural beauty of the sea.
For foodies, the city's Modiano Market is a haven for fresh produce, meats, and local delicacies.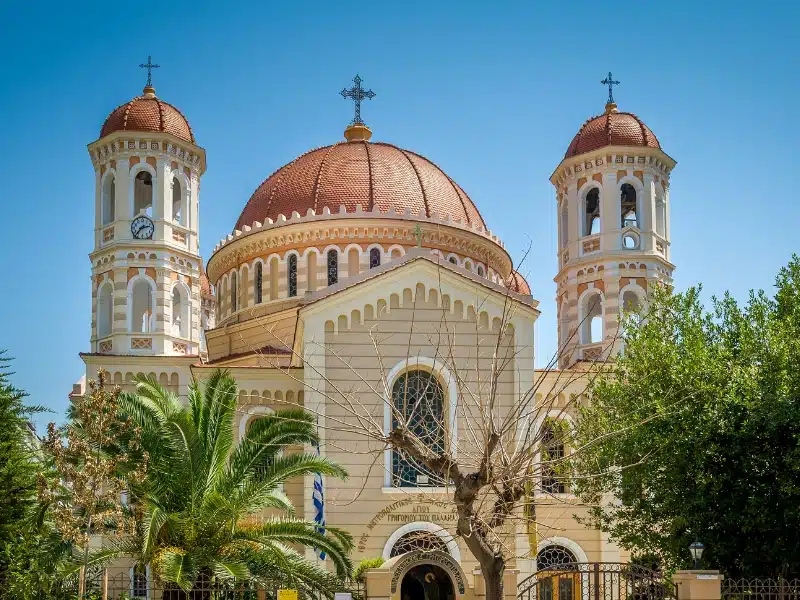 Most Beautiful Places to Visit in Greece Final Thoughts
Exploring the most beautiful places in Greece offers a journey through diverse landscapes, from the iconic white-washed buildings of Santorini to the historical depths of Olympia.
Whether you're drawn to the beautiful islands in Greece for their sun-kissed beaches or the mainland for its rich history and natural wonders, this country offers a myriad of jaw-dropping experiences.
Looking for more travel inspiration? Check out these top posts…
Croatia is home to a variety of beautiful landscapes, including rugged mountain peaks, stunning islands, enchanting waterfalls, incredible beaches, vibrant cities, and charming historic towns. There are so many beautiful places to visit, it can be difficult to decide where to go. We've pulled together all our favorite most beautiful places in Croatia to visit to inspire you and help plan your next trip.
Love it? Pin it!