This post may contain affiliate links, from which we earn an income.
Visiting the Sahara Desert in Morocco
If you are going to Morocco, visiting the Sahara Desert should be at the top of your bucket list. The tranquillity and infinite beauty of the rose gold Morocco sand dunes is like nothing else on earth.
We spent a month exploring southern Morocco and in this Morocco desert guide, we'll share with you everything you need to know about visiting the Moroccan Sahara.
Whether you're going on an organised tour, a day trip or you're traveling in Morocco independently, let us share our Morocco desert experiences to help guide your Morocco trip planning.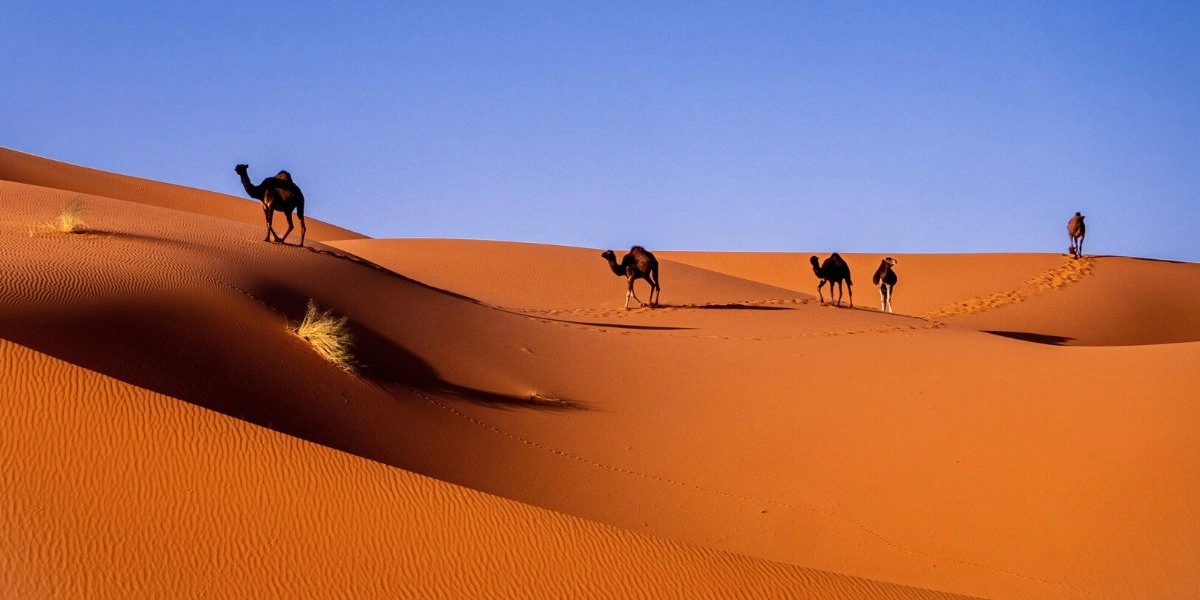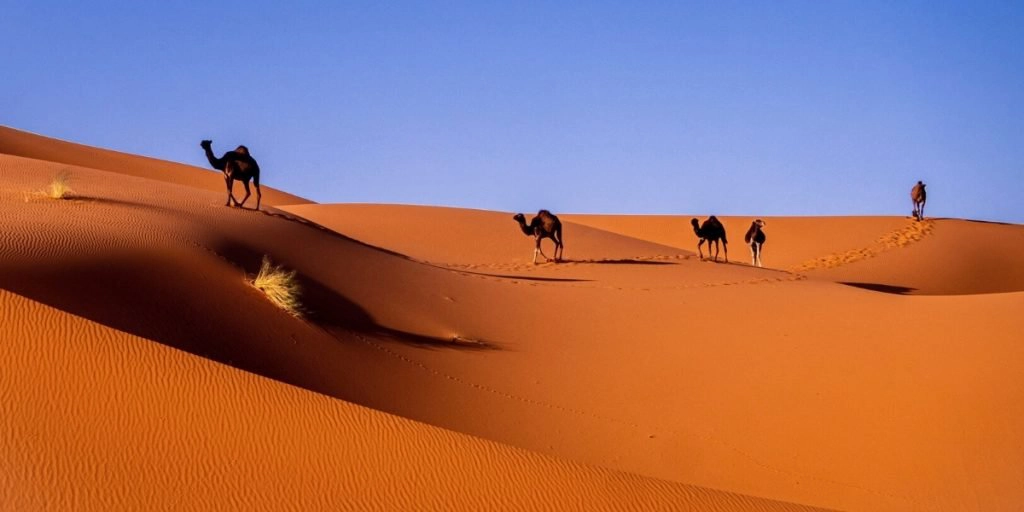 Where is the Sahara Desert in Morocco?
The two largest erg (dune field) in Morocco are Erg Chebbi and Erg Chigaga. Both lie in a vast semi-arid area that is in the rain shadow of the three Atlas mountain ranges, near the closed border with Algeria in southern Morocco.
Most of this area is hamada (flat, stony desert) which has its own beauty and fascination. In the case of the Erg's, the surface is sand brought down from the Ziz and Rheris rivers, which creates the huge golden sand dunes in Morocco that people come east for when the desert calls.
Neither Erg is technically in the Sahara desert, but they are regarded as the gateway to the Sahara, which lies a bit to the south. Historically, camel trains would leave from the Erg's for the trans-Saharan trade route.
The former Spanish Sahara territory, now known as Western Sahara, is claimed by Morocco as part of its territory and referred to within Morocco as the 'Southern Provinces'.
This area is most definitely part of the Sahara, but there's not much in the way of big dunes and countries may advise their citizens against traveling to the Western Sahara because of security risks, so we wouldn't recommend visiting.
Erg Chebbi is the most accessible dune field, with a paved road into Merzouga, the small town that sits at its foot. Erg Chebbi rises to 160m at its ever-changing highest point and is 110km square. That's a lot of sand!
Erg Chigaga takes a little more effort to cover the unpaved 56km from M'Hamid. Erg Chigaga though, is less untouched and more spectacular, standing 300m tall and spreading over an awe-inspiring 600km square
Morocco Sahara Desert Map
How to use this map – Use your fingers (or computer mouse) to zoom in and out. Click or touch the icons to get more info about a place, and click the arrow in the box top left to open the index. To add to your own Google Maps account, click the star next to the title of the map.
Is this your first time visiting Morocco? Get all the information you need in our Morocco Travel Guide, including what to pack, the best time of year to go, getting there and practical tips to help you have the best trip!
When to Visit Morocco's Sahara Desert
Ideally, you should book Sahara Morocco desert trips and tours in advance where possible. You will probably have no issue if you're heading to the desert in the winter months, but spring and autumn can get busy, and the best guides will get booked early.
The best time for visiting the Sahara Desert in Morocco is between October and May. Daytime temperatures are mild and it will generally be dry with humidity as low as 10%, with sandstorms more frequent from January.
During the Moroccan winter, especially between December and early February, night temperatures drop, sometimes below freezing and those taking a desert tour in Morocco will need to wrap up warm.
The Sahara desert Morocco weather is harsh in the summer months. June to September can be unbearably hot with July and August daytime highs often crossing 50°c. Many campsites close and desert tours in Morocco do not take place during these months.
Other Morocco Guides
How to Visit Erg Chebbi
If the mystery and stark beauty of the desert is calling when you're in Morocco, then the Erg Chebbi dunes are your easiest option for a Sahara Desert tour. Believe it or not, it is possible to fly from Marrakech to the Sahara Desert!
Travel to Erg Chebbi Independently
If you are road tripping in Morocco, it would be a missed opportunity not to visit Erg Chebbi. From Marrakech, it will take you around nine hours of solid driving to get to Merzouga, the most accessible of the desert towns.
Getting to Merzouga
Head across the notorious High Atlas mountains Tizi n' Tickha pass, a road that has been under construction since the French left Morocco in 1956 (whether it's ever actually been finished and is now being upgraded is anyone's guess, but the chances of you finding roadworks and un-sealed piste is highly likely) and through the lush oasis littered valleys of southern Morocco.
Stop at Ait Ben Haddou (sometimes Ait Benhaddou) en route and spend a few hours in the UNESCO World Heritage Site protected mud redbrick ksar which sits on the edge of the Oued Ounilla, where Lawrence of Arabia, amongst other famous films, was shot.
Stay at the superb Maison d'hôtes Dar El Haja, an authentic guest house inside the ancient ksar, where you will experience traditional Moroccan hospitality and food.
Arriving in Merzouga
Book your hotel before getting to Merzouga, or you will be pounced on when you arrive, and literally herded by the first hotelier to get to you. Accommodation is big business here and most hotels have look-outs strategically placed on the road into town.
We recommend you stay at Kasbah Kanz Erremal for stylish and spotlessly clean rooms with a fabulous pool overlooking the dunes. The hotel can also arrange desert excursions for you.
If you're planning on camping or you're traveling in an overland truck or motorhome, we recommend Haven Le Chance in Hassilabied just outside Merzouga, where you'll have direct access to the dunes.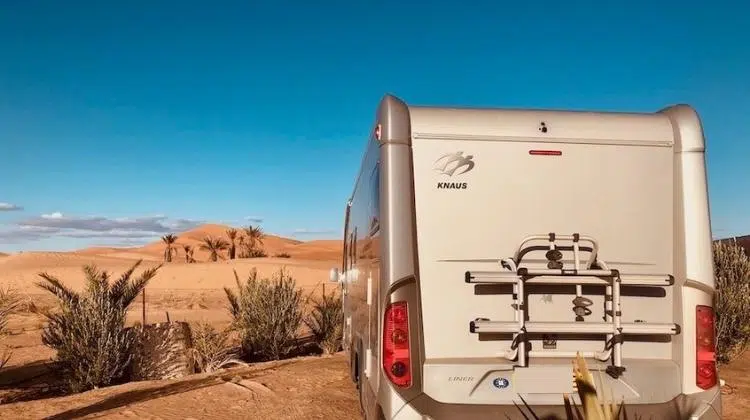 Booking Your Tour in Merzouga
Many, if not all of the hotels in Merzouga, can organise one night desert tours and desert safaris and your perfect Sahara tour can easily be tailored by the entrepreneurial guides of Erg Chebbi.
You can spend a few hours or a day in the desert in a 4WD or a couple of hours camel trekking (technically dromedary trekking), followed by a tajine, traditional music and stargazing deep in the desert before sleeping under a Berber rug in a Morocco desert camp.
You can also hunt for fossils, take lunch with a Berber family and try your hand at sandboarding in the Sahara… who knew?
When you arrive, if you haven't already booked a tour, your hotel reception will alert their favoured guide, who will pay you a visit to share their tours and offers with you. Be clear about what you are looking for and haggle on the price.
Some guides will pick you up from the hotel and take you around in circles on a camel ride for an hour in the Erg Chebbi sand dunes (which all look the same!) before depositing you at a Berber desert camp 100m from the back gate of your lodgings. If truly getting away from it is important, then stress this and insist on a camp deep in the Merzouga desert.
Faux (fake) guides are rife across Morocco and the desert towns of Morocco are no different. Many of these guides have a wealth of knowledge and can often speak lots of different languages picked up over the years, even though they may not be certified in any way.
Don't dismiss faux guides out of hand, especially if they are recommended or suggested by your hotel.
Types of Camps in Erg Chebbi
The basic overnight desert camp offer is pretty well…. basic, with no hot water and shared toilets. The beds are comfy but it will be cold at night between December and early February, such is the Sahara Desert Morocco weather.
Other than an outside fire, there is no heating (or indeed other frills) in the Berber tents. There may not be much choice in terms of food, which is likely to be Morrocan salad, some type of tajine (a slow-cooked savoury stew cooked in a distinctly shaped earthenware pot) and locally made bread.
There will be singing and traditional instruments being played around the campfire after dinner, with your hosts ready to answer all your questions about Berber life in the desert.
A luxury camp in the desert of Morocco will have an improved dinner offer, private shower, heating and hot water. When organising such a tour, haggle hard and aim to knock off 20-30% of the original asking price.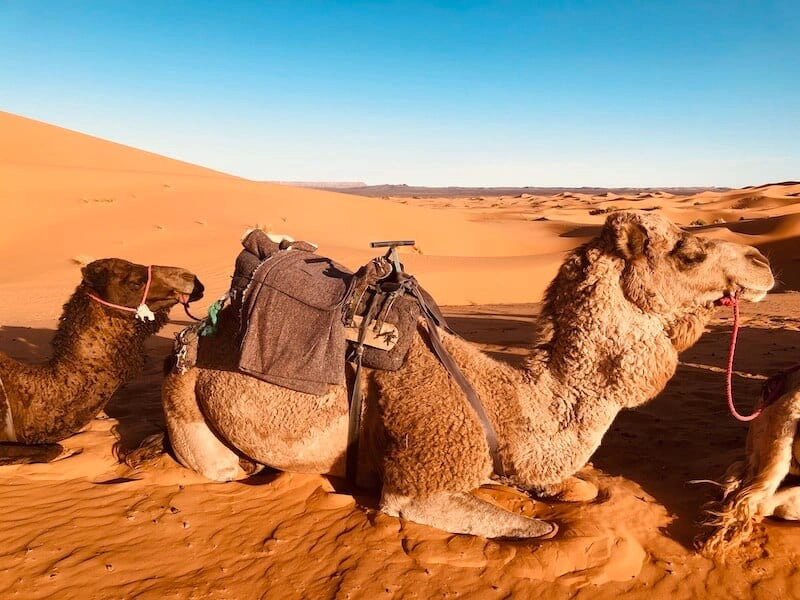 Take an Organised Tour to Erg Chebbi
If you're flying into Morocco and want a desert trip from your base, Marrakech or Fes are the only viable places to do this from. There are no one day trips or day tours to the ergs – you'll need at least a few days spare, due to the large distances involved.
When you're searching for tours, you may see day trips being offered. These are to the Agafay Desert, an hour away from Marrakech. This desert is made up of dry and arid hills and does not have the majesty (or dunes) of the Ergs.
However, this Agafay Desert full day desert and mountain tour with a camel ride makes a good alternative if time is of the essence.
When you're searching for Morocco desert tours from Marrakech or Fez, accept that you will have little control over who's in your group (unless you take a private luxury tour) or where you'll be taken outside of the key visits.
Carpet shops and Argan oil co-operatives will feature somewhere, even if you're clear that you're not looking to buy. The Berber sales skills are such that they ignore protestations, in absolute confidence that you will make a purchase!
The Best Marrakech to Merzouga Sahara Desert Safari
This Marrakech to Merzouga 3 Day Sahara Desert Safari is one of the best Marrakech tours and has received over 2000 reviews on Get Your Guide and scores 4.5 out of 5.
Having taken this tour ourselves, it is our recommended choice of budget tour from a reputable tour company and covers all the key attractions and activities for your desert trip.
On this trip you'll discover the gates of the Sahara Desert at Ouarzazate, ride across the Erg Chebbi dunes on a camel and spend the night at a Bedouin camp before heading back to Marrakech via the famous Dadès Gorge, Kasbah of Ait Ben Haddou and the incredible Tizi n'Tichka pass across the High Atlas Mountains.
The Best Private Atlas Mountains & Desert Tour
If you're looking for a private tour, this highly rated 4 Day Private Atlas Mountains & Desert Tour from Marrakech covers all the high points between the city and desert as described above, but you'll be in a premium vehicle with just you and the other members of your party.
Your guide will be able to speak a number of languages including English, and he will drive you expertly and safely through Morocco, sharing history, tips and information as you go.
Other Moroccan Sahara Desert Tours
There are lots of other options depending on your location, budget and timeframe. We have chosen a selection of our favourite Moroccan Sahara Desert tours below.
Visiting Erg Chigaga
More spectacular, more remote and more breathtaking than Erg Chebbi, the Moroccan desert at Erg Chigaga (sometimes spelt Chegega) is the largest sand sea in Morocco.
Travel to Erg Chigaga Independently
If you're not travelling in a 4WD or overland vehicle, Erg Chigaga will remain unreachable unless you hire a specialist vehicle or hop on a camel from the nearest desert town… for five days!
Arriving in M'Hamid
But before you get on your camel, or hit the 4×4 trail, get yourself to the frontier town of M'Hamid (where you'll find lots of smaller dunes) and plan your Morocco desert tour to the big boys, some 56km west of town.
Stay at Dar M'Hamid in M'hamid, a charmingly traditional Moroccan guest house, where you will receive wonderful hospitality.
Booking Your Tour to Erg Chigaga
There are plenty of guides for hire in M'Hamid. Your hotel can recommend someone or you can stop by one of the agencies in the small town to make arrangements.
Expect to pay around 650-750MAD a day for a five day camel trek (not including food and drink for the journey) to Erg Chigaga and around 1350-1550MAD per day including insurance to hire a 4WD and guide.
Semi-permanent desert camps are scattered amongst the golden peaks of sand at Erg Chigaga, you can stay here for around 400-500MAD for a night. The camps are pretty basic but you'll find some of the world's best night skies and views of the Milky Way here – zero pollution, no clouds and absolute peace.
If you do decide to organise the long trek by dromedary to the deep desert of Erg Chigaga, make sure of the following;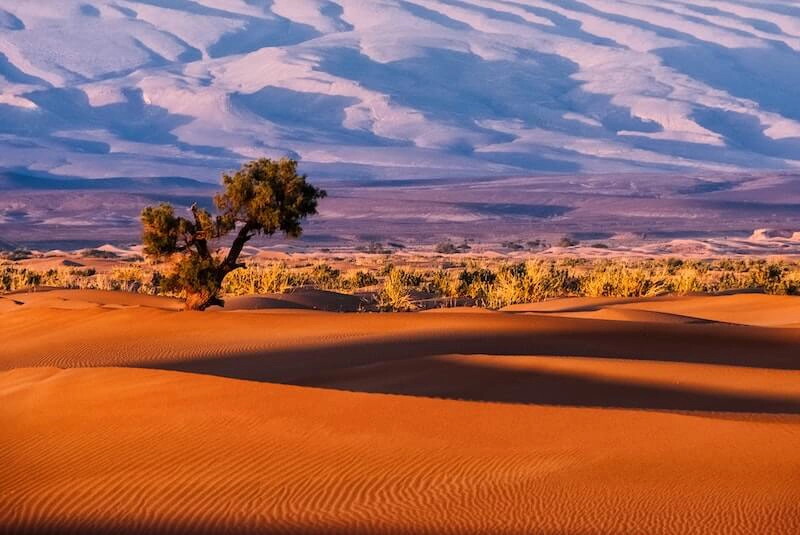 Take an Organised Tour to Erg Chigaga
If you can't get to Erg Chigaga yourself, then organised Marrakech desert tours can get you there and provide all the activities and attractions you want in an easy-to-manage bundle.
These tours to Erg Chigaga are only available from Marrakech and the choice is limited. The programming is similar to the tours at Erg Chebbi but you will spend longer getting there, although the reward is the ultra-tranquillity and peace you will experience.
Are you looking for more travel inspiration? Check out these top posts…
Armenia, a small yet captivating country nestled in the Caucasus offers a wealth of picturesque landscapes, ancient monasteries, and a deep-rooted cultural heritage. An itinerary through Armenia promises to deliver unforgettable experiences, making the most of the country's fascinating landmarks and vibrant cities. We spent a month exploring this tiny country that packs a real punch in terms of adventure and raw nature. In this Armenia travel guide, we'll share the perfect Armenia itinerary, insider tips, must-see destinations, and practical advice to help you plan your own epic adventure.
Love it? Pin it!