This post may contain affiliate links, from which we earn an income.
Should I Buy a Motorhome or Caravan?
Are you ready to buy a leisure vehicle but not sure whether to go for a caravan or motorhome? It's a common dilemma, we'll help you puzzle out the answer and buy what's right for you!
We grew up holidaying in caravans and motorhomes, and for the last three years we have lived and travelled in a motorhome around the UK and Europe, so understand the positives and negatives of both choices.
Let's just take a quick look at the basic differences between the two with these definitions;
Caravan
A caravan (RV trailer in America) is any structure designed or adapted for human habitation which is capable of being moved from one place to another, typically by being towed (or by being transported on a motor vehicle or trailer). This category of vehicle, legally known as a motor caravan, can also include fifth wheelers, demountables and micro campers.
A touring caravan (which we are discussing in this post) is designed to be towed and moved on a regular basis, whereas static caravans are holiday homes built on a prefabricated structure on a permanently attached chassis and not designed to be moved.
Motorhome
A motorhome (called a camping-car in Europe) is a type of self-propelled caravan which offers living accommodation combined with a vehicle engine. Camper vans, van and lorry conversions and RV's can also be included in this category; they are fundamentally the same as a motorhome i.e. a living space with an engine, but all have differences in the way they are built, fitted out and styled.
Recommended Reading
Choosing a motorhome or campervan is one of the biggest buying decisions you'll ever make and high on lots of people's bucket list. Read our buyers guide to make sure that when you choose a motorhome or van, it's the perfect motorhome for you!
Buying a leisure vehicle is a big deal. Motorhomes and campervans cost a lot of money and if you're a first-time buyer, making the right decision can be tough. In this article, we look at the differences between motorhomes and campervans and give you some tips and hints to help you make the right choice.
The Pros & Cons of Caravans
Pros
Caravans are always be cheaper to buy than motorhomes; there is no engine and therefore no associated item or build costs. A new, high spec caravan will cost somewhere between £30-40k. For this money, you could buy a German made (generally the best quality) twelve year old motorhome with around 30,000k miles on the clock. Of course, this looks like less of a gap if you also have to buy the right towing vehicle for your caravan!
A seven metre caravan will always provide more habitation space than a seven metre motorhome, as the motorhome must include the engine and drivers cab in the measurements and the cab is not all usable space.
You need a suitable vehicle to tow a caravan. You can't tow a large caravan with a Mini! But this means you do have a vehicle in which to go sightseeing and explore, once you're un-hitched at your site.
If you passed your driving test before 1997, you don't need a special driving licence to drive a motorhome or tow a caravan. If you passed your test after 1 January 1997, you are restricted to a combined maximum allowable mass (towing vehicle and caravan combined) of 3,500kg. For anything heavier you need to take a category B+E driving test.
There are over 4,000 accidents a year in the UK involving trailers and caravans. Towing a caravan requires experience, focus and ability; much more so than driving a car and it is the reason many people don't buy caravans.
Cons
You are not legally required to insure your caravan, although this means you wouldn't be covered for theft or accidental damage. Caravan insurance is not expensive if you decide to take it out, with the average price being £150 per year. There is no requirement to MOT or tax a caravan, meaning you'll save on annual running costs, although you do need an MOT, tax and insurance for the car which will tow your caravan.
Whilst there is nothing to stop you from wild camping in a caravan, it's not always easy. Size and manoeuvrability can be an issue; the extra space you gain in living quarters is lost when trying to park in a tight wild camping spot. Caravan and car combined can easily be twice the size of a seven metre motorhome, making it challenging to get into that tight spot with the perfect view, if you're allowed to park there at all. If you needed to move on quickly (always a consideration when wilding), it is much harder with two separate units. Jumping out of bed naked to run to your car is not a good look!
Caravan garages are generally small scale and only a very few have a garage large enough for bikes, probably because it usually means placing extra weight right where you don't want it, behind the axle. This means having your bikes on your car and visible.
Caravans generally do not have waste water tanks. This means using a portable tank that you must take to the service point yourself and empty once there, a task which needs doing daily.
It can take an age once you arrive at your site to get un-hitched, parked, level and sorted and then the same in reverse when you're moving on.
Caravans don't have a great reputation amongst other road users. They are known as 'wobble boxes' for obvious reasons, are generally slow moving and considered a bit naff. Just saying….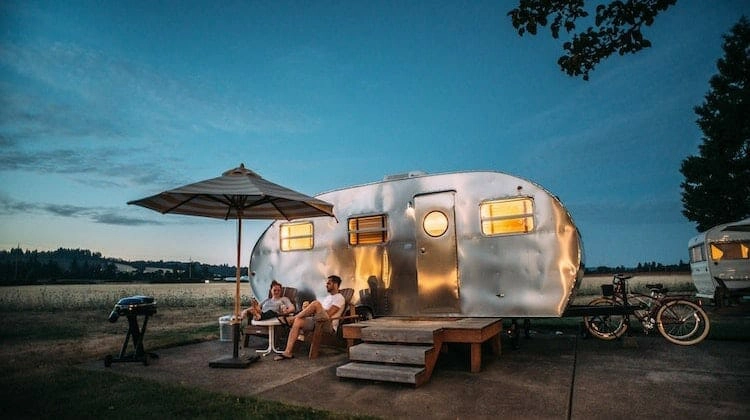 The Pros & Cons of Campervans & Motorhomes
Pros
When you start looking at motorhomes for sale, you'll find that new motorhomes are expensive beasts, particularly if you want an aerodynamic A class, with all the toys. A new top of the range motorhome can set you back anywhere between £120-200k. Even a basic model from a middle of the road manufacturer will cost upwards of £45k. Don't expect a campervan to be cheaper, some of them are more expensive!
Space in a small motorhome or camper van is at a premium and you may have to compromise between fixed beds and living space if you are on a budget.
Using a motorhome to get around exploring or sightseeing is not ideal. It means packing up to travel every time you want to go off for the day, finding somewhere to park and then doing the whole thing in reverse when you get back. Some motorhomes have a tow car, which means you need to have a tow bar fitted and ensure that your motorhome has the capacity and weight allowance to tow. Others carry a scooter in the garage or on a rack.
The licence you need to drive a motorhome depends on your age and the vehicle's maximum authorised mass (MAM). This is the vehicle's weight plus the maximum load it can carry. To drive a motorhome with a MAM of between 3,5oo and 7,5ookg, you need a category C1 licence. If you passed your car driving test on or after January 1, 1997, you are limited to driving a vehicle of no more than 3,500kg MAM. If you passed your test before that date you can drive a vehicle that weighs up to 7,500kg. To drive a motorhome with a MAM of over 7,500kg, you need a category C licence.
Large motorhomes can be challenging to drive at first, but once you get used to the dimensions and feel of the vehicle, it's very similar to driving a car. A tag axle (third axle at the rear) makes for better stability for larger motorhomes, particularly at speed on motorways.
Cons
Motorhome and campervan insurance is expensive, particularly if your van is worth more than £65k. If you're looking at vans in this price range, it may be worth getting a quote or two to get an idea of the motorhome insurance costs before you commit, especially if you're planning on full-timing. Living in a motorhome means you need full-time van insurance which pushes the cost of your motor home insurance up even more. You also need to pay vehicle tax and MOT your motorhome, making the annual running costs in the hundreds, if not thousands, of pounds.
Motorhome wild camping is easy and safe. Some people never pay for a site and others do a mix of the two. In Europe particularly, wild camping is easy because of the number of service points available to motorhomers which are not on campsites. Often garages and supermarkets will have a dump station and water available for a few euros. Wild camping in France for motorhomes is the best and when you add remote French aires into the equation, it's easy to stop anywhere for very little money. If your motorhome is fitted with solar panels and good leisure batteries, you can live off grid without EHU indefinitely.
Some motorhome garages are large enough for a scooter and even a portable twin tub, as well as chairs, tables and tools. To get a motorhome with a large garage, you generally need a raised fixed bed at the back which effectively sits on top of the garage. If your heart is set on a rear lounge, then you won't achieve this amount of garage space.
Arriving and moving on is a fairly quick process, we can be ready to move in around 15 minutes if we're hooked up, a lot less if we're wild camping.
Don't buy a motorhome thinking you'll become a cool van life dude. You won't. Van life is a different concept altogether and owning a motorhome or campervan is definitely not cool. Just felt I needed to mention that….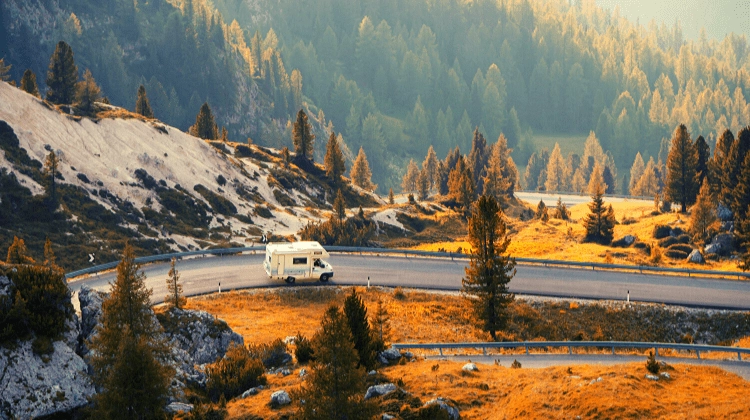 Conclusions
Flexibility
A caravan means you have complete flexibility once you're at your location. You can un-hitch and use the car to explore and go sightseeing. Caravans are not ideal for wild camping due to the size of caravan and car together and having to remain hitched in case of a quick getaway.
If you are holidaying with kids or remaining in once place long term, then a caravan is the perfect option for family camping.
A motorhome is not the ideal sightseeing vehicle; you have to pack away each time you want to move and get going. Getting on and off a site can often be tricky and finding a suitable and motorhome friendly car park at your destination may not be easy.
You could carry a scooter if you opt for a large garage or have a rack fitted. Some people tow a small car, but this is all added expense. However, If you spend your time moseying from place to place, touring and wild camping, then a motorhome is definitely your best choice.
Space
Metre for metre, a caravan will have more living space and you can also use your car for storing stuff. You may struggle to find a garage large enough for bikes and lots of paraphernalia but if you're going to be on a site, security will be of less importance, and you can carry extra stuff in a car roof box.
You can also have a caravan awning room to provide more space if needed; lots of people set these up as their kitchen and dining space, with outside tables and chairs that can easily be moved into the sunshine. They are also great places for the kids to sleep in especially hot weather or if they want a mini camping adventure!
The cab space in a motorhome is non-negotiable! Some spaces are more useable than others though. In an A class or low profile, it is highly likely that the seats will swivel, making this part of your living area. In some motorhomes, there are curtains you can draw between the cab and living area, but this reduces the useable space considerably.
All motorhomes can have a pull out awning fitted and you can get sides for these to make a full room, although this is a faff if you move often and is one of the few motorhome downsides. If you will be staying mainly on sites, then consider a drive-away awning, which can be left in place when you move your motorhome.
Recommended Reading
People are fascinated by motorhome life. We get asked a lot of questions about our life style – here are the top ten questions and our no holds barred, totally honest answers…
Considering turning your dream of motorhome life into a reality?  There are so many reasons to own a motorhome, these are our top fifteen.   
Motorhome vs Caravan Costs
A new caravan will always be cheaper than a new motorhome. But, if you need a suitable towing vehicle as well, then the costs would not be that dissimilar. Of course, this applies to new vehicles and there will be deals to be had with used motorhomes and cars.
Caravans generally depreciate faster than motorhomes, at around 15% annually, verses motorhomes which depreciate at around 5% a year if you keep your mileage down..
The running costs of a motorhome alone are higher than that of a caravan, which has virtually no running costs at all. However, your caravan is useless without a car to tow it, which requires car insurance, tax and an MOT, although you will not face the issue of full-timing insurance and associated increased costs with a caravan.
Miles to the gallon average around the same for a car towing a 3,500kg caravan and a 3,500kg motorhome; somewhere between 20-30mpg depending on makes and models and whether the van is fully laden.
Touring Europe – Caravan or Motorhome?
Finally, If you're thinking specifically about whether to buy a caravan or motorhome for Europe, you will find that most European countries are incredibly welcoming to motorhomes, more so than the UK where it can be challenging to find services off site.
Europe and France in particular, have really embraced motorhome travel and make it so easy. Caravans tend to be less welcomed and often there will be signage specifically stating that caravans cannot park or stay overnight, where motorhomes are able to.
Want top motorhome buyers resources, advice & tips to make your journey to motorhome ownership stress-free & easy?
Outcome
There is no winner.
Whether you become a caravan owner or buy a motorhome will depend very much on how you intend to use it. Ask yourself these twelve questions designed to help you choose a motorhome, but they will also focus your thinking on whether a motorhome or caravan is right for you.
If you remain undecided, then motorhome hire might be an idea. Check out our step-by-step motorhome hire guide and rent a motorhome for a week to test out whether you enjoy life on the road – it might just answer your questions!  
Happy and safe travelling, whatever you decide!
Are you looking for more motorhome tips? Check out these top posts…
New Zealand is an absolute dream for campervan enthusiasts. The breathtaking landscapes, diverse wildlife, and incredibly friendly locals make it the perfect destination for your next campervan adventure. We'll will provide you with all the tips, tricks and insider knowledge to make your vanlife experience in New Zealand truly unforgettable. So, buckle up and get ready for an adventure of a lifetime!
Love it? Pin it!