This post may contain affiliate links, from which we earn an income.
Motorhome v. Campervan – What's the Difference?
Buying a leisure vehicle is a big deal. Motorhomes and campervans cost a lot of money and if you're a first-time buyer, making the right decision can be tough.
We're here to help though! In this article, we look at the differences between motorhomes and campervans and give you some tips and hints to help you make the right choice for your holiday home!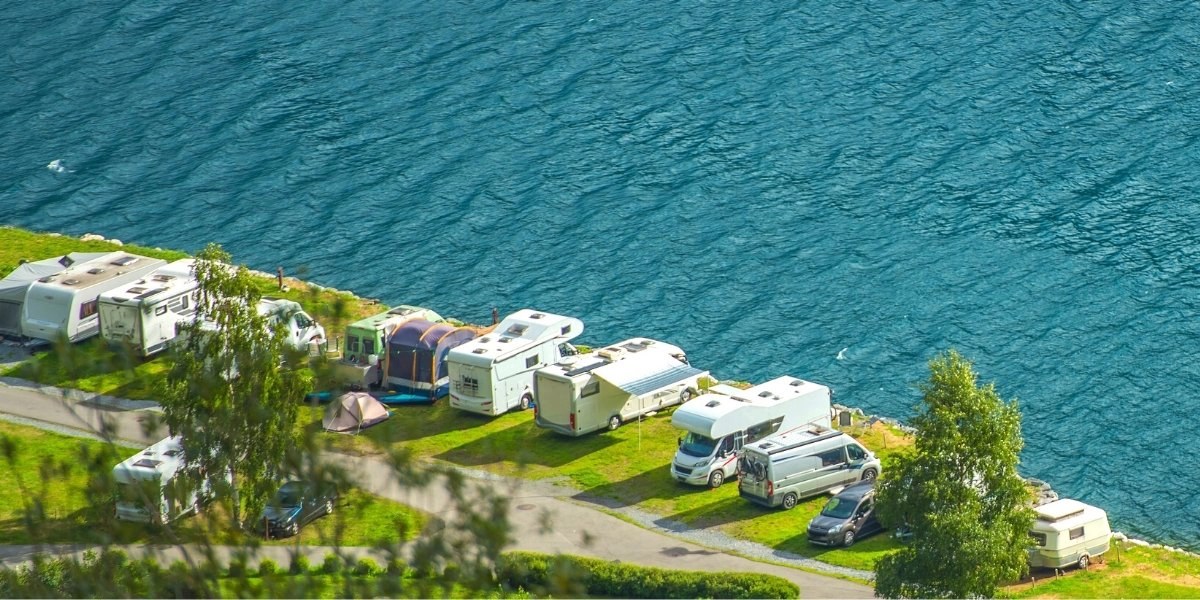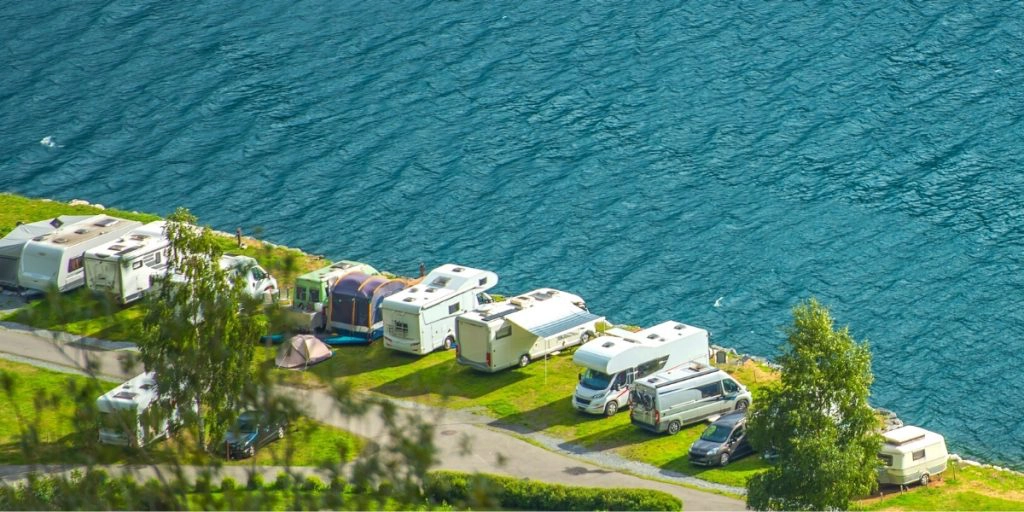 What is a Campervan?
A camper van, sometimes called a camper, is essentially a panel van (of white van man fame) that has been converted to add living space.
There are so many different types of campervans, but type of van usually used will be a commercial vehicle like a Fiat Ducato, Mercedes Sprinter, Peugeot Boxer, Ford Transit or Renault Trafic, although you could convert any type of panel van.
The long wheel base option of whatever model interests you is the best choice if space is important, and means that you may be able to have a front to back bed, rather than a side to side transverse bed, where one will always have to clamber over another to get out. If space is not a premium, then a small van conversion may be a better (and cheaper) option.
All these vans also come in a high top version, which would be the model to choose if you don't want a pop top style van, where the top opens out when you're stationary to create headroom and sometimes, an additional bed space.
There is a benefit to pop tops though – if you're planning on using the van as an everyday vehicle, you won't be restricted by car park height barriers in the same way a high top or motorhome would be.
The rear of the cab may, or may not be, open to the habitation space depending on the type of the conversion, chosen layout and the convertor.
Campervans are often converted privately and generate the cool images you see on Instagram, with slatted wooden interiors and shabby chic finishes. If you buy a van conversion like this second-hand, make sure to get it checked thoroughly – not everyone who converts a van actually knows what they're doing!
Campervan Converters
But there is also a thriving and growing van conversion industry in the UK, where companies provide a one-stop-shop and convert a van body for you. This typically includes all the interiors and fittings, electrics, heating, water, windows and bathroom – all of which you can spec to whatever level of comfort, functionality and style you want.
The level of specification has become increasingly high-tech over the past few years and a campervan can include all of the technology a motorhome has traditionally enjoyed.
Expect to see sophisticated power systems that harness solar and use lithium batteries, dual fuel technologies (diesel and gas) for cooking and heating, and clever bathroom layouts to make the most of space.
The campervan convertor will also register the van as a 'motor caravan' with DVLA meaning you can find private van insurance easily.
Some of the best known panel van conversion companies in the UK are WildAX, Celtic Campervans, Hillside Leisure, Devon Conversions, IH Motorhomes and Danbury Campervans.
Mini Vans
There is a growing trend to convert multi-purpose vehicles, or MPVs, into micro campervans. Some have permanent conversions and others have pull out or add-on sections that create kitchen and living areas and sleeping systems, so you can use the van for camping.
Some even have pop up beds mounted on the roof which you access via a ladder from outside the vehicle. These roof top tents make camping in your car a real possibility.
One of the disadvantages of campervans this small is that they won't have a toilet or WC that a larger campervan would have, but they're great for a short road trip or weekend away on a campsite where toilet facilities are provided.
Common MPV's to use are the Renault Kangoo, VW Caddy, Mazda Bongo or the Nissan NV200.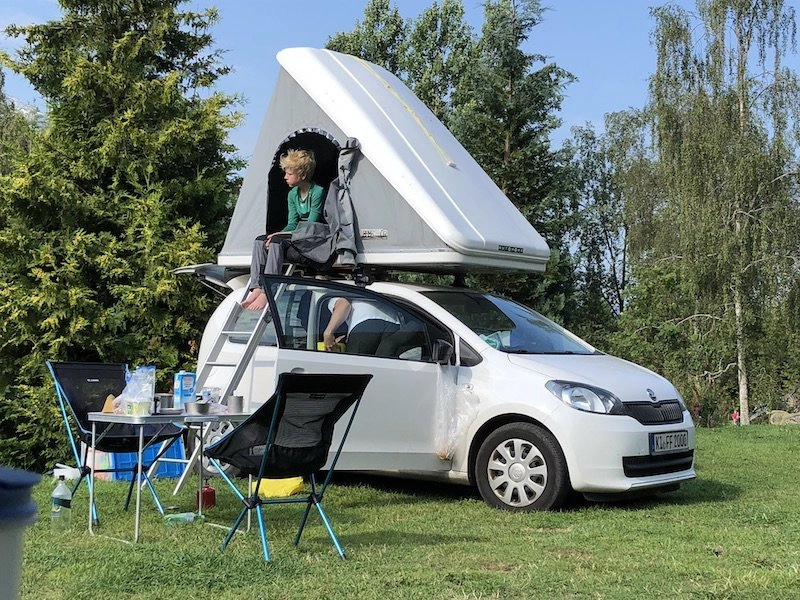 Volkswagen Campers
A new VW campervan is converted from a VW Transporter or the larger VW Crafter. The difference with VW vans is that Volkswagen themselves both manufacture the base van and then complete the conversion to a campervan, although there are also specialist companies who do this too.
The original was the Volkswagen T2, better known as the Kombi, Camper, Transport or Bus. The archetypal much-loved veedub with a bay window and split screen was one of the first T2's and today, they are much sought after.
Westfalia provided official VW camper van conversions with living space and a pop top, known as the Westy, before VW bought the manufacture of campervans in-house in 2003 under the Volkswagen California brand.
What is a Motorhome?
A motorhome, called a camping-car in Europe, is a vehicle that offers a caravan-type living area built onto a base vehicle chassis.
A Class Motorhome
Generally the most expensive type of motorhome, a class motorhomes start with a chassis-cowl, which has no external bodywork from the base vehicle, not even the cab.
The dashboard and driving controls will be used in the motorhome, so if your base vehicle is a Fiat Ducato, you'll still get the Fiat engine and everything you would find in the cab, just not the cab itself, as all the exterior bodywork is manufactured by the motorhome company.
An a class can have a drop down bed above the cab, or storage space. If you opt for the bed, this creates two comfortable full size double beds making this type of motorhome a good choice for four adults.
Coachbuilt Motorhome
The term 'coach built' refers to a motorhome based on a chassis-cab, the same as a campervan, except with a coachbuilt motorhome, only the chassis and cab is retained. The coachbuilder adds the body to the rear to house the habitation area.
Over-Cab Motorhome
A type of coach built motorhome, an over-cab motorhome retains the cab of the base vehicle and has a large bulbous area with a permanent double bed over the driver and passenger seats, and the rear of the cab open to the habitation area.
While headroom in the bed can be tight for adults and the ladder might not be ideal, this extra space makes a great den and bed for kids. The design also leaves the lounge area undisturbed – unlike the drop-down bed in a low profile motorhome, which encroaches into the living space.
Low-Profile Motorhome
Another type of coach built motorhome, a low-profile motorhome also retains the cab of the base vehicle, but instead of the over-cab space, the top of the cab is open to the habitation part of the vehicle, often with a large roof light, giving the vehicle a much sleeker look.
Low-profile models tend to be lighter than over-cabs too, meaning that they are better suited to a licence-friendly 3,500kg weight limited chassis.
Motorhome Manufacturers
Some well known UK motorhome manufacturers are Swift, Elddis, Autotrail, Bailey, Rollerteam, Autocruise and Bessacarr.
Hymer, Adria, Pilote, Chausson, Dethleffs, Frankia, Burstner and Rapido are based in Europe and import right hand drive vehicles into the UK.
This is by no means an exhaustive list, there are well over 50 manufacturers selling motorhomes in the UK!
Hybrid Motorhome-Campervans
Ask either community and the answer will be clear – the differences between campervans and motorhomes are distinct, and that seems to include the lifestyle.
There is an assumption that older people will choose a motorhome and younger (by inference, cooler) people will go for a campervan – just look at the images in out top vanlife books to see what I mean!
I can promise you this is not true! In our three years of full-time motorhome life we have met both motorhomers and campervanners of every age on the road, from the octogenarian in France on his way to Sicily in a campervan, to the young couple with a tiny baby in an ancient Hymer, somewhere on the road in Morocco.
But we've noticed a blurring of the lines over the past few years. There are manufacturers who take a panel van and convert it into what they call a motorhome – it looks like a motorhome and has all the functionality of a motorhome, but is not coach-built and utilises the van's body as well as the chassis.
Search on Google and you'll find the words motorhome and campervan are inter-changeable. In fact, the Wikipedia motorhome definition is exactly the same as their campervan definition – 'a self-propelled vehicle that provides both transport and sleeping accommodation'.
A case in point is this Burstner Lyseo Gallery concept motorhome with an inflatable (yes, I said inflatable) camper style pop top. Borrowed from the Hymer VisionVenture concept vehicle, this demonstrates the direction in which manufacturers are heading.
Fundamentally, whatever you choose to call it, nowadays a motorhome and a campervan can be, and often are, the same thing.
Until about five years ago, a campervan would have been the cheaper option, probably not quite so well specified as a motorhome. But now, a professionally converted campervan will cost as much as a high-end low profile motorhome and have all the features a motorhome does.
Do you want to get organised for life on the road?
Get free motorhoming checklists to download & print + access to our resource library
Other Types of Leisure Vehicles
There are many other types of leisure vehicle, not specifically classed as motorhomes, but also worth considering;
Recreational Vehicle
Most commonly known as an RV, these American recreational vehicle are available as imported vehicles in the UK. RV's are styled differently to motorhomes, and tend to be a lot larger and more expensive to run.
They are often cheaper to buy than a used motorhome as they tend not to hold their value. You may find small British and European roads challenging in an RV, and some campsites won't have pitches large enough for your home on wheels.
But, if you're planning on living in a vehicle and moving infrequently, an RV may be a good choice.
Fifth Wheel
A fifth wheel is a large RV type caravan but without an engine. It is attached to a pick-up truck by a hitch and towed like a truck trailer. Fifth wheels should not to be confused with travel trailers, which are pulled by their tow bars.
These are much less common in the UK and Europe than in the States, but you do see the occasional one on the road.
Demountable
A demountable is small unit without wheels that is mounted onto the rear of a pick-up truck or flat bed. It is different to a 5th wheel in that the unit itself does not have wheels.
They are generally quite small with the bulk of the unit sitting on the flat bed of the truck and only a small overhang at the back for the bathroom.
Living in a small camper like this may be challenging for any longer than a few weeks but the advantage is that you can de-mount the unit once you're on a campsite and use the truck to go of sightseeing, or grocery shopping, or to the beach…
Caravan
A caravan is any structure designed or adapted for human habitation which is capable of being moved from one place to another, typically by being towed (or by being transported on a motor vehicle or trailer).
Just to confuse matters, a caravan is also legally known as a motor caravan, even though it doesn't have a motor!
If you want to do a caravan vs motorhome vs campervan comparison, then check out post 'Caravan or Motorhome – The Pros & Cons of Both' where we look at the difference between motorhome and caravan life and which might be the best for you.
Rooftop Tent
Becoming more and more popular, we've noticed a boom in these roofbox tents over the past couple of years. Popular with drivers of overland 4 x 4 cars, a rooftop tent is a neat solution which allows you to travel light and enjoy all the benefits of a larger vehicle without paying for one!
The Pros & Cons
Motorhome
Campervan
As you can see, the difference between campervan and motorhome is pretty minimal. In our campervan vs. motorhome contest, neither come out as a clear winner.
This does change if you go to the extremes of each class where size becomes a real factor. A huge Concorde Liner of 'Million Pound Motorhome' fame can come in at well over 10m, meaning you can carry pretty much whatever you want.
Contrast this with a nimble van conversion, with much less space but more flexibility, and how you want to live your van life really starts to affect your choices.
What you end up choosing will come down to what specifics you need, how you want to motorhome travel, your budget and personal choice.
Don't start your journey to life on the road with a fixed view about buying one or the other – instead, consider your needs, answer these twelve questions and then go and look at both campervans and motorhomes.
Our Experience
We've owned a number of motorhomes over the years. We have travelled full-time for the last three years and owned two motorhomes during that time.
The first was a Carthago Chic E-Line which we bought with just a few thousand miles on the clock. The van was just over 8m long with a bike rack, and had a gross vehicle weight of 4,500kg on a low-profile single axle chassis. It was truly a beautiful van, but we felt limited by the size (not so much by the length, but it had a massive overhang which caused us to bottom out – a LOT).
This would have been the perfect van, if not for the fact that we wanted to wild camp our way across Europe and get to places off the beaten track. We also worried about taking the van to places like Morocco and Turkey – might it get damaged and reduce its value, or be a magnet for wrong uns?
So we sold it and bought an even bigger van (lol) that was well loved at 13 years old. Our Knaus S-Liner weighs in at 5,000kg, has a tag-axle and sits about 10cm higher than the Carthago. We've never bottommed out once! The Knaus has taken us around Europe and to Morocco, bouncing around over the un-sealed roads there without a problem, and given us a fantastic few years.
Within the next two years, we will make the change to a large high top van conversion as we plan to travel across Turkey and follow the Silk Road east. For this type of trip, we think a smaller campervan is better, less conspicuous and a bit more agile. Who knows whether we'll call it a campervan or motorhome!
Motorhome Ownership Guides
Choosing a motorhome or campervan is one of the biggest buying decisions you'll ever make and high on lots of people's bucket list. Read our buyers guide to make sure that when you choose a motorhome or van, it's the perfect motorhome for you!
Next Steps
Before you make any decisions on what will be an expensive purchase, consider the following;
Visit as many showrooms and dealers as you can. Stand, sit and lie down in all the motorhomes and campervans available, even if they don't really interest you. You'll come away with ideas that will help make your final choice, and built up your knowledge of what's available.
Even if you plan to buy a used motorhome or campervan, head to one of the motorhome shows and take a look at the brand new motorhomes and campervans for ideas and inspiration. Try not to get sucked in if your plan is to buy a used motorhome or campervan though!
Test drive both a motorhome and campervan in the same weight and size category that you are thinking of buying.
Do your research around specifics once you've narrowed down your options. Can you spec it as you want? Does it have room and payload enough for all the motorhome accessories, gadgets and gear you need to carry?
Work out your budget – not just the up-front costs, but think about insurance, road tax, fuel economy, campsite, storage and ferry costs (the longer, taller and heavier your veichle is, the more they will cost) and maintanance.
Read our post about buying a motorhome – you'll find lots of information about how to buy your first van safely and ensure you get the right model first time round. There's also a really useful free motorhome buyers checklist to download from our motorhome resource library which will help when you go to view your chosen van.
Good luck and enjoy van life, whatever you choose!
Want top motorhome buyers resources, advice & tips to make your journey to motorhome ownership stress-free & easy?
Are you looking for more motorhome and campervan tips? Check out these top posts…
Our van life gift guide is full of fun, creative and unique gifts for anyone who loves the van life. Whether you're looking for personlalised campervan gifts, funny campervan gifts or throughtful vanlife gifts for a loved one, you'll find the perfect something here.
New Zealand is an absolute dream for campervan enthusiasts. The breathtaking landscapes, diverse wildlife, and incredibly friendly locals make it the perfect destination for your next campervan adventure. We'll will provide you with all the tips, tricks and insider knowledge to make your vanlife experience in New Zealand truly unforgettable. So, buckle up and get ready for an adventure of a lifetime!
With one of the best winter climates in Europe and friendly locals, Spain is a perfect country for a motorhome road trip. With the colourful traditions, good food and wine and fabulous architecture, you have all the ingredients for an amazing tour. We share all you need to know about touring Spain in a motorhome or campervan here.
Do you need a motorhome reversing camera? How do they work and how do you choose the right one for your motorhome? We'll answer all those questions in our comprehensive guide and help you find the best motorhome reversing camera for your needs.
We all love a motorhome sticker to pimp up our van, even if it's only to announce ourselves to the world! We've pulled together all our favourite van graphics and stickers that we've seen on our travels, which you can add to your motorhome!
When it comes to learning about life on the road, there's no better resource than hearing from other motorhomers and vanlifers. We've picked the best ten for you here!
Love it? Pin it!