This post may contain affiliate links, from which we earn an income.
Motorhoming & Campervanning in Italy
Taking a motorhome to Italy is an experience not to be missed. This gorgeous country, full of beautiful light, fabulous food and landscapes straight from a film set, will not disappoint. In this post, you'll find all you need to know about touring Italy by motorhome.
Italy is truly a country of two halves. The wealthy and cosmopolitan north and the deprived and undeveloped south. This contrast is marked when spending more than a few weeks in the country and makes a motorhome holiday in Italy especially interesting.
We've spent months touring Italy in our motorhome and in this guide, you'll find lots of practical and helpful information about getting around Italy in a motorhome. From tips about driving, where to stay overnight and wild camping, to motorhome services and a round-up of the best motorhome destinations, you'll find all the information you need for an amazing road trip in Italy.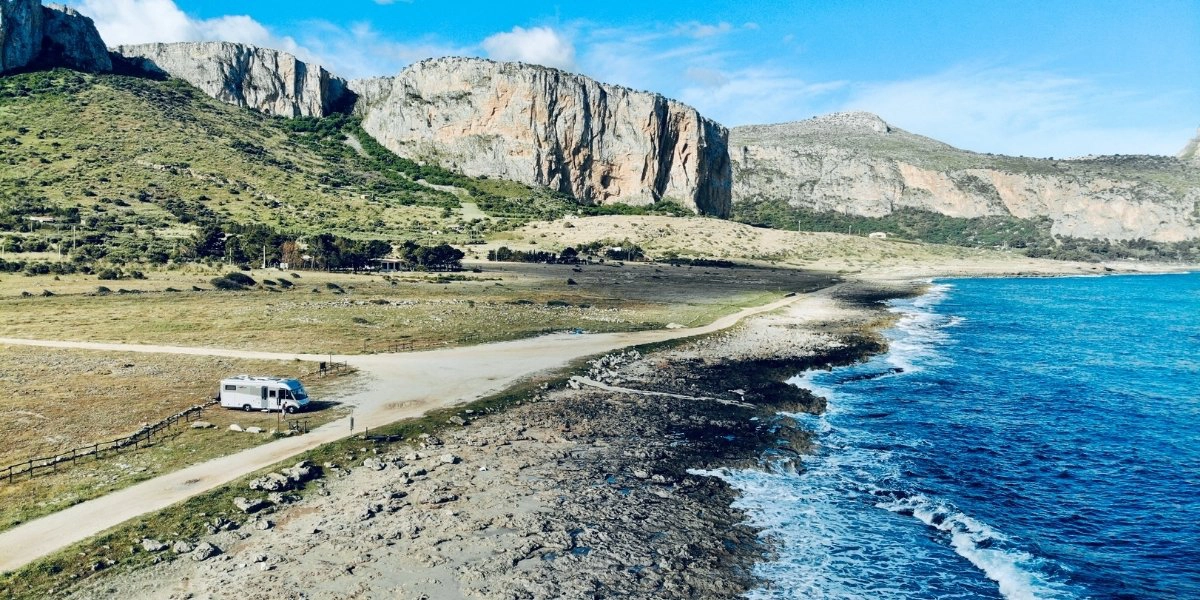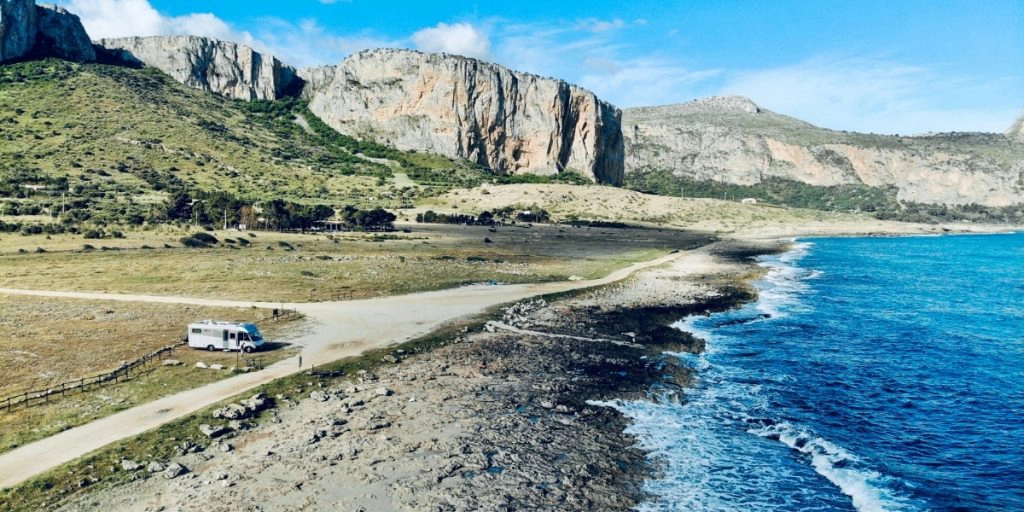 Driving to Italy in a Motorhome
There are many, many road routes to Italy by motorhome or camper van, each with its own merits.
Whether you are heading off for a two week campervan trip to Italy or a motorhome tour of Sicily, the best motorhome route to Italy depends on how much you want to spend on tolls and fuel and how quickly you want to get there.
Visit Via Michelin or Mappy for help with working out fuel and toll costs, along with driving times, or check out our post about driving from England to Italy, where we've already done the work for you!
You may wish to consider getting a boat to Italy if you are in Spain or Greece for example. It will save on fuel costs and time. Civitavecchia is the port closest to Rome and can be reached on a ferry within 24 hours from Barcelona.
Bari is an ideal port to head to from Greece or the Balkans and offers quick and easy crossings between Italy and Albania, Croatia and Montenegro.
Check routes and book ferries to and from Italy with Direct Ferries, where you can compare crossings and ferry operators, and find the best deals.
Is this your first time visiting Italy? Get all the information you need in our Italy Travel Guide, including what to pack, the best time of year to go, getting there and practical tips to help you have the best trip!
Motorhome Routes from UK to Italy
Let's assume you've arrived in Calais with your motorhome (although the crossings from the East of England work just as well) these are the best motorhome routes to Italy;
The Quickest & Cheapest Routes
Calais – Reims – Nancy – Basel – Lucern – Milan
The quickest drive to Italy from England is also the straightest, and probably the most scenic!
Driving from Italy via Switzerland, you'll pass through some of Europe's most spectacular landscapes, especially as you approach the Alps.
Driving from France to Italy on this route, you'll find excellent motorways and national roads as you pass through France and Switzerland before using the Gotthard Tunnel to enter Italy in around 12 hours (driving time).
Calais – Reims – Troyes – Dijon – Lyon – Geneva – Turin – Genoa
If you want the convenience of the fast French autoroute (motorway) all the way on your drive from England to Italy, and a straightforward trip, then this is the route for you.
Utilising the Mont Blanc tunnel to get through the Alps is also also a good route if you're heading for the Italian Riviera or driving to Tuscany from UK.
But you'll pay for the privilege with higher French motorway tolls and a hefty cost for the Mont Blanc tunnel on this 13 hour drive.
Fly & Hire a Campervan or Motorhome
Campervan & Motorhome Hire Italy
Flying and hiring a motorhome is the best way to tour Italy if you don't own one. Our recommended Italian campervan hire company is Motorhome Republic, who have depots in Rome, Milan, Florence and many other major Italian cities – perfect starting points to see all the best bits as you road trip Italy.
An aggregate motohome and campervan booking site, Motorhome Republic pull together all the best deals from a number of renters, to offer you a wide choice of options alongside an excellent English speaking expert motorhome Concierge Team.
You can also hire a motorhome in the UK and drive it across to Spain. Most hire companies allow their motorhome rentals to be taken overseas, including our recommended hirer, Spaceship Rentals. With a depot in London, top-notch customer service and all the equipment you need for an easy holiday, Spaceship offers the best deals for Europe.
Are you planning a motorhome trip to Italy?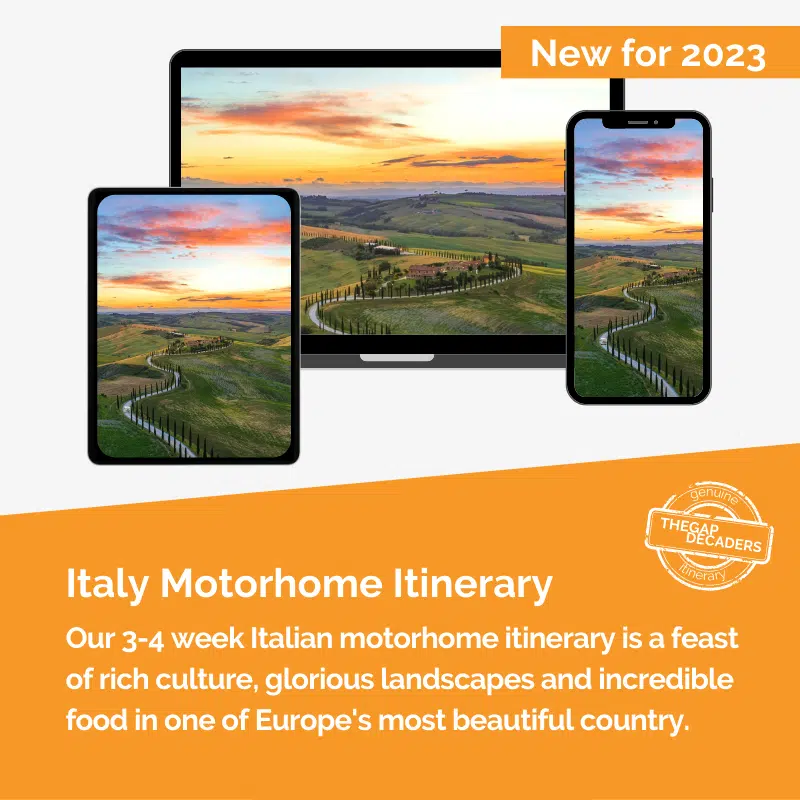 Grab our three to four week Italy motorhome itinerary, packed with campsites, aires, attractions and insider tips.
Get up every morning knowing your Italian motorhome trip is planned with driving routes, overnight stops and attractions marked out for you on your interactive map.
Make the most of your motorhome holidays in Italy and let us do the planning for you!
---
Motorhome Italy & Brexit
Although the UK left the EU at the beginning of 2020, because the pandemic came swiftly on its heels, many of us are still realising the repercussions and getting used to how it affects travelling in a motorhome. You can find out all the detail you need in our guide to motorhoming in Europe after Brexit. In the meantime, here are a few frequently asked questions and answers;
Do I need a visa for Europe?
Nothing changes with your passport, but from 2024, the EU will introduce the ETIAS (European Travel Information and Authorisation System), which will be an additional entry requirement for visa-exempt travellers and will involve the traveller registering their details online before travelling, mainly for security purposes.
How long can I stay in Europe?
UK citizens can only stay in the Schengen Area (a zone in Europe where countries have no internal borders and allow the free and unrestricted movement of people) for 90 days in every 180 days in the Schengen Area.
The 90 in 180 day rule works on a rolling basis and it can be difficult to work out whether you are within the rules or not, especially if you have visited the Schengen area on several occasions in the preceding 180 days.
What food can I take in my motorhome to Italy?
The European Commission says the following;
Travellers are not allowed to bring in meat, milk or their products.
There is an exemption for powdered infant milk, infant food, and special foods or special pet feed required for medical reasons if weighing less than 2kg and provided that:

such products do not require refrigeration before opening.
that they are packaged proprietary brand products for direct sale to the final consumer, and
the packaging is unbroken unless in current use.
For fishery products (including fish and certain shellfish such as prawns, lobsters, dead mussels and dead oysters), travellers are allowed to bring in up to 20kg or the weight of one fish if this is higher.
For other animal products, such as honey, live oysters, live mussels and snails, travellers are allowed to bring in up to 2kg.
Can I use my mobile data in Italy?
It very much depends on who your mobile phone contract is with and when you started the contract. All UK providers now limit data usage in the EU in some way or another, and it's best to check with your provider to make sure you don't run up a big bill. You can find lots of information in our guide to the best SIM cards in Europe, especially if you're planning to be away for more than a few weeks.
We have been using and recommend ConnectPlus for cloud sim connectivity in the UK and Europe. You can choose from unlimited data packs to just single days, depending on your needs. The device is no larger than a slimline smart phone, connects with up to ten devices, is charged easily with a USB and can be delivered within a few days of ordering. Use the code 'thegapdecaders' at checkout to get 50% off in the first month!

Can I take a pet to Italy in my motorhome?
Yes, you can take dogs, cats and ferrets to Italy. You'll need to book a pet-friendly cabin or kennels on the ferry or travel via the tunnel. Your pet will need a microchip, a valid rabies vaccination and an animal health certificate (AHC).
It can take some time to get all the documents together and the vaccines organised, so make sure you start the process well in advance. You can find out more about travelling with pets on the Gov.UK website.
More motorhoming in Italy travel advice and guides;
When to Visit Italy in a Motorhome
Italy can be blisteringly hot in the height of summer and freezing in the winter. There are officially four temperature zones in Italy; mild continental in the Po Valley to the north of the country, cold in the Alps, Mediterranean on coasts and islands, and cool and windy in the Apennine Mountains, which run down the middle of the country.
April and May will bless you with perfect weather if you stay out of the mountains. July and August are the hottest and most crowded months, especially in Tuscany.
We think spring and September are the best times to tour Italy in a motorhome; it will be warm in the day but you'll need a fleece for the evenings.
October and November may be OK in the south but the mountains will have snow and evenings will be cold. December, January and February may be warm but unpredictable in Sicily.
You will avoid the worst of the summer tourist crowds, particularly in the cities and regions of Tuscany and Umbria, if you travel to Italy in your motorhome in the shoulder seasons of spring and autumn.
For more detailed information about Italian weather by region, click here.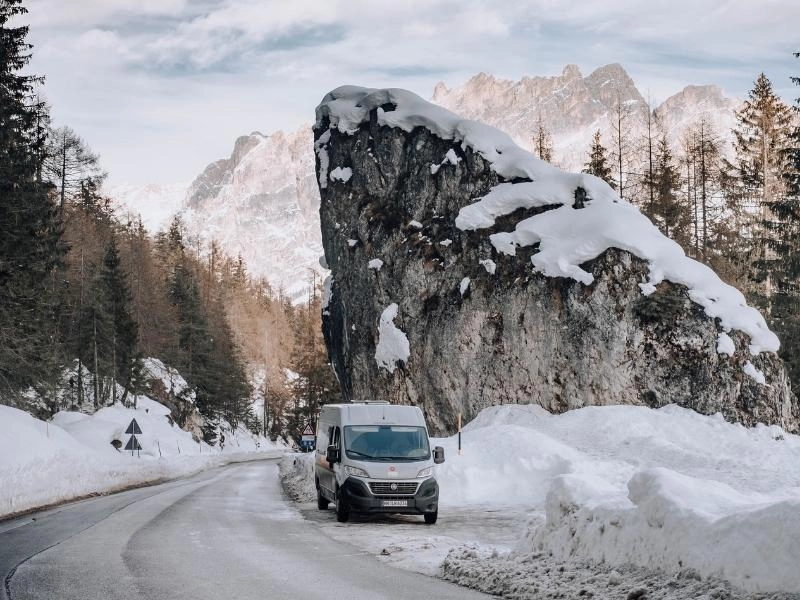 Driving a Motorhome in Italy
The quality of the roads and the abilities of Italian drivers are mixed. The further south in Italy in your motorhome you go, the more the road network requires investment.
So, I hear you ask, is driving in Italy safe? Yes! As long as you are aware of the challenges and obstacles and haven't just passed your test, then it's perfectly safe. Ideally, you will be a confident driver, especially if you are in an unfamiliar vehicle such as a motorhome rental.
Driving around Italy in a campervan is generally safe and easy, but be mindful of smaller towns without by-passes if you're in a longer vehicle.
You may want to consider a sat nav or satellite navigation app which can be configured to your motorhome camper size and weight.
Italian Speed Limits for Motorhomes
Always observe the speed limits when campervanning in Europe. There are speed cameras just as in the UK, and the Italian (and other EU) authorities have been known to pursue Brits for non-payment of fines. This has not changed since Brexit as the information-sharing agreement with the DVLA continues.
Motorhomes < 3,500 kg
In urban areas: 50 km/h
Outside urban areas: 90 km/h
Main roads: 110 km/h (reduced to 90km/h in poor weather)
Motorways and autovías: 130 km/h (reduced to 110km/h in poor weather)
Motorhomes > 3,500 kg:
In urban areas: 50 km/h
Outside urban areas: 80 km/h
Main roads: 80 km/h
Motorways and autovías: 100 km/h
Documents You Need to Travel & Drive in Italy
You must have at least three months remaining on your passport (issued in the past ten years) at your intended date of departure from Italy.
You must have at least 3rd party insurance for your vehicle. Update August 2021 – you no longer require a green card to prove you have vehicle insurance cover when travelling in Europe.
Your UK licence allows you to drive in all EU countries. If you only have a paper driving licence or a licence issued in Gibraltar, Guernsey, Jersey or the Isle of Man then you will need an International Driving Permit.
Breakdown cover documentation (not compulsory).
Vehicle V5 logbook or vehicle registration document (which must show the correct address).
Trailer certification if you are towing.
Personal travel and medical insurance along with EHIC or GHIC card (not compulsory).
Animal Health Certificate if you're travelling with a pet.
Make sure you have travel insurance you can trust when motorhoming Spain. We recommend True Traveller for their 5-star TrustPilot reviews, variety of cover options, best activities cover as standard, great prices and excellent service.
Vehicle Safety Equipment for Italy
Warning triangle.
Reflective jacket (not mandatory to carry but you can be fined for not wearing one if you're on the hard shoulder!).
Spare wheel and the tools to change a wheel, or a tyre repair kit.
If your motorhome has an overhanging load at the rear such as a cycle carrier then you must display a fully reflectorized square metal panel measuring 50cm x 50cm with red and white diagonal stripes.
First aid kit (not compulsory).
Spare bulbs and fuses (not compulsory).
Fire extinguisher (not compulsory).
Headlight beam converters (unless you can adjust yours automatically).
From 28th September 2021, you will have to display a UK sticker on the rear of your vehicle, instead of a GB sticker, unless you have a new style UK numberplate which displays the Union Jack flag.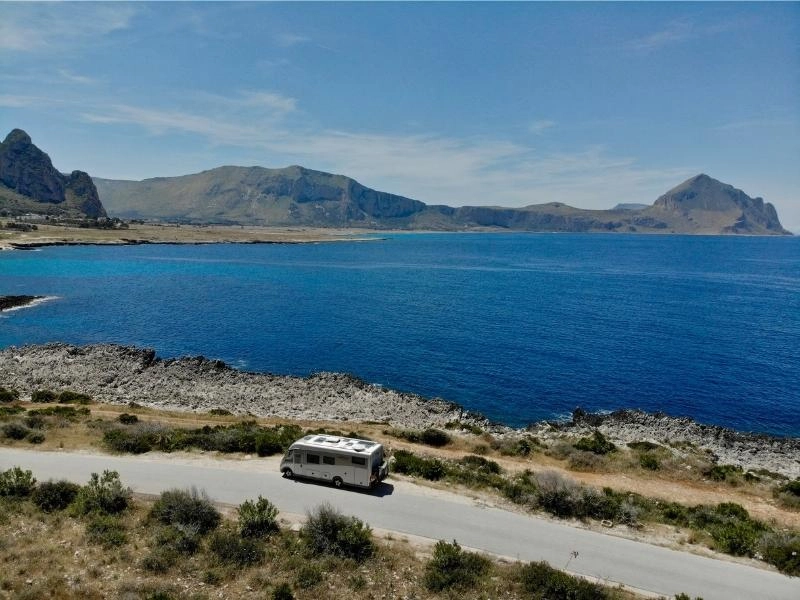 Italy Driving Tips
Remember to drive on the right during your Italian campervan road trip!
The UK Department for Transport advises that A-frames are not legal for use by UK motorhomers abroad. In practice, this could mean towing your car while it's fixed to a trailer, although there is ambiguity around this and differing advice can be found on the internet.
Trailer loads mustn't exceed 6 tonnes on a trailer with one axle and 22 tonnes on a trailer with 2 axles if the axle is fitted with twin tyres and pneumatic suspensions.
Campervans or motorhomes and cars with caravans or trailers are not allowed to exceed 18.75m in total length, 4m in height and 2.55m in width.
You must not carry or use a radar detector and if caught could be fined and the device can be confiscated.
If you carry a scooter, you must wear a helmet, even though you'll see locals without.
In the Val d'Aosta region in northern Italy, vehicles must be equipped with winter tyres or carry snow chains between 15 October and 15 April. In other areas, this requirement is signposted and applies from 15 November to 15 April.
In many historical centres and major towns traffic is restricted from entering areas known as 'Zone a Traffico Limitato' or ZTL's. You can expect to receive a fine by post if you drive your motorhome into a signed ZTL as only residents are permitted to use these town roads, so don't go there!
Italy also has many different low emission zones with differing standards, time periods and enforcement methods. You'll find these mainly in northern Italy, but also in mid-Italy and Sicily. In Milan and Palermo, these schemes combine LEZ and urban road tolling schemes. Check here if you're planning to visit a city.
Police can impose on-the-spot fines to drivers of foreign-registered vehicles and collect a quarter of the maximum fine there and then. A receipt must be given.
If you have an accident you'll need to complete the EU Accident Statement, which you can find here to download if your insurer hasn't provided one. Stop safely and use your hazard lights and warning triangle to alert other drivers. Exchange details (a translate app comes in handy here) and take lots of photos to add to your form when you submit it to the insurers. If the other party won't give details or there has been an injury, you should call the police on 112.
If you're on the motorway, emergency telephones linked to an SOS telephone network are installed at 2km intervals. There are two types of emergency telephone on Italian roads, from which you either connect to the emergency call centre and speak directly to an operator or the type where you press a 'spanner' button for mechanical assistance or a 'red cross' button for medical aid. A red light will then let you know your request has been received.
Italian Toll Roads
Tolls are more expensive than Spain but much cheaper than France. Not all autostradas have tolls or only have them on some sections.
Generally, it is far cheaper, easier and quicker to take the toll roads due to the sometimes poor construction of lesser roads, although we did see potholes on toll roads on occasion.
Motorhomes tolls are calculated for a class B vehicle, regardless of the number of axles. One hundred kilometres of toll road will cost around €6. This website has great information in English to help you work out the cost.
Toll roads are pay-as-you-go, try and avoid using large notes. If the machine has no change, it will give you a credit note which you can exchange for cash at some obscure highways office in a random town, where there will be no motorhome parking and no one will understand your bad Italian. Use the correct money or your credit card!
Alternatively use a Viacard, or Telepass device to allow you to pass without using the non-barrier lanes and pay via a credit card.
There are two toll roads in Sicily; the Messina to Palermo A20 autostrada and the Messina to Catania A18. You will have to use one or the other if you arrive by ferry from Villa San Giovanni, depending on your direction of travel.
Fuel in Italy
The price of diesel across Italy is comparable to that of France and slightly cheaper than in the UK.
Many Italian garages have two fuel prices; one for fuel served to you by a forecourt attendant and one you serve yourself. Look for the signs when you enter a garage in your motorhome; servizio for service and self for self-service.
Unscrupulous forecourt attendants may try and direct you to the wrong pump and sometimes when you are parked at the self-service pump they will try and serve you. The difference in price is usually €0.15 more on what is already some of the most expensive fuel in Europe, so it's worth parking in the right place and filling the tank yourself.
Recommended Reading
Do you want to wild camp in your motorhome? Are you feeling a bit nervous about wild camping for the first time? Then read on for all our top tips and practical advice about how to wild camp in a motorhome and get off the beaten track like an expert!
Are you desperate for some Italian culture but don't want to fly? With great routes across Europe, a road trip from UK to Italy is easy, leaving you arriving refreshed and unstressed, ready to enjoy la dolce vita from the comfort of your own vehicle.
Motorhome Services in Italy
Motorhome services are generally widely available in the north of the country, especially along the coasts and around popular cities. Some garages and supermarkets will have fresh water and a place for grey water.
You'll often see the typical pictogram sign by the side of the road pointing you to a service point, this may be a dedicated area, within a sosta, campsite or another facility.
The types of Flot Blu built-in services you find in France are few and far between. Use an app like Park4Night to locate motorhome and campervan services.
In the south of the country, you may need to stop at a campsite to be able to manage your waste. Many will let you pay a nominal fee for waste and water, although fresh water is usually available at garages.
LP& & Bottled Gas
LPG (called GPL in most European countries) for refillable motorhome gas systems is available in many garages – use the myLPG app to search near where you are.
Some Italian garages are reluctant to let you use refillable bottles which you remove from your motorhome, such as Safefill bottles.
We think this may be because the forecourt attendants don't understand what Safefill is (about ten years ago the rules were changed across the EU after someone, unfortunately, caused an explosion in a garage after over-filling a non-refillable bottle).
Gas bottles are also widely available, with butane generally being the more popular power source because of the climate – butane is more suited to milder weather conditions but propane is better for cold weather as it burns at lower temperatures.
For Italian gas bottles, you will need a different regulator, available from most DIY or camping shops.
Motorhome Stops in Italy
Italian Sostas
Motorhome aires in Italy (called aree di sosta) do not always have motorhome service facilities to empty your toilet cassette and many do not have access to potable water. Lots of Italian motorhome aires will charge extra for a hot shower, where one is available.
You will often pay the same rate at a sosta as a good campsite, upwards of €25 per night (out of season) so make sure you check what you're getting for the price before committing.
Use Park4Night to find motorhome sostas and other free camping places in Italy. Make sure to check the date of the last reviews, we found some had disappeared when we arrived.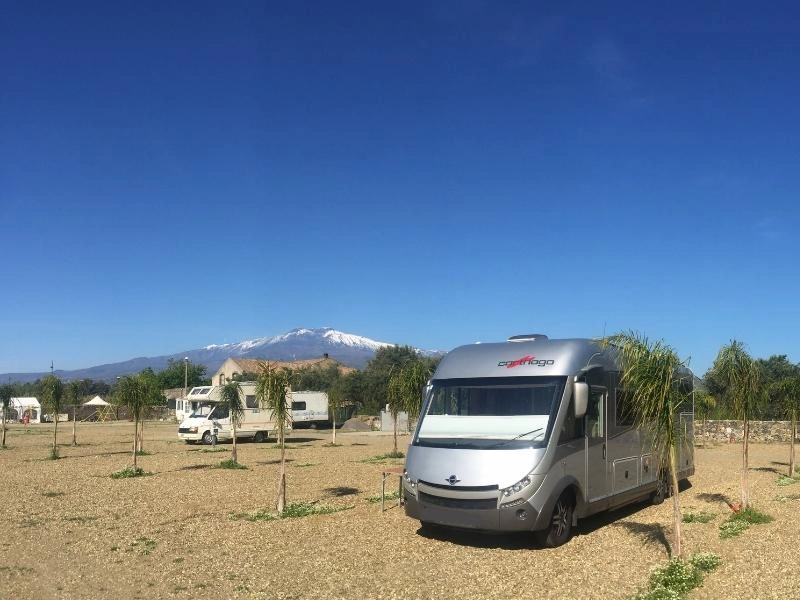 Wild Camping in Italy for Motorhomes
Motorhome wild camping in Italy is very possible albeit with a few restrictions;
not within 1km of a built-up area
only with permission of the landowner
not within 50 meters of national routes
not within 150m of where drinking water is extracted
not within 100m of historic or artistic buildings.
You are allowed to sleep in rest places on the autostrade, but that would be a security risk and we would definitely not advise this.
We were in the country (including Sicily) for around ten weeks and were able to wild camp in our motorhome trouble-free for around 80% of the time. We found Park4Night to have the best spots for free camping in Italy.
If you are in Sicily and southern Italy in summer and motorhome wild camping, you may be asked to pay a 'protection fee'. This is not unusual and our advice would be to cough up, it won't be much but could save you a lot of hassle, so not really motorhome free parking after all!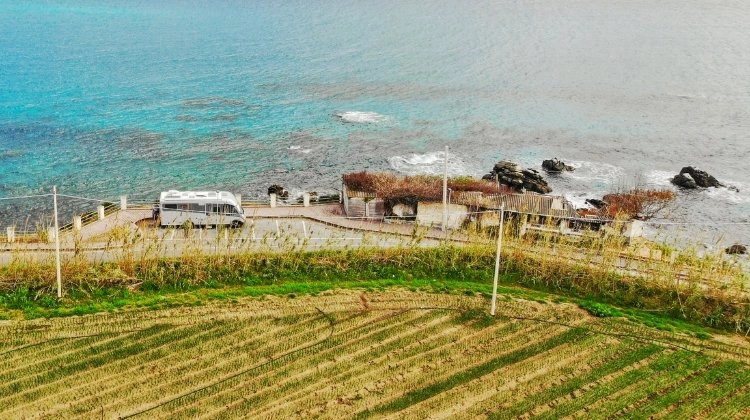 In Camper Con Gusto
In Camper Con Gusto operates in the foodie regions of northern Italy. Buy the card and gain access to farms, vineyards and producers, as well as a couple of well-placed camper stops.
Agricamper Italia
Similar to the France Passion scheme, Agricamper Italia offers stopovers for motorhomes and campervans in rural areas including vineyards, farms and even the odd dairy!
You pay for annual membership which gives unlimited access to over 170 stops, plus an app and membership area online.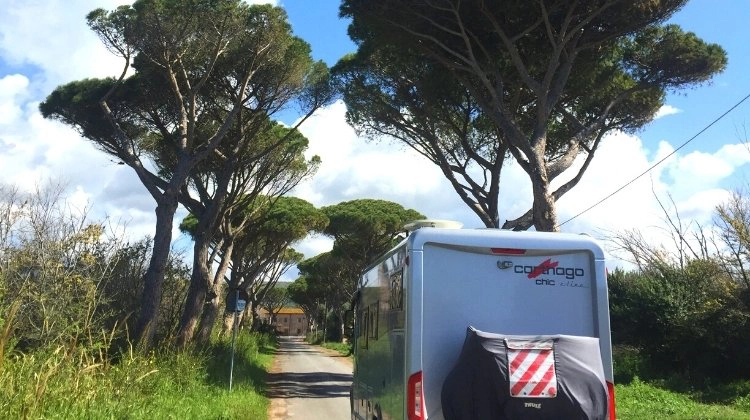 Italian Campsites
Campsites in Italy for motorhomes are expensive. With CampingCard ACSI you can save over 60% at campsites out of season, a must for motorhoming in Italy.
Don't expect the same level of facilities and sophistication that you might find at campsites in France or Spain in the south of the country. The electricity is often poor, with most offering a paltry 4 or 6 amps and no option to pay for more.
Many Italian campsites will expect you to pay separately for a shower and provide you with a token. This is true even on ACSI sites, although the token is provided for free.
Make sure you know how to operate the shower to get the most out of your three minutes (five if you're lucky) of hot water. It sounds obvious, but I've been drenched fully clothed, stood under ice water and been left with a head covered in shampoo because I failed to find out how the showers worked!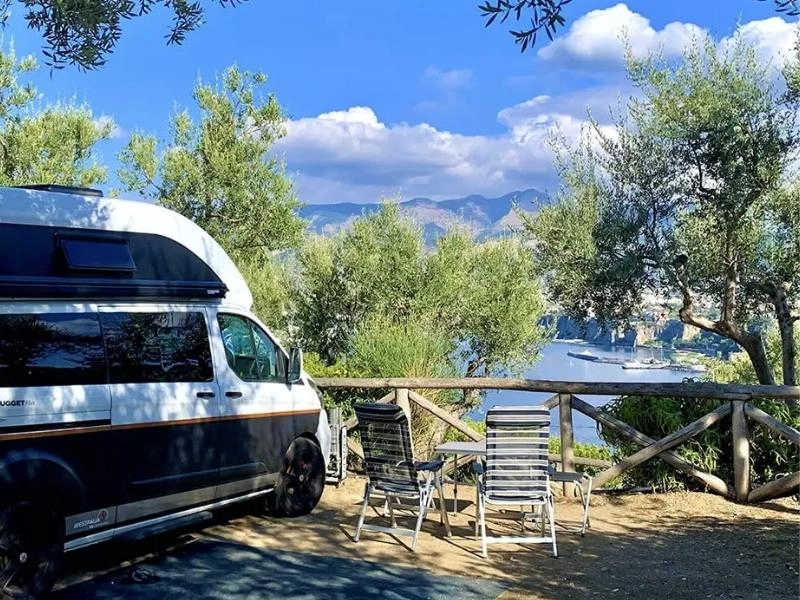 Italian Life
Italian culture is steeped in the arts, architecture, music and food; tradition, extended family and pride play a strong part in Italian life today.
Italy observes the siesta, sometimes called the riposo in northern Italy and pennichella or pisolino in southern Italy. Many museums, churches and shops close from 1:30 pm to 4:00 pm so that proprietors can go home for lunch and sometimes a nap during the day's hottest hours. In the bigger tourist towns and cities you will find some establishments open but siesta is taken very seriously so don't be surprised when the biggest attraction in town is closed. In smaller towns and villages you don't have a hope; if you're planning on nipping out from your motorhome for a pint of Italian milk, think again.
The same applies to Sundays and the many public holidays celebrated in Italy; eleven in 2019. Check here for dates and book in advance if you're planning on staying on a site or you may find yourself parked in your motorhome on the road outside overnight!
If you are planning to visit places of worship (this is Italy after all!) you must cover your torso and upper arms. Shorts and skirts must reach below the knee or you will be denied entry and considered disrespectful.
In some places, noticeably the far south and Sicily, you will see a lot of rubbish. Some of this is to do with infrastructure and lack of proper services coupled with self-perpetuation that leads to acceptance.
There are only a few big supermarkets in the south of Italy. Shops are small and generally have limited choices. They usually do not stock fresh fruit or vegetables, these are bought from a cart by the side of the road, you will find fresh, local and seasonal produce in abundance.
Cash is king and many places will not have facilities for card payments. Cash machines are few and far between so stock up on cash before you head south on your motorhome tour of Italy.
Motorhoming Travel Books Italy
Top Italian Motorhome Destinations
Rome
We're not massive city people, but how could we come to Italy by motorhome and not visit Rome for the first time? We couldn't! This beautiful city blew us away – we spent 36 fabulous hours in Rome and loved every minute of it!
We stayed outside the city on an ACSI site, Camping Village Flaminio, notable for the classical music played in the sanitaries!
We travelled in by scooter but you could easily use public transport; buses into the centre stop right outside and take about 30 minutes to get you to the main attractions.
RELATED POST: Rome in a Day – Itinerary, Map, Tips & Guide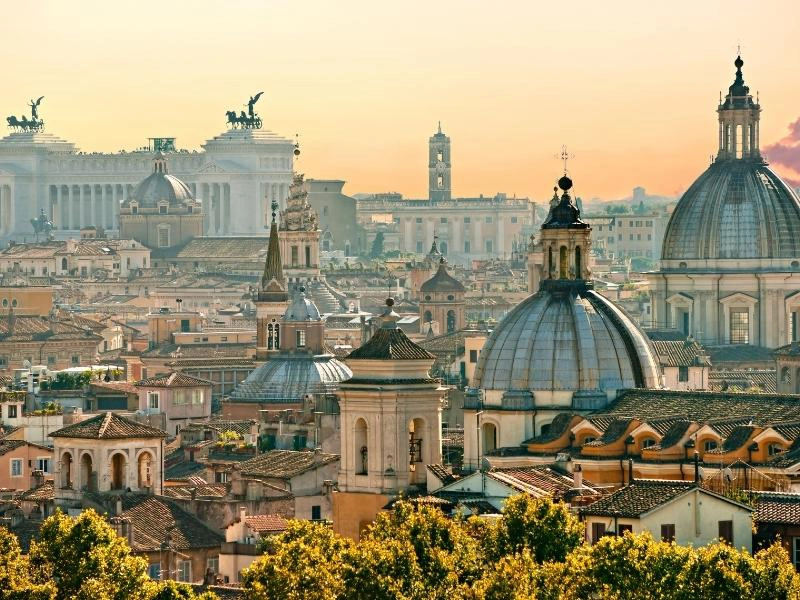 Monte Cassino
Next on our agenda were the abbey and war graves at Monte Cassino. This stunning abbey was everything I had imagined and more.
We parked our motorhome in the car park the night before, with the permission of the security guard, and woke to the most incredible views of the surrounding mountains. With so much of our former lives tied up with the military, this was a moving and emotional day.
RELATED POST: How to Visit Monte Cassino Abbey & War Graves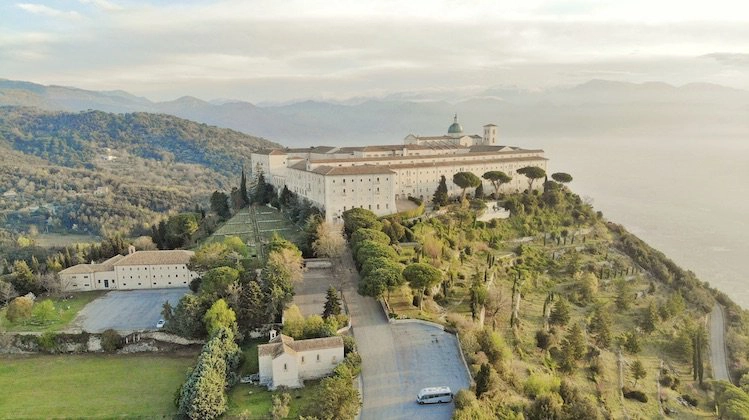 Naples, Vesuvius & Pompeii
Our camper van route of Italy took us south down the A3/E45, a reasonably motorhome-friendly autostrada costing around €6 in tolls for the 100km we drove.
Vesuvius and Pompeii were our next stops. We were on a mission to get to Sicily and thought we could do both in a day… depending on how you like to visit places, it is entirely possible.
Perhaps check your sat nav on this leg of the journey. Naples is legendary in motorhome circles to be avoided, we knew this but because we didn't check the route, we ended up driving through the middle of Naples docks and city for several very stressful hours, which I never want to repeat!
There is actually a very convenient motorway exit for Vesuvius, for some reason, our sat nav took us to the most inconvenient exit possible, and you can find details of how to see Vesuvius and Pompeii in one day here.
We stayed overnight on the slopes of the volcano overlooking the Bay of Naples, which sort of made up for the hideous drive but not quite!
Having said all that, Naples on foot is a must. Use Park4Night to find somewhere to park which does not involve apoplexy and head into this quintessential southern Italian city.
Naples is glorious once you move past its seedy outskirts and a UNESCO World Heritage Site to boot. Check out Naples in a Day for ideas and inspiration.
We left early the next morning to beat the crowds and traffic and had been to the top of the incredible and awe-inspiring Mount Vesuvius and arrived at Pompeii by lunchtime!
We spent a few hours in Pompeii and wished we had longer to fully understand this beautiful and fascinating place. Consider a tour to get the most from your visit, I wish we had!
RELATED POST: How to Visit Pompeii & Vesuvius in One Day
The Amalfi Coast
From here it was a short hop across to the Amalfi Coast, which you can't drive along in a motorhome or camper van… probably for the best!
Luckily, we carry a scooter in our motorhome which allowed us to follow this incredible road from Sorrento to Salerno.
It is also possible to do the road by coach or mini-bus if you book an excursion (making sure you get seats on the coast side of the bus!) or maybe you're campervanning in Italy, in which case you can take the road (but only if your van is a VW size).
There are a few campsites on the Amalfi Coast where you can take a motorhome. We stayed at Santa Fortunata Village Camping, one of the best motorhome sites in Italy for visiting the Amalfi coast, and best of all, it has a swimming pool!
This post has information about the best time to visit the Amalfi Coast; when you go will make a huge difference to how much traffic you encounter.
RELATED POST: A Bucket List Amalfi Coast Road Trip
Sicily
The next leg of our motorhome trip of Italy took us to Sicily, where we spent five weeks hiking, kite-surfing, ruin hunting, visiting Palermo and being constantly surprised by the sheer beauty of this tiny island, one of our favourite places in Europe.
We could have spent longer but had to be back in the UK for our MOT by late June, so headed east for Puglia.
RELATED POST: Sicily Road Trip – Itinerary, Tips & Map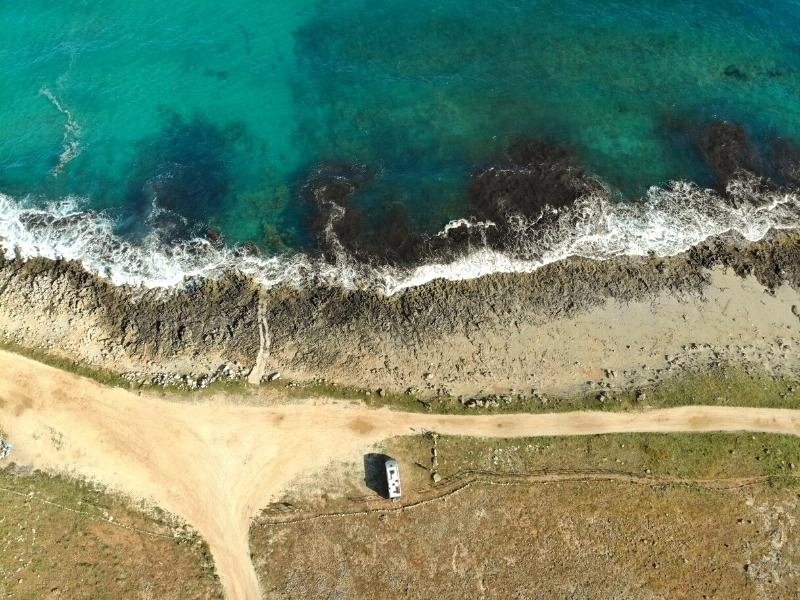 Puglia
Puglia is a beautiful place to spend a week in a motorhome or campervan; rolling countryside and delicious local food, all surrounded by the turquoise Mediterranean and white sandy beaches. It's also high on the list of warm winter destinations in Europe, so well worth visiting if you're in Italy during this time.
RELATED POST: Beautiful Puglia – A Road Trip Itinerary
The Abruzzo Mountains & Scanno
North from Puglia we headed for the Abruzzo mountains. The weather changed and we experienced our first drops of rain. It rained on and off a bit for most of the day and by the time we arrived in Scanno, it was chucking it down! We parked the motorhome here and headed into the town in search of food.
Scanno is an interesting town with loads of history, particularly photographic, but I think we visited too early in the season and on a Wednesday. We found out later that Wednesdays in Scanno are the equivalent of a half-day back home (a bit of an outdated concept in the United Kingdom!) and so nothing was open.
We spent some time looking for somewhere to eat and ended up in the dodgiest looking pizza place where we had a surprisingly good meal and a bottle of wine …never judge a book and all that!
We spent a pleasant couple of days ambling around and visited the famous heart-shaped lake, which looks better from the air when you can admire the shape!
RELATED POST: Southern Italy: Discover the Best 33 Places To Visit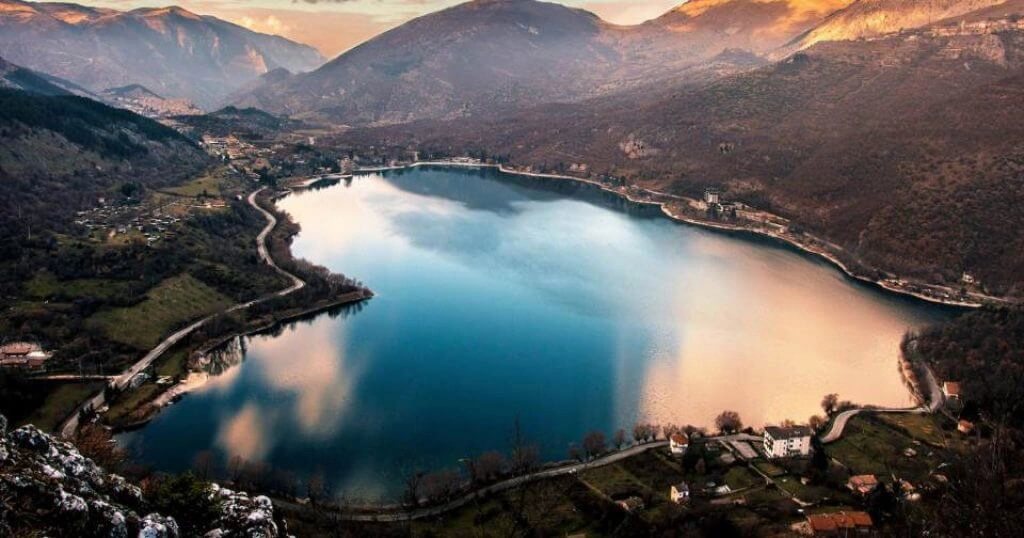 L'Aquila & Assisi
We continued to head north and made a brief stop in L'Aquila, a medieval city surrounded by mountains and stuffed full of Baroque and Renaissance buildings and churches.
Sadly, much of the old city was badly damaged by a 6.3 magnitude earthquake in 2009 and so many of the buildings we wanted to visit were being refurbished.
We headed on to Assisi in Umbria, one of our favourite places on this motorhome tour of Italy. The birth and burial place of St Francis, Assisi is a religious town dominated by the imposing Basilica of St Francis, which dominates the skyline for miles.
The town is full of twisting (and sometimes steep) narrow streets and charming squares lined with cafes and shops. They lead you through the town to the ultimate destination of the dramatic Basilica.
This is a town packed full of atmosphere and interest, where pilgrims cross paths with tourists and there is history in every brick.
We stayed here at the foot of Assisi and walked up, it's quite steep but worth the leg work! Consider booking a small group tour of Assisi so that you can learn about the history and world heritage site status from an expert.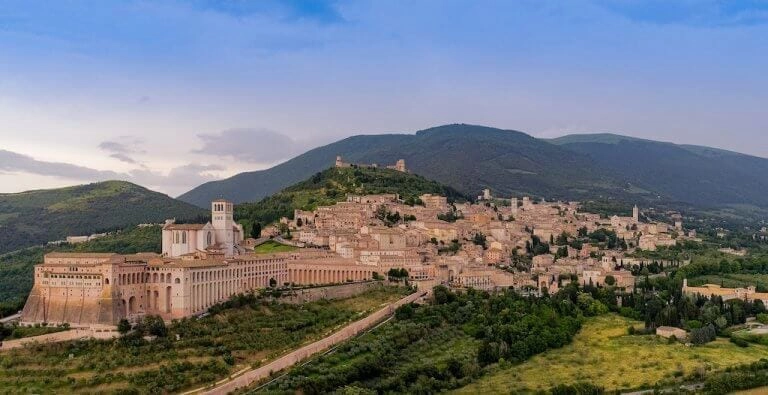 Lake Trasimeno
From Assisi, we headed cross-country through scenery straight out of a film set. We stayed here in Passignano Sul Trasimeno, a pretty lake-side town with lots of bars and restaurants.
The drive was what we had come for; the rolling wheat fields, silver olive groves and vineyards of Umbria and Tuscany.
The road was amazing, dipping and swaying through the fields and around the lake, the perfect Italian motorhome road trip route offering endless photo opportunities of this archetypal landscape.
As you can probably guess, we loved motorhoming in Tuscany!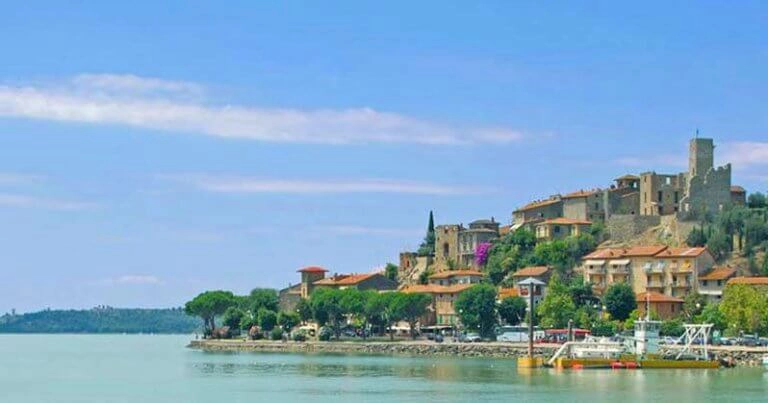 Montepulciano
We arrived at our next stop, Montepulciano, more than ready for a glass of, oh let me guess, something local and red maybe?
This medieval and Renaissance hill town is famous for its' wine of the same name and we had long wanted to visit. We stayed at this free camping spot here but do check your sat nav route carefully as the shortest way is most definitely not the easiest. This is one hill town you do not want to get entangled with!
From the camping car park, it's a short walk into the charming town, where you will most defiantly find good food and wine. Renowned for pork, cheese, pasta, lentils and honey, we ate an amazing wild boar lentil stew followed by local cheese and honey; if you've never tried these two together they are a match made in heaven!
Try a vineyard tour with lunch and learn about the making of this very drinkable local wine followed by more delicious local food.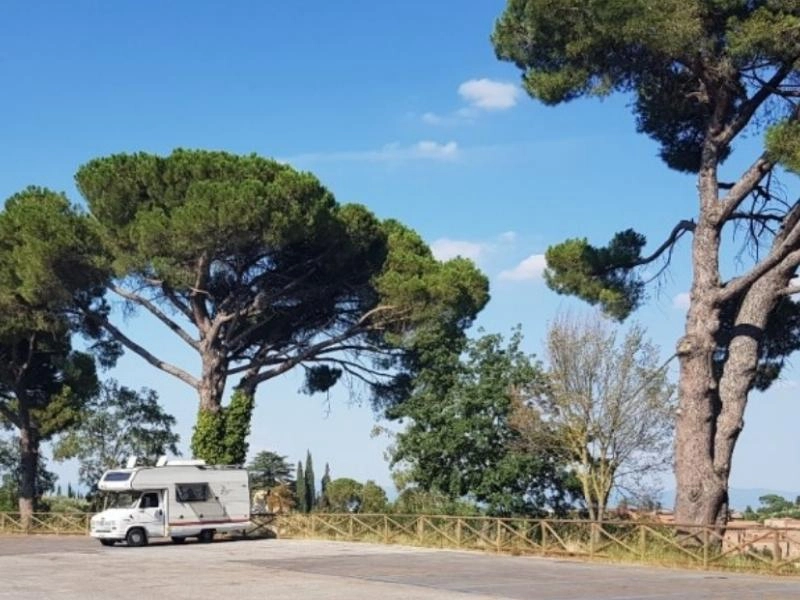 Siena
From here, we headed west to Siena for lunch. We parked the motorhome here and took a 15 minute walk into the centre.
We enjoyed a leisurely lunch at a small restaurant just off the main shopping street and sampled ribollita, a Tuscan stew with bread in it, which was surprisingly delicious.
We spent the rest of the afternoon wandering and admiring the architecture and amazing array of ornate wooden doors, of which there are hundreds!
The central square of Piazza del Campo has to be one of the most beautiful squares in Europe, the symmetry and architecture are breathtaking.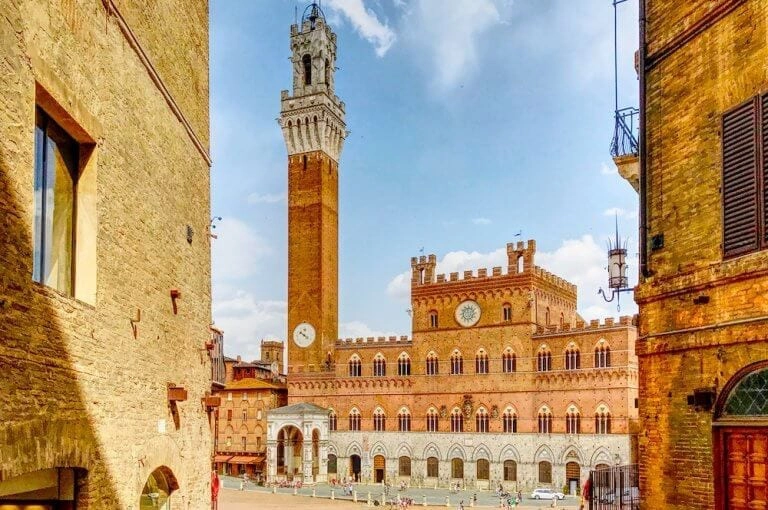 Florence
From here we headed on to Florence where we would be staying for a couple of days. Options for motorhomes are limited and expensive.
We stayed at this paying sosta and took our scooter into the city, although a bus also runs literally from the front gate. It's not the best place we've stayed but it felt safe and provided services.
Florence is one of the most beautiful cities in Europe, but incredibly busy and very 'touristic', as our European friends would say.
Make sure you book the major attractions weeks in advance and spend time wandering and enjoying the ambience. If you skipped it on your way down the coast, now is a great time to take a day trip to Cinque Terre or Pisa, the leaning tower has to be seen to be believed!
RELATED POST: One Day in Florence – Itinerary, Map, Tips & Guide
Portofino
We loved Portofino, hang out of the rich and famous; we mooched around the town and ate parma ham and pecorino cheese by the harbour, over a great bottle of wine. You can't actually take a motorhome to Portofino, there is a large and prominent sign on the only road there, forbidding it.
We parked here and took the scooter in, but you can also get a bus every ten minutes or so. It's quite noisy for sleeping and not very pretty but it did for a night! You could also park in Rapallo, the next nearest town to Portofino.
Just a few hours south are the stunning Cinque Terre, which can be reached by train from La Spezia.
This two day itinerary in the Cinque Terre is ideal and will help you decide whether to stay in Cinque Terre or squeeze the whole lot in on one day!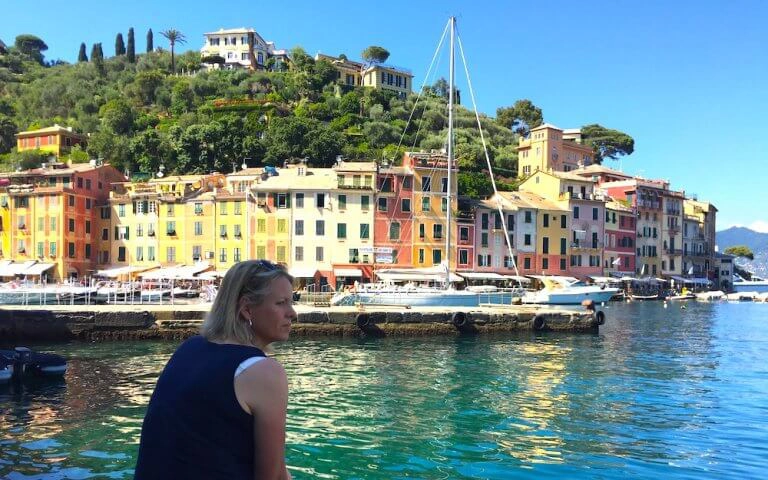 Bologna & Emilia-Romagna
We headed across the Po Valley to Bologna, making a quick stop in Modena to see balsamic vinegar being made at Acetaia di Gorgio, highly recommended although be prepared to take a deep breath when they tell you how much a bottle costs!
We also visited the Enzo Ferrari Museum in Modena, which was superb. Check out their website for special events which are held regularly.
We stayed here in Bologna, again not pretty but secure. Be very careful where you stay when touring Italy by motorhome, especially in the Po Valley, as there are a lot of motorhome thefts in this area.
Bologna is simply amazing, a beautiful city which perfectly showcases some of the best food in Italy. We loved it so much we put together a self-guided foodie walking tour of the city. We cooked the hand-made fresh pasta we bought in Bologna in our motorhome that evening and ate it with a selection of incredible Italian cheeses – bliss!
Whilst in the region, you might also want to visit the Il Salone del Camper, Italy's biggest caravan and motorhome show, held in September every year in Parma.
RELATED POST: FREE Self-Guided Bologna Food Tour
Verona & Venice
From here, it's a short stop to either Verona or Venice. The former is a beautiful city famous for its' Romeo and Juliet balcony. The old town has been designated a UNESCO World Heritage Site, and as well as wandering the small streets here you can find lots of other amazing things to do in Verona, the perfect stop before you hit the mountains.
The latter, Venice, is the perfect place to get lost in for two days if you have the time! One of the most famous cities in the world, you will need to park or camp outside and head in on public transport.
Go in February for the once-in-a-lifetime experience of the Venice Carnival – it will be super busy but seeing this incredible spectacle is absolutely worth it.
RELATED POST: One Day in Venice – Itinerary, Map, Tips & Guide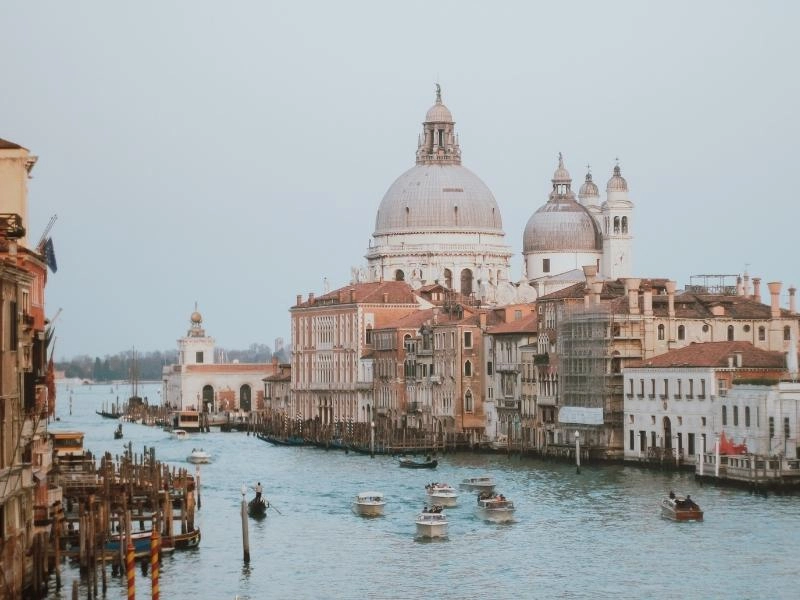 Bormio & the Stelvio Pass
We skirted around Lake Garda and vowed to come back – motorhome touring the Italian Lakes is high on our next trip to Italy.
By this time I was dying for a bath, so we decided to treat ourselves and head for a spa hotel where we could soak in some thermal waters for a few hours and celebrate our last night of touring Italy by motorhome.
If you have an extra few days, take a detour for some hiking in the Dolomites. These monumental and dramatic Italian mountains are actually part of the Alps but have their own distinct character and vibe. If you like hiking, you'll love the Dolomites!
We continued north to Bormio and the Hotel Bagni Vecchi. A number of blissful hours later and feeling like prunes, we emerged from the spa well-rested and ready for our onward journey into the Alps, Switzerland and then France.
We woke to blue skies and a clear forecast… great news as we would be driving our motorhome over the Stelvio pass from Italy into Switzerland.
How to describe the Stelvio pass? It's surely one of the best driving roads in Europe; this road is simply breathtaking and the fulfilment of a long-held dream. It was cold at the top (there was still snow in early June) so we stopped for a coffee on the other side to admire the road, zig-zagging down the mountain like a silver ribbon.
We crested another two passes on our route to Zurich and stopped by a lake in Davos for lunch to celebrate our epic, incredible and unforgettable tour of Italy by motorhome!
RELATED POST: Driving in the Alps: Top Tips & Best Routes
Can't Decide? Our ready-made Italy road trip itineraries are here to help…
Resources for Motorhome Travel in Italy
Are you looking for more motorhome touring guides? Check out these top posts…
New Zealand is an absolute dream for campervan enthusiasts. The breathtaking landscapes, diverse wildlife, and incredibly friendly locals make it the perfect destination for your next campervan adventure. We'll will provide you with all the tips, tricks and insider knowledge to make your vanlife experience in New Zealand truly unforgettable. So, buckle up and get ready for an adventure of a lifetime!
Love it? Pin it!