Palermo is a deliciously intense city, full of dazzling cathedrals and grand parks, chaotic marketplaces, and endless cups of espresso. The Palermo tourism experience is bold and intense – even to visit Palermo in 36 hours will leave you with plenty of impressions and memories.  
There are affiliate links in this post. This means if you click on a link and make a purchase, we will, at no cost to you, earn a fee.
You could spend a month in Palermo eating Brioche con Gelato for breakfast and drinking cold beers in the Piazza della Kalsa by night, with a little culture sandwiched in between.  But if you don't have a month and are just passing through, as we were while exploring Italy by motorcycle, a mere day and a half will do to get a good taste.
Borgo Vecchio is a central area in the city of Palermo, conveniently close to the things you want to do and with a lively – but not too loud – street life. To get a sense of grand Palermo, book hotels or apartments with style and character. 
We stayed at the Beautiful Life – which was cheap and idiosyncratic with unbelievably high and elaborately painted ceilings, but a bathroom (exclusive for us) down the hall. Next time we'll stay in this apartment with friends – it's a Liberty-Style apartment (that's Italian Art Nouveau).
The Best Places to Visit in Palermo
Espresso and Cannolo at Spinnato
It's a busy afternoon ahead. Moreover, there are so many delicious things to eat in Palermo you need to get started right away so you don't miss anything. One of the most popular cafes in Palermo, located on a cheerful pedestrian street, is the historic Caffe Spinnato – open since 1860. You can enjoy a cannolo (that's a cannoli but in the singular) and a coffee at a table inside or out, but it's cheaper and more fun to have it standing. For self-service, you order from the cashier and pay and then give your ticket to the guys behind the counter.
One of the most famous intersections of Europe, the Quattro Canti is also one of the first examples of grand city planning in Europe, built at the beginning of the 17th century. This Baroque plaza – officially called Piazza Vigliena, is where the Palermo streets of Via Maqueda and Corso Vittorio Emanuele intersect. It has eight sides – four are the streets, and the other four are the magnificent curved Baroque facades with fountains embracing the plaza. Each facade, although nearly identical, depicts different themes – the four seasons, four kings of Sicily, and four patronesses. This is a must-photograph spot and a very lively introduction to the grandeur of the city. 
Don't worry about the tight schedule as you explore Palermo – the Quattro Canti and the next two stops are very close to one another.
Two of the Most Fantastic Arab-Norman Churches of Palermo
Arab-Norman architecture is like nothing you have ever seen – or rather it's like many things you've seen, but all mashed together in an overload of stylistic impressions. Sicily was under the rule of the Arab Emirate of Sicily from the early 9th century through 1061. You'll taste the Arab and North African influence in the cuisine (more on that later). More vividly, you'll see it in many churches that are UNESCO World Heritage Sites throughout old Palermo. When the Normans came, they had churches and palaces built in a style that drew on Western, Islamic, and Byzantine styles, and skilled Arab craftsmen contributed the intricate geometric patterns, muqarnas ceilings, and other distinctive details. Seeing them in the same space as glittering Byzantine mosaics is astonishing.
Two distinctly different Arab-Norman churches are right next to each other. When you buy your ticket, you can pay one price or a slightly higher price – the slightly higher price though gains you a greatly discounted entry to other churches, including the other one of this pair.
San Giovanni degli Eremiti
Originally of the 6th century but reconstructed in the 12th century, this glorious church is topped with distinctively Arab-looking domes. The dramatic interior of raw stone has a wonderful sense of space, while elaborate floors display motifs of Islamic origin.
Santa Maria dell'Ammiraglio (Saint Mary of the Admiral)
Also more popularly called La Martorana, this 12th century church combines Islamic architecture details such as elaborate niches and geometric motifs with stunning Byzantine-style mosaics.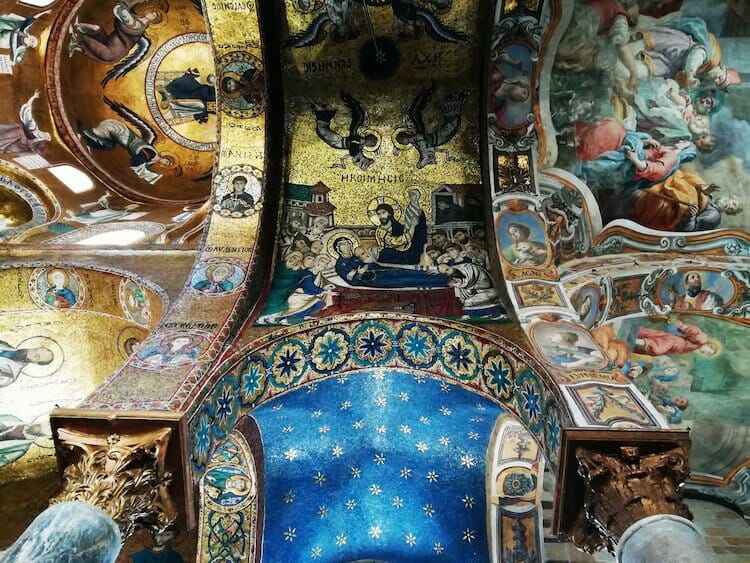 The 16th century Praetorian Fountain depicts the twelve Gods of Olympus, plus the animals and the rivers of Palermo. It's gigantic, fabulous, and even sometimes a little scary. The fountain was once in the garden of a nobleman in Florence, but he fell on hard times and sold it to the city of Palermo. Its reception over the centuries has been mixed: on account of the nudity, the square is sometimes called Piazza della Vergogna – the Square of Shame.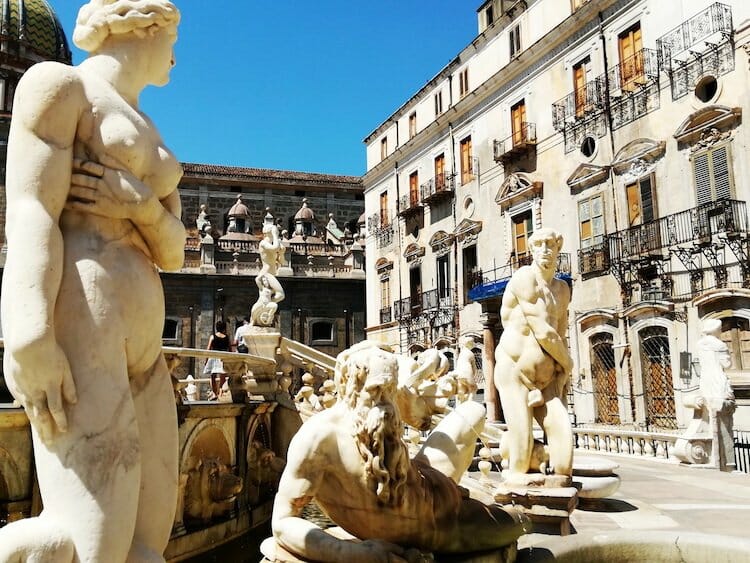 A Quick Snack of Arancini
The lively Via Maqueda is perfect for an evening passagiato and little tacky souvenir shopping (yes to postcards shaped like Sicily!). One of the most approachable of Palermo's street food classics is the "Arancini". These deep fried balls of rice coated in breadcrumbs and stuffed with a number of fillings so resemble the orange for which they're named. At Ke Palle, you can try a great variety.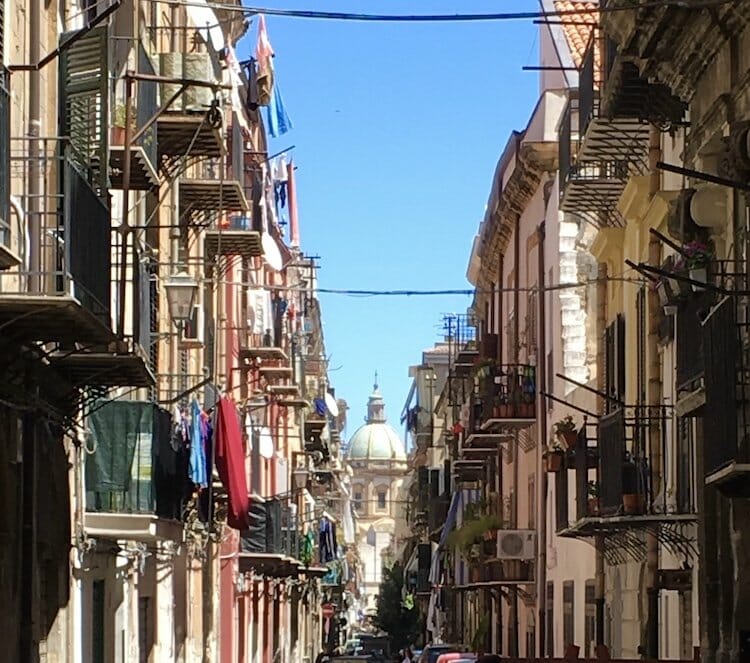 The Palermo Wine Bar Experience at La Nicchia Enoteca
There are any number of wine bars that will do for an evening glass of cool rose. This chic wine bar is a popular choice. Get in a little glamour before eating, because it's street food for dinner tonight
Try Palermo's Famous Street Food
Pani ca Meusa is an extremely popular authentic taste of Palermo. We won't mince words – it's a spleen sandwich. Fans of nose-to-tail dining will love these tender thin slices of spleen and lung in a savoury sauce on a bun. For everyone else, there's panini, pizza, and other fast food classics at this popular Palermo fast food place. Line up in the bright neon light, get your snacks, and join the crowds of happy locals standing up around barrels in the street. Don't overdo it though because dessert is essential.
There's no shortage of things to do in Palermo at night, but getting gelato after dinner is obligatory! Right down the street is a fantastic old-school gelato place with '80s decor, tables in the street, and lots of grandmas and babies and kids on dates. The selection of flavours includes all the classics such as cassata Siciliana stuffed with candied fruits. If you skipped dinner, get a Brioche con Gelato e Crema – an enormous stuffed soft sweet brioche with your choice of gelato – we saw locals often opt for pistachio.
Antica Gelateria Fratelli Navanzino, Corso Camillo Finocchiaro Aprile
We liked Cafe Spinnato so much we went back, this time for caffe latte and a cornetto –  this is a flaky croissant or sfogliatelle filled with pastry cream, chocolate hazelnut creme or, since we're in Sicily, pistachio. But any corner cafe will do just fine.
Join the Locals at a Public Market
Palace of the Normans and Cappella Palatina
One of the top things to do in Palermo, this spectacular palazzo was home to the Kings of Sicily throughout the rule of the Normans and for rulers thereafter. This magnificent complex comprises both the palace rooms with fantastic frescos of mythology and other scenes, such as an Asian room. But the highlight is the Palatine Chapel, considered the finest of the Arab-Norman chapels, with stunning Byzantine mosaics and rich Arab-inspired details in the inlaid stone floor and the Muqarnas ceiling. Take plenty of time here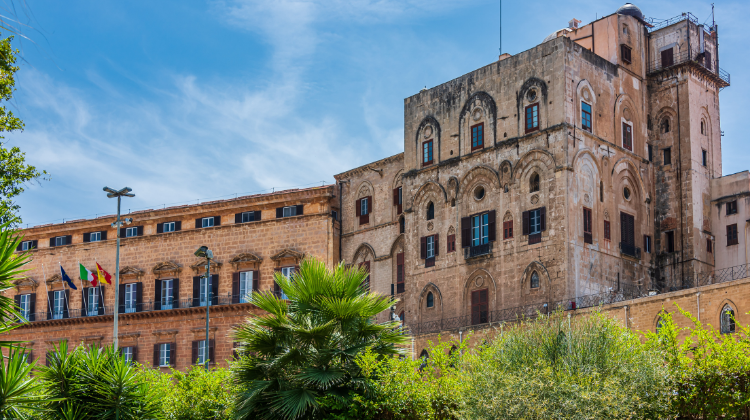 Lunch in a Neighbourhood Trattoria
Lunch is a serious meal in the Mediterranean. Join the locals at a neighbourhood trattoria. This one was recommended by the owner of our guesthouse and in fact we did see him here – the best restaurants in Palermo tend to be the ones the locals flock to. Note the menu has 'primi' and 'secondi' – by all means follow the local custom and order two courses, no one's in a hurry here. Antipasti is a classic first course – a selection of vibrant tastes including the Sicilian classic 'caponata', For a main course, you could have either a meat dish, fish, or pasta. Pasta con le sarde is a local specialty, sauced with sardines, saffron, and fennel.
Basically whatever architectural style you like – Norman, Moorish, Gothic, Baroque – you'll get it here, in the sacred yet sumptuous beauty. Look for the Meridiana – a bronze line running north to south in the cathedral's floor. There's a small hole in one of the domes, so the sun crosses the meridian at solar noon at different spots along the line according to the time of year. The ends of the Meridiana mark the summer and winter solstices, while marble inlays along the meridian represent the signs of the zodiac throughout the year.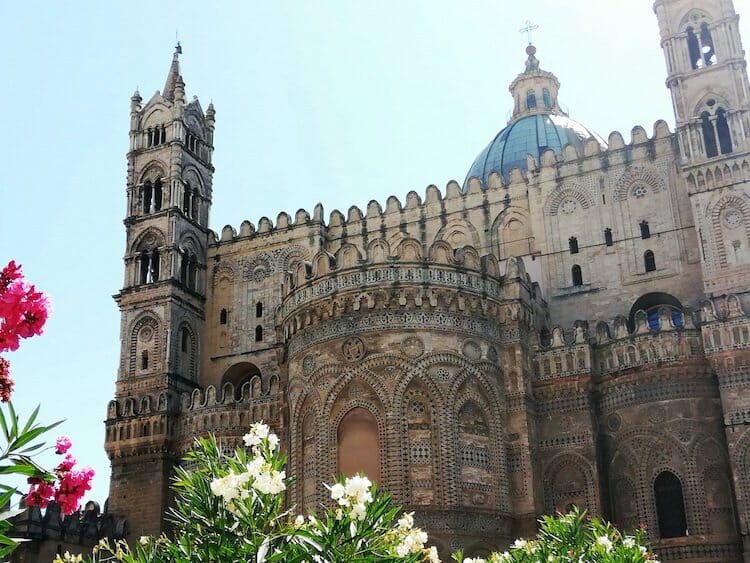 Massimo indeed – when it opened in 1897, the Massimo Theatre was the largest opera house in Italy, and the third largest in Europe, surpassed only by the opera houses of Paris and Vienna. Cinephiles know it as the grand staircase is where the 'Godfather' trilogy reaches its climax. Note the gorgeous Stile Liberty kiosks outside.
Dinner Under the Stars with Locals
For your last evening in Palermo, you could start by refuelling with an espresso (but not a latte or a cappuccino – it confuses everyone if you order anything with milk after 11:00 am). Then perhaps explore one of the other marketplaces you didn't have time for in the morning.
Near the Piazza della Kalsa and by the old city walls, there are two food stands outdoors. One is a place for grilled meats and sausages, and the other has seafood. Locals sit at plastic tables under a string of lights late into the night, ordering snacks and beers in this lovely spot – one of the best places to enjoy a warm Palermo night.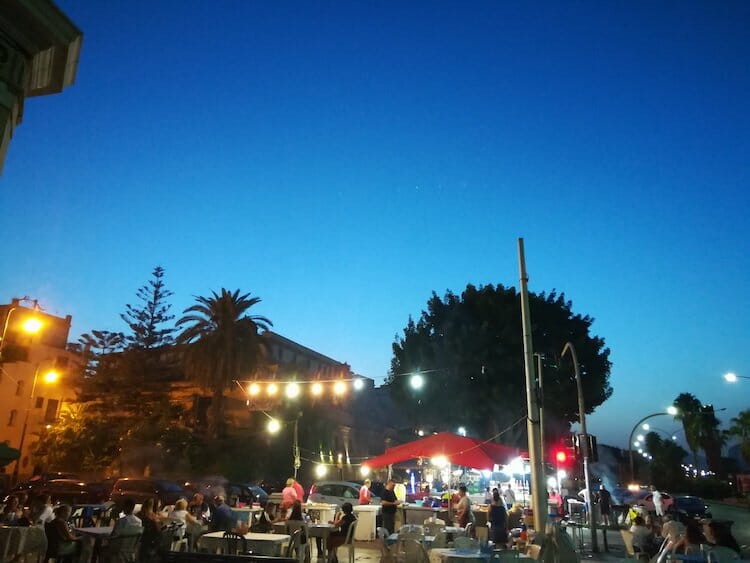 Do you have just a bit longer in Palermo?
If you can stretch to 48 hours in Palermo or have another day to spare, add these must see places to your itinerary;
The Capuchin Catacombs – a 20 minute walk from the old town will take you to this extraordinary Palermo site, a burial place where over 8,000 mummified corpses provide a detailed historical record and a somewhat macabre attraction.
If you're visiting between May and September and want to slow the pace, head for the sandy stretch of Mondello Beach, one of best Palermo beaches and just a 15 minute drive away.
Why not take a day trip from Palermo? These day trips will take you to the best places to visit in Sicily, including the mighty live volcano of Mount Etna and the historical sites of Taormina, the Temple of Segesta and the Valley of the Temples in Agrigento. 
Top Five Tips for Visiting Palermo
Don't waste your time on any food that isn't thrilling and fabulous – there are too many things to try as it is.
Be safe – like any city there can be pickpockets and other petty crime. Maybe just a little more here. Also petty scams.
A little Italian goes a long way – people don't speak as much English here as in some other European cities, and the effort gets you a smile.
This is an elegant city – dress for cathedrals, but with shoes for keeping your footing on slippery cobblestones in the marketplace.
Don't rush anything – enjoy the ultra-Mediterranean pace. If you miss one sight there will be a dozen others to take its place en route.
LOOKING FOR MORE CITY GUIDES? CHECK OUT THESE TOP POSTS