This post may contain affiliate links, from which we earn an income.
Visiting Mount Vesuvius & Pompeii in a Day
You cannot pass through central Italy on a road trip without making the detour to Naples to visit Mount Vesuvius and Pompeii. Both are iconic Italian landmarks and share a remarkable, if devastating history.
If you are wondering whether you can visit Pompeii and Vesuvius in one day, then you will be delighted to know it is possible, and even easy if you follow our guidance and tips.
In our guide, we'll share information about visiting both sites, how to get there and move between them, where to park and lots of other travel tips for Vesuvius and Pompeii.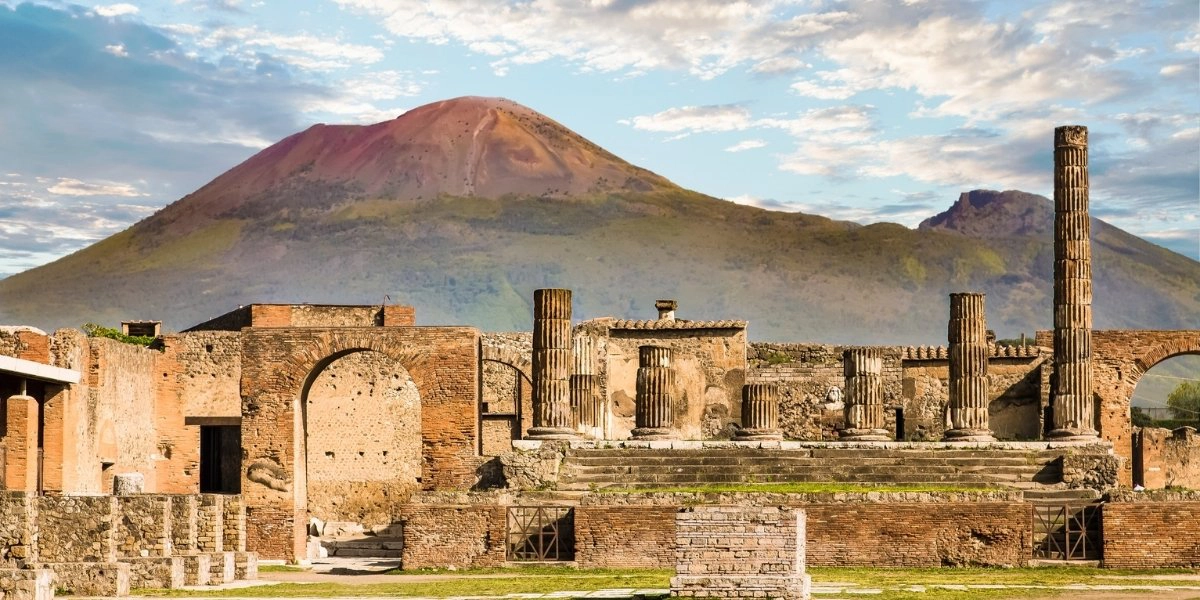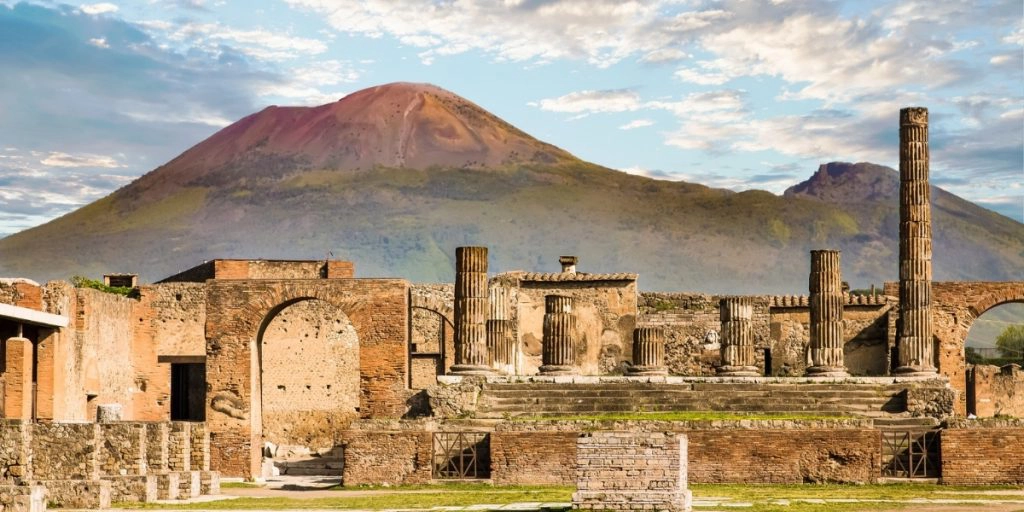 Pompeii & Vesuvius Facts
Mount Vesuvius Facts
Vesuvius in 2013 was 1281 meters tall. After each eruption, the size of the cone changes.
The volcano also has a semicircular ridge called Mount Somma that rises to 1132 m. The valley between the cone and Mount Somma is called Valle del Gigante or Giant's Valley.
Mount Vesuvius is considered to be one of the most dangerous volcanoes in the world because of its proximity to the city of Naples and the surrounding towns on the nearby slopes.
It is one of three, yes three, live volcanoes in Italy, the other two being Mount Etna in Sicily and Stromboli, which is one of the Aeolian Islands.
Pompeii Facts
Mount Vesuvius destroyed the city of Pompeii, a city south of Rome, in AD79 in about 25 hours. Because Pompeii was buried so quickly by volcanic ash, the site is a well-preserved snapshot of life in a Roman city.
It is believed that around 30,000 people died from the eruption of Vesuvius in AD79. There were 2,000 survivors.
Is this your first time visiting Italy? Get all the information you need in our Italy Travel Guide, including what to pack, the best time of year to go, getting there and practical tips to help you have the best trip!
Getting to Vesuvius and Pompeii
Directions to Mount Vesuvius National Park
If you plan to visit Vesivius by car, the best way to approach is via the A3 Napoli-Salerno motorway and exit at Torre del Greco or Ercolano. For parking at the top, the co-ordinates are N40°49'42" / E14°25'36". However, the only way you will get a parking spot here is to arrive well before 9am when the ticket office, 1km down the hill opens. Otherwise, you'll have to find parking at the foot of Vesuvius, where many private parking lots also offer a round trip shuttle service to the trail head.
If you are coming to Mount Vesuvius by car from north of Naples, your sat nav may try and take you through the city as it's about 2 seconds quicker…do not do this, it will be stressful and take much, much longer due to the appalling traffic conditions and roads.
If you're using public transport, get a train to the Circumvesuviana Pompei Villa dei Misteri station from Naples or Sorrento and take the shuttle bus from Pompeii to Vesuvius, where you will be dropped at the ticket office.
Directions to Pompeii
If you're visiting Pompeii by car, take the A3 Napoli-Salerno motorway and exit at the Pompei Ovest exit. The Pompeii Archaeological Park is clearly signposted from here.
All the roads mentioned here are suitable for cars, campervans and large motorhomes. As always, be mindful of pot holes and abilities of other drivers!
Where to Stay & Park
Hotels & Parking at Mount Vesuvius
The closest hotel to the ticket office and summit is Parco Vesevus. This 4* hotel has fabulous views of the Bay of Naples towards Sorrento and the Amalfi Coast, just 20 miles south. Stay here and continue the drive up the very bendy road to the car park from where you can start the hike to the summit the following morning.
If you're touring Italy in a motorhome or campervan, it is possible to stay overnight at various places on the road up to the summit. Stay here and you'll enjoy a quiet night.
If you are in a large motorhome, we would strongly suggest visiting Vesuvius first as you will be able to park without a problem. This means being there at 9am sharp. The parking for motorhomes at Pompeii is larger with many more spaces.
Hotels & Parking at Pompeii
Park your car or campervan at Camping Zeus, literally a 5 minute walk from the entrance to the Pompeii archaeological site. The cost is €5/€8 per hour for parking a car or motorhome (on a campsite pitch) respectively. The parking receives good reviews online, the entrance is manned and the parking area is very secure. It is a 500m walk to the Porta Marina entrance of Pompeii from here.
You can also stay the night at Camping Zeus if your preference is to visit Pompeii first. The cost for an overnight stay in a campervan or motorhome with EHU is around €20 in low season. This also includes a free pass for the ZTL (low emissions) in Pompeii for motorhomes over 7m. You can pitch a tent here too for around €15 a night.
If you prefer a bricks and mortar hotel for your Pompeii stay, we suggest Hotel Zeus. On the same site as the parking and campsite, this simple hotel offers everything you need for an overnight stay and day trip to Pompeii. It's also on the doorstep of the local Circumvesuviana train station of Pompei Scavi Villa dei Misteri, if you're thinking of using public transport
If all of this seems like too much effort, consider guided tours or day trips from Naples or Sorento.
Things to Know About Visiting Pompeii & Mount Vesuvius
It is entirely possible to see both Mount Vesuvius and Pompeii in a one day trip. The downside to this is that whichever one you visit second will be very busy by the time you get there. You could take a long lunch and visit your second option later in the afternoon but be mindful of closing times and any onward journey arrangements.
If you are using your own transport but can't get to Mount Vesuvius early in the morning, then it makes sense to park near Pompeii and use the shuttle bus to Vesuvius from the train station. 
RELATED POST: Southern Italy: Discover the Best 33 Places To Visit
Mount Vesuvius
Is Mount Vesuvius safe to visit?
Yes. Mount Vesuvius last erupted in 1944. Scientists and Vulcanologists monitor the volcano very closely and know what signs to look for if an eruption was imminent. The hiking trails would be closed if there was any concern for safety and this would be shared via the Mount Vesuvius website.
When is the best time to visit Mount Vesuvius?
You can visit Vesuvius at any time of the year. Check the weather first as there may be snow or high winds; the summit will be closed to visitors if the guides consider the conditions dangerous.
If you want the spectacular views of the Bay of Naples, April to September will be best and early in the day, as often cloud will form around lunchtime.
Be aware that it will be super busy in July and August.
Vesuvius opening hours are:
January, February, November, December: 09:00-15:00
March and October: 09:00-16:00
April, May, June and September: 09:00-17:00
July and August: 09:00-18:00
Mount Vesuvius is closed on 25th December, 1st January, 1st May
What do I need to visit Mount Vesuvius?
Warm clothing; don't make the mistake of going in August and thinking it will be hot. You will be at an altitude of 1300m, expect it to be chilly even when it's hot in Naples.
Decent footwear – sturdy trainers would be suitable.
A camera!
Water; you can buy drinks at the top but the cost is extortionate!
You don't need a walking pole or stick; there are people at the entrance who will try and rent you these for a couple of euro, it will be wasted money.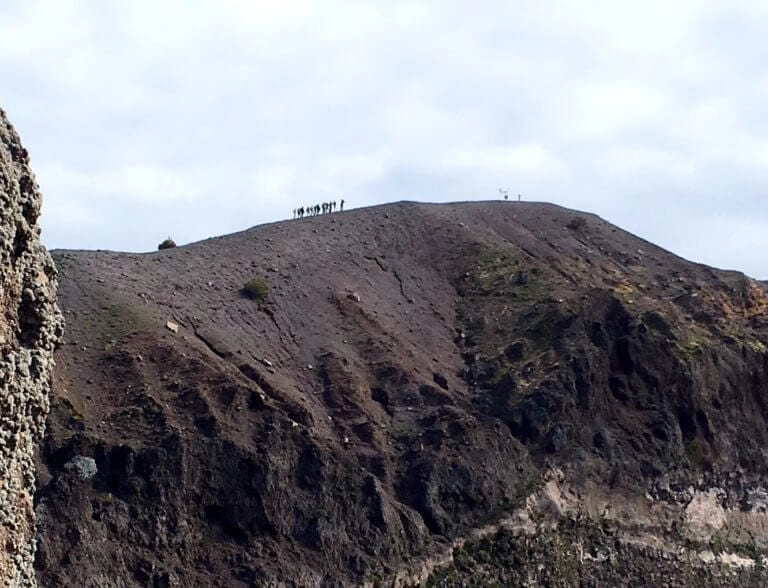 How fit do I need to be to climb Mount Vesuvius?
You need to be mobile and not suffer from any respiratory problems. The Mount Vesuvius hike will take around 30 minutes of fairly steep ascent along a well defined fine gravel path. You can take it as quickly or slowly as you like and stop often, although there is no-where to sit down.
Anything else I need to know about Mount Vesuvius?
There are no toilets at the top and no-where private to go, make sure you use the loo before setting off.
Mount Vesuvius tickets cost €10. You must stop at the ticket office to buy your ticket, this is about 100m before the parking and entrance. You can pay by credit card or cash, although they may tell you initially you can't pay by card as the machine does not work. This is reported frequently on TripAdvisor, with the advice to say you have no cash, at which point a card will be accepted!
The cost of entry includes access to a guide, they speak both Italian and English. When you get to the top of the climb, you will enter through a small wooden hut and here is where the guides hang out, make sure to talk to them as they are a wealth of information that you would not discover otherwise.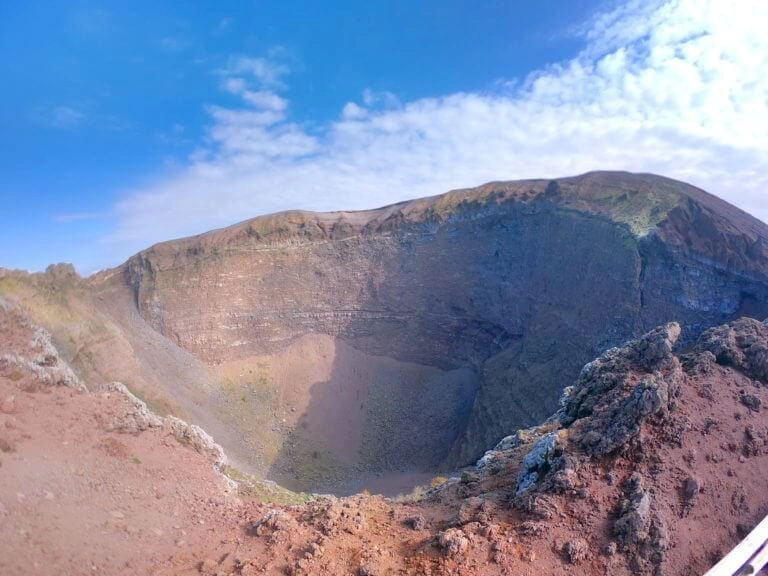 Experience & Hike Mount Vesuvius
As mentioned before, this is a steady uphill hike for around 30 minutes before you plateau out onto the rim. The rim is very clearly defined with a path about 75% of the way round. Much of the route is lined with wooden barriers to stop you trying to climb in.
Consider a visit to the crater with a volcanologist tour guide who can share the history of this still live volcano and take you off the beaten track on the other side of the rim!
Do not expect to see fire and brimstone spewing out of the crater; you will see steam and can feel the heat coming off the crater in waves. The rock is quite grey and uniform, so not great for pictures unless you have some photography skills, which I don't!
However, turn around and marvel at the view over the Bay of Naples; here you will get amazing images. You may be just above any clouds which will add additional interest to your pictures.
Enter at 9am and you'll be able to spend 45 minutes or so, wandering along the rim without seeing another soul. As you start the descent, the crowds coming up will be quite large as all the bus and coach tours arrive from Naples and surrounding towns.
It may be busy driving down the road, until about the half way point due to the sheer number of large vehicles trying to arrive and depart. Take care when driving to and away from Vesuvius and accept it may take a bit of time.
If you love wide open spaces, Vesuvius will call to you, and you'll love looking into the smoking crater of this slumbering giant. Hiking up Vesuvius is not particularly adventurous but it is a live volcano!
Pompeii
When is the best time to visit Pompeii?
Visiting Pompeii is possible all year round. Pompeii opening times are;
April to October: 0900-1930pm (last entry at 1800)
November to March: 0900-1700 (last entry at 1530)
Pompeii is closed on 25th December, 1st January, 1st May
What to know before visiting Pompeii?
You will be approached by people selling tickets on the road outside the entrance to Pompeii; don't buy form these people, they will charge you extra for services they often do not provide and because they generally will only accept cash you have no comeback. The money they make does not go into supporting the ongoing work at Pompeii in any way.
Entrance is free on the first Sunday of every month although expect it to be super busy!
EU citizens under 25 only pay €2.
Get your Fast Track Pompeii tickets here.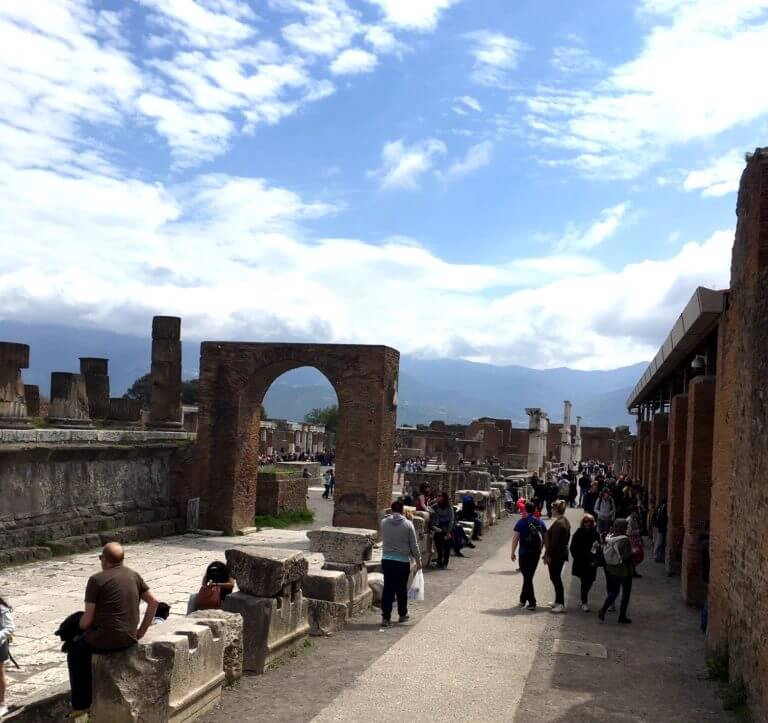 Experience Pompeii
Seeing the UNESCO World Heritage Site of Pompeii is one of the reasons people visit Italy. A huge site, with new discoveries made regularly, you could easily spend a whole day, or longer, wandering and looking at every house, villa, statue and artefact.
But you can easily filter some of that out and make for the must sees of the Roman Forum, Amphitheatre, House of the Vetti and the small museum. If you want a taste of how the Romans lived and are interested in the bigger picture, a couple of hours is enough.
The Pompeii site is likely to be very, very busy but you will learn lots from your audio guide about the Roman way of life and the tragedy that happened at Pompeii. It is a fascinating and instructive tour which will answer all your questions about the tragedy that befell this Roman city.
A Pompeii tour will give you much more information than the audio guide and you'll have access to expert who can answer all your questions. Take a private tour or a small group Pompeii tour with an archeologist and explore Pompeii like a local.
The Pompeii ruins are remarkably well-preserved and it feels similar to a modern day town in terms of layout using a grid system, central squares, temples and houses of differing sizes and grandeur. You can still see plasterwork and painted walls in some of the buildings, the bath house being a particularly good example.
Don't forget about Herculaneum! Much smaller than the Pompeii Archaeological Park (about a tenth) Herculaneum is the lesser-known, but no less fascinating neighbour and was actually rediscovered ten years before Pompeii. Just a 30 minutes drive north on the E45 you should visit if you can. Get your Herculaneum tickets here.
If you loved Vesuvius, then you should see Mount Etna! Read about hiking Mount Etna here.
Looking for more Italian travel inspiration? Check out these top posts…
The gorgeous country of Italy is perfect for a road trip! Compact and with all the best bits in the middle, you'll be blown away by the landscapes, architecture and food in this sublime country. Take a bucket list road trip to Italy and see it for yourself!
Love it? Pin it!