This post may contain affiliate links, from which we earn an income.
A road trip through Tuscany is a spectacular drive through rolling hills, picturesque towns, and some of the most incredible landscapes across all of Italy. Tuscany is known for its charming medieval villages, historic cities, world-renowned viticulture, and culinary traditions.
A Tuscan road trip offers a wealth of experiences! From exploring charming medieval towns and the beautiful Tuscan countryside to admiring the region's famous art and architecture, you can also take time to stop and visit local wineries, and sample delicious Tuscan cuisine on this most photogenic of Italian road trips.
We spent months exploring the region and in this Tuscany road trip planner we share insider tips, the best routes between towns and cities, and recommendations for things to do and see along the way, to help you plan your perfect Tuscany itinerary.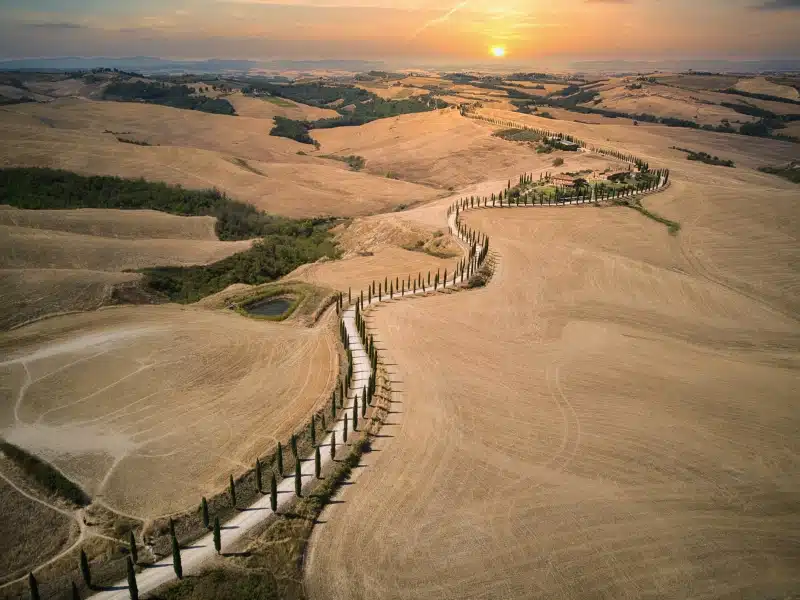 Where is Tuscany Italy?
Tuscany, or in Italian Toscana, is a region in west-central Italy. Tuscany lies along the Tyrrhenian Sea to the south and the Ligurian Sea to the north, and comprises the provinces of Massa-Carrara, Lucca, Pistoia, Prato, Firenze, Livorno, Pisa, Arezzo, Siena, and Grosseto.
The landscape of Tuscany is made up of fertile rolling hills, Apennine mountains, and plateaus which border the region to the south, north, and northeast, and lowland interior valleys and coastal plains like the Maremma.
Is this your first time visiting Italy? Get all the information you need in our Italy Travel Guide, including what to pack, the best time of year to go, getting there, and practical tips to help you have the best trip!
Getting to Tuscany
Whether you're taking a road trip to Tuscany in a car, motorcycle, or campervan, self-driving is absolutely the best way to explore this spectacular region of Italy.
You can stop whenever you want, try new activities, visit places you see along the route and have the freedom to change plans at the last minute.
Fly into Florence International Airport, called Aeroporto di Firenze-Peretola in Italian. With direct flights from America, Europe, and the UK, we recommend booking through Skyscanner for live deals and the best prices.
Are you planning to rent a car in Italy? As one of the largest car hire aggregator companies in the world, we recommend Rentalcars.com because they have massive purchasing power which enables them to secure the best rental car prices, which benefits you when you're planning a road trip.
For a real adventure, hire a motorhome or campervan in Italy. We recommend Motorhome Republic, an aggregate booking site who pull together all the best deals from a number of rental agencies, to offer you a wide choice of options alongside an excellent English speaking expert motorhome Concierge Team.
Driving in Italy
Lots of people will tell you that renting a car in Italy is madness, that driving through Italy is dangerous and the roads are dreadful.
Don't let your fears about driving in this beautiful country put you off taking a road trip in Tuscany. Take your time as you drive Tuscany and be prepared for the differences in driving styles from back home. Follow our driving in Italy tips to stay safe and stress-free!
Make sure you have travel insurance you can trust when visiting Italy. We recommend True Traveller for their 5-star TrustPilot reviews, variety of cover options, best activities cover as standard, great prices, and excellent service.
Best Time to Take a Road Trip in Tuscany
March to May
Spring is a wonderful time to visit Tuscany, with temperatures warming up across the country. Blooming wildflowers in Tuscany's fields, vibrant greenery in the mountains, and the outdoor cafés opening up mean spring is a fantastic time to experience Tuscany by car. You'll find the roads and cities less crowded, and most attractions will be open.
June to August
In summer, Tuscany enjoys beautiful weather, stunning coastlines, and the prospect of swimming and dining al fresco. However, the roads, cities and attractions will be at their busiest and it can get really hot, especially in the lowlands. But, we still think a summer holiday in Italy is hard to beat!
September to November
Autumn is a fantastic time for Tuscan road trips. The grapes and crops are being harvested, food festivals celebrate the bounty and you might enjoy an Indian summer, with the fall colors of the vine aflame.
December to February
The winter months in Tuscany can be very cold and wet. But, the big attraction of a Tuscany trip in winter is that there is no one else around, although some attractions may well be closed. If you travel from late January through February, you'll get a taste of Italy's loud and colorful carnivals, the most famous being the Carnival of Viareggio in Versilia, west of Lucca.
Tuscany Road Trip Map & Route
This bucket list one week Tuscany driving itinerary hits all the highlights and key sights, including iconic cypress tree-lined roads, Renaissance culture, historic hill villages and chic Mediterranean ports. We think it has to be one of the best road trips in Europe!
Plan your Tuscany road trip itinerary as a circular route, beginning and ending in Tuscany's capital, Florence. Not only is Florence a stunning city, rich in culture and history, but it also has a large airport to fly in and out of following your Italian road trip.
After exploring Florence, we recommend renting a car and heading south to the hilltop towns of Arezzo, Siena, Montepulciano and San Gimignano, known for their culture, food, medieval towers, and charming streets.
No road trip through Tuscany would be complete without a visit to the region's most famous town, Pisa, home to the iconic Leaning Tower of Pisa, as well as the impressive Pisa Cathedral and the Pisa Baptistry. From Pisa, you may also find time to explore Lucca.
Finish the ultimate Tuscan road trip in Cinque Terre. These stunning Mediterranean towns are found worldwide on people's bucket lists!
This road trip around Tuscany can fit into one week or one month, depending on the time you have available. Combining towns like Pisa and Lucca into a single day will allow you to see more, in a shorter amount of time. However, to get the true feel of Tuscany, we recommend slow traveling and taking your time at each stop.
Florence – Arezzo – Montepulciano – Siena – San Gimignano – Pisa – Lucca – Cinque Terre – Florence
How to use this map – Use your fingers (or computer mouse) to zoom in and out. Click or touch the icons to get more info about a place, and click the arrow in the box top left to open the index. To add to your own Google Maps account, click the star next to the title of the map.
Tuscan Road Trip Highlights
Florence
Florence, known as Firenze in Italian, is the capital of Tuscany and widely considered the birthplace of the Renaissance.
The must-see sights in Florence include the Cathedral of Santa Maria del Fiore; more commonly referred to as the Duomo, topped magnificently by Brunelleschi's famous dome; the Ponte Vecchio, a medieval bridge lined with shops; and the Uffizi Gallery, one of the most famous art museums in the world.
Other notable sights include the Palazzo Della Signoria, the Biblioteca Nazionale Centrale, the Pitti Palace, the ancient church of Santa Croce and the lesser-known hidden gems of Brancacci Chapel, the Bardini Museum, and the Palazzo Davanzati.
As you meander between these must-see historic attractions, you'll enjoy a taste of Florence's lively street life, with cafés, performers, markets, and statues all playing their roles on the incredible stage that is Florence.
For a unique experience, consider booking this highly-rated vintage Vespa day trip. Explore the rolling hills of the Tuscan countryside riding Italy's iconic scooter, the Vespa. These Vespa day trips are so much fun and a bucket list worthy experience. Leave Florence in a swarm of roaring Vespas, heading to a local viewpoint for Tuscan wine and prosciutto.
Tuscany is known for its food and wine and, as its capital, Florence has an abundance of restaurants to choose from. Did you know Trattoria is a term given to an establishment less formal than a ristorante? Look out for this term if you're hunting for a traditional and relaxed meal!
Founded in 1953, Trattoria Mario serves traditional Tuscan cuisine in a cozy atmosphere and is proud of its selection of regional wines and Tuscan soups. Known for its lively atmosphere, Il Latini serves hearty meat dishes in a homely tavern. Trattoria da Enzo al 29 provides authentic outdoor dining while Cibreo Trattoria provides a more modern take on traditional Tuscan cuisine.
Top Tip: If you are planning a trip to Florence, especially during the summer months, we would highly recommend pre-booking tickets to some of the more popular tourist attractions or booking a guided tour where you'll enjoy skip-the-line tickets and have the benefit of a knowledgeable and experienced guide.
Upmarket: Hotel Spadai – Booking.com | Agoda
Mid-Range: Soprarno Suites – Booking.com | Agoda
Budget: Hotel Perseo – Booking.com | Agoda
RELATED POST: One Day in Florence – Itinerary, Map, Tips & Guide
Arezzo
Next up, head south to Arezzo from Florence. Arezzo is known for its rich history and culture including the spectacular hilltop Cathedral, the Piazza Grande, the Basilica of San Francesco, Casa Vasari, and the Medicean Fortress.
The Piazza Grande is a large, rectangular piazza in the heart of the city and home to many important historical and cultural events, such as the Giostra del Saracino, a medieval jousting tournament.
Make your visit to Arezzo unforgettable with this recommended cooking class with a local and learn the techniques needed to make delicious Tuscan food at home. Alternatively, why not book a guided tour in a vintage vehicle? This unique experience allows you to whizz around charming Tuscan towns while an audio guide gives you an overview of the region's history.
Upmarket: La Corte Del Re – Booking.com | Agoda
Mid-Range: Graziella Patio Hotel – Booking.com | Agoda
Budget: Hotel Arezzo ASC- Booking.com | Agoda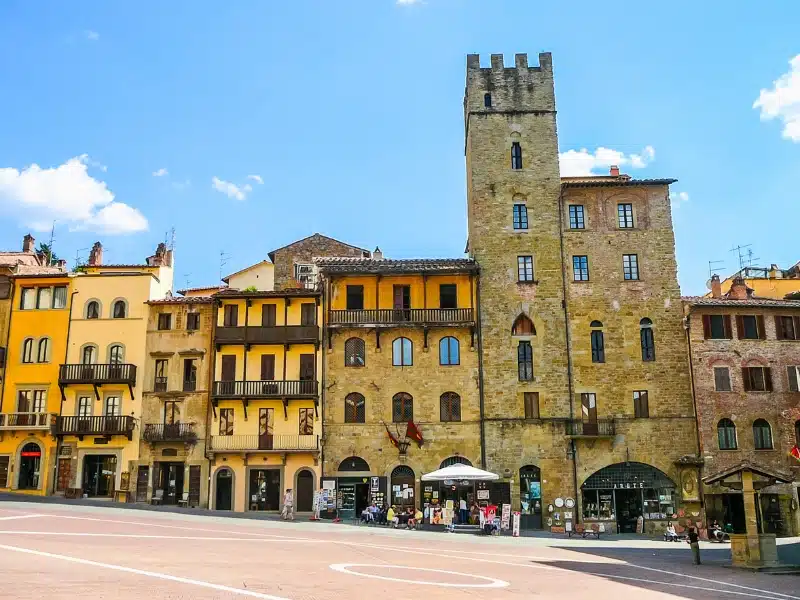 Montepulciano
Famous for the classic, rustic wine of the same name, the gorgeous medieval town of Montepulciano is nestled into the chalky hills at the meeting point of the Val d'Orcia and the Vall di Chiana.
Surrounded by the undulating Tuscan landscape of rolling green hills and golden fields dotted with cypress trees, this is a picture-perfect Tuscany road trip destination.
The small town itself is a masterpiece of ancient city walls, cobbled streets, charming piazzas, restaurants, and craft shops that can easily draw you in for a deliciously pleasant afternoon and evening.
Enjoy an evening stroll around the lively old center and stop in one of the many restaurants for a traditional meal of wild boar ragu followed by local cheese and honey, all washed down with the famous local Vino Nobile di Montepulciano.
The town is also one of the best spots in this itinerary for a wine-tasting tour of a local vineyard, to understand the history and process of making wine in Italy.
Top Tip: You cannot park within the town walls and need a permit to park in one of the numbered car parks on the outskirts, which your hotel will provide for you. The car parks are around a ten to fifteen minute walk from the center of the town, so maybe pack a small and easily carried bag for your overnight stay.
Upmarket: Palazzo Carletti – Booking.com | Agoda
Mid-Range: Il Rondò Boutique Hotel – Booking.com | Agoda
Budget: Albergo Duomo – Booking.com | Agoda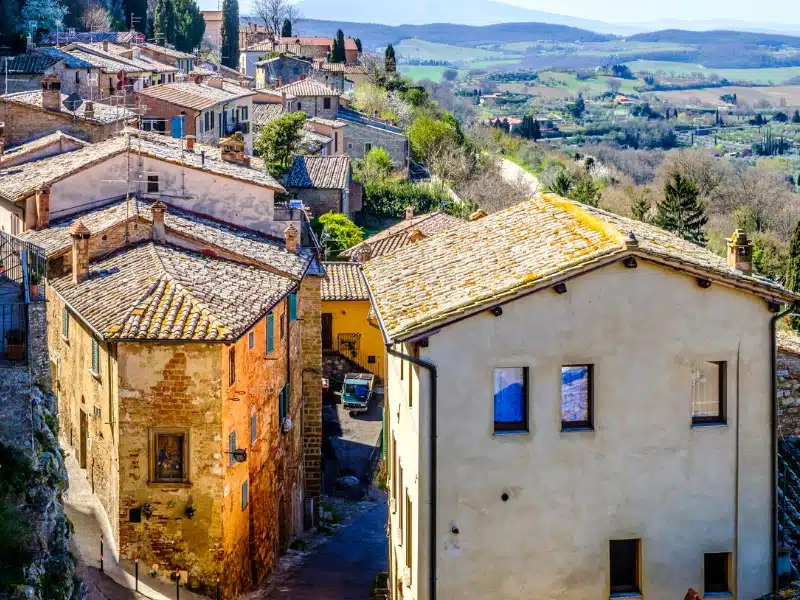 Italian Travel Ideas
Siena
Heading west from Montepulciano, the drive to Siena takes approximately 1.5 hours. However, if you decide not to visit Arezzo and Montepulciano, the trip south from Florence to Siena will take a couple of hours on the winding SR222, the 'Chiantigiana Road', which snakes through the heart of Chianti wine country, internationally renowned for its vino.
From Montepulciano, take the scenic SP146 to San Quirico d'Orcia, through the iconic Val d'Orcia, one of Europe's best driving routes.
This journey will take you through vineyards and olive groves, and you'll pass row upon row of majestic cypress trees lining the roads and on the skyline, and you might even spot the famous house from the film 'Gladiator', some of which was filmed in Tuscany.
Siena, a medieval hilltop town famous for its historic center, is a destination that deserves a place on your ultimate Tuscany road trip.
The city's main attraction is its central square, the Piazza del Campo, which is considered one of the most beautiful medieval squares in Europe and is recognized as a UNESCO World Heritage Site.
The square is home to the Palazzo Pubblico, the town hall of Siena, the Torre del Mangia, a tall tower with stunning views of the city, and the often-overlooked Fonte Gaia on the northern edge of the piazza, whose water is still supplied by a 500-year-old viaduct.
Alongside its UNESCO World Heritage Site, Siena is also famous for its art and cultural events. The city is home to the Museo Civico, the Pinacoteca Nazionale, and events including Palio di Siena, a horse race that takes place twice a year in the Piazza del Campo.
A highlight of any visit to Siena's UNESCO World Heritage Site is the Duomo which is an incredible representation of medieval architecture. Its popularity with tourists is well known, therefore we'd recommend pre-booking these tickets online and skipping the queue!
Alternatively, why not consider booking a city-guided tour? Our recommended Siena city tour comes with skip-the-line tickets for the cathedral and going with a professional guide will ensure you truly get to soak up the city's history.
Top Tip: Make sure to stop for lunch at one of the many lively restaurants lining the streets around the main square and sample delicious Ribollita, a traditional Tuscan soup made with vegetables and bread.
Upmarket: Palazzetto Rosso – Art Hotel – Booking.com | Agoda
Mid-Range: Hotel Athena – Booking.com | Agoda
Budget: Hotel Palazzo di Valli – Booking.com | Agoda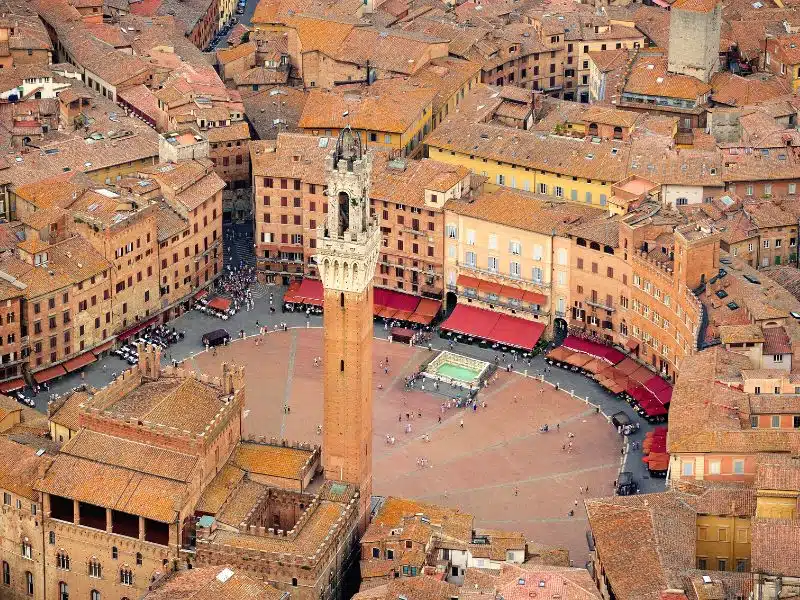 San Gimignano
The drive from Siena to San Gimignano is just 33km taking roughly 45 minutes depending on the traffic. This spectacular drive will provide unforgettable views of rolling Tuscan hillsides, olive groves, and vineyards. Along the way, why not stop at a local winery and enjoy a tasting?
Along this route, you will pass through the medieval town of Monteriggioni, a walled town recognized by its watchtowers. You can enter Monteriggioni's old town through the Porta Franca gate. Once inside and from the vantage point of the town's castle walls, you can take in breathtaking views of the Chianti region, internationally renowned for its wine.
San Gimignano is a medieval hilltop town that boasts a bucket list UNESCO World Heritage Site in its incredibly well-preserved historic center. San Gimignano is famous within the Tuscany region for its fourteen medieval towers built by wealthy families during the 13th and 14th centuries.
A vineyard wine tasting and lunch in the heart of Tuscany is on everyone's bucket list. San Gimignano, with its excellent wineries, is the perfect spot for this experience. In fact, San Gimignano has its own famous white wine, Vernaccia di San Gimignano, which has been produced in the area since the 14th century.
A trip to San Gimignano wouldn't be complete without a visit to its historic and lively main square, Piazza Della Cisterna. It's surrounded by medieval buildings and is home to the Palazzo Comunale, which houses the town hall, and the Museo Civico, which has a collection of art and artifacts from the medieval period.
Volterra, along with Monteriggioni and San Gimignano, makes up the trio of hilltop villages along the Val di Cecina. Famous for being a film set for the Twilight films, Volterra is as medieval as they come!
Top Tip: As well as its wine-tasting opportunities, San Gimignano is home to incredible olive oil producers. This historic hilltop town is a great place to sample Tuscany's delicious local products.
Upmarket: Agriturismo Mormoraia – Booking.com | Agoda
Mid-Range: Hotel Bel Soggiorno – Booking.com | Agoda
Budget: Relais Cappuccina – Booking.com | Agoda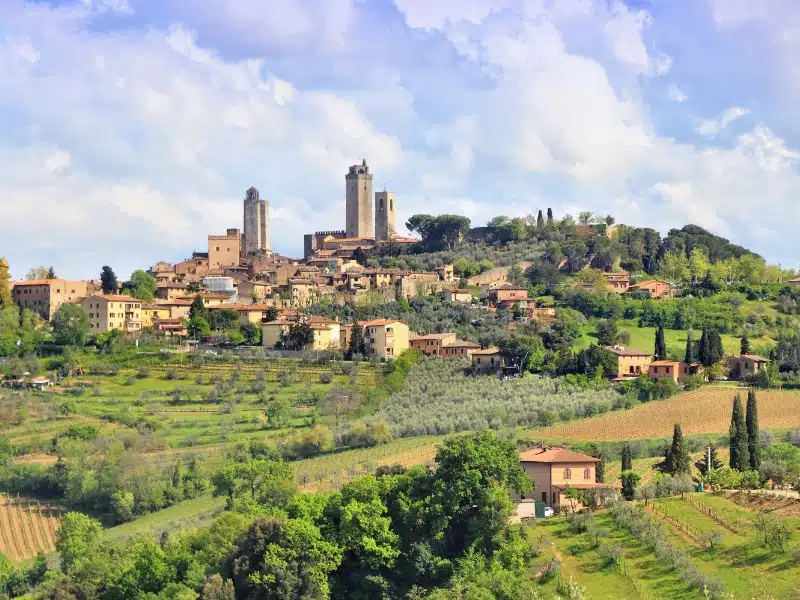 Pisa
Pisa is an iconic destination on the ultimate Tuscany road trip. The city is most famous for the Leaning Tower of Pisa, a freestanding bell tower that began to tilt during its construction in the 12th century. The tower has stood for over 800 years, despite its tilt, and is now one of the major tourist attractions within Tuscany.
Elevate your Pisa experience with a reserved entrance trip up the Leaning Tower and climb the 294 steps up the tower and witness unrivaled views over Miracles Square.
Pisa is also home to several other historical sites, including the Piazza dei Miracoli, also known as the Square of Miracles, which contains the Leaning Tower, the Cathedral of Santa Maria Assunta, and the Baptistery. The Piazza dei Cavalieri, or Knights' Square, is another point of interest. It was once the political center of the Republic of Pisa.
Make the most of your time in Pisa and book a local tour guide. Within Pisa, residents are offering unique activities including truffle hunting in San Miniato, pasta-making classes, Pisa food tours and e-bike trips through the rural Tuscan countryside.
A visit to Pisa would not be complete without a visit to the Ristorante Trattoria da Mario. Just a five minute walk from the Leaning Tower of Pisa, this highly regarded hidden gem serves an array of traditional Tuscan food and wine.
Upmarket: Palazzo Cini – Booking.com | Agoda
Mid-Range: Hotel Di Stefano – Booking.com | Agoda
Budget: Hotel La Pace – Booking.com | Agoda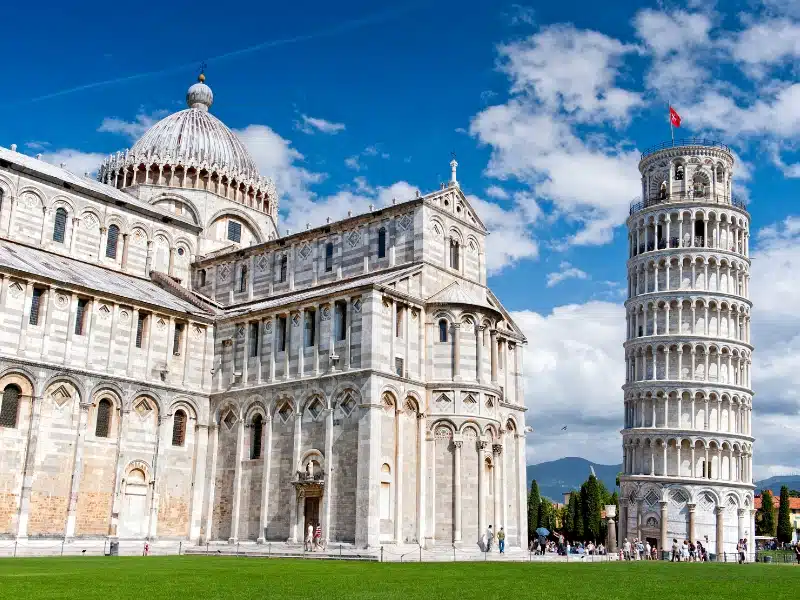 Lucca
Following a visit to Pisa, we recommend heading north to the charming Tuscan town of Lucca. Lucca is found on the Serchio river and boasts the Cathedral of San Martino, a Romanesque-style building with an impressive facade, and the Basilica of San Frediano, dedicated to the patron saint of Lucca.
One of the most distinctive features of this area is the city walls. The walls were built in the 16th century to protect the city and are now a popular spot for walking and cycling, with panoramic views of the city and surrounding Tuscan countryside.
While visiting Lucca, we recommended taking this highly rated walking food and wine tour with a local, this excellent pasta and tiramisu-making course (which you get to eat afterward!), or a half-day Tuscany Chianti Wine tasting tour. All three of these foodie adventures will make your trip to Lucca an unforgettable cultural experience.
Upmarket: Palazzo Dipinto – Booking.com | Agoda
Mid-Range: Hotel Alla Corte degli Angeli – Booking.com | Agoda
Budget: Hotel Melecchi – Booking.com | Agoda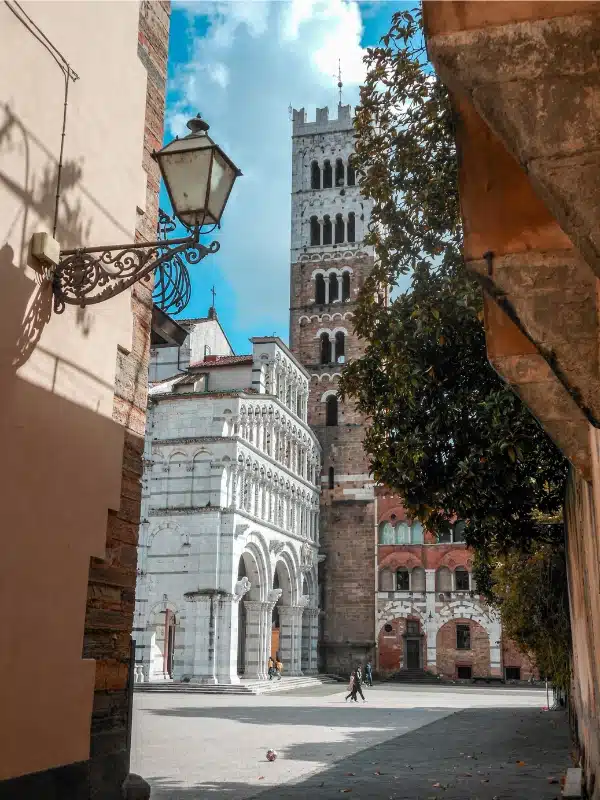 Cinque Terre
The drive from Lucca to Cinque Terre will take roughly an hour and a half. This route passes through the seaside towns of Lido di Camaiore, Forte dei Marmi, Marina di Massa, and Marina di Carrara. If you are lucky enough to be taking a slower drive on this Italian road trip, we recommend spending an afternoon in Forte dei Marmi and admiring the views of the Apuan Alps.
Cinque Terre is not actually in Tuscany, but in Liguria, a picturesque region located on the Italian Riviera. Known for its five coastal towns of Monterosso, Vernazza, Corniglia, Manarola, and Riomaggiore, Cinque Terre is worth leaving Tuscany for!
The stunning natural beauty of Cinque Terre, meaning five lands in Italian, charming villages stacked with colorful houses, and delicious local cuisine combined with the views of the Mediterranean sea make it a must-visit destination when creating your ultimate Tuscany road trip.
Monterosso Beach, boasting clear waters and a bustling atmosphere, is the perfect place to take a boat trip and explore the coastline or a slightly more energetic kayak tour along the coast, to discover hidden caves, rugged cliffs, and the brightly painted towns from a unique perspective.
Cinque Terre is also the perfect destination to stretch your legs after a long road trip due to its many picturesque hiking trails including the Sentiero Azzurro which runs through the Cinque Terre National Park, a Unesco World Heritage Site.
Sentiero Azzurro, also known as the Blue Trail, connects the villages of Monterosso al Mare, Vernazza, Corniglia, Manarola, Riomaggiore, and the Sentiero degli Dei. This hiking trail offers panoramic views of the coast and the villages.
Top Tip: If you do decide to stay in Cinque Terre, head for delightful Monterosso al Mare, the largest of the Cinque Terre towns, and start your amble along the hiking route from there. Parking in the five villages is very restricted – we suggest parking your car at Park Centro Stazione secure underground parking garage at the La Spezia Centrale train station and getting the Cinque Terre express train or passenger ferry to Monterosso.
Upmarket: Sesta Terra – Booking.com | Agoda
Mid-Range: Ca' D'Andrean – Booking.com | Agoda
Budget: La Taverna del Metallo Rooms – Booking.com | Agoda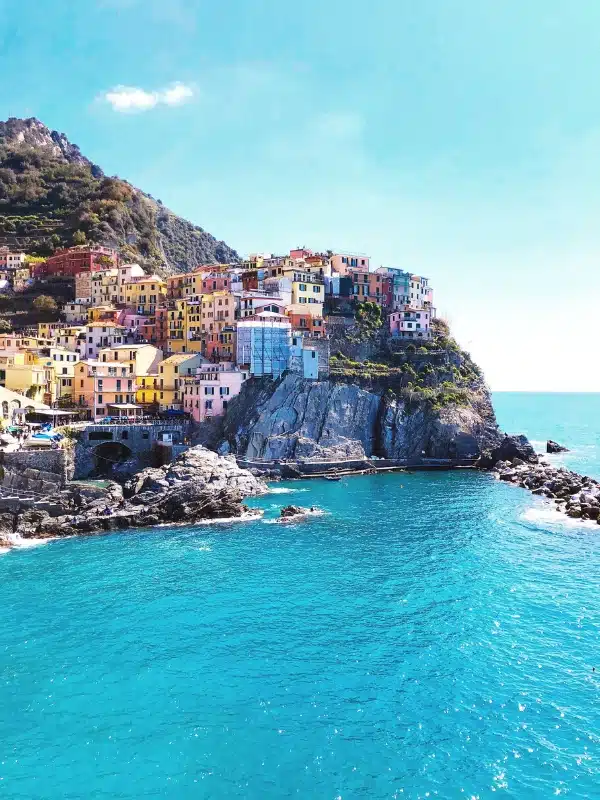 Tuscany Road Trip Resources
Here are the websites and services we personally use and recommend for traveling in Italy.
Are you looking for more road trip inspiration? Check out these top posts…
Amongst the beautiful landscapes of Spain, in the mountainous interior and along the gorgeous coasts, you'll find fascinating history, vibrant culture, and incredible cuisine. One of the best ways to experience Spain is by taking a road trip. We base ourselves in Spain when not traveling and have explored much of the country on four wheels and two! Whether you want historic cities, gorgeous landscapes, beaches and sun, or something a bit different, our detailed…
Love it? Pin it!