This post may contain affiliate links, from which we earn an income.
The Best Routes to Italy from the United Kingdom
Are you desperate for some Italian culture but don't want to fly? With great routes across Europe, a road trip from UK to Italy is easy, leaving you arriving refreshed and unstressed, ready to enjoy la dolce vita from the comfort of your own vehicle.
We've spent the last four years full-time traveling in Europe and have driven from the UK to Italy more times than we can remember! In this guide for driving to Italy from the UK, we're sharing the best routes, costs (updates for 2022) and tips to help you have the best journey to Italy.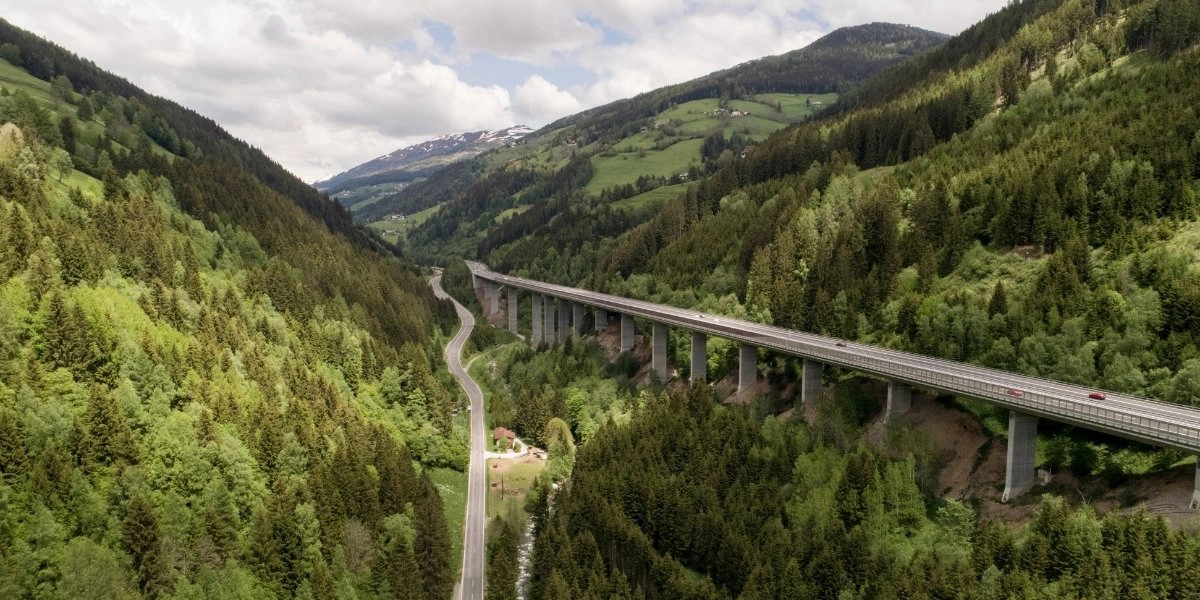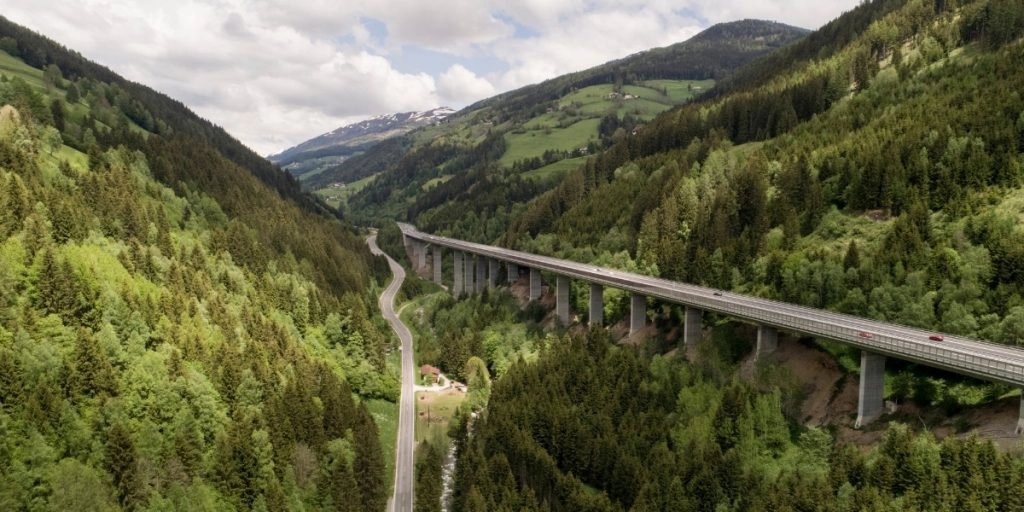 Crossing the Channel
Eurotunnel Le Shuttle
The fastest route is using the Eurotunnel Le Shuttle from Folkestone to Calais. The crossing under the channel takes 35 minutes, with a fast check-in and loading process, you can be in France in an hour. This crossing is Ideal if you are driving from UK to France with a dog, or just want to get to the other side as quickly as possible.
Dover to Calais
There is no direct car ferry from UK to Italy. Certainly the quickest way by ferry is the Dover to Calais route, on which both P&O and DFDS operate up to 40 crossings between them in peak season. Taking just an hour and a half, you'll have time on board for a meal or drink and perhaps a quick snooze.
Getting on and off can take a while though, as they have to piece all the vehicles together like a jigsaw puzzle. Not as quick as the shuttle, but very possibly a bit cheaper, especially if you can be flexible with crossing times.
Eastern England to the Netherlands
More expensive and quite a bit longer than the Dover-Calais route, the crossings from Harwich, Hull and Newcastle to the Netherlands may prove to be cost-effective, but only if you don't live in the southeast of England.
The Stena Line Harwich-Hook of Holland route operates daily at 9am, with the crossing taking around seven hours. You'll need to find a hotel on the other side as you won't get through customs until well after 6pm, unless you can share the driving and go through the night.
If you cross from Hull to Rotterdam with P&O, their daily crossing departs at 20.30pm and takes around eleven hours, meaning you arrive refreshed and ready for a full day's drive. The DFDS Newcastle to Amsterdam crossing is also overnight, but takes nearly 16 hours and is a bit more expensive, although ideal for those starting their Italian road trip in the north of the UK.
Other Popular Crossings
There are a handful of other routes out of Newhaven and Folkestone to the ports of northern France, which are also worth exploring. The key here is to be flexible with dates and times to get the best deals, this is where you may just find a bargain.
Driving to Italy from UK – Best Routes
There are so many driving routes to Italy from UK, depending on whether you're doing a straight dash down, or whether you're going to meander and spend a bit of time sightseeing along the way, and where in Italy you are heading to.
"How long does it take to drive to Italy from UK?" I hear you ask. Sadly, there is no really quick way of driving from England to Italy, it will take a couple of days by the time you've accounted for rest stops unless you're travelling with someone who can share the long hours at the wheel.
Make sure you book your hotels in advance, as popular and convenient hotels with good reviews will be reserved well in advance during peak times.
RELATED POST: 19 Helpful Long Distance Driving Tips
Ideally, you'll be doing this trip in your own car. If you don't own a car and don't want to take a fly-drive holiday to Italy, or use public transport, your only option is car hire, but this is the most expensive way of all the options to get to Italy.
You could explore the motorail option, which transports your vehicle by train whilst you enjoy the journey in a sleeper coach. This is a fantastic way to travel, but an expensive experience.
We took our touring bike from Dusseldorf to Verona (one of the few routes still operating) and saw lots of classic cars being transported this way, it's a great option if you don't want to add mileage to your vehicle.
You can find out more about European motorail routes with the Man in Seat 61.
Is this your first time visiting Italy? Get all the information you need in our Italy Travel Guide, including what to pack, the best time of year to go, getting there and practical tips to help you have the best trip!
The Quickest Route
Calais – Reims – Nancy – Basel – Lucern – Milan
All routes assume travel in a 2.5l diesel car. Find your costs with Via Michelin here.
The quickest drive to Italy from England is the straightest, and probably also the most scenic! Within 2 hours from Calais, you'll be leaving the flat plains of northern France behind.
This travel route from UK to Italy via Switzerland passes through some of Europe's most spectacular scenery, especially as you approach the Alps.
You could take a few extra days and stop en route. Pretty Colmar, the tri-national medieval city of Basel and elegant Lucerne with it's gorgeous lake, are all worthy of a stop-over.
Driving from France to Italy on this route, you'll find excellent motorways and national roads as you pass through France and Switzerland before using the Gotthard Tunnel, Gotthard Pass or alternative Furka Pass to enter Italy.
Scroll down for tips about driving on the continent, including the new France mountain law.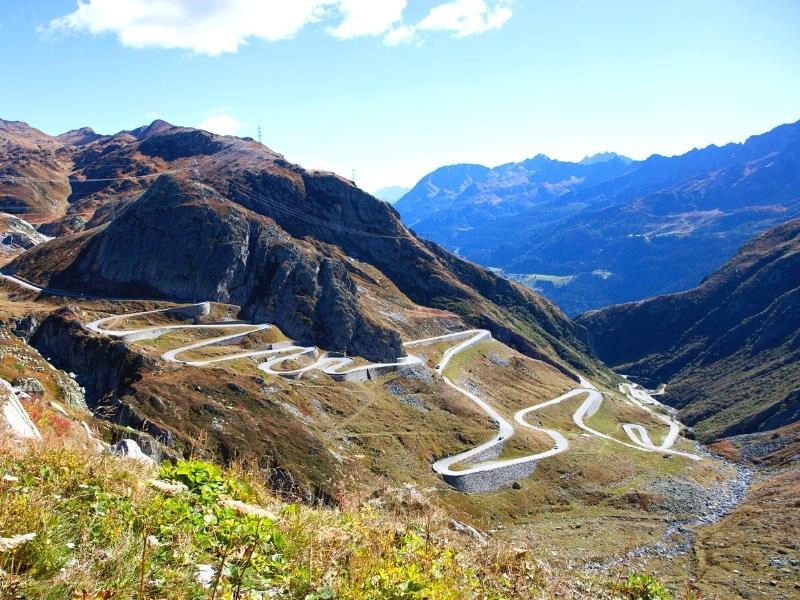 The French Route
Calais – Reims – Troyes – Dijon – Lyon – Geneva – Turin – Genoa
If you want the convenience of the fast French autoroute (motorway) all the way on your drive from England to Italy, and a straightforward trip, then this is the route for you.
The section from Lyon as you skirt around Lake Geneva is also incredibly picturesque, and it's a good place to stop if you're not doing the drive in one.
Utilizing the Mont Blanc tunnel to get through the Alps is also also a good route if you're planning a northern Italy road trip, heading for the Italian Riviera, the historic city of Turin, or driving to Tuscany from UK, but you'll pay for the privilege with higher French motorway tolls and a hefty €46.30 one way for the tunnel.
The Netherlands Route
Rotterdam – Cologne – Coblenz – Ulm – Milan
If you're leaving from one of the eastern England ports, then travelling down through Germany is super cost-effective as their autobahns are free of charge, unless you're a commercial truck driver!
If you're driving from England to Germany before travelling on to Venice or Lake Garda, head for Innsbruck from Ulm, and cross into Italy via the beautiful Brenner Pass for an extra €10 in toll fees.
RELATED POST: Road Trip on a Budget: 36 Tips to Save Money in Europe
The Winter Route
Calais – Reims – Troyes – Dijon – Lyon – Avignon – Nice – San Remo
Almost all of the Italian border is mountainous. If you're travelling to Italy in the winter but don't fancy crossing the Alps to get there, then you need to drive right down to the Cote d'Azur on the south coast of France, and turn left.
The coast road is simply stunning, and in winter won't be rammed with tourist traffic. You'll cross into Italy, just west of Menton on the infamous SS1 road, sections of which were used in a James Bond movie.
This used to be the best route to avoid needing winter tyres or snow chains, an added cost to your journey, but since November 2021 when the French changed the law regarding snow tyres in mountainous regions, that is no longer the case.
Winter tyres are surprisingly not always mandatory when driving Italy, but if you see a sign with 'obbligo di pneumatici invernali o catene a bordo', you must either be using winter tyres or snow chains. Whether the signage is in place is determined by local authorities and it can be difficult to know where tyres and chains may be required in advance.
There are a number of exceptions to this 'sign rule'. Between 15 October and 15 April winter tyres are mandatory in the Aosta Valley. If you have summer tyres fitted in this area, you will need to carry snow chains between 15 October and 15 April. In addition, you must use winter tyres from 15 November to 15 April in South Tyrol, the municipality of Bozen and the Brenner motorway.
The Adventurous Route
Calais – Reims – Colmar – Zurich – Davos – Stelvio Pass – Bormio – Milan
This is the route to take if the road trip to Italy is more important than the destination. Crossing three breathtaking passes, surrounded by the might of the Alps as you head east from Davos, the highlight of the route is the incredible Stelvio Pass, beloved of motorcyclists, classic car enthusiasts and the occasional motorhomer.
This route is only suitable for the summer months, even crossing as late as June you may still find snow right at the top of the passes. From May to September, the roads are likely to be clear, but it always pays to check the weather before you set off when driving in northern Italy.
RELATED POST: Driving in the Alps: Top Tips & Best Routes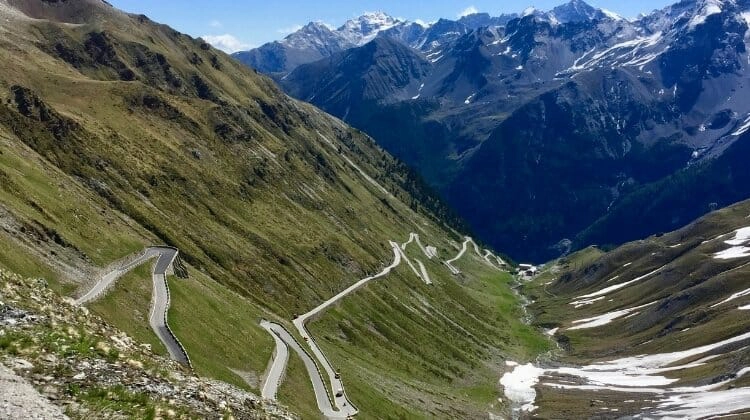 The "I want to stop and see everything on the way" Route!
This is a much harder-to-define route, because it depends so much on what you like doing and the type if sightseeing you enjoy. Here are some ideas of not-to-be-missed places which could be along a route to Italy!
Colmar – a small French town in Alsace, close to the France-Germany border, and known for its colourful half-timbered medieval buildings.
Dijon – in the heart of the ancient French Burgundy wine district, a perfect stopover for wine tasting tours and vineyard visits.
Luxembourg – one of the world's smallest countries, it is also the second richest!
Cologne – a historic German city, known for the filigree spires of its' splendid cathedral and world-class museums.
Lyon – a stunning city, Lyon is at the centre of France's food scene and boasts thousands of years of history among it's UNESCO sites.
Basel – the Swiss city is full of contract, with the vibrant and modern art scene set against a rich historical backdrop.
Mont Blanc – Europe's highest mountain on the French-Italian border is the perfect place for adrenalin seekers and hikers to stop.
Monaco – the tiny principality nestled into the south of France landscape is a beautiful magnet for the rich and a fantastic place to people watch!
The Black Forest – one of Germany's most famous regions, there is a lot to do here, especially for families.
Lake Lucerne – this Swiss lake is simply stunning, a deep turquoise body of water encircled by dramatic mountains.
Lauterbrunnen & Grindelwald – two stunning Swiss towns in the Bernese Oberland region which are within a few miles of each other and surrounded by the mighty Alps in every direction.
Onward Travel in Italy
You've arrived! Generally speaking, driving in northern Italy is a pleasure, the roads are in good condition and well-maintained.
However, the further south you venture, the worse the roads become. Once south of Rome, you'll find worn and potholed A roads and autostrada, but take it easy, follow our driving tips for driving through Italy, enjoy the gorgeous scenery and you'll soon feel at home.
Italy Travel Ideas
Driving on the Continent
Whichever route you choose, driving from UK to Italy means crossing through one or more other countries in Europe such as France, the Netherlands, Germany and Switzerland. This means you need to familiarise yourself with the rules of driving in each country.
The AA website has great up-to-date information about country-specific requirements and you should always check before setting off – failure to carry a specific bit of safety kit for example, can mean you're fined if stopped and buying it on the boat is always expensive.
There are some generic tips about driving in Europe which cover every country that you should be aware of;
When you travel in Europe, remember that all EU countries drive on the right.
You must have at least three months remaining on your passport (issued in the past ten years) at your intended date of departure from Europe.
You must have at least 3rd party insurance for your vehicle. Update August 2021 – you no longer require a green card to prove you have vehicle insurance cover when travelling in Europe.
From 28th September 2021, you will have to display a UK sticker on the rear of of your vehicle, instead of a GB sticker, unless you have a new style UK numberplate which displays the Union Jack flag.
Your headlights must be adapted for driving on the right.
Your UK licence allows you to drive in all EU countries. If you only have a paper driving licence or a license issued in Gibraltar, Guernsey, Jersey or the Isle of Man then you will need an International Driving Permit, as will drivers from other non-EU third countries.
You must carry at least one reflective jacket within the passenger compartment of your vehicle and must put it on before you get out in an emergency or breakdown situation. You must also carry a warning triangle.
You may want to consider carrying an electronic toll pass on your England to Italy drive – one of our essentials for driving in France. These devices work on French toll roads (as well as Spanish and Portuguese) and deduct the toll fees from a credit card automatically, meaning you don't have to stop at a booth or barrier.
Drinking and driving anywhere on the continent is illegal and penalties can be severe.
Mobile phones can only be used through a hands-free device.
RELATED POST – Driving in Europe – Everything You Need to Know
Driving in Italy
Stick to the speed limits in Italy which are strictly enforced. Unless you see a sign indicating otherwise, the speed limits in Italy are 130km/h on highways like the Autostrada and range from 50km/h to 110km/h on other roads.
Autostradas are Italy's motorways and are generally toll roads. Pay using a credit card where possible, often change is not provided when you use large notes.
RELATED POST – Driving in Italy – Everything You Need to Know
Driving in France
Over the past few years, there has a significant increase in speeding fines issued by French authorities to Brit drivers. Many get home from a holiday or road trip to a nasty surprise in the post. Be aware and stick to the national speed limits when driving in Europe, the information-sharing arrangement with the DVLA remains in place even now the UK is no longer a part of the EU.
On 1 November 2021 the Loi Montage II or 'mountain law II' came into force in 48 French mountainous departments within the Alpes, Massif Central, Jura, Pyrenees, and Vosges regions. Anyone travelling in a car or motorhome or through one of these areas between 1 November and 31 March will be obliged to fit four approved winter tyres or carry at least two snow chains or socks in the vehicle.
French motorways are privately managed and you're not allowed to request your own assistance company to attend to you if you break down. If you do break down, you should use the orange emergency telephones that are situated every 2km along French motorways to call the official breakdown service operating in that area. You will be towed to a safe designated area where you can make onward arrangements for your own European breakdown cover provider to assist you.
Related Post – France Road Trip – 13 Amazing Itineraries
Driving in Germany
Even though speed is not limited on 70% of the autobahn network, the roads are often so full that a de facto speed limit has been established. The main cause is stop-and-go traffic or congestion around towns, so don't expect to be barrelling down the German autobahn at 200kph on your drive to Italy from UK!
If you see hazard lights up ahead on the autobahn, this means there is a traffic jam. Slow down and activate your hazard lights also, if the person behind you is travelling at high speed they will appreciate this courtesy and be able to stop in time.
Related Post – Five Unmissable Germany Road Trip Routes
Driving in Austria & Switzerland
Austria and Switzerland require you to purchase a vignette (a type of sticker) to use their motorway systems. They can be purchased at fuel stations or online here in advance of your trip. The latter is a good idea, as unless you are planning on touring these countries and set your satnav not to use motorways, you can easily find yourself on one as you pass through without even realising, and fines for non-compliance can be large. You need an extra vignette for a trailer and a different type for motorhomes and campervans over 3,500kg.
Are you looking for road trip inspiration? check out these top posts…
Amongst the beautiful landscapes of Spain, in the mountainous interior and along the gorgeous coasts, you'll find fascinating history, vibrant culture, and incredible cuisine. One of the best ways to experience Spain is by taking a road trip. We base ourselves in Spain when not traveling and have explored much of the country on four wheels and two! Whether you want historic cities, gorgeous landscapes, beaches and sun, or something a bit different, our detailed…
Love it? Pin it!