This post may contain affiliate links, from which we earn an income.
The Complete Guide to Hiring a Motorhome
Hiring a motorhome is a great way to try out the lifestyle before you buy, or for a cost-effective holiday in the comfort and safety of a home from home. Find out everything you need to know to enjoy the perfect motorhome rental.
Motorhome life and holidays provide a ticket to freedom like nothing else. Chase the sun, change your mind and move on or follow the road less travelled, all with your own roof over your head and all your home comforts to hand.
If the idea of flying and sharing the breakfast buffet with hundreds of other people no longer appeals, then take a UK staycation or a motorhome holiday in Europe. Within a day, you could be in the south of France.
Two days will get you to Italy or Spain, or pretty much anywhere else in western Europe. You'll have your own facilities and can make your own itinerary, you can even camp for free!
We'll take you through the process of hiring a motorhome or campervan in our step-by-step guide to ensure you have the best motor home hire experience possible (and this post has great tips if you're renting an RV in the States).
Who knows, you might even be tempted to buy a motorhome at the end of your holiday!
Choosing the Right Motorhome to Hire
Most motorhome hire UK companies offer both campervans and motorhomes. What's the difference between the two?
Campervan Features
A campervan is essentially a panel van that has been converted to accommodate living space and images of these funky camper vans have inspired millions of #vanlife posts online.
These vintage campervans may be cool and romantic but are often not practical, so hiring a modern model is probably best.
VW or Ford Transit base campervan rentals can sleep 4 adults and are perfect for a short break and for small families. It will be cosy, but if you're planning on spending a lot of time outside, this is a good option and the most cost-effective choice for hiring a campervan in UK.
Driving a campervan is just like driving a large car and will be more fuel-efficient than a motorhome.
Motorhome Features
Choose a five or seven berth motorhome for a family, or if you're taking a longer break. A motorhome is not as stylish as a campervan, but way more practical.
You'll find the beds more comfortable and have a wide range of features, such as a shower, loo and oven.
All this does mean a larger vehicle to drive, so you'll need to be confident behind the wheel, or pick motorway and A road routes to start with.
If you passed your driving test before 1997 and are aged under 70 then the C1 category on your licence will allow you to drive any motorhome up to 7500kg, otherwise you will be limited to vans under 3500kg.
---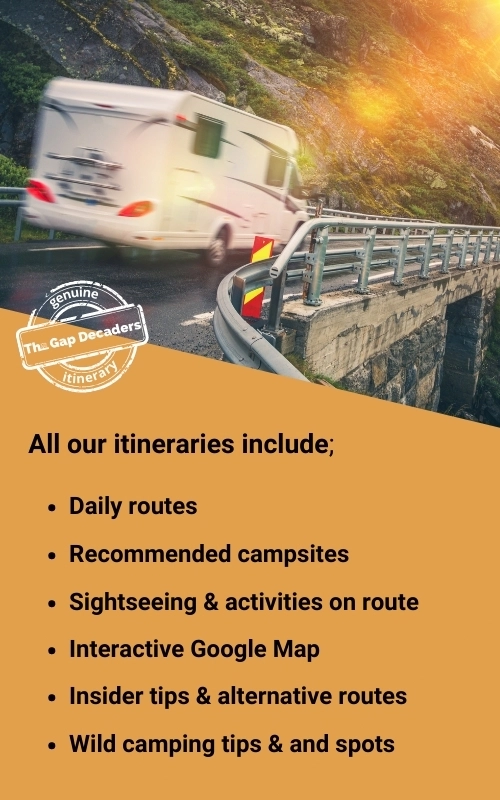 Are you planning a UK motorhome trip ?
Grab one of our our motorhome itineraries, packed with campsites, attractions and insider tips.
Get up every morning knowing your day is planned with routes, campsites, attractions and activities marked out for you on your interactive map.
Make the most of your holiday and let us do the planning for you!
---
The Costs of Hiring a Motorhome
Expect motorhome hire prices to be between £750 and £1500 for a weeks rental in summer, depending on model and size of vehicle. UK campervan rental costs will be towards the lower end of that scale unless you choose a sought-after vintage model.
Remember to budget for fuel and campsite costs, as well as ferry or tunnel costs if you're heading to the continent. Don't compromise on quality and if you see an offer that's too good to be true, it probably is!
There are ways of keeping motorhome hire costs down if you follow our tips;
If you can, hire out of season, the rental costs can be less than half. Sites and attractions will be way cheaper and quieter in spring and autumn but you'll still have great weather in lots of Europe.
Don't pay for kitchen and bedding packs, pick up your rented motorhome and pack it at home. Check out 'motorhome hire near me' or 'camper rental near me' for options close to home.
There's no need for luxury motorhome hire or to rent the largest motorhome, you'll have everything you need for a great holiday in a basic motorhome with the right number of berths.
Consider free wild camping, you can find out more here.
Look for special offers and ask to be added to motorhome and camper rental mailing lists so you'll find out about these as they happen.
Rent a private motorhome from an owner through a broker, search for 'private motorhome hire uk' or 'private motorhome rental uk' on the internet.
Search the internet for manufacturers needing motorhomes bringing to the UK. You fly to where it's manufactured or has been left after a one way hire, and drive it back, taking a holiday along the way! Just search for 'motorhome relocation' on the internet.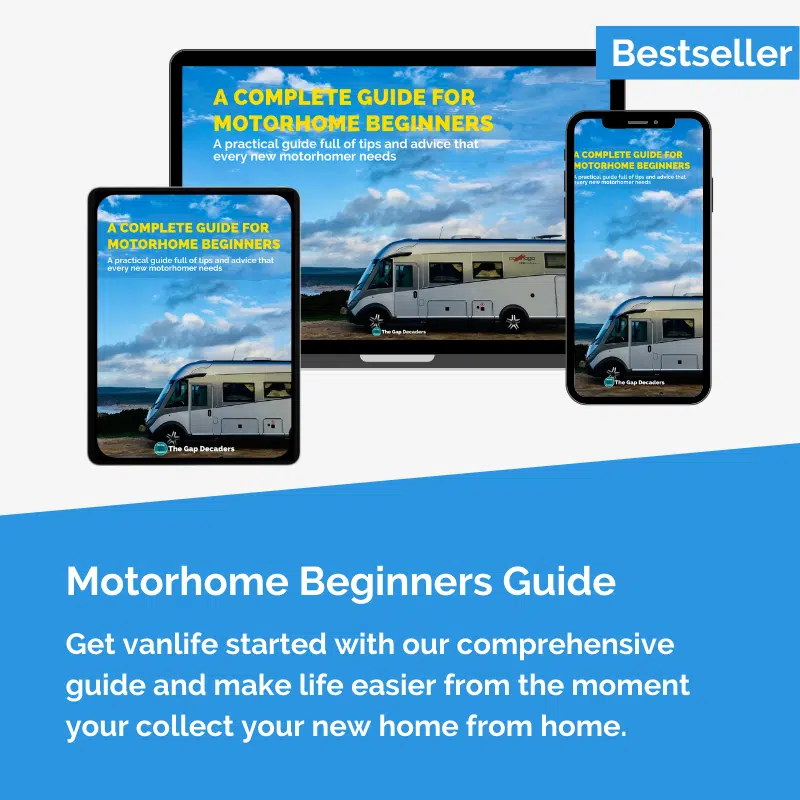 If you want to see all our motorhome beginners tips and advice in one place, plus lots of extra info and support you won't find on the website, check out our ultimate motorhome guide for beginners ebook.
With over 70+ pages packed with helpful knowledge, first hand advice and motorhome basics, this is the ebook every new motorhomer needs in their van.
How to Hire a Motorhome
It is possible to fly to Europe and hire a campervan at your destination, but if you prefer not to fly, are planning a United Kingdom trip or just want the ease of packing up from home, then use a UK hire company.
Unfortunately, not all motorhome rental companies are made equal and you should do your homework thoroughly before making a choice.
Many motorhome hire organisations will tell you they have the largest fleet, the newest motorhomes and the best customer service.
Check for independent reviews on Trustpilot or search for 'motorhome hire uk reviews'. Join a motorhome Facebook group like ours, where you can ask for feedback and information about hire companies.
Once you've made a choice, check their contracts and small print thoroughly and don't commit until you are 100% happy.
Things to Ask Before Hiring a Motorhome
What are the deposit arrangements?
Are there mileage limits, and what happens if you exceed those limits?
Are there any additional costs for insurance and extra drivers?
What are the arrangements for breakdown cover? We would expect this to be provided as standard.
Is there a minimum age limit for the driver?
What is included? Some companies charge extra for road trip essentials, and things like kitchen and bedding packs, outdoor tables and chairs, bike racks and awnings.
What are the cleaning arrangements on return? Do tanks and toilet cassettes need to be emptied (you should do this, it is your waste after all).
Is a gas canister included and does it need to be returned full?
If you are taking a dog with you, is your motorhome hire company and motorhome pet friendly?
Will there be a full handover so you understand how the motorhome set up and how it all works?
Can you ring the customer service team if something goes wrong? Reputable companies will have good support and contact arrangements in place.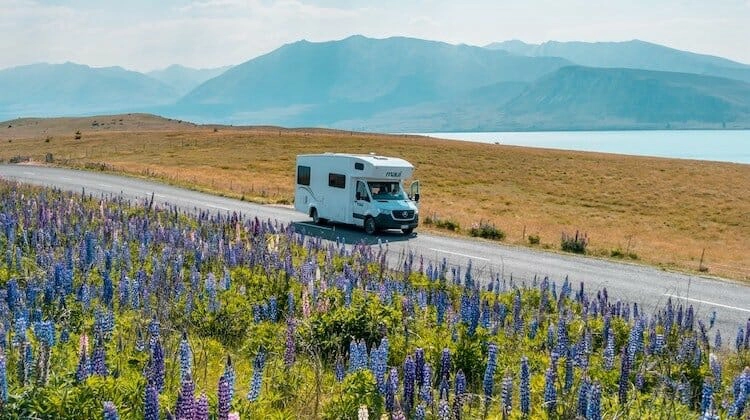 Making the Most of Your Motorhome Rental
Motorhome Packing List
If you hire your motorhome from a reputable company, it should come fully equipped with the basics for cooking and day to day living including a power cable, hose, bucket and cleaning kit, and you should be provided with an inventory on collection.
You can also ask for the inventory beforehand so you know what you might want to bring from home. Either pack from home after collection if the depot is close by, or pack into soft luggage bags which are much easier to store.
RELATED POST: Motorhome Glossary – A-Z of Terms & What They Mean
Top Motorhome Essentials for a Hired Van
All your personal clothes, toiletries and so on. Pack light though, a motorhome is not like a hotel with endless amounts of space and you probably don't need six pairs of shoes!
Lightweight sleeping bags like these are a good bedding option, especially for non-standard sized bunk beds and french beds (where the corner is cut off).
Microfibre quick drying towels like these are better than heavy fluffy ones which take up loads of space.
The vehicle will have a an RTA first aid kit to meet with EU legislation but you'll want to take a day to day first aid kit for scratches, bites and so on.
Anti-bacterial wipes for cleaning around the toilet cassette and the end of your hose if you drop it, or if you have to use a site supplied hose.
Kitchen roll, dish cloths, tea towels and basic cleaning chemicals.
A washing line and pegs. These ratchet lines are great for securing to trees.
A selection of indoor activities in case it rains, like card games and jigsaws.
You'll also want bikes (the hire company should be able to provide a rack), maybe an inflatable kayak, and all the other stuff that makes motorhome life (and going on holiday in general) so much fun.
Start your beginners journey to life on the road with exclusive checklists, free downloads, tips & more
Trip Planning
You've picked up the motorhome and packed all your stuff. Now what? You may be tempted to try and squeeze in lot of miles, especially if you're going abroad, but remember that motorhome life is a much about the journey as the destination.
Why not plan a route that allows for stops as you travel, so you can explore some of the countries you're travelling through?
There's lots of useful tips and information in our guide to planning a motorhome trip, including a helpful list of resources to help you find sites and free camping spots.
Unless the motorhome hire company can provide a sat nav that can be configured to the motorhomes size and weight, download a navigation app that can take this into account when mapping your route.
If you're motorhome travelling in summer, you'll need to book sites in advance. Outside of these times, you'll be able to arrive on spec and get a pitch.
ACSI is a great resource for finding sites in Europe and out of peak season, and the ACSI CampingCard gives you a discounted rate on all their sites.
Most sites offer different levels of pitch facilities. Most pitches will have EHU (electric hook up) and some may have fresh water and grey waste disposal on pitch, but these all cost extra in pitch fees.
Some sites have fields with no electric, if your hire vehicle has a solar panel you may be happy to camp without EHU.
Motorhome Touring Guides
Motorhome Life
Driving a Motorhome
Driving a campervan is just like driving a large car. Driving a motorhome feels very different and can take a bit of getting used to!
Take it easy for the first few days and stick to motorways or main A roads in open countryside. Take time to get used to the feel, size and weight of the vehicle before venturing too far afield.
Probably the biggest differences are the swing of the back end when taking corners, the affect wind can have on a high sided vehicle and reversing.
Ask whether the motorhome you're hiring has a reversing camera, even rear parking sensors can help. If you're still nervous about reversing and parking, get someone to hop out of the van and guide you.
Motorhome Systems
You can find out all you need to know in our easy guides.
It's the thing about van life everyone wants to know! If you're wondering how motorhome toilets work, how to empty your campervan toilet, or even how to use it, then you're in the right place!
Arriving on Site
Pitching up for the very first time can be daunting. Your motorhome rental company should have shown you how things work in the van, how to access your fresh and waste water tanks and how to empty the loo.
But in the flurry of collection and paperwork, along with excitement for your holiday, you've probably forgotten most of what they've shown you!
Not to worry, motorhomers are a friendly and helpful lot, just approach one and ask for help – you'll probably end up sharing a cuppa or beer as well!
Recommended Reading
Going on your first motorhome or campervan trip with your brand new shiny van is a bit of a rite of passage. A shake out is a great idea to make sure things work, get to know your van and understand what kit you need to enjoy the motorhome lifestyle.
Do you want to wild camp in your motorhome? Are you feeling a bit nervous about wild camping for the first time? Then read on for all our top tips and practical advice about how to wild camp in a motorhome and get off the beaten track like an expert!
Motorhome Wild Camping
You don't need to stay on a campsite, although we would advise you do for your first night. Once you're a bit more familiar with the motorhome, why not venture out, find a beautiful spot with an amazing views and enjoy some peace and quiet?
Be mindful that there are rules and laws in all countries regarding wild camping, our wild camping guide has lots of useful advice to help you wild camp safely and within the law, whether you motorhome travel in continental Europe, Scotland, Wales or England.
Motorhome Cooking and Meals
Cooking in your motorhome is a great way of economising when you're on holiday. There's no need get dressed up to go out, you can end the day with a glass of something chilled in your hand, whilst everyone mucks in to get dinner on the table (and do the washing up afterwards!).
You do need to be organised with just two or three rings and maybe a small oven. Focus on making one pot dishes or get a small portable gas (most sites won't allow charcoal) bbq like this one to cook outside – advisable for smelly foods or when frying.
No one likes a motorhome that smells of cooked breakfast for days! The Clever Camper Cookbook has lots of tried and tested recipes designed for motorhome life.
Going to Bed
If you're travelling as a family, the chances are you'll have to make up some beds every night. Motorhomes can have fixed double beds or island beds which can be permanently made up but take up a lot of space.
You may also have drop down beds or beds which are made up where the lounge or dinette is during the day time. Trying to make up beds late in the evening when everyone has retreated indoors can test even the most patient parents!
Try and organise things so that everyone de-camps to the shower block for teeth brushing so the beds can be made, and reverse the order in the morning. It is a bit military like, but it will become part of the holiday routine after a few days…oddly, our kids used to be really excited for this final outing of the day!
Want top motorhome buyers resources, advice & tips to make your journey to motorhome ownership stress-free & easy?
Our Top Five Motorhome Hire Tips
Check out your motorhome rental company thoroughly until you are 100% happy with small print, costs and quality.
Don't rush, enjoy the journey and slow travel to your destination – if you have a sat nav or app that can be configured to vehicle size, set it to avoid motorways, you'll see and experience so much more.
Expect things to go wrong! It's all part of the learning process and other motorhomers will be happy to help, or use Facebook groups for support.
Plan and book sites in advance if travelling in peak season or at Christmas and New Year and check out our tips for motorhoming in winter here.
Remember the corkscrew!
Are you looking for more motorhome tips & tricks? Check out these top posts…
Our van life gift guide is full of fun, creative and unique gifts for anyone who loves the van life. Whether you're looking for personlalised campervan gifts, funny campervan gifts or throughtful vanlife gifts for a loved one, you'll find the perfect something here.
New Zealand is an absolute dream for campervan enthusiasts. The breathtaking landscapes, diverse wildlife, and incredibly friendly locals make it the perfect destination for your next campervan adventure. We'll will provide you with all the tips, tricks and insider knowledge to make your vanlife experience in New Zealand truly unforgettable. So, buckle up and get ready for an adventure of a lifetime!
With one of the best winter climates in Europe and friendly locals, Spain is a perfect country for a motorhome road trip. We've spent over 18 months travelling in a motorhome in Spain, and in this campervanning and motorhoming guide you'll find lots of practical and helpful information. From tips about driving, where to stay overnight and wild camping, to motorhome services and a round-up of the best motorhome destinations, you'll find all the information…
Do you need a motorhome reversing camera? How do they work and how do you choose the right one for your motorhome? We'll answer all those questions in our comprehensive guide and help you find the best motorhome reversing camera for your needs.
We all love a motorhome sticker to pimp up our van, even if it's only to announce ourselves to the world! We've pulled together all our favourite van graphics and stickers that we've seen on our travels, which you can add to your motorhome!
When it comes to learning about life on the road, there's no better resource than hearing from other motorhomers and vanlifers. We've picked the best ten for you here!
Love it? Pin it