This post may contain affiliate links, from which we earn an income.
Inflatable Kayak Beginners Guide
If you like a bit of adventure and love being on the water, then an inflatable kayak is for you. If you're an inflatable kayak beginner you'll find advice on the best inflatable kayak, tips on planning your paddle safely and how to manage the logistics of using an inflatable kayak.
We have had the best fun kayaking some great European rivers in our Sevylor Colorado inflatable kayak. We've been tipped out a few times and run a few adrenalin inducing rapids. Some of our best memories are of stopping for breakfast on a deserted river, watching the birds whilst the sun comes up behind the mountains.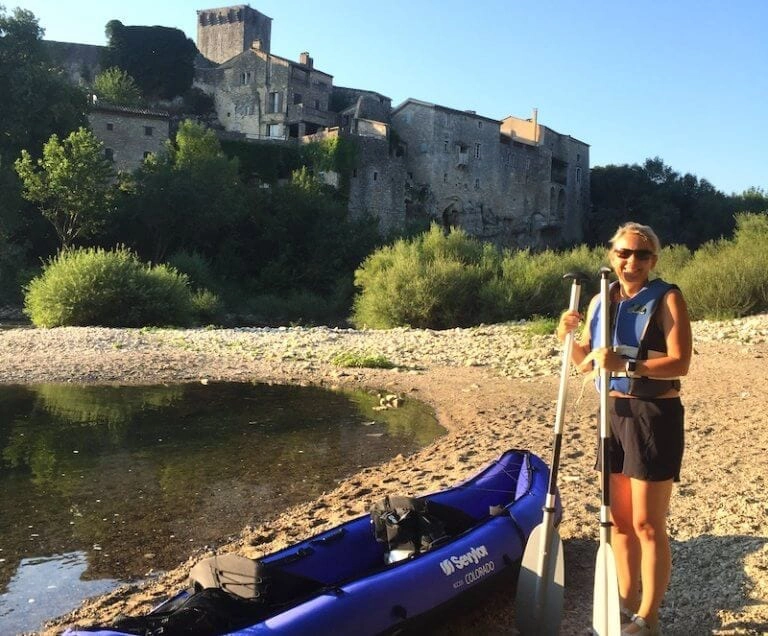 Setting Up Your Paddle
Aways stick to the instructions for your particular model of inflatable kayak and follow our inflatable kayaking tips for beginners;
Buy the best high quality kayak you can afford, for optimum performance and longevity.
It's easier if you blow up each element partially. Once you've got to this stage, go back to the first element and blow up some more. Keep going like this until fully inflated. It will help the kayak keep its proper shape; when only one element is fully blown can distort the flat elements.
Before you fully inflate the side bladders insert the seats.
Make sure the detachable kayak skeg (like a small rudder which helps you stay on course) is firmly in place.
Make sure the bung hole for draining is in place or fully closed.
Secure anything which could float away if you do capsize. Wear a floating strap on your sunglasses.
Make sure you have enough room between the seats. Most seats are secured by heavy duty velcro and can be adjusted, but you want to do this before getting in the water.
Always wear a buoyancy aid and helmet, consider a wetsuit for colder waters.
Remember to wear sunscreen and take water with you.
Pack a dry bag with water and food and always take a mobile phone for emergencies.
When you've finished your trip, let a bit of air out of your kayak whilst it dries. Hot air expands and can be damaging to the material of your kayak as it will expand more than it should.
This video contains adult language.
Kayaking Safety
Safety is all important. We always follow these inflatable kayaking tips for beginners before embarking on a trip;
Scope out the river on Google Earth to understand white water and any obstacles.
Talk to local people, other kayakers or kayak companies. If there are companies operating on the river and renting kayaks then it's a good bet that it's pretty safe. Ask about rapids and learn which ones need extra care.
Ride / drive up river to get a better understanding of anything that's not clear on Google Earth.
Check the weather and water temperature; if its very hot and the water is very cold, dip your hands in and slosh water on to your forehead regularly. If you take an unexpected dip you will be ready for the chill.
Paddle with some-one else, never go alone unless you are highly experienced.
Understand your limitations and don't attempt long runs which can be tiring. Build up your experience with shorter trips and smaller rapids.
Only ever attempt class I and II rapids in an inflatable kayak. For more information on rapid classes, click here.
Trees are bad and should be avoided at all costs. Never, never try to paddle over a fallen tree and where branches overhang the water, go round them not under.
Dams and weirs are best portaged around (taking your boat out and walking it along the bank). Some popular rivers have slides for kayaks …try to get close enough first to check out its a safe and clear run before starting, but they are purpose built and designed for what you're about to do!
Consider taking a course if you're still feeling nervous. Check out these guided sessions and activities which will help you familiarise yourself with kayaking and give you some experience before going it alone.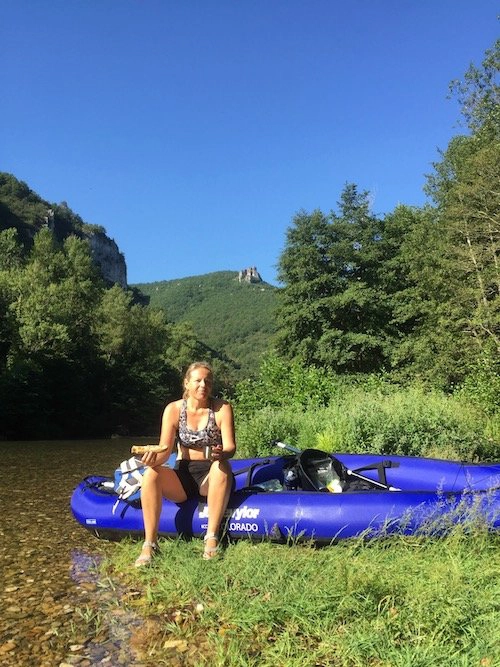 How to Kayak
If you've never paddled before, we would suggest finding a flat lake or river for a bit of practice. Always wear your life jacket, even if you are a strong swimmer.
Decide whether you will use a double ended paddle or a single paddle. We tend to use the former for sea or flat river paddling and the latter for white water. The technical difference is that in a kayak the paddler is seated and uses a double ended paddle. In a canoe, the paddler kneels and uses a single paddle. Try both and use what you're most comfortable with. These convertible paddles give you both options.
The stronger paddler should sit at the back to aid steering the kayak.
Carry your kayak into the water until the skeg clears the bottom. Place your paddles into the kayak.
How to enter a kayak from shore can take some practice. Slide into it (try not to stand in your inflatable kayak for any length of time); probably the easiest way is to sit on the edge and swing your legs over or kneel into the kayak. You should sit with your legs bent for stability.
Pick up your paddle and orient your blades; if your paddle has one longer edge, this should be on top and the shorter edge at the bottom. Your paddles are likely to be concave to help scoop the water, the bowed side should face forwards.
Hold your paddle lightly, don't squeeze too hard. Raise it centrally above your head and hold your arms at 90 degree angles, this is where you should grip your paddle. Beginner kayakers will probably get blisters your first few times out!
If you paddle on your left the boat will start to turn right and vice versa. If you paddle backwards, the reverse is true. This is how to steer a kayak. Practice paddling until you feel comfortable with the direction of the boat. This should be instinctive so that you can manoeuvre quickly when needed.
If you are using single paddles, you should paddle on alternate sides with the rear paddler using their paddle to direct as well as propel the boat.
It can be quite tiring; sit upright and aim to use your core muscles and not your arm muscles.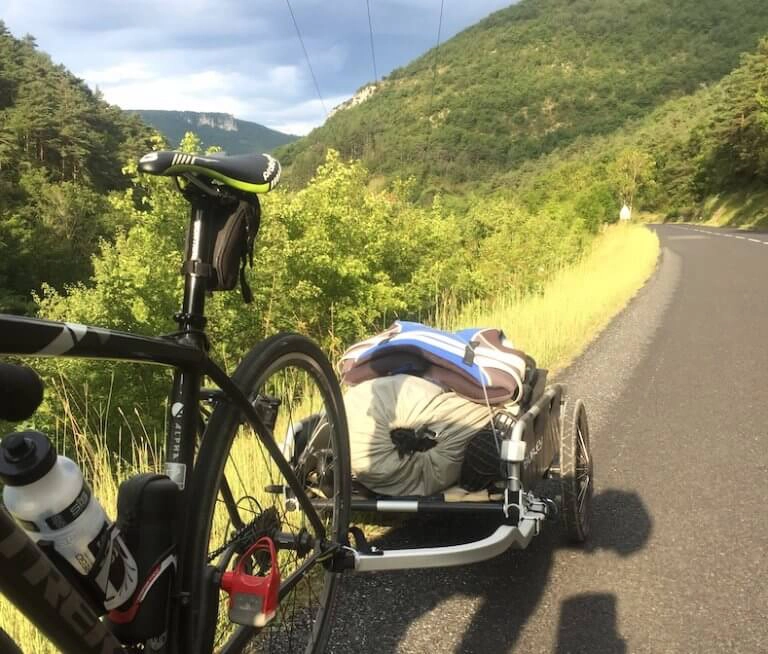 Trip Logistics
If you are serious about wanting to kayak and have space for an inflatable kayak on your road trip, then be prepared for some complex logistics. Follow these inflatable kayak tips and hacks to work it out!
Find a campsite or wild camping spot on the river.
After planning your paddle, cycle up river. Three to four miles is usually enough for a couple of hours paddling.
Use a bike trailer like this Burley Flatbed Trailer and load it with everything you need, including the kayak. Click here to buy this trailer from Amazon UK.
Secure the bikes and trailer at the launch point.
Set up your kayak as described above, don your lifejackets and launch!
Take the kayak out of water at destination where you are camped, let out some air, have a cup of tea and dry off.
Head off in your car to collect the bikes and trailer.
One bikes' front wheel comes off and the wheel and bike go in the trailer which gets pulled home, followed by the car!
It reads like a right pantomime but actually, its pretty easy if you're organised and so, so worth it!
Our Recommendation – Sevylor Colorado Inflatable Kayak
We bought an inflatable Sevylor Colorado after much research. We were looking for an open double inflatable sit in kayak which was robust enough for class I and II rapids but would handle well in slower water and the open sea.
Click here to see our review of this kayak, which we highly recommend for its portability, stability, value for money and ease of use. You can also find other kayak gear and gadgets online to add to your kayaking experience. Good luck and safe paddling!
Looking for more travel inspiration? Check out these top posts…
Croatia is home to a variety of beautiful landscapes, including rugged mountain peaks, stunning islands, enchanting waterfalls, incredible beaches, vibrant cities, and charming historic towns. There are so many beautiful places to visit, it can be difficult to decide where to go. We've pulled together all our favorite most beautiful places in Croatia to visit to inspire you and help plan your next trip.
Love it? Pin it!