This post may contain affiliate links, from which we earn an income.
Sevylor Colorado Inflatable Kayak Review
Intro to the Sevylor Colorado Two Person Inflatable Kayak
We love being on the water, an important part of travelling and motorhome life for us is finding places to kayak, SUP and wild swim. This is our review of the Sevylor Colorado inflatable kayak we purchased and have paddled in fast flowing rivers with white water, slow rivers, coastal and open sea.
The Sevylor Colorado Kayak (sometimes called a canoe but there is a distinct difference between an inflatable canoe and inflatable kayak), is a 2 person inflatable boat loosely styled on a Canadian kayak or open canoe. Suitable for coastal waters, open sea, rivers and mild white water, this is also a great fishing kayak.
Sevylor Colorado Statistics
Length 3.23m
Width 1m
Weight 14.5kg
Load Capacity 200kg
Accessories Included with the Sevylor Colorado
Two flexible removable bucket seats
Nylon carrying bag
One removable skeg (fin)
Easy Inflation Manometer (pressure gauge).
Optional Accessories for the Sevylor Colorado
You will need to purchase a pump and kayak paddles separately. You can also buy a small electric trolling motor for this kayak.
Setting Up the Sevylor Colorado
The Sevylor Colorado is super easy to inflate using the Boston valves (one-way check valve with two ports), taking around 15 minutes in total. There are three chambers; the side bladders and the base which inflate through non-return valves. We have found it better to fully inflate the base, partially inflate each side, inflate the seats & insert them onto the base, then inflate fully.
The seats are fixed by velcro at the base and webbing straps to each side, which can be adjusted to change the tilt of the seat back. They can be moved forwards or back to suit the leg length of both paddlers, this is quicker and easier when the kayak is in a semi-inflated state. As an example, we are 177cm and 158cm and there is ample space for us to be comfortably seated.
There is a mesh bag which clips to the rear where we store the pump when paddling. There are handy storage compartments on the front seat back, allowing the rear paddler to access water, sun cream and so on. On each side are two sets of paddle and rod holders (for fishing). We always carry a waterproof bag for phones. There is capacity to carry a lightweight tent and camping gear to spend a night or two wild camping under the stars.
If weight allows you could fit a small electric motor however be aware you would also require a battery and transom. We also have paddles which can be converted to be single or double-ended; this gives us flexibility in where and how we paddle.
Sevylor Colorado Performance
This is a solid, broad and sturdy inflatable kayak, perfect for recreational use on rivers, lakes and in both coastal and open sea.
The three inflatable chambers are separated from each other for an extra level of safety should one fail. The polyester cover and the floor made of fabric-reinforced material (tarpaulin) protect the kayak from abrasion and damage, even in shallow water.
The Sevylor Colorado can be easily carried around by two people thanks to the four ergonomic handles (one in the front, the rear as well as on both sides).
White Water
We have used this inflatable kayak through class I and II rapids. At first we were concerned about tears but on inspection after our first river outing, the underside of the boat was not even marked. The kayak feels stable in the water and the directional fins work well. On several occasions where we have had very shallow water, we have removed the skeg and it tracked moderately well. It would not be advisable to use any open kayak in more than a class II rapid due to water ingress and risk of capsizing.
Flat Rivers
For us, not the most exciting paddle environment and the kayak can feel heavy in still water due to it's bulk and construction. It's fair to say the drag and resistance is noticeable.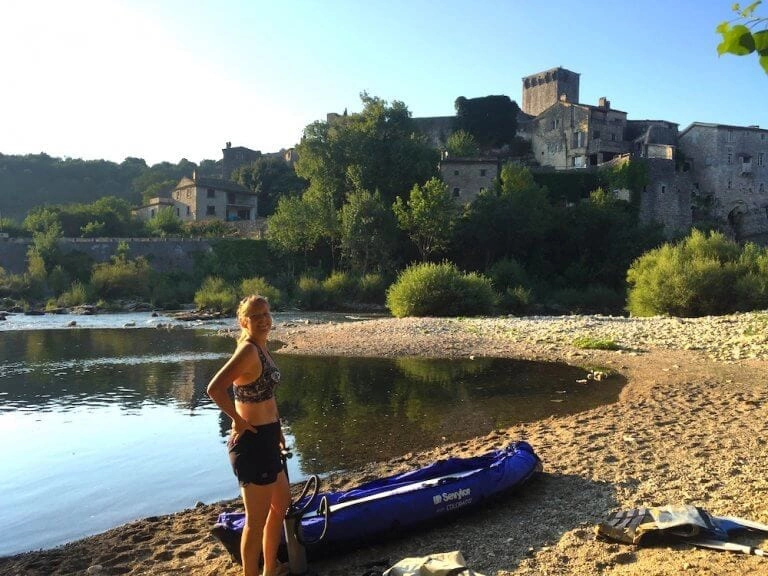 Coastal & Open Water
The kayak manages the waves and swell really well, remaining stable even sideways on to 0.8 waves and swell. It manoeuvres well in the sea, with the removable skeg really coming into its' own. We've had some amazing experiences in coastal waters; finding sea caves, nudging ourselves between amazing rock formations and corals and looking back at amazing views of the land.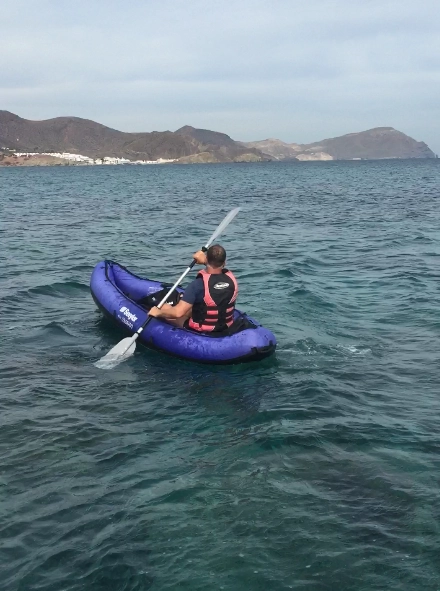 Sevylor Colorado Storage
Once you have finished your paddle, tip up the boat, remove the drain plug and let any water wash away. We are very careful about drying thoroughly before we pack away. Once dry it takes about 20 minutes to deflate all the elements and roll up for storage.
This Sevylor inflatable kayak comes with a nylon carry bag. Try as we might we have never been able to roll it up as small as it was when we bought it, but the kayak and all associated items do fit in the bag. It takes up a little more room than we expected but is worth its weight and space for us.
Sevylor Colorado Pros & Cons
Summary
We looked at a number of inflatable kayaks and read lots of reviews before choosing the Sevylor Colorado product. This kayak is a solid choice if you are looking to paddle recreationally and for fun and scores 5 stars in 70% of ratings on Amazon UK.
This is a mid-priced flexible and versatile inflatable kayak and provides good quality at the right price point for recreational use; if you buy this boat you will have a lot of fun with peace of mind regarding safety and longevity from an established and respected brand – Sevylor inflatable canoes and kayaks have been around for 65 years!
Buy the Sevylor Colorado & Accessories Now!
Are you looking for travel inspiration? Check out these top posts…
Are you desperate for some Spanish sun but don't want to fly? With great routes across Europe, it's easy to drive to Spain from UK by car, arriving refreshed and unstressed from the comfort of your own vehicle. We're sharing the best routes with costs and comparisons plus tips about driving once you're there. Our Spain from UK guide will help you decide which is the best route for your driving trip to Spain, so…