This post may contain affiliate links, from which we earn an income.
Eleven Hygiene Tips for Wild Camping
It's important to maintain personal hygiene whether you're hiking with a backpack, spending a week in a tent or living in a motorhome. Staying clean on a camping trip is easy if you follow our guide and tips on camping hygiene, managing water consumption and minimising your impact on the environment.
Wash in the River or Lake
Steel yourself, take a deep breath, grit your teeth and jump into (ok, maybe tiptoe in gingerly pulling a face as the water reaches your midriff) the nearest river or lake on your trail. Don't use soap, you don't want to contaminate the water course. A good scrub with a loofah or hard sponge will feel wonderful though. Don't try this in the sea, you will feel horrible afterwards!
Have a Strip Wash
Have a strip wash…you, know that thing you did as a kid and hated? Boil a kettle or pan of lake or river water and mix with cold water to your desired temperature, strip off and wash the essential pits and bits at the sink or from a bucket. Hard to manage without privacy unless you're a complete exhibitionist…there are some places in the world where that's not ok and you will be arrested for getting your kit off. If you're in one of those places, use a shower tent and if that's too much to cart around, wear your swimmers and get clever with your towel.
Always use biodegradable soap and dispose of your used water responsibly i.e. at least 20m from a water course.
Use Wipes & Hand Sanitizer
Use body or baby wipes instead of a flannel. I don't really like how it feels but if there is no water, it's better than smelling! I find these biodegradable wipes to be the best and always carry a pack just in case whenever I'm travelling. I also carry a small pump bottle of hand sanitizer which is on my list of hygiene essentials whether I'm travelling or not.
Take a Solar Shower
Enjoy a backpacking shower and get a solar camping shower bag. Fill with lake or river water and hang in the sun all day to warm, before emptying it over yourself. You need time to spare for this one though, unless you like a cold shower.
Use Dry Shampoo
Dry shampoo has come a long way since the 80's! There are no formulas that will leave your hair feeling like it's been washed with water. This is my favourite and it smells amazing!
Wash Your Clothes
Having clean clothes is a vital part of maintaining personal hygiene. Wash them whenever you can, especially underwear, socks and your sleeping bag liner. We use a Scrubba bag but you could use a zip-lock bag if you're on a budget. If you're in a campervan, this innovative folding washing machine is ideal. Use a biodegradable clothes wash so that you can dispose of the grey water safely in vegetation.
Head for the Beach
Use the outside showers if you're wild camping by the beach. The showers will be cold, but hey, if you're at the beach the sun will be shining, right?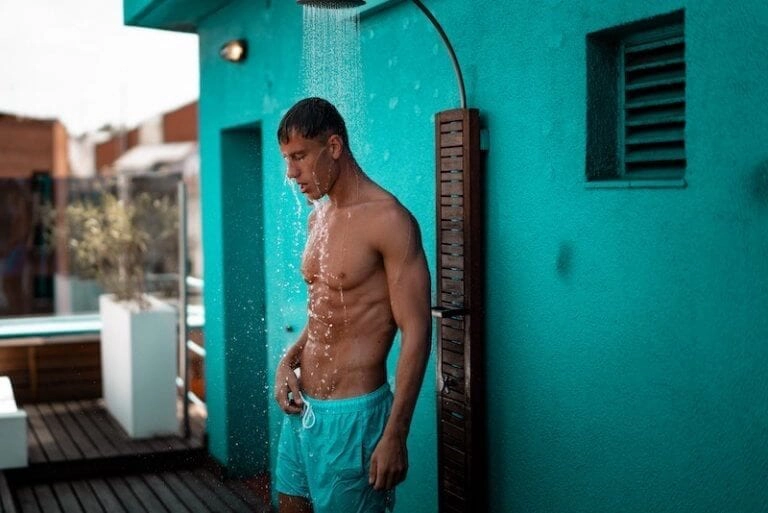 Use Toilet Paper Wet Wipes
Specially designed for use after the loo, toilet paper wet wipes like these keep you clean for longer, meaning there is less need for a full shower.
Use the Local Swimming Baths
Check out the municipal swimming pool; go for a swim and then a lovely long hot shower. Not the cheapest option and no good if you're up a mountain….
Take a Shower
If you're a van dweller and have a shower then this method is for you. Hop in and get wet, turn the water off, lather up, turn the water on, rinse and you're done. We reckon we can do this with about 3-5 litres of water if we're quick.
What About Feminine Hygiene?
It can be difficult to manage periods and female hygiene when you're travelling, especially if you're camping in a tent. Consider menstrual cups, the contents of which can be buried and then the cup washed out. If this isn't for you, make sure you carry a scented nappy sack or a sealable plastic bag for your used tampons and towels as you cannot dispose of these in the wild.
Whether you're on a backpacking trip, camping off-grid of just want to be active on your camping holiday, keeping clean in the wilds is easily manageable if you have a water source and the right hygiene products and gear.
Are you looking for more wild camping inspiration? Check out these top posts…
Do you want to wild camp in your motorhome? Are you feeling a bit nervous about wild camping for the first time? Then read on for all our top tips and practical advice about how to wild camp in a motorhome and get off the beaten track like an expert!
Love it? Pin it!