This post may contain affiliate links, from which we earn an income.
Motorhome & Campervan Travel in Ireland
Ireland is a fantastic non-Schengen option for motorhome travel. Easily accessible from the UK or Northern Ireland, this understated country packs a punch of lush rolling hills, dramatic coastlines, rich heritage and entertaining cities.
In this guide, you'll find lots of practical and helpful information about getting around Ireland in a motorhome, and how to manage campervan and motorhome life there.
From tips about driving, where to stay overnight and wild camping, to motorhome services and a round-up of the best motorhome destinations, you'll find all the information you need for an amazing road trip in Ireland.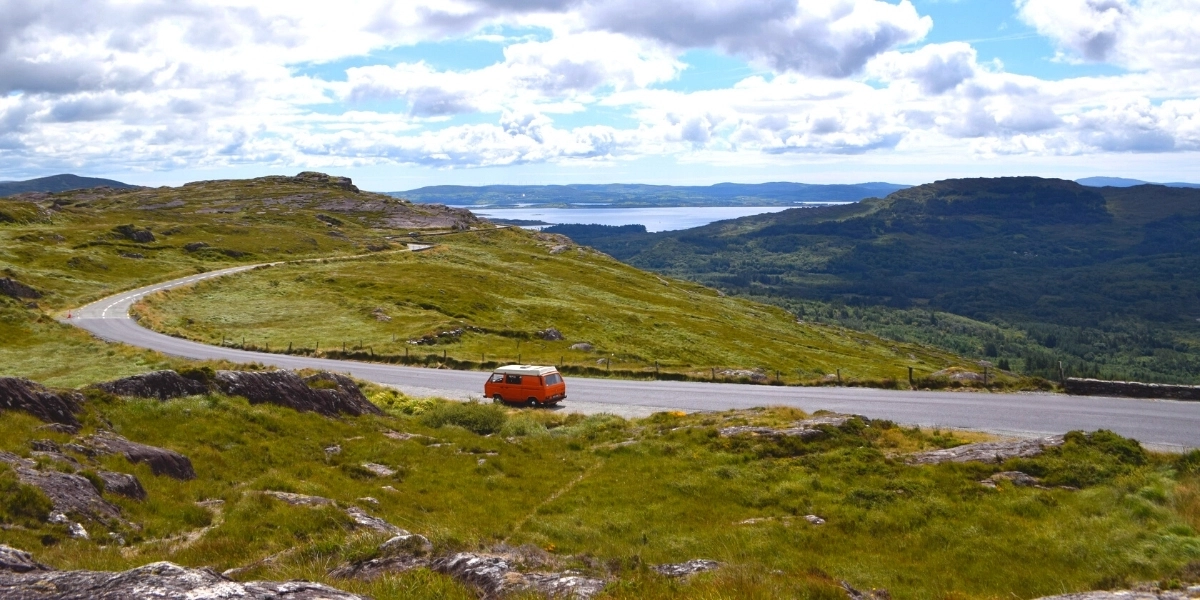 Motorhome Routes to Ireland
Crossing the Irish Sea
Liverpool to Dublin
The only England to Ireland crossing is the Liverpool to Dublin option, where P&O offer four crossings per day. With both day and night crossings available and taking eight hours, you can choose to arrive refreshed and ready to start your motorhome tour.
Holyhead to Dublin
From the northern tip of Anglesey in Wales, the Holyhead to Dublin route is provided by both Irish Ferries and Stena Line, offering seven crossings a day between them.
This is a quick crossing of just three and a half hours, and a great option if you live in central England.
Pembroke & Fishguard to Rosslare
From Pembroke in the south of Wales, Irish Ferries sails to Rosslare twice a day. Stena Line also offers a twice daily service to Rosslare from Fishguard, a bit further up the Welsh coast.
From Pembroke the crossing takes five hours and from Fishguard, you'll arrive in four hours and fifteen minutes.
These are the best options to get to Ireland if you live in southern England.
England to Northern Ireland
Stena Line operate the Liverpool Birkenhead to Belfast route twice a day. There are options of day and night crossings, both taking eight hours.
Scotland to Northern Ireland
The are two Scotland to Ireland crossings.
Cairnryan to Belfast, operated by Stena Lines, crosses six times and day and takes just two and a quarter hours on their 'Superfast' ships.
Cairnryan to Larne (north of Belfast), operated by P&O takes around two hours and also operates six times a day.
Crossings from Stranraer to Northern Ireland stopped in 2012 due to the need for a deep water port required for the larger more efficient ferries coming into service.
France to Ireland
Rosscoff to Cork/Ringaskiddy
If you're planning on touring into Europe from Ireland, or vice versa, Stena Line offer a twice a week fourteen hour overnight crossing between the two ports.
Cherbourg/Roscoff to Rosslare
Brittany and Stena offer four weekly overnight sailings between them on the Cherbourg route, both taking eighteen hours.
Stena also provide a once a week 16 hour overnight crossing on the Roscoff route.
Spain to Ireland
Bilbao to Rosslare
A mammoth 30 hour crossing, Brittany Ferries leaves both Bilbao and Rosslare twice a week. A good option for a longer European tour or for those living in Spain or southern France. Use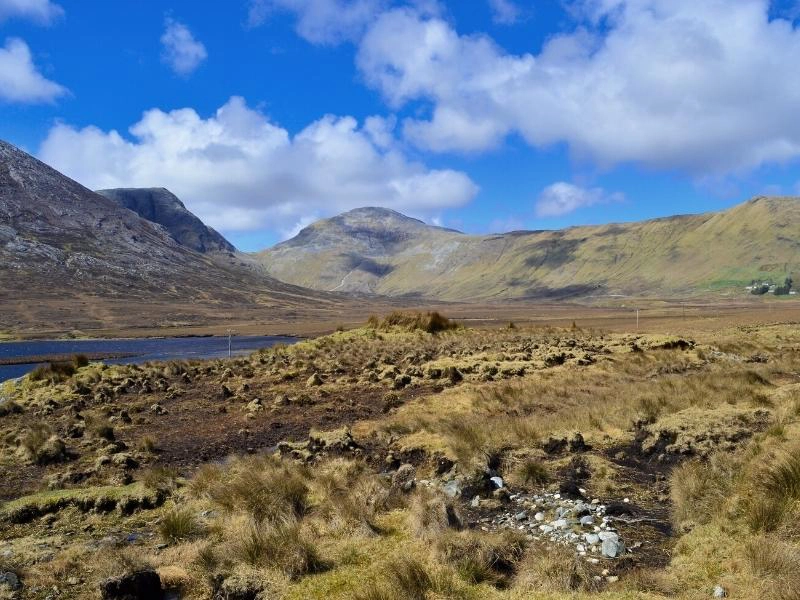 Crossing into Ireland from Northern Ireland
If you sail into Belfast, you can skirt around the Mourne Mountains and cross the border into the Republic of Ireland in just an hour. If you sail into Larne, north of Belfast, add another thirty minutes onto your journey south.
As a result of Brexit, Ireland and the United Kingdom formalised an agreement known as the Common Travel Area. CTA rights can only be exercised by citizens of Ireland and the UK.
Do I need a visa for Ireland?
There are no passport controls in operation for Irish and UK citizens travelling between Northern Ireland and the Republic of Ireland. You do not need to have a passport to enter the other country, and you don't need a visa.
However, you must show identification to board a ferry and some sea carriers only accept a passport as valid identification, so check before you set off. You may also be asked by an immigration officer to prove that you are a citizen of Ireland or the UK, so its best to carry your passport with you.
How long can I stay in Ireland?
Ireland is not part of the Schengen area and so can be visited without your time in the country being counted towards the 90 in 180 day rule. People who are citizens of the United Kingdom (UK) are entitled to live in Ireland without any conditions or restrictions.
If you like things to be aligned, change your sat nav from miles per hour to kilometres per hour when you cross the border. There is no need to change the time though, Ireland observes GMT.
What food can I take in my motorhome to Ireland?
Food you take into Ireland in your motorhome is classed as a personal import. The rules regarding this are complex because of the CTA and depend on whether you're entering Ireland from the Wales, Scotland, Northern Ireland or Europe. You can find out more from the Food Safety Authority of Ireland website.
Can I use my mobile data in Ireland?
It very much depends on who your mobile phone contract is with and when you started the contract. All UK providers now limit data usage in the EU in some way or another, and it's best to check with your provider to make sure you don't run up a big bill. You can find lots of information in our guide to the best SIM cards in Europe, especially if you're planning to be away for more than a few weeks.
We have been using and recommend ConnectPlus for cloud sim connectivity in the UK and Europe. You can choose from unlimited data packs to just single days, depending on your needs. The device is no larger than a slimline smart phone, connects with up to ten devices, is charged easily with a USB and can be delivered within a few days of ordering. Use the code 'thegapdecaders' at checkout to get 50% off in the first month!

Can I take a pet to Ireland in my motorhome?
This is also complicated because of the common travel area and your point of entry into Ireland. You can find out more here.
The Differences Between Northern Ireland and Ireland Explained
Northern Ireland (or 'Norn Iron' as it is affectionately known by residents) is a part of the United Kingdom of Great Britain and Northern Ireland, also known as the UK. The other countries in this sovereign state are England, Scotland and Wales.
Great Britain is not a country but a landmass, which is home to the countries of England, Scotland and Wales.
The British Isles is the name of the group of islands which are made up of Great Britain, the entire island of Ireland, The Isle of Man, The Isles of Scilly, The Channel Islands (including Guernsey, Jersey, Sark and Alderney) and lots of other much smaller islands.
Ireland is a completely separate and independent country (and a member of the EU) officially described as the Republic of Ireland. There is no such country as Southern Ireland, although it is often incorrectly used to differentiate between Ireland and Northern Ireland.
Motorhome & Campervan Hire Ireland
Flying and hiring a motorhome or campervan is the great way to tour Ireland if you don't own one.
Our recommended Ireland campervan hire company is Motorhome Republic , who have pickup locations at Cork, Dublin Airport, and Limerick, making round trips and one-way drop off really easy.
Expect to pay around €80-100 per night for a two berth van with a double bed. You need to be at least 21 years old to rent a campervan in Ireland.
If you plan to drive between Northern Ireland and the Republic of Ireland, there may be an additional fee to pay, usually around €20-30. Make sure to inform your campervan rental company that you plan to cross the border.
When to Visit Ireland in a Motorhome
Peak tourist season is June to early September and although it will be busier, you'll get the benefit of the longer days and warmest weather, perfect for a campervan holiday.
The main areas affected by higher tourist traffic tend to be Dublin and Cork, and some stretches of the Wild Atlantic Way around Galway and Kerry. Don't let this put you off travelling in summer though – when you're travelling in a van its easy to get off the beaten path and away from the tourist hotspots.
Plan your Ireland motorhome trip from mid-April to May, and late September to October for quieter roads, good weather and all the craic that comes when the country starts to come alive for summer.
In the winter months between November and March, you won't see many visitors, the weather may well be cold and and dreary and lots of tourist attractions will be closed. City sightseeings continues as always, but the atmosphere in pubs and bars may be lacking during the week.
Especially to brighten the dark months, the Irish hold some of their biggest and best festivals in winter. Think St Patricks Day on 17th March, the Galway food festival in April, the Cork Jazz Festival and Derry-Londonderry's huge Halloween celebrations, both held in October every year.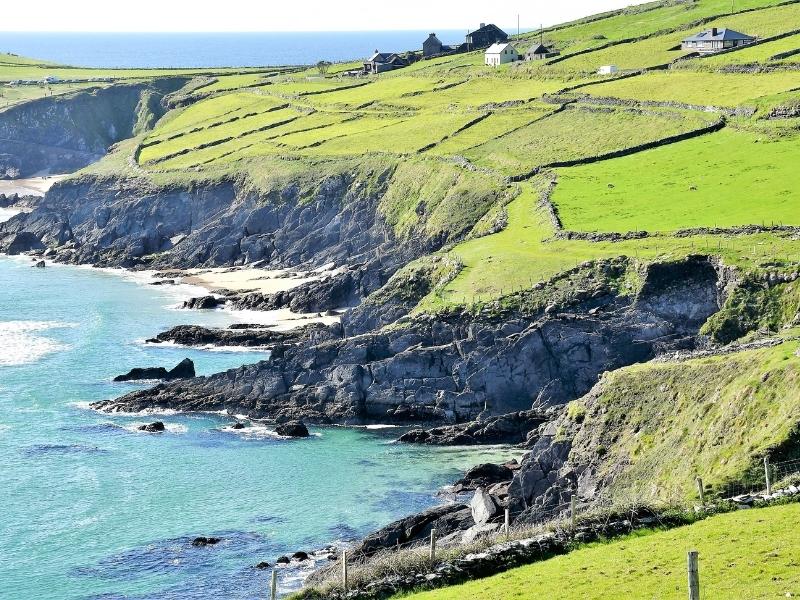 Driving a Motorhome in Ireland
Ireland has seen a huge investment of EU money in the road network over the last ten years. As regular travellers there (Phil is from Northern Ireland), we've seen a massive improvement in the motorways around Dublin, and the rural road system across Ireland.
Irish Speed Limits for Motorhomes
Always observe the speed limits when campervanning in Europe. There are speed cameras just as in the UK, and the Irish authorities have been known to pursue Brits for non-payment of fines. This has not changed since Brexit as the information sharing agreement with the DVLA continues.
Motorhomes < 3,500 kg
Town and city – 50 km/h
National roads and dual carriageways – 100 km/h
Regional and non-national roads – 80 km/h
Motorway speed limits – 120 km/h
Special speed limits – 30 km/h or 60 km/h (as signed)
Motorhomes > 3,500 kg:
Town and city – 50 km/h
National roads and dual carriageways – 80 km/h
Regional and non-national roads – 80 km/h
Motorway speed limits – 90 km/h
Special speed limits – 30 km/h or 60 km/h (as signed)
Documents You Need to Travel & Drive in Ireland
Your passport must be valid for the whole of your stay in Ireland (UK citizens do not need a passport to visit Ireland but its best to carry one anyway).
You must have at least 3rd party insurance for your vehicle. Update August 2021 – you no longer require a green card to prove you have vehicle insurance cover when travelling in Europe.
Your UK licence allows you to drive in all EU countries. If you only have a paper driving licence or a licence issued in Gibraltar, Guernsey, Jersey or the Isle of Man then you will need an International Driving Permit.
Breakdown cover documentation (not compulsory).
Vehicle V5 logbook (which must show your correct address).
Personal travel and medical insurance (we recommend True Traveller), EHIC or GHIC card (not compulsory).
Animal Health Certificate if you're travelling with a pet to Ireland or Northern Ireland.
Vehicle Safety Equipment for Ireland
Unlike many other European countries, it is not compulsory to carry any vehicle equipment in Ireland, but this is what we think you need;
Warning triangle.
Reflective jacket.
Spare wheel and the tools to change a wheel, or a tyre repair kit.
First aid kit.
Spare bulbs and fuses.
Fire extinguisher.
From 28th September 2021, you will have to display a UK sticker on the rear of of your vehicle, instead of a GB sticker, unless you have a new style UK numberplate which displays the Union Jack flag.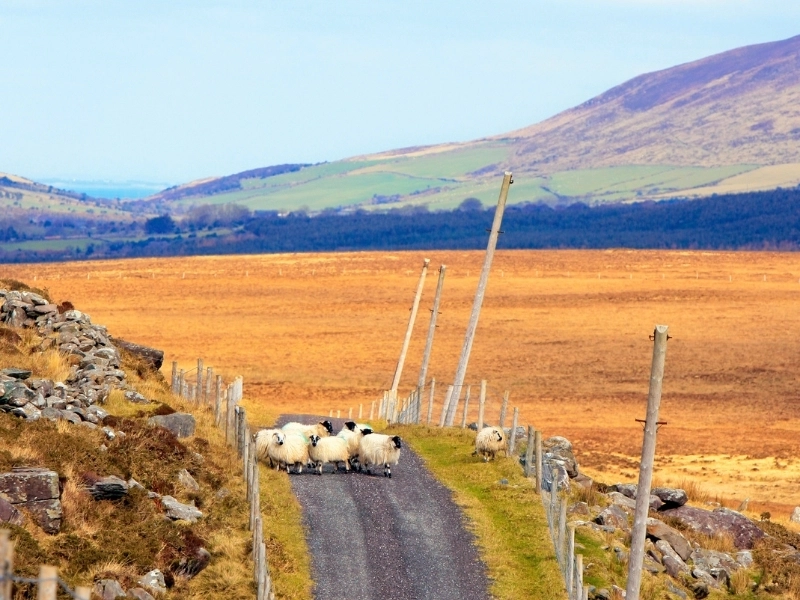 Driving a Motorhome in Ireland Tips
Ireland is like the UK and drives on the left.
In some rural areas, roads are too narrow for motorhomes to use them safely, although smaller camper vans may be ok. Often there are no passing places. Check your intended route and always abide by signage.
When driving in the countryside, expect slow moving agricultural vehicles and animals like sheep and cows being herded along roads. Follow the Irish way and take it slowly – this is not a country in a hurry!
The UK Department for Transport advises that A-frames are not legal for use by UK motorhomers abroad. In practice, this could mean towing your car while it's fixed to a trailer, although there is ambiguity around this and differing advice can be found on the internet.
Campervans or motorhomes and cars with caravans or trailers are not allowed to exceed 18.75m in total length, 4m in height and 2.55m in width.
Loads must not exceed 10.5 tonnes at the driving axle and 10 tonnes at a single axle.
You must not carry or use a radar detector and if caught you could be fined and the device confiscated by the Garda.
There are no low emission zones in Ireland.
Dublin is the only Irish city with an Urban Access Scheme in place, however it only applies to vehicles with more than five axles – if that's you, find out more here. And kudos, that's one big motorhome!
The Garda can issue fixed penalty notices, in person or attached to your windscreen, which you will have to pay within 28 days or choose to go to court. Fines not paid within 28 days increase by 50%.
The legal limit is 50 milligrams of alcohol per 100millilitres of blood, lower than the UK's 80mgs. Random breath testing is in force throughout Ireland, with severe penalties including fines, imprisonment and disqualification for drink drivers.
If you have an accident you'll need to complete the EU Accident Statement, which you can find here to download if your insurer hasn't provided one. Stop safely and use your hazard lights and warning triangle to alert other drivers. Exchange details and take lots of photos to add to your form when you submit it to the insurers. If the other party won't give details or there has been an injury, you should call the Garda on 112.
Toll Roads in Ireland
There are eleven motorways in Ireland with tolls.
Some toll stations don't take credit cards and the M50 is electronic, requiring you to pay online if you don't have an electronic toll tag.
Make sure you've got some euroes in change or invest in an e-Toll electronic tag that attaches to your vehicle and pays all required tolls.
There are no toll roads in Northern Ireland.
Thanks to e-toll.ie for the Ireland toll roads map.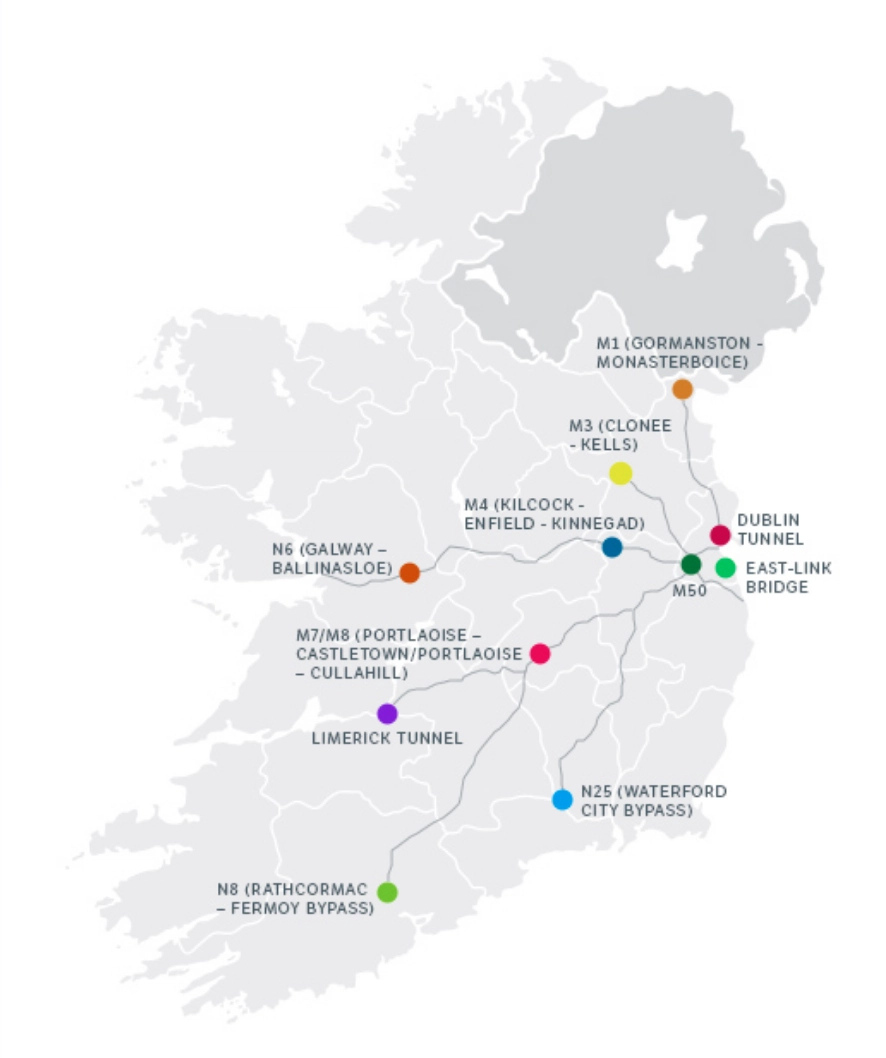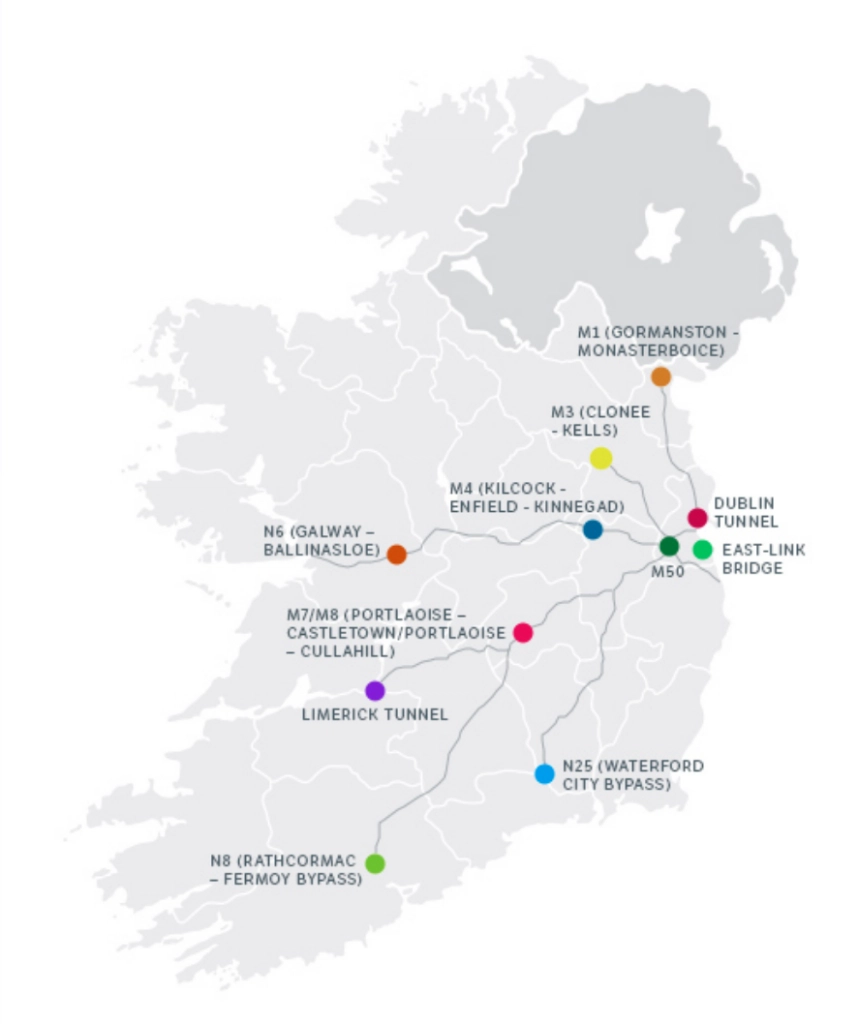 Parking in Ireland
As well as following any restrictions signposted locally, drivers in Ireland should also note that parking is prohibited in the following places;
Within nine metres of a road junction.
Within the same distance on the approach side of a pedestrian crossing or pedestrian lights.
At a bus stop with road markings.
On the pavement if this affects the movement of pedestrians.
On cycle tracks.
On yellow lines.
When parking at night, vehicles may be parked without lights in situations where street lighting ensures they can be clearly seen by traffic.
Fuel in Ireland
Fuel prices in Ireland are similar to those in France – slightly less than the UK, but a lot more than Spain!
There are plenty of filling stations located across the country that sell petrol, diesel and LPG, although in rural areas in the west of the country there are fewer.
Recommended Reading
Do you want to wild camp in your motorhome? Are you feeling a bit nervous about wild camping for the first time? Then read on for all our top tips and practical advice about how to wild camp in a motorhome and get off the beaten track like an expert!
Europe is perfect for an epic road trip. From the rolling fields of Tuscany and the soaring mountains of the Sierra Nevada to the beaches of the South of France and the mighty Alps, you can find a European road trip route to suit your taste and travel style. No flying required! Our top eighteen bucket list Europe road trip itinerary ideas will give you plenty of inspiration to get on the road.
Motorhome Service Points in Ireland
There are very few motorhome service areas in Ireland. Use an app like Park4Night to identify aires with services, or stay in a campsite every few nights.
Many campsites will also let you fill up with fresh water, dispose of grey waste and empty your toilet cassette if you pay a small fee.
LPG & Bottled Gas
There are around 50 garages in Ireland where you can fill LPG from the pump. Use the myLPG app to identify one close to you, and check on the prices.
If you have a refillable system like Gaslow or Gasit, the ACME adaptor used for Germany, Belgium and Austria is the one you need for Ireland.
Calor Gas is Ireland's leading supplier of bottled propane and butane gas. Irish gas bottles are not interchangeable with UK bottles, but you may find some suppliers selling both Irish and UK bottles, especially close to the border.
You'll also need a different regulator. If you carry a selection around, you'll find a Spanish one does the job!
Motorhome Stops in Ireland
Aires in Ireland
If you're used to motorhoming in France, Spain or Germany, motorhome aires de camping are a common part of life.
In Ireland, there are only a handful of what you might recognise as motorhome aires, but they don't really work in the same way as they do on the continent.
Sometimes they're free, other times you need to pay your euros to the butchers shop round the corner, or the pub along the High Street.
A few of these have purpose-built motorhome services, but many are a bit ad hoc. Expect to pay around €5-10 per night.
Wild Camping in Ireland for Motorhomes
Is it legal to wild camp in in Ireland? Wild camping is not legal in Ireland, in the same way it isn't in the UK. However, with a population of just 6.6 million (a tenth of the UK population) living on a land mass a third of the size of the whole of the UK, the Emerald Isle is very sparsely populated.
This means there are lots and lots of wide open spaces where you can find camping spots and wild camp discreetly without bothering anyone. In our experience, the people of Ireland really don't mind motorhomes and campervans wild camping.
If you do see a sign or local by-law forbidding it, then move on. Likewise, if there is an obvious landowner whose permission you need to ask, then do so.
As always, follow our motorhome wild camping top tips and rules to stay safe and leave no trace wherever you stay.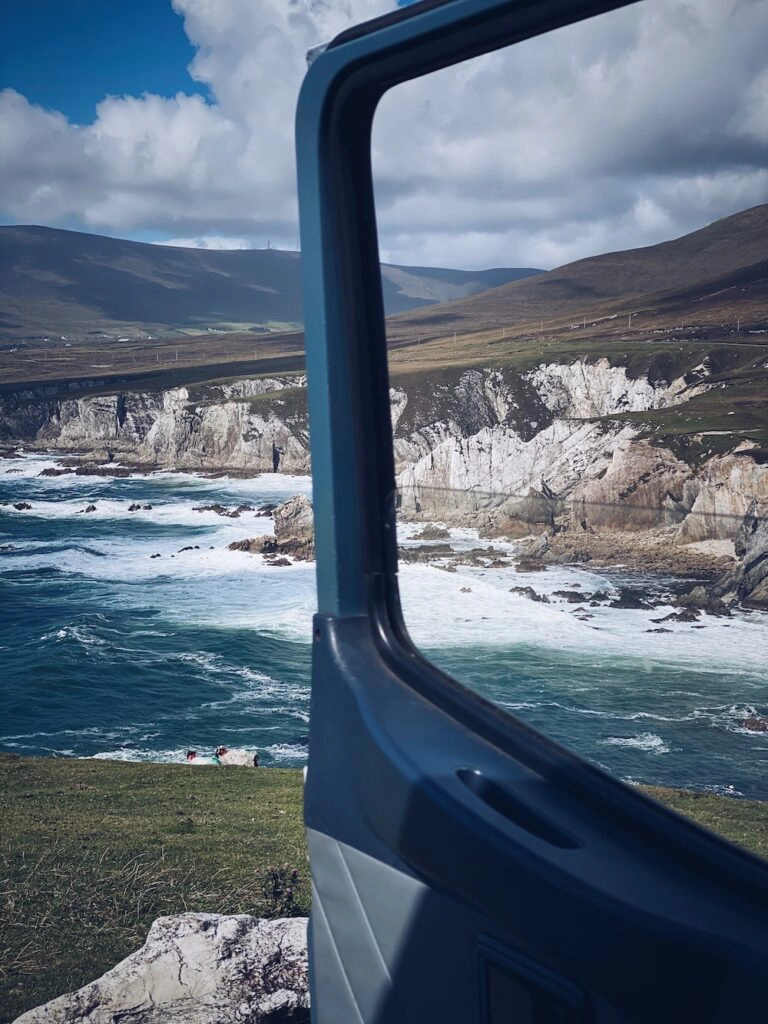 Safe Nights Ireland Motorhome Parking
Safe Nights Ireland is an initiative which provides access to overnight motorhome parking across the country, at over 350 locations.
The locations are not campsites, but safe off the road places where you can stay. From country houses, open farms and national parks to pub locations, you'll get a warm welcome and a safe haven for the night. Some provide services, but make sure to plan ahead where they don't.
It costs €15 to join the club, and get access to their online database of campervan stopovers. If you hire a campervan with Bunk Camping, they even throw club membership in for free!
Total Motorhome Ireland
Total Motorhome Ireland is a great resource to find pub overnight stopovers, campsites and services in Ireland, which is free to use.
Motorhome Parking Ireland
A paid for app especially for Ireland, Motorhome Parking Ireland is where you can find pubs, restaurants, farms, free campervan parking and many other places where you're welcome to spend the night in a van.
Motorhome Campsites in Ireland
Campsites in Ireland for motorhomes tend to be small and intimate. Many take CampingCard ACSI, meaning you can save over 60% at campsites out of season, a must for motorhoming in Ireland.
Members of UK motorhome clubs can also book sites across the island of Ireland. Those living in Ireland and Northern Ireland may be able to join the Irish Motorhome Club and book sites with them.
Campsite facilities are usually good, often with 13 amps of electric and good wifi across the site. Expect camping spots in Ireland to be very similar to those in the UK.
Life in Ireland
The pace of life is slower in this beautiful country. Visit the cities though, and expect things to be a bit more lively – Ireland is becoming a cosmopolitan country to be reckoned with.
Lots of people ask us about safety, especially in Northern Ireland. After years of visiting with Phil (I'm a Brit), I can honestly say I have never felt unsafe.
There are certain things that maybe highlight the recent history of both countries, such as flags being flown, police stations behind high fencing, paving painted in either nationalist or republican colours, and of course the distinctive and famous murals on buildings in Belfast and Derry-Londonderry.
Many of the latter can be visited as part of a tour of those cities, and if you get the opportunity, you should definitely do that.
For me, the hospitality I have always been shown, the friendliness of the people and yes, the craic, make the island of Ireland one of my favourite places in the whole world.
If you get a chance when you're camping somewhere rural, head to the nearest pub, where the local community will show you a good time. With impromptu Irish music, a pint of Guinness and maybe a traditional dinner of bacon and colcannon (mash with cabbage), you'll feel right at home in no time!
Top Irish Motorhome Destinations
Dublin
The capital of Ireland, Dublin is a city with a huge reputation which has managed to retain the quaint and lively charm that you will find throughout the country.
Dublin has a complex history full of Vikings, famines and wars, and much of the city still has an historic feel, with streets of cobblestone, castles and ancient churches.
Don't miss the more modern attractions of the Guinness Storehouse and Temple Bar, which really comes alive at night. Even if you only have a short time in Dublin, it is absolutely worth visiting.
Stay at Camac Valley Camping and Caravanning Park. There is a bus stop at the main entrance, from there it's a ten minute ride to the nearest tram into the city.
RELATED POST – One Day in Dublin – Itinerary, Map, Tips & Guide
The Wild Atlantic Way
From County Donegal to County Cork, and passing through counties Leitrim, Sligo, Mayo, Galway, Clare, Limerick and Kerry, the Wild Atlantic Way winds down the intricate west coast of Ireland and the edge of Europe.
This epic Ireland road trip takes in many of Ireland's must see's.
Be in awe of dramatic Malin Head on Donegal's Inishowen Peninsula, and the contrasting sand dunes which you can see as you approach from the coastal road around Lag.
Visit Dunmore Head, Ireland's most westerly point on the Dingle Peninsula, where the waves crash and the clouds race. Whilst you're there, check out Slea Head, the drive to which is spectacular.
Marvel at the UNESCO Killarney National Park and then explore the spectacular Ring of Kerry route before hopping over to Skelling Michael, which along with Little Skelling and Lemon Rock (a Harry Potter filming location), make up the Skellings.
The mighty Cliffs of Moher have to be visited. One of Ireland's most famous sights, the cliffs tower over the County Clare coast and have been inspiring creatives and geologists alike for centuries.
The Beara Peninsula in Munster is a great place for hiking, with incredible views of the surroundings rugged landscapes and wild seas for the two mountains ranges which run down the peninsula's spine.
This motorhome trip on the west coast of Ireland is best done with time on your side. Two weeks will give you a flavour, three weeks is just about enough, but four weeks or longer will give you time to explore and really get to know the country.
You'll find loads of wild camping opportunities on the route, as well as cliff-top campsites and stunning off the beaten path beach-side locations where you can stay and enjoy the view.
RELATED POST – Wild Atlantic Way: Itinerary, Map & Tips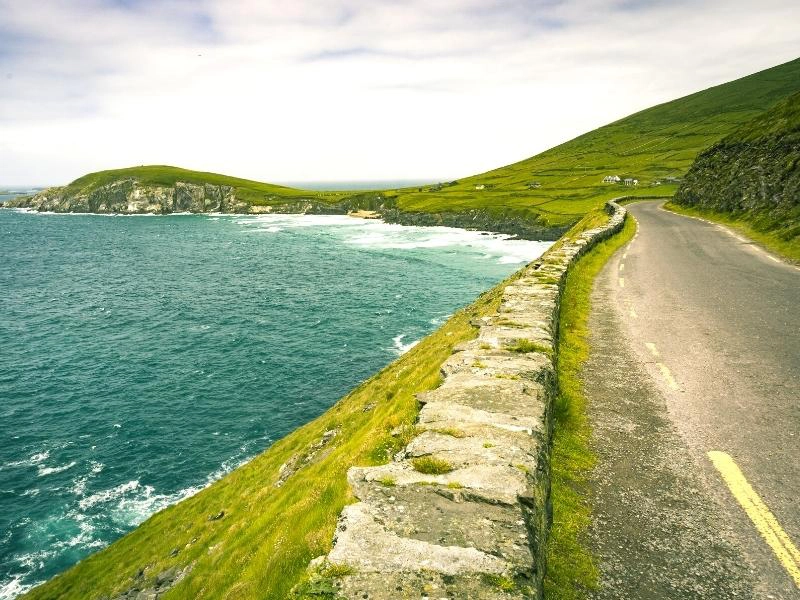 Ireland's Ancient East
An attempt at repeating the success of camper van routes along the Wild Atlantic Way and the North Coast 500 in Scotland, Ireland's Ancient East is a touring region rather than a road trip route, framed by the river Shannon to the west and Irish Sea to the east.
The Ancient East showcases 5,000 years of Irish history and national heritage across the soft green landscape of Wexford, Kilkenny, Wickford, Tipperary, Waterford and twelve other counties.
Where the Wild Atlantic Way is about raw nature and pounding seas, the Ancient East is where the myths and legends of the Emerald Isle come to life.
Revel in Kilkenny's Medieval Mile Walk and follow the footsteps of the Vikings through the narrow streets and medieval treasures of Waterford.
Visit Blarney Castle and kiss the Blarney Stone (maybe wear a mask?) and take a moment on top of the mystical Hill of Tara in Meath, dwelling place of the gods. Marvel at the Rock of Cashel in Tipperary, one of Ireland's most spectacular, and visited, attractions.
You'll find plenty of places to stay in the eastern counties of Ireland, including some cracking pub stops, free motorhome parking spots and great campsites.
RELATED POST – Beautiful Ireland: 22 Most Scenic Places To Visit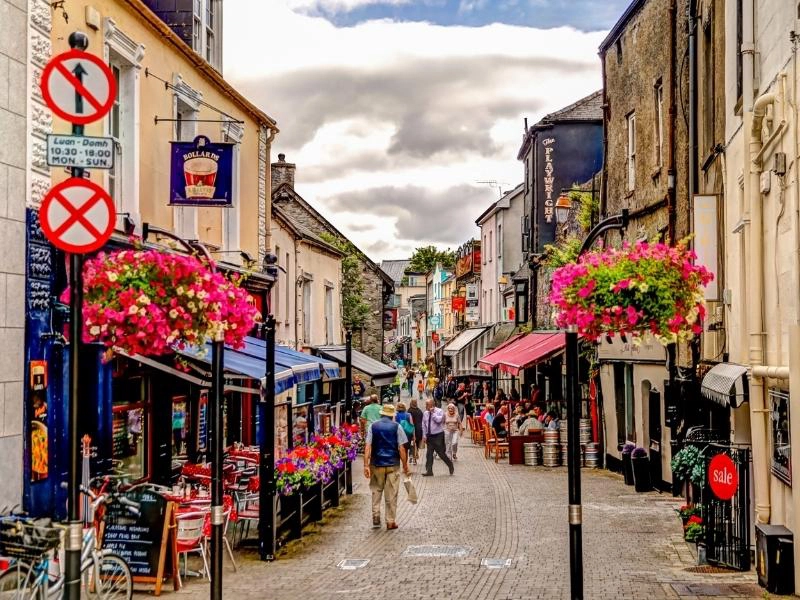 Top Northern Ireland Motorhome Destinations
Causeway Coastal Route
The wild and unspoiled Antrim Coast in Northern Ireland is made for a motorhome road trip. Peppered with fascinating places to see and exciting things to do, this route will appeal to outdoor adventurers.
If you are a Game of Thrones fan, there are lots of places along this route which featured in the show, including the Dark Hedges and the tiny harbour at Ballintoy (but don't attempt either of them in a motorhome!).
Other attractions include the Carrick-a-Rede rope bridge, Bushmill's Distillery and of course, the magnificent Giant's Causeway, Northern Ireland's first UNESCO site.
The walled city of Derry-Londonderry, one of the finest examples of a walled city in Europe and the only remaining completely walled city in Ireland, starts, or ends, the Causeway Coastal Route. The walls, which are around 1.5km in circumference, form a walkway around the inner city and provide a unique promenade to view the layout of the original town.
Belfast is the bookend to the south, over the beautiful and desolate Sperrin Mountains. Don't miss the fantastic Titanic Quarter, historic Crumlin Road Gaol and the buzzing nightlife of the Cathedral Quarter.
All along this route you'll find lots of campsites, motorhome overnight parking and pub motorhome stopovers, all sharing the typical warm Irish hospitality the island is known for.
RELATED POST – Causeway Coastal Route: The Best Road Trip In Ireland?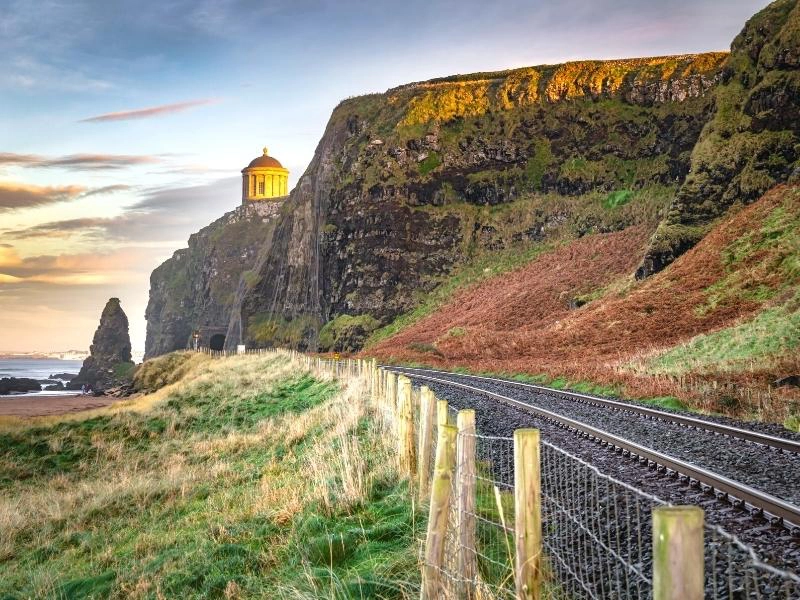 Resources for Motorhome Travel in Ireland
Are you looking for more motorhome touring guides? Check out these top posts…
Motorhome touring in the beautiful and varied country of France is a pleasure. From the Cote d'Azur to the deserted and tranquil interior, France is the perfect place to spend a summer in your motorhome. We've spent months touring in France and from tips about driving, budgeting, where to stay overnight and off-grid and wild camping, to motorhome services and a round-up of the best motorhome destinations, you'll find all the information you need for…
Love it? Pin it!