This post may contain affiliate links, from which we earn an income.
There's no denying that vanlife offers the kind of freedom that no other lifestyle can. You can travel at your own pace, park up in scenic places and watch the sunset from your bed. It's a lifestyle that attracts many, and it's easy to see why.
When it comes to living life on the road, there are a lot of things to consider. Sure, there are plenty of bonuses, but knowing how to finance your travels, how to find overnight spots and knowing what meals are easy to cook, are all very useful skills to know.
There's no better resource than hearing from other motorhomers and vanlifers to earn about life on the road. That's why before you head out on your adventures, you should consider stocking up on some van life books that are not only inspiring, but offer advice and instruction to make living this nomadic lifestyle less stressful.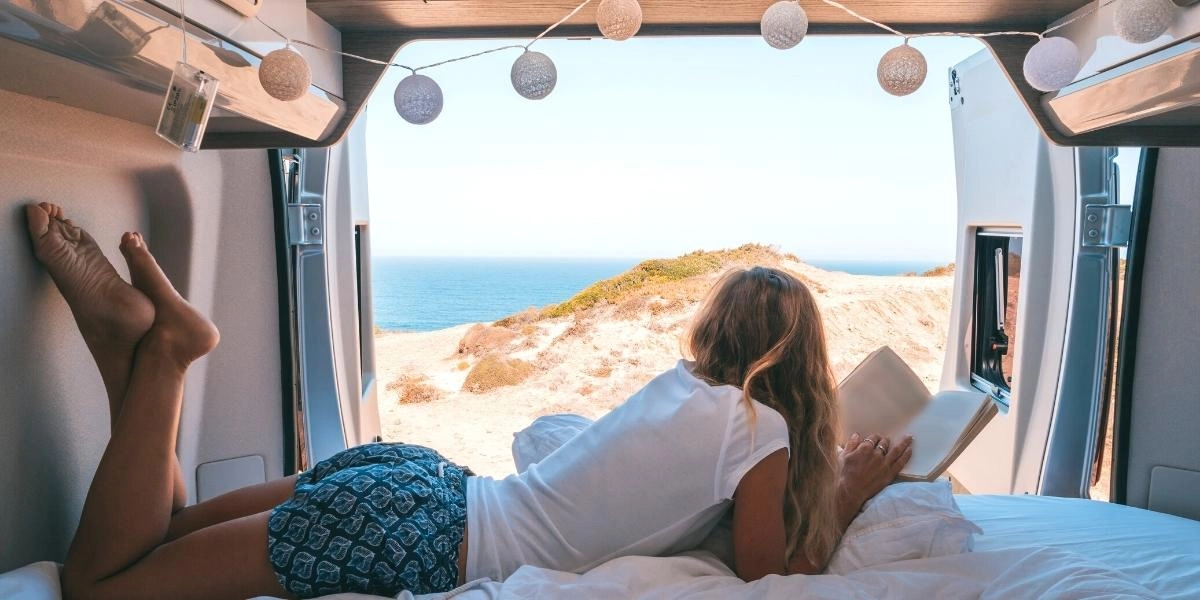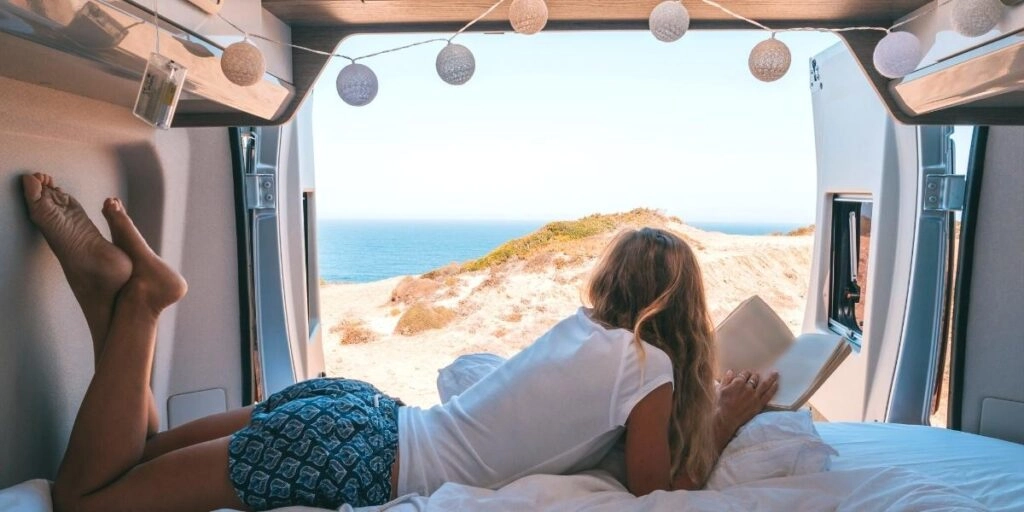 Inspirational Vanlife & Motorhome Books
If you're looking for some motorhome books to inspire you to pack up your belongings and hit the high road, then these inspirational books about van life may be the push you need.
How to Live in a Van and Travel: Live Everywhere, be Free and Have Adventures in a Campervan or Motorhome by Mike Hudson
One of the biggest draws to vanlife is the ability to live anywhere you want. Imagine waking up, deciding you're tired of a place and moving with all your belongings and it's as easy as walking to the corner shop.
The end goal is in sight, but how do you get there? It can be daunting at first, and you've probably got a ton of questions.
Mike Hudson, aka Van Dog Traveller of van life blog fame, will likely answer most, if not all, of those questions. Whatever worries you about vanlife, from the project build or van conversion to planning itineraries, managing finances and finding places to sleep at night, he covers all you need to know about starting the vanlife lifestyle.
Walden on Wheels: On the Open Road from Debt to Freedom by Ken Ilgunas
One of the biggest concerns for anyone thinking of vanlife is money. In Ken Ilgunus's insightful memoir, he writes about how he graduated from the University of Buffalo with $32,000 (£26,000) worth of student debt. Not the best financial situation to start your new life in, right?
Inspired by the philosophy of Henry David Thoreau, Iglunas decided to live a frugal life, working as a tour guide in Alaska, garbage picker and night chef to pay off his loans.
When he was finally debt free, he enrolled at Duke University to study for his master's but was determined not to return to being in debt. Using the last of his savings, he bought himself a used Econoline van and used it as his new dorm room.
The van, which was stationed in a campus parking lot, was his new home on wheels. He survived freezing winters, campus police, and the confinement of a small space, for two whole years while studying.
While he didn't use vanlife to travel around the world, but to save money on accommodation, what he found was life-changing and enlightening. It was a journey that gave him a whole new perspective on life.
It's easy to get caught up in motorhome books that tell of travel adventures, but Walden On Wheels teaches us that even when you stay put, vanlife can still offer you an unforgettable adventure.
Take the Slow Road England and Wales: Inspirational Journeys Round England and Wales by Camper Van and Motorhome
This wonderful campervan book reflects author Martin Dorey's philosophy – that it's all about the journey.
Packed with great places to go in your motorhome or campervan to take in stunning coastlines, picturesque valleys, rolling hills, quaint villages and historic sites, this book also includes plenty of tips for making your motorhoming dream a reality.
There are also Slow Road campervan books covering Scotland and Ireland.
Project VanLife: An Epic Journey of Discovery and Perseverance Through the Eyes of Young Entrepreneurs by Trevor DeRuise
One of the most inspiring books about vanlife is Trevor DeRuise's Project VanLife. In this insightful book, he writes about how to step outside your comfort zone and live a life chasing your dreams. DeRuise is a 22-year-old professional mountain bike racer, so as you can imagine, he's not someone who's afraid to take a risk.
When he and his friend decide to become entrepreneurs after leaving college, they set out for a world less travelled, following the largest professional mountain bike series in North America. The summer journey took them over 90 days, living out of their van and conquering 15,000 miles on almost no budget.
Meanwhile, they were still struggling to operate their entrepreneurial businesses from their office on wheels.
This is a tale of two young dreamers who learn what it takes to persevere, persist and stay positive in face of adversity.
Van Life: Inspiration for Your Home on the Road by Foster Huntington
More people than ever before are choosing to take a break from conventional life for the freedom and adventure of being on the road and living in a a house on wheels.
One of the pioneering people to choose van living is Foster Huntington, who actually created the vanlife hashtag as he diaried his adventures living in a van whilst driving across America.
He found a community of like-minded individuals and this book showcases the best never before seen photographs from that community, including incredible scenic drives and amazing camping spots, from Foster's own Tumblr account.
Looking for motorhome gifts? Check out these top posts…
If you love motorhoming then you'll know that having the right kit makes all the difference. Check out our pick of the best and most useful motorhome and campervan gadgets and essential accessories, tried and tested by us over three years of full time motorhome life.
Our van life gift guide is full of fun, creative and unique gifts for anyone who loves the van life. Whether you're looking for personlalised campervan gifts, funny campervan gifts or throughtful vanlife gifts for a loved one, you'll find the perfect something here.
Our specially chosen and unique motorhome gift ideas are perfect for motorhome lovers to make them smile on their birthday, at Christmas or whenever you just feel like showing the love!
Biographical Vanlife Books
There's no better inspiration than hearing from other vanlifers. If you're unsure if this lifestyle is for you, we highly recommend diving into a biographical vanlife book and reading about other people's adventures.
The Rolling Home: 80000 Miles and Counting in a Self Build Home by Calum Creasey
If you're looking for a vanlife novel that tells of adventure, then you'll love The Rolling Home by Calum Creasey. Creasey and his partner have ventured over 80,000 miles in their self-built campervan.
This stunning biographical book provides a photographic journey through their six-year adventure (so far), accompanied by van life stories, memoirs, tales and illustrations.
This novel about vanlife was put together to inspire others to consider starting their own home on wheels. While there are fewer words than your average biography, let the photos do all the storytelling.
Monkeys on the Road: One Family's Vanlife Adventure South in Search of a Simpler Life by Mary Hollendoner
Vanlife isn't just for couples and nomad solo travellers, but families too. Monkeys on the Road is a novel about vanlife that tells of what it's like to travel with children while living in a camper van.
After ditching her life in the rat race, Mary Hollendoner and her husband and six year-old daughter travelled 30,000 miles from the USA West Coast to South America in a camper van. She reminisces about how the stress of her office life kept her away from her family and really enjoying life.
With a new lease on life and a new set of priorities, they spent three-and-a-half years adventuring around on a heartwarming journey. Monkeys on the Road speaks of personal encounters, the incredibly scenic campsites, and occasionally tumultuous situations, all of which bought them together as a family.
This inspiring vanlife novel was the winner of the BookFest Awards for Travel Adventure & Destinations.
Vanlife Diaries: Finding Freedom on the Open Road By Kathleen Morton and Jonny Dustow
If you're looking for more photographic vanlife books that offer stunning images full of wanderlust, then you'll want to take a look at Van Life Diaries by Kathleen Morton and Jonny Dustow.
This photographic book is a celebration of nomadic life, offering a series of interviews, advice and photos of people living life from their vans. The collection was inspired by the Vanlife Diaries Instagram and blog, which sparked interest in a new generation of overlanders and nomads; from professionals to creatives, all of whom ditched the desk to live a life closer to nature.
There are over 200 photographs of vanlifers, their pets, and their converted homes on wheels. If you are starting your own van build and not sure how you want yours to look, this book will be your inspiration.
As well as photos, the interviews tell a story of how these nomads chose to leave their former lives behind and pursue the vanlife dream, plus some tips for working on the road.
Essential Vanlife Books
Before you head out on the road, it's always a good idea to carry a few essential van travel books to help you along the way. These are the most essential motorhome books you need to take with you.
The Complete Guide for Motorhome Beginners by The Gap Decaders
Wondering where to dispose of water water or how to dry your hair off grid? Or not sure about what to do when you first pitch up? Then you're in the right place, this is the perfect guide for you!
Owning your first motorhome can feel pretty daunting. The idea of jumping into your new van and driving off into the sunset is the dream, but the reality requires just a little bit more work, and some knowledge or being a motorhomer.
Of course you can learn as you go and hope not to make too many costly mistakes. When we first owned a motorhome, I spent ages wondering why people couldn't wind their awnings out straight, until we had our first big storm, and the rain had no way of running off, pooled in the middle and ripped the awning. Those things costs over £1000 to replace – ouch!
No one is born knowing how to be a motorhomer. Managing water and waste, understanding weights and electrics and how to stay legal in your van are all things you need to get right if you care about the longevity of your home on wheels, the environment, your sanity, and your pocket!
Prevention is always better than cure and understanding the basics will take the stress and hassle out of being a newbie motorhomer. This is the book every new owner needs in their van.
The Camper Van Cookbook: Life on 4 Wheels, Cooking on 2 Rings by Martin Dorey and Sarah Randell
One of the biggest dilemmas when living in a van is knowing what to cook. After all, space is an issue, and we're not all lucky enough to have ovens.
If you're wondering what to cook while living a life on wheels, then the Camper Van Cookbook offers 80 delicious and simple recipes that can be cooked on just two rings and a few barbeques, making it one of the best books for campervan owners.
Just because you're a van lifer, doesn't mean you have to rough it!
Hit the Road: Vans, Nomads and Roadside Adventures by Gestalten
Hit the Road is a collection of stories from overlanders, their vehicles and the adventures they've had while living life on the road. While some prefer to look for weekend escapes in the country, others see vanlife as their way of life.
Each story follows a different type of traveller, but all have one thing in common – they don't want to live an ordinary life.
From classic Volkswagen campers to antique Airstream trailers and massive 4×4 conversions, journeying through Africa, Europe and Asia, these expert vanlifers share their best-kept secrets, experiences and tips and tricks, so you can be ready to hit the road knowing exactly what's in store for you.
The Vanlife Companion by Lonely Planet
Lonely Planet is like the godfather of travel books, and they haven't left us vanlifers out with the vanlife companion book, an informative and inspiring read.
This travel guide offers practical advice on choosing the perfect van, getting it kitted out, and how to stay safe, park legally and save money on the road. They also share 20 classic itineraries for those who need a little help planning where to go.
If it's your first time hitting the road in your van, then this will be as vital to you as the road Atlas. It offers a great introduction to vanlife as a means to travel and also shares some inspiring stories from other vanlifers.
The Camper Van Bible: Live, Eat, Sleep (Repeat) by Martin Dorey
Inside your glove compartment, you should have one or two important motorhome books.
You should have your maps, which essential, especially when 4G service is spotty; your vehicle manual, should you break down and need to figure out what's wrong; and for everything else you need to know, The Camper Van Bible by Martin Dorey.
In this book, Dorey, who you may know from his time presenting BBC2's One Man and His Campervan, writes about all the nitty-gritty components of living in a camper van.
From what it's like to own and live in a camper van day to day, from cooking and sleeping in your camper, to keeping your van going, it's all here.
Complete with a series of gorgeous photographs and tons of important information, this book is vital for any motorhome enthusiast, whether you're still dreaming or ready to buy your first van.
Final Thoughts on Vanlife Books
Whether you're new to vanlife or you've been at it for a while, there is no doubt that these books will offer a fresh and inspiring perspective on the lifestyle that has attracted millions over the last decade.
From informative to inspirational, these vanlife books, all available from Amazon, will be sure to offer you the insight you need to have some truly incredible adventures.
By Louisa Smith of Epic Book Society.
Louisa has always had a love of books, but it was one book that inspired her to quit her cushy Company Director position, hop over her garden fence and embark on a life of travel. Louisa never looked back and is still on the road today, exploring different countries and sharing her love of reading along the way. Her blog, Epic Book Society, aims to unite book lovers around the world and inspire fellow readers to find that one book that changes their lives for the better, just like it did for her.
Are you looking for more tips & tricks about life on the road? Check out these top posts…
If you're planning a motorhome trip to Spain, you'll probably want to stay in a Spanish aire. But what is a Spanish aire, how do you stay in them and how do you find them? We answer all your questions about motorhome aires in Spain here.
Love it? Pin it!