This post may contain affiliate links, from which we earn an income.
The 200+ mile Route Napoléon, in the southeastern part of France, mimics Napoleon Bonaparte's journey in 1815 after he returned from exile in Elba and is one of the most scenic drives in France.
Cresting high passes and dropping into low forested valleys, you'll pass through lively cities and traditional villages along this picturesque route, whilst following the footsteps of one of history's most famous characters.
Our Route Napoleon France travel guide includes an interactive map with the official route, highlights, plenty of tips and answers to your frequently asked questions, helping you to plan an amazing road trip along this famous road in France.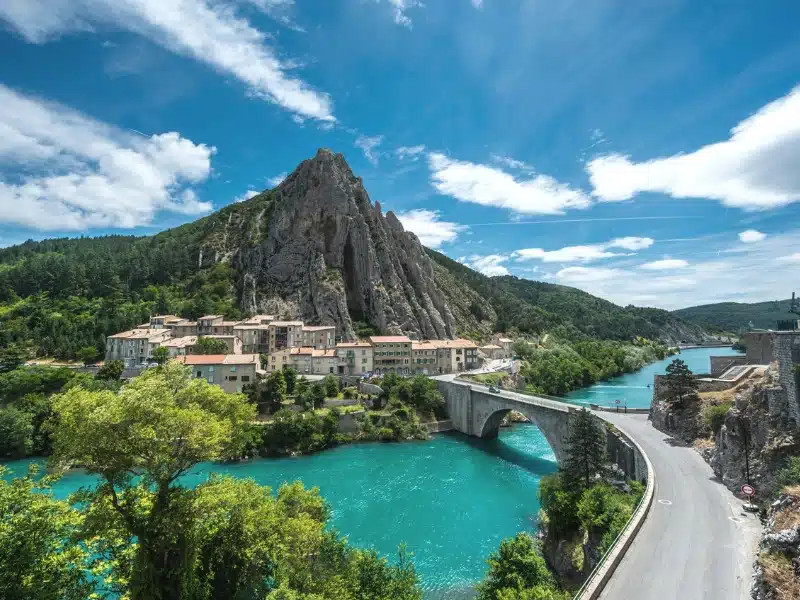 What is the Route Napoleon in France?
The Route Napoleon is a 201 mile / 324km paved tourist route, inaugurated in 1932, that starts in Golfe Juan, where Napoleon arrived on 1st March 1815 from Elba, marking the beginning of the Hundred Days before the Battle of Waterloo. The route ends in Grenoble, where Napoleon stays after facing the royal army.
After stepping on French soil for the first time in 300 days, with 1100 loyal men ready to fight the soldiers of Louis XVIII, Napoleon decided to march to Grenoble via the interior to avoid the valley of the Rhône and the royalist troops stationed there.
Today, the route Napoleon and his troops took over seven arduous days includes sections of the N85, D1085, D4085, and D6085 roads and is marked along the way by the green and brown eagle road signs, commemorative plaques, and statues of the French imperial eagle by the roadside.
"Before I reached Grenoble they thought me a soldier of fortune. When I got there I became a prince."
Napoléon Bonaparte
Is this your first time visiting France? Get all the information you need in our France Travel Guide, including what to pack, the best time of year to go, getting there, and practical tips to help you have the best trip!
Getting There
The Route Napoléon is a south-to-north route that officially starts in Golfe-Juan in the Alpes-Maritimes department of France's Côte d'Azur and ends in Grenoble, in the Auvergne-Rhône-Alpes region of southeastern France.
To begin at the official start point, fly into Nice Airport, which is just 12 miles / 20km along the coast from Golfe-Juan.
If you're planning to make this route part of a longer south of France road trip and want the fantastic Mediterranean views as you head south through Provence, start in Grenoble instead.
To start your Route Napoleon road trip in Grenoble, fly into Lyon-Saint Exupéry International Airport, an hour's drive north of Grenoble.
Both Lyon and Nice airports enjoy direct flights from Europe, the Middle East, the UK, and Canada, meaning connections to America and the rest of the world are easy. We recommend booking through Skyscanner for live deals and the best prices.
Make sure you have travel insurance you can trust when visiting France. We recommend True Traveller for their 5-star TrustPilot reviews, variety of cover options, best activities cover as standard, great prices, and excellent service.
How to Travel the Route Napoleon
Self-Drive
Whether you're in a car, motorcycle, campervan, or motorhome, self-driving is absolutely the best way to explore the Route Napoleon, meaning you can stop whenever you want, try new activities, visit places you see along the route, and have the freedom to change plans at the last minute.
Are you planning to rent a car in France? As one of the largest car hire aggregator companies in the world, we recommend Rentalcars.com because they have massive purchasing power which enables them to secure the best rental prices, which benefits you when you're planning a road trip.
For a real adventure, hire a motorhome or campervan in France. We recommend Motorhome Republic, an aggregate booking site who pull together all the best deals from a number of rental agencies, to offer you a wide choice of options alongside an excellent English speaking expert motorhome Concierge Team.
Use the Park4Night app to find overnight spots and campsites, and sleep on a high mountain pass, next to a beautiful lake, or in a wildflower meadow.
Route Napoleon Public Transport
It is possible to travel much of the Route Napoleon by public transport, using buses between each destination. Buses in France are operated at a local or regional level, serving large towns and cities, and connecting rural villages with regional centers.
A good starting point is Zou! which operates the regional bus service for the Provence-Alpes-Cote d'Azur region. This will cover the Route Napoleon roads from the coast to Sisteron. Beyond that, La Region operates buses in Auvergne-Rhône-Alpes, which will help you plan the Sisteron to Grenoble part of the route. Both websites can be viewed in several languages, including English.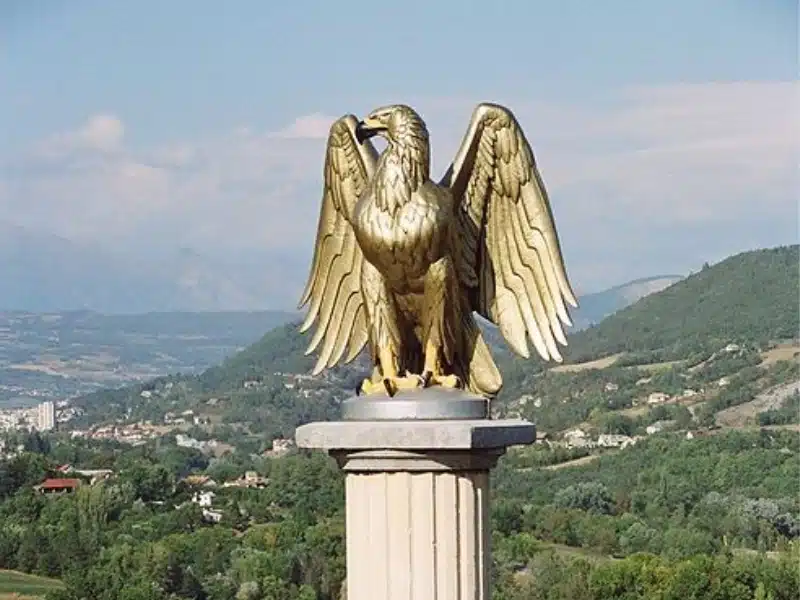 Route Napoleon Map & Itinerary
Our one week Route Napoleon road trip route starts by the coast in Golfe-Juan, where Napoleon arrived on 1st March 1815. The route ends in Grenoble, where Napoleon stays after facing the royal army, before moving north to Paris, and his eventual defeat by a combined Allied army in 1815 at the Battle of Waterloo.
Golfe-Juan – Canne – Grasse – St Vallier-de-Thiey – Castellane – Barrême – Digne-Les-Bains – Sisteron – Tallard – Gap – Corps – La Salette-Fallavaux – La Mure – Laffrey – Vizille – Grenoble
How to use this map – Use your fingers (or computer mouse) to zoom in and out. Click or touch the icons to get more info about a place, and click the arrow in the box top left to open the index. To add to your own Google Maps account, click the star next to the title of the map.
Day 1: Vallauris Golfe-Juan to St Vallier-de-Thiey
Arriving at the seaside commune of Vallauris Golfe-Juan one day before the road trip is best. It is a town known for its ceramics, sandy beaches, and watersports. It is also the site where Napoleon landed after escaping exile from Elba, and there is a plaque in the port to mark the spot.
Places to explore in Vallauris Golfe-Juan include the Picasso Museum (Musée Picasso La Guerre et la Paix) and the Magnelli Museum.
The first day's itinerary will take you from Vallauris Golfe-Juan to Cannes, Grasse, and St Vallier-de-Thiey. The trip starts from the coast and heads inland towards the interior to explore a 7th century medieval town, perfume, and a network of caves.
Cannes
Roughly four miles from Vallauris Golfe-Juan is the well-known town of Cannes, one of the more popular spots on the French Riviera. This town is famous for its private beach clubs, luxury shops, gourmet restaurants, and the International Cannes Film Festival. It was also the place where Napoleon set up camp at Notre-Dame-de-Bon-Voyage on 2nd March 1815.
For those that enjoy people-watching in the hopes of spotting a celebrity, take a walk along the La Croisette promenade. Otherwise, visit the Cannes Film Festival venue, Palais des Festivals, or take a stroll through one of Cannes' oldest neighborhoods, Le Suquet, which dates back to Roman times.
Just one street back from La Croisette is the place where Napoleon set up camp at Notre-Dame-de-Bon-Voyage on 2nd March 1815. There is a large plaque on the north wall of the church Église Notre Dame de Bon Voyage, on Rue Notre Dame commemorating the occasion.
The plaque is topped by a carved stone eagle in flight and underneath reads "Here on the dunes beside the former chapel of Notre Dame de Bon Voyage Napoleon returned from the island of Elba, set up camp for the night of 1–2 March 1815 before dashing to Paris by the perilous Alpine road."
The Marché Forville is also worth visiting to buy fresh fruit, vegetables, hand-crafted confectionery, and olive oils.
Grasse
Grasse has UNESCO's Intangible Cultural Heritage status as the perfume capital of the world. Grasse produces more perfume than any other city in the world.
Ensure to visit the three leading perfume houses of Fragonard, Galimard, and Molinard, and spend an hour designing your own fragrance with an expert. Galimard even brought out a fragrance in 2015 called 'Napoleon 1815.'
Visit Le Paddock for lunch (see if you can find a table on their open terrace) or the fabulous L'Auberge du Vieux Château for a special treat.
Afterward, follow the old town's cobbled streets and visit the Cathédrale Notre Dame du Puy or one of the many museums, like the Villa Musée Jean-Honoré Fragonard. The latter is dedicated to the works of artist Fragonard, not to be mistaken for the perfumer.
St Vallier-de-Thiey
About 20 minutes from Grasse is the town of St Vallier-de-Thiey, which boasts an extensive network of caves, like the Baume Obscure cave (the 'dark cave'). Grotte de Baume Obscure offers visitors nine sites to explore, extending for 1,312 yards / 1,200 meters.
It is also worth visiting the Notre-Dame-de-l'Assomption church with its 13th century nave and 18th century bell tower.
Even here, at Place de l'Apiè, you can see the influence of Napoleon's presence in St Vallier-de-Thiey on 2nd March 1815 with a bust erected in his honor.
Enjoy a traditional French dinner and delicious locally made wine at Le Relais Imperial or Le fil du Goût.
Upmarket: Bastide Saint Antoine – Relais & Châteaux – Booking.com | Agoda
Mid-Range: Logis Le Relais Imperial – Booking.com | Agoda
Budget: Hotel le Préjoly – Booking.com | Agoda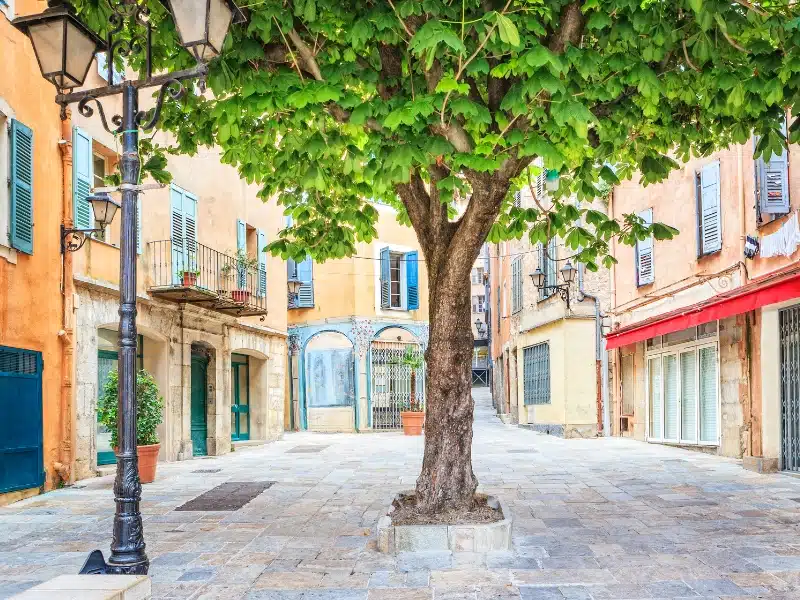 Day 2: St Vallier-de-Thiey to Digne-Les-Bains
The second day on your Route Napoleon itinerary includes Castellane, Barrême, and Digne-Les-Bains, to experience magnificent architecture, great food, and a relaxing day at a thermal spa.
Castellane
Castellane was called Civitas Saliniensum (city of salt merchants) in 14 BCE, after which it changed to the oppidum of Ducelia Salinae in Romanesque times and Petra Castellana in the 8th century. The town is the least-populated commune in France.
En route from Vallier-de-Thiey to Castellane, after about half an hour's drive, stop at the 12th century chapel, Chapelle Notre Dame De Gratemoine, to stretch your legs and admire the views.
Once in Castellane, if you are fascinated by history and Napoleon's journey, walk past 34 Rue Nationale. It was once a house where Napoleon stopped to have lunch on 3rd March 1815, three days into his long march through thr Alps.
Some other architectural wonders not to be missed in Castellane include:
The Bridge of the Roc: A vaulted arch bridge built between 1407-1409. The surrounding scenery is picturesque and ideal for a hike or picnic.
Church of Saint-Victor: A historic site, with parts of the church dating back to the 11th century.
Notre Dame du Roc chapel: A site overlooking Castellane at an altitude of 903m and offers panoramic views of the valley below.
If your trip happens to be in late June, plan it around the Fête de la Transhumance, when traditions and folklore coincide as the cattle are taken up to the high mountain pastures. In August, there is also an opportunity to experience the Torchlight Pilgrimage to Notre Dame du Roc.
Soon after leaving Castellane, you'll head over the Col des Leques at 1,146m and then pass the Cascade de Taulanne. This is a particularly picturesque part of the route.
Barrême
Once in Barrême, dine at nearby top-rated L'Ardoise or the scenic Le Clair Logis, both of which offer exceptional lunch menus. Afterward, take a walk along the Asse de Moriez riverbank to admire the many appealing features of the village.
If the lavender aromatics of the region intrigue you, be sure to visit the Musée de la Distillerie de Lavande. The distillery is interesting, with the gift shop offering essential oils and other lavender products. The only signpost you will need to find the distillery is the brick chimney that you can quickly spot on Barrême's skyline.
Other sights worth exploring in Barrême are the Chapel of Saint John the Baptist (1664) and the Notre Dame du Pont Chapel at Saint-Jean (1838).
Digne-Les-Bains
Napoleon arrived in Digne-les-Bains, or simply Digne, on 4th March 1815. He stayed overnight in the Château de Malijai, which currently serves as a tourist center and the mayor's office.
Digne offers several outdoor activities, such as mountain biking and hiking. For an easy walk, opt for the Parcours de l'Eau walk in the town or try the hiking trail, Sentier des Trois-Chapelles.
Digne is primarily known for its hot springs, which can reach 107°F, from the surrounding mountains. The coming-together of the Bléone, Mardaric, and Eaux Chaudes rivers allowed the town to set up a spa attracting visitors for its beneficial physical and mental health properties. After a day of traveling, head to the Thermes De Digne Les Bains to relax and leave you feeling rejuvenated.
If you're just looking to cool off in summer, head to the brilliant (and free) Plan d'Eau des Ferréols, a free-form outdoor pool on the river Bléone.
The center of Digne boasts many appealing sites, like Saint Jerome Cathedral, the Clock Tower, and several other examples of beautiful Gothic architecture. For some history, visit the Gassendi Museum, founded in 1885.
Digne offers many restaurants and accommodations. For exceptional dining, try La Magnanerie or Le Gassend's.
Mid-Range: Kyriad Digne-Les-Bains – Booking.com | Agoda
Budget: Hotel Saint-Michel – Booking.com | Agoda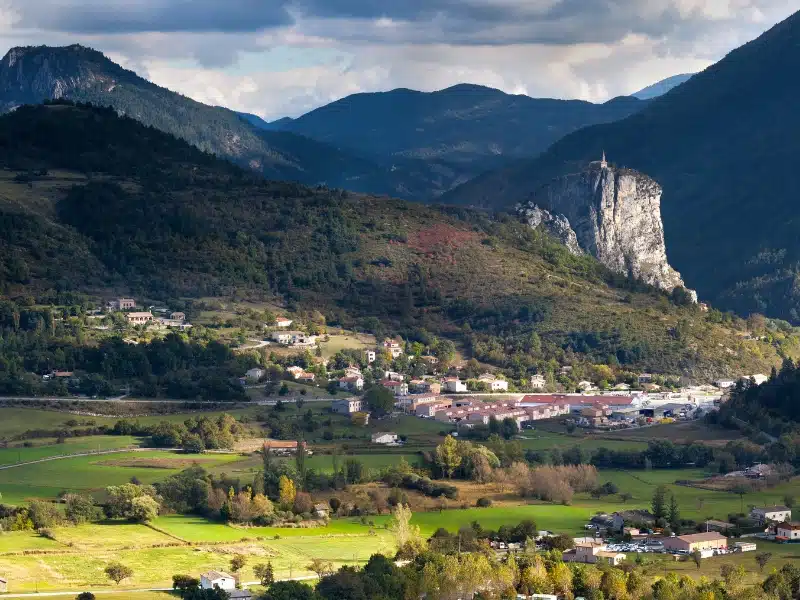 Gorges du Verdon Side Trip
Castallane makes the perfect place for a day trip to the breathtaking Gorges du Verdon, the 765-yard-deep river canyon. Head for Moustiers-Sainte-Marie, a charming Provencal village with a tiny monastery high in the hills behind the town before exploring the gorge. It's a bit touristy, but beautiful nonetheless, and on most days they have a great farmers market here.
Spend the rest of the day making the most of the Verdon Regional Natural Park and the Lac de Sainte-Croix, both of which offer various recreational activities like swimming, hiking, horseriding, and water sports, or explore the nearby lavender fields of the Valensole plateau.
Day 3: Digne-Les-Bains to Gap
The third day on Route Napoleon has you traveling around 54 miles into the Alpes de Haute Provence and visiting Sisteron, Tallard, and Gap, which hosts numerous museums and outdoor activities to suit anyone's preference.
Sisteron
The historic town of Sisteron (known as the 'Pearl of Upper Provence'), located on the Durance river, is easily recognizable by the Baume Rock, with its folds and vertical limestone strata. This town is a gem of ancient streets, alleys, fountains, stairways, and quaint houses.
Notable places to visit in Sisteron are the Notre-Dame-des-Pommiers cathedral, Musée Terre et Temps (Earth and Time Museum), which showcases unusual objects related to time, and the Gallo-Roman Museum of Sisteron. In summer, a sightseeing train transports visitors around Sisteron, which departs every 40 minutes from the tourist office.
The town also hosts open-air ballet, theatre, and music shows in July and August as part of the Nuits de la Citadelle Festival.
Shortly after leaving Sisteron, you'll bypass the hilltop village of Le Poët, worth a stop to visit Saint Pierre church and its 11th century bell tower, in front of which is a plaque that reads "The Emperor, after having obtained the right of crossing between the narrow rocks at the confluence of the Durance and Buëch, felt the need to sit in the village of Poët where he was brought fruit and a glass of wine."
Tallard
Just over seven miles from Sisteron, on the way to Tallard, stop at Maffren Confiseur. This confectionery shop offers an array of locally made sweet treats, from nougat and caramels to almond dough, that will melt in your mouth.
Tallard is a small town that punches above its weight as the location for the internationally renowned Gap-Tallard Aerodrome, CERPS Skydiving Club, and the French military parachute training base as a result of its ideal aerological conditions. You can enjoy air activities like hot-air ballooning, parachuting and water sports like river rafting.
For lunch, head to Le Looping at the airfield. They have a lovely open terrace with a menu that includes vegetarian and vegan meal options. If your palate yearns for more, make your way to the vineyards of Domaine de Tresbaudon for some wine tasting.
Gap
About 12 miles from Tallard is Gap, the Hautes-Alpes' most populated town near the southern Alps mountain range. Enjoy the sight of the medieval Gap Cathedral and get to know the region by visiting the Musée Muséum Départemental des Hautes-Alpes, which contains everything from sculptures to ceramics and some Napoleonic weapons, banners, and souvenirs.
Even though Gap's town center doesn't boast the architectural antiquity of other surrounding villages, it is still a pretty picture while strolling through the streets. Ensure to pass L'Auberge Marchand (17-19 Rue de France) to see where Napoleon spent the night of 5th March 1815 on his way to Paris.
Upmarket: Hôtel Spa and Restaurant Les Autanes Ancelle – Booking.com | Agoda
Mid-Range: Les Olivades – Booking.com | Agoda
Budget: Logis Havvah Hôtel Gap – Booking.com | Agoda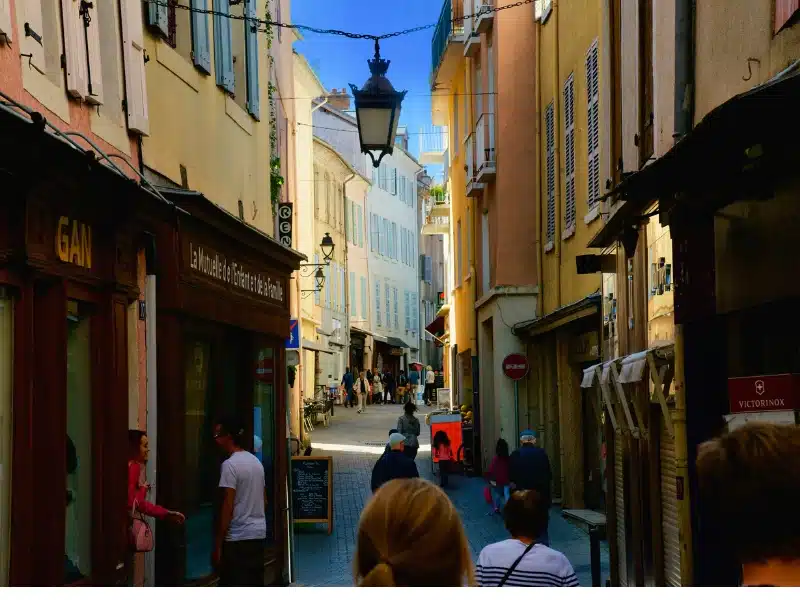 Other France Travel Ideas
Day 4: Gap to La Mure
On the fourth day, the Route Napoleon takes you to Corps, La Salette-Fallavaux, and La Mure. Notable sights include awe-inspiring architecture, a pilgrimage site, incredible scenic views, and a taste of local cuisine.
Just north of Gap, you'll crest Col Bayard, the highest point in this route at 1,250 meters above sea level. Located at the western end of the Bayard threshold, the col separates the Dévoluy massif from the southern foothills of the Écrins massif and has spectacular views of the often snowcapped Mount Gleize at 2,161 meters.
Just past the high point, there is a sign on the left for Col de Gleize (also known as Col de Chaudun), which is a dramatic route touristique over 3 miles / 4.8 km with eleven hairpin bends and an average gradient of 9%. At the summit is a small car park, perfect for a picnic or a quick stop for a few Instagram pictures.
Just before you pass Saint-Bonnet-en-Champsuar on the N85, in a hamlet called Les Barraques is Halte de l'Empereur, a hostelry where Napoléon stopped. On the opposite side of the road is a stele with an eagle and a bronze medallion of the general.
Corps
Anyone with a sweet tooth will be delighted to find Chocolatier Patissier Siat Thierry about 20 miles from Gap en route to Corps. Stop here to indulge in their handmade chocolates, biscuits, and pastries.
High mountains surround the medieval village of Corps, which has a population of only around 500 people. It is a small village that has been dramatically affected by religious wars of the centuries.
The Church of Saint Peter was one building among many destroyed in the fire of 1821 but underwent restoration to its original Romanesque and Gothic styles.
Enjoy the breathtaking views of the Sautet dam (Lac du Sautet) or visit the Distillerie Artisanale La Salettina to taste the local herbal liqueur which is an Isère specialty made from hyssop, raspberry, wild blackberries, and wild blueberries.
For history lovers, it is worth noting that Napoleon slept over in the 17th century bourgeois house on Rue Grand, which was initially a police station, on his return from Elba on 6th March 1815.
La Salette-Fallavaux
On your way to La Mure, take a slight detour to visit La Salette-Fallavux. This commune is known for hosting France's most famous Marian sanctuary, the Sanctuaire Notre-Dame de la Salette (Sanctuary of Our Lady La Salette). This pilgrimage site is where two children – Maximin Giraud and Mélanie Calvat – were said to have witnessed the presence of Mary, mother of Jesus, in 1846.
Coincidentally, Maximin Giraud also created the first Salettina liqueurs in 1865 and is known as the shepherd of Notre Dame de la Salette.
Before heading to La Mure, enjoy a gourmet lunch at Hotel de la Poste or L'aparenthese.
La Mure
La Mure, on the Plateau Matheysin, dates back to Gallo-Roman times. Napoleon passed through this town on 7th March 1815 on his way to Laffrey. The Town Hall, the clock tower, the old market, and the Matheysin Museum are all places worth seeing.
The town offers several restaurants, like L'Atelier Des Saveurs or Chez Ghislaine. Whichever restaurant you visit, try finding one that serves some of the following La Mure specialties:
Murçon: a local pork sausage with wild fennel.
Ravioli Matheysines: ravioli topped with potatoes, onions, and herbs.
Muroise pie: a hearty pie filled with pork, veal, bacon, olives, and mushrooms.
Mid-Range: Hotel de la Poste Corps – Booking.com | Agoda
Budget: Logis Murtel – Booking.com | Agoda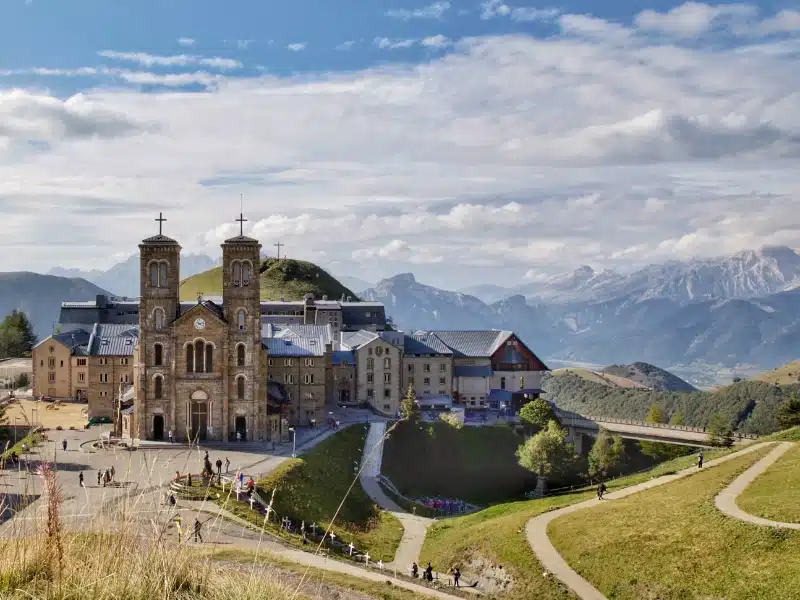 Day 5: La Mure to Grenoble
The fifth and final day of Route Napoleon's itinerary stretches roughly 23 miles, with stops at Laffrey, Vizille, and Grenoble. Sights and activities include castles, outdoor sports, and museums with impressive collections.
Laffrey
Laffrey is just over 8 miles from La Mure, where Napoleon met his troops on 7th March 1815. On the Pré de la Rencontre (The Field of the Meeting) spot, you will now find a statue, created by the French sculptor Emmanuel Frémiet, of Napoleon on horseback to commemorate the event.
It is here that Napoleon met the royalist troops who had come to arrest him, but as orders were given to fire on his troops, Napoleon dismounted and advanced towards the enemy and asked;
"Soldiers! I am your Emperor. Don't you recognize me?".
Continuing forward he said "If there is one among you who wants to kill his general, here I am!"
A huge cry rang out from the enemy troops of "Long live the Emperor!", and the victory was indeed his.
There is a small plaque on the wall of the local cemetery which immortalizes the words of the Emperor quoted above.
One of the highlights of Laffrey, especially if you have children or need a break from history, is the Air Park. The park is a zipline and aerial adventure park that offers beautiful views of the lake, the Grand Lac de Laffrey. Other activities include hiking and mountain biking or just taking a stroll along the river to enjoy the views.
Vizille
Visitors arrive in Vizille mainly to admire the Domaine of Vizille with its exquisite chateau, museum, and surrounding grounds. Besides being visually splendid, the Château de Vizille is also one of the most important castles in the Dauphiné Region. The museum offers visitors a window into the French Revolution.
Enjoy lunch at Au P'tit Plaisir for classic French cuisine.
Grenoble
The Napoleon route ends in Grenoble, the largest city in the Rhône-Alpes region and known as the 'Capital of the Alps.' It is here that Napoleon arrived after he was confronted by the royal army, staying at the Hôtel des Trois Dauphins, which was since appropriately renamed Auberge Napoleon.
Among the many museums in Grenoble, a must-do is visiting the Saint-Laurent Archaeological Museum and Musée de Grenoble. The latter hosts masterpieces by artists like Marc Chagall, Pablo Picasso, René Magritte, Paul Klee, and Joan Miró.
Take the teleferique up to the Fort de la Bastille, which opened in 1934, to enjoy panoramic views of Grenoble. You won't be sorry to leave the cable car behind on your walk down, which is a pleasant route leading to the river.
If you are craving local cuisine, go to L'Ardoise for lunch, which includes duck, pates, and some steak and French fries. An alternative is heading towards Quai Perriere, where you will find several pizza restaurants from which to pick and choose.
After lunch, beer-lovers can make their way to Les Freres Berthom, which has an extensive beer list, or Barberousse if rum is your drink of choice.
Upmarket: Hotel Restaurant Chavant Bresson – Booking.com | Agoda
Mid-Range: RockyPop Grenoble Hotel – Booking.com | Agoda
Budget: Hôtel Victoria – Booking.com | Agoda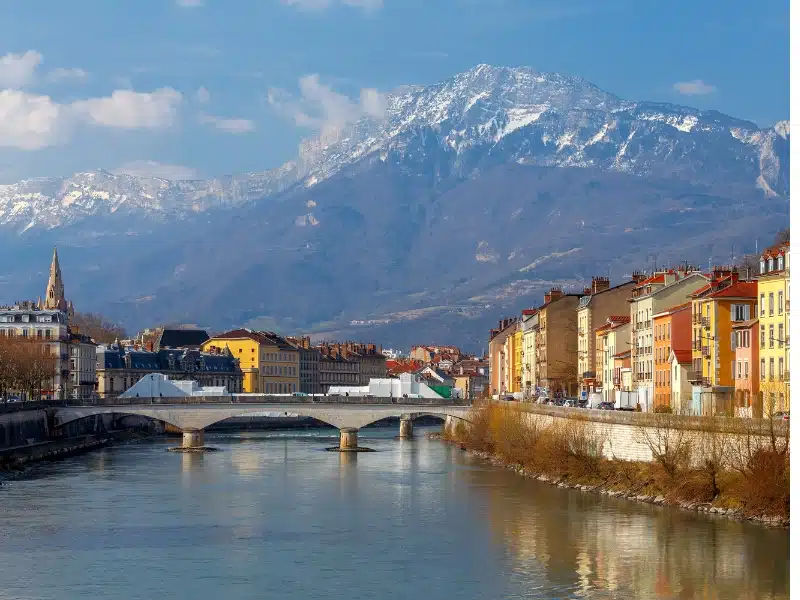 Route Napoleon Frequently Asked Questions
When is the best time to road trip the Route Napoléon?
Although the weather is warmest through the summer months, the Route Napoléon is best visited outside of this time. In this part of southeastern France, temperatures can regularly reach the high 30s, which can make road-tripping uncomfortable, even with air conditioning.
However, if you're planning a diversion to see the lavender fields of Provence, or fancy a few days by the coast, July is the best month to visit. The fragrant lavender will be in bloom, the weather will be gorgeous for lounging on the beach and swimming, and the French won't yet have started their annual August exodus to the coast.
If you don't mind cooler weather, completing your road trip during shoulder seasons of spring and fall will add more experiences to your Route Napoléon itinerary, and the roads, accommodation, and towns will also be quieter.
In spring, the weather will be warm and pleasant, wildflowers will carpet the fields along the route and France's famous plane trees will be in leaf. In autumn, the orange and yellow of the vines and the ochre colors of the woodland bring the landscape alive, and the autumn bounty is celebrated at local food festivals.
We don't advise this road trip in winter. The winter weather in southeastern France can be unpredictable, and whilst the mountains are perfect for winter sport and look beautiful with their snow-covered peaks, this is not ideal for a road trip!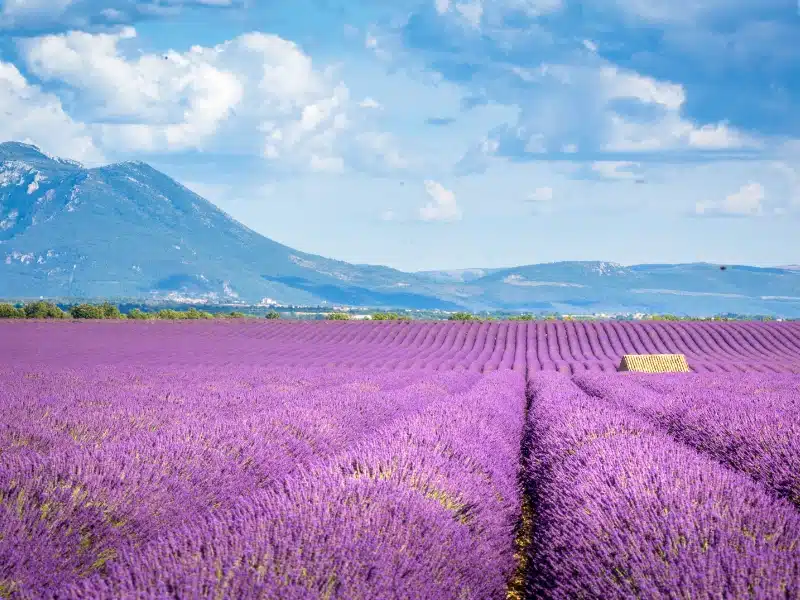 How long does it take to do the Route Napoléon?
The Route Napoléon is roughly 201 miles / 324km long and takes, according to Google Maps, just 7 to 8 hours to drive. But this is a simple equation of miles divided by speed and doesn't take into account the towns, villages, and Napoléon plaques, statues, and markers along the route that you'll want to stop and see.
To truly enjoy the incredible landscape, medieval towns, and museums along the way, we recommend that you take seven days to explore and enjoy the drive.
If you can manage ten days, then you'll be able to stop and enjoy activities and tours, and fully discover one of Europe's best road trips.
Is the Route Napoléon a dangerous road?
Although the route features on the dangerous roads website, the roads that make up the route are all fully sealed and generally well maintained, as you would expect in France.
The route is not one road but a series of French roads that link to create the route, and there are stretches of switchbacks, busy town roads, and less well-maintained mountain roads.
However, for the most part, the route crosses rolling countryside, making it one of the least dangerous roads we've ever driven!
Can I do the Route Napoleon in a motorhome?
Absolutely! Although there are some mountain roads, there is nothing on the Route Napoleon that should stop you from traveling in a motorhome, camping car, or campervan.
All the villages and small towns are bypassed, making the road easy to navigate. If you do stop to explore, there is usually good parking by the main route, enabling you to get out for a wander.
You may want to walk to the start and finish points as driving through Vallauris Golfe-Juan, Cannes, and Grenoble in a large vehicle is not advisable. There is handy motorhome parking close to the start point in Golfe-Juan here, and a campsite just outside Grenoble which is easy to reach from Laffrey, the final destination before Grenoble.
Where does Route Napoleon start and finish?
As we already mentioned, the route can start in Grenoble to the north or Golfe-Juan to the south.
If you start in Golfe-Juan, the route starts at the further north point on Avenue de la Gare in Vallauris, where it meets Avenue des Frères Roustan in front of the marina. You'll see the sign on the side of the building there.
If you start in Grenoble, the point at which Napoleon ended his seven day march can be found at the point where Rue de Bonne meets Rue Guetal, just east of Place Victor Hugo. The plaque is high on the wall of the building which now stands where the original Porte de Bonne one stood.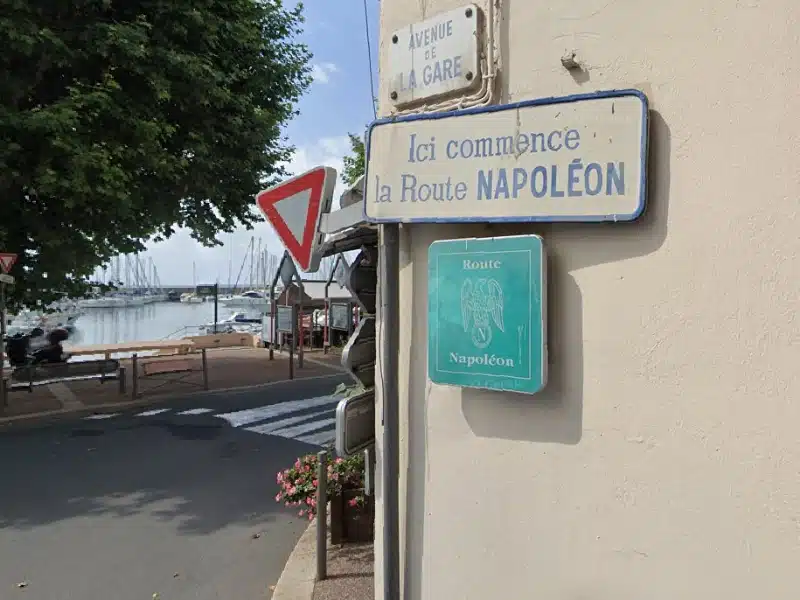 France Road Trip Essentials
Here are the websites and services we personally use and recommend for traveling in France.
Driving in France Tips
Road trips in France are usually pleasurable, thanks to their extensive and well-maintained autoroute network, and generally good local roads. French drivers can be impatient and are dreadful tailgaters and really, really dislike being overtaken, but, c'est la vie, this is France!
Whether you're traveling in your own car, touring France in a motorhome, or flying in and renting a car, you need to follow these rules when you drive and travel in France;
You must have at least three months remaining on your passport (issued in the past ten years) at your intended date of departure from France.
You must have at least 3rd party insurance for your vehicle.
Citizens of non-EU third countries may require an International Driving Permit for driving in Europe. You can check whether you need an IDP here.
You must carry at least one reflective jacket within the passenger compartment of your vehicle and must put it on before you get out in an emergency or breakdown situation. You must also carry a warning triangle.
You may require a Crit'Air sticker which is placed in the windscreen of your vehicle to provide a visible way to identify the level of emissions produced. If you're renting a vehicle, the Crit'Air sticker should already be on display in the windscreen. Find out more and purchase Crit'Air stickers from the official certificat-air.gouv.fr website.
On 1 November 2021 the Loi Montage II or 'mountain law II' came into force in 48 French mountainous departments within the Alpes, Massif Central, Jura, Pyrénées, and Vosges regions. Anyone traveling in a car or motorhome or through one of these areas between 1 November and 31 March will be obliged to fit four approved winter tires or carry at least two snow chains or socks in the vehicle.
French motorways are privately managed and you're not allowed to request your own assistance company to attend to you if you break down. If you do break down use the orange emergency telephones that are situated every 2km along French motorways to call the police or the official breakdown service operating in that area or dial the emergency services on 112. You will be towed to a safe designated area where you can make onward arrangements for your own breakdown insurer to assist you if you have it. Otherwise, the towing company will be able to provide support or signpost you.
You do not need to carry a breathalyzer, the law requiring that you do has been repealed.
Are you looking for more incredible road trips? Check out these top posts…
Amongst the beautiful landscapes of Spain, in the mountainous interior and along the gorgeous coasts, you'll find fascinating history, vibrant culture, and incredible cuisine. One of the best ways to experience Spain is by taking a road trip. We base ourselves in Spain when not traveling and have explored much of the country on four wheels and two! Whether you want historic cities, gorgeous landscapes, beaches and sun, or something a bit different, our detailed…
Love it? Pin it!