This post may contain affiliate links, from which we earn an income.
Pyrenees Hiking Tour – Seven Day Itinerary
If you love taking your holidays in mountains and walking, then head to the Pyrenees for some amazing hiking routes!
The combination of clean air, spectacular views, and well-maintained trails make hiking the Pyrenees an absolute pleasure.
We spent months touring and hiking in the Pyrenees and put together our favorite hikes and the best route to help you plan your perfect trip.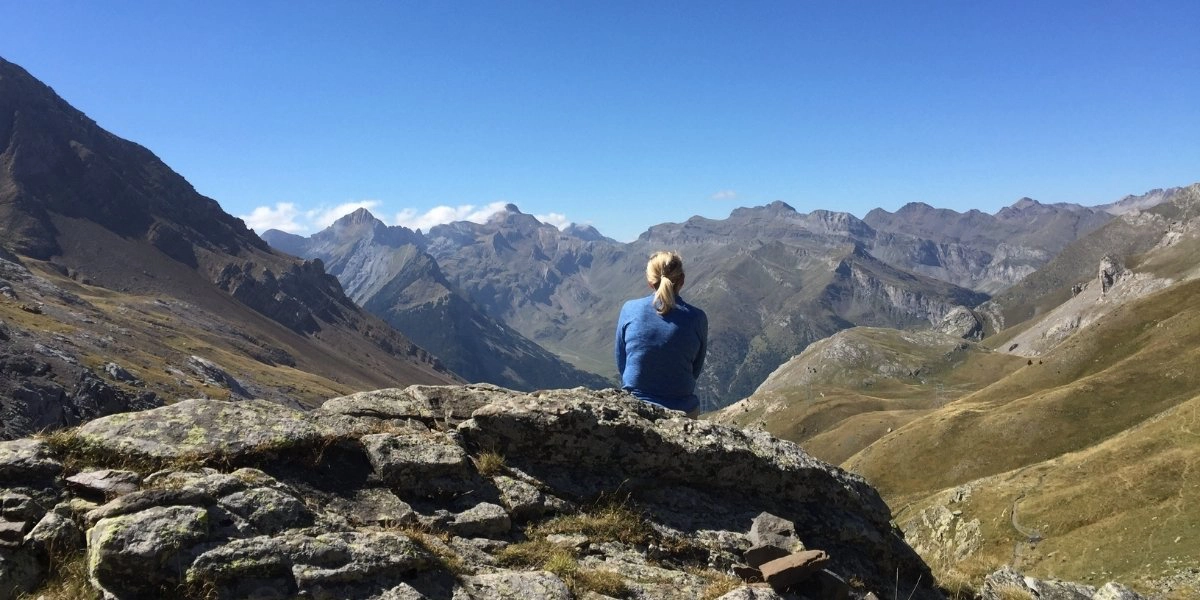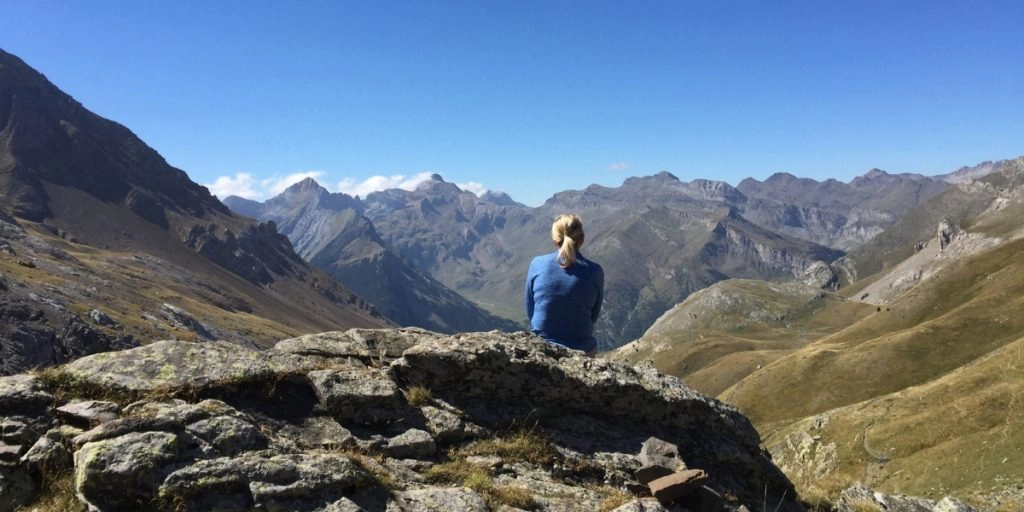 This Pyrenees hiking tour was planned for people traveling in a motorhome or camper with wild camping stops detailed on the map.
You can also follow this route in a car. You'll get the same amazing Pyrenees hiking trails and spectacular scenery plus the opportunity to plan and book your overnight hotel stays in advance.
Some of the campsites detailed here have huts or static accommodation which offer really good value for a night's stay. Book with Eurocampings for the best deals on over 2,700 French campsites.
Is this your first time visiting France? Get all the information you need in our France Travel Guide, including what to pack, the best time of year to go, getting there, and practical tips to help you have the best trip!
How to Get To the Pyrenees
The Pyrenees stretch 430km from the mighty Atlantic to the rolling Mediterranean coasts between France and Spain, rising to a majestic 3,400m above sea level. Getting there in a car or motorhome is relatively straightforward, you have a few options to choose from;
Take a ferry from Calais to Dover or, for preference, Portsmouth to Caen or Cherbourg. Head down towards Bordeaux and then on to Tarbes, from where the French mountains of the French Pyrenees are easily accessible. The latter ferry crossing will shave off around five hours of your driving time in France as well as saving on fuel and toll costs.
Get the boat from Portsmouth to Santander or Bilbao and then head east and across the border to Bayonne and then Tarbes. It seems expensive but generally works out at around the same cost by the time you calculate fuel and toll savings. Although it is a boring 24 hours…
You can of course take a slow meander down or across using the backroads and not incurring any tolls. It will take you five times as long and cost double in fuel, but it will be breathtakingly beautiful and make for a pretty epic French road trip.
Make sure you have travel insurance you can trust when visiting France. We recommend True Traveller for their 5-star TrustPilot reviews, variety of cover options, best activities cover as standard, great prices, and excellent service.
The Best Time for Hiking in the Pyrenees
The best time to visit for Pyrenees hiking is between May and October. Much earlier or later and there will be snow above 2,000m which will hinder some of the hiking and wild camping opportunities, and may require you to fit snow chains to your motorhome or car.
July and August will be very busy with families hiking the easier trails. If you prefer camp sites to wild camping, you may well need to book in advance.
The perfect months for a Pyrenees hiking tour are May, June, September and October. You'll have perfect warm, but not hot weather, although it will be cool in the evenings so make sure you have the right kit with you.
What Kit Do You Need for Pyrenees Hiking?
Personal Kit
You will need the following for day hiking in the Pyrenees mountains between May and October;
Sturdy boots or as a minimum, approach shoes.
Trekking poles which can help with balance if you're not a mountain goat!
A good rucksack able to carry additional clothing and lunch, of course! We both carry Osprey rucksacks, the ladies model is this one, which is large enough but not too heavy even when full. Phil carries a 30 litre rucksack, perfect for all the additional camera and drone kit we take when hiking.
A thermal layer as well as a windproof and waterproof jacket. Take these with you every time you hike, the weather in any mountains is unpredictable and you may be grateful of an extra layer when you stop for lunch.
Walking trousers or hiking leggings for cooler days. We much prefer to hike in shorts (who doesn't!), but trousers are better if it's cooler at altitude.
Comfy and warm evening wear.
Hydration kit like this which fits our Osprey bags or a good, non-leaking re-useable water bottle.
We always take a flask of tea; there's nothing quite like a cuppa at the summit!
Campervan & Motorhome Gear
If you are planning on motorhome wild camping in the Pyrenees, then a solar panel will come in very handy! Depending on size and type this will charge your phones and provide you with lights and tv if you have enough energy to watch it after your busy days in the mountains.
Otherwise, a full tank of water and an empty loo is a must. There are a number of service points at aires and also campsites where you can empty your waste and re-fill.
How Fit Do You Need to Be for Pyrenees Hiking?
The four day hikes detailed here are all of an easy to easy-moderate difficulty level and none with huge altitude gain. Some are quite long in distance so a degree of walking fitness is required. Some have steep and more challenging sections but you don't need any technical ability, just stamina, and determination. Poles may be helpful, particularly if you struggle with balance as I do; if it can be fallen off, I will fall off it!
The Spanish Pyrenees hike at the Circo de Soaso is more challenging if you take the high route as you will encounter a steep 800m switch-back before you do anything else, which can sap your energy. However, it is possible to hike the valley floor and hardly gain any elevation at all if you don't fancy the switchbacks.
All the hikes can really be as long or as short as you want and if you find yourself struggling, turn back or stop for a break. As always, check the weather before setting out and make sure you have warm and waterproof spare clothing, water and food, and ideally a GPS app to help you with the route. If you are new to hiking, these hiking tips for beginners will help you enjoy the perfect hike.
Pyrenees Hiking Tour Map
How to use this map – Use your fingers (or computer mouse) to zoom in and out. Click or touch the icons to get more info about a place, and click the arrow in the box top left to open the index. To add to your own Google Maps account, click the star next to the title of the map.
Pyrenees Hiking Tour Itinerary
Day One
Lourdes to Cauterets
Make your way around Lourdes (worth a wander) to the pretty spa town of Cauterets. This is a typical Pyrenees hiking town, full of bars, hot chocolate, and mountain equipment shops.
Camping Cabaliros, just before the town was reasonably priced with good facilities and wi-fi available in the communal barn. Just before this site is a Carrefour Montagne where we stocked up on milk and fresh food, at a price!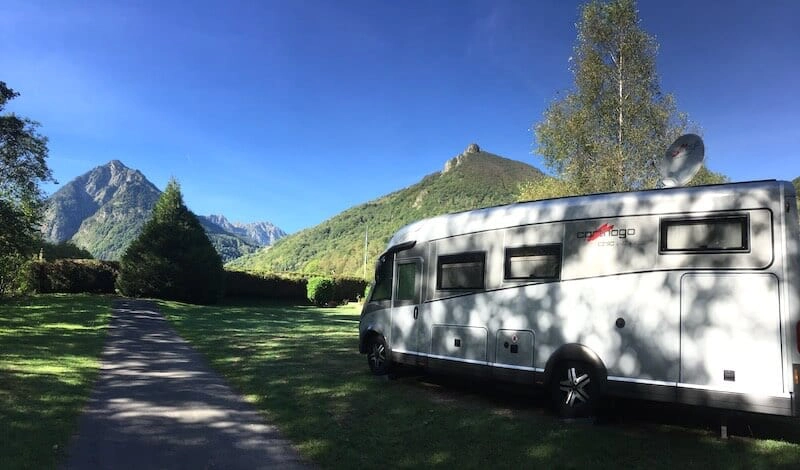 Day Two
Hiking Vallée de Gaube
Make or buy your sarnies and drive up through Cauterets on the D920 to the car park at the Pont d'Espagne. The car park is vast and you will find a dedicated motorhome and car parking there.
This used to be a trading route across the Pyrenees to Spain but is now the home of a modern visitor center, year-round chairlift, and the starting point of your Pyrenees hike to the beautiful Lac de Gaube and beyond.
Full details of the Vallee de Gaube hike can be found here.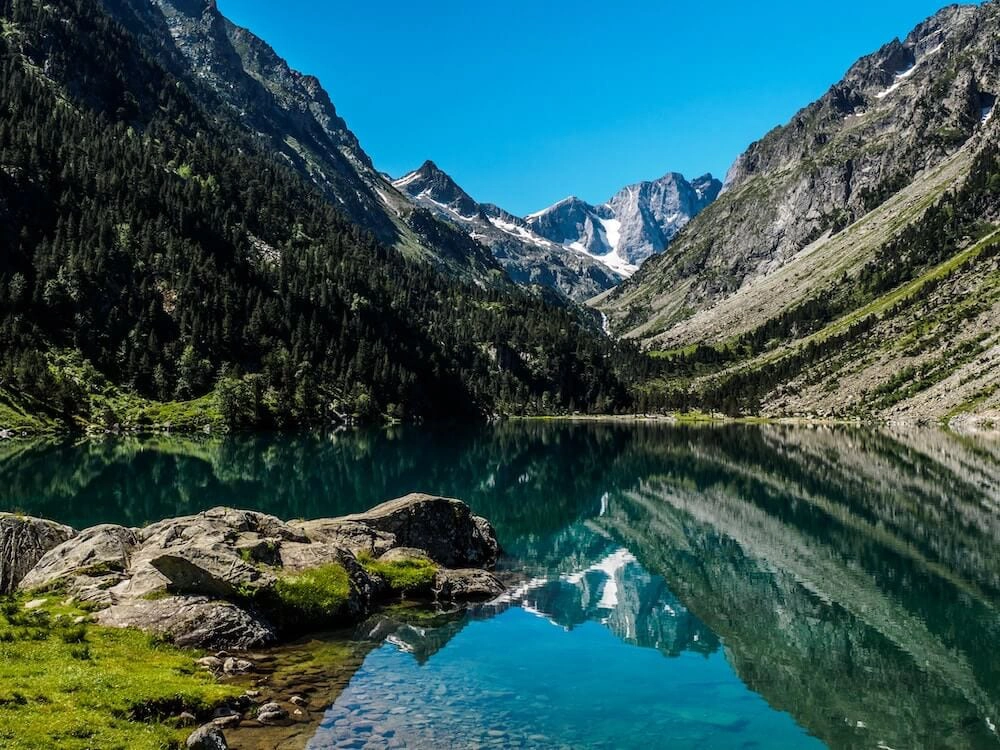 Day Three
Port de Boucharo and Pic de la Pahule
Head off early to miss the traffic on the way up to Pont d'Espagne. Make your way north to the D921 and head right for Gavarnie, a quintessential French mountain village.
There is not much here in the way of supermarkets, so stock up at the Carrefour Montagne in Cauterets if needed. The drive will take a couple of hours in a car, and more in a motorhome, but you will have spectacular scenery on the way to keep you entertained.
Drive through Gavarnie and upwards along the D923, this will take you past all the ski stations and lifts until you reach the car park at the top of the D923, the Col de Tentes, where the road stops.
This is an easy hike out to the stunning Port de Boucharo (the image at the top of the page) literally at the Spanish border and then back to the car park for a quick nip up the Pic de la Pahule to watch the local vulture population and admire a 360° view of the Pyrenees with a handy orientation table to help. Remember what I said about a cuppa? This is the perfect place!
Read more details about the Port de Boucharo and Pic de la Pahule hikes here.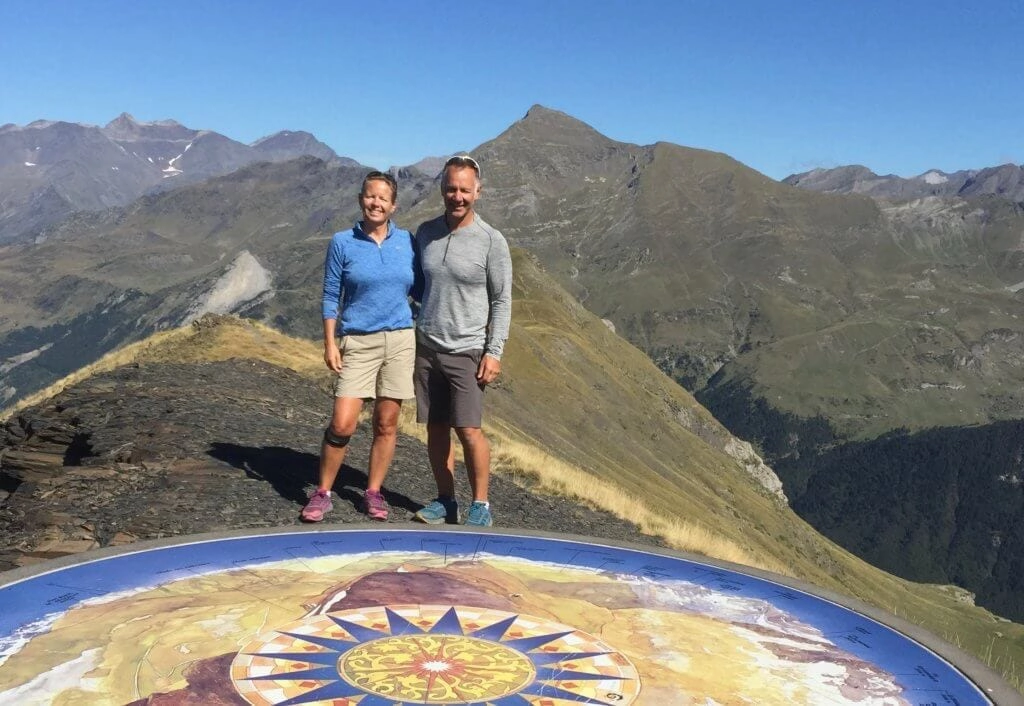 Day Four
Cirque de Gavarnie
If you wild camped at the Col de Tentes, then you'll need to head into Gavarnie or the aire before the village for this next hike. The Cirque de Gavarnie really is one of the must-do Pyrenees hikes; it's easy on the legs (unless you want to get to the waterfall) and is truly beautiful, especially in spring.
Read all about the Cirque de Gavarnie hike here.
For your overnight stay, head back to the Col de Tentes or stay in the motorhome aire and utilize the services for €8. Or, find one of the many spots between the two where it's possible to wild camp for the night.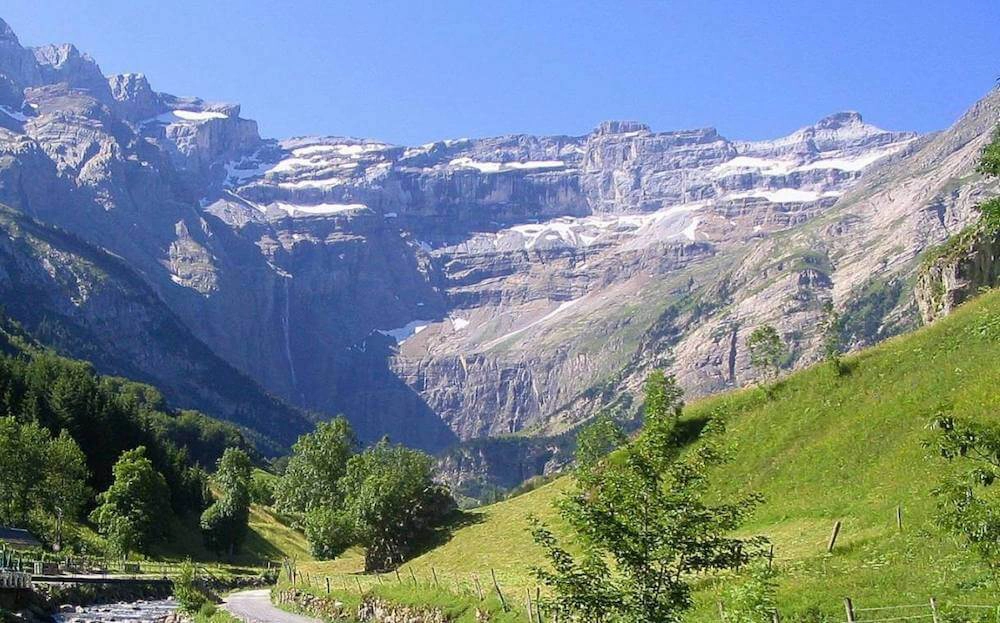 Day Five
Col de Tourmalet
Prepare for a breathtaking drive on the next leg of your Pyrenees hiking tour! You're heading to Port Balès and Mont Né to the east and need to drive back the way you came, north on the D921 until Luz-Saint-Sauveur.
Here you will pick up the D918. Your sat nav may want you to continue along the D921 back to Lourdes but this route will take you over 5 hours to get to Port Balès and you will miss the jaw-dropping Col de Tourmalet and the incredible views of the Pic du Midi, the highest peak in the Pyrenees. 
These are good roads although there are some areas with steep drop-offs and no barriers, so consider how you feel about this before taking this route. There are a lot of hairpin bends on the way up and down, we managed this in an 8m motorhome with bike rack with no concerns.
We saw lots of other cars and motorhomes on the road as well as hundreds of cyclists; it's one of those days that will stick with me for a long time for the sheer beauty of the drive and the view of the Pic du Midi as we ate our lunch at the top of the Col in the motorhome.
Stop when you drop down into Arreau for supplies, Mont Né really is in the middle of nowhere! You are heading for this wild camping spot on the D51D at Port de Balès, right on the regional borders between the Haute-Pyrenees and the Haute-Garonne.
This is one of our top all-time favorite motorhome wild camping spots, peaceful and with stunning views and zero light pollution.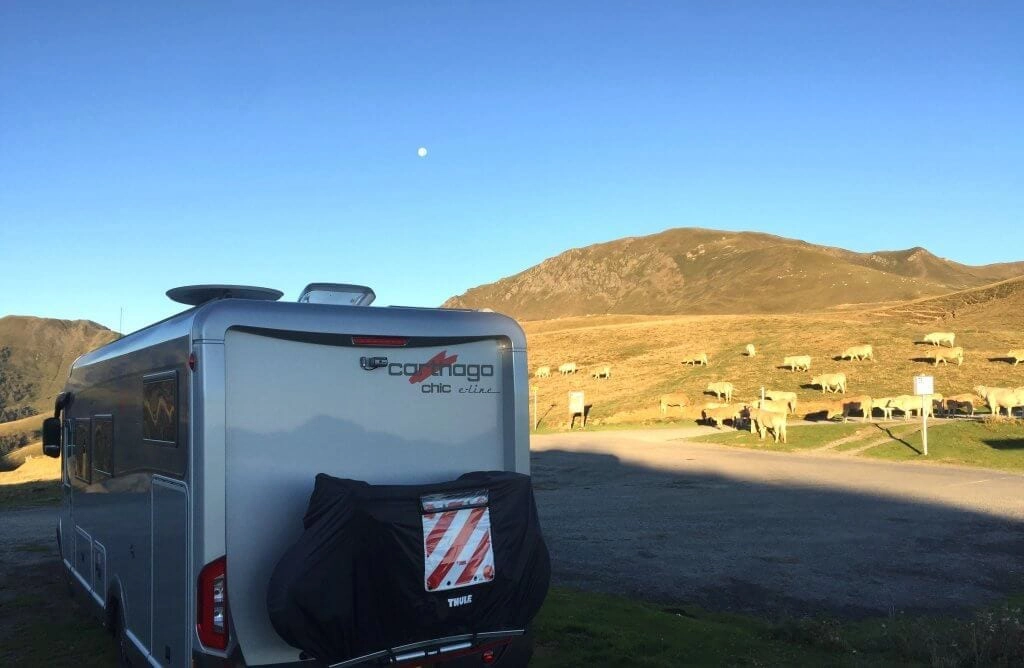 Day Six
Mont Né and Lac de Bareille
You'll be woken by bells as the cows brush past your motorhome, they seem to have incredible spacial awareness and left not a single mark despite their horns! It's worth getting up to check out and capture the sunrise here, which is pretty special.
This is another great, but perhaps overlooked hike in the Pyrenees mountains. If you're here in the summer, take your swimmers for a dip in the lake, which is picture-perfect. Find out more about the beautiful Mont Ne hike here.
We stayed a second night in this spot, we liked it so much!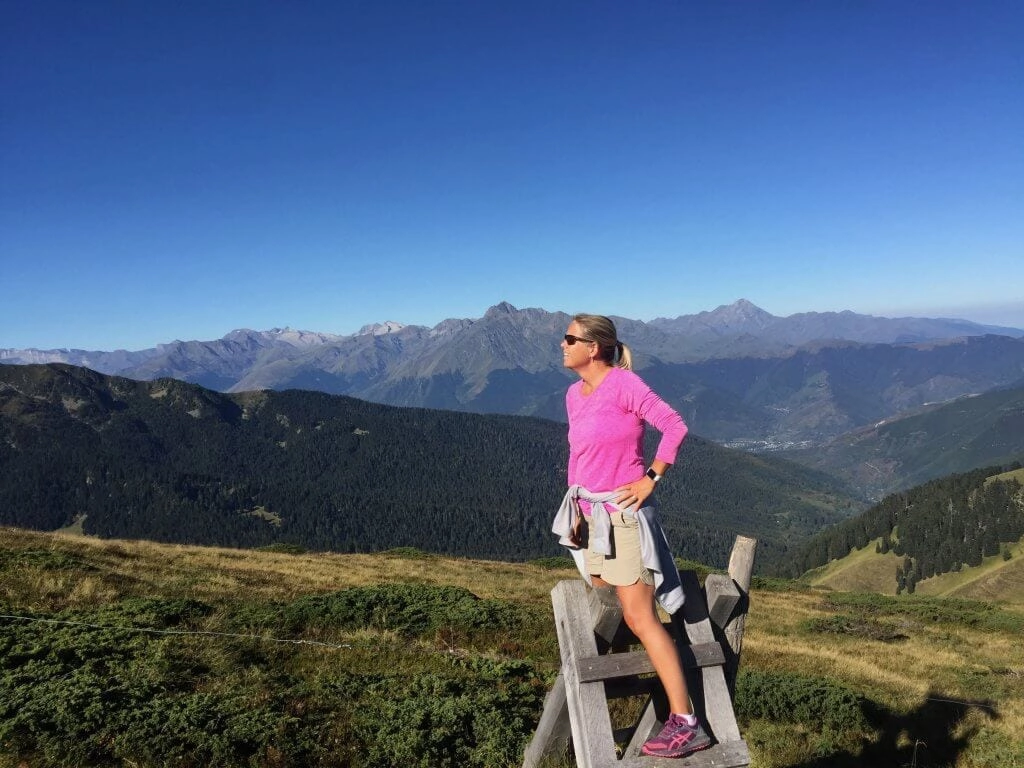 Day Seven
Bagnères-de-Luchon
After all that walking in the Pyrenees, we wanted a soak so we headed for Bagnères-de-Luchon, better known as just Luchon. Famous for its thermal waters, we took a dip and it was amazing.
The website for Les Thermes du Luchon is in French, but if you pop in they are very helpful. You can just take a swim or have all kinds of different treatments to ease your aching muscles.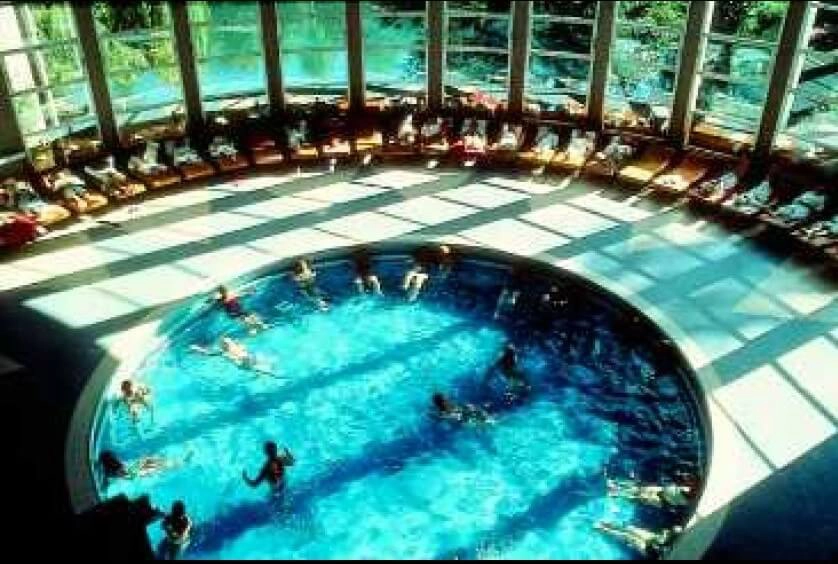 We stayed at Camping Au fil de l'Oô, where we did some washing and spent a lovely afternoon wandering the town, enjoying our 'bath' and having dinner at one of the many restaurants along Main Street.
Bonus Pyrenees Hike!
Circo de Soaso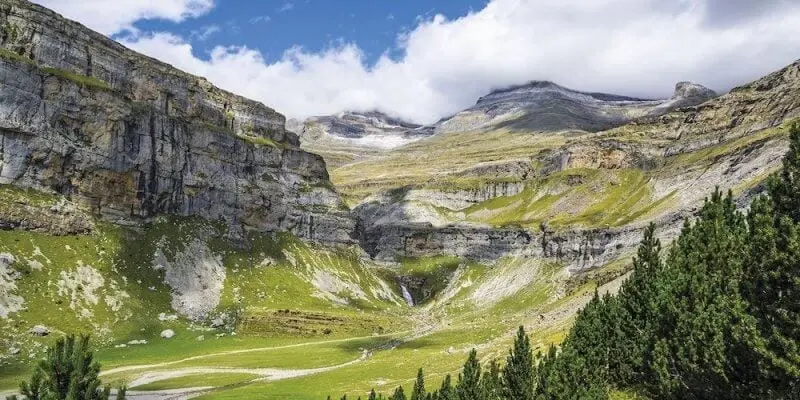 If you have time and juice left in your legs, then hop across the border to Spain a few miles south and make for the Ordesa National Park.
Look on the map and see that this Pyrenees national park is literally on the other side of the Cirque de Gavarnie; if anything Ordesa y Monte Perdido is even more breathtaking.
Read all about excursionismo (hiking in Spanish!) the famous Circo de Soaso here.
Are you looking for more travel inspiration? Check out these top posts…
Croatia is home to a variety of beautiful landscapes, including rugged mountain peaks, stunning islands, enchanting waterfalls, incredible beaches, vibrant cities, and charming historic towns. There are so many beautiful places to visit, it can be difficult to decide where to go. We've pulled together all our favorite most beautiful places in Croatia to visit to inspire you and help plan your next trip.
Love it? Pin it!