This post may contain affiliate links, from which we earn an income.
Motorhome Bikes & Bike Racks
If you're heading off on a motorhome tour, you may want a secondary means of transport to get about once you're pitched up. For the lucky few, that means a car or motorbike in the boot or on a trailer, but for most of us it means a good old-fashioned bicycle on a bike rack, or scooter. We take a look at all the options for your motorhome and campervan.
Bicycles
Cycling has evolved hugely over the past decade and there is now a type of bike for every type of cycling. This can be a bit bewildering if you just wanna get on your bike and go!
Consider these questions before choosing the best bike for your motorhome;
What type of cyclist are you? Is your bike for getting around, or do you like cycling as a hobby or sport? We know some people who carry two bikes each!
The gross vehicle weight of your motorhome – do you have enough payload for the bikes you want? Ebikes usually weight a good 5-10kg more due to the battery and fittings.
Will you store the bike in the motorhome garage? Bikes always take up more room than you think.
Do you also want to take a scooter which will get you further, faster?
Will you use a bike rack? There are lots of different styles which we'll discuss below.
Think carefully about security …bikes are a prime target for thieves so the ability to lock them at all times is critical.
If you insure your ebikes, the insurance company may insist that they are stored in the garage.
At first glance it may seem that storing your bikes in the garage is by far the best option. But, some motorhomes have limited garage space which you may want to use for other essentials, and where there is no garage, the external storage bins can be awkward in shape and to access.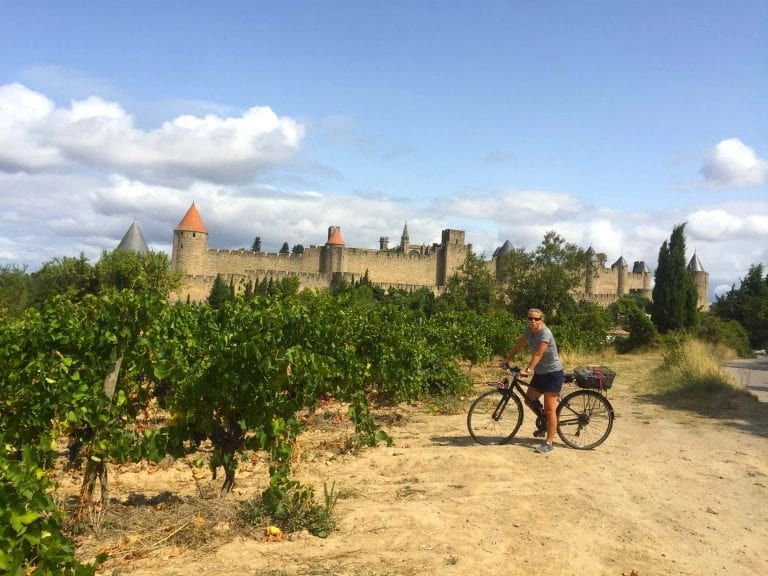 Types of Bikes
Mountain Bike
These types of bikes have wide (26″ or 29″) knobbly tyres which mean they can be ridden on loose surfaces and over obstacles. They have flat handlebars and solid heavier frames and components, with specialist suspension. You can ride a mountain bike on a road, but it will be harder going than a road bike.
Road Bike
These bikes have skinny tyres and drop handlebars and rule the road due to their speed and efficiency. The skinny tyres will power you along with little effort (unless you're tackling an ascent!) and the drop handlebars allow for a racing position. Don't fetch your shopping on one though!
Cyclocross (Gravel) Bike
They have drop handlebars but wider knobbly tyres and are designed to be used on all surfaces. You won't get the speed and efficiency on the road as you would with a road bike, but you will be able to use this bike on gravel and dirt tracks. These are great, go anywhere, do anything bikes.
Electric Bike
Sometimes called an ebike, this bike is just like a normal bike but with a battery, motor and handlebar computer attached to give you a helping hand on or off-road, meaning you can get to more places and travel further than on a conventional bike.
These bikes now come in almost all the same types and styles as conventional bikes and some ebikes can be linked to your smart phone, allowing you to set the assistance level based on GPS data and your route.
These bikes are more expensive to buy due to the battery costs and will also be more expensive to insure. You will also need a specialist rack capable of carrying the additional weight of ebikes, if they are not to be stored in your garage.
If you do take ebikes on an external rack, you should always remove the batteries for storage (even when using a bike cover) when parked or camping, as they are a prime target for thieves.
Folding Bike
This is a great option if you are restricted by space. Folding bikes are stowed easily but style and type options are limited. There are many makes of folding bike and folding ebike, the most well-known is the Brompton because it was the first product of its type.
The Brompton range now includes a folding e-bike which costs over £3k. We much prefer the Ancheer folding ebike at a quarter of the price!
Bike Trailer
We also have a flatbed cycle trailer which we tow with our kayak and kite surfing gear. We also use it to take the inflated stand up paddle boards to the beach! It collapses down quickly and takes up hardly any room, and tows like a dream.  
Useful Motorhome Resources
Being a first time motorhomer can be daunting, so we're sharing our top motorhome tips and hints for beginners so you can learn how to motorhome with confidence. This guide includes tips for new motorhome owners, practical motorhome advice and easy guides, top travel tips from years in a van and free downloadable checklists to get you motorhoming like a pro!
Motorhome Cycle Carriers
If you're buying a new motorhome you may be able to negotiate a fitted bike rack as part of the deal. Equally, if you're buying a used motorhome you may be lucky enough to get one with a bike rack already fitted – make sure to check if that's the case when you view the van.
Coach built motorhomes sometimes have fixings on the rear panel ready for a bike carrier, but if your van doesn't you can buy a bike rack that includes fittings.
An alternative, if you don't want to drill, is a tow bar bike rack. One of the pro's of using a tow bar cycle carrier is that you don't need a specific motorhome model – any towbar bike rack will be suitable.
Fitting a bike rack to the rear wall of a coach built motorhome generally means drilling through the rear panel, which a competent DIY'er should be able to manage. If this makes you nervous, find a motorhome workshop who can do it for you.
The final alternative is a bike rack for the motorhome garage, making it easy to load and unload, carry the bikes safely and ensure they are secure. The Fiamma Garage and Thule VeloSlide are the best ones on the market.
The Best Rear Mounted Motorhome Bike Racks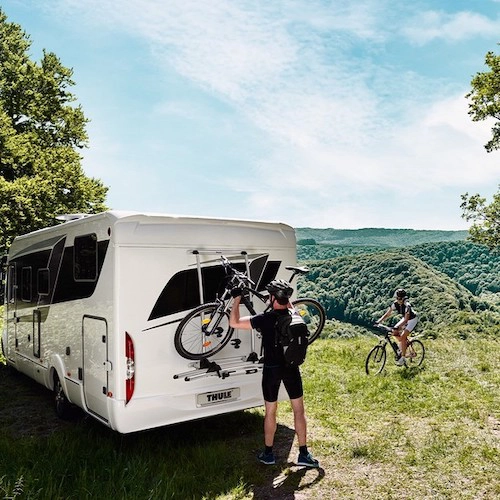 The Thule Excellent has a maximum load capacity of 60kg and automatic locking making it perfect for ebikes. This Thule bike carrier can be extended to carry 3 or 4 bikes and comes in two models, standard (as shown) and short. It is also suitable for caravans.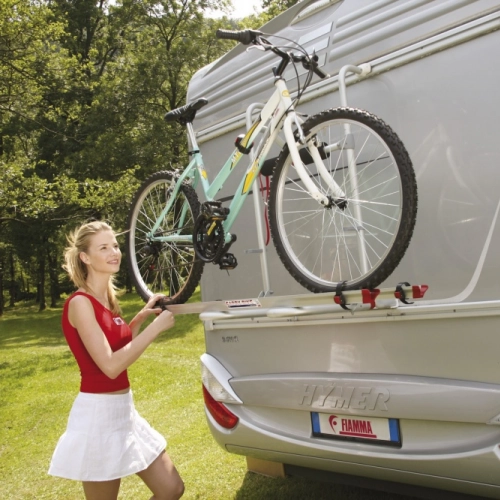 The Fiamma Carry Bike UL is a lightweight and affordable model. With no bells and whistles, but a robust build, this bicycle carrier has all the functionality you need. It adjusts from 80 to 150cm and carries up to 55kg. This is a great choice if you're budget conscious.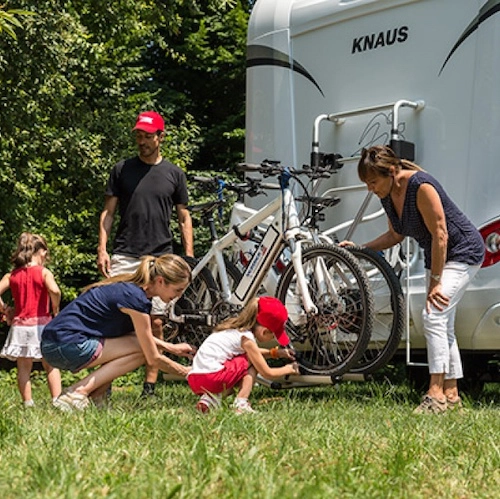 The Fiamma Carry Bike Lift 77 has a rack that can move by as much as 77cm up or down using a crank handle, making loading and unloading easy and quick. This Fiamma motorhome bike rack has a load capacity of 60kg for up to four regular bikes or two ebikes on the strengthened ebike version.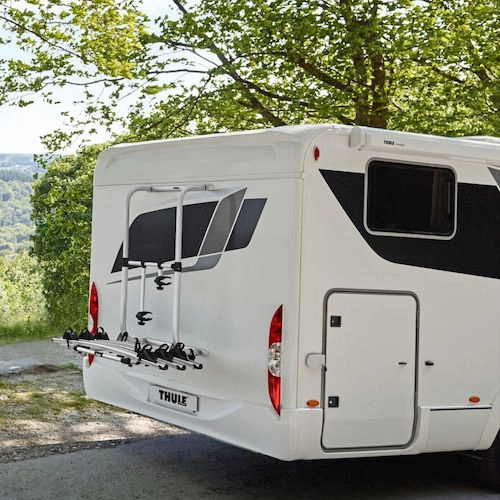 The Thule G2 Elite comes in both standard and short models. This Thule motorhome bike rack is a great all-rounder can carry up to four bikes weighing a total of 60kg on a lockable platform. The system is easily adjustable meaning whatever size or style of bike, it will fit on this rack. This is the bike rack we have fitted to our motorhome.
Campervan Bike Carriers
If you're in a campervan or van conversion, there are lots of bike carriers on the market which can be easily fitted to the rear doors.
Some fit on one side only, meaning you can open the doors when the rack is in situ, and some slide to the side allowing for opening.
You could also carry bikes flat on the roof if you had a suitable roof-rack fitted and don't need the space for surf-boards or solar panels.
The Best Campervan Bike Racks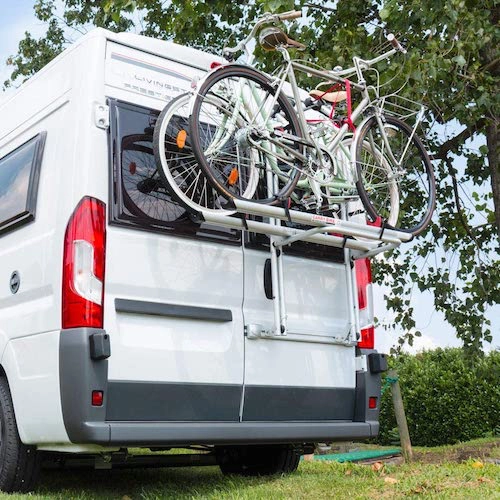 The Fiamma Carry Bike 200 DJ for Fiat Ducato & Peugeot Boxer works with pre-existing fittings that are standard and requires four holes to be drilled. The rear door can be opened without removing the bicycles. The 200 DJ also has a model to fit the MB Sprinter and VW Crafter.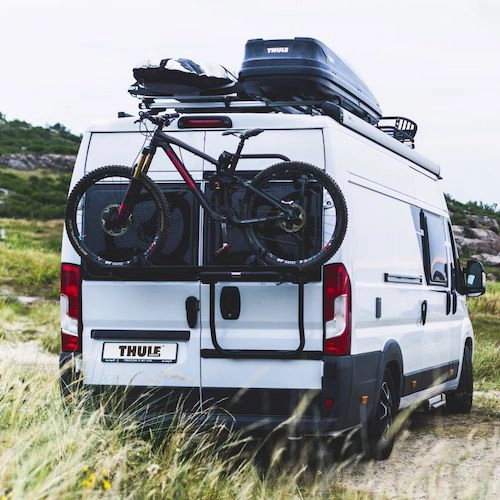 The Thule Elite Van XT for Mercedes Sprinter & VW Crafter requires no drilling and is easy to take off when not in use. Adjustable in height, the rear doors can be opened with bikes on the rack. Also comes in a model suitable for the Fiat Ducato and Peugeot Boxer.
Bike Rack Accessories
Start your beginners journey to life on the road with exclusive checklists, free downloads, tips & more
Carrying a Scooter or Moped
Carrying a scooter or moped in your motorhome garage or on a specialist rack is a great if you want to get around easily with zero physical effort.
You can't dodge the weather but you can save your legs, especially if you're in the mountains – cycling uphill is one of my pet hates!
You can pick up a new scooter for a few thousand pounds, making it a relatively affordable option, and cheaper than some e-bikes.
If you're planning on carrying a passenger, then you'll probably want to go for a 125cc model, to give you a bit of power up the hills.
We carry a Honda PCX in our garage using the Fiamma Carry Moto system and use it for shopping, sightseeing and getting around. It's been invaluable for city visits and touring, especially in Morocco.
If your garage is not large enough, or you don't have one, a rear mounted scooter rack can work well. Most moped carriers are tow bar mounted – as well as thinking about gross vehicle weight and axle loads, you also need to consider the length of your back-end.
If you have a long overhang (the distance between your rear axle and rear bumper) then you may bottom out with the additional weight and length or a tow bar mounted rack. Having a set of skid wheels fitted can help with this, or you could consider air suspension.
Some things to consider about taking a scooter;
Does your motorhome have enough payload to take a scooter? You need to consider axle weights too, not just the overall gross vehicle weight.
Does your garage have room for the scooter – measure carefully before purchase.
Is your garage fitted with lashing or anchor points to secure the scooter? You'll need at least two of these on each side.
Is your garage floor strong enough? We re-enforced ours before carrying our scooter.
If you go to countries outside the EU, you may not be able to get insurance from a UK provider. You may need to buy third party insurance at the border – would you be happy with this?
Riders need to have taken a CBT test in the UK every two years (unless they have a bike licence or ride a moped up to 50cc and passed their car driving test before 01/02/01).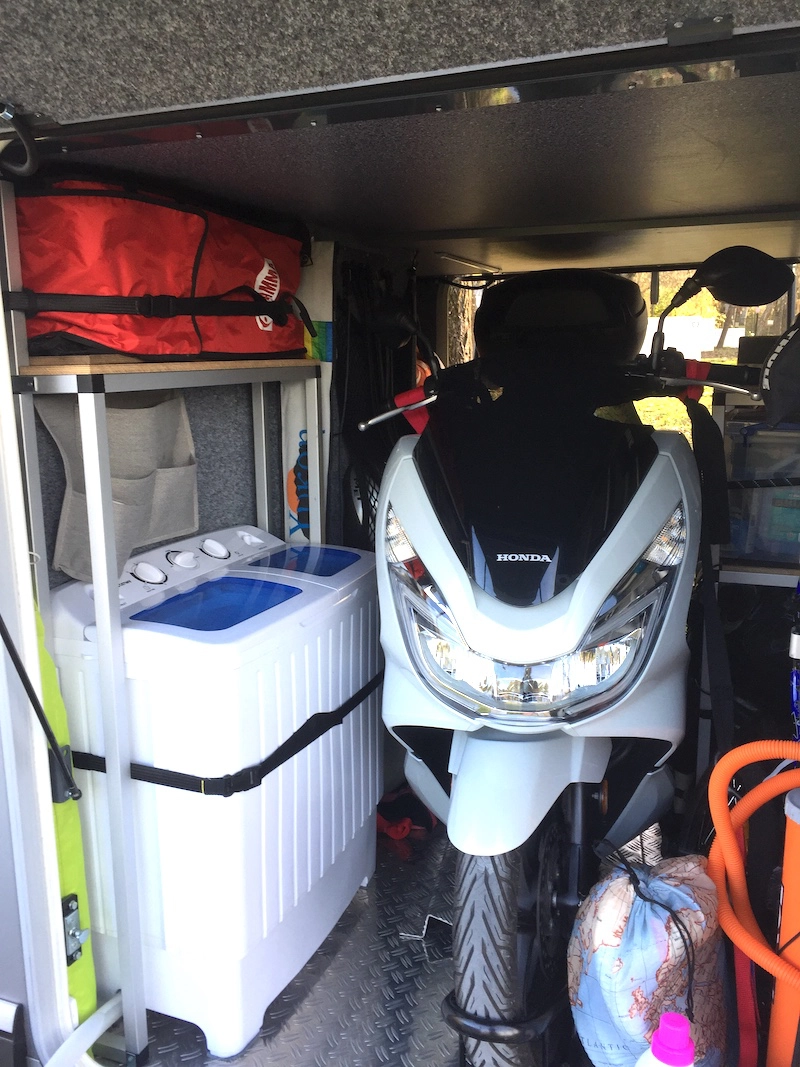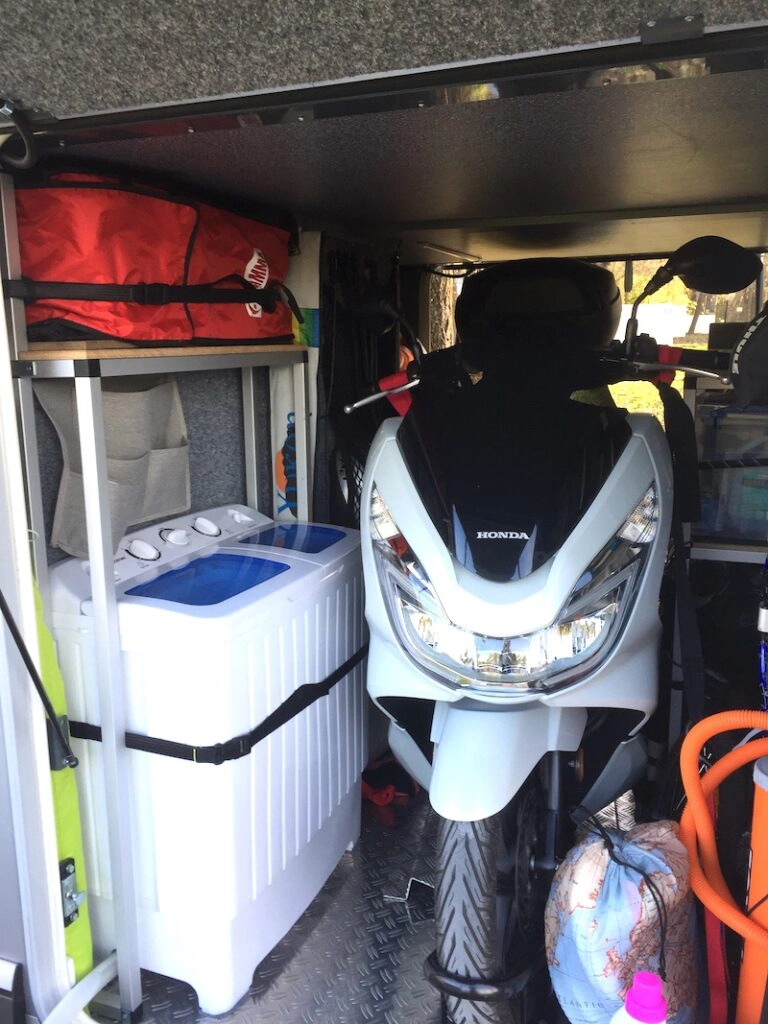 Are you looking for more motorhome accessories? Check out these top posts…
If you love motorhoming then you'll know that having the right kit makes all the difference. Check out our pick of the best and most useful motorhome and campervan gadgets and essential accessories, tried and tested by us over three years of full time motorhome life.
As full time motorhomers for the past five years, we've experienced a few different motorhome sat navs along the way! We've compiled a guide to the top 18 on the market today, so you can compare and work out what suits you and your motorhome. Our motorhome sat nav buying guide has tips and information about satellite navigation systems, multimedia players and using a smartphone with a sat nav app, to help you choose the best…
Whether you holiday or full-time, tv in your motorhome is probably a necessity. You may not watch much, but when it's raining or you fancy a duvet day, being able to curl up with a great film is one of life's pleasures. Our guide has all the information you need on how to get tv in a motorhome.
Motorhome life in the road means freedom to go where you choose, when you choose. But, the daily chores still need doing and if you spend more than a week or so in your motorhome, you'll need to manage the laundry.
When you're preparing and cooking meals in a small motorhome or campervan kitchen, you need to make the most of the limited storage and work space – everything you use needs to be lightweight, multi-purpose, space saving and easy to store. Our top motorhome kitchen accessories deliver all that and more.
Microwave ovens are essential bits of kitchen equipment for most of us and it's no different when we travel in our home from home. If you're looking to retro-fit or carry a microwave in your motorhome or campervan, we've got all the information you need to make the right choice.
Love it? Pin it!