This post may contain affiliate links, from which we earn an income.
What To Do in Amsterdam for a Day
Amsterdam is a city packed with eclectic culture and life. There is a little bit of everything, be it architecture, cuisine, history, or nature.
With our Amsterdam one day itinerary you'll explore the famous canals that cover the city whilst dipping into fun museums, munching on stroopwafel, and soaking up the lively yet laid-back atmosphere of the Dutch capital.
In our Amsterdam travel guide, we'll share an itinerary for a day in Amsterdam, highlighting the top attractions and hidden gems that you won't want to miss. You'll find information, tips, and recommendations for visiting Amsterdam, with an interactive map, organized to make the best use of your one day in Amsterdam.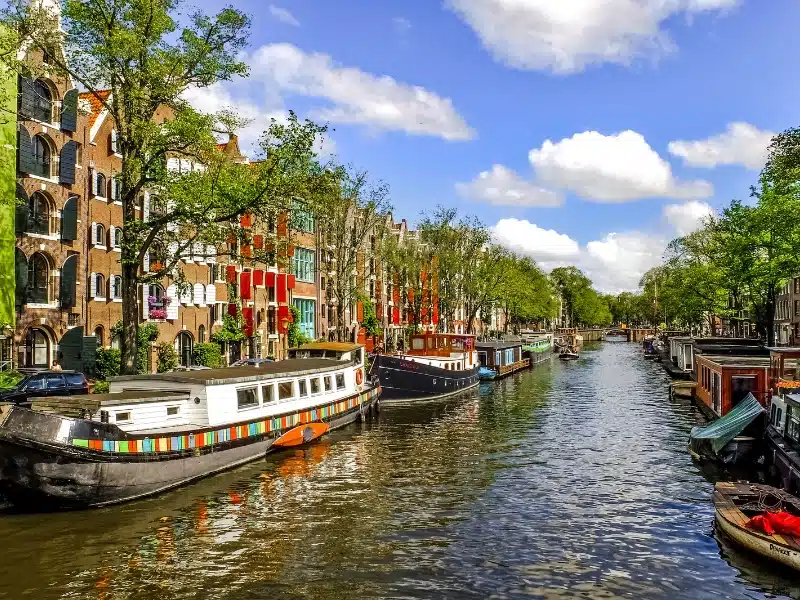 Amsterdam Trip Resources
Here are the services we use and recommend for traveling in the Netherlands;
When to Visit Amsterdam
Spring heralds the tulip season and summer means you can enjoy beautiful warm weather and long days. Both seasons bring crowds and high prices, so book and organize everything in good time.
In the winter, you can see Amsterdam's Christmas markets, and those unique Amsterdam canals frozen and dusted with snow. It's also the season of the Amsterdam Light Festival when magical light installations adorn canals, streets and landmarks
Amsterdam is a very popular city year-round, but to avoid crowds as much as possible and get the best hotel and flight deals, choose the fall shoulder season and travel in the months of September and October.
RELATED POSTS: Autumn in Europe: 23 Stunning Destinations for Fall | Europe Winter Destinations: 22 Amazing Wintry Places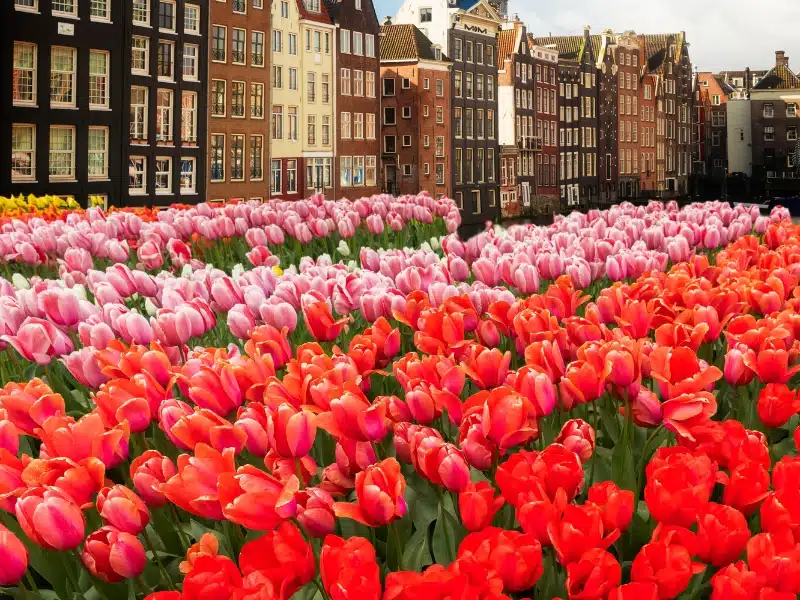 Getting to Amsterdam
If you are flying to Amsterdam, you will land at Schipol International Airport, one of the largest international airports in Europe, and only 17km from the city center.
To get into the city by train, catch the NS Sprinter from platforms 1, 2, or 3 in Schiphol Airport to Amsterdam Central Station. Trains leave ten times an hour and the journey takes 15-20 minutes. A one way ticket to Amsterdam Central costs around €6, which includes the €1 surcharge for buying a disposable ticket. It is mandatory to check in and out of your train journeys in Amsterdam using the yellow card readers which are located around the entrances and exits to stations.
The Amsterdam Airport Express Bus 397 leaves from Schiphol Plaza bus stop B17 to Amsterdam Elandsgracht every seven minutes, with stops in central Amsterdam including Museumplein, Rijksmuseum, or Leidseplein. A single ticket costs around €6.50.
Grab a metered cab which will cost around €45 and take about 15-20 minutes to get you into Amsterdam's center, or call an Uber which will cost €40-€60 (Uber Black) and around €30 (UberX).
The quickest and most convenient option, you can book a private or shared airport transfer in advance with Intui Travel, our recommended airport to hotel transfer service.
RELATED POST: Best Cities in the Netherlands for an Amazing Visit!
Where to Stay in Amsterdam
What to See & Do in Amsterdam
Amsterdam is a very walkable city, with most things to do in Amsterdam in one day in a relatively small area. Walking is one of the pleasures when you're in Amsterdam for the day, it gives you a chance to soak up the special atmosphere of the city, find hidden architectural treats, and immerse yourself in Amsterdam life.
If you like your city visits organized for you, then check out this fantastic open boat tour of Amsterdam, or do it like the locals and take a guided bike tour of central Amsterdam instead.
One Day in Amsterdam Interactive Map
How to use this map – Use your fingers (or computer mouse) to zoom in and out. Click or touch the icons to get more info about a place, and click the arrow in the box top left to open the index. To add to your own Google Maps account, click the star next to the title of the map.
Morning
Wander Dam Square
Start your day in Amsterdam by visiting one of the most famous spots in the city, Dam Square, in the heart of historic Amsterdam. Built in the 13th century, when a dam was built around the river Amstel to prevent the Zuiderzee Sea from flooding the city, this spot is one of the most important places in the city.
The square is surrounded by a number of historic buildings, including the New Church or Nieuwe Kerk and the grand Royal Palace or Koninklijk Palace, a 17th century building that was once home to the Dutch royal family. You'll also find the National War Memorial, built in 1956 to commemorate Dutch soldiers and members of the resistance who died in World War II.
Although Dam Square is a must-see when you're in Amsterdam for a day, it won't take you long to visit unless you hang around to watch the street performers and live musicians who play here or take a spin on the Ferris wheel which appears in the warmer months.
Top Tip: If you want to see some cool cityscape views from above you can visit Madame Tussauds or climb to the top floor of H&M that's on the right side of the square.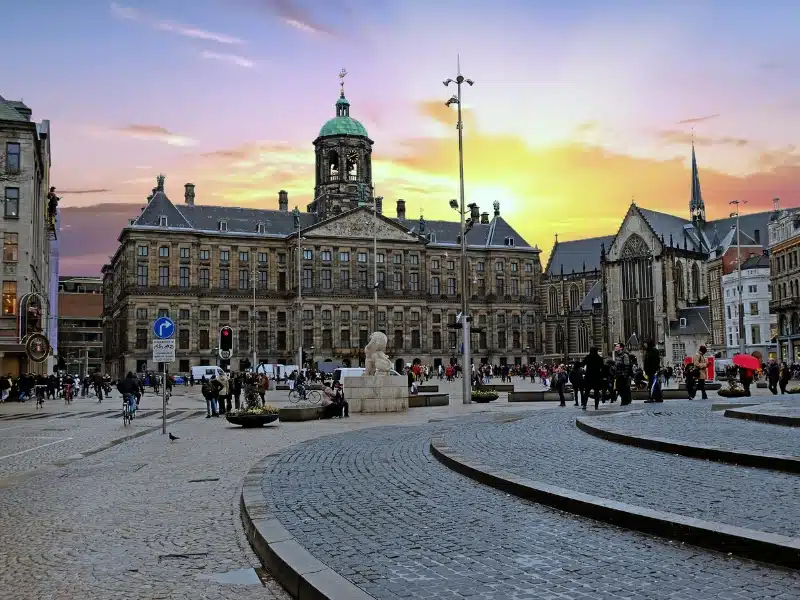 Visit Anne Frank's House
Many know the harrowing true story of Anne Frank, whose life and experiences have been preserved in her diaries written during her time in hiding.
For those who don't, Anne Frank was a young Jewish girl from Germany, who was persecuted for her religion during the Nazi reign, and forced into hiding in the annex of a townhouse in the Jordaan neighborhood.
She and her family were discovered after two years in hiding and Anne was deported to the Bergen-Belsen concentration camp where she died in February 1945, at just fifteen years old.
After the war, Anne's father Otto, the only member of the family to survive the Holocaust, decided to publish Anne's diaries and the young author became a symbol of hope in the face of adversity, with words so positive it's hard to imagine the circumstances in which they were written.
The Diary of a Young Girl, also known as The Diary of Anne Frank, was published in 1947 and has since been translated into more than 70 languages and sold over 30 million copies.
The townhouse where she and her family lived for those two horrifying years has now been converted into the Anne Frank Museum, and you can visit and learn all about the true difficulties of life there, and of life in Nazi Europe in general.
This can be a difficult museum to visit and you have to be quiet and respectful of the surroundings, but if you are interested in European history this is such an important place to see.
If you would like to learn more about Anne Frank and the Jews of Amsterdam take an Anne Frank walking tour with a dedicated guide.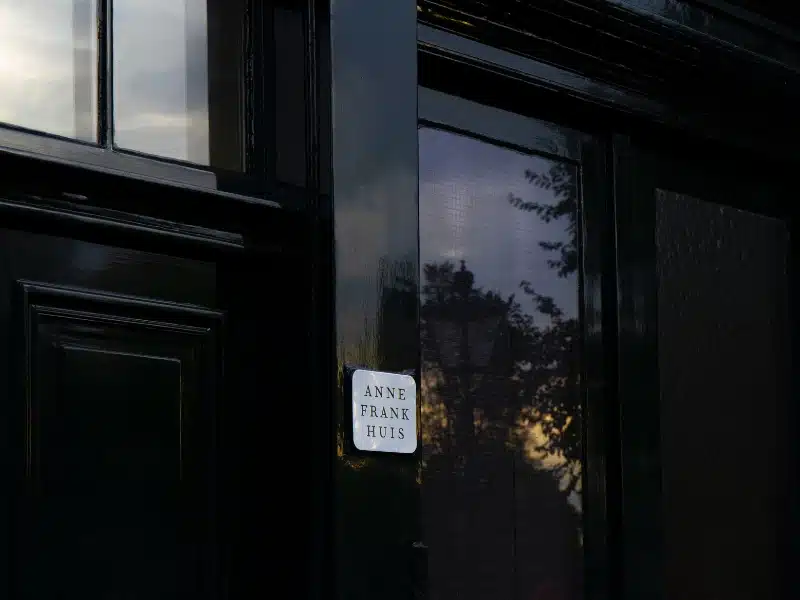 Check Out the Nine Streets Neighborhood
Spend the rest of your morning wandering around Amsterdam's Negen Straatjes, or Nine Streets. This hip micro-neighborhood that lies between the Singel and Prinsengracht canals is full of cute little streets filled with stylish hotels, independent boutiques and quirky cafés, and many Instagram-worthy photo opportunities.
The canals of the district date back to the 16th and 17th centuries and are lined with stunning gabled townhouses so distinctive of the Dutch Golden Age.
Since 2010 the canals have been part of the UNESCO World Heritage Site that recognises their significance in the development of Amsterdam. It's no wonder this city is known as 'the Venice of the North'.
You could pop into a fun museum, like the Amsterdam Cheese Museum or the Amsterdam Tulip Museum, grab a coffee and watch the world go by, or simply walk around and take in the surroundings. This is the perfect way to finish your morning.
Top Tip: Cheese lovers should visit De Kaaskamer, which has a truly vast selection of Dutch and international cheeses which you can taste before you buy. If chocolate is more your thing, head to Polaberry for fabulous chocolate treats, including the most delicious chocolate (and pretty) covered strawberries.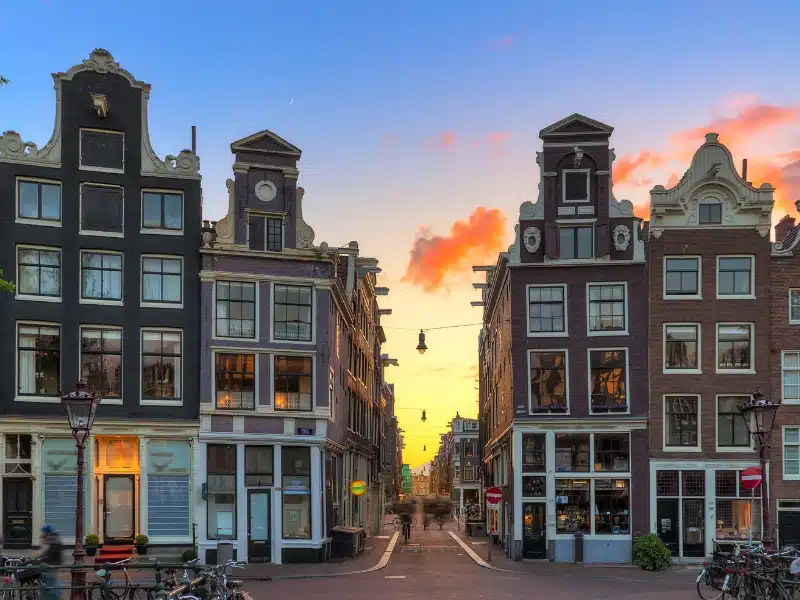 Afternoon
Marvel at the Bloemenmarkt
After a busy morning exploring the west of Amsterdam, head south and discover one of Amsterdam's most unique attractions, the colorful and fragrant floating flower market, the only one of its kind in the world.
Bloemenmarkt sits along a long line of canal boats attached to the harbor and has been here since 1862. You can see plenty of flowers, including tulips, as well as bulbs to take home and grow yourself, and other traditional Dutch souvenirs.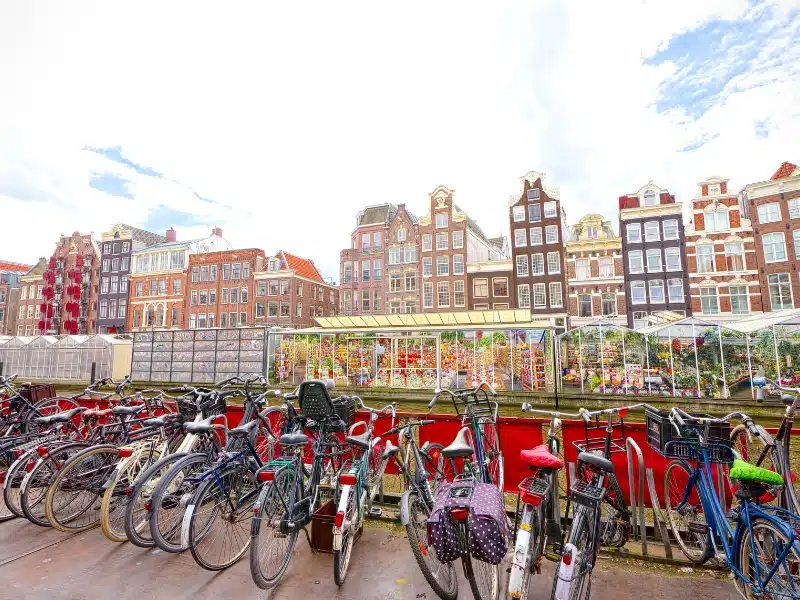 Visit Museumplein
Amsterdam is absolutely full of museums, so a day in Amsterdam has to be full of them too! Museumplein is where you'll find the most famous museums in the city.
You can choose between the Rijksmuseum, dedicated to art and history from Amsterdam and the Netherlands, the Van Gogh Museum, the Stedelijk Museum of Modern and Contemporary Art and Design, and the MOCO Museum.
Of course, if the weather is nice during your visit, take some time to relax in the grassy area around Museumplein, a beautiful square that is used for festivals and celebrations, and where Amsterdam locals meet to while away an afternoon. In the winter, the pond is transformed into an ice skating rink.
Rijksmuseum
The Rijksmuseum is the biggest, and great if you want to discover more about the Netherlands, with art from the Dutch Golden Age on display, including pieces by Johannes Vermeer and Rembrandt, most notably the Night Watch. This is a hugely popular museum so we recommend getting your skip-the-line ticket online in advance.
Van Gogh Museum
Housed in a contemporary building, the Van Gogh Museum has the largest collection of Van Gogh art in the world, including 200 or so paintings, 500 drawings, and 700 letters, and is a fascinating place to visit if you are interested in the life and work of this famed artist. You can buy priority Van Gogh Museum tickets online before arriving.
Stedelijk Museum
The Stedelijk Museum is Amsterdam's answer to the Tate Modern. Housed in a historic building from 1895 with a new wing, it is home to the largest collection of modern and contemporary art and design in the Netherlands, including works by Chagall, Matisse, Kandinsky, Pollock, de Kooning, and Warhol.
MOCO Museum
The MOCO Museum is best for those who aren't as interested in traditional museums, as it is filled with modern art. There is a long-running Banksy exhibition filled with street art and a light and reflection exhibition which is really fun. The exhibitions do change in this museum so you might come across something new, but it is guaranteed to be fun and modern.
Enjoy a Beer at the Heineken Experience
Of all the things that Amsterdam is known for, beer might just be the most exciting. There are several famous beers, but Heineken is the most famous worldwide.
At the Heineken Experience in Amsterdam, you can take a tour through the company's old brewery and learn all about the history of the beer-making process. Of course, your skip-the-line ticket includes some beer that you can enjoy!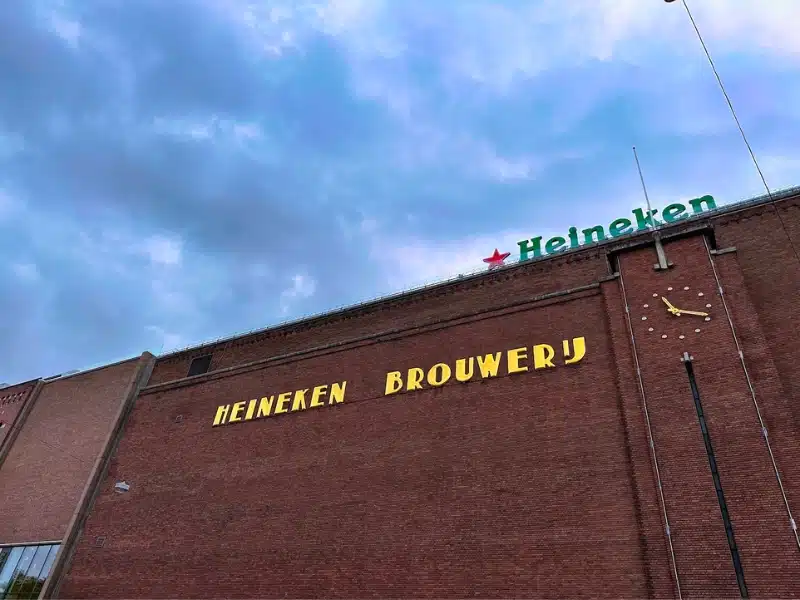 Evening
Take an Amsterdam Canal Cruise
One of the best things to do in Amsterdam is take one of the city canal cruises. You'll spend your Amsterdam day wandering around them, and this is a wonderful way to experience the city from a different perspective. We recommend booking a canal cruise during the evening as once the sun sets you can see the city and the canal bridges lit up.
It's a really unique experience, and there are countless different options based on your budget – a regular highlights tour, dinner on a canal boat, a private tour – the list is endless. Most canal tours start at Damrak, and you can see the famous dancing houses when you pass by, a great way to end your perfect day in Amsterdam.
We recommend this highly-rated magical evening canal cruise as the best way of seeing Amsterdam after dark.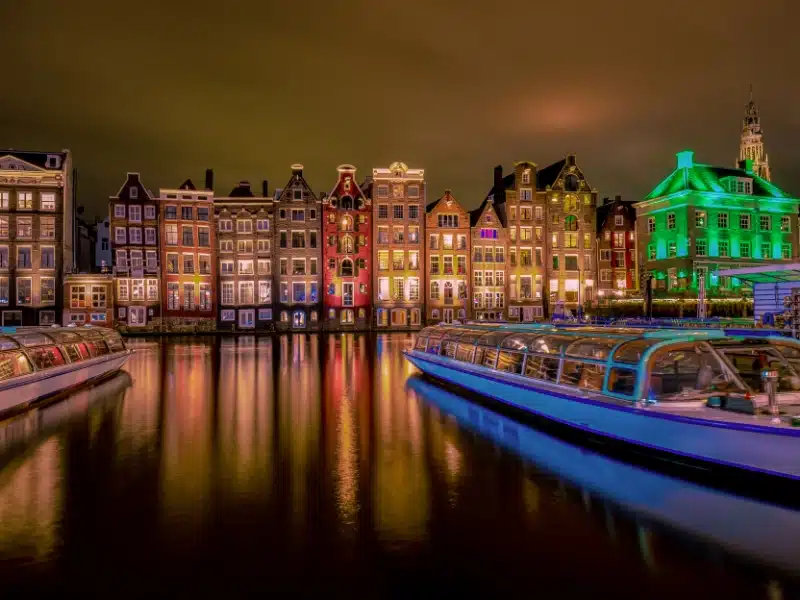 Check out the Craft Beer Scene
Proeflokaal Arendsnest is one of the best places in Amsterdam to get a taste of the growing Dutch craft beer scene. With a range of over 52 Dutch craft beers on tap and over 100 beers by the bottle, you'll be spoiled for choice.
The helpful and knowledgeable bartenders are happy to guide you through their selection. If you get the munchies, the bar snack menu offers excellent, traditional Dutch charcuterie and cheese.
Where to Eat in Amsterdam
Van Wonderen Stroopwafels
You can't visit Amsterdam and not have a stroopwafel! The cutest stroopwafels in the city are definitely from Van Wonderen Stroopwafels, and they're delicious too.
Visiting the shop is an experience in itself, as the decoration is so exquisite and mesmerizing. You can choose from a range of different toppings for your stroopwafel, and then enjoy it warm after it's made right in front of you.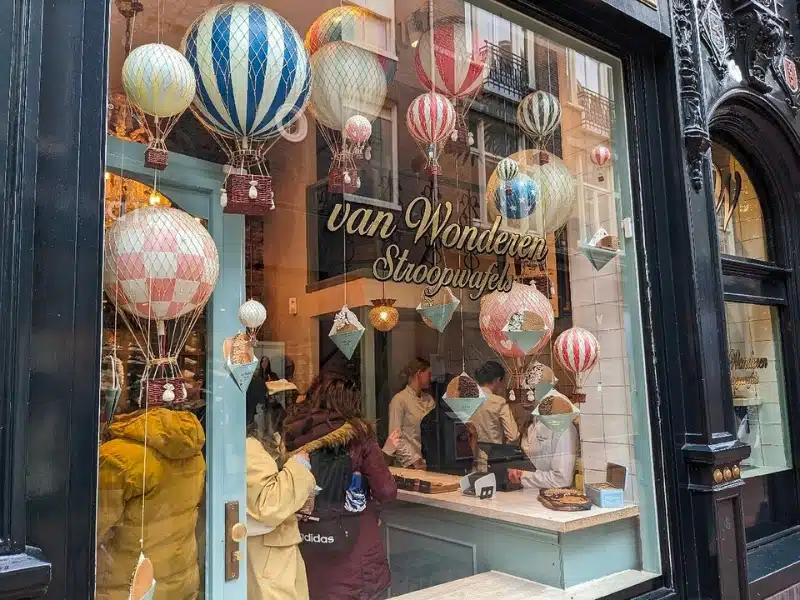 Pluk & Ree 7
The cute cafés of Amsterdam's Nine Streets neighborhood are the perfect place for lunch. Pluk and Ree7 are our top picks – they are sister cafés, only a few doors away from each other, both serving delicious brunch and lunch options.
Grab a seat at either restaurant and you can enjoy sandwiches, eggs, salads, smoothie bowls, or pancakes! The best part about these cafés (aside from the food, of course) is that the interior is an absolute dream! They are so well designed and have such a great atmosphere – at Ree7 you can even sit outside to watch the world go by.
Moeders
Moeders, or Mothers, is a quirky restaurant serving traditional Dutch cuisine in Amsterdam. Decorated in a shabby-chic antique style, with a mothers wall of fame, it's a convivial (in the Netherlands, there is a word for this: gezellig, which translates roughly as 'convivial' or 'cozy') and lively place.
Their most famous dish is stamppot, a delicious combination of mashed potato, cabbage, bacon, and sausage that is comfort food personified.
Top Tip: Come hungry, the portion sizes are large and the homemade Dutch cookie ice cream is to die for!
Top Five Amsterdam Travel Tips
Buy all your museum tickets in advance. In a lot of cities, it's nicer to go with the flow and book attractions and experiences as you go. In Amsterdam, it pays to be organized and decide where you want to visit before the trip. Amsterdam is a very busy city so you can avoid long queues by booking skip-the-line tickets online in advance, and in some places, it's actually a requirement. For the Anne Frank House, you'll want to book as far in advance as possible as tickets are limited – tickets are released two months in advance, so as soon as you book your trip, book the tickets.
Look out for bikes. Amsterdam is full of traffic and cyclists, and the locals will not stop or slow down for you! Always stay alert to what is going on around you, especially on the narrow streets around the canals, or before you know it, you'll be knocked off your feet by a speeding cyclist.
You don't need to take public transport. Unless you're staying outside of the city, ditch the tram tickets and walk everywhere. Of course, if this isn't an option for you, the public transport system is very well connected.
Research the Amsterdam City Card. It's no secret that this city card is great, with over 70 attractions, public transport, and a boat tour included. However, if you are following our one day in Amsterdam itinerary, it may not be worth your money. Look up any additional attractions you want to visit, and you'll quickly be able to decide if it's good value for money for you.
Visit the red light district during the day. This somewhat infamous district of Amsterdam has turned into a rowdy tourist's dream. At night, throngs of groups emerge, be they stag or hen dos, or just general visitors, to get drunk in the streets and enjoy all that the red light district has to offer. Of course, if this is your style, go for it! But, if you'd prefer to avoid this slightly seedier part of the city, visit during the day. You can still experience this part of Amsterdam's culture but in a much more peaceful way.
More Than One Day in Amsterdam?
Tulip Fields
March to May is tulip season and visiting the tulip fields of the Netherlands makes for a perfect one day trip from Amsterdam if you have a little longer in the city. Keukenhof Botanical Gardens, not far from the city, has some of the best tulip displays.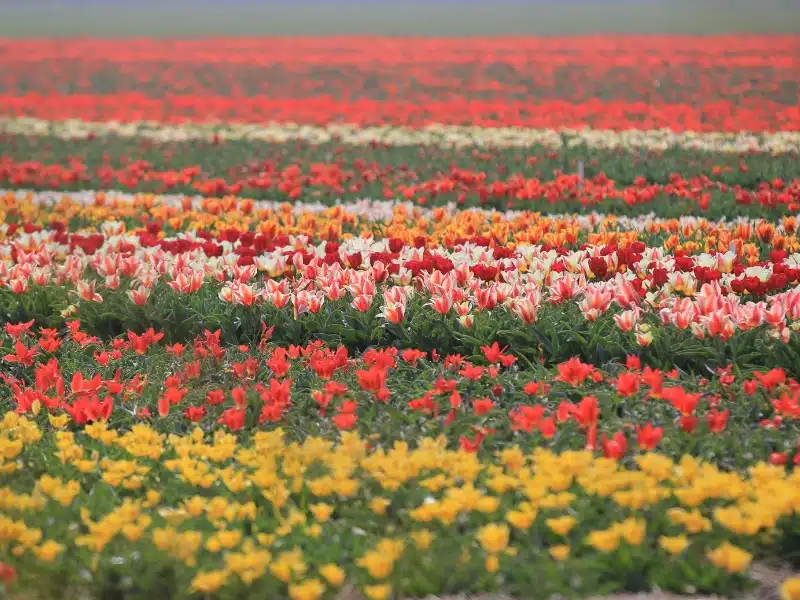 Zaanse Schans
Rent a bike and take an Amsterdam self-guided bike tour around the Zaanse Schans. These iconic Dutch windmills are just outside the city and can be easily reached. It's a great way to dive even deeper into all things culture, and you can discover the history and legacy of the mills.
Hortus Botanicus
Visit the beautiful botanical gardens at Hortus Botanicus. The botanical gardens are right in the center of the city and the perfect to visit if you're in Amsterdam for one day more.
A'DAM Lookout
Take a city ferry across to the north side of Amsterdam, and you can visit A'DAM Lookout. This attraction comes in the form of a huge tower and observation deck, where you can enjoy a drink or bite to eat with a view over Amsterdam. If you feel brave enough you can have a shot on their over-the-edge swing at the top of the tower, where you'll swing off the edge of the building and see the city in all its glory.
Giethoorn & Afsluitdijk Day Trip & Boat Tour
If you take one day trip from Amsterdam, make it this highly recommended and well-organised nature hike.
See the typical landscapes of the Netherlands on a day trip to Giethoorn from Amsterdam. Glide past restored farmhouses by boat, see picturesque canals and wooden bridges, and explore Afsluitdijk, Amsterdam's famous enclosing dike that connects Noord-Holland and Friesland.
With a professional guide to offer insights, this tour is the perfect opportunity to see more of the Netherlands in less time!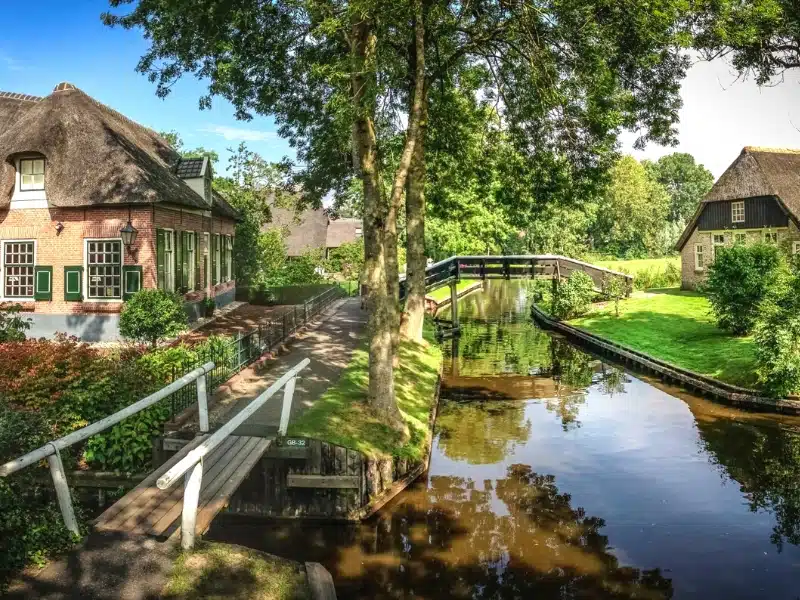 Written for The Gap Decaders by Kirstie of Kirstie Will Travel
Are you looking for more one day city itineraries? Check out these top posts…
Munich is the capital of Bavaria and Germany's third largest city, famous for its annual Oktoberfest celebration! In our Munich travel guide, you'll find tips for visiting all the most important must-see Munich tourist attractions, organised to make the best use of your one day in Munich.
Love it? Pin it!