This post may contain affiliate links, from which we earn an income.
The German Alpine Road, also known as the Deutsche Alpenstraße, refers to a spectacular route through southern Germany that explores the Bavarian region's rich history and beautiful landscape.
If you crave adventure mixed with culture, the German alpine road is for you. Surrounded by snow-capped mountains and alpine lakes dotted with traditional Bavarian villages and historic castles and churches, there is lots to see and do on this iconic route.
We traveled the German Alpenstrasse and loved not only the road trip but the destinations. Our Deutsche Alpenstrasse travel guide includes an interactive map with route, highlights, answers to your frequently asked questions, and plenty of tips to help you plan an amazing road trip along this famous road in Germany.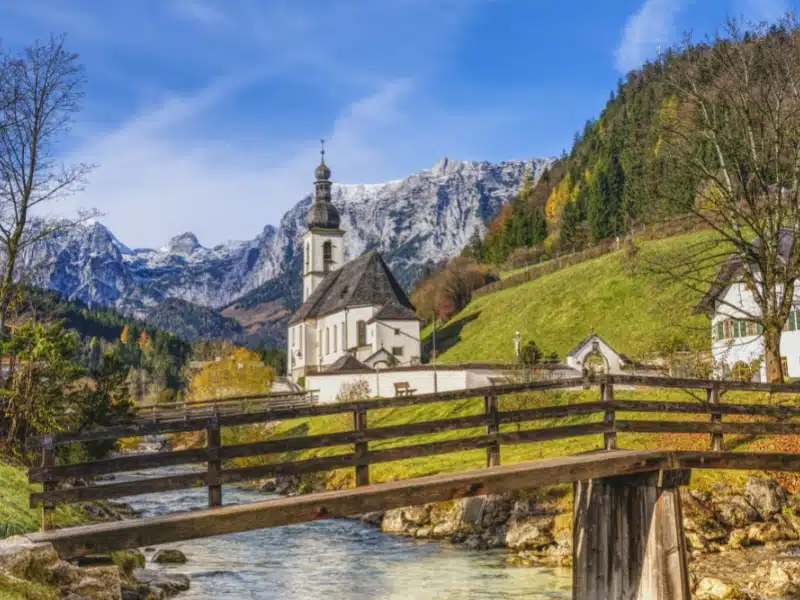 What is the Deutsche Alpenstrasse?
Known colloquially as the Queralpenstrasse, meaning 'across Alps road' in English, the 280 miles (450km) Deutsche Alpenstrasse is the oldest tourist route in Germany and winds across Bavaria, closely following the Austrian border, beginning in Lindau and concluding in Königssee.
Considered one of the most beautiful touring routes in the world, the alpine road route was first mentioned in 1879 in the publication of a historical travel log from 1858 by the Bavarian King Maximillian II.
Upgraded in the 1930s by the German Touring Club, the Deutsche Alpenstrasse is much the same then as it is today.
Is this your first time visiting Germany? Get all the information you need in our Germany Travel Guide, including what to pack, the best time of year to go, getting there and practical tips to help you have the best trip!
Getting There
The Deutsche Alpenstrasse officially starts at Lake Constance in Lindau, although you could do the route in reverse and start at Königssee.
Fly into Munich Franz Josef Strauß International Airport. With direct flights from America, Europe, and the UK, we recommend booking through Skyscanner for live deals and the best prices. Both start and finish points are equidistant from Bavaria's capital city, so Munich makes the perfect place to start your alpine road trip.
It's easy to hire a car at Munich airport and enjoy a leisurely three hour drive through the gorgeous Bavarian landscape to either end of the route.
Fancy a day exploring Munich? Get our one day Munich itinerary complete with map, recommendations & Munich travel tips to help plan your trip to this beautiful & vibrant Bavarian city.
How to Travel the Deutsche Alpenstrasse
Self-Drive
Whether you're in a car, motorcycle or campervan, self-driving is absolutely the best way to explore this fantastic alpine route, meaning you can stop whenever you want, try new activities, visit places you see along the route and have the freedom to change plans at the last minute.
Are you planning to rent a car in Germany? As one of the largest car hire aggregator companies in the world, we recommend Rentalcars.com because they have massive purchasing power which enables them to secure the best rental prices, which benefits you when you're planning a cheap road trip.
For a real adventure, hire a motorhome or campervan in Germany. We recommend Motorhome Republic, an aggregate booking site who pull together all the best deals from a number of rental agencies, to offer you a wide choice of options alongside an excellent English speaking expert motorhome Concierge Team. Use the Park4Night app to find overnight spots and campsites, and sleep on a high mountain pass, next to a beautiful lake, or in a wildflower meadow.
How about driving from the UK to Bavaria for an incredible road trip? Get all the info you need in our driving from the UK to Germany guide.
Public Transport on the Deutsche Alpenstrasse
Bavaria has a fantastic public transport system which is modern, well-run and reliable. Trains and buses can be combined using day tickets which allow as much travel as you like in the region.
However, most public transport routes run north to south, meaning there is no single public transport route running east to west on the alpine road as it traverses the far south of Bavaria.
Although this complicates planning, it is possible to use a combination of trains and buses to get around, but you may need to allow more time and stops along the way.
Use the Deutsche Bahn and Regio Bus Bayern websites to look for trains and buses between popular towns on the route, and get the Bayern-Ticket, which allows travel on local trains, transport associations and almost all regular buses in Bavaria.
Deutsche Alpenstrasse Tours
There isn't a single guided tour that covers the whole road from end to end. However, there are lots of day trips from Munich to the most scenic and interesting parts of the road, which are well worth doing if you're short of time. These are our pick of the top recommended German Alpine Road day trips.
Deutsche Alpenstrasse Map & Route
The Deutsche Alpenstraße travels through numerous holiday regions within southern Germany. Most famously, you receive unrivalled views of the Bavarian Alps passing through Allgäu, the Ammergau Alps, and the Alpine Region of Tegernsee-Schliersee.
No other route provides such a diverse insight into Barvarian culture. Touring through this alpine route, you will experience historical and cultural landmarks such as the royal castles of Hohenschwangau, Neuschwanstein, Herrenchiemsee, and Linderhof.
Additionally, the historic towns of Garmisch-Partenkirchen, Bad Tölz, and Berchtesgaden offer opportunities to explore the ancient markets and Altstadt, with their traditional architecture and culture.
Lindau – Oberstaufen – Immenstadt – Bad Hindelang – Füssen – Oberammergau – Garmisch-Partenkirchen – Bad Tölz – Rottach-Egern – Oberaudorf – Aschau im Chiemgau – Reit im Winkl – Berchtesgaden – Konigssee
How to use this map – Use your fingers (or computer mouse) to zoom in and out. Click or touch the icons to get more info about a place, and click the arrow in the box top left to open the index. To add to your own Google Maps account, click the star next to the title of the map.
Deutsche Alpenstrasse Highlights
Lake Constance & Lindau
Impressively, Lake Constance at 63km long, borders multiple countries: Germany, Austria, and Switzerland. As the third largest lake in Europe, Lake Constance is famous on many tourist routes across these three countries and is the starting point for the German Alpine Route.
Tourists road tripping the Deutsche Alpenstraßer often start the route at Lindau, a small and walkable town situated on an island on Lake Constance.
Before you hit the road, make sure to check out Pfahlbauten, a UNESCO World Heritage Site depicting prehistoric dwellings found in the Alps, and the many vineyards which surround the lake, known for their crisp and floral whites, many of whom offer wine tours and tasting.
As you leave Lindau for the first stretch of the route and the Allgäu region, make time in your itinerary to explore Lake Waldsee and the straw hat-making town of Lindenberg im Allgäu.
Top tip: Lake Constance is referred to as Bodensee in Germany. This is another name you may see given as the starting point of the Deutsche Alpenstraße.
Upmarket: Hotel Bad Schachen – Booking.com | Agoda
Mid-Range: Hotel Spiegel Garni – Booking.com | Agoda
Budget: Hotel Garni Brugger – Booking.com | Agoda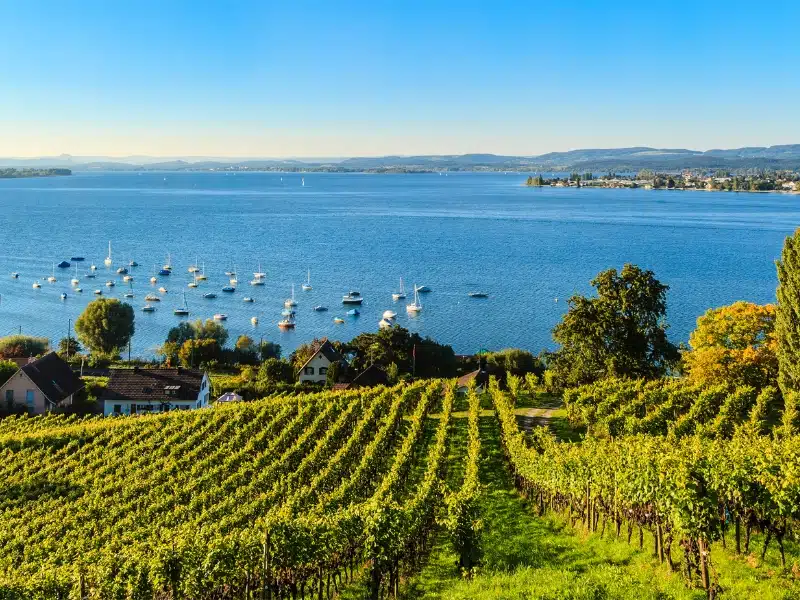 Oberjoch Pass
From Lake Constance, take the twisting road of the Rohrbach ascent into the Allgäu peaks, for spectacular views and the Scheidegg waterfalls in the Rohrach gorge.
Continue through Oberstaufen, stopping for a dip in the cold and clear waters of Grosser Alpsee, to the traditional German town of Immenstadt, before crossing the Oberjoch Pass, one of the most scenic drives in Bavaria.
With 106 bends, this is one of the most exciting drives of the whole route – make sure you allow enough time to stop for photos!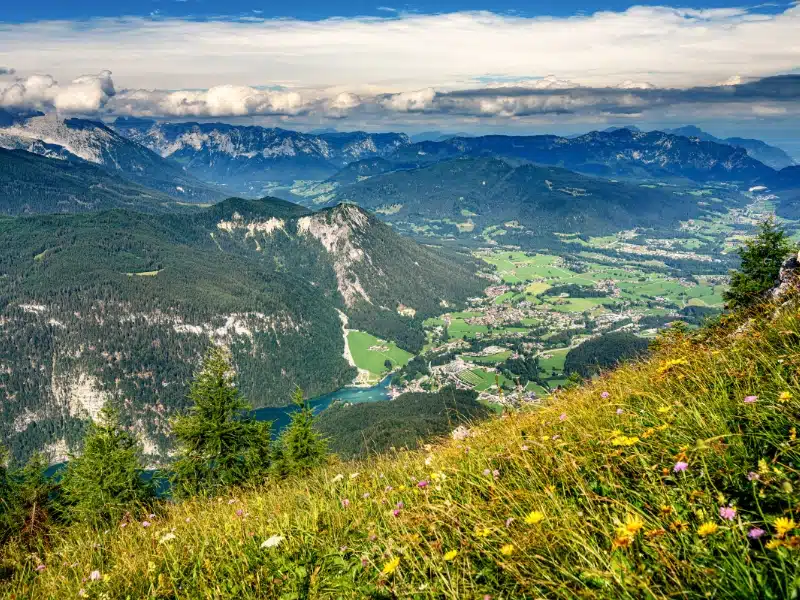 Füssen
Base yourself in cobbled Füssen for a few days to see the best of King Ludwig II's castles. Explore the old town of Füssen, and take a dip in the three tempting mountain lakes of Weissensee, Hopfensee and Forggensee before heading to Schwangau to visit Germany's most famous Schloss, Neuschwanstein Castle and Hohenschwangau Castle.
If you want to see the Versailles-inspired Linderhof, which is simply stunning and more of a palace than a castle, you can head there from Füssen, but this route will mean you dip into Austria.
There are no borders because both countries belong to the Schengen area, and you'll drive just 33 miles along the toll-free 179 and L255, which traverses the beautiful Plansee Lake, in the Austrian Tirol region.
It's worth taking the slight detour to the Highline179, a 406m suspension footbridge over the Lech River gorge, which links the Ehrenberg Castle ruins with a Roman-era fort.
Otherwise, you can pick up the route back to Linderhof from Oberammergau, a bit further along the Deutsche Alpenstrasse.
Did you know that Füssen is where the Deutsche Alpenstrasse meets the other famous southern German route, the Romantic Road? The route heads south from Würzburg to Füssen, passing by medieval villages, iconic churches, and fairytale castles. You can find the full Romantic Road route, with a map and itinerary in our guide.
Upmarket: Hotel am Hopfensee – Booking.com | Agoda
Mid-Range: Hotel Sonne – Booking.com | Agoda
Budget: Hotel Ludwigs – Booking.com | Agoda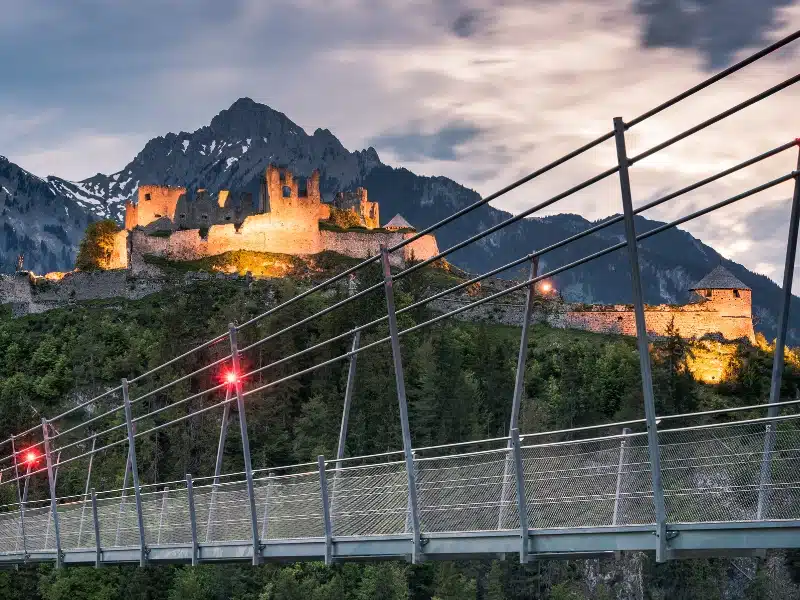 Neuschwanstein Castle
The incomparable Neuschwanstein Castle was constructed by King Ludwig II, more commonly known as Mad King Ludwig, within the depths of Pöllat Gorge in the Bavarian Alps.
The King was inspired by the Neo-Gothic architecture of his childhood residence Hohenschwangau Castle, another tourist destination along the Deutsche Alpenstraße. This inspiration, determining the design of Neuschwanstein Castle in 1868, earnt him the title of Märchenkönig, the fairytale king.
Although originally built for King Ludwig II's solitude, the Disney-like castle now hosts 1.4 million visitors annually.
Top Tip: If you want to skip the inside of the castle (which is ok but nowhere near as good as the outside), then head for Marienbrücke, the Bridge of Our Lady. The beautiful bridge spans a deep gorge across the River Pöllat and has amazing views across to the castle, especially in the morning light.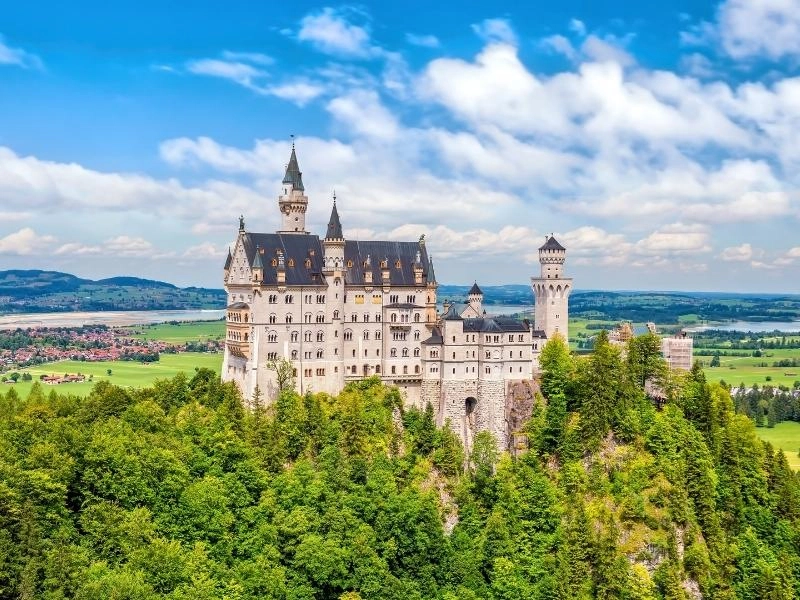 Hohenschwangau Castle
Located on an opposite crag to Neuschwanstein, Hohenschwangau Castle is more lived-in and historic, offering an excellent look at Ludwig's life, but with fewer crowds.
Originally built in the 12th century, Schloss Hohenschwangau was ruined by Napoleon in 1743. The Bavarian Crown Prince, later King Maximilian II, father of King Ludwig II, bought the castle and began rebuilding according to the original plans, and today you see it as it looked in 1836. It was here that Ludwig grew up, in surroundings inspired by romantic legends of chivalry and knighthood.
Inside the Gothic Revival exterior, the walls of the beautifully painted rooms are slathered with the epic myths and exotic decorations of 19th century Romanticism.
Outside, Queen Marie of Bavaria created an alpine garden filled with symbols of romantic stories, including a fountain in the shape of a water-spouting swan.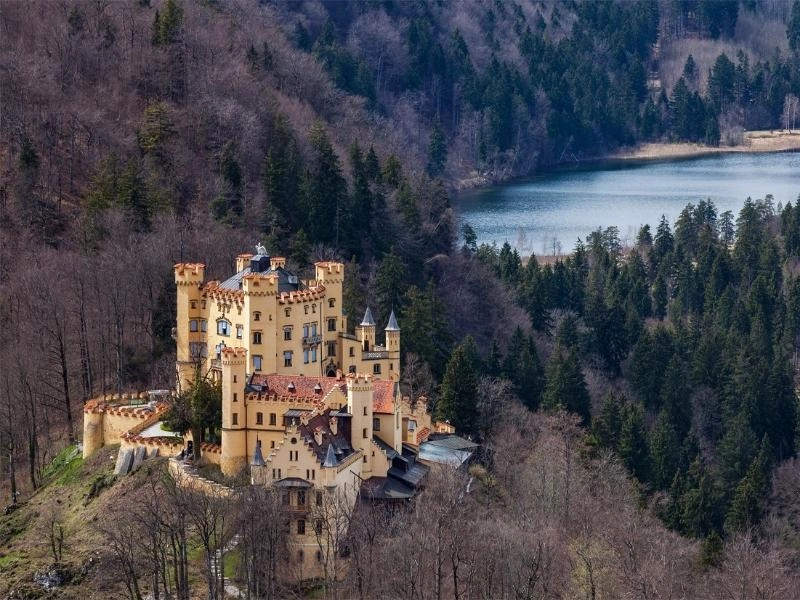 Linderhof Palace
Less than an hour from Neuschwanstein Castle and located at an impressive 1000m above sea level, is Linderhof Palace.
Linderhof Palace is the only large palace King Ludwig II lived to see completed, despite beginning work on Neuschwanstein Castle during his reign.
The eccentric Bavarian King has left a fascinating legacy experienced by tourists with Linderhof Palace. King Ludwig II, who actively craved solitude, constructed a table that servants could hoist to another floor. This allowed him to avoid interacting with anyone at meal times!
Top Tip: Visits to Linderhof Palace are only possible as part of a guided tour. As a popular stop on many tourist routes, it would be worth booking this experience in advance.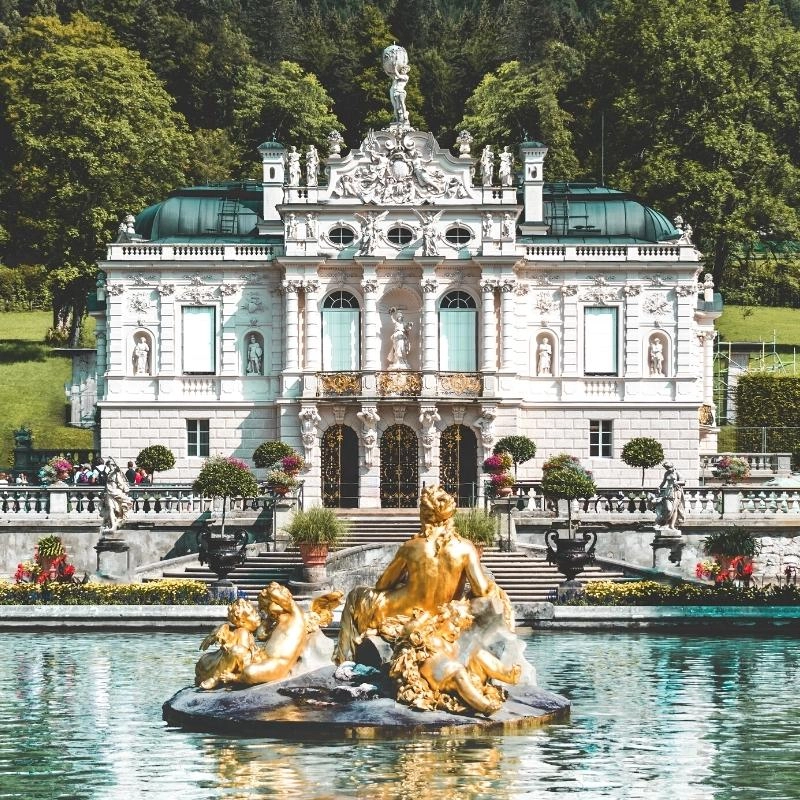 Wies Pilgrimage Church
Situated a little way off the route between Halblech and Wildsteig in the Pfaffenwinkel region is the UNESCO Weiskirche or Pilgrimage Church of Weis, a splendid oval Rococo church designed and built in the late 1740s.
It is said that in 1738, tears were seen on a dilapidated wooden figure of the Scourged Saviour, and the legend of this miracle eventually led to a shrine being built. Construction took place between 1745 and 1754, and many who have prayed in front of the statue of Jesus on the altar have claimed that people have been miraculously cured of their diseases, which has made this church even more of a pilgrimage site.
The Wieskirche has an oval plan, and inside twin columns in front of the walls support the elaborate cornice, with intricate stucco decorations and a long, deep choir. The ceilings are painted in a spectacular trompe-l'œil style, giving the appearance of a shimmering sky above.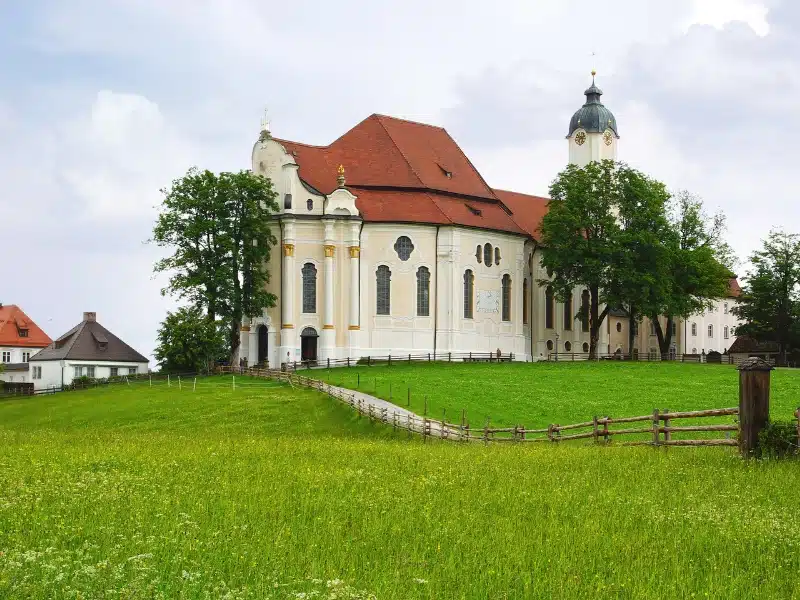 Ettal Abbey
On the road south of Oberammergau, the town famous for the ten-yearly Passion Play, is the Benedictine Ettal Abbey, one of the main experiences along the German Alpine Route. Found between the Ammer and Loisach valleys, this is a must-visit destination for any tourist road-tripping across southern Germany.
Despite being founded in the 14th century by Emporer Ludwig, Ettal Abbey boasts 18th century Baroque-style architecture; the result of a fire that overtook the building in 1744.
Ettal Abbey has more than meets the eye, housing a cheese factory and one of the best breweries in Germany. The monks at Ettal Abbey brew the famous Benediktiner and Bitburger beer, true to the German Purity Law. When you visit, you'll have the opportunity to tour the brewery and taste all the items made within the Ettal convent.
Upmarket: Hotel Maximilian – Booking.com | Agoda
Mid-Range: Hotel Klosterhotel Ludwig der Bayer – Booking.com | Agoda
Budget: Hotel-Gasthof Rose – Booking.com | Agoda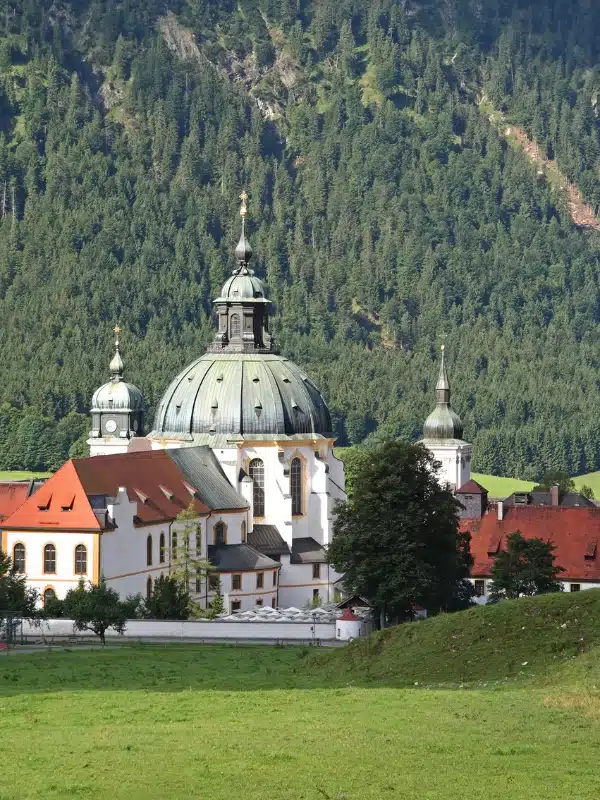 Garmisch-Partenkirchen
Upper Bavaria is the land of drama, adventure and extreme sports, and as you drive south towards Garmisch-Partenkirchen through Oberau and Farchant in Werdenfelser Land, you'll see the dramatic panorama of the Wetterstein massif, and the peaks of Alpspitze and Zugspitze which dominate the skyline.
From Garmisch, the hub of activities in this region, you can hop on the Bavarian Zugspitze Railway, go skiing, snowboarding, summer hiking, enjoy lake-based water sports and even try your hand at riding a toboggan.
Top Tip: Garmisch itself is a bustling mountain town worth a wander – make sure to stop for kaffe und kuchen, which is a much-loved afternoon ritual of coffee and cake in a local bakery.
Upmarket: Werdenfelserei – Booking.com | Agoda
Mid-Range: Staudacherhof History & Lifestyle – Booking.com | Agoda
Budget: Hotel Rheinischer Hof – Booking.com | Agoda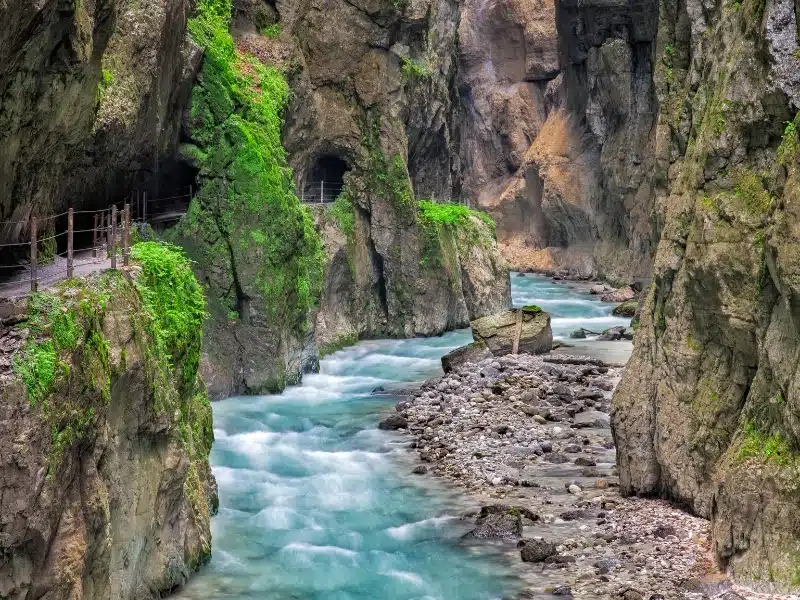 Zugspitze
At 2,962m above sea level, Zugspitze is the tallest peak in Germany. Accessing the summit of Zugspitze is provided by three different cable cars: the world record-holding Zugspitze cable car, the century-old cogwheel train, and the Gletscherbahn cable car.
Once you reach the summit you will experience breathtaking views of 400 mountain peaks that appear across Germany, Austria, Italy, and Switzerland. So, make sure to plan for a clear day!
Multiple restaurants are available on your ascent to Zugspitze's summit. It is worth booking a seat to ensure you don't miss out on the experience of enjoying a cold, German beer or a traditional Bavarian meal in one of these mountain-top restaurants.
Top Tip: The last cable car journey, to the base of Zugspitze, is mid-afternoon. In order to avoid any potential stress or the need to rush to get the last cable car back down, make sure to wake up nice and early! This will ensure you have enough time to take in the spectacular views from Germany's highest peak.
RELATED POST: Visit Zugspitze Germany – Find Out How!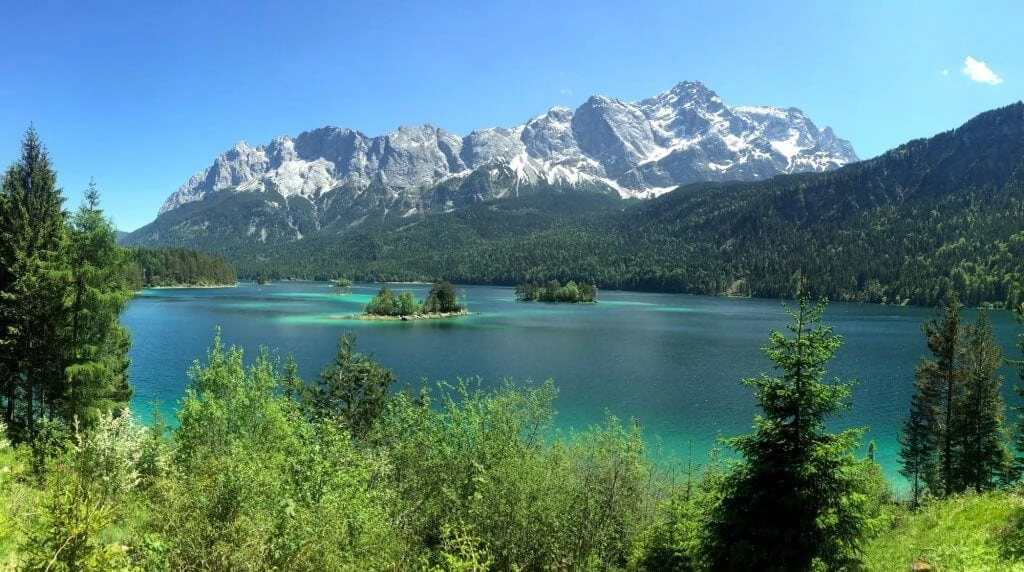 Bad Tölz
As you drive through Tölzer Land en route to Bad Tölz, make a stop at the pretty violin-making town of Mittenwald and the unspoilt towns of Krün and Wallgau, with fabulous views of the Karwendel mountains.
Take a break for a swim in Lake Walchensee, before you cross the fabulous Kesselberg Pass to Lake Kochelsee, where you can take another dip!
Bad Tölz itself is a small, historic town in southern Bavaria that is famous for its medieval center, its numerous spas, and its breathtaking views of the Alps.
Stroll through Bad Tölz marketstrasse on the old town along the winding cobbled streets, and discover traditional Bavarian clothing, special delicacies, everyday goods, and souvenirs to celebrate and remember your road trip through Germany's southern alpine route.
Considered the gateway to the Alps, Bad Tölz reveals insights into the Bavarian culture. The history of this area is evident in the historical facades of the buildings lining the marketstraße. To learn more about the Bavarian culture, the Tölzer Stadtmuseum is worth a visit.
The cultural significance of small towns, including those like Bad Tölz, is not the be missed on your drive along the German Alpine Route!
Upmarket: Hotel am Wald – Booking.com | Agoda
Mid-Range: Hotel Pension Geiger – Booking.com | Agoda
Budget: Hotel Leonhardihof – Booking.com | Agoda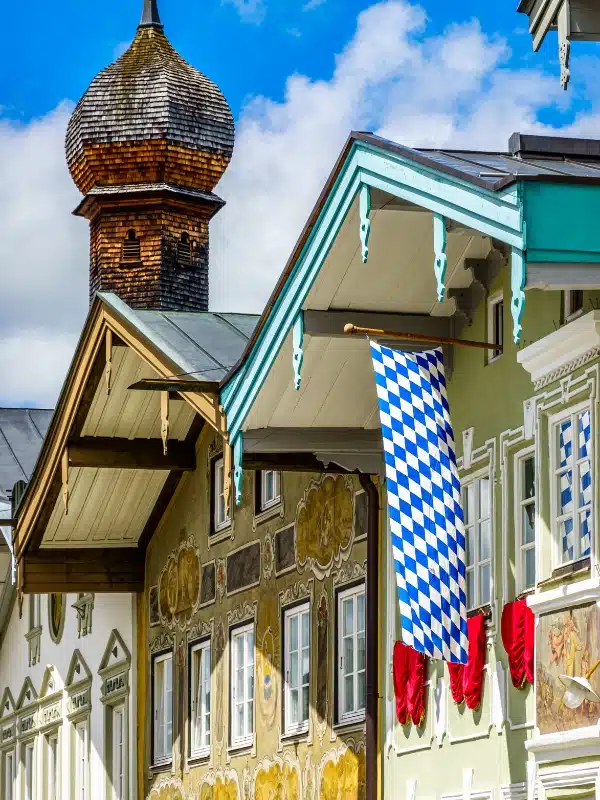 Sylvenstein Lake
From Bad Tölz, the route heads south through the pretty town of Lenggries and climbs to the emerald-hued reservoir of Sylvenstein Lake, one the most Instagram-worthy spot on the entire route.
Top Tip: You'll have fantastic views across the water to the huge Alps beyond, but you'll need a drone to get the best images.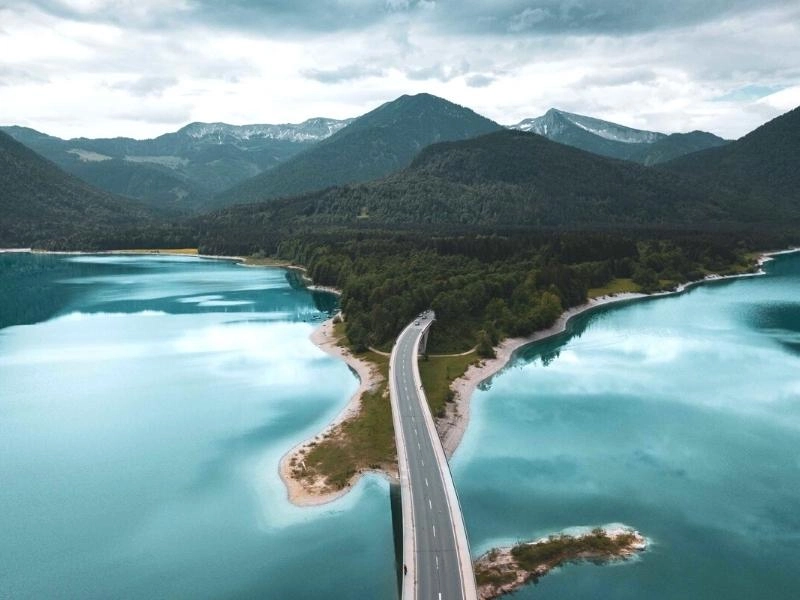 Tegernsee & Schliersee
Located between Bavaria and Tyrol, you'll find the popular lake of Tegernsee, a good stop for hiking and watersports. Surrounded by the Tegernsee Valley, the forests are crisscrossed with ski trails, mountain bike trails, toboggan runs and hiking paths.
The nearby Wallberg mountain is topped by the archetypal wood-clad church Wallbergkircherl and the Wallberg Panorama Restaurant. Take the 2.5-hour hike up or get the cable car to the summit for panoramic views of the surrounding mountains.
Drive on to Lake Schliersee and stop in the hamlet of Neuhaus, where spirit savants will enjoy a stop at Slyrs, an artisanal whisky distillery where you can enjoy a tour and whisky tasting alongside amazing views.
From Schliersee, take the steep Sudelfeldstraße road to reach the Sudelfeld pass, a gently winding mountain road. Make sure to stop and admire both the Bayrichzell waterfall before the pass and the more impressive Tatzelwurm waterfall at the bottom of the pass.
Top Tip: On this stretch of the route, the lakeside towns of Rottach-Egern, Tegernsee and Schliersee are all well-known for their restaurants and cafés that provide traditional Bavarian hospitality and delicious local food, like wurst (sausage) with dumplings and apfelstrudel.
Upmarket: Berggasthof Obere Firstalm – Booking.com | Agoda
Mid-Range: Karma Bavaria – Booking.com | Agoda
Budget: Hotel Terofal – Booking.com | Agoda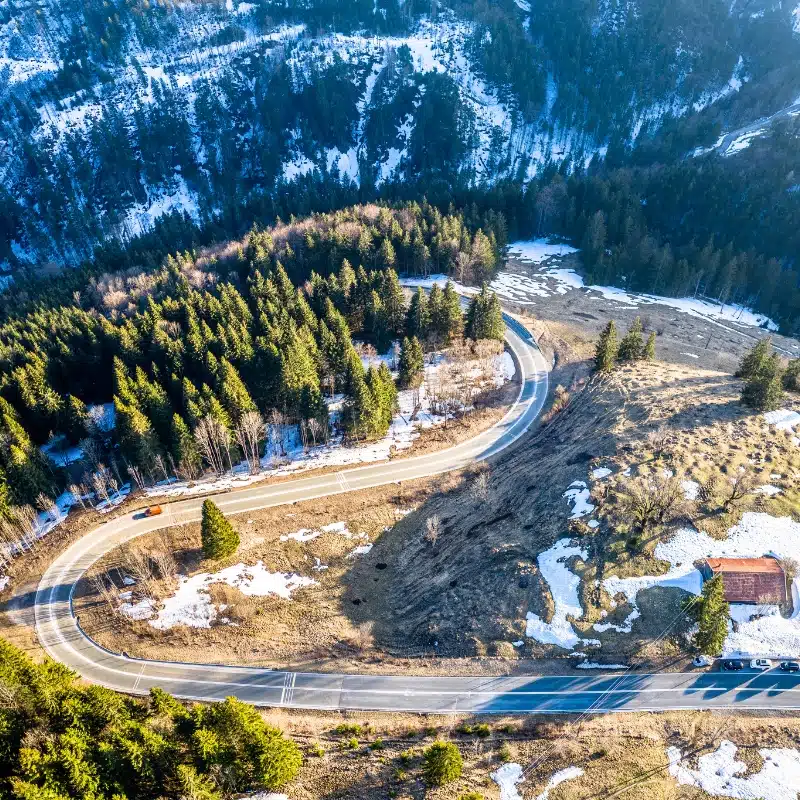 Lake Chiemsee
As you continue on, the road meanders through the mountains to Chiemsee and panoramic views are guaranteed.
Nicknamed the Bavarian Sea, Lake Chiemsee is Bavaria's largest lake covering 80km with a maximum depth of 73.4m.
Lake Chiemsee holds three islands, Herreninsel, Fraueninsel, and the uninhabited Krautinsel, which are all accessible by regular ferry trips from the mainland.
The most prominent tourist attraction is the Herrenchiemsee New Palace of King Ludwig II, located on Herreninsel, due to its beautiful gardens. On the smaller island of Fraueninsel, you can find the 8th century Benedictine convent of Frauenwörth Abbey, featuring an incredible Gothic bell tower.
Top Tip: Cycling around Lake Chiemsee is the best way to experience the local nature and incredible views of flatlands surrounded by breathtaking mountain scenery.
Upmarket: Ferienwohnungen Haus am See – Booking.com | Agoda
Mid-Range: Hotel Jägerhof garni – Booking.com | Agoda
Budget: Gasthaus Kampenwand Bernau – Booking.com | Agoda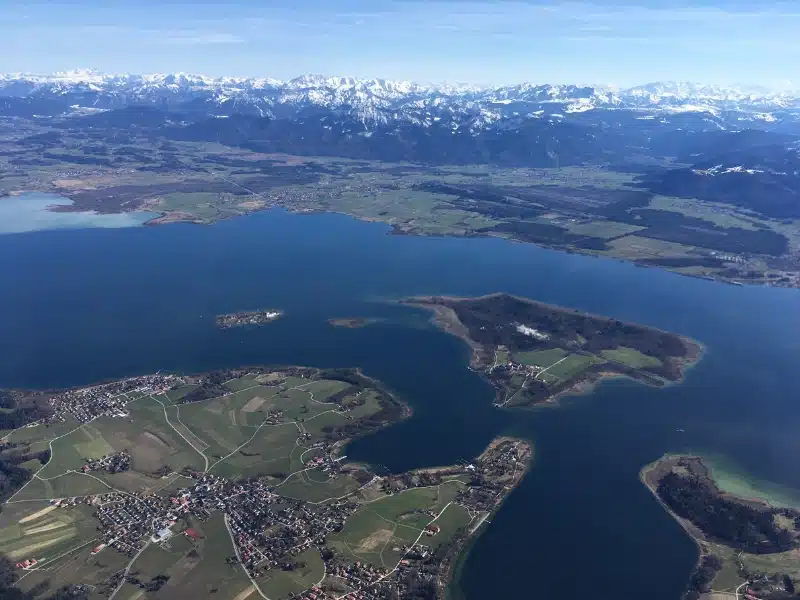 Parish Church of St. Sebastian
Surely one of the most iconic sights along the Deutsche Alpenstrasse is the Katholisches Pfarramt St. Sebastian, a beautiful Baroque church by the bubbling Ramsauer Ache River. Built in 1512, the church has a fabulous backdrop of the Berchtesgaden Alps and its highest peak, Hochkalter.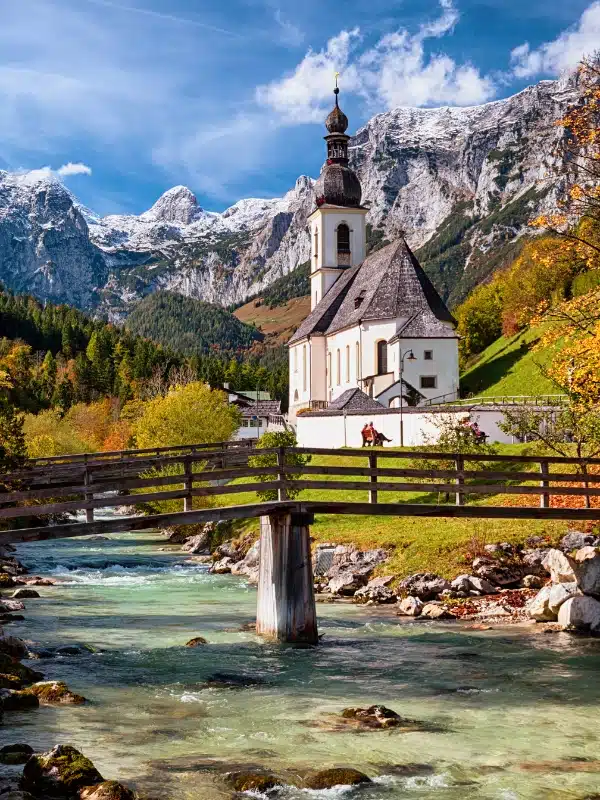 Lake Königssee
Proudly proclaimed Germany's most beautiful alpine lake, Lake Königssee provides one of the country's most unforgettable experiences and the German Alpine Route saves the best and highest for last – crossing the 868m high Schwarzbachwacht Pass into the incredible landscape of the Berchtesgaden Alps and Königsee.
Found not far from Berchtesgaden, this alpine mirror lake is famous for its clean, emerald-green waters and the surrounding mountains of Berchtesgaden National Park.
The lake is nestled under the eastern wall of Mount Watzmann and its sheer, vertical face makes hiking routes around the lake an impossibility – the only way to fully experience the lake is by boat.
During the summer months, when the weather in Bavaria can comfortably reach the mid-twenties, this popular experience encourages crowds to line the boat dock. Arriving early will mean reduced queues, and enable you to spend a generous amount of time exploring the five mile expanse of this famous alpine lake.
Top tip: Make sure to hop off at the Kirche Sankt Bartholomä (St Bartholemew's Church) where you can hike the 6km to the Ice Chapel, one of the most popular experiences on this tourist route.
Upmarket: Gästehaus Siegllehen – Booking.com | Agoda
Mid-Range: Explorer Hotel Berchtesgaden – Booking.com | Agoda
Budget: Hotel Bärenstüberl – Booking.com | Agoda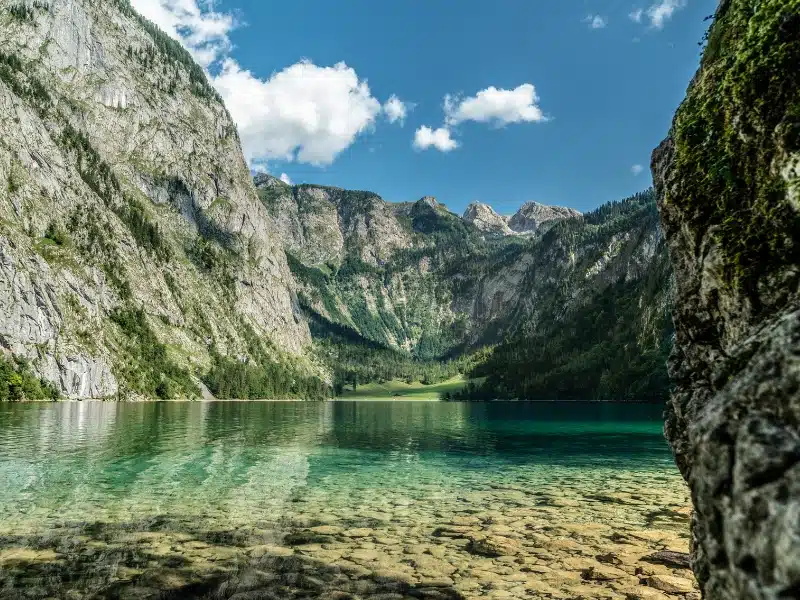 Deutsche Alpenestrasse FAQs
When is the best time to drive the Deutsche Alpenstrasse?
The Alps are at their best in spring and fall, with late May to June, and September to early October being the very best times to plan a Deutsche Alpenstrasse road trip.
The road will be quieter and the scenery even more spectacular – think wildflower-carpeted alpine meadows and the rich colors of Europe's autumn.
The weather will be kinder too – you'll miss the heat of high summer and the snows and bitter cold of deep winter, although you will still need plenty of layers and waterproofs as mountain weather is always a little unpredictable. Be aware also that in winter, entire sections of this route may well be closed due to heavy snow.
How long does it take for the German Alpine Road?
The Deutsche Alpenstraße is roughly 280 miles (450km) long and takes, according to Google Maps, just 5 to 6 hours to drive. But this is a simple equation of miles divided by speed and doesn't take into account the topography of the road and its varying elevation, twists and bends, which all add to the driving time.
To truly enjoy the incredible scenery, which boasts 21 alpine lakes and 25 castles, and the road itself, we recommend that you take three or four days to explore and enjoy the drive.
If you can manage seven days, then you'll be able to stop and enjoy activities and tours, and fully discover one of Europe's best road trips.
Is the Deutsche Alpenstraße a dangerous road?
Although the route features on the dangerousroads.org website, the road itself is fully sealed and very well maintained, as you would expect in Germany.
The route is not one road but a series of Bavarian roads which link to create the route, and there are plenty of switchbacks and hairpin bends, and places where the road is narrow or crests a mountain pass. But for most drivers, these challenges add to the excitement and exhilaration of driving the Deutsche Alpenstrasse.
Make sure you have travel insurance you can trust when visiting Germany. We recommend True Traveller for their 5-star TrustPilot reviews, variety of cover options, best activities cover as standard, great prices and excellent service.
Where does the Alpine Road start?
As we already mentioned, the route can start at Lindau in the west or Königsee in the east.
If you start in Lindau, head out of town and pick up the B308 heading towards Lindenberg. From Königsee, take route 20 north to Berchtesgaden before picking up the B305 westwards.
German Road Trip Resources
Here are the websites and services we personally use and recommend for traveling in Germany.
Tips for Driving in Germany
The roads in Germany are well maintained, the autobahns are toll-free and there are excellent regional and minor roads with great services for drivers, making Germany a fantastic place to road trip.
Contrary to popular belief though, there are speed limits on the autobahn, and many sections have limits between 120km/h (75mph) and 110km/h (68mph) or lower, especially in urban areas.
Whether you're traveling in your own vehicle or flying in and renting a car, you need to follow these rules when you drive and travel in Germany;
You must have at least three months remaining on your passport (issued in the past ten years) at your intended date of departure from Germany.
You must have at least 3rd party insurance for your vehicle.
Citizens of non-EU third countries may require an IDP, you can check here.
It is compulsory to carry a warning triangle, reflective jacket (for the driver and all passengers), spare wheel and the tools to change a wheel or a tyre repair kit.
If you wear glasses you must carry a spare pair.
You should carry a first aid kit, but this is only compulsory for four-wheeled vehicles registered in Germany).
Germany introduced regulations in 2010 requiring all passenger cars and motorbikes to be fitted with winter or all-season tyres in wintry conditions.
RELATED POST: Driving in Europe – Everything You Need to Know
Looking for more road trip inspiration? Check out these top posts…
Amongst the beautiful landscapes of Spain, in the mountainous interior and along the gorgeous coasts, you'll find fascinating history, vibrant culture, and incredible cuisine. One of the best ways to experience Spain is by taking a road trip. We base ourselves in Spain when not traveling and have explored much of the country on four wheels and two! Whether you want historic cities, gorgeous landscapes, beaches and sun, or something a bit different, our detailed…
Love it? Pin it!