This post may contain affiliate links, from which we earn an income.
Top Attractions in the Land of Ice and Fire
Iceland is one of the most incredible destinations for nature lovers and photographers. Located in the North Atlantic, it is a volcanic island known for its captivating landscapes filled with geothermal hot springs, geysers, glaciers, and dark volcanic rock.
Iceland also has a rich Viking history and much of the culture and sites remain. At many of the natural attractions, there will be stories of fairies and giants as well as hidden treasures tucked behind massive waterfalls.
Stepping foot onto Iceland's south coast feels truly enchanting and in this guide, we'll share Iceland travel tips and resources, and where to find magic, mystery, and adventure in the land of ice and fire.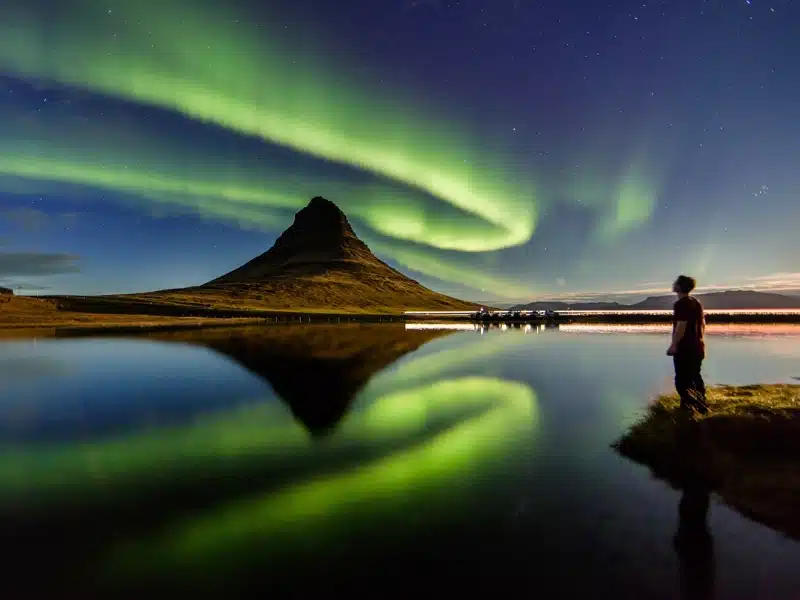 Iceland Travel Resources
Here are the services we use and recommend for traveling in Iceland;
North Iceland Coast vs. South Iceland Coast
When visiting Iceland, you will need to choose which area to visit. Generally, Iceland can be divided into two halves: North Iceland, and South Iceland.
Given that the international airport, Keflavik, is in the South of Iceland, most travelers will choose a south coast tour. The capital city of Reykjavik is also located in the south and is a popular base and start point for visitors planning south coast tours.
The Northern part of Iceland is far more remote and requires a rental vehicle to get there. From Keflavik airport, it is a good 430km, or around a 5 hour drive, to reach the Central Northern part of Iceland. It is possible to fly there, however, domestic flights are quite expensive.
There is also far less tourism infrastructure there as compared to the South. For those who truly love the remote and isolated nature, the North may be for you. But for most other travelers, Iceland's south coast is surely the first stop.
How to Reach Southern Iceland
There is only one international airport in Iceland, Keflavik Airport. Several airlines reach Iceland however one of the most convenient and budget friendly ways is with Icelandair.
They have a special program that allows travelers to add a stopover in Iceland for 1-7 days at no additional cost! For example, you can book a flight from Montreal to Paris, but add a stopover for 5-6 days in Iceland, perfect for a south coast itinerary. This is the ideal opportunity to add a visit to Iceland combined with a visit to Europe.
RELATED POST: Iceland Road Trip – 26 Epic Things to See & Do
How Long to Stay in Iceland?
In order to see most of the main attractions on the Iceland south coast, visitors need to budget a minimum of 5-6 days. It is certainly possible to join a guided tour which can be done in 3-4 days but that would be very rushed.
Iceland is an absolutely beautiful country and the drives are stunning so you are sure to make several stops along the way. As every corner is picturesque, account for plenty of extra time for photos. If visiting during the summer season, then more activities can be done in a single day due to the extended daylight hours.
Make sure you have travel insurance you can trust when visiting Iceland. We recommend True Traveller for their 5-star TrustPilot reviews, variety of cover options, best activities cover as standard, great prices, and excellent service.
Iceland South Coast Highlights
Depending on the month of visit, one can enjoy the wintery northern lights or practically 24 hours of daylight in the summer. No matter the season, there are unlimited memorable activities on offer.
Iceland is also one of the pioneers of sustainable tourism as well as nature conservation. Much of Iceland is supplied with natural geothermal energy, which plays a significant role in protecting the environment all while supplying power to the island.
Golden Circle
The perfect option if you're short of time, the Golden Circle is very close to Reykjavik. This tour can be done as a DIY self-drive trip or you can join one of many day trip buses that depart from hotels, hostels and the city center.
Day tours like this are the easiest and most convenient way to see the Golden Circle, but you do have to follow the tour agenda and won't be able to linger for long or stop on route if you spot something interesting.
The Golden Circle traditionally includes the three stops of Thingvellir National Park, where you can snorkel the Silfra Drift on the continental divide, Haukadalur Geysir Geothermal Area, and the gorgeous Gulfoss Waterfall. You can also easily include the 3,000-year-old volcanic Kerid Crater Lake, located on the Golden Circle route.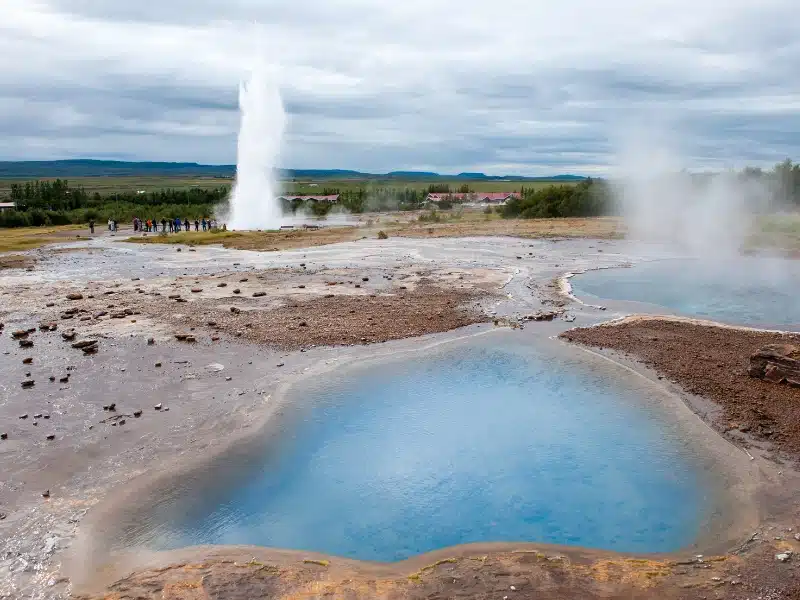 Blue Lagoon
The Blue Lagoon is one of the most iconic and popular tourist attractions in Iceland. What makes it unique is that the entire spa complex is comprised of natural baths filled with bright blue, mineral-rich waters, heated by the Earth's geothermal activity.
These geothermally heated waters are famous for their healing properties as well as beneficial relaxation effects. With the expanse of dark volcanic rock, turquoise pools, and wispy steam filling the air, it makes for a truly supernatural experience.
These hot springs in Iceland are like no other spa in the world. It is also located quite close to Keflavik International Airport on the Reykjanes Peninsula, making it a very convenient stop at the beginning or end of your Iceland trip.
Entrance to the Blue Lagoon can get quite expensive but for a unique experience, it is worth it. If searching for a more remote and less touristic hot spring, then check out Reykjadalur Hot Springs.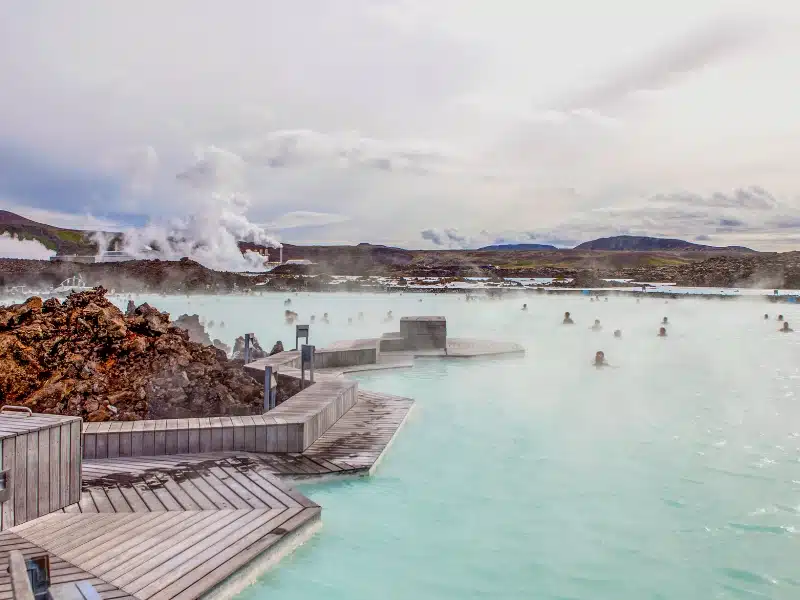 Skogafoss Waterfall
One of the things Iceland is most known for is its plentiful and dramatic waterfalls. One of the most famous waterfalls in Iceland is Skogafoss.
With a width of 25 meters and dropping an amazing 62 meters off a cliff, it is truly a site to behold. What is also unique is how you can actually walk quite close to the waterfall, as only a small river stream carries the water away. Legend has it that behind the waterfall is a hidden treasure chest buried there by the Vikings.
The Skogafoss waterfall is a must-see stop and is easily accessible from the Route 1 Ring Road. If you will be doing the Pórsmörk hike, the trek also begins from here, as does the Waterfall Way, one of Iceland's least discovered experiences where you can see 25 waterfalls on the beautiful 8km hike along the Skógá River.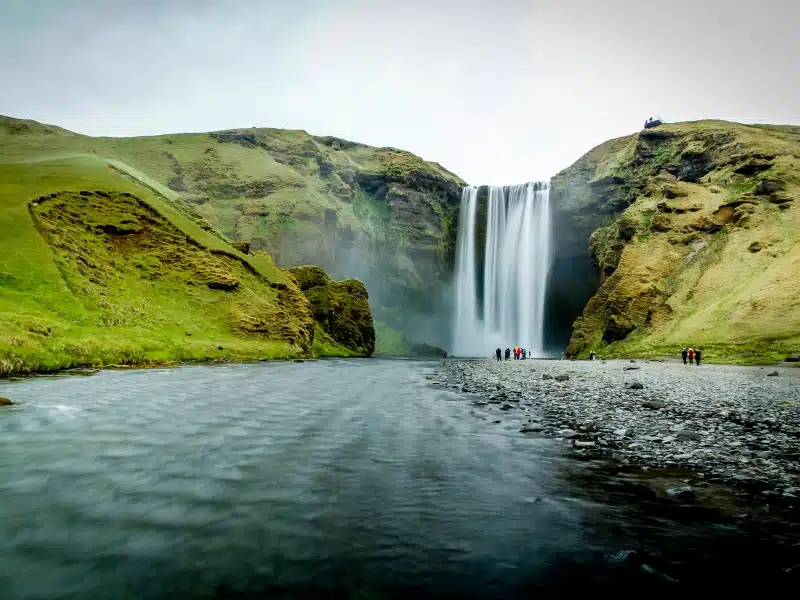 Pórsmörk Hike
The Pórsmörk hike is one of the most incredible hikes in Iceland, known for its dramatic streams, waterfalls, and the chance to see the 'Valley of the Gods'. It is a remote hike that can be done as a day hike, or a multi-day trek. Fimmvörðuháls is the day hike of 22km that starts from Skogafoss and ends in Pórsmörk.
Laugavegur is a multi-day trek that starts in Landmannalaugar and ends in Pórsmörk. Even the journey to reach the hike is an adventure, as most require a vehicle that can cross over several river streams.
If starting from Skogafoss, then make sure to arrive at Pórsmörk before 20:30 where the final amphibious bus departs to bring the passengers back to Skogafoss. There are alternative options for this hike so make sure to do proper planning prior to starting the hike.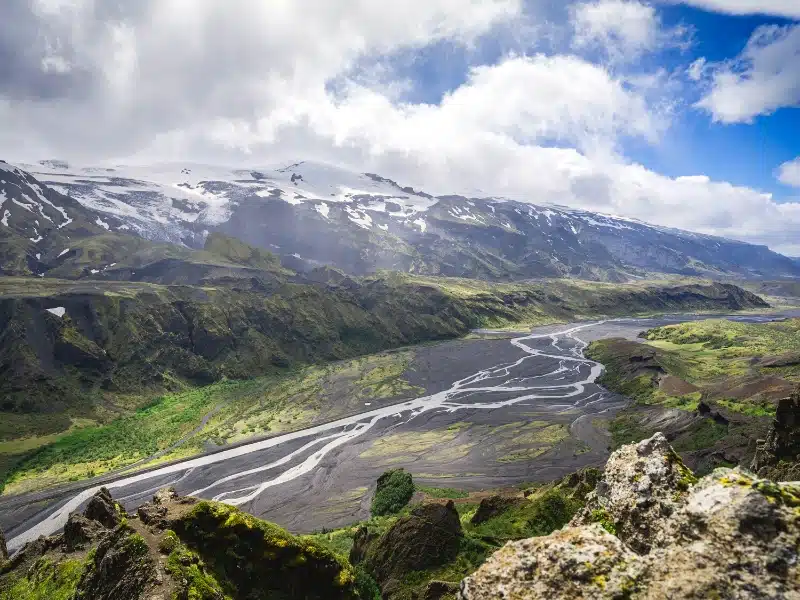 Skaftafell Nature Reserve
Skaftafell is a popular nature reserve located in Vatnajökull National Park in the southeastern part of Iceland. In addition to several available hikes in the area, one must-do activity is Skaftafell glacier hiking. As there are inherent dangers to going on a glacier, make sure to join a guided tour.
Equipped with crampon shoes, the glacier hike provides unparalleled views of the glacial field and surrounding mountains. You truly feel like you are on another planet. Also, it provides a unique opportunity to see the deep glacial crevices as well as enter some ice caves.
This activity is quite physical so it is only recommended for those who are comfortable climbing and hiking up steep, slippery slopes.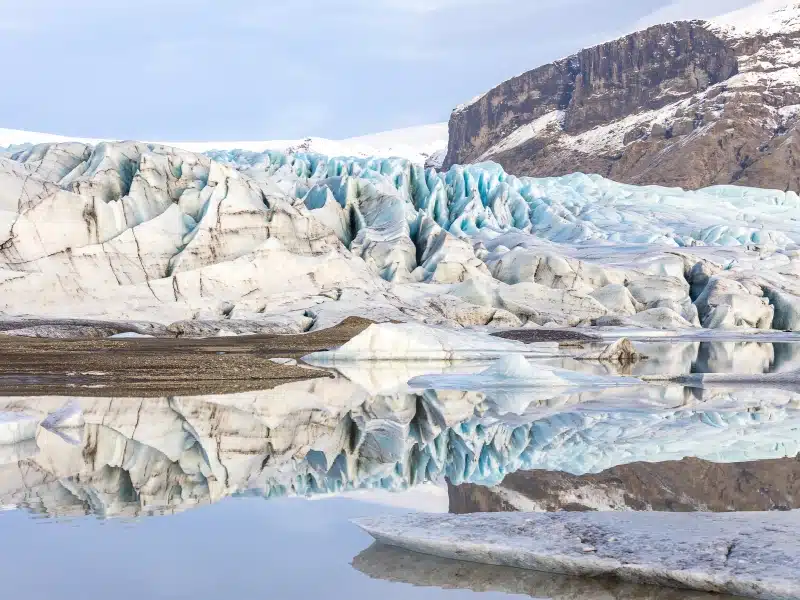 Reykjadalur Hot Spring
If you are searching for a less touristic version of hot springs, then make sure to visit the Reykjadalur hot springs. It is certainly harder to reach than the Blue Lagoon but that's what makes it so special.
To reach the hot spring, there is an easy to moderate 45-minute hike up into the mountains. There, surrounded by lush green valleys, will be a natural stream of geothermal hot water. There are some basic wooden panels to allow for changing your clothes and boardwalks but otherwise, this is pure nature.
Find a comfortable spot along the river stream to settle in. Make sure not to climb too far upstream as the water will be too hot.
Also, entrance to this hot spring is absolutely free! The Reykjadalur hot spring trailhead is located a short 45 minutes drive from the capital city of Reykjavik.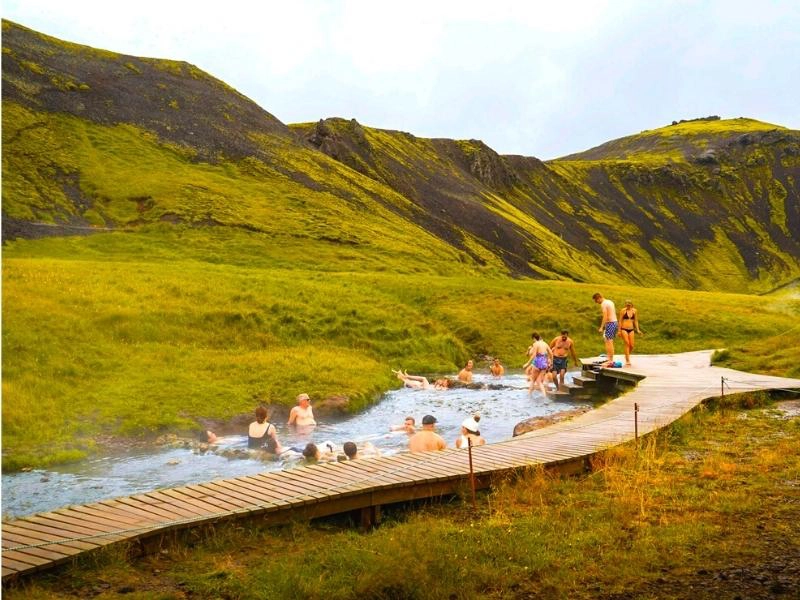 Reykjavik
While Reykjavik may be one of Europe's smaller capital cities, what it lacks in size, it makes up for in breathtaking views, quirky architecture, and a charming city center with a distinctly hip vibe.
Joining a walking tour is an easy way to visit all of Reykjavik's main must-see attractions in a day, and you'll get an in-depth history lesson about Vikings, elves, Icelandic culture, and all the places you visit, and your guide will also be able to give you tips about other attractions and great places to eat.
Our recommended must-sees;
The Hallgrímskirkja Church
Laugavegur and Skolavoroustigur streets
Austurvöllur Main Square and Alþingi Icelandic Parliament Building & Culture House
Harpa Concert Hall
The historic district of Grjótaþorpið
Tjörnin Pond, an amazing geothermal pond in the middle of the city!
Reykjavik City Hall
RELATED POST: One Day Reykjavik Itinerary – Map, Tips & Guide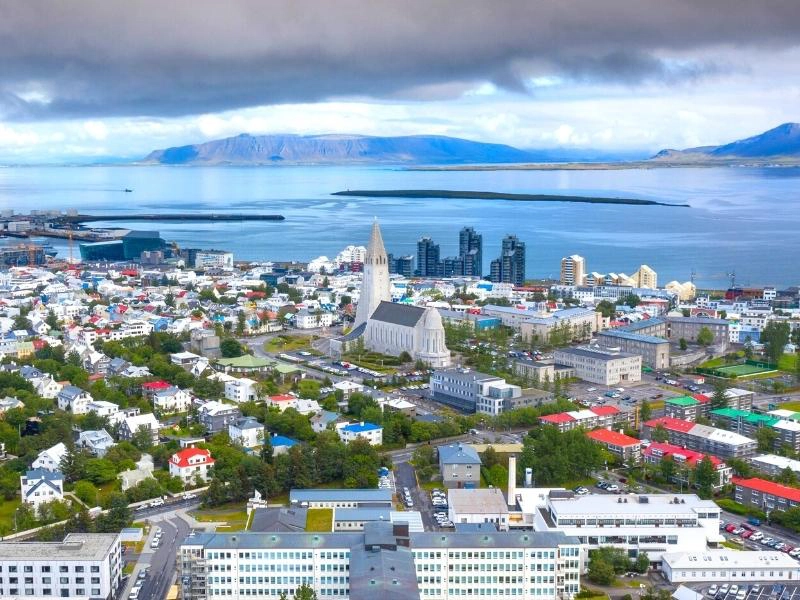 Gljufrabui Waterfall
Gljufrabui waterfall is considered one of the hidden gems of Iceland. What makes this waterfall so unique is that a large part of the waterfall is actually concealed within a narrow canyon.
To access the falls, you need to enter through a narrow slot canyon into a chamber. From inside, you can witness the true majesty of the narrow waterfall plummeting into the rocky chamber, creating this surreal echoing effect.
The Gljufrabui waterfall is a favorite among photographers due to its unique location and setting. Make sure to also climb up the ladder on the outside of the canyon, giving an impressive view from above the waterfall.
This waterfall is also easily accessible from the Ring Road and can be combined with a visit to Seljalandsfoss waterfall.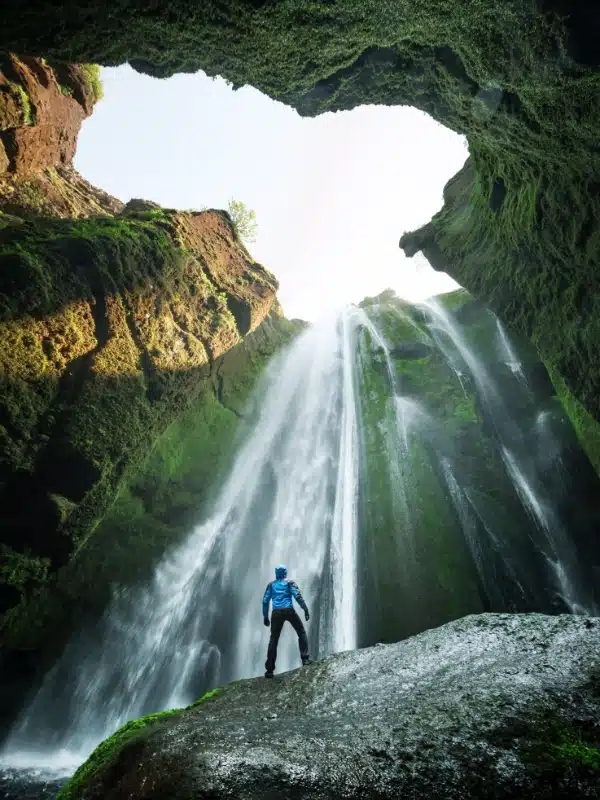 Seljalandsfoss Waterfall
Seljalandsfoss is one of the most photographed waterfalls in Iceland. Dropping from about 65 meters in height, what makes Seljalandsfoss stand out is that you can actually walk behind the cascading waters. A path and a set of stairs lead the visitors behind the waterfall, providing a truly unique perspective.
During the evening hours, that viewing angle also allows you to see both the waterfall and the setting sun on the horizon. When visiting any of the waterfalls in Iceland, make sure to bring waterproof gear as the winds can quickly pick up the plummeting waters and soak you.
Given that it is located next to Gljufrabui waterfall, it is an easy and must-do stop. Both waterfalls are located in the central Southern part of Iceland and easily accessible from the Ring Road.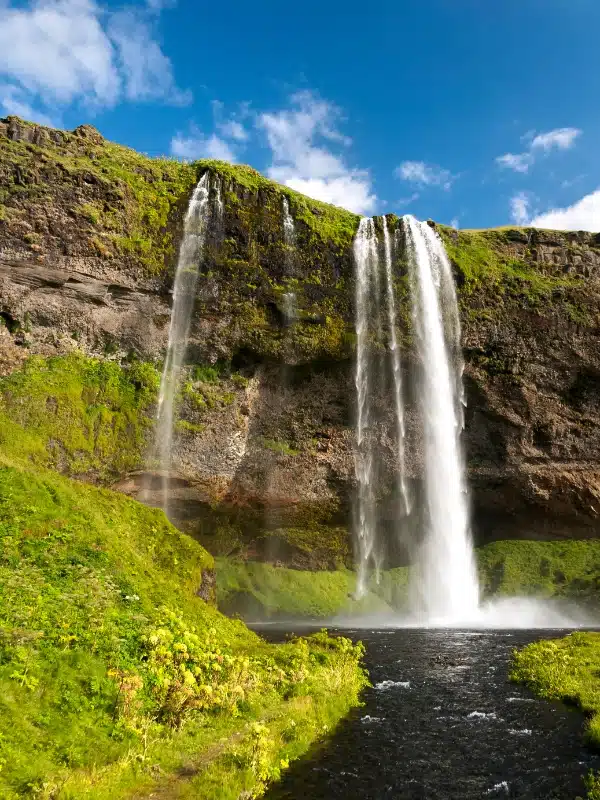 Reynisfjara Black Sand Beach
There are not many places around the world with black sand beaches but Iceland's Reynisfjara is one of them. Created by the volcanic activity of the island, Reynisfjara is truly unique for its famous jet-black sand contrasted by basalt rock columns that look like organ pipes.
Deeper along the beach there is the Hálsanefshellir Cave which provides a unique outlook of the beach. As you explore the beach further, you will certainly notice the violent foamy waves of the Atlantic Ocean. It is a powerful and mesmerizing demonstration of the force of nature. Visitors are strongly advised to stay well away from the water's edge as these waves can be very unpredictable.
Reynisfjara black sand beach is located in the central southern part of Iceland and easily accessible from the Ring Road.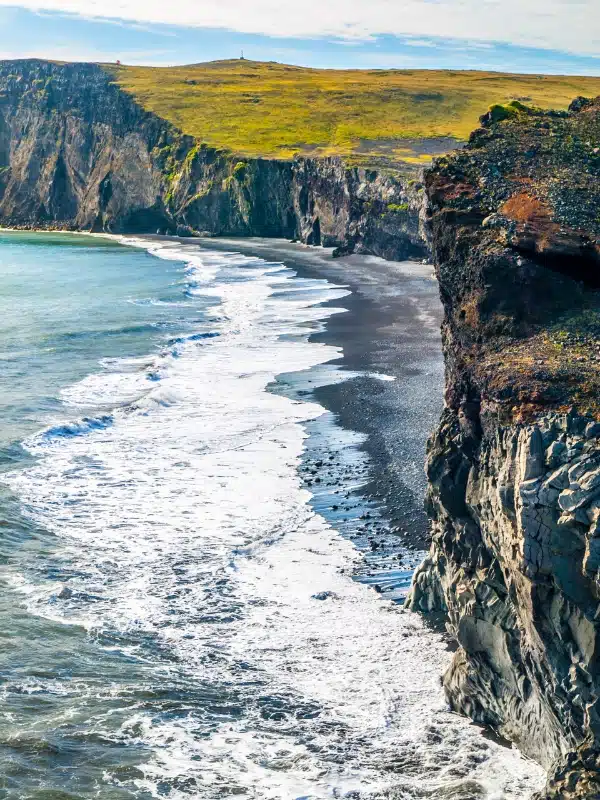 Sólheimasandur Plane Wreck
A hidden gem in Iceland located right off the Ring Road is the Sólheimasandur plane crash.
In November 1973, the pilot of the American Navy jet was fighting strong winds and low temperatures. The actual cause of the crash is still unknown, but the most common theory is that the plane ran out of fuel during a storm.
The pilots were attempting to land in the water rather than in the mountains of Iceland and found this black beach. The crew was rescued after 24 hours. The US Navy did not recover the plane itself because it would take too long.
The crash site is now a tourist attraction because it is unique to see an abandoned plane on a beach.
To reach the plane you must walk 3.5km along the river Jökulhlaup, cross the bridge over the river Jökulfjöll, and follow the signs.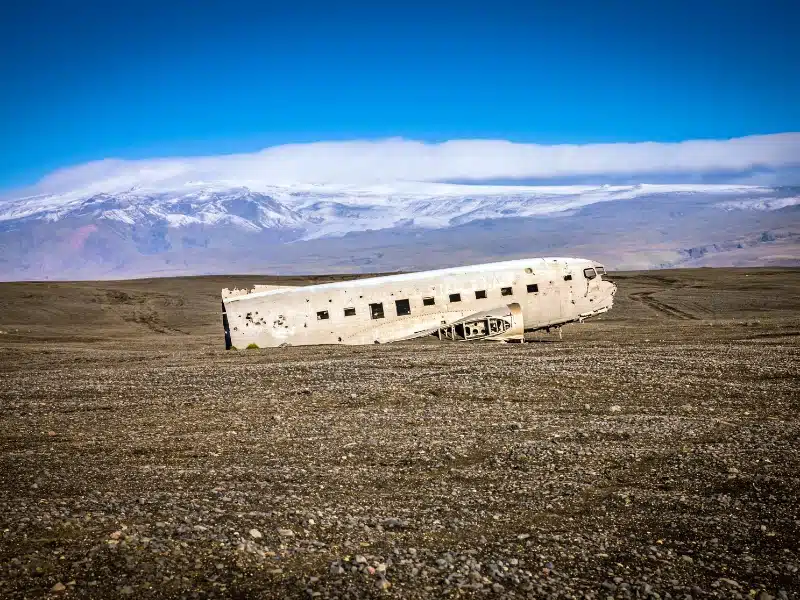 Icelandic Lava Show
An innovative attraction in both Reykjavik and Vik, the Icelandic Lava Show is like nothing you will have seen anywhere else in the world.
Imagine superheated molten lava up close, flowing to simulate a volcanic eruption. It's hot, bright, and pretty mesmerizing. But it's also educational and super interesting to learn about the forces that have created and shaped Iceland. It's no surprise that the show has been a Tripadvisor Travelers Choice for the past four years.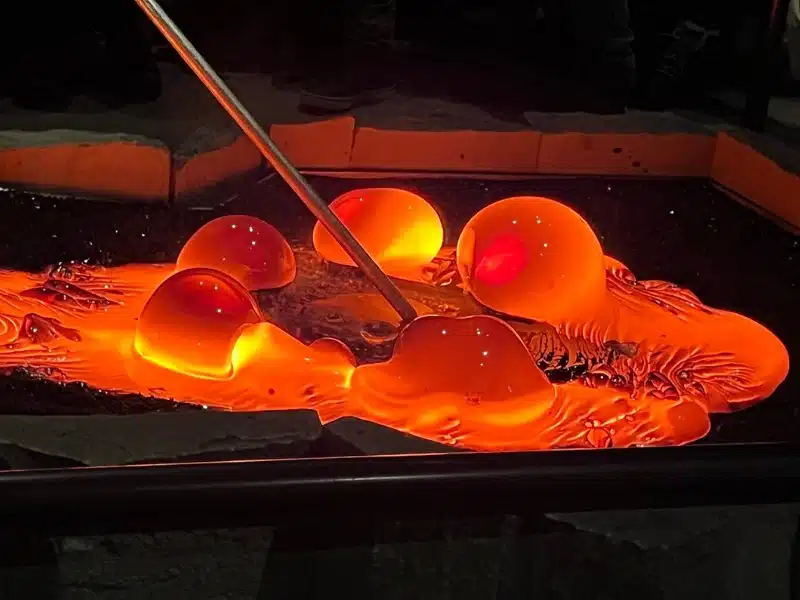 Eldhraun Lava Fields
Also known as 'Fire Lava', Eldhraun fields are a huge expanse of lava fields located in the south of the Icelandic highlands. Frmed during one of the most significant volcanic eruptions in recorded history, which occurred from 1783 to 1784, Eldhraun is referred to as Skaftáreldar or 'Skaftá River Fires'. This eruption also created the Lakagigar craters.
The impact of the eruption was catastrophic for Iceland and beyond, causing disease, crop failure, and other disasters. In Great Britain, the summer of 1783 became known as the 'sand summer' due to the ash fallout.
Despite the devastating effects of the eruption, the Eldhraun lava fields, which cover an area of 565 km2, are now one of the most stunningly beautiful landscapes in Iceland, boasting an impressive lava tube system, with over 200 caves extending for more than 5km.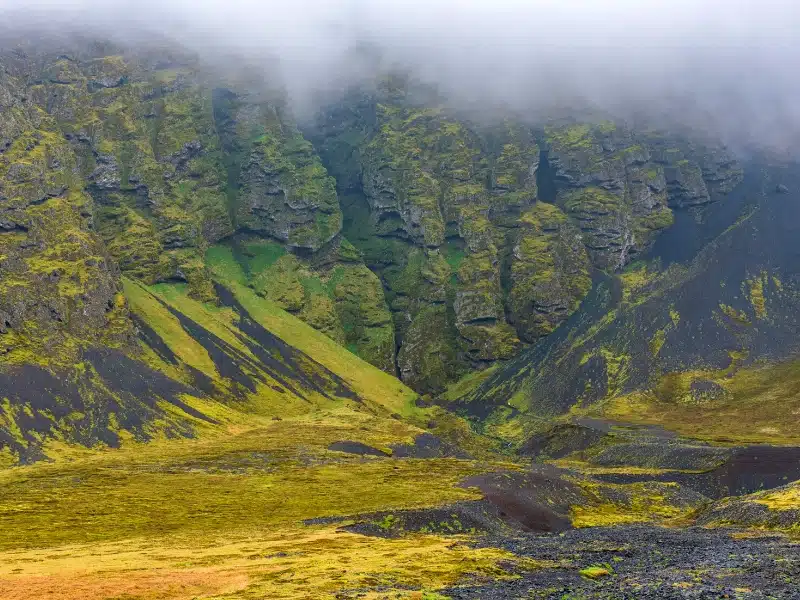 Jokulsarlon & Fjallsarlon
In the south eastern part of Iceland are the Jokulsarlon and Fjallsarlon iceberg fields. As the glacier of Vatnajökull recedes, the Jokulsarlon glacier lagoon is filled with stunning icebergs that have broken off of the edge of the glacier. Visiting Jokulsarlon provides an amazing opportunity to see the glacier, the lagoon filled with crystal blue icebergs and take an ice cave tour.
Across from Jokulsarlon, you can also visit Breiðamerkursandur, known as 'Diamond Beach'. There the black volcanic sand is often covered with iceberg fragments that were washed ashore, creating a stark and sparkly contrast on the beach. Jokulsarlon is easily accessible from the Ring Road.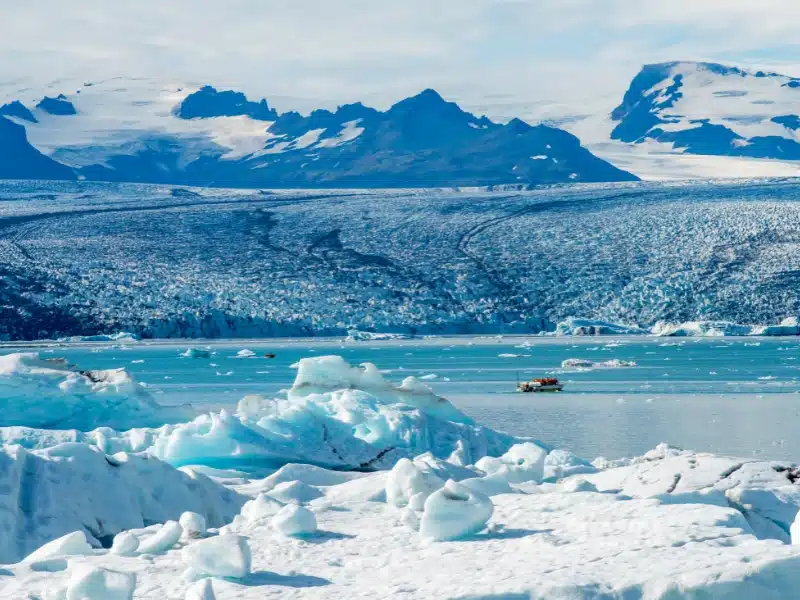 Kirkjufell Mountain
If visiting the Southwestern part of Iceland, make sure to stop by Kirkjufell Mountain. Kirkjufell is the most photographed mountain in Iceland and is commonly captured with the Kirjufellfoss waterfall and river that cuts through.
The area is incredibly picturesque and if visiting during the winter seasons, one can even capture the mountain with the northern lights.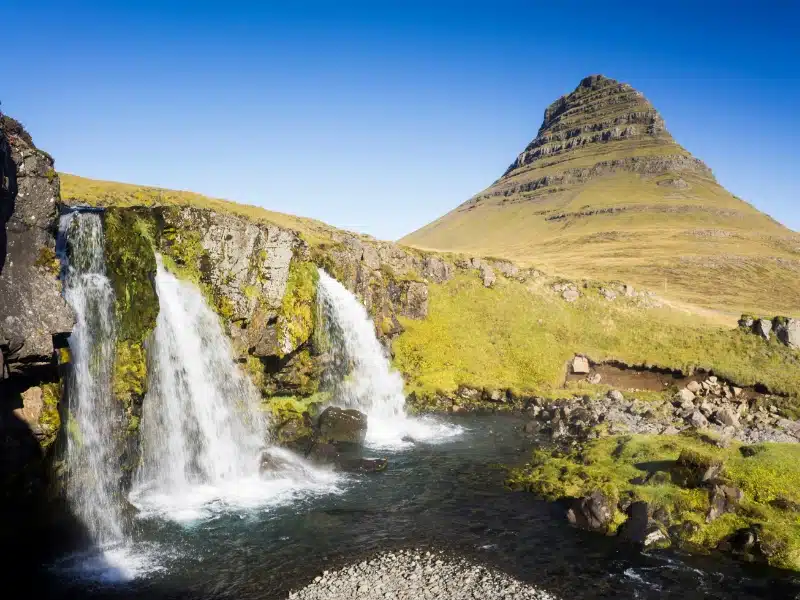 Vatnshellir Cave
Located in the south western part of Iceland, the Vatnshellir caves allow visitors to explore Iceland's volcanic underground. This cave was formed by the flow of lava, which when it comes into contact with the cooler air, becomes solid rock, whereas the underlying layer of lava continues to flow.
This eventually leaves behind what is known as lava tubes, subterranean black rock tunnels that you can explore. Venturing into these tunnels is quite an adventurous experience. Once inside, you can imagine that it was once filled with flowing lava!
The Vatnshellir cave in particular is 8000-years-old! Access to the lava tubes is only permitted when visiting with a guided tour.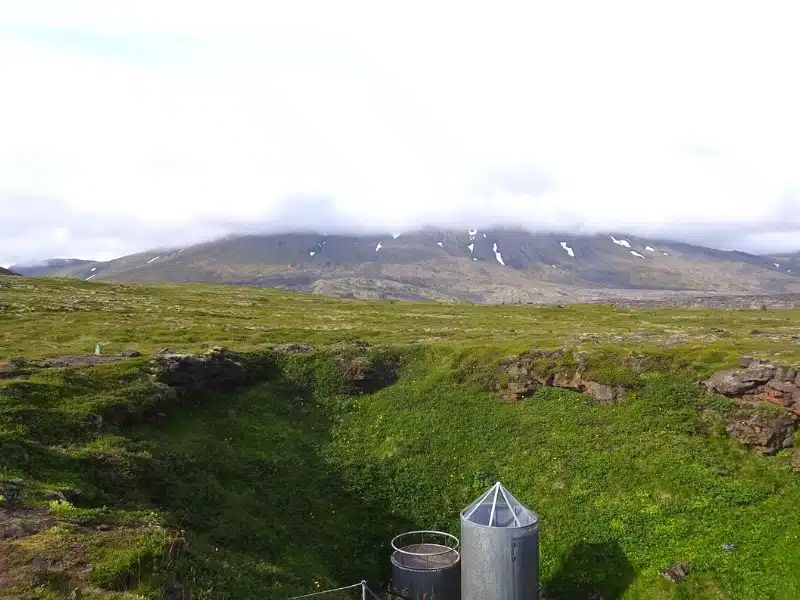 Whale Watching Tours
Iceland is an ideal location for whale watching. In the surrounding waters of the Atlantic, there are over twenty species of dolphins, whales, seals, and porpoises to be discovered including Humpbacks, Orcas and Blue whales.
From Reykjavik, you can take a whale-watching tour whether on a large vessel or on a smaller RIB speedboat. The smaller boats mean smaller groups and you can get more up close to the action.
As with most animal-watching tours, seeing whales is never fully guaranteed. April to late September-early October is the best time to see whales in Iceland's waters, with the summer months of June, July and August being peak whale watching season.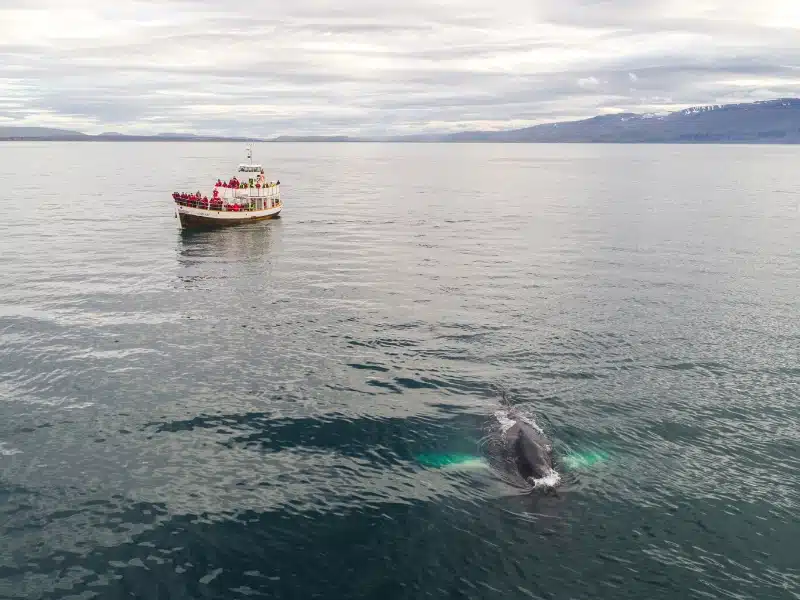 Horseback Riding
Horseback riding is a beautiful experience, especially with the unique breed of Icelandic horses. While driving through the beautiful pastures, you are sure to see them galloping around. So what better way to venture into the remote landscapes of Iceland than on horseback?
The horses there are known to be relatively small, but very sturdy and friendly. They make for an amazing companion to explore the natural outdoors of Iceland.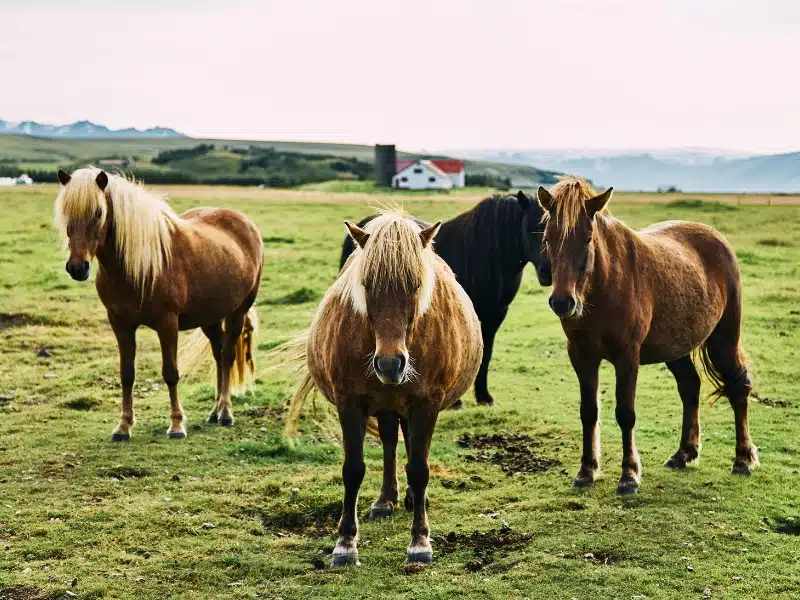 Conclusion
Iceland is one of the most unique places on Earth. Whether you are interested in enjoying the landscapes, relaxing in hot springs, going on hikes, or exploring culture, Iceland has something for you.
With its mixture of volcanoes, dark lava rocks, green valleys, geothermal hot springs, and countless waterfalls, it is sure to be one of your most memorable trips.
Looking for more travel inspiration? Check out these top posts…
Croatia is home to a variety of beautiful landscapes, including rugged mountain peaks, stunning islands, enchanting waterfalls, incredible beaches, vibrant cities, and charming historic towns. There are so many beautiful places to visit, it can be difficult to decide where to go. We've pulled together all our favorite most beautiful places in Croatia to visit to inspire you and help plan your next trip.
Love it? Pin it!